Alcaraz, Sabalenka advance to 4th round of Miami Open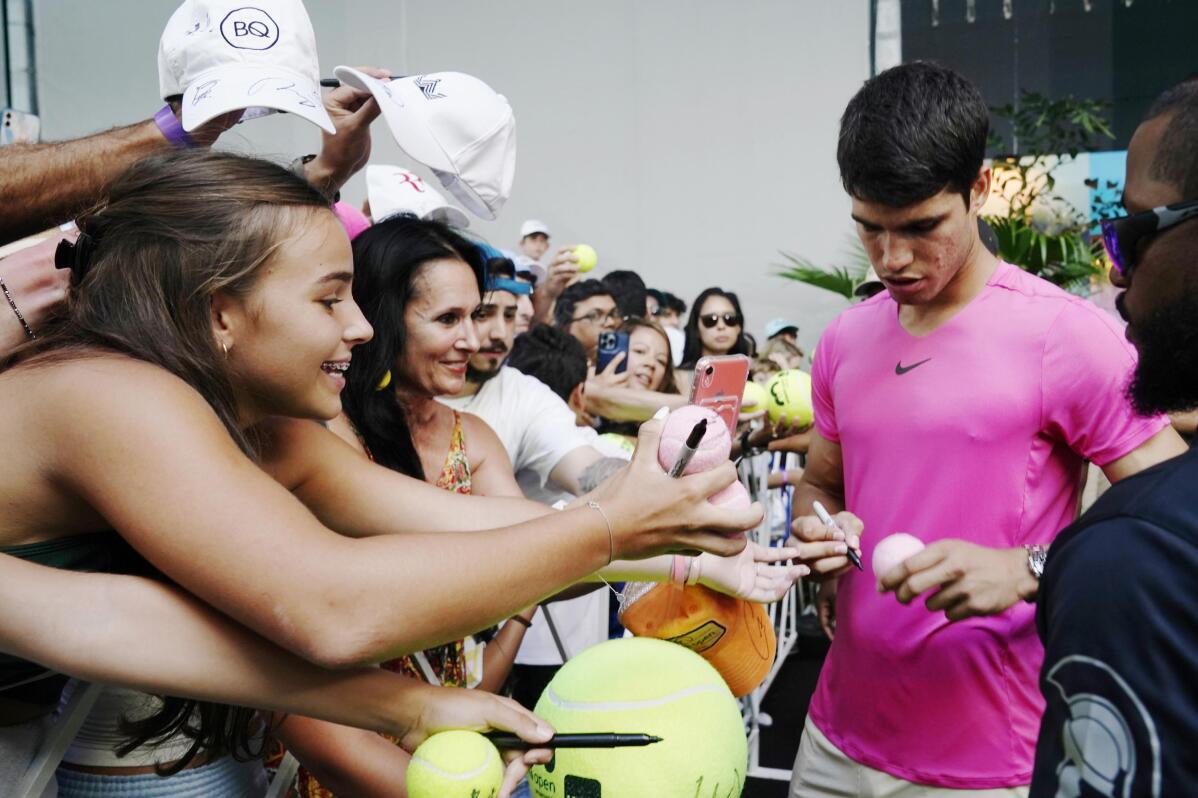 1 of 13

|
Carlos Alcaraz of Spain signs autographs for fans after defeating Dusan Lajovic of Serbia during the Miami Open tennis tournament, Sunday, March 26, 2023, in Miami Gardens, Fla. (AP Photo/Marta Lavandier)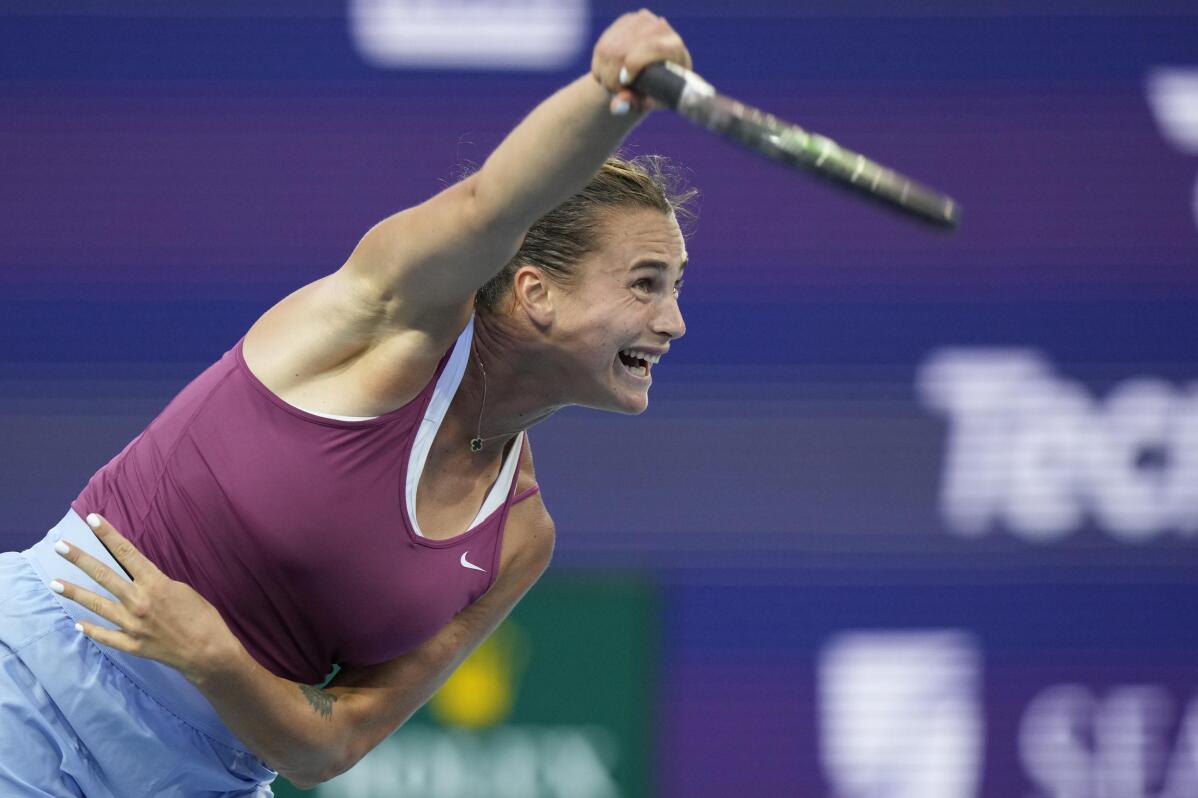 2 of 13

|
Aryna Sabalenka, of Belarus, serves to Marie Bouzkova, of the Czech Republic, during the Miami Open tennis tournament, Sunday, March 26, 2023, in Miami Gardens, Fla. (AP Photo/Wilfredo Lee)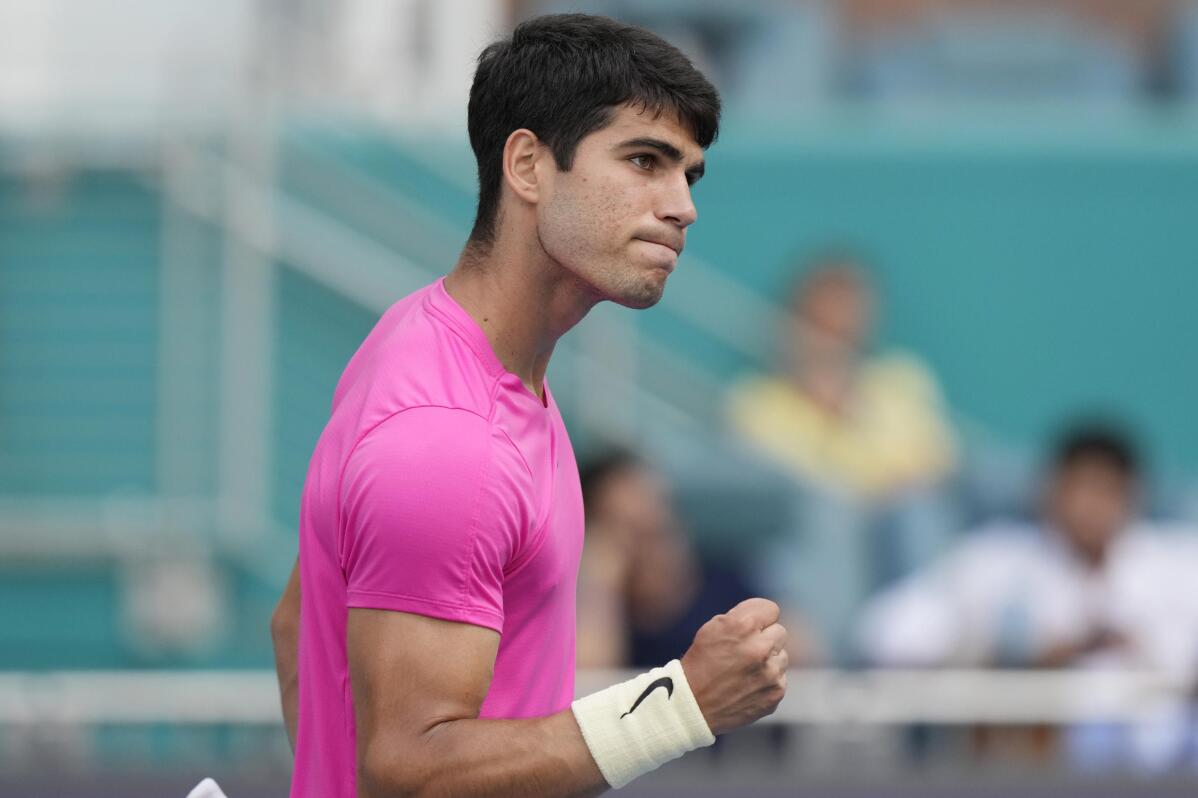 3 of 13

|
Carlos Alcaraz of Spain reacts after winning point against Dusan Lajovic of Serbia during the Miami Open tennis tournament, Sunday, March 26, 2023, in Miami Gardens, Fla. (AP Photo/Marta Lavandier)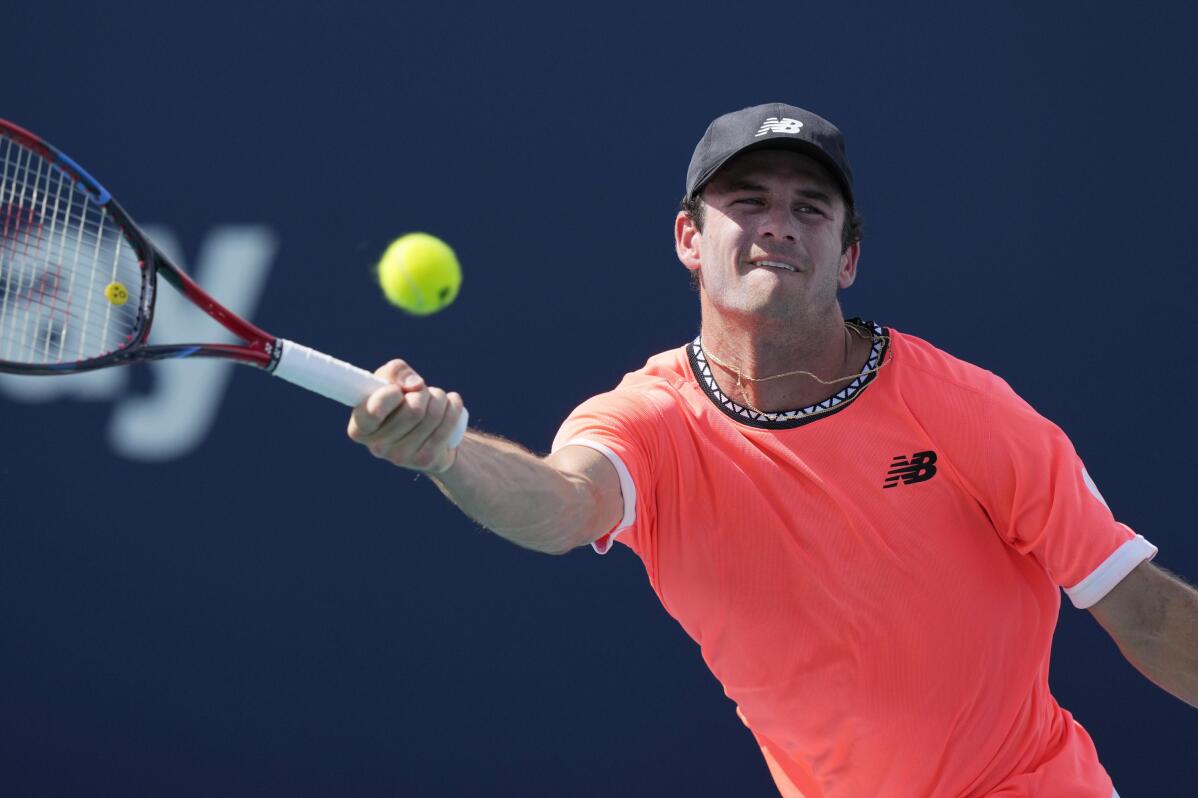 4 of 13

|
Tommy Paul returns to Alejandro Davidovich Fokina of Spain during the Miami Open tennis tournament, Sunday, March 26, 2023, in Miami Gardens, Fla. (AP Photo/Marta Lavandier)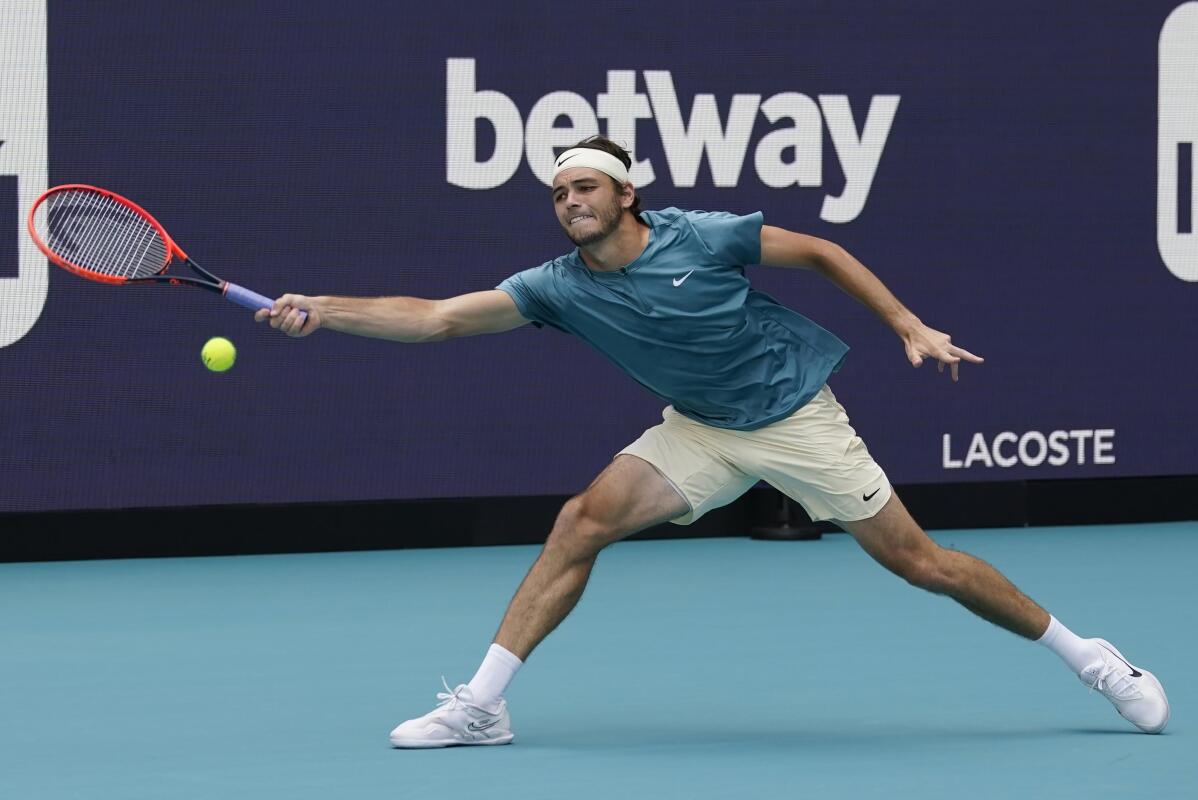 5 of 13

|
Taylor Fritz returns to Denis Shapovalov of Canada during the Miami Open tennis tournament, Sunday, March 26, 2023, in Miami Gardens, Fla. (AP Photo/Marta Lavandier)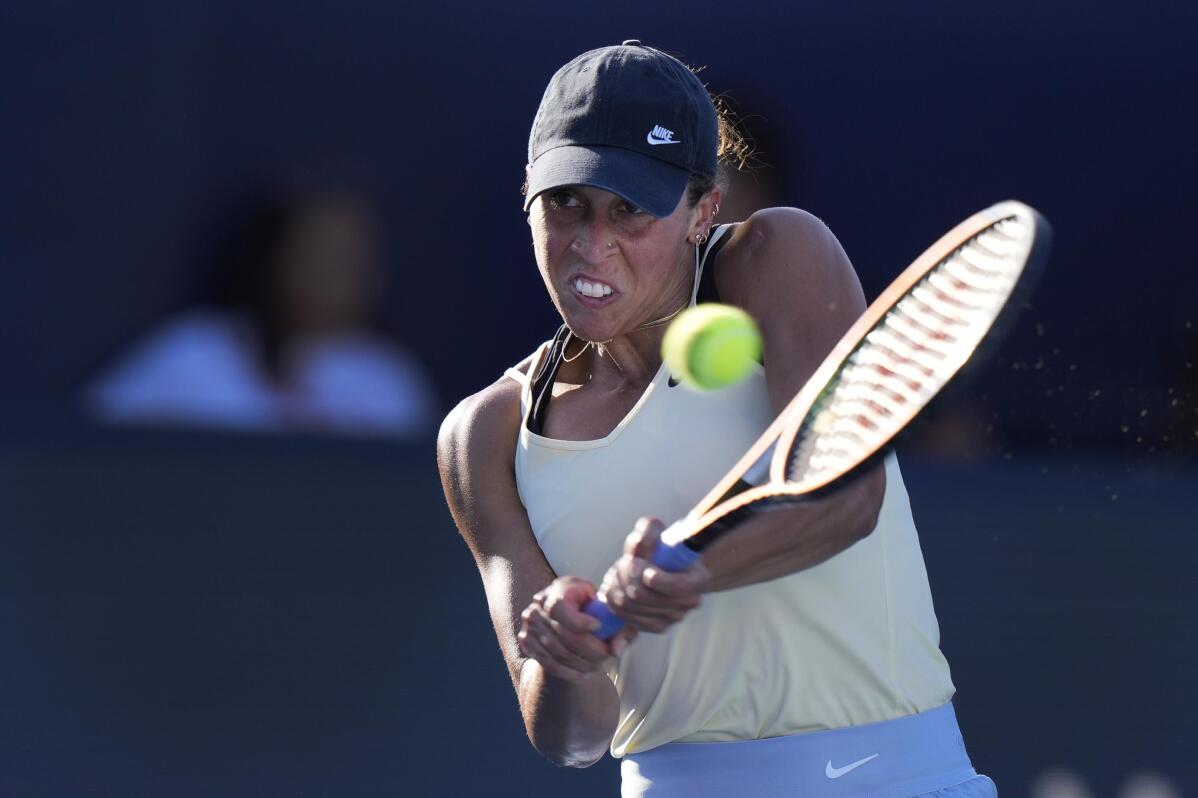 6 of 13

|
Madison Keys, of the U.S., returns a shot from Barbora Krejcikova of the Czech Republic, during the Miami Open tennis tournament, Sunday, March 26, 2023, in Miami Gardens, Fla. (AP Photo/Wilfredo Lee)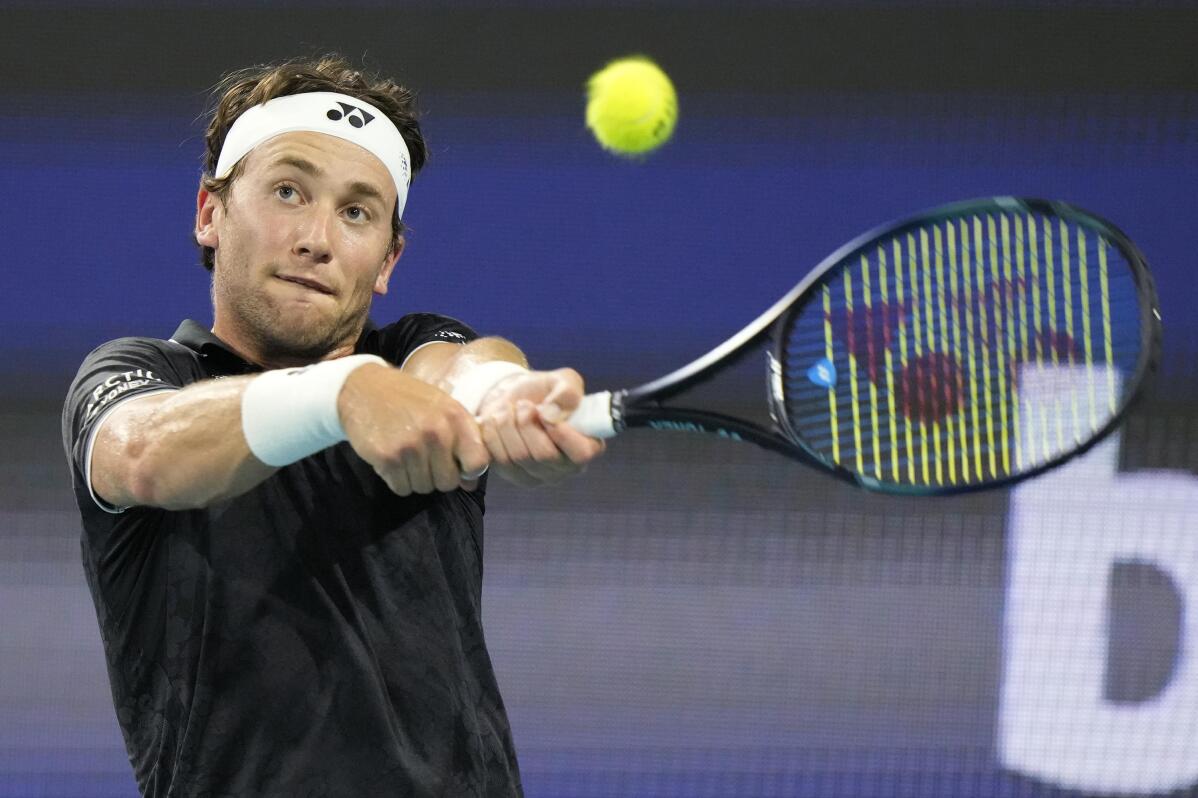 7 of 13

|
Casper Ruud, of Norway, returns a shot from Botic van de Zandschulp, of the Netherlands, during the Miami Open tennis tournament, Sunday, March 26, 2023, in Miami Gardens, Fla. (AP Photo/Wilfredo Lee)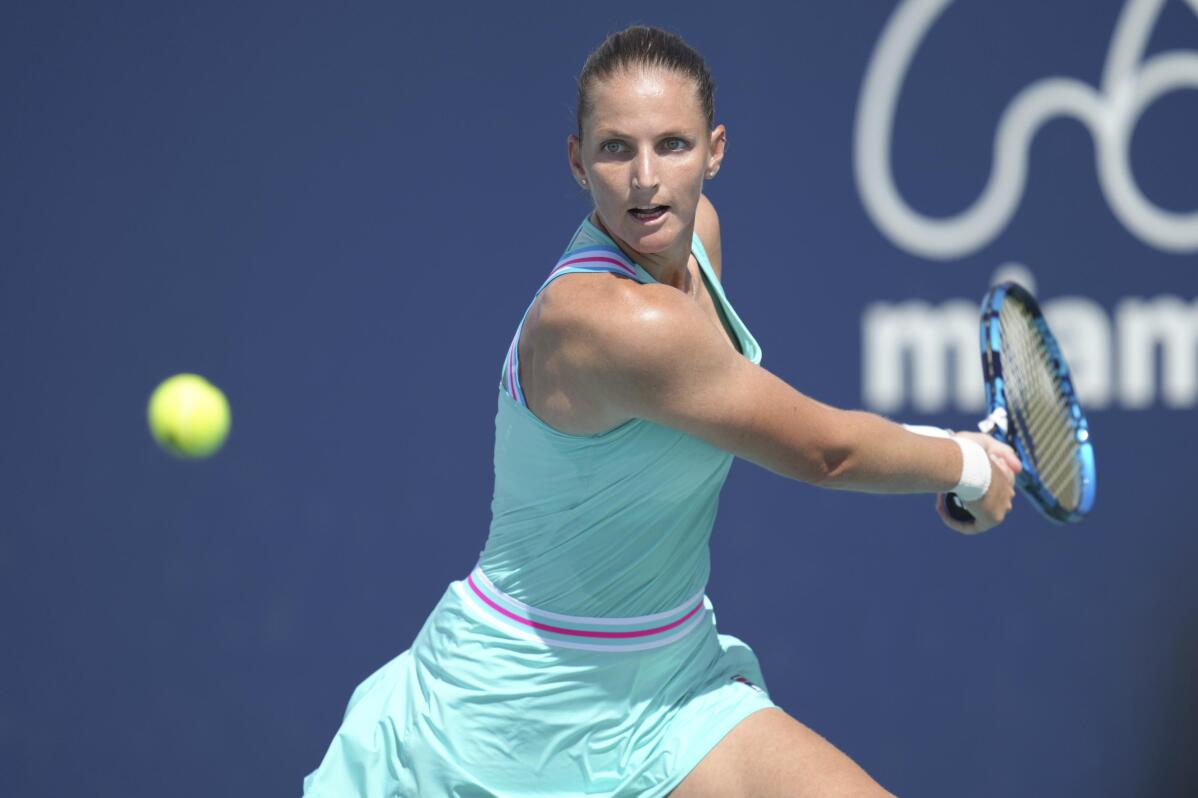 8 of 13

|
Karolina Pliskova, of the Czech Republic, returns a volley against Marketa Vondrousova, of the Czech Republic, in the first set of a match at the Miami Open tennis tournament, Sunday, March 26, 2023, in Miami Gardens, Fla. (AP Photo/Jim Rassol)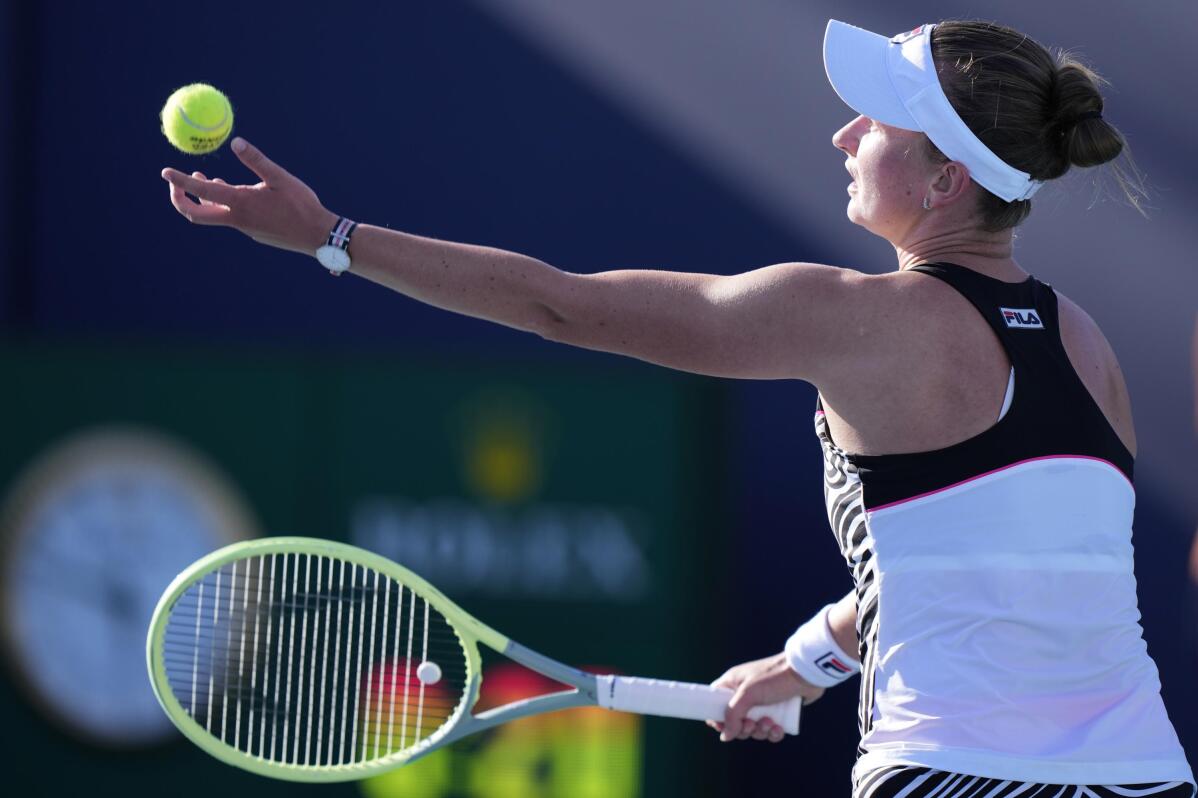 9 of 13

|
Barbora Krejcikova of the Czech Republic, serves to Madison Keys, of the U.S., during the Miami Open tennis tournament, Sunday, March 26, 2023, in Miami Gardens, Fla. (AP Photo/Wilfredo Lee)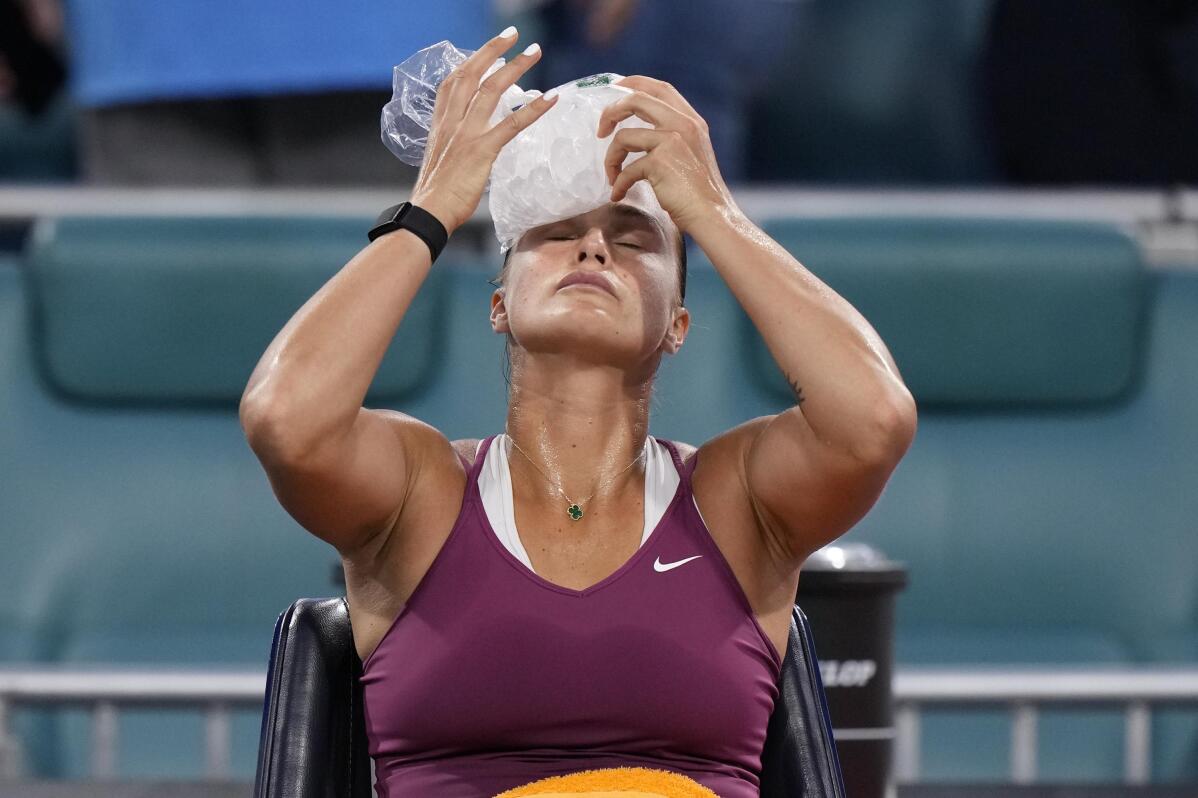 10 of 13

|
Aryna Sabalenka, of Belarus, cools off during a match against Marie Bouzkova, of the Czech Republic, at the Miami Open tennis tournament, Sunday, March 26, 2023, in Miami Gardens, Fla. (AP Photo/Wilfredo Lee)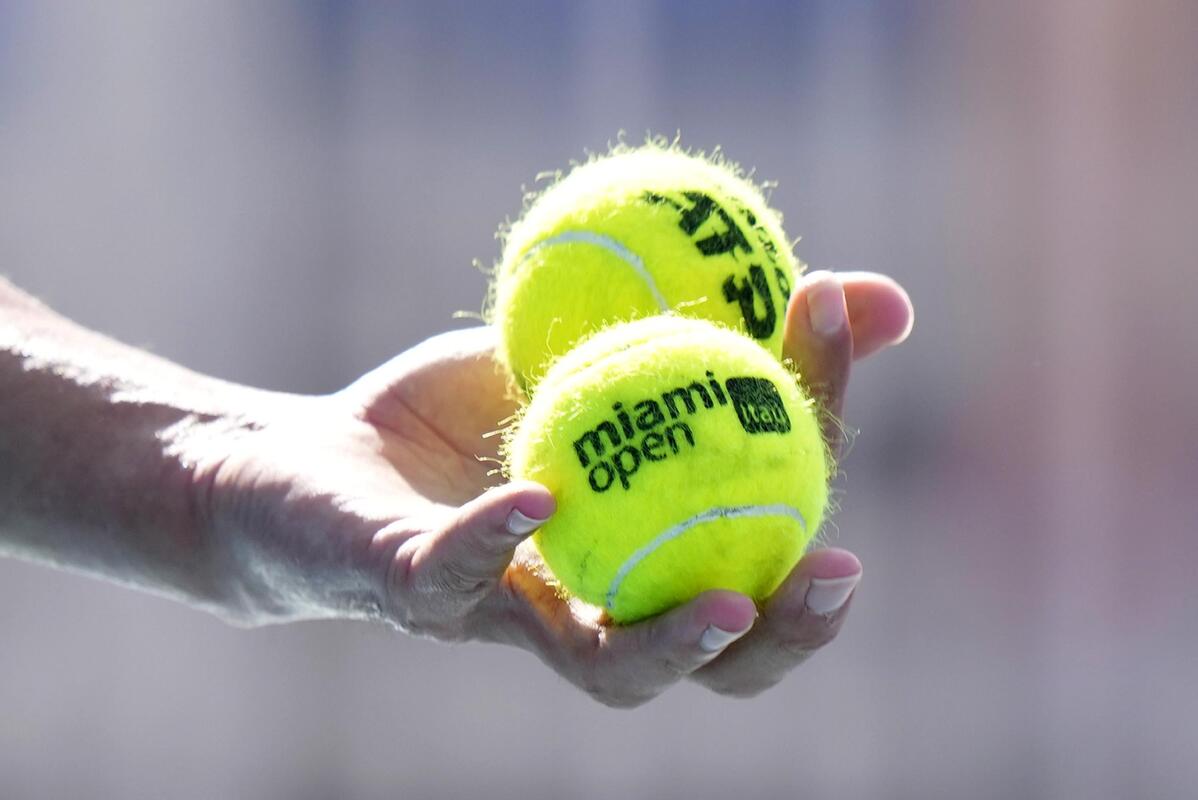 11 of 13

|
Taro Daniel, of Japan, selects his balls as he prepares to serve Emil Ruusuvuori, of Finland, during the Miami Open tennis tournament, Sunday, March 26, 2023, in Miami Gardens, Fla. (AP Photo/Wilfredo Lee)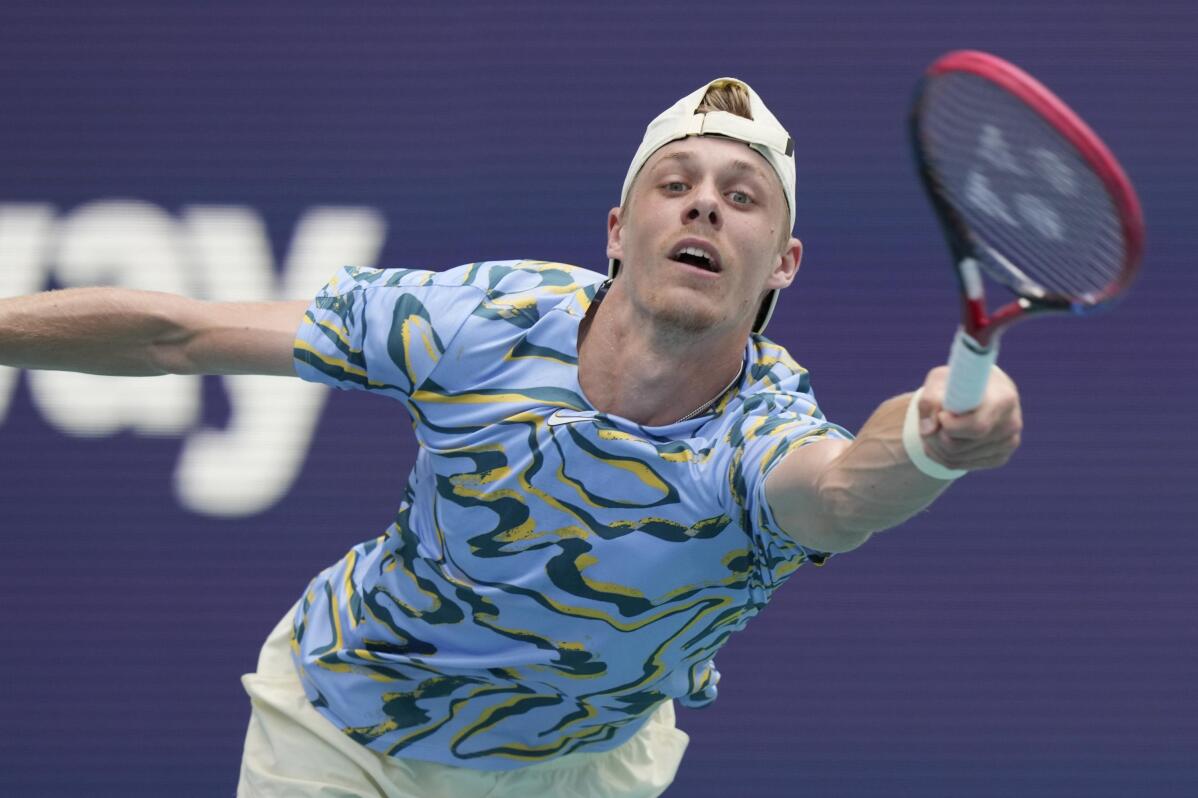 12 of 13

|
Denis Shapovalov of Canada reaches for a serve by Taylor Fritz during the Miami Open tennis tournament, Sunday, March 26, 2023, in Miami Gardens, Fla. (AP Photo/Marta Lavandier)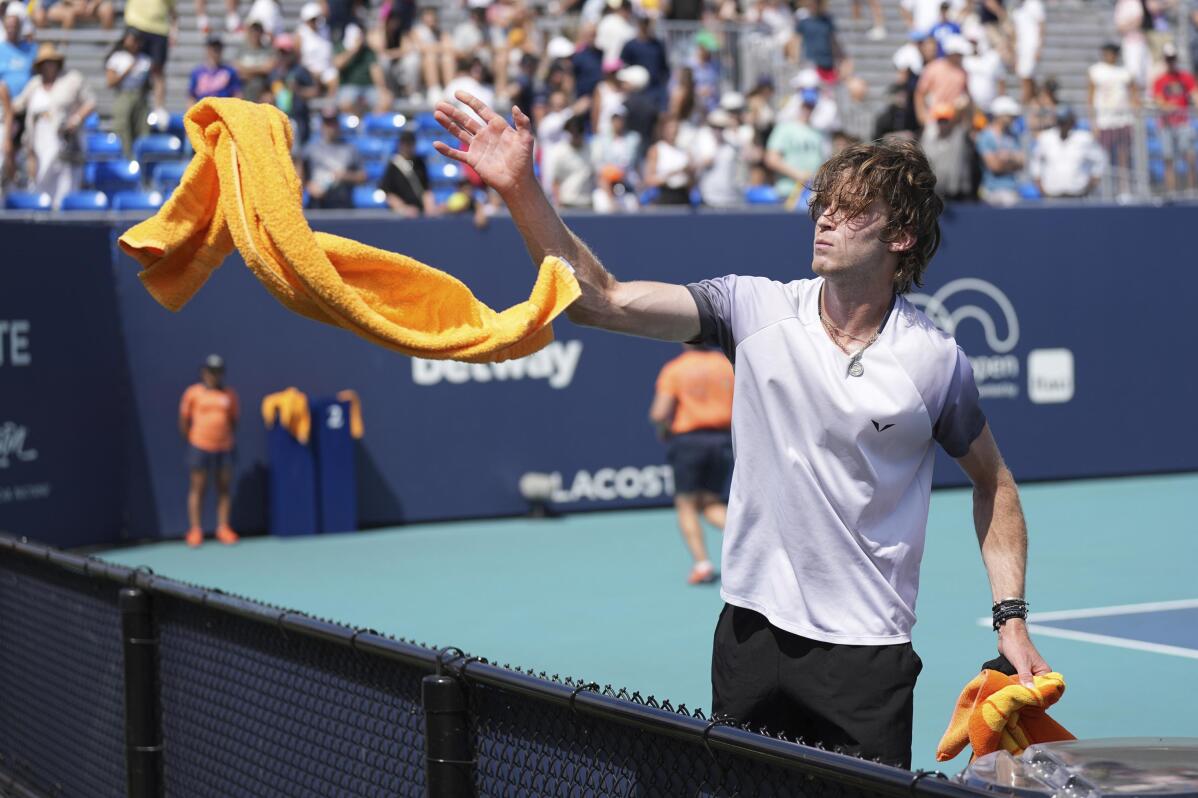 13 of 13

|
Andrey Rublev, of Russia, tosses a towel to fans after defeating Miomir Kecmanovic, of Serbia, at the Miami Open tennis tournament, Sunday, March 26, 2023, in Miami Gardens, Fla. (AP Photo/Jim Rassol)
Alcaraz, Sabalenka advance to 4th round of Miami Open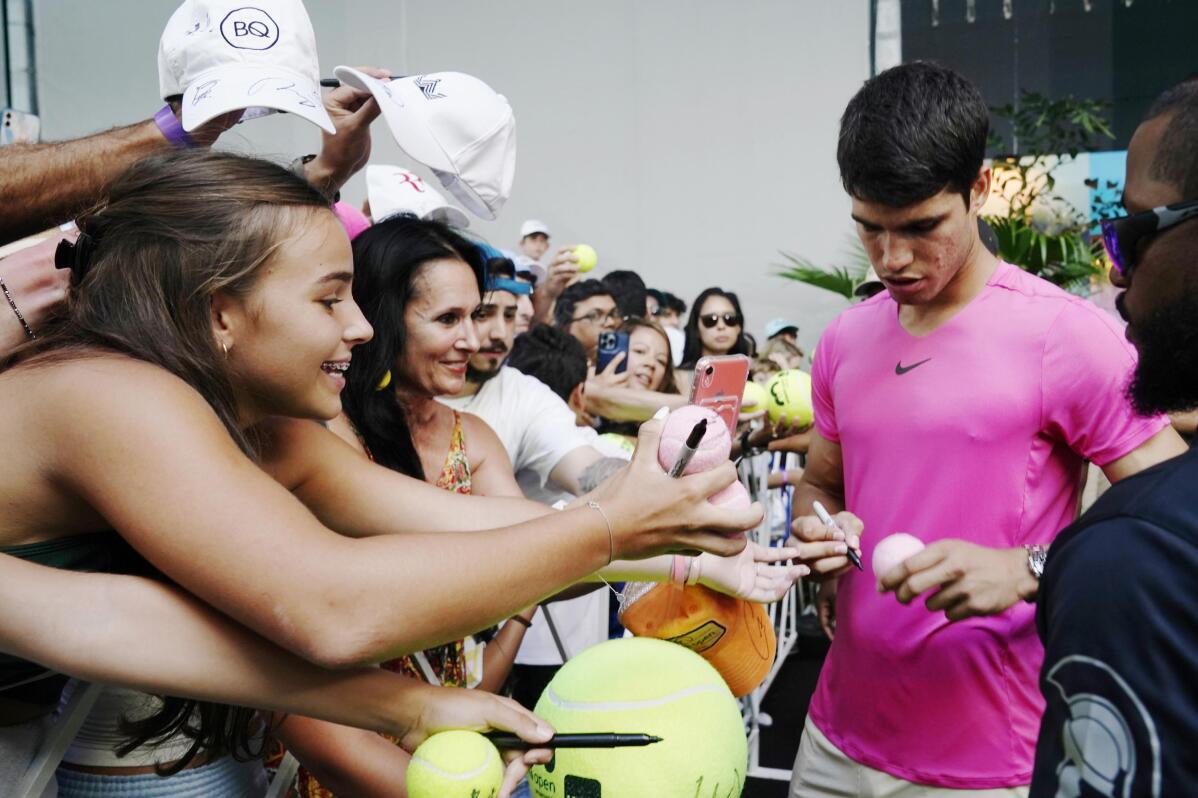 1 of 13

|
Carlos Alcaraz of Spain signs autographs for fans after defeating Dusan Lajovic of Serbia during the Miami Open tennis tournament, Sunday, March 26, 2023, in Miami Gardens, Fla. (AP Photo/Marta Lavandier)
1 of 13
Carlos Alcaraz of Spain signs autographs for fans after defeating Dusan Lajovic of Serbia during the Miami Open tennis tournament, Sunday, March 26, 2023, in Miami Gardens, Fla. (AP Photo/Marta Lavandier)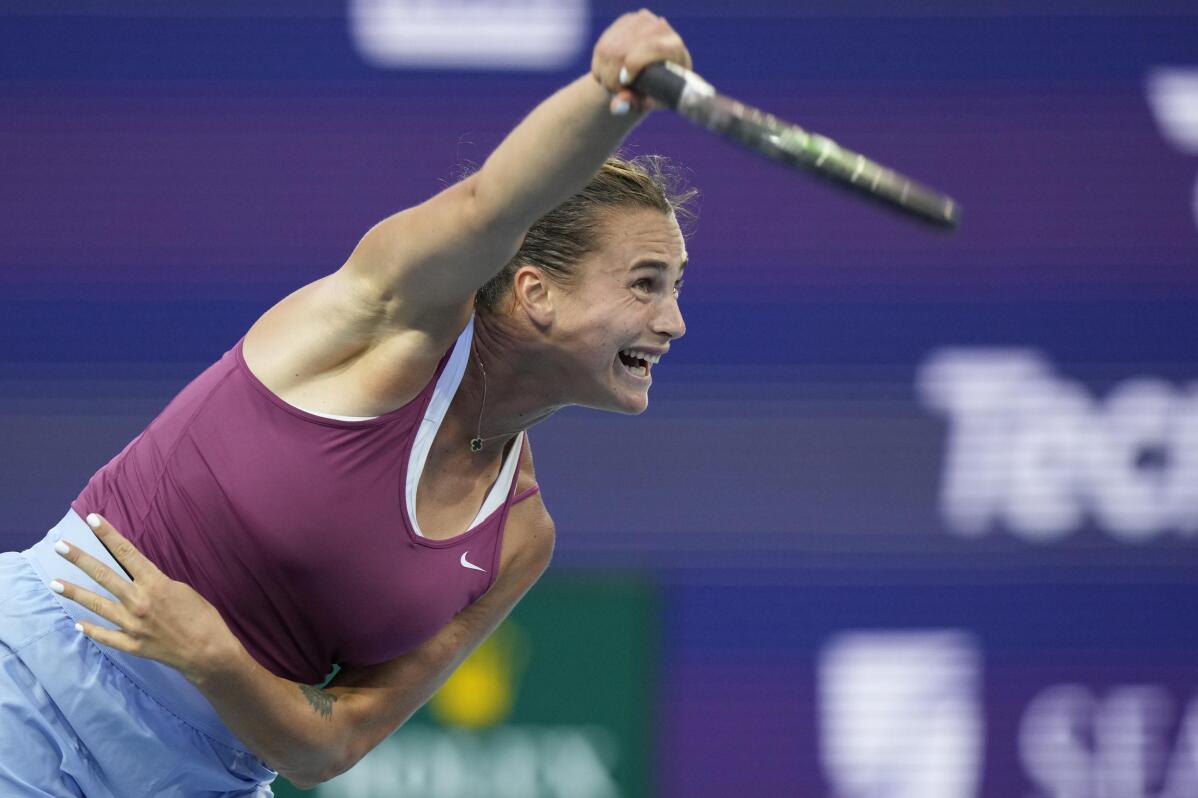 2 of 13

|
Aryna Sabalenka, of Belarus, serves to Marie Bouzkova, of the Czech Republic, during the Miami Open tennis tournament, Sunday, March 26, 2023, in Miami Gardens, Fla. (AP Photo/Wilfredo Lee)
2 of 13
Aryna Sabalenka, of Belarus, serves to Marie Bouzkova, of the Czech Republic, during the Miami Open tennis tournament, Sunday, March 26, 2023, in Miami Gardens, Fla. (AP Photo/Wilfredo Lee)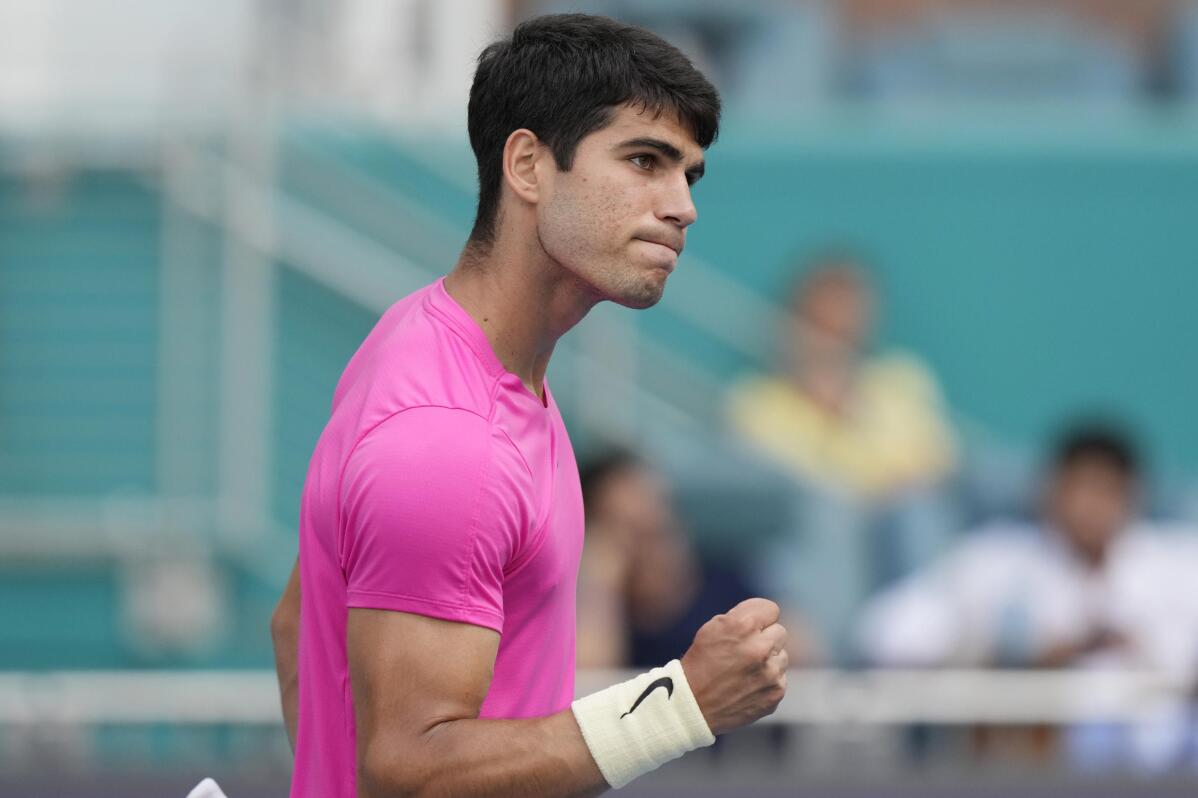 3 of 13

|
Carlos Alcaraz of Spain reacts after winning point against Dusan Lajovic of Serbia during the Miami Open tennis tournament, Sunday, March 26, 2023, in Miami Gardens, Fla. (AP Photo/Marta Lavandier)
3 of 13
Carlos Alcaraz of Spain reacts after winning point against Dusan Lajovic of Serbia during the Miami Open tennis tournament, Sunday, March 26, 2023, in Miami Gardens, Fla. (AP Photo/Marta Lavandier)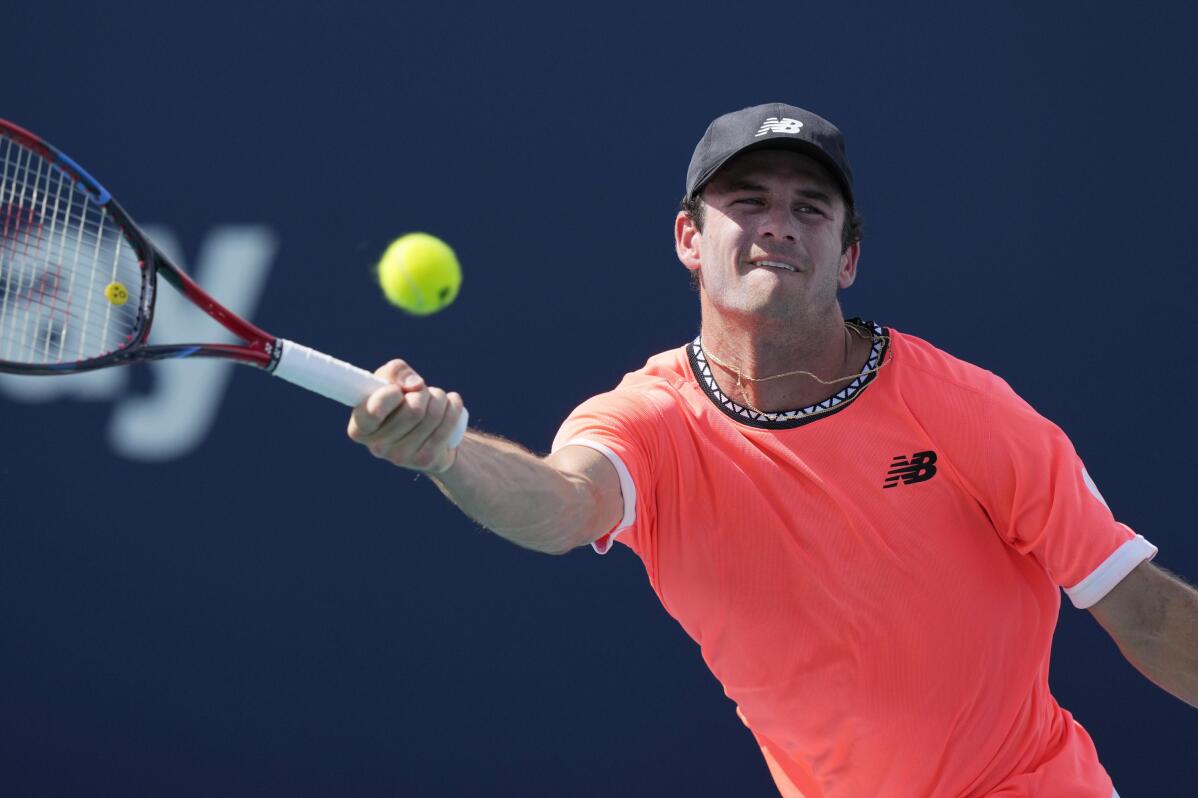 4 of 13

|
Tommy Paul returns to Alejandro Davidovich Fokina of Spain during the Miami Open tennis tournament, Sunday, March 26, 2023, in Miami Gardens, Fla. (AP Photo/Marta Lavandier)
4 of 13
Tommy Paul returns to Alejandro Davidovich Fokina of Spain during the Miami Open tennis tournament, Sunday, March 26, 2023, in Miami Gardens, Fla. (AP Photo/Marta Lavandier)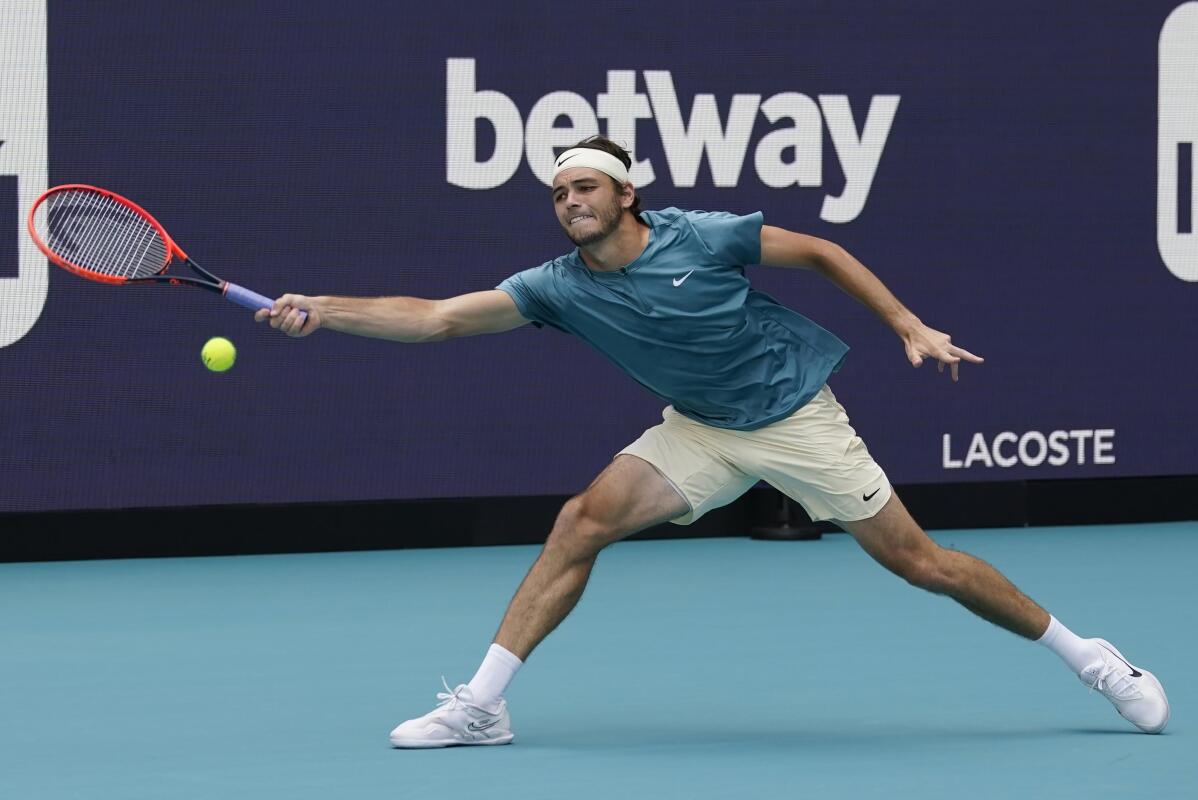 5 of 13

|
Taylor Fritz returns to Denis Shapovalov of Canada during the Miami Open tennis tournament, Sunday, March 26, 2023, in Miami Gardens, Fla. (AP Photo/Marta Lavandier)
5 of 13
Taylor Fritz returns to Denis Shapovalov of Canada during the Miami Open tennis tournament, Sunday, March 26, 2023, in Miami Gardens, Fla. (AP Photo/Marta Lavandier)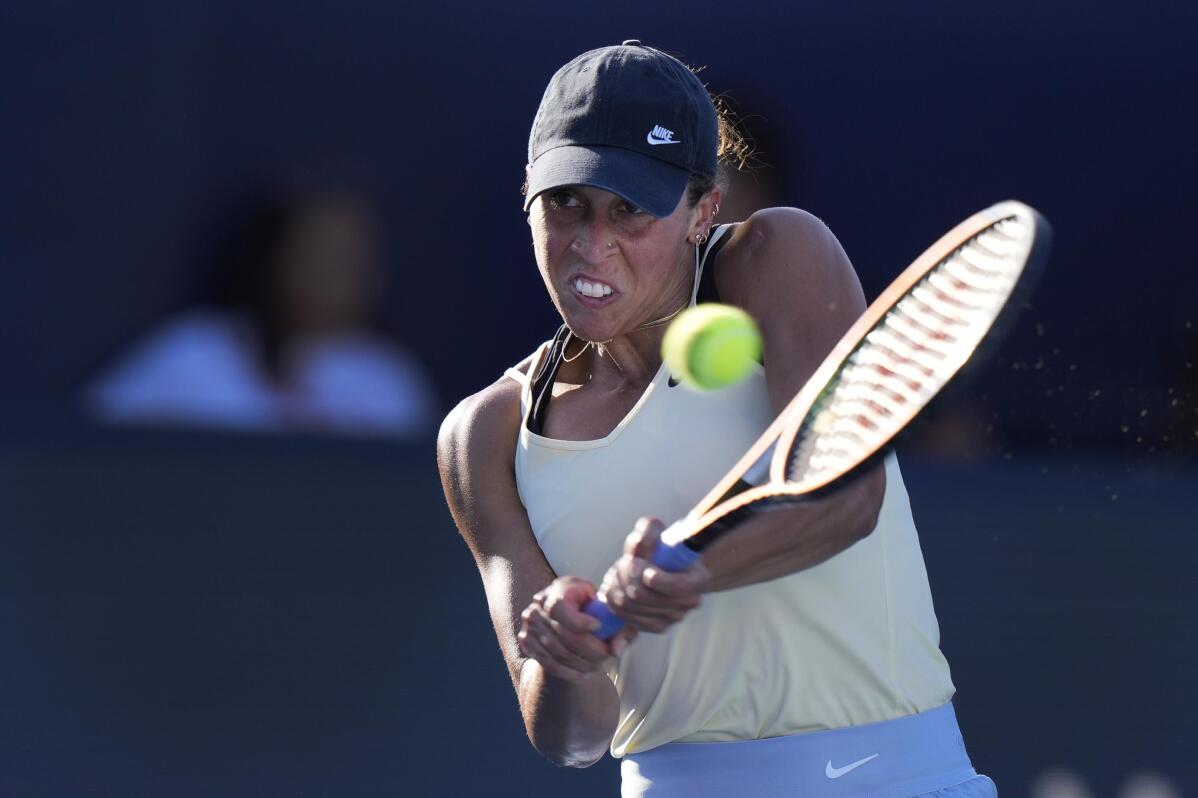 6 of 13

|
Madison Keys, of the U.S., returns a shot from Barbora Krejcikova of the Czech Republic, during the Miami Open tennis tournament, Sunday, March 26, 2023, in Miami Gardens, Fla. (AP Photo/Wilfredo Lee)
6 of 13
Madison Keys, of the U.S., returns a shot from Barbora Krejcikova of the Czech Republic, during the Miami Open tennis tournament, Sunday, March 26, 2023, in Miami Gardens, Fla. (AP Photo/Wilfredo Lee)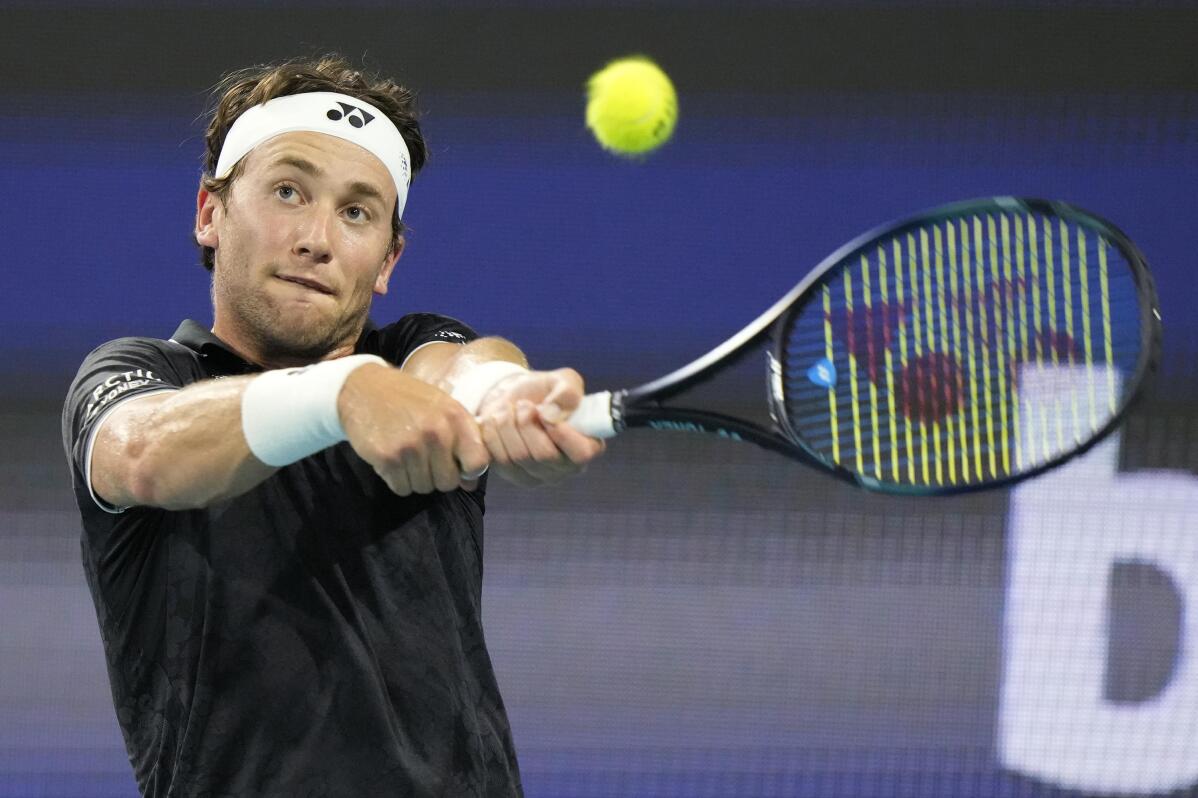 7 of 13

|
Casper Ruud, of Norway, returns a shot from Botic van de Zandschulp, of the Netherlands, during the Miami Open tennis tournament, Sunday, March 26, 2023, in Miami Gardens, Fla. (AP Photo/Wilfredo Lee)
7 of 13
Casper Ruud, of Norway, returns a shot from Botic van de Zandschulp, of the Netherlands, during the Miami Open tennis tournament, Sunday, March 26, 2023, in Miami Gardens, Fla. (AP Photo/Wilfredo Lee)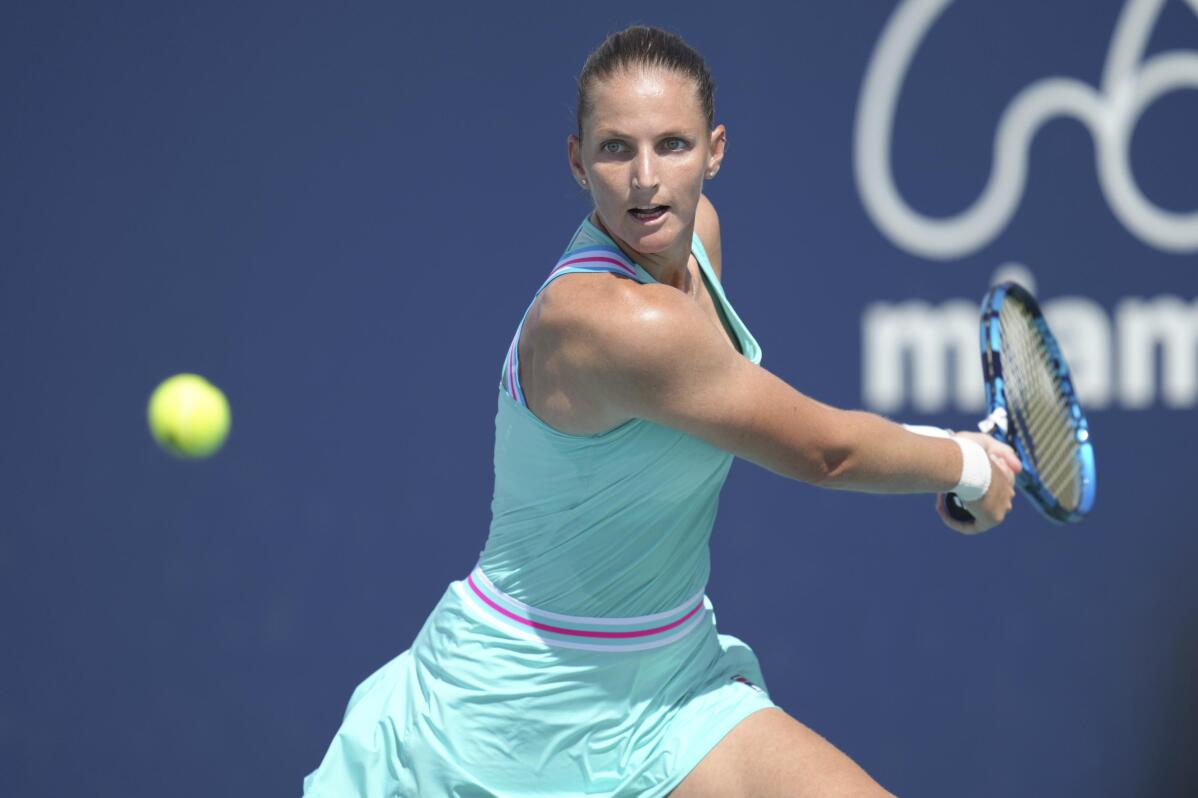 8 of 13

|
Karolina Pliskova, of the Czech Republic, returns a volley against Marketa Vondrousova, of the Czech Republic, in the first set of a match at the Miami Open tennis tournament, Sunday, March 26, 2023, in Miami Gardens, Fla. (AP Photo/Jim Rassol)
8 of 13
Karolina Pliskova, of the Czech Republic, returns a volley against Marketa Vondrousova, of the Czech Republic, in the first set of a match at the Miami Open tennis tournament, Sunday, March 26, 2023, in Miami Gardens, Fla. (AP Photo/Jim Rassol)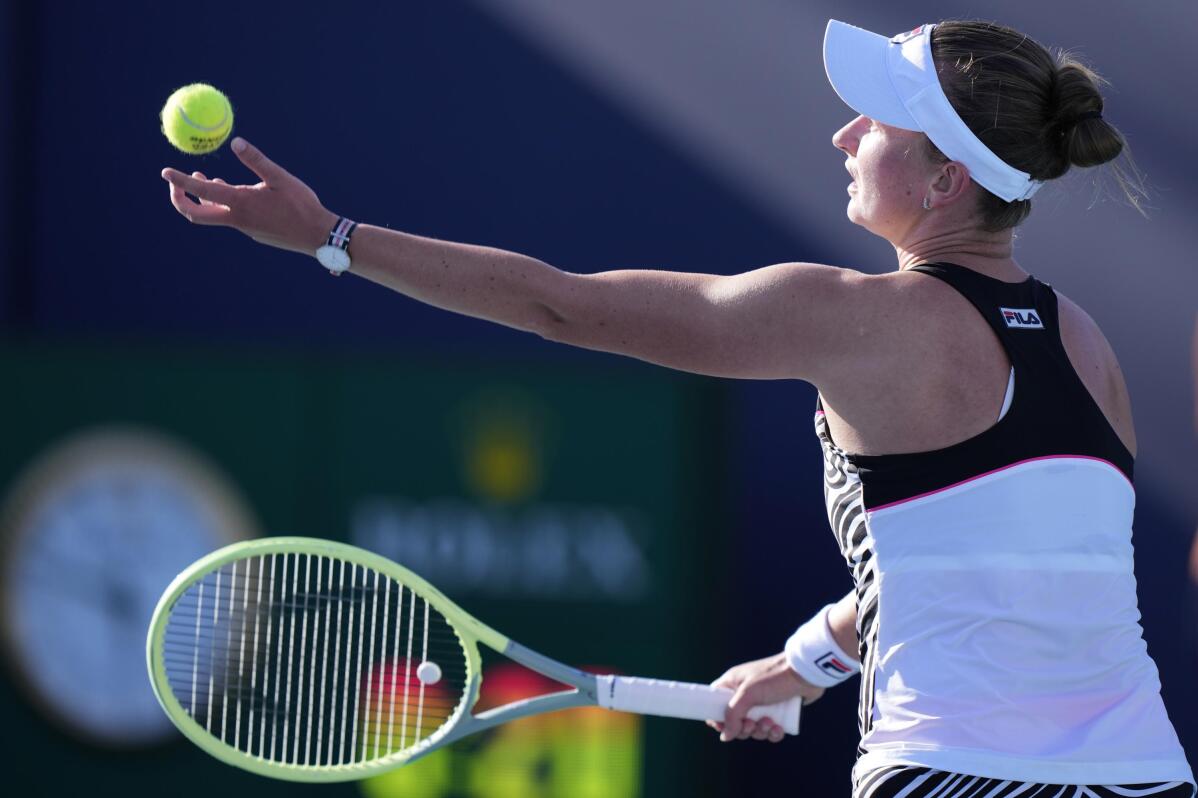 9 of 13

|
Barbora Krejcikova of the Czech Republic, serves to Madison Keys, of the U.S., during the Miami Open tennis tournament, Sunday, March 26, 2023, in Miami Gardens, Fla. (AP Photo/Wilfredo Lee)
9 of 13
Barbora Krejcikova of the Czech Republic, serves to Madison Keys, of the U.S., during the Miami Open tennis tournament, Sunday, March 26, 2023, in Miami Gardens, Fla. (AP Photo/Wilfredo Lee)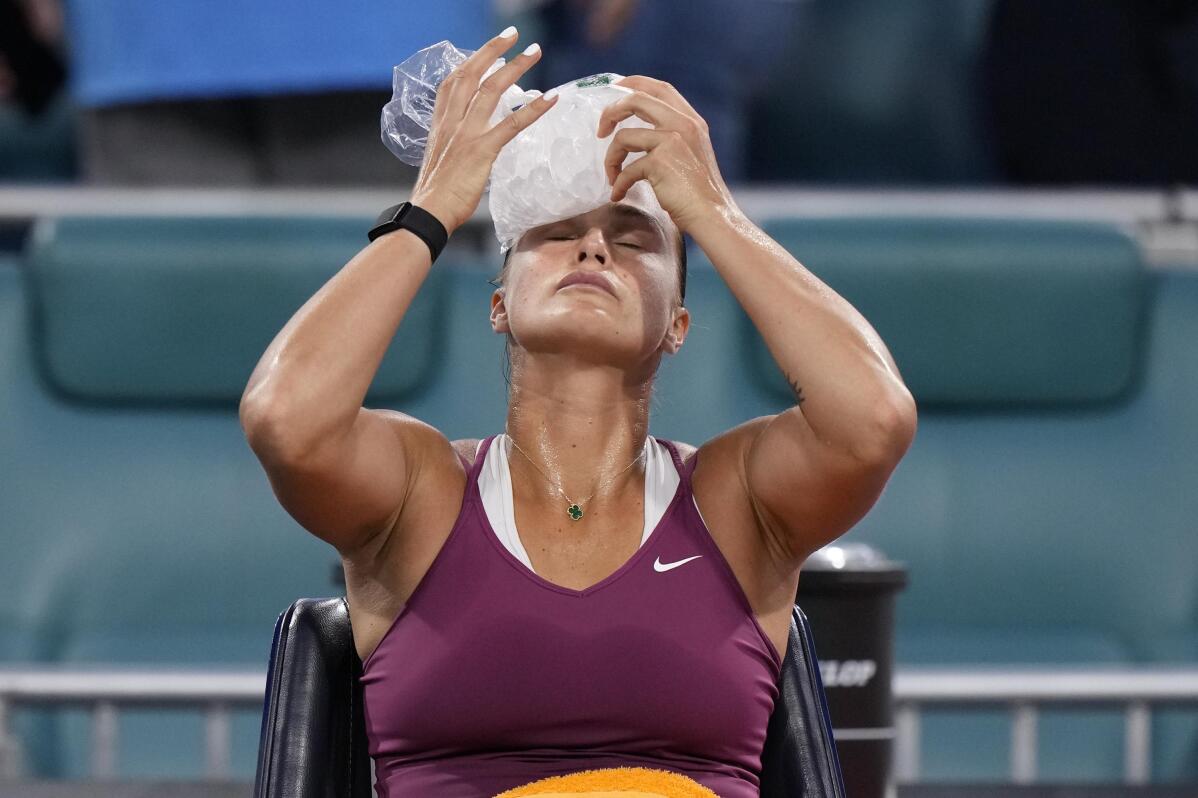 10 of 13

|
Aryna Sabalenka, of Belarus, cools off during a match against Marie Bouzkova, of the Czech Republic, at the Miami Open tennis tournament, Sunday, March 26, 2023, in Miami Gardens, Fla. (AP Photo/Wilfredo Lee)
10 of 13
Aryna Sabalenka, of Belarus, cools off during a match against Marie Bouzkova, of the Czech Republic, at the Miami Open tennis tournament, Sunday, March 26, 2023, in Miami Gardens, Fla. (AP Photo/Wilfredo Lee)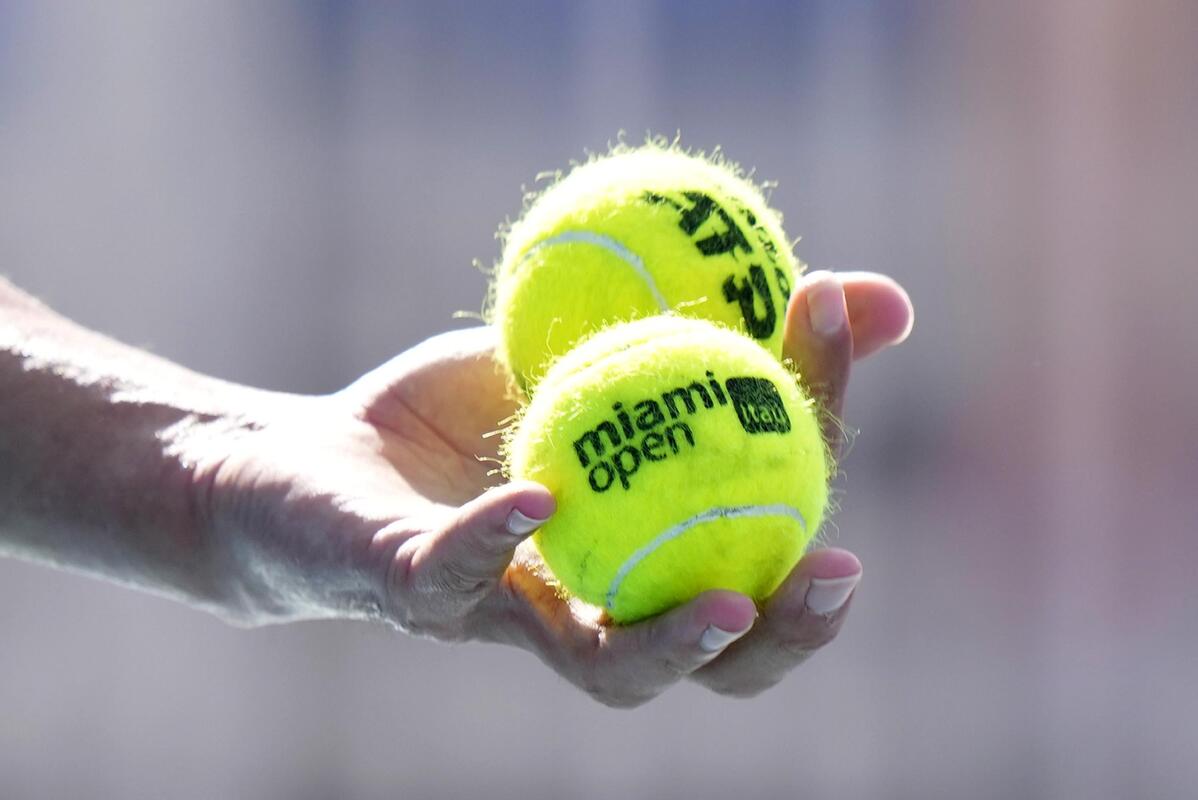 11 of 13

|
Taro Daniel, of Japan, selects his balls as he prepares to serve Emil Ruusuvuori, of Finland, during the Miami Open tennis tournament, Sunday, March 26, 2023, in Miami Gardens, Fla. (AP Photo/Wilfredo Lee)
11 of 13
Taro Daniel, of Japan, selects his balls as he prepares to serve Emil Ruusuvuori, of Finland, during the Miami Open tennis tournament, Sunday, March 26, 2023, in Miami Gardens, Fla. (AP Photo/Wilfredo Lee)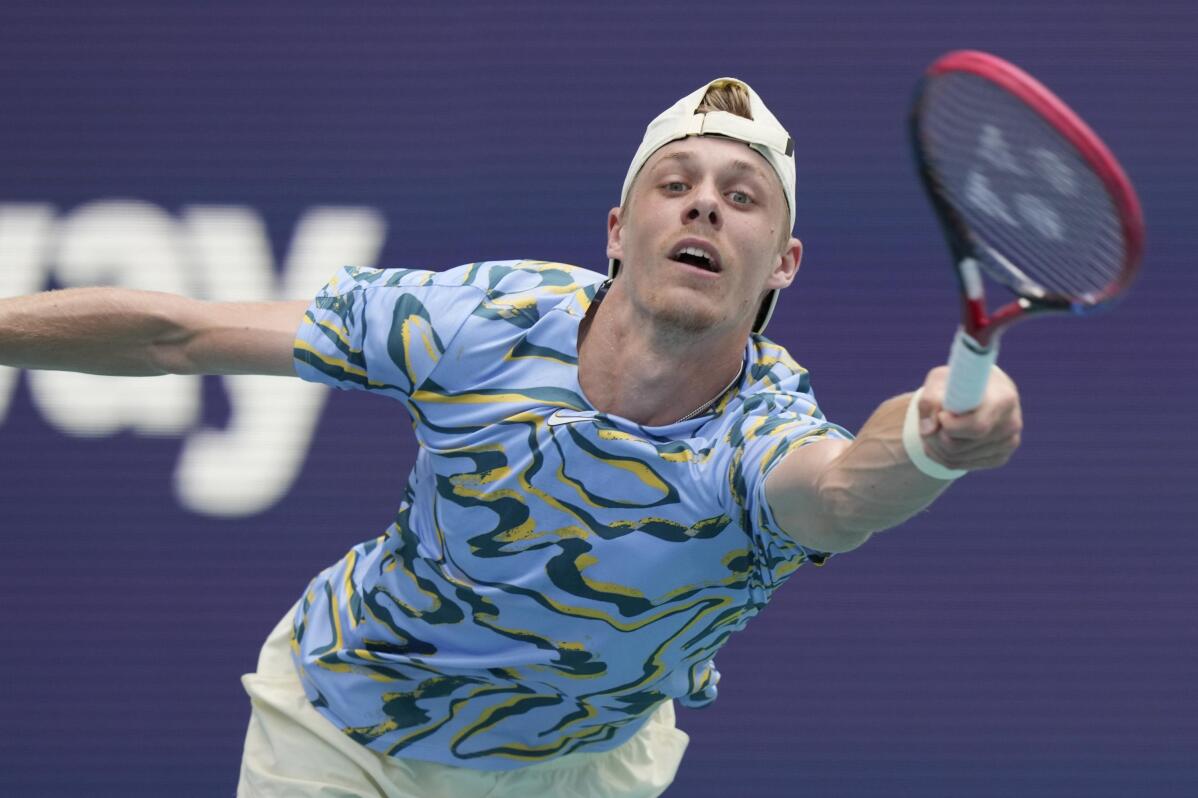 12 of 13

|
Denis Shapovalov of Canada reaches for a serve by Taylor Fritz during the Miami Open tennis tournament, Sunday, March 26, 2023, in Miami Gardens, Fla. (AP Photo/Marta Lavandier)
12 of 13
Denis Shapovalov of Canada reaches for a serve by Taylor Fritz during the Miami Open tennis tournament, Sunday, March 26, 2023, in Miami Gardens, Fla. (AP Photo/Marta Lavandier)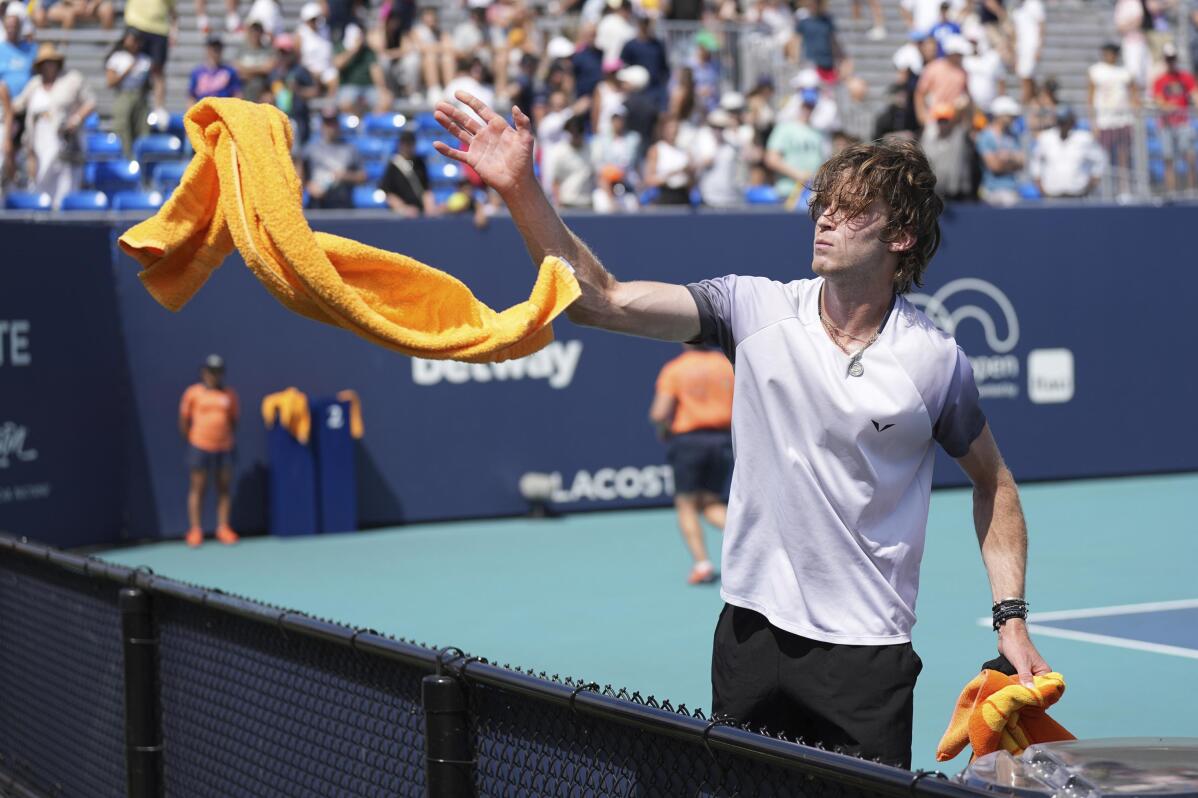 13 of 13

|
Andrey Rublev, of Russia, tosses a towel to fans after defeating Miomir Kecmanovic, of Serbia, at the Miami Open tennis tournament, Sunday, March 26, 2023, in Miami Gardens, Fla. (AP Photo/Jim Rassol)
13 of 13
Andrey Rublev, of Russia, tosses a towel to fans after defeating Miomir Kecmanovic, of Serbia, at the Miami Open tennis tournament, Sunday, March 26, 2023, in Miami Gardens, Fla. (AP Photo/Jim Rassol)
MIAMI GARDENS, Fla. (AP) — Top-ranked Carlos Alcaraz of Spain beat Dusan Lajovic of Serbia 6-0, 7-6 (5) and will face American Tommy Paul on Tuesday.
World No. 2 Aryna Sabalenka of Belarus cruised past Marie Bouzkova of the Czech Republic 6-1, 6-2 on Sunday.
"I lost the first and only match that I played against Tommy" Alcaraz said. "I know that he's a really talented and really tough player, so I have to play at my best. Let's see what's going to happen on Tuesday.
Paul and fellow American No. 10 Taylor Fritz advanced in straight sets.
Bianca Andreescu of Canada — the 2019 U.S. Open champion — beat 2020 Australian Open winner Sofia Kenin of the United States 6-4, 6-4.
Andreescu advanced to the tournament's fourth round for the third time. She had seven aces to Kenin's one, and double-faulted only once as she won the third straight matchup between the Grand Slam champions. Andreescu converted all three of her break opportunities.
In other matches, Barbora Krejcikova of the Czech Republic outlasted American Madison Keys 7-6 (4), 6-3.
Also, Ekaterina Alexandrova of Russia defeated world No. 9 Belinda Bencic of Switzerland, the gold medalist at the Tokyo Olympics, 7-6 (8), 6-3; Marketa Vondrousova ousted Karolina Pliskova 6-1, 6-2 in an all-Czech matchup; Sorana Cirstea of Romania beat Karolína Muchová of the Czech Republic 7-5, 6-1; and Varvara Gracheva of Russia defeated Magdalena Frech of Poland 6-1, 6-2.
On the men's side, Botic van de Zandschulp of the Netherlands outlasted world No. 4 Casper Ruud of Norway 3-6, 6-4, 6-4.
Van de Zandschulp had 12 aces to Ruud's six, but they each had three double-faults. Van de Zandschulp will face Emil Ruusuvuori of Finland in the next round.
Paul beat Alejandro Davidovich Fokina of Spain 6-3, 7-5, helped by eight aces. Fokina had six double-faults.
Fritz defeated Denis Shapovalov of Canada 6-4, 6-4. Shapovalov had seven double-faults. Fritz will face world No. 8 Holger Rune of Denmark, who defeated Diego Schwartzman of Argentina 6-4, 6-2.
"It's going to be a tough match I think for a round of 16," Fritz said. "Myself playing Holger is a very tough draw. I'm excited to play him. We've never played before. I'm not entirely I guess sure what to make of his game. Obviously, he's very good."
Also, Andrey Rublev of Russia dispatched Miomir Kecmanović of Serbia 6-1, 6-2.
___
AP tennis: https://apnews.com/hub/tennis and https://twitter.com/AP_Sports