Whitmer meets with government, business leaders on Europe trip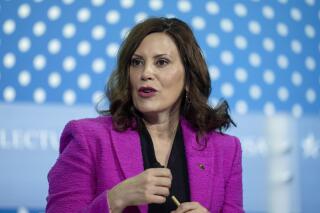 LANSING, Mich. (AP) — Michigan Gov. Gretchen Whitmer conducted her second international trade mission of the year this week, spending two days in Austria and Latvia meeting with both business and government leaders.
Whitmer, who spoke with The Associated Press upon returning to Michigan on Friday, said the international trips are "an important part of the job," as the state looks to grow relationships and "secure additional economic opportunities for our state."
In Latvia, the second-term Democratic governor and close ally of U.S. President Joe Biden met with Latvian President Egils Levits and other ranking officials before visiting Michigan national guard troops stationed in the country.
Latvia is "Michigan's European ally," Whitmer said. The partnership between the country and state has reached 30 years. Former Gov. Rick Snyder visited the country in 2018 for the unveiling of a roadway being named "Michigan Avenue."
Whitmer also used the visit to Latvia, which borders Russia, to show support for Ukraine in what she described in a statement following the visit as "Russia's illegal war."
"It has become more important than ever to support our allies around the world to protect democracy," Whitmer said in the statement.
The comments stand in contrast to those of Florida Gov. Ron DeSantis, who characterized the war earlier this year as a "territorial dispute," before walking back the comment. Whitmer told the AP that it's "sad to see these political points being scored with Kremlin talking points."
In Austria, she met with business executives at AVL List GmbH, a global automotive supplier. The company's North American headquarters are in Michigan, and Whitmer said she discussed future expansion in the state.
Whitmer spent five days in Europe in January, where she spoke at the World Economic Forum's annual meeting in Davos and visited Norway. The trip, according to her office, was vital in securing a $400 million hydrogen facility in the state announced by Norwegian green hydrogen company Nel last week.
Whitmer has been frequently mentioned as a future presidential candidate, but she shot down any speculation that the overseas trips may signal any future ambitions.
"No one should read anything more into it other than it was an economic development trip and an opportunity to see our troops," she said.