Knicks move closer to playoffs behind Brunson's 48 vs. Cavs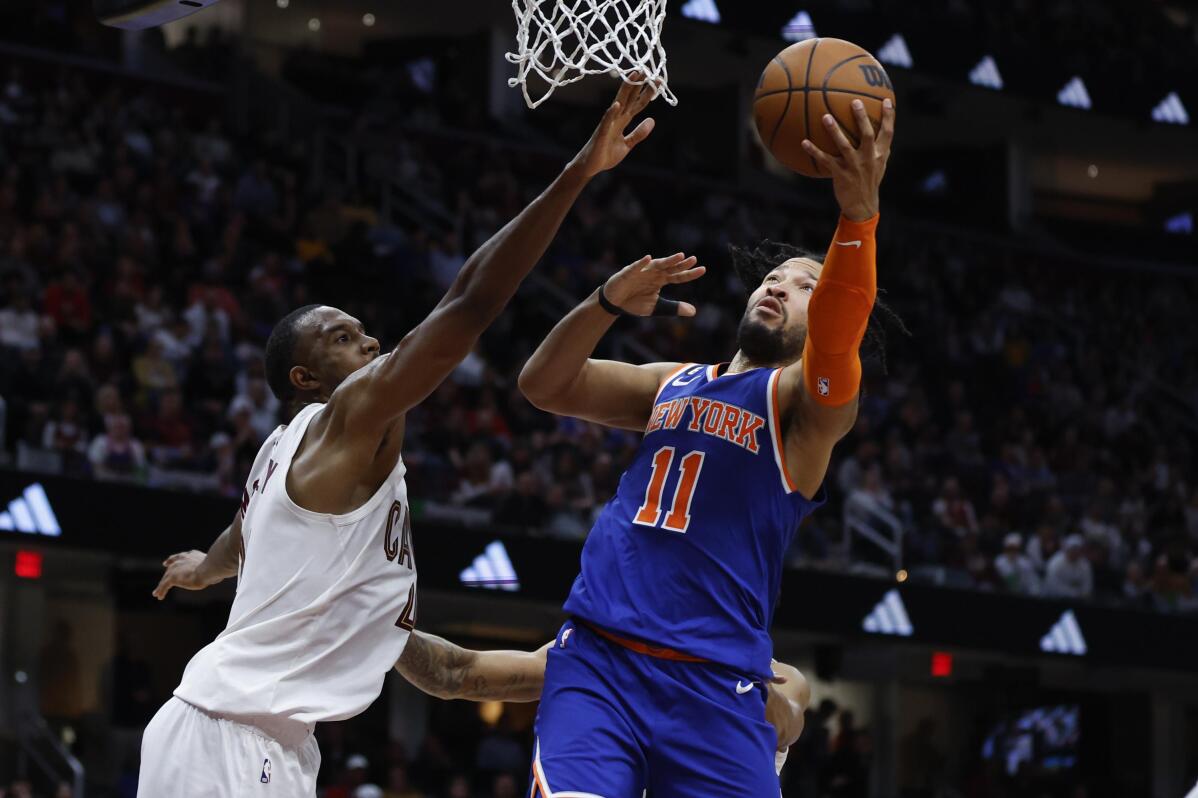 1 of 4

|
New York Knicks guard Jalen Brunson (11) shoots against Cleveland Cavaliers forward Evan Mobley, left, during the second half of an NBA basketball game, Friday, March 31, 2023, in Cleveland. (AP Photo/Ron Schwane)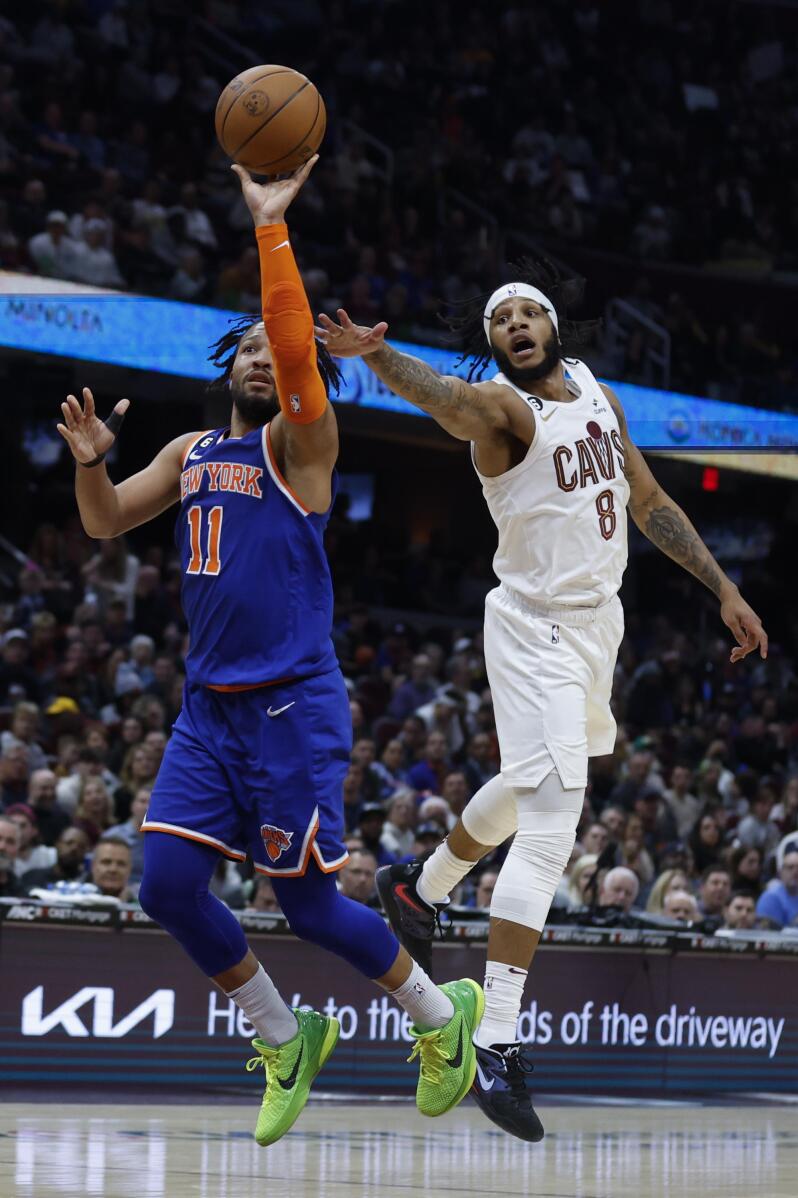 2 of 4

|
New York Knicks guard Jalen Brunson (11) shoots against Cleveland Cavaliers forward Lamar Stevens (8) during the second half of an NBA basketball game, Friday, March 31, 2023, in Cleveland. (AP Photo/Ron Schwane)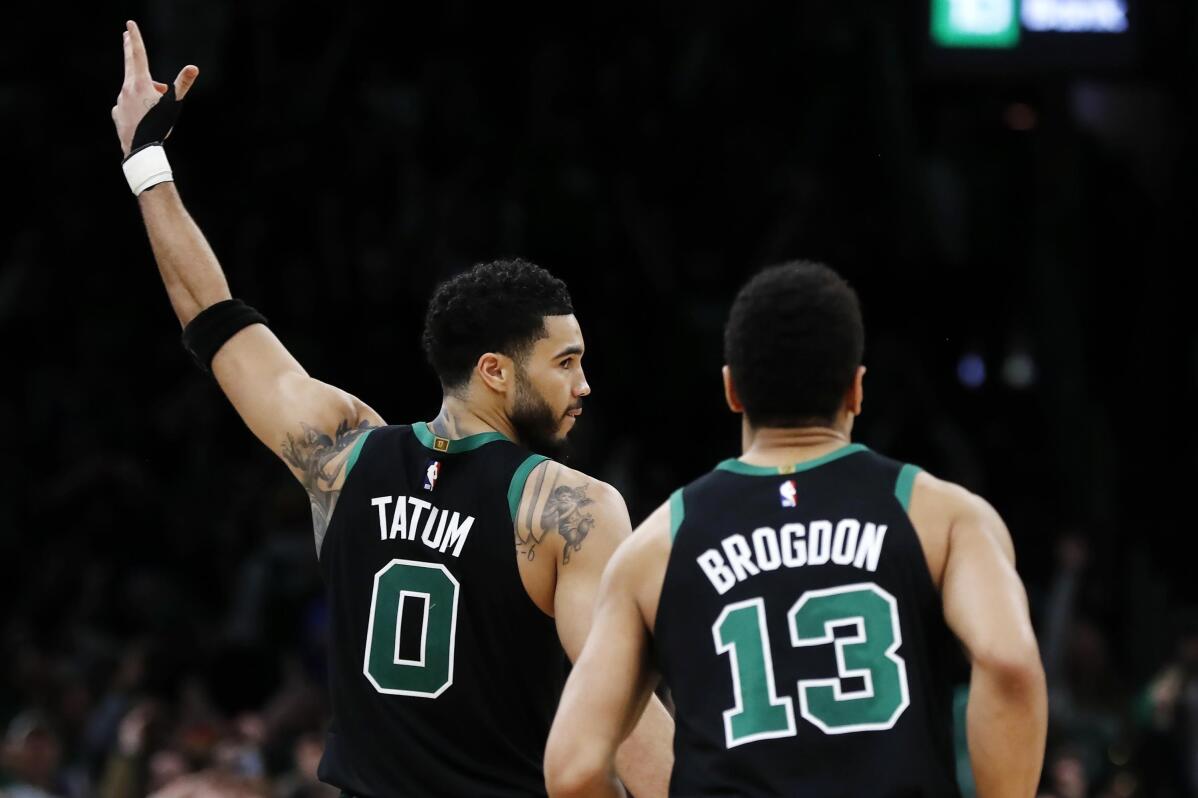 3 of 4

|
Boston Celtics' Jayson Tatum (0) reacts in front of teammate Malcolm Brogdon (13) after making a 3-point basket during the second half of an NBA basketball game against the Utah Jazz, Friday, March 31, 2023, in Boston. (AP Photo/Michael Dwyer)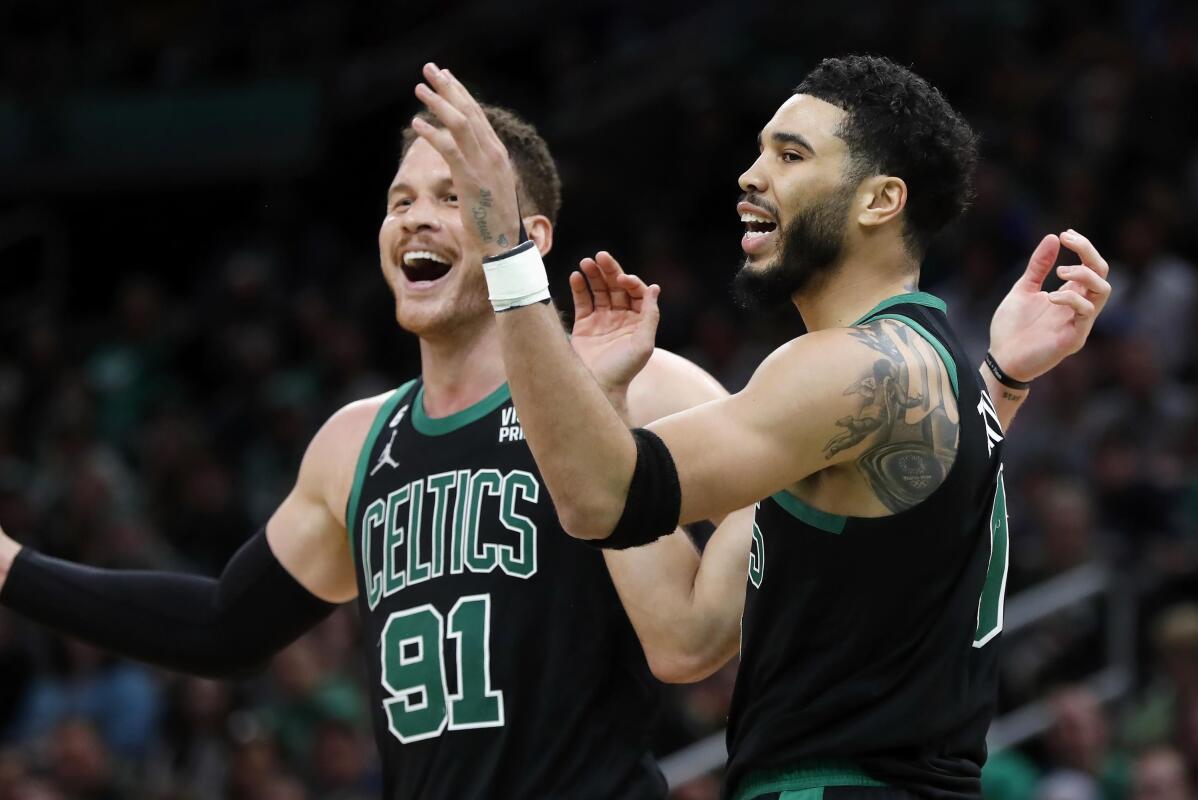 4 of 4

|
Boston Celtics' Jayson Tatum (0) reacts beside Blake Griffin (91) after being called on a foul that was ruled a Flagrant 1 foul on review during the second half of an NBA basketball game against the Utah Jazz, Friday, March 31, 2023, in Boston. (AP Photo/Michael Dwyer)
Knicks move closer to playoffs behind Brunson's 48 vs. Cavs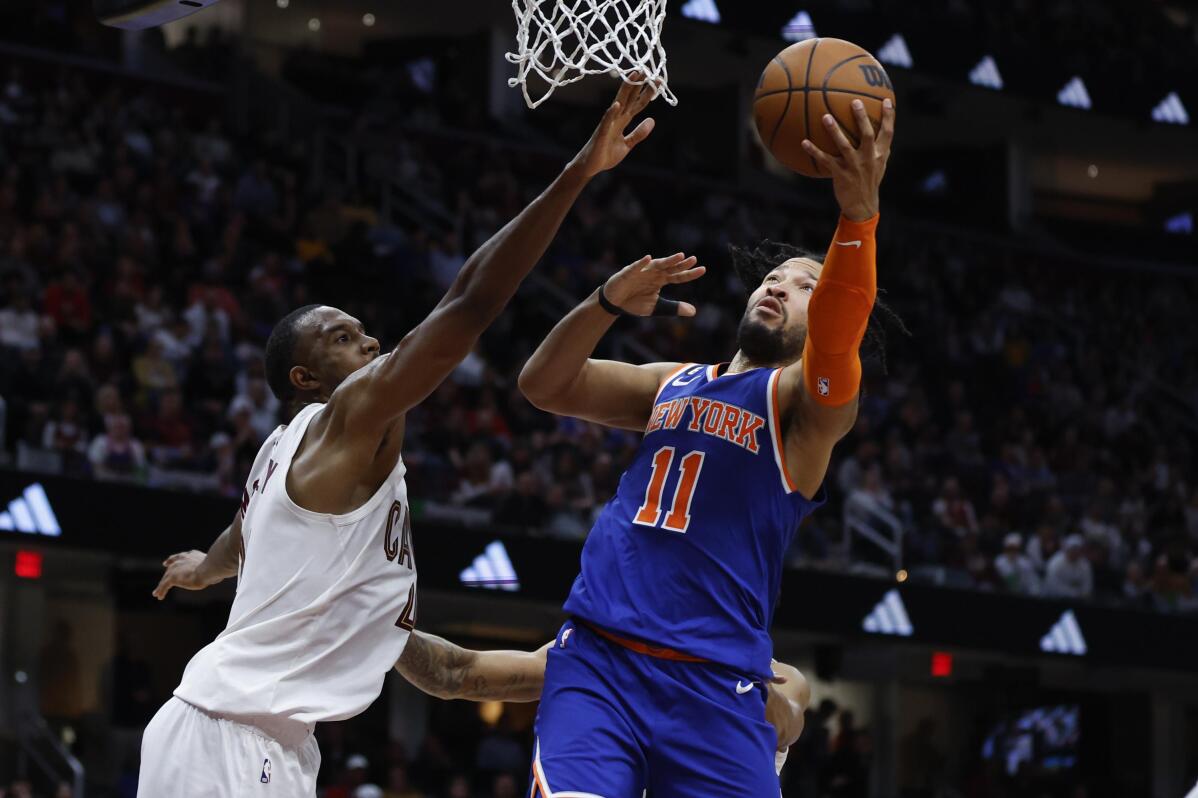 1 of 4

|
New York Knicks guard Jalen Brunson (11) shoots against Cleveland Cavaliers forward Evan Mobley, left, during the second half of an NBA basketball game, Friday, March 31, 2023, in Cleveland. (AP Photo/Ron Schwane)
1 of 4
New York Knicks guard Jalen Brunson (11) shoots against Cleveland Cavaliers forward Evan Mobley, left, during the second half of an NBA basketball game, Friday, March 31, 2023, in Cleveland. (AP Photo/Ron Schwane)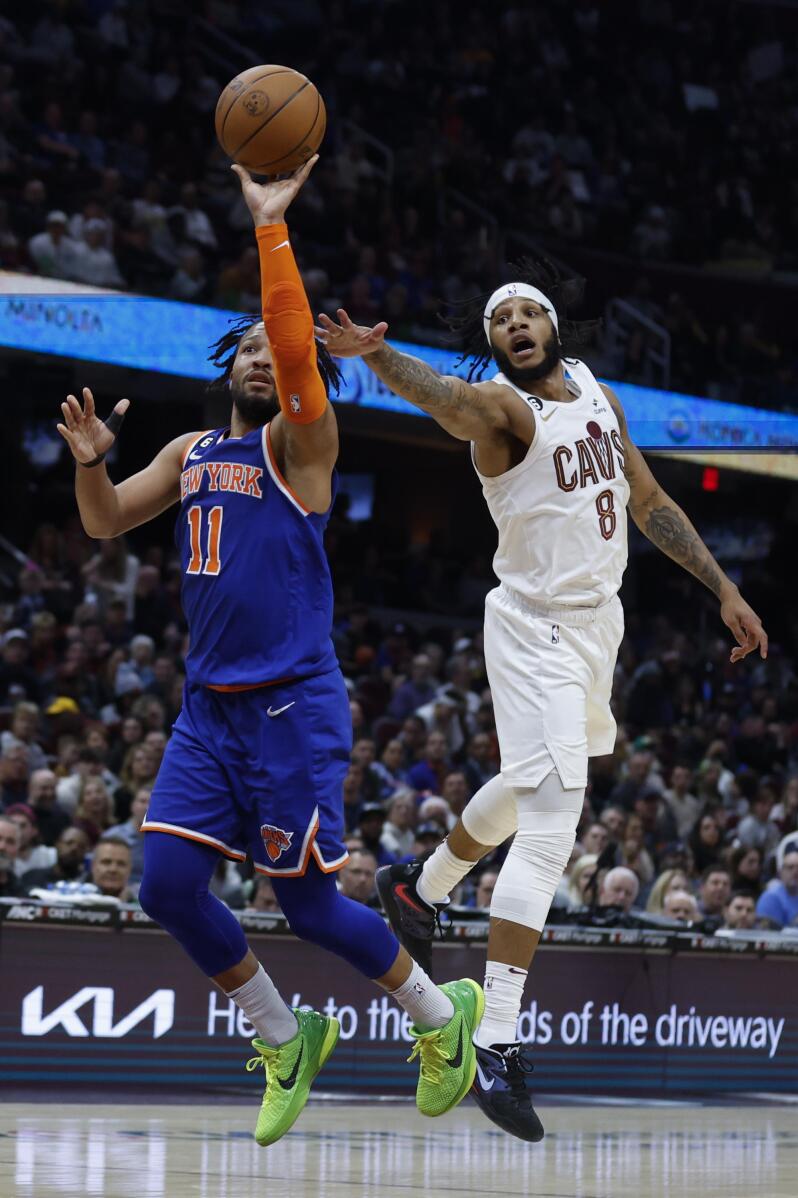 2 of 4

|
New York Knicks guard Jalen Brunson (11) shoots against Cleveland Cavaliers forward Lamar Stevens (8) during the second half of an NBA basketball game, Friday, March 31, 2023, in Cleveland. (AP Photo/Ron Schwane)
2 of 4
New York Knicks guard Jalen Brunson (11) shoots against Cleveland Cavaliers forward Lamar Stevens (8) during the second half of an NBA basketball game, Friday, March 31, 2023, in Cleveland. (AP Photo/Ron Schwane)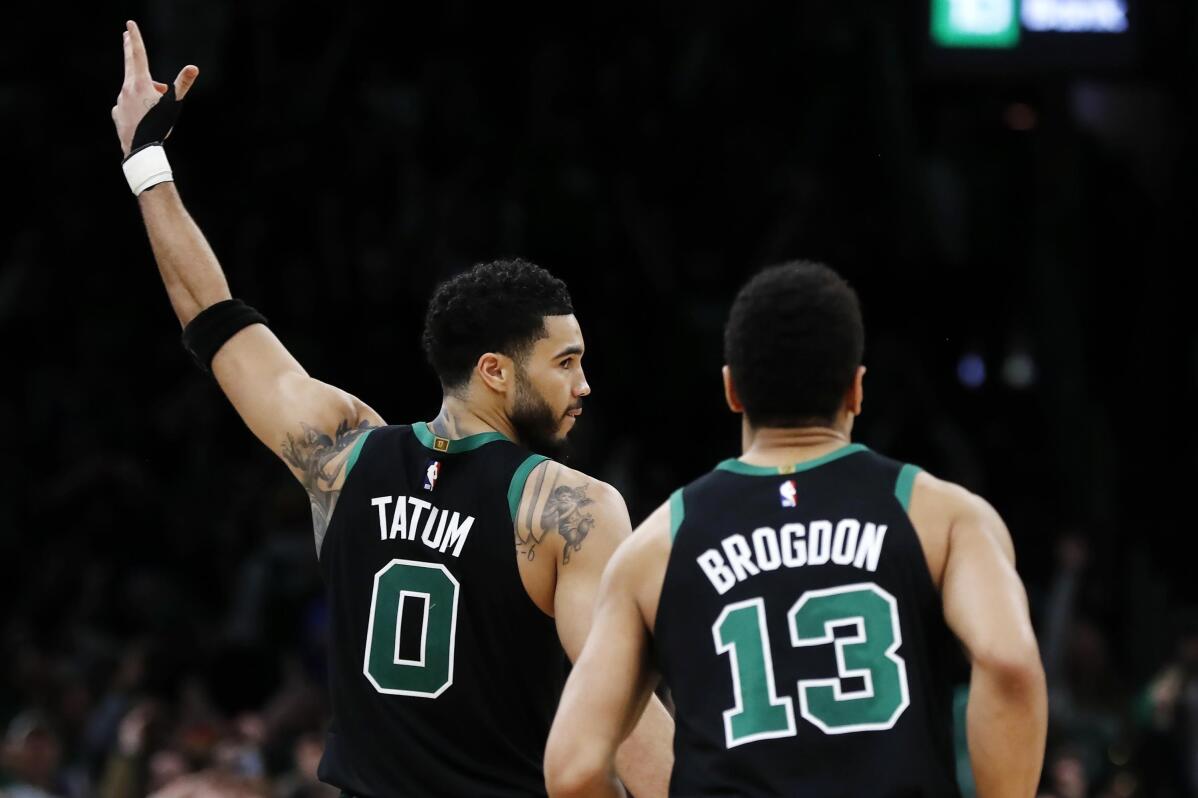 3 of 4

|
Boston Celtics' Jayson Tatum (0) reacts in front of teammate Malcolm Brogdon (13) after making a 3-point basket during the second half of an NBA basketball game against the Utah Jazz, Friday, March 31, 2023, in Boston. (AP Photo/Michael Dwyer)
3 of 4
Boston Celtics' Jayson Tatum (0) reacts in front of teammate Malcolm Brogdon (13) after making a 3-point basket during the second half of an NBA basketball game against the Utah Jazz, Friday, March 31, 2023, in Boston. (AP Photo/Michael Dwyer)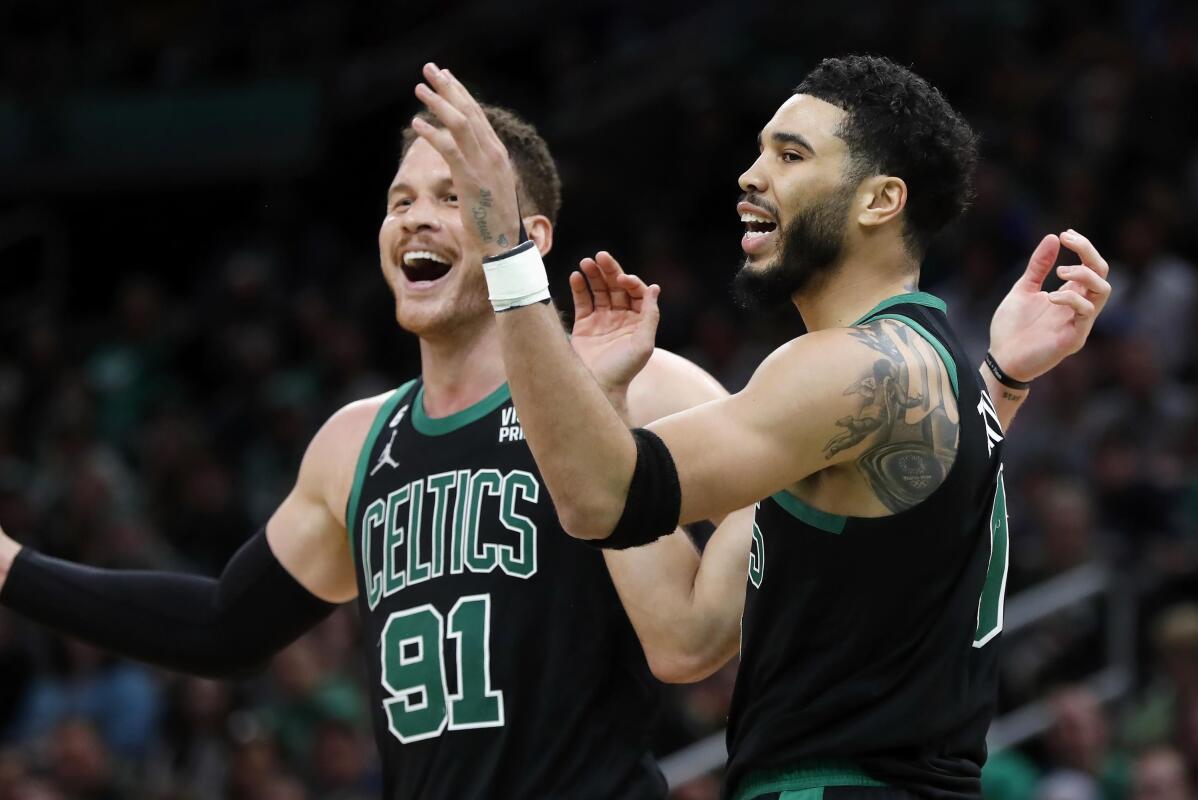 4 of 4

|
Boston Celtics' Jayson Tatum (0) reacts beside Blake Griffin (91) after being called on a foul that was ruled a Flagrant 1 foul on review during the second half of an NBA basketball game against the Utah Jazz, Friday, March 31, 2023, in Boston. (AP Photo/Michael Dwyer)
4 of 4
Boston Celtics' Jayson Tatum (0) reacts beside Blake Griffin (91) after being called on a foul that was ruled a Flagrant 1 foul on review during the second half of an NBA basketball game against the Utah Jazz, Friday, March 31, 2023, in Boston. (AP Photo/Michael Dwyer)
CLEVELAND (AP) — Jalen Brunson scored a career-high 48 points and the New York Knicks moved closer to a playoff berth while waiting for All-Star Julius Randle to get healthy, outrunning the Cleveland Cavaliers 130-116 on Friday night.
The Knicks reduced their magic number to one in their first game without Randle, who sprained his left ankle Wednesday and will miss the rest of the regular season. New York hopes he'll be back for the postseason and a potential first-round matchup against the Cavs.
New York won the season series 3-1 and denied Cleveland a chance to lock up home-court advantage in the first round.
Donovan Mitchell scored 42 points to lead Cleveland, which closed within 123-116 before Brunson, who had seven 3-pointers and nine assists, put the Cavs away with a layup and 3-pointer. Brunson missed a floater in the final seconds that would have given him 50 points.
CELTICS 122, JAZZ 114
BOSTON (AP) — Jayson Tatum had 39 points and 11 assists and Boston pushed past Utah.
Malcolm Brogdon added 19 points and Derrick White finished with 17 as Boston continued to gain ground on the Milwaukee Bucks in the race for the Eastern Conference's top playoff seed. Boston had 17 3-pointers, including five by Tatum.
The Celtics (54-24) are 1 1/2 games behind Milwaukee (55-22) and were coming off a 41-point win over the Bucks on Thursday. Milwaukee is off until Sunday, when it hosts the 76ers. The Celtics have four games remaining.
Talen Horton-Tucker led Utah with 28 points and eight assists. Walker Kessler added 20 points and 10 rebounds.
NETS 124, HAWKS 107
NEW YORK (AP) — Mikal Bridges had 42 points to continue his torrid scoring stretch in Brooklyn and the Nets increased their lead for the final guaranteed playoff spot in the Eastern Conference by beating Atlanta.
Dorrian Finney-Smith added 19 points in his best game with the Nets, who led by only four at halftime before outscoring the Hawks 42-24 in the third quarter to open a 101-79 lead. Brooklyn moved two games ahead of idle Miami for the No. 6 spot with five games to play.
Bridges surpassed 40 points for the second time in three games and the third time since coming to the Nets in February. He finished March with 461 points, the second-highest total by a Nets player in their NBA franchise history in a month beyond the 471 scored by Kevin Durant — the player traded by the Nets in the package for Bridges — last November.
Dejounte Murray scored 21 points for the Hawks.
LAKERS 123, TIMBERWOLVES 111
MINNEAPOLIS (AP) — Anthony Davis scored 17 of his 38 points in the fourth quarter and had 17 rebounds to lift Los Angeles past Minnesota to leapfrog the Timberwolves in the crowded Western Conference playoff race.
LeBron James added 18 points and 10 rebounds and D'Angelo Russell had 12 points and 10 assists against his former team as the Lakers (39-38) won for the fifth time in six games to move into seventh place. They're even with New Orleans, owning the head-to-head tiebreaker over the Pelicans.
Mike Conley had 25 points on 7-for-11 shooting with seven assists before fouling out, and Karl-Anthony Towns scored 23 points for the Timberwolves (39-39), who tumbled into ninth place.
SUNS 100, NUGGETS 93
PHOENIX (AP) — Kevin Durant scored 30 points, Devin Booker added 27 and Phoenix won its fourth straight game by beating short-handed Denver.
The Suns are 5-0 with Durant in the lineup. Phoenix traded for the 13-time All-Star in a deadline deal in February.
The Nuggets rested a big chunk of their starting lineup, including reigning MVP Nikola Jokic, guards Jamal Murray and Kentavious Caldwell-Pope and forward Michael Porter Jr. But they still showed fight after trailing 60-40 at halftime.
Aaron Gordon had 26 points, nine rebounds and six assists to lead the Nuggets. Bruce Brown scored 16 points and Reggie Jackson had 13.
76ERS 117, RAPTORS 110
PHILADELPHIA (AP) — Joel Embiid had 25 points and 12 rebounds, James Harden had 23 points and 11 assists and Philadelphia topped Toronto.
The Sixers made 30 of 39 shots (77%) in the first half and raced to a 24-point lead that nearly evaporated. Fred VanVleet, who scored 16 points, buried a 3-pointer late in the fourth quarter that pulled the Raptors to 103-101 and silenced the sellout crowd.
Embiid, though, steadied the 76ers with a jumper and PJ Tucker buried a 3 that gave them some breathing room. Harden drove to the hoop for a bucket and a 110-101 edge that forced the Raptors to call timeout.
The Raptors didn't have another run in them. Scottie Barnes scored 29 points and OG Anunoby had 19.
BULLS 121, HORNETS 91
CHARLOTTE, N.C. (AP) — Zach LaVine and DeMar DeRozan each scored 23 points and Chicago routed injury-plagued Charlotte.
Nikola Vucevic added 21 points and eight rebounds for the Bulls, who entered the game having lost three of their previous five games and clinging to the final spot in the Eastern Conference play-in tournament. However, Chicago's win combined with the Orlando Magic's 116-109 victory over Washington on Friday night left the Bulls three games ahead of the Wizards for the 10th spot in the East with five games remaining.
James Bouknight had 22 points behind six 3-pointers to lead the Hornets. They had their three-game winning snapped and lost yet another key player to injury. P.J. Washington, who scored a career-high 43 points Tuesday night in a 137-134 win over Oklahoma City, left in the second quarter with a sprained foot and did not return.
MAGIC 116, WIZARDS 109
WASHINGTON (AP) — Paolo Banchero had 30 points and 12 rebounds, Markelle Fultz added 25 points and Orlando overcame a 16-point second half deficit to beat Washington.
The Wizards managed only 13 points in the final quarter and fell to three games behind Chicago for the final play-in spot in the Eastern Conference with five games remaining. Orlando remained four games behind the Bulls, who routed Charlotte 121-91.
Washington was without its top three players — Bradley Beal (left knee), Kristaps Porzingis (illness) and Kyle Kuzma (right ankle). Corey Kispert scored a career-high 27 points for Washington, but did not manage a shot attempt in the fourth until the final minute. He made nine of the Wizards' 17 3-pointers.
PACERS 121, THUNDER 117
INDIANAPOLIS (AP) — T.J. McConnell had 21 points, nine rebounds and eight assists, Jalen Smith added 12 points and 15 rebounds and short-handed Indiana held off Oklahoma City.
Playing without injured All-Star Tyrese Haliburton and starting center Myles Turner, the Pacers shot 46% and outrebounded the Thunder 64-49. They had lost six of their last seven. Andrew Nembhard had 18 points and six rebounds for Indiana. Jordan Nwora, Isaiah Jackson and Buddy Hield each scored 13 points.
Shai Gilgeous-Alexander had 39 points, going 17 of 17 on free throws, and nine rebounds for the Thunder. Josh Giddey added 21 points and seven rebounds for Oklahoma City.
GRIZZLIES 108, CLIPPERS 94
MEMPHIS, Tenn. (AP) — Desmond Bane scored 22 points, Luke Kennard had 17 and Memphis overcame a 20-point first-half deficit and beat Los Angeles.
Kennard keyed a second-quarter rally with four 3-pointers and finished with five against his former team. Kennard was traded to Memphis on Feb. 9 as part of a three-team deal. The Grizzlies eventually built a 22-point lead early in the fourth quarter following Bane's steal under the Clippers' basket and a driving layup.
Ja Morant struggled in the first half and had only 3 points at the break for Memphis. He finished with 10 points in 26 minutes.
Norman Powell scored 16 points to lead the Clippers, Ivica Zubac had 15 points and 15 rebounds, and Eric Gordon finished with 13 points.
ROCKETS 121, PISTONS 115
HOUSTON (AP) — Kevin Porter Jr. scored 33 points and Jalen Green added 32 to help Houston end its seven-game losing streak.
Porter shot 12 of 20 from the field and made seven 3-pointers, the last of which put Houston up by six with less than a minute to play. It marked the first time this season Porter scored 30 or more points in consecutive games. Meanwhile, Green was 10 of 18 on field goals.
Marvin Bagley III scored 21 points and Jaden Ivey added 18 points and nine assists for Detroit, which lost its eighth in a row and 19th in the last 20 games.
WARRIORS 130, SPURS 115
SAN FRANCISCO (AP) — Stephen Curry, Klay Thompson and Jordan Poole combined for 20 3-pointers with Curry scoring 33 points, Thompson 31 and Poole 27 to send Golden State past San Antonio.
Poole's first of six 3s gave Golden State three players with 200 or more 3-pointers this season — only the second team to do so. Just one other 3 was made by the rest of Golden State's players all night. Curry shot 11 for 21 and 7 of 11 from deep, and Thompson also hit seven 3s as the defending champions stayed put in sixth place in the Western Conference standings.
Keldon Johnson scored 22 points off the bench, Branham had 19 points and seven rebounds and Sandro Mamukelashvili added 13 points and 11 rebounds in San Antonio's sixth straight loss overall and sixth in a row on the road.
KINGS 138, TRAIL BLAZERS 114
PORTLAND, Ore. (AP) — De'Aaron Fox had 20 points and 11 assists and playoff-bound Sacramento won its second consecutive game against Portland.
Malik Monk had 20 off the bench for the Kings, who had already secured their first postseason berth since 2006 and home-court advantage for the playoffs with a 120-80 rout of the Trail Blazers on Wednesday. Domantas Sabonis added 20 points and 12 rebounds.
Shaedon Sharpe had 27 points for Portland, which has won just one of their last 12. The Blazers were officially eliminated earlier in the night when the Los Angeles Lakers beat Minnesota.
—
AP NBA: https://apnews.com/hub/nba and https://twitter.com/AP_Sports