Jrue Holiday scores career-high 51 points, Bucks beat Pacers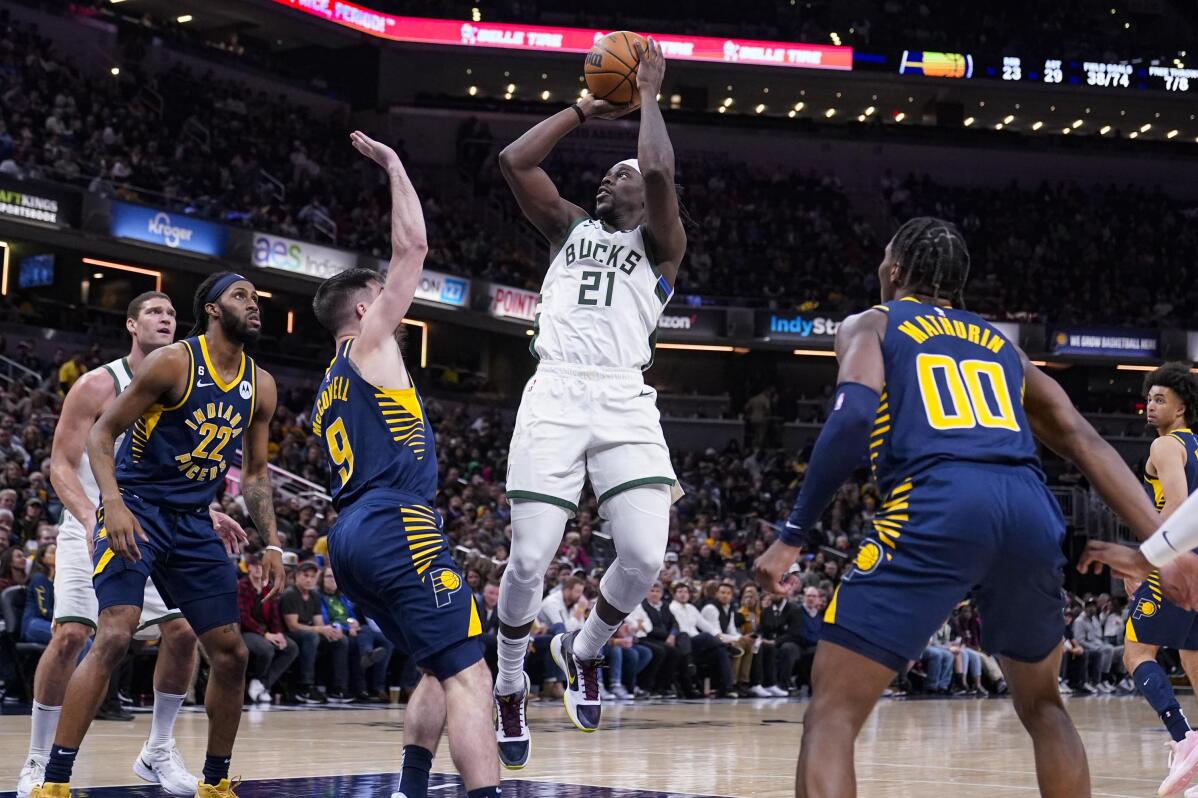 1 of 3

|
Milwaukee Bucks guard Jrue Holiday (21) shoots over Indiana Pacers guard T.J. McConnell (9) during the second half of an NBA basketball game in Indianapolis, Wednesday, March 29, 2023. (AP Photo/Michael Conroy)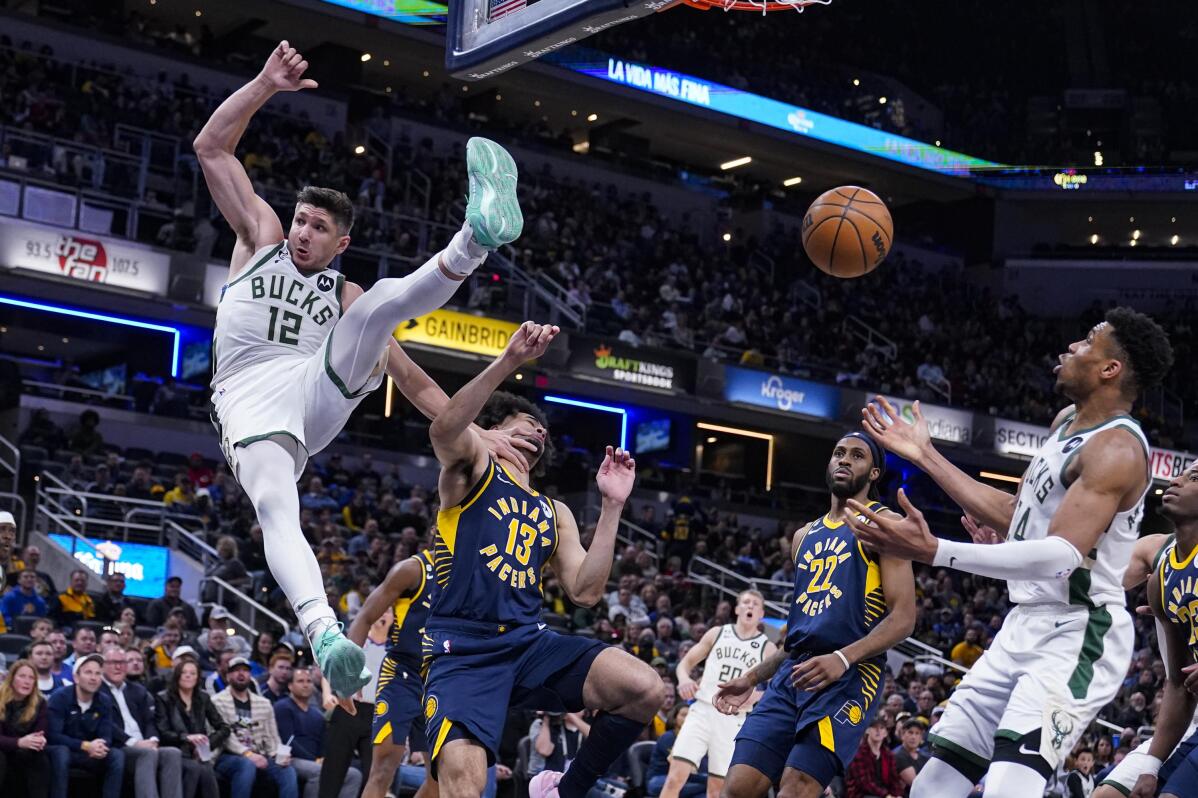 2 of 3

|
Milwaukee Bucks guard Grayson Allen (12) is fouled on a dunk by Indiana Pacers forward Jordan Nwora (13) during the second half of an NBA basketball game in Indianapolis, Wednesday, March 29, 2023. (AP Photo/Michael Conroy)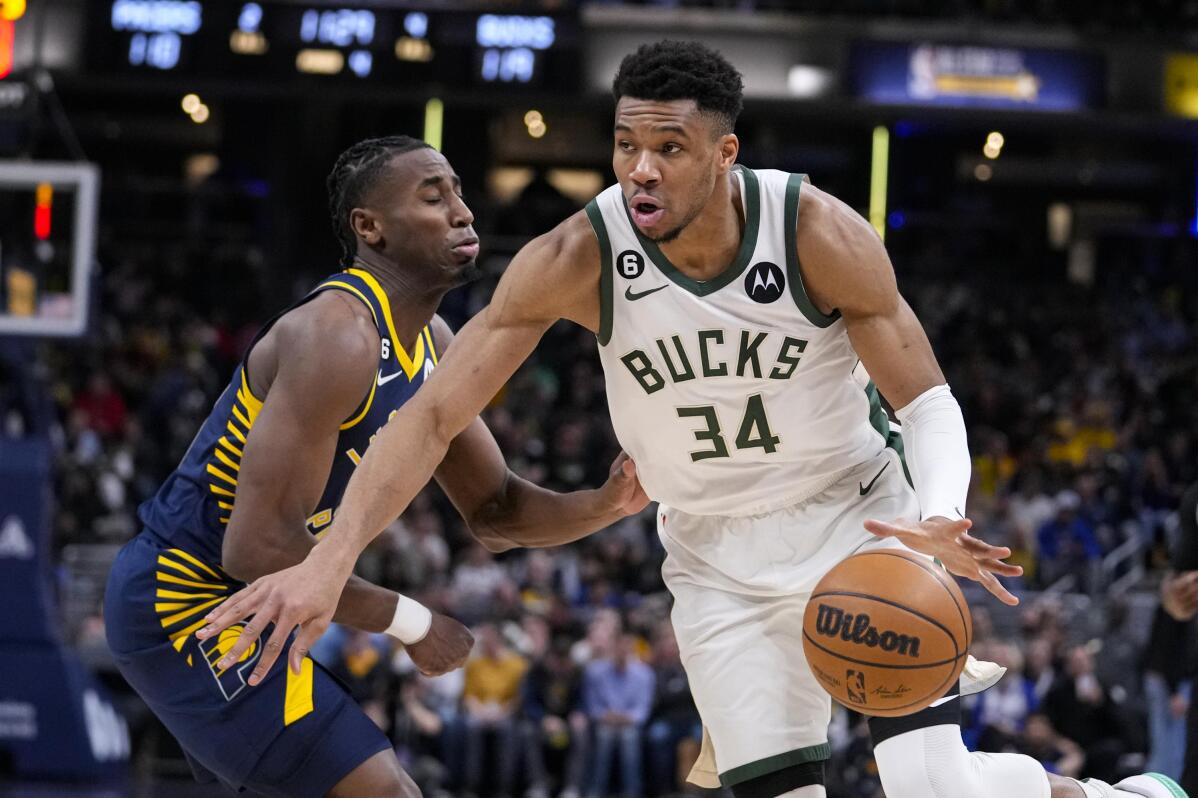 3 of 3

|
Milwaukee Bucks forward Giannis Antetokounmpo (34) drives on Indiana Pacers forward Aaron Nesmith (23) during the second half of an NBA basketball game in Indianapolis, Wednesday, March 29, 2023. (AP Photo/Michael Conroy)
Jrue Holiday scores career-high 51 points, Bucks beat Pacers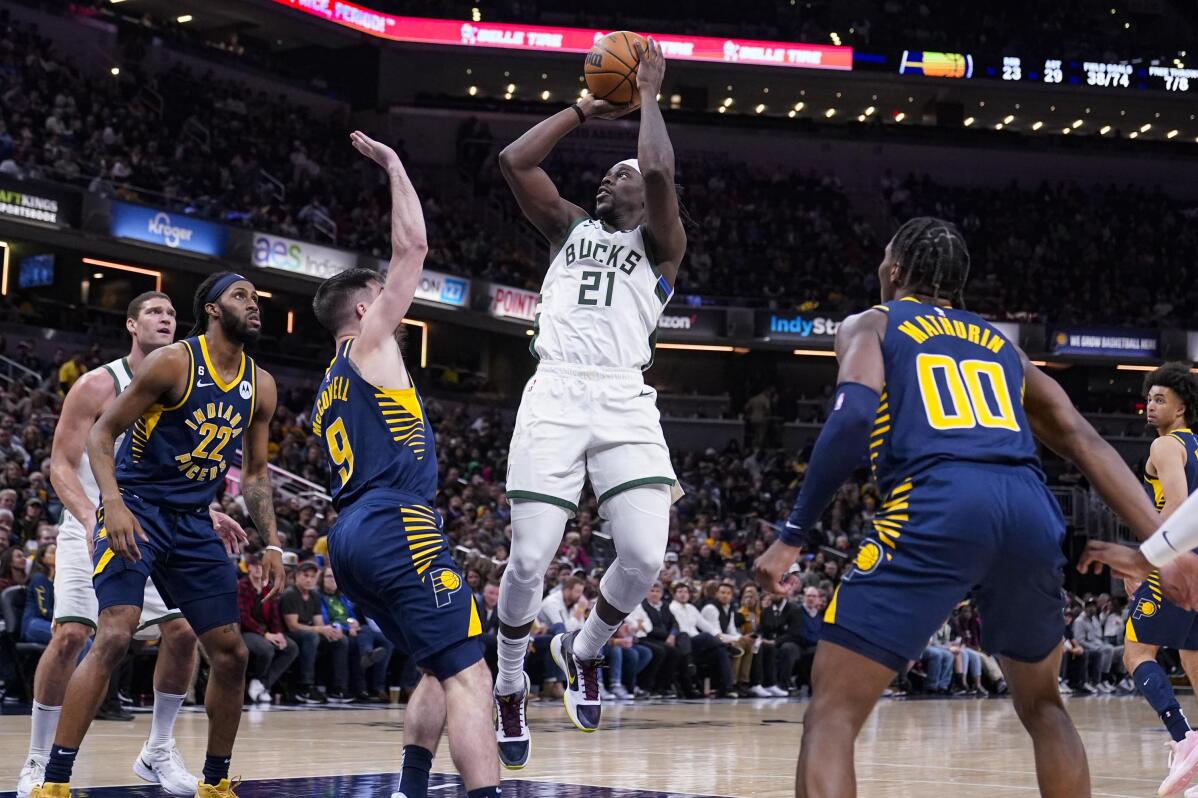 1 of 3

|
Milwaukee Bucks guard Jrue Holiday (21) shoots over Indiana Pacers guard T.J. McConnell (9) during the second half of an NBA basketball game in Indianapolis, Wednesday, March 29, 2023. (AP Photo/Michael Conroy)
1 of 3
Milwaukee Bucks guard Jrue Holiday (21) shoots over Indiana Pacers guard T.J. McConnell (9) during the second half of an NBA basketball game in Indianapolis, Wednesday, March 29, 2023. (AP Photo/Michael Conroy)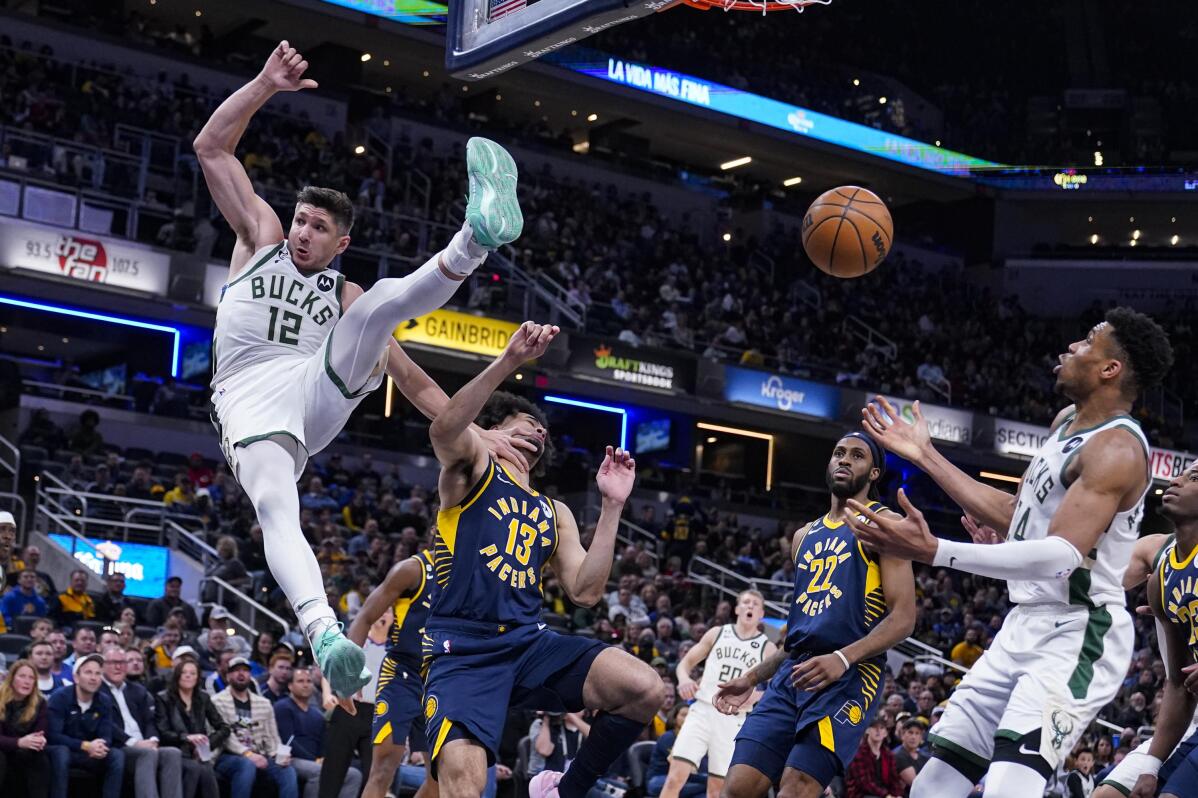 2 of 3

|
Milwaukee Bucks guard Grayson Allen (12) is fouled on a dunk by Indiana Pacers forward Jordan Nwora (13) during the second half of an NBA basketball game in Indianapolis, Wednesday, March 29, 2023. (AP Photo/Michael Conroy)
2 of 3
Milwaukee Bucks guard Grayson Allen (12) is fouled on a dunk by Indiana Pacers forward Jordan Nwora (13) during the second half of an NBA basketball game in Indianapolis, Wednesday, March 29, 2023. (AP Photo/Michael Conroy)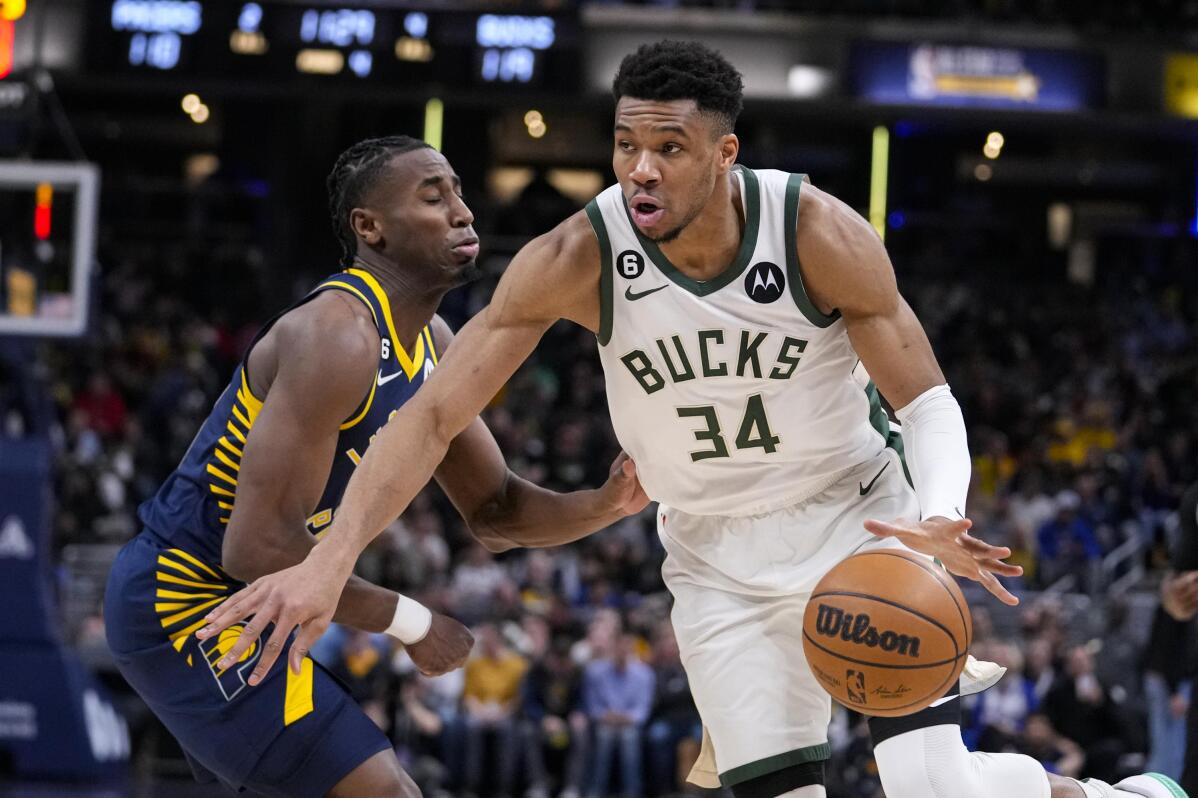 3 of 3

|
Milwaukee Bucks forward Giannis Antetokounmpo (34) drives on Indiana Pacers forward Aaron Nesmith (23) during the second half of an NBA basketball game in Indianapolis, Wednesday, March 29, 2023. (AP Photo/Michael Conroy)
3 of 3
Milwaukee Bucks forward Giannis Antetokounmpo (34) drives on Indiana Pacers forward Aaron Nesmith (23) during the second half of an NBA basketball game in Indianapolis, Wednesday, March 29, 2023. (AP Photo/Michael Conroy)
INDIANAPOLIS (AP) — Jrue Holiday scored a career-high 51 points, Giannis Antetokounmpo had 38 points in a triple-double and the NBA-leading Milwaukee Bucks beat the Indiana Pacers 149-136 on Wednesday night.
Antetokounmpo added 17 rebounds and 12 assists to help the Bucks improve to 55-21. The two-time NBA MVP was an assist shy of a triple-double at halftime with 20 points, 10 rebounds and nine assists. He returned after sitting out Monday night in a victory at Detroit because of a sore knee.
Holiday had 18 points in the third quarter, when the Bucks scored a season-high 46 points to build a 12-point lead. He was 20 of 30 from the field with three 3-pointers and hit 8 of 10 free throws. His previous best was 40 points in an overtime victory over visiting Boston on Feb. 14.
Brook Lopez added 21 points for the Bucks.
Rookie Bennedict Mathurin led Indiana — playing without its top three scorers — with 29 points. Aaron Nesmith had 22 and Jordan Nwora 18. Jalen Smith fouled out early in the fourth with 17. Rookie Andrew Nembhard had 15 points and 15 rebounds.
KINGS 120, TRAIL BLAZERS 80
PORTLAND, Ore. (AP) — De'Aaron Fox scored 18 points and Sacramento beat Portland to wrap up its first playoff berth since 2006.
The 16-year playoff drought was the longest in NBA history and the longest active postseason dry spell among teams in the NBA, NFL, NHL and Major League Baseball.
Kings rookie Keegan Murray made his 188th 3-pointer of the season with 6:44 to go in the third quarter to set the NBA record, passing Donovan Mitchell's mark of 187 set in 2017-18. Murray finished with 13 points.
Rookie Shaedon Sharpe had 30 points for Portland. The Blazers were eliminated from playoff contention.
SUNS 107, TIMBERWOLVES 100
PHOENIX (AP) — Devin Booker scored 29 points, Kevin Durant had 16 points and eight rebounds in his home debut and Phoenix beat Minnesota for its third straight victory.
Durant — playing in his first home game with the Suns since being traded from the Brooklyn Nets in February — missed his first six shots from the field before hitting a turnaround mid-range jumper midway through the second quarter. He finished 5 of 18, hitting a couple of important 3-pointers early in the fourth quarter.
Durant played for the first time since March 5. He was warming up for his expected first home game with the Suns three days later when he sprained his left ankle during pregame preparation. The injury cost him 10 games. The Suns are 4-0 with Durant in the lineup.
Anthony Edwards led Minnesota with 31 points. Karl-Anthony Towns added 25. The Timberwolves had a four-game winning streak snapped.
LAKERS 121, BULLS 110
CHICAGO (AP) — LeBron James scored 25 points in his return to the starting lineup and Los Angeles beat Chicago.
James also had seven rebounds and four assists in 31 minutes in his second game back after he was sidelined for a month because of a torn tendon in his right foot. The four-time MVP scored 19 points Sunday in as 118-108 loss to Chicago in just his second appearance as a reserve in his 20-year NBA career.
Fighting for playoff positioning in the Western Conference, Los Angeles (38-38) kicked off a five-game trip with its fourth win in five games overall. Anthony Davis had 38 points and 10 rebounds in his hometown, and D'Angelo Russell scored 17 points.
Nikola Vucevic had 29 points and 12 rebounds for Chicago in its second straight loss.
76ERS 116, MAVERICKS 108
PHILADELPHIA (AP) — Joel Embiid had 25 points and nine rebounds, James Harden added 15 points and 12 assists and Philadelphia beat Dallas.
Embiid flashed his MVP credentials when he powered the Sixers back in the fourth against Luka Doncic and the Mavs. Embiid hit a 3-pointer to tie it at 103 and followed with a 16-footer the next time down for what ended up the winning basket.
Doncic had 24 points, 10 rebounds and eight assists. Kyrie Irving scored 23 points for the Mavericks.
Tyrese Maxey added 22 points to help the 76ers snap a three-game losing streak. They returned from a 1-3 trip.
CLIPPERS 141, GRIZZLIES 132
MEMPHIS, Tenn. (AP) — Russell Westbrook had a season-high 36 points, Robert Covington also had a season best with 27 points and Los Angeles beat Memphis to open a two-game set.
The teams — both short-handed Wednesday — will meet again Friday night in Memphis. Westbrook made five 3-pointers without a miss and had 10 assists. Covington was 9 of 10 from the field, making all seven of his 3-point attempts.
Bones Hyland added 20 points for Los Angles, including 12 in the fourth quarter as the Clippers pulled away in the final seven minutes.
Ja Morant led the Grizzlies with 36 points and nine assists. Dillon Brooks added 30 points as all five Memphis starters finished in double figures. The Grizzlies had won seven in a row and 12 straight at home.
JAZZ 128, SPURS 117
SAN ANTONIO (AP) — Talen Horton-Tucker scored a career-high 41 points and Utah beat the Spurs in what could have been coach Gregg Popovich's final game in San Antonio.
Utah snapped a four-game skid to keep its fading playoff hopes alive. But San Antonio (19-57) lost its fifth straight in its worst season since 1997, the year it drafted Tim Duncan with the No. 1 overall pick.
Popovich has given no indication that he is retiring or even that he will return for his 28th season. The annual speculation has intensified, though, especially since the 74-year-old coach allowed his expected induction this summer into the Naismith Basketball Hall of Fame after years of refusing to even be nominated. The Spurs have two home games remaining, but those will be played 73 miles away in Austin's new Moody Center.
Rookie Malaki Branham led San Antonio with 21 points.
KNICKS 101, HEAT 92
NEW YORK (AP) — Immanuel Quickley scored 24 points, Quentin Grimes had 23 and New York moved closer to a postseason berth with a victory night that sent Miami closer to the play-in tournament.
The Knicks overcame the loss of Julius Randle to a sprained left ankle to win their second straight and remained firmly in fifth place in the Eastern Conference. They are 2 1/2 games ahead of Brooklyn four games ahead of the seventh-place Heat.
Gabe Vincent scored 21 points for Miami.
NETS 123, ROCKETS 114
NEW YORK (AP) — Cam Johnson had 31 points, Mikal Bridges scored 12 of his 27 in the fourth quarter and Brooklyn rallied to beat Houston.
Johnson and Bridges came over together from Phoenix in the trade that sent Kevin Durant to the Suns. Durant finally made his home debut for Phoenix on Wednesday night.
Nic Claxton added 18 points and 10 rebounds for Brooklyn.
Kevin Porter Jr. had 31 points, nine rebounds and six assists for Houston. The Rockets have lost seven in a row.
THUNDER 107, PISTONS 106
OKLAHOMA CITY (AP) — Rookie Jalen Williams' putback with less than a second remaining lifted Oklahoma City past Detroit.
The pressure was on for the Thunder, who entered the night two games under .500 and hanging on to the final Western Conference play-in spot. Oklahoma City guard Shai Gilgeous-Alexander — the league's No. 4 scorer with 31.3 points per game — was out with a sprained ankle for the second straight game.
Williams had 27 points, eight rebounds six assists — and the tip-in on Josh Giddey's miss in the closing seconds. Lu Dort scored 20 points,
Jaden Ivey had 24 for Detroit. The Pistons have the NBA's worst record and have lost seven straight and 18 of 19.
___
AP NBA: https://apnews.com/hub/nba and https://twitter.com/AP_Sports