Walz takes case from Hennepin County, gives it to Ellison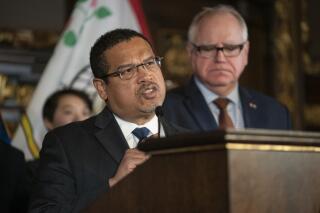 ST. PAUL, Minn. (AP) — Gov. Tim Walz has taken the rare step of taking a murder case away from Hennepin County prosecutors and handing it to Attorney General Keith Ellison.
Two juveniles, ages 15 and 17, are accused of killing of Zaria McKeever, 23, the mother of a 1-year-old child, in her Brooklyn Park apartment last November at the direction of her ex-boyfriend.
Hennepin County Attorney Mary Moriarty had offered the two brothers juvenile plea deals that would spare them lengthy adult sentences in exchange for their testimony against the ex-boyfriend. But McKeever's family objected. Ellison sought to take over the case amid the public backlash, but Moriarty refused.
Ellison criticized the plea deal at a public event Wednesday. Walz used his legal authority Thursday to give the case to Ellison.
"While I share the belief that too many juveniles are involved in the adult criminal-justice system, accountability for the seriousness of this crime has been missing in this case," Ellison said in a statement.
The attorney general typically takes over criminal cases only at the request of local prosecutors. Ellison prosecuted former Minneapolis police officer Derek Chauvin for murdering George Floyd at the request of Moriarty's predecessor.
Moriarty stood by her decision to prosecute the youths as juveniles instead of adults, saying it offered the best chance for rehabilitation, and sharply criticized Ellison.
"Inserting himself in these cases simply because he disagrees with the choice I was elected to make is deeply troubling and should alarm prosecutors across the state," Moriarty said in a statement.