Jefferson, Vikings regroup after major slip-up for offense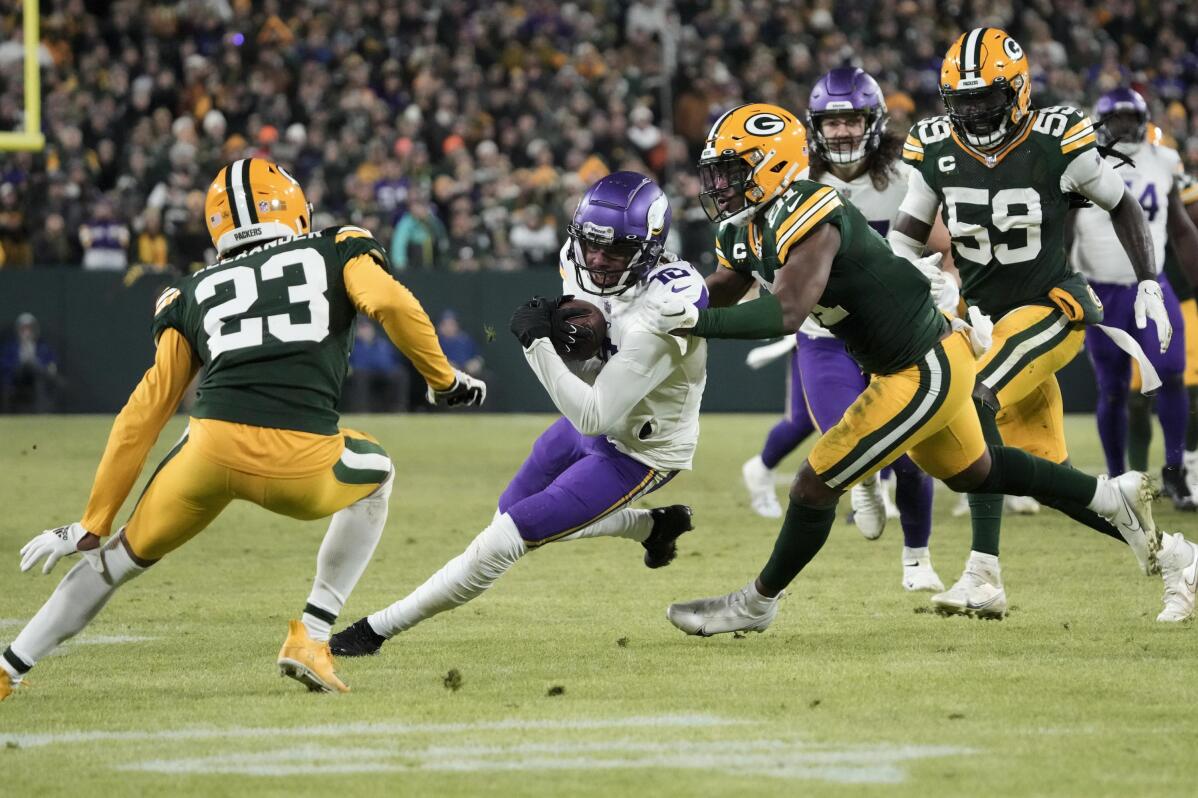 1 of 3

|
Minnesota Vikings wide receiver Justin Jefferson (18) catches a pass between Green Bay Packers cornerback Jaire Alexander (23) and safety Adrian Amos (31) during the second half of an NFL football game, Sunday, Jan. 1, 2023, in Green Bay, Wis. (AP Photo/Morry Gash)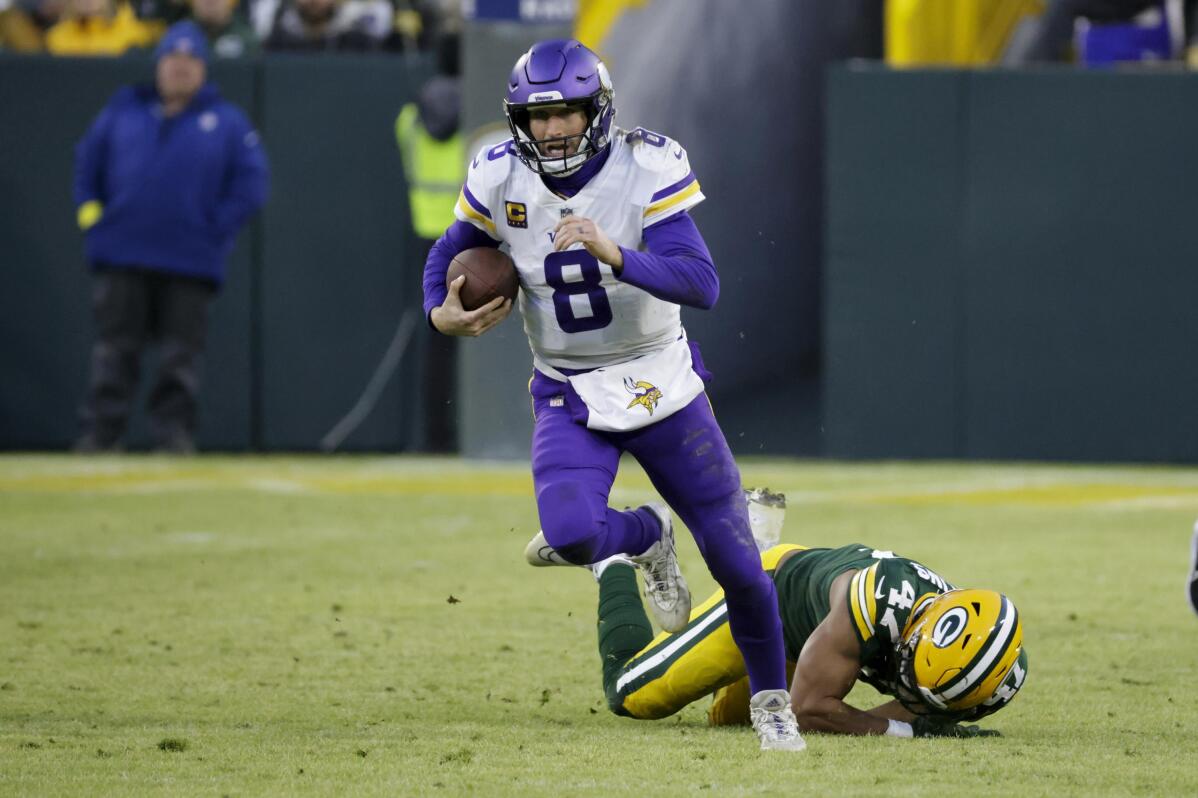 2 of 3

|
Minnesota Vikings quarterback Kirk Cousins (8) runs from Green Bay Packers linebacker Justin Hollins (47) during the first half of an NFL football game, Sunday, Jan. 1, 2023, in Green Bay, Wis. (AP Photo/Mike Roemer)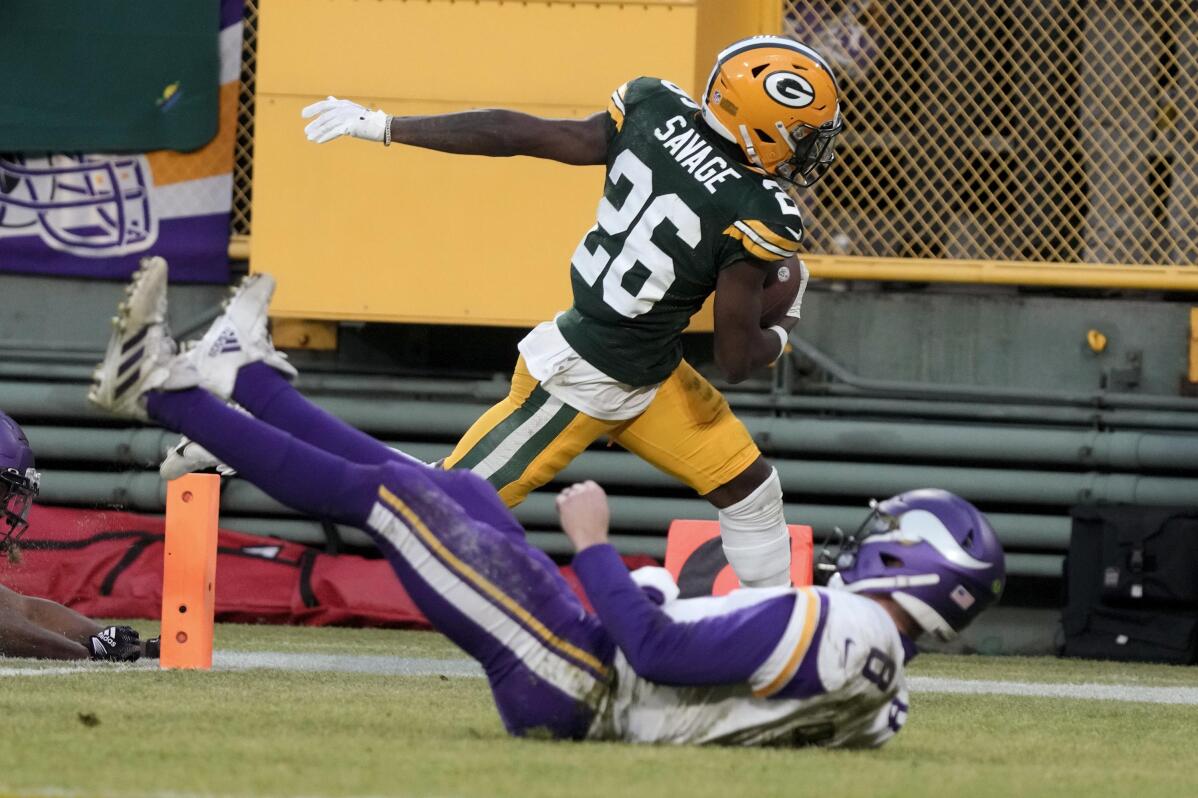 3 of 3

|
Green Bay Packers safety Darnell Savage (26) returns an interception 75 yards for a touchdown over Minnesota Vikings quarterback Kirk Cousins during the first half of an NFL football game, Sunday, Jan. 1, 2023, in Green Bay, Wis. (AP Photo/Morry Gash)
Jefferson, Vikings regroup after major slip-up for offense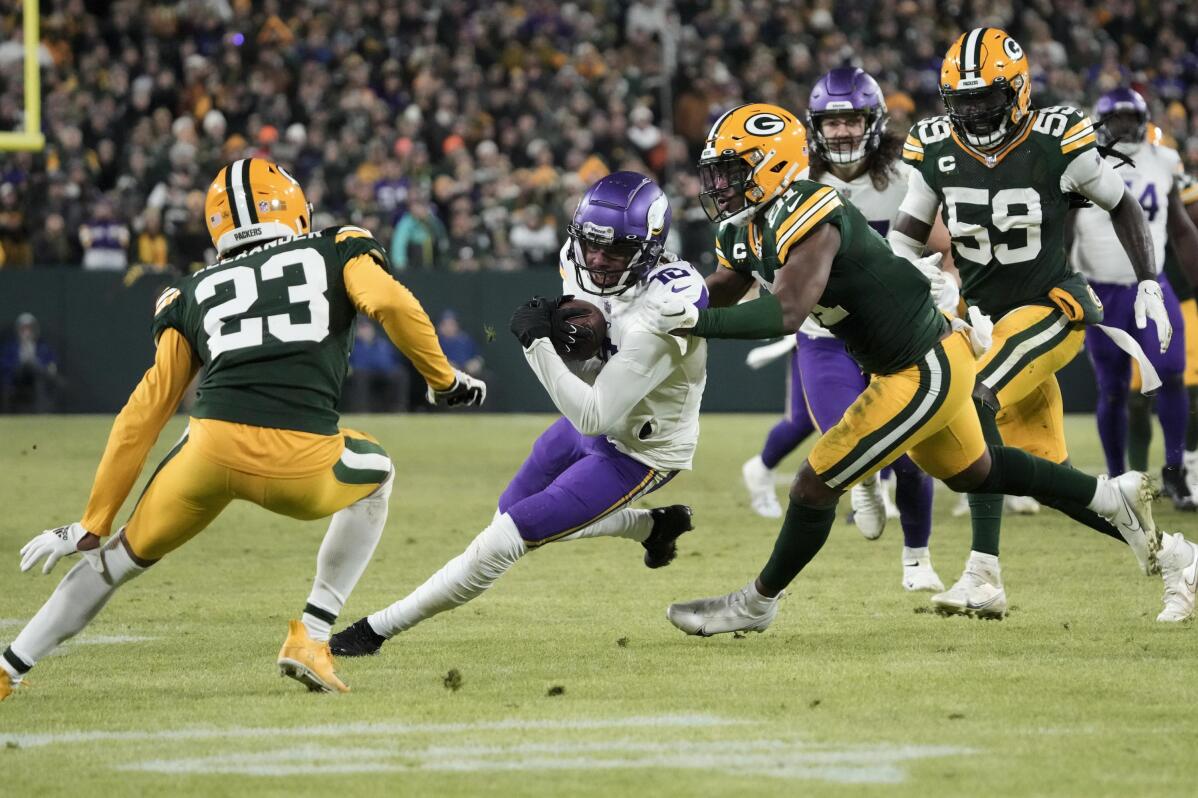 1 of 3

|
Minnesota Vikings wide receiver Justin Jefferson (18) catches a pass between Green Bay Packers cornerback Jaire Alexander (23) and safety Adrian Amos (31) during the second half of an NFL football game, Sunday, Jan. 1, 2023, in Green Bay, Wis. (AP Photo/Morry Gash)
1 of 3
Minnesota Vikings wide receiver Justin Jefferson (18) catches a pass between Green Bay Packers cornerback Jaire Alexander (23) and safety Adrian Amos (31) during the second half of an NFL football game, Sunday, Jan. 1, 2023, in Green Bay, Wis. (AP Photo/Morry Gash)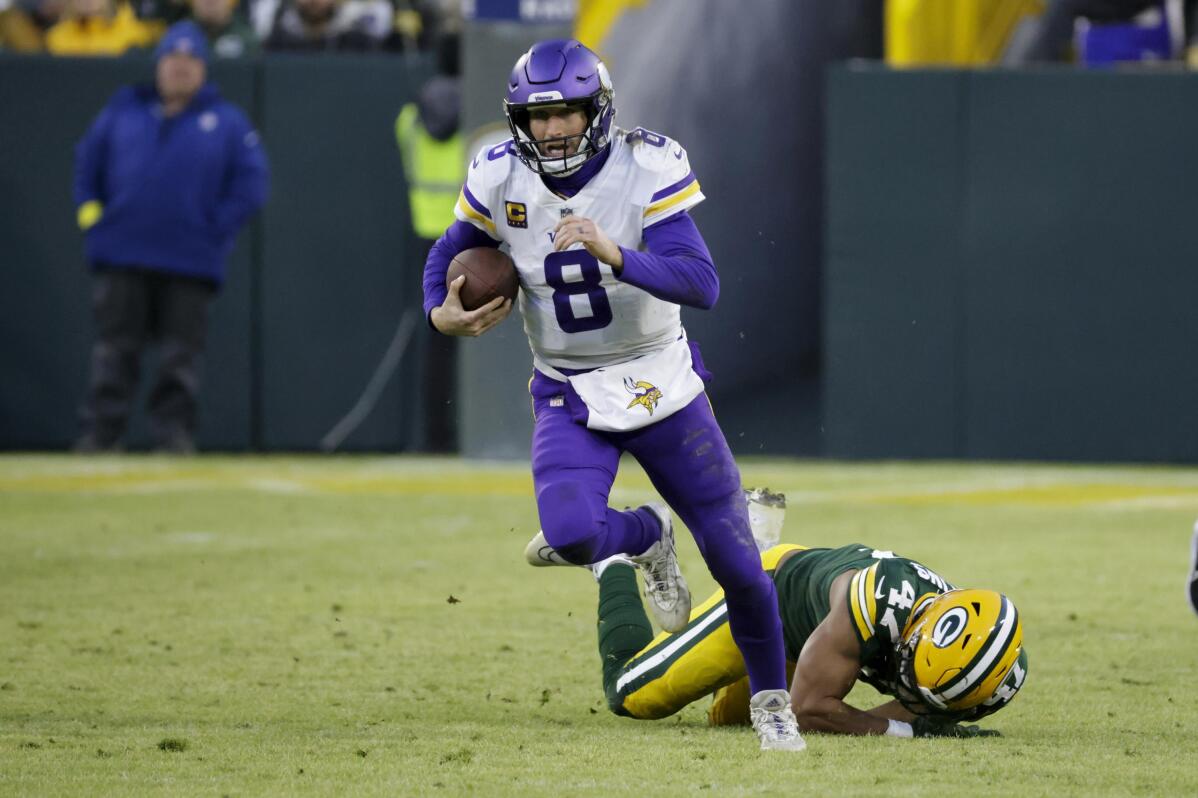 2 of 3

|
Minnesota Vikings quarterback Kirk Cousins (8) runs from Green Bay Packers linebacker Justin Hollins (47) during the first half of an NFL football game, Sunday, Jan. 1, 2023, in Green Bay, Wis. (AP Photo/Mike Roemer)
2 of 3
Minnesota Vikings quarterback Kirk Cousins (8) runs from Green Bay Packers linebacker Justin Hollins (47) during the first half of an NFL football game, Sunday, Jan. 1, 2023, in Green Bay, Wis. (AP Photo/Mike Roemer)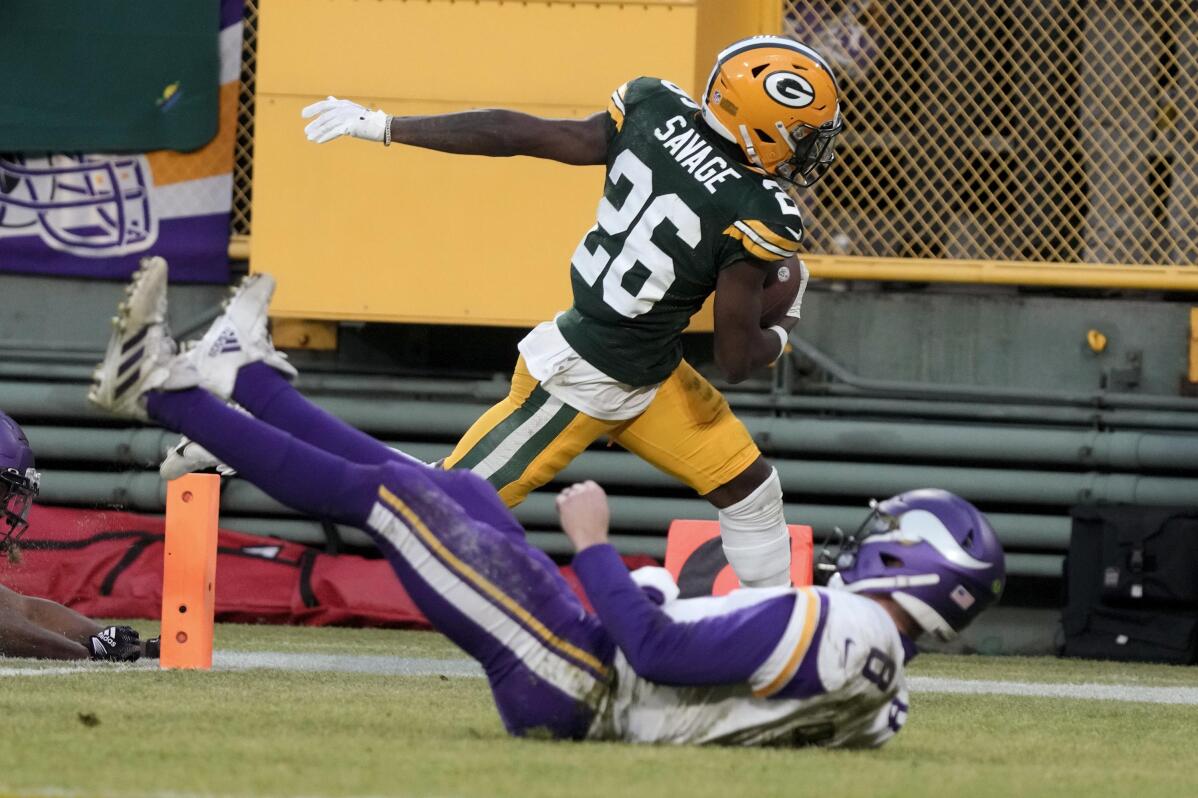 3 of 3

|
Green Bay Packers safety Darnell Savage (26) returns an interception 75 yards for a touchdown over Minnesota Vikings quarterback Kirk Cousins during the first half of an NFL football game, Sunday, Jan. 1, 2023, in Green Bay, Wis. (AP Photo/Morry Gash)
3 of 3
Green Bay Packers safety Darnell Savage (26) returns an interception 75 yards for a touchdown over Minnesota Vikings quarterback Kirk Cousins during the first half of an NFL football game, Sunday, Jan. 1, 2023, in Green Bay, Wis. (AP Photo/Morry Gash)
MINNEAPOLIS (AP) — Justin Jefferson's race toward the NFL receiving record hit quite a speed bump on the grass in Green Bay last week.
The entire Minnesota Vikings offense has been in regroup mode since the blowout by the Packers, seeking to recapture their stride before the playoffs.
"It was just a poor performance by a lot of us, the whole team. We never want to put those types of plays and execution on film," Jefferson said on Thursday. "We definitely hate losing like that, of course. We just have to do better all the way around."
From the failure to get in the end zone on a first-quarter possession that started at the 1-yard line to the four turnovers to the physical pressure that Packers cornerback Jaire Alexander led on Jefferson, the Vikings never got going.
With Alexander aggressively pressing him at the line and plenty of safety help over the top, Jefferson finished with a career-low one catch for 15 yards on five targets. He said he and coach Kevin O'Connell agreed in a postgame discussion the Vikings need to move him around the formation more often to make that strategy harder to play out.
"I feel like we have a good game plan if teams start to go back to that," Jefferson said.
To make the afternoon at Lambeau Field worse, Jefferson was among several Vikings who slipped more than once on the early January surface. They were urged by the coaches to wear seven-studded cleats, but Jefferson didn't make the switch until midgame.
"The field was pretty fine pregame. That's why I didn't switch my cleats. A lot of us didn't. Then as the game went on it was a lot more slippery and of course we had to change them," Jefferson said.
His pursuit of Calvin Johnson's all-time receiving yards record took a major spill, too. Granted, Johnson had 1,964 yards in a 16-game schedule in 2012, but a single-season record is a single-season record and Jefferson was just 209 yards short entering the final two weeks. Now he's still 194 yards away from breaking it.
Going into the playoffs on a strong note as a team is far more important, of course, and the Vikings have a well-timed tune-up at struggling Chicago on Sunday.
If San Francisco were to lose at home to Arizona, the Vikings would get the No. 2 seed in the NFC by beating the Bears. But the 49ers are 14-point favorites over the Cardinals, according to FanDuel Sportsbook odds.
That will likely make the performance and experience of the game on Sunday more useful than the actual result. The Vikings must play with their third option at center, Chris Reed, and their third option at right tackle, Oli Udoh, after season-ending injuries to Austin Schlottman and Brian O'Neill.
Quarterback Kirk Cousins had multiple cadence issues with Reed when he was forced into action. Getting a full week of practice can only help.
"There's a complexity there to our snap counts and, really, to our offense as a whole. In that complexity is a lot of good strategy, but it can be a lot," Cousins said. "It was a big ask to say to him, 'Hey, just jump in and handle everything like you've been doing it for weeks.'"
Regular center Garrett Bradbury has a strong chance to return for the playoffs, as does primary backup tackle Blake Brandel. But the absence of O'Neill, who hurt his calf and partially tore his Achilles, will loom large.
"I'm going to miss B.O. for sure, playing with him, his attitude, his love for the game," Jefferson said. "He always has that energy, always that happiness, and then also when he's mad, he has that edge to him that I enjoy watching. But it's definitely going to be tough battling without him."
___
AP NFL: https://apnews.com/hub/NFL and https://twitter.com/AP_NFL