4 prisoners on the run after escaping from Mississippi jail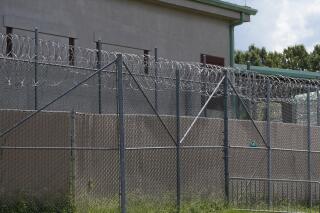 JACKSON, Miss. (AP) — Four prisoners are on the loose after escaping over the weekend from a Mississippi jail already under federal scrutiny for alleged mismanagement.
The escape began around 8 p.m. Saturday when the four men broke out of the Raymond Detention Center, a facility near the state capital of Jackson, through breaches in a cell and in the roof, Hinds County Sheriff Tyree Jones said at a Monday news conference
"(They) possibly camped out on the roof and departed at different ways at different times," Jones said.
The prisoners — Dylan Arrington, Casey Grayson, Corey Harrison and Jerry Raynes — had been incarcerated for a range of felony charges, most involving theft.
Jones said one of the prisoners stole a Hinds County Public Works vehicle, which was later recovered in a suburb of Houston, Texas. Investigators also believe a stolen Chevy Silverado is connected to the escape, WAPT-TV reported.
"We are actively and aggressively looking for these individuals, and we hope to have them back in custody soon," Jones said. "We are seeking the assistance of other agencies, including our federal partners, to get them back into custody as quickly as possible."
In July, a federal judge ordered a rare takeover of the jail after he said deficiencies in supervision and staffing led to "a stunning array of assaults, as well as deaths." In December, the U.S. Fifth Circuit Court of Appeals stayed that order after the county filed a motion for reconsideration.