Dodgers' Syndergaard leaves after 1 inning with cut finger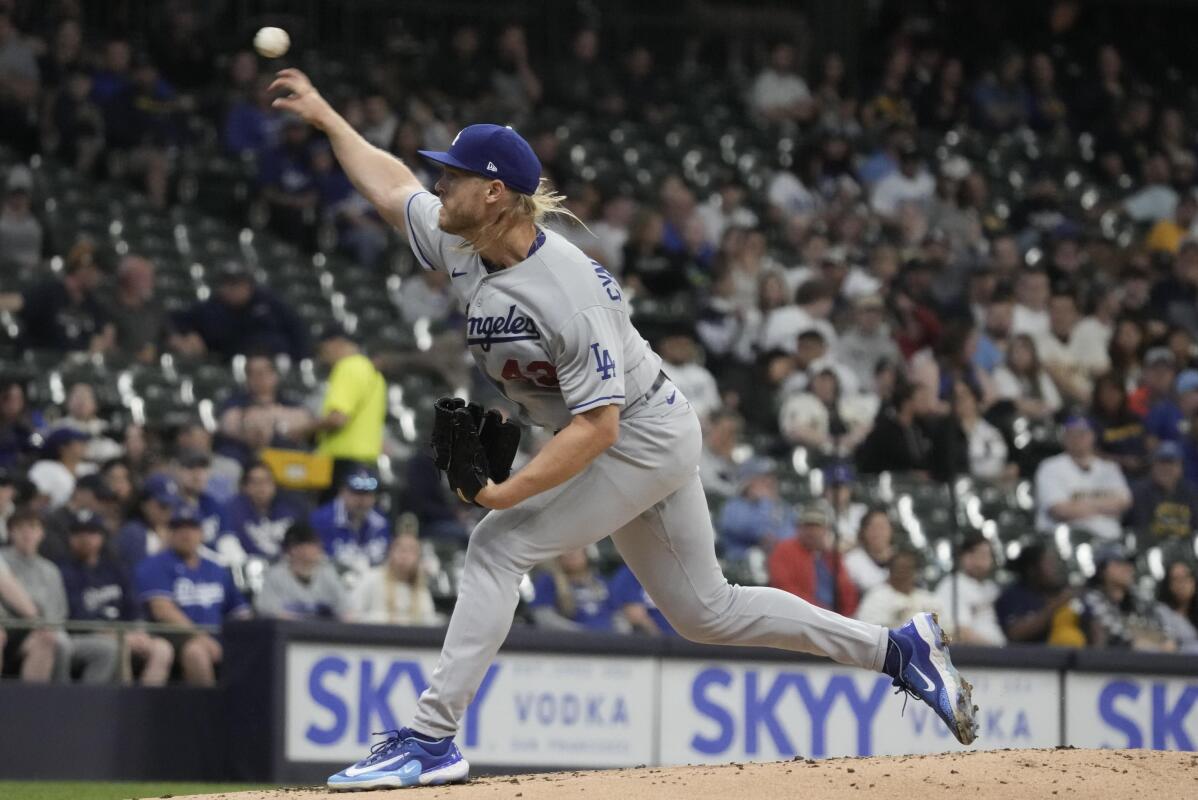 1 of 3

|
Los Angeles Dodgers starting pitcher Noah Syndergaard throws during the first inning of a baseball game against the Milwaukee Brewers Tuesday, May 9, 2023, in Milwaukee. (AP Photo/Morry Gash)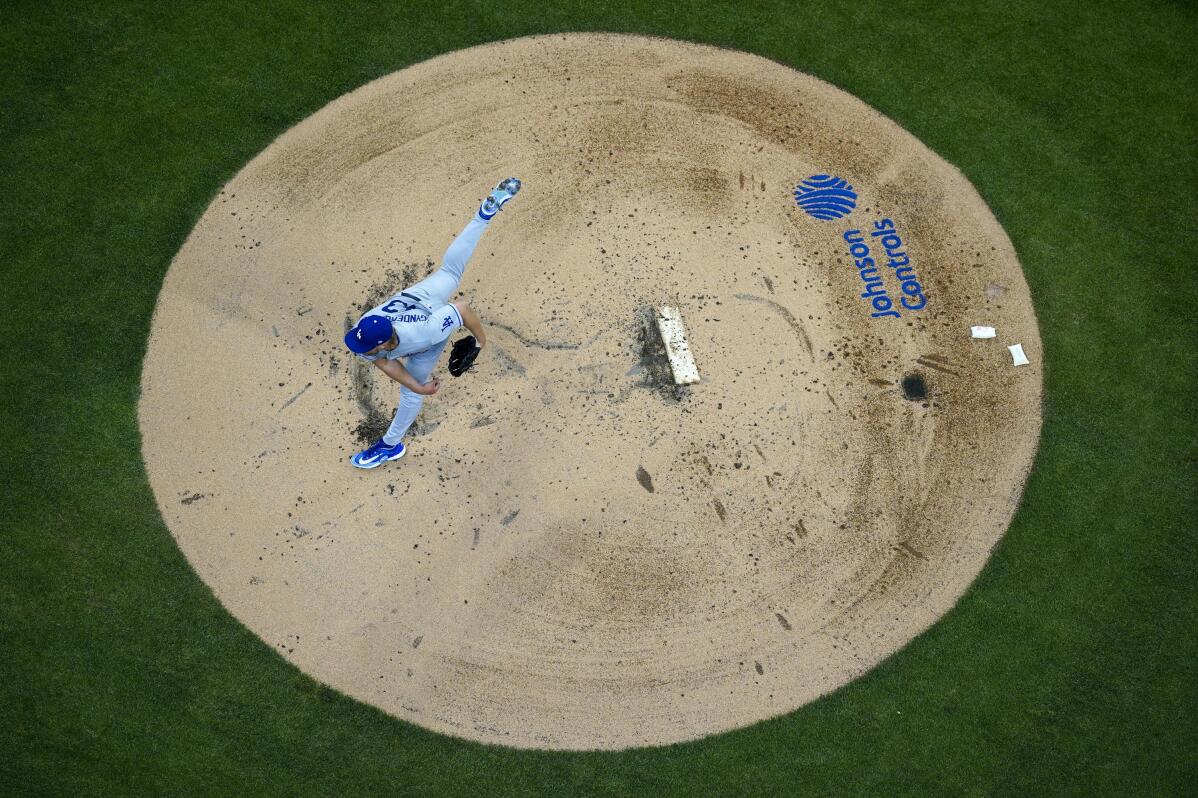 2 of 3

|
Los Angeles Dodgers starting pitcher Noah Syndergaard throws during the first inning of a baseball game against the Milwaukee Brewers Tuesday, May 9, 2023, in Milwaukee. (AP Photo/Morry Gash)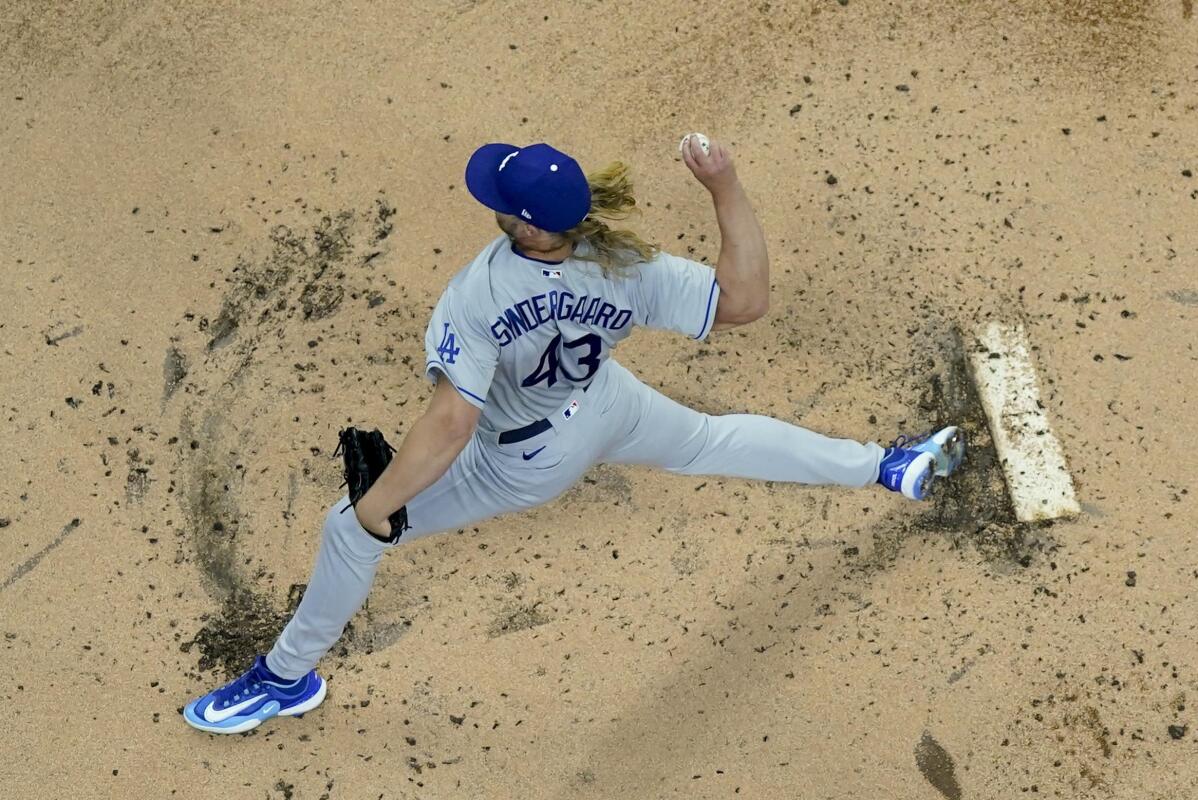 3 of 3

|
Los Angeles Dodgers starting pitcher Noah Syndergaard throws during the first inning of a baseball game against the Milwaukee Brewers Tuesday, May 9, 2023, in Milwaukee. (AP Photo/Morry Gash)
Dodgers' Syndergaard leaves after 1 inning with cut finger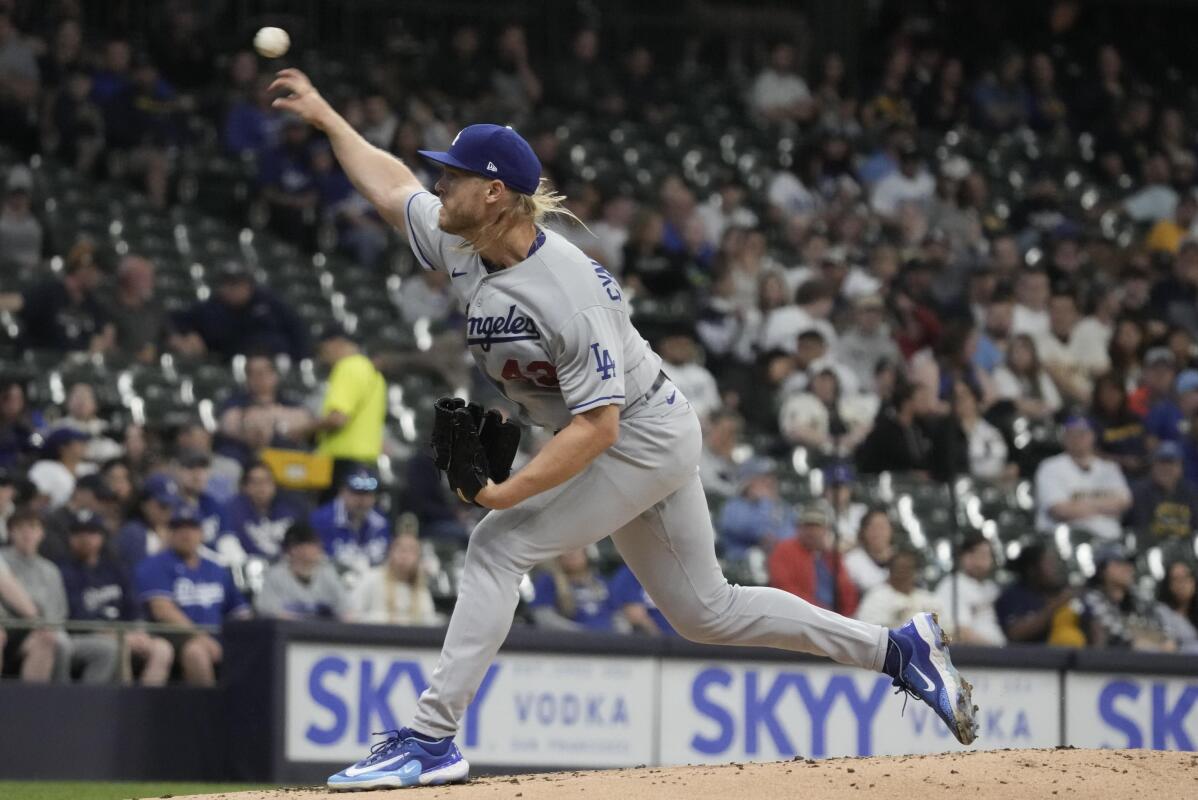 1 of 3

|
Los Angeles Dodgers starting pitcher Noah Syndergaard throws during the first inning of a baseball game against the Milwaukee Brewers Tuesday, May 9, 2023, in Milwaukee. (AP Photo/Morry Gash)
1 of 3
Los Angeles Dodgers starting pitcher Noah Syndergaard throws during the first inning of a baseball game against the Milwaukee Brewers Tuesday, May 9, 2023, in Milwaukee. (AP Photo/Morry Gash)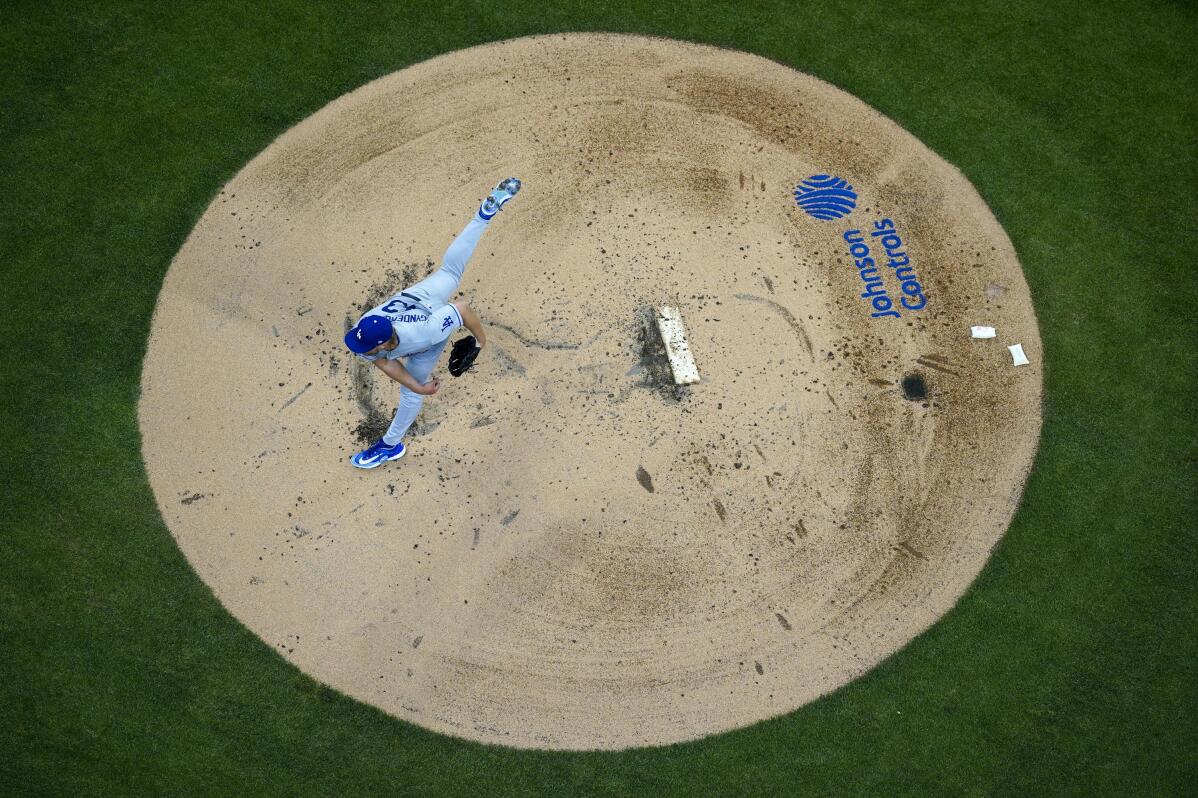 2 of 3

|
Los Angeles Dodgers starting pitcher Noah Syndergaard throws during the first inning of a baseball game against the Milwaukee Brewers Tuesday, May 9, 2023, in Milwaukee. (AP Photo/Morry Gash)
2 of 3
Los Angeles Dodgers starting pitcher Noah Syndergaard throws during the first inning of a baseball game against the Milwaukee Brewers Tuesday, May 9, 2023, in Milwaukee. (AP Photo/Morry Gash)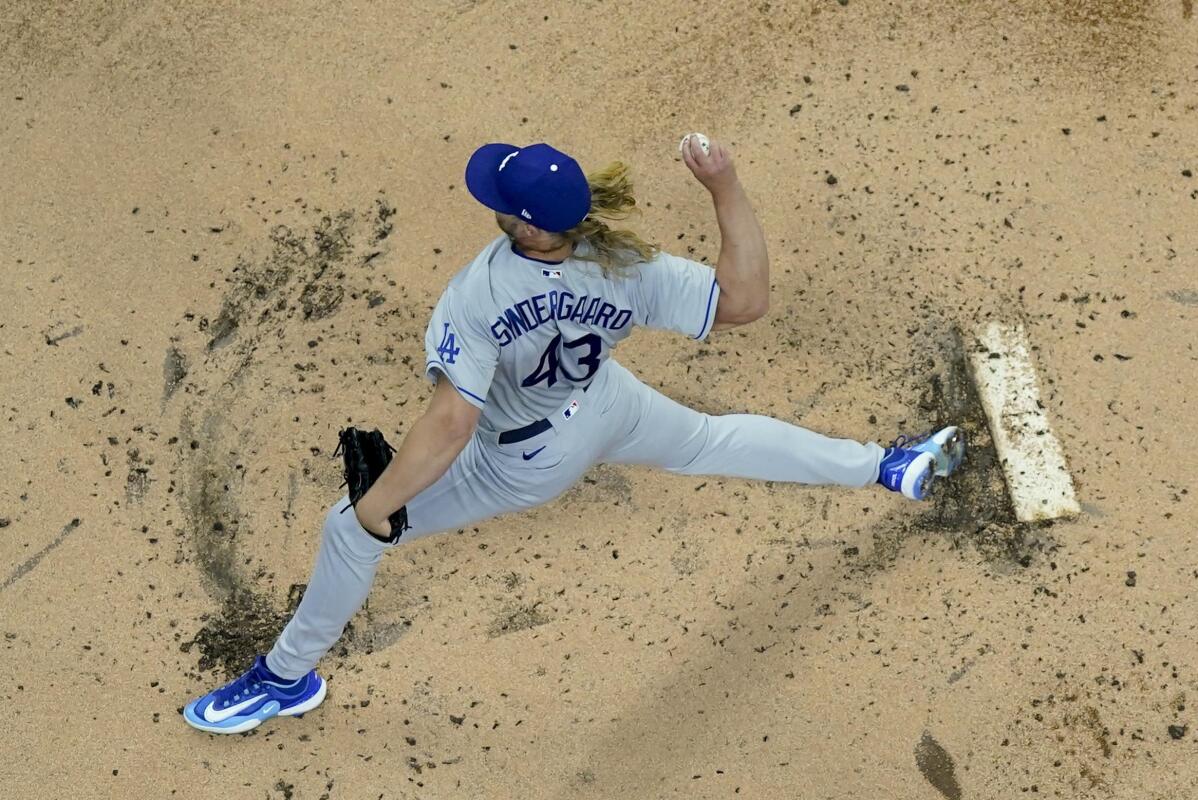 3 of 3

|
Los Angeles Dodgers starting pitcher Noah Syndergaard throws during the first inning of a baseball game against the Milwaukee Brewers Tuesday, May 9, 2023, in Milwaukee. (AP Photo/Morry Gash)
3 of 3
Los Angeles Dodgers starting pitcher Noah Syndergaard throws during the first inning of a baseball game against the Milwaukee Brewers Tuesday, May 9, 2023, in Milwaukee. (AP Photo/Morry Gash)
MILWAUKEE (AP) — Los Angeles Dodgers right-hander Noah Syndergaard could be missing some time after a cut on the index finger of his pitching hand caused him to leave Tuesday's game after one inning.
Dodgers manager Dave Roberts said it's too early to tell whether this issue will require the 30-year-old to go on the injured list.
"Certainly the IL is a possibility, but we want to give Noah and the training staff some time before we make that decision," Roberts said after the Dodgers' 6-2 victory over the Milwaukee Brewers.
Syndergaard said he also dealt with this issue a couple of weeks ago during a bullpen session. Roberts said Syndergaard had been able to pitch through it in the past because the cut has been covered up.
The problem arose again shortly before Tuesday's game.
"I went to use the restroom before the game and looked down and my hand was bleeding pretty good," Syndergaard said. "We tried to do what we could to make it serviceable, but it just got to the point where it was probably going to just continue to open up."
After throwing his warm-up pitches before the bottom of the first inning, Syndergaard went to the dugout before returning to the mound.
Syndergaard then allowed the first two Brewers hitters to reach base before he got out of the inning without allowing a run.
Christian Yelich hit a leadoff single and Jesse Winker walked before Willy Adames hit a drive that Chris Taylor caught in front of the left-field wall. Rowdy Tellez then grounded into a double play.
"It was pretty nasty," Roberts said of the cut. "It was raw. Even in the first inning, there were numerous pitches that he threw that had blood residue on it. He was willing to keep trying to go, but to what end?"
Syndergaard threw 20 pitches, including 11 strikes, in his first appearance since April 30.
"Obviously he wants to pitch, and I understand that," Roberts said. "We've got to make the best decision for him and for us."
The decision is whether to give Syndergaard time off to allow the cut to heal or to see if the veteran can continue to work through it.
"I think we'll know more in the next couple of days," Roberts said. "He's had it and put stuff on it to keep it at bay. Tonight, it just didn't take."
The Dodgers signed Syndergaard to a one-year, $13 million contract in December. He owns a 1-3 record with a 6.12 ERA. ___
AP MLB: https://apnews.com/hub/MLB and https://twitter.com/AP_Sports