Brewers activate reliever Gus Varland from injured list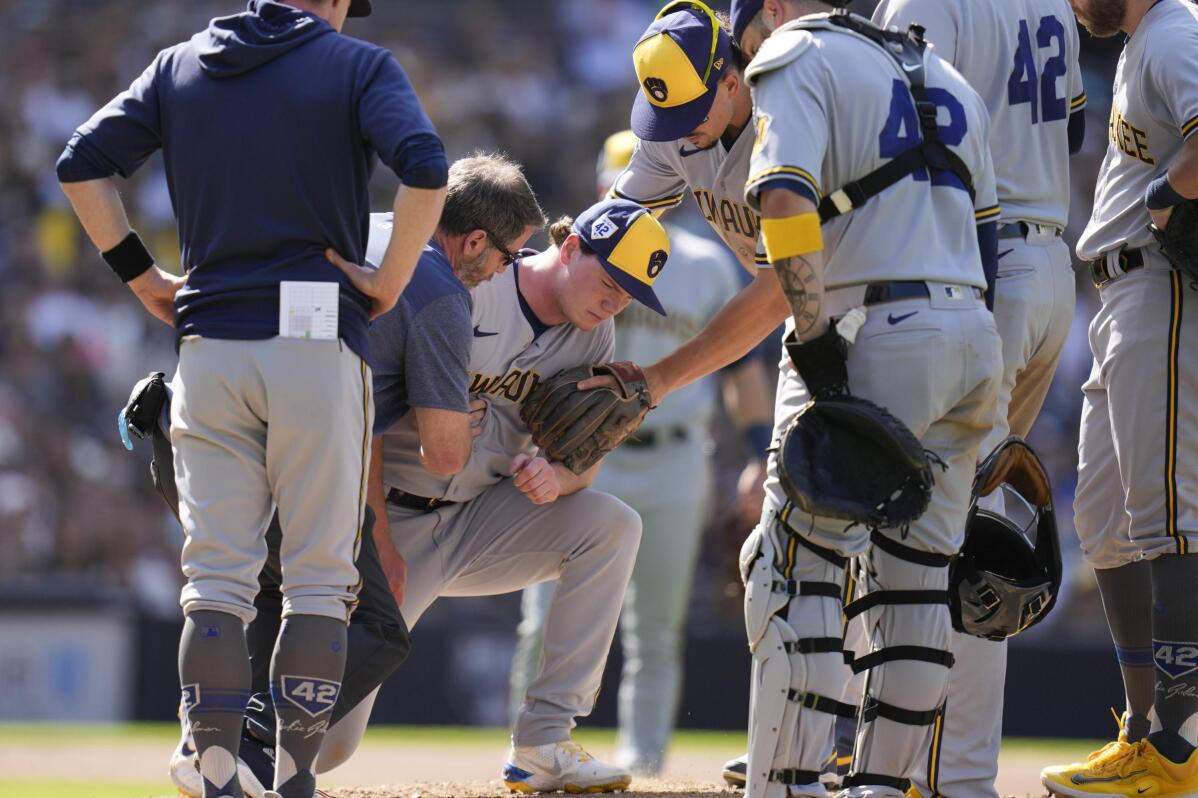 1 of 2

|
Milwaukee Brewers relief pitcher Gus Varland, center, reacts after being hit by a comebacker from San Diego Padres' Manny Machado during the eighth inning of a baseball game Saturday, April 15, 2023, in San Diego. (AP Photo/Gregory Bull)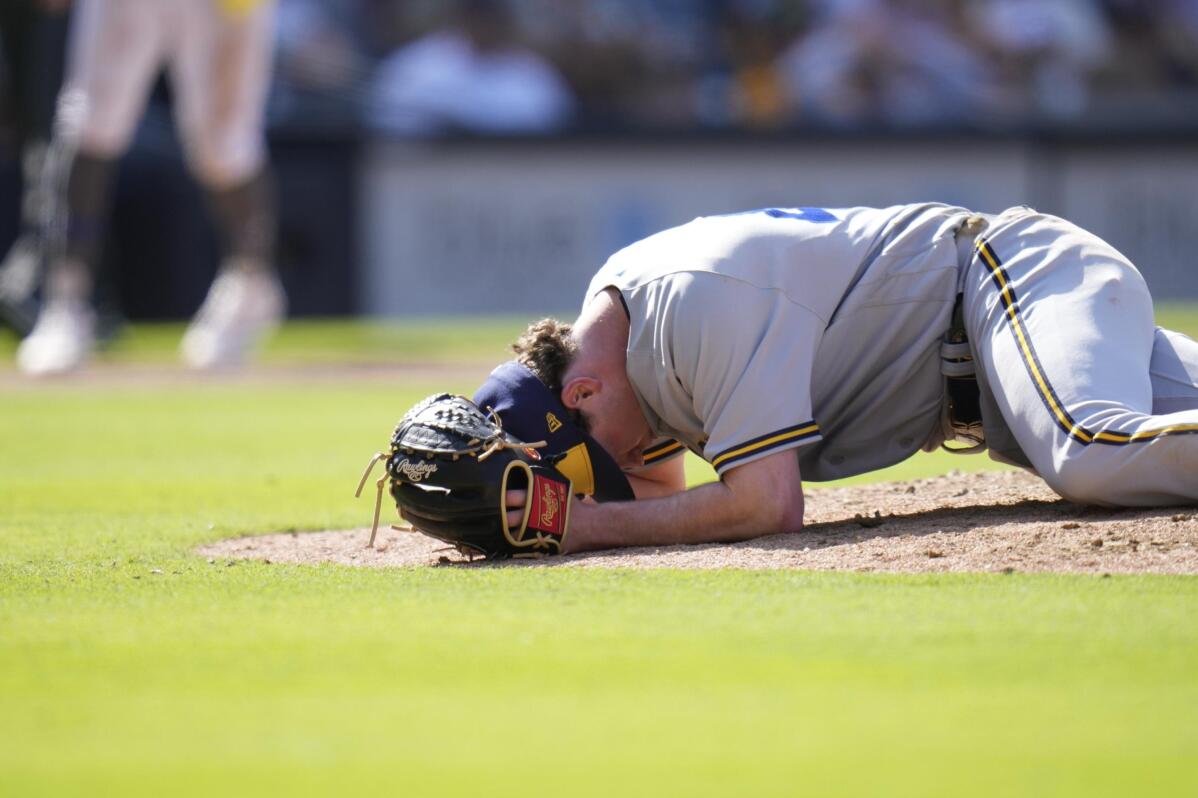 2 of 2

|
Milwaukee Brewers relief pitcher Gus Varland reacts after being hit by a comebacker from San Diego Padres' Manny Machado during the eighth inning of a baseball game Saturday, April 15, 2023, in San Diego. (AP Photo/Gregory Bull)
Brewers activate reliever Gus Varland from injured list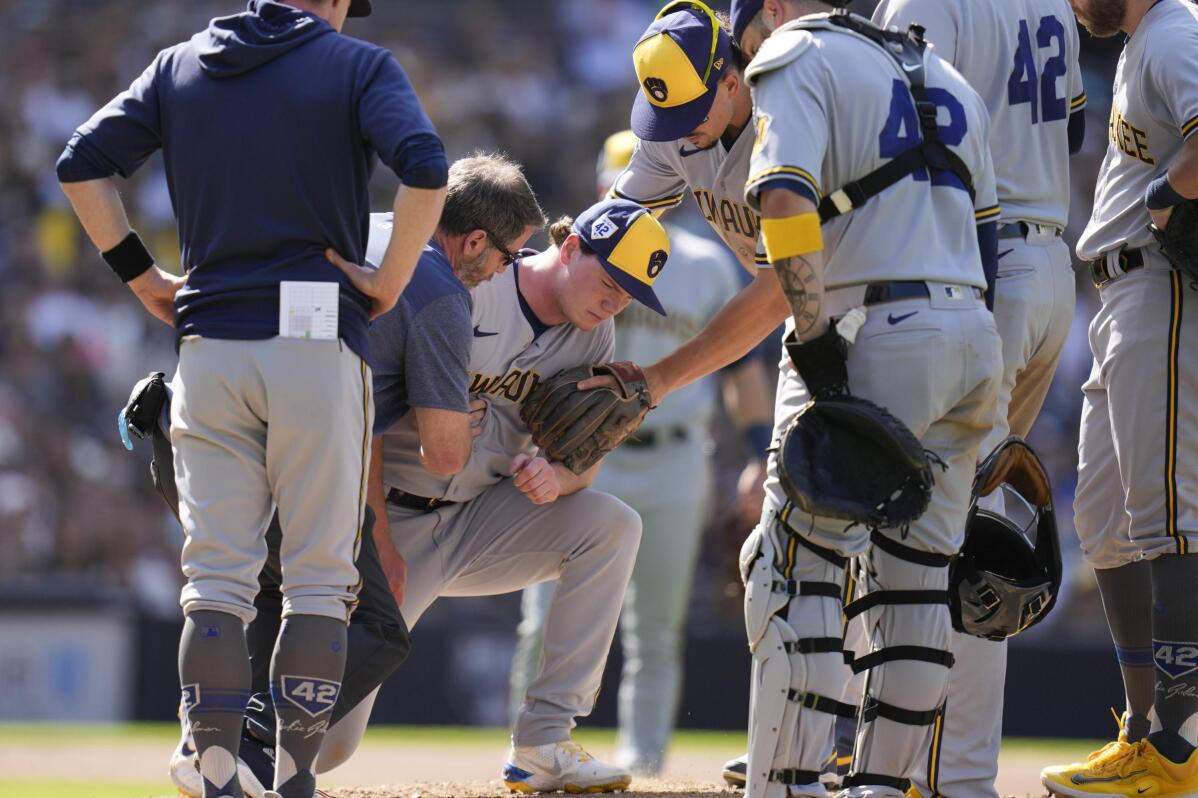 1 of 2

|
Milwaukee Brewers relief pitcher Gus Varland, center, reacts after being hit by a comebacker from San Diego Padres' Manny Machado during the eighth inning of a baseball game Saturday, April 15, 2023, in San Diego. (AP Photo/Gregory Bull)
1 of 2
Milwaukee Brewers relief pitcher Gus Varland, center, reacts after being hit by a comebacker from San Diego Padres' Manny Machado during the eighth inning of a baseball game Saturday, April 15, 2023, in San Diego. (AP Photo/Gregory Bull)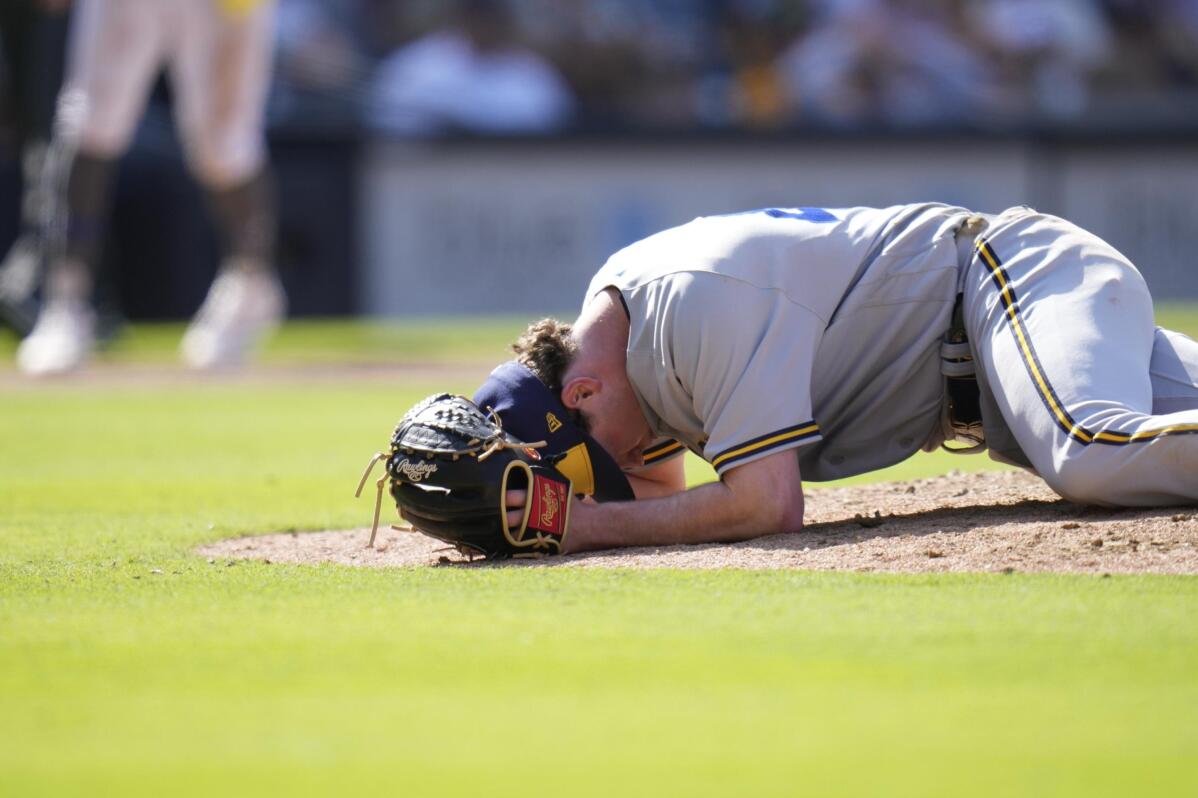 2 of 2

|
Milwaukee Brewers relief pitcher Gus Varland reacts after being hit by a comebacker from San Diego Padres' Manny Machado during the eighth inning of a baseball game Saturday, April 15, 2023, in San Diego. (AP Photo/Gregory Bull)
2 of 2
Milwaukee Brewers relief pitcher Gus Varland reacts after being hit by a comebacker from San Diego Padres' Manny Machado during the eighth inning of a baseball game Saturday, April 15, 2023, in San Diego. (AP Photo/Gregory Bull)
MILWAUKEE (AP) — Milwaukee Brewers reliever Gus Varland was activated from the injured list, three weeks after getting hit by a line drive from San Diego's Manny Machado.
The Brewers announced the move before their Tuesday night game with the Los Angeles Dodgers.
Varland was pitching April 15 in the eighth inning of a 10-3 loss to San Diego when Machado hit a 105.1-mph line drive that went off the right-hander's pitching hand before striking him on the chin and left forearm.
Although X-rays on Varland's pitching hand were negative, he went on the injured list one day later.
Varland, 26, has gone 0-0 with a 2.70 ERA in six appearances for the Brewers, who selected him from the Dodgers in the Rule 5 draft.
The Brewers made room for Varland on the roster by optioning left-hander Bennett Sousa to Triple-A Nashville. Sousa had made one appearance for Milwaukee, going 1 2/3 innings and allowing a two-run homer to Chris Taylor in the Brewers' 9-3 victory over the Dodgers on Monday. ___
AP MLB: https://apnews.com/hub/MLB and https://twitter.com/AP_Sports