Red Sox fined for stealing signs, Yanks docked lesser amount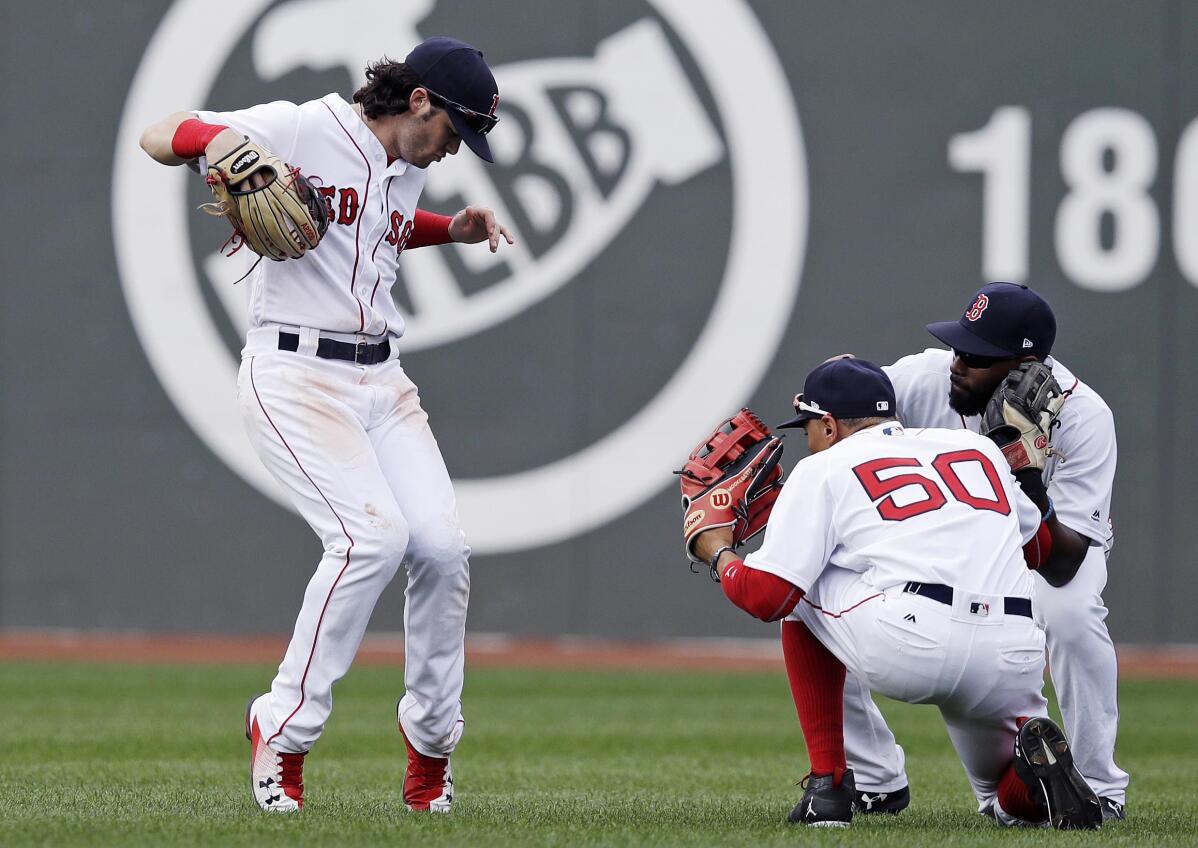 1 of 2

|
Boston Red Sox left fielder Andrew Benintendi, left, celebrates with teammates after defeating the Oakland Athletics 6-2 in a baseball game at Fenway Park in Boston, Thursday, Sept. 14, 2017. Benintendi had three RBI's in the game. (AP Photo/Charles Krupa)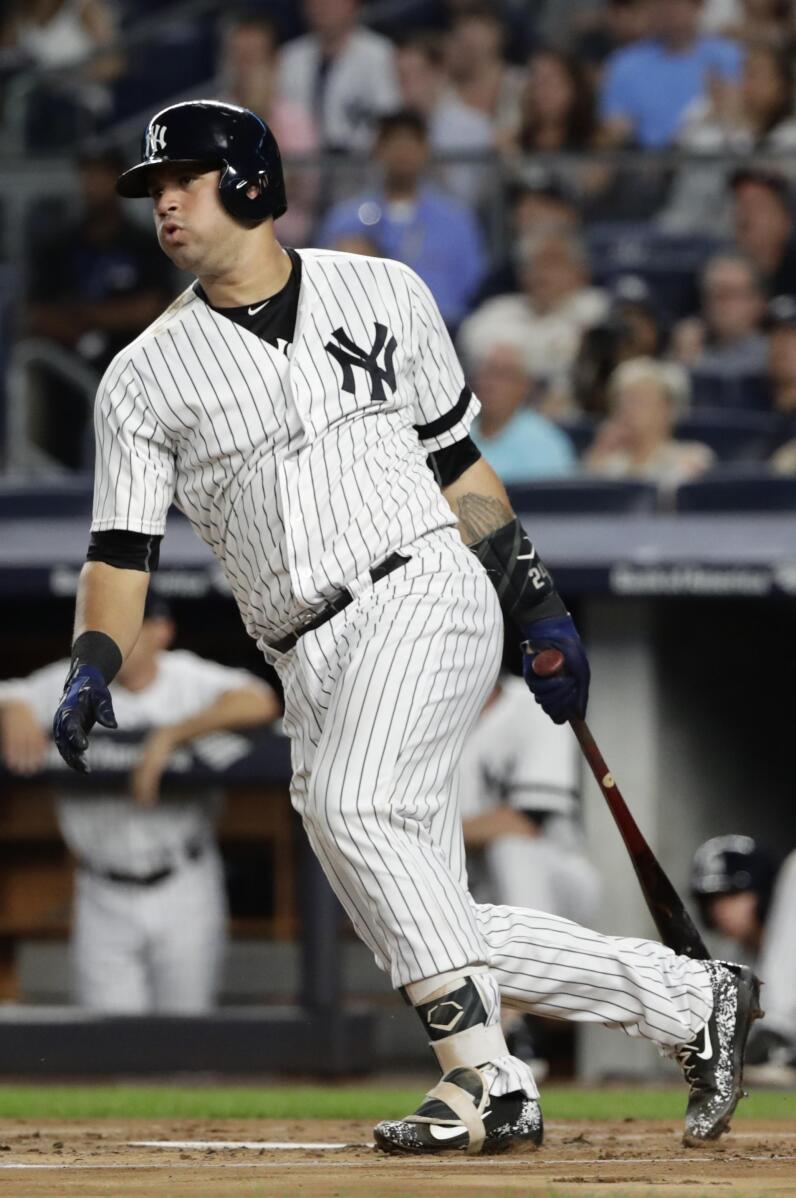 2 of 2

|
New York Yankees' Gary Sanchez follows through on an RBI double during the first inning of a baseball game against the Baltimore Orioles on Thursday, Sept. 14, 2017, in New York. (AP Photo/Frank Franklin II)
Red Sox fined for stealing signs, Yanks docked lesser amount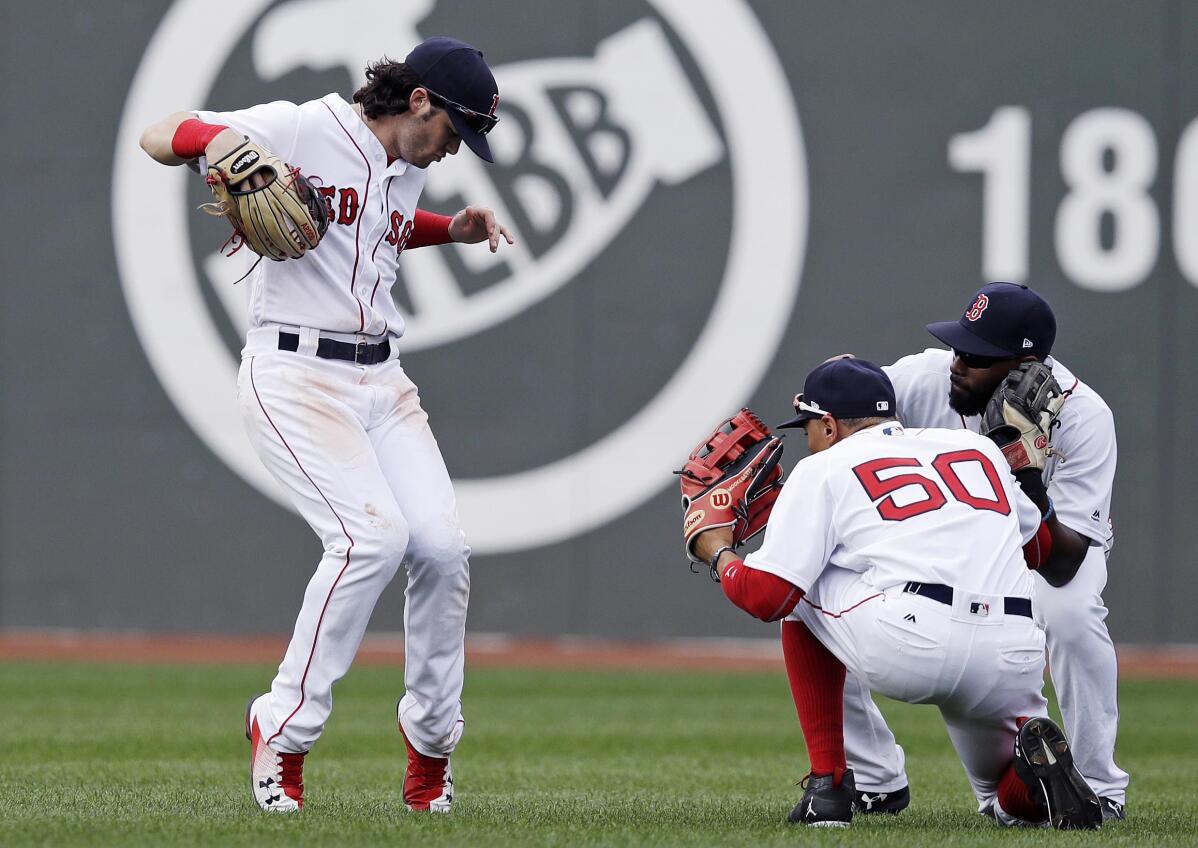 1 of 2

|
Boston Red Sox left fielder Andrew Benintendi, left, celebrates with teammates after defeating the Oakland Athletics 6-2 in a baseball game at Fenway Park in Boston, Thursday, Sept. 14, 2017. Benintendi had three RBI's in the game. (AP Photo/Charles Krupa)
1 of 2
Boston Red Sox left fielder Andrew Benintendi, left, celebrates with teammates after defeating the Oakland Athletics 6-2 in a baseball game at Fenway Park in Boston, Thursday, Sept. 14, 2017. Benintendi had three RBI's in the game. (AP Photo/Charles Krupa)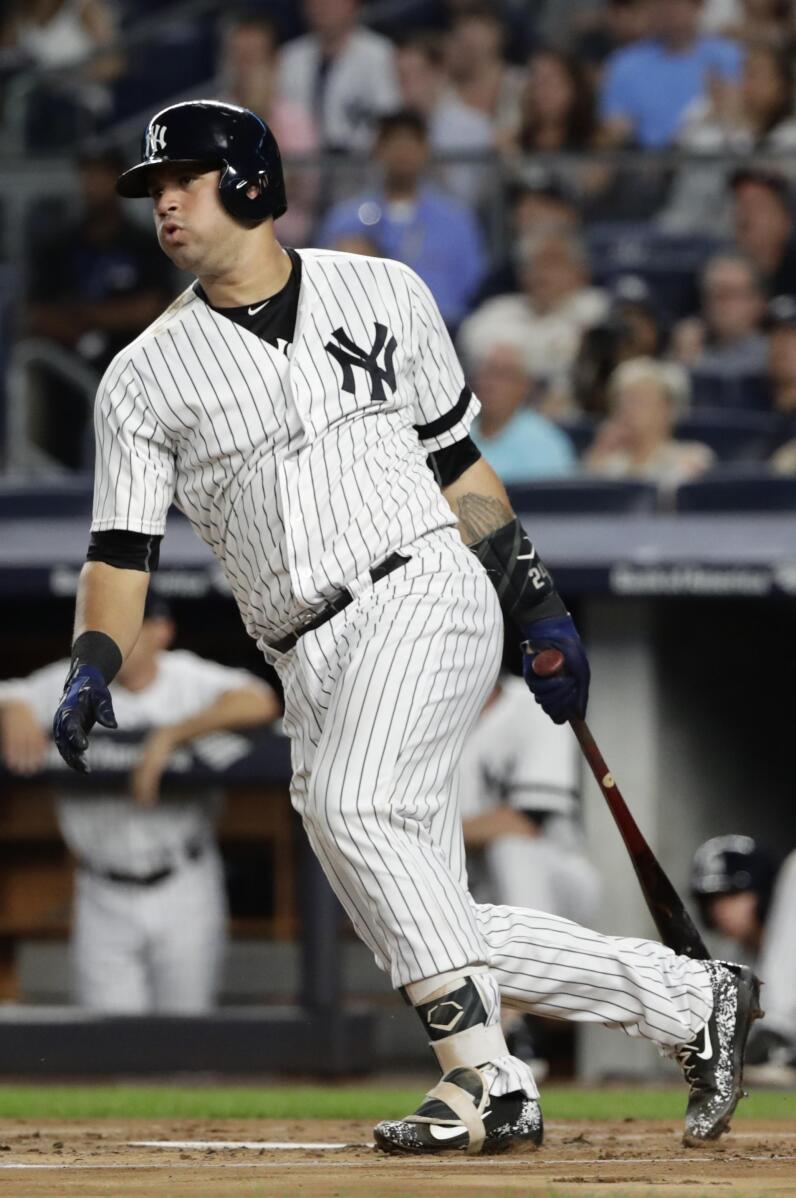 2 of 2

|
New York Yankees' Gary Sanchez follows through on an RBI double during the first inning of a baseball game against the Baltimore Orioles on Thursday, Sept. 14, 2017, in New York. (AP Photo/Frank Franklin II)
2 of 2
New York Yankees' Gary Sanchez follows through on an RBI double during the first inning of a baseball game against the Baltimore Orioles on Thursday, Sept. 14, 2017, in New York. (AP Photo/Frank Franklin II)
NEW YORK (AP) — The Boston Red Sox have been fined by Major League Baseball for using electronic equipment to steal signs given by a Yankees catcher this season, and New York has been fined a lesser amount for improper use of a dugout telephone in an earlier year.
The discipline was announced Friday by baseball Commissioner Rob Manfred. The fine amounts were not announced. The money will be donated to hurricane relief efforts in Florida
Manfred found insufficient evidence to support an allegation by Boston that the Yankees made inappropriate use of the YES Network against the Red Sox.
The New York Times reported this month video clips sent to the commissioner's office by the Yankees showed Boston assistant athletic trainer Jon Jochim looking at an Apple Watch during an August series. Jochim then relayed information to outfielder Brock Holt and second baseman Dustin Pedroia, who was seen passing information to Chris Young.
Manfred said Boston's owners and front office had no advance knowledge of what occurred.
He said the Red Sox violated rules by sending electronic communications from their video replay room to the trainer. He said Boston stopped the conduct when its management became aware of it.
"All 30 clubs have been notified that future violations of this type will be subject to more serious sanctions, including the possible loss of draft picks," Manfred said in a statement.
In investigating Boston's complaint against the Yankees, Manfred said MLB learned of the improper use of the dugout phone. He said the communications that took place over the phone did not violate any rules.