Mets head into spring training knowing expectations are high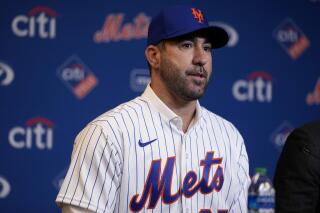 PORT ST. LUCIE, Fla. (AP) — Heading into a season with a record payroll projected at $370 million, the New York Mets realize the expectations.
"Is our season a failure if we win 90 — whatever number you want to come up with?" manager Buck Showalter said Tuesday, a day ahead of the team's reporting day. "It's about the endgame."
Justin Verlander, the AL Cy Young Award winner signed to an $86.7 million, two-year contract, threw his first bullpen session for the Mets.
"Just like all pitchers, regardless of their background and their success, you're trying to serve their needs and create an atmosphere that they can be as good as they can be," Showalter said.
Max Scherzer or Verlander figures to start the March 30 opener at Miami with baseball buzzing about the team's record spending under owner Steve Cohen.
New York won 101 games last year, second-most in franchise history but was unable to hold off Atlanta in the NL East after sitting atop the division for all but six days. The Mets were eliminated by San Diego in a three-game Wild Card Series.
"You don't talk about it," Showalter said. "It's kind of those looks, without saying anything. They know, believe me. Like, who in here likes talking about unpleasant times?"
While losing Jacob deGrom, Taijuan Walker and Chris Bassitt in free agency, the Mets added Verlander, José Quintana and Kodai Senga to join Scherzer and Carlos Carrasco in the rotation. New York re-signed closer Edwin Díaz and outfielder Brandon Nimmo and replaced catcher James McCann with Omar Narváez.
All the spending increased the Mets' projected payroll to $370 million for 2023 and $390 million for purposes of the luxury tax — which would result in a tax of about $115 million.
"Our expectation is to win the championship," Díaz said. "We are looking forward to start winning games and trying to be in the World Series."
Showalter is pleased with the switch to a balanced schedule.
"We played the 79 games in our division last year. Almost half our season was played in our division last year," Showalter said. "We're playing 52 this year. Do the math that's 27 less."
Showalter said the Mets are hopeful outfielder Starling Marte will be ready for opening day following core muscle surgery on Nov.. 1.
___
AP MLB: https://apnews.com/hub/MLB and https://twitter.com/AP_Sports