Trea Turner settling in for long future in Philadelphia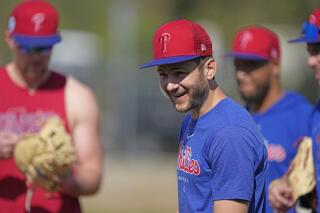 CLEARWATER, Fla. (AP) — The past few years have been a bit of a whirlwind for Trea Turner. They included a World Series title in Washington, a trade to Los Angeles — and then an 11-year, $300 million contract that brought him back to the NL East.
The one constant amid all that: Turner has played with some pretty impressive teammates. And that's not about to change.
"I've been on some really, really good teams with some great players — last year being one of them," Turner said Sunday. "That's kind of the beauty and the difficult thing about baseball. The best teams don't always win. Just because we got a lot of talent in here and a lot of good guys, and they made it to the World Series last year, doesn't mean it's going to happen again. You've got to put in the work."
The Phillies seemed to understand that this offseason. Yes, they won the National League pennant last year, but they were also an 87-win wild card appearing in the postseason for the first time in over a decade. And Philadelphia shares a division with teams in Atlanta and New York that appear formidable for the foreseeable future.
Signing Turner, a 29-year-old shortstop who has been an All-Star the past two years, showed the Phillies are willing to stay aggressive, too.
It also gave Turner some stability. Washington declined quickly after winning the World Series in 2019. The Nationals eventually dealt both Turner and Max Scherzer to the Dodgers two seasons later. That put Turner right back in the postseason for a couple years.
All that moving — plus a pandemic and a lockout that created doubts about whether baseball would be played at all — could wear on anyone. But now Turner has a long-term deal with another strong team.
"That's something that me, my wife and my family wanted, was just, not have to rent anymore, not have to move around, not have to worry about getting traded," he said. "A lot of guys, probably overwhelming majority, don't get to choose where they get to play for their career. Luckily enough, I was in a situation where I could pick. I'm stuck here, and nobody can tell me otherwise, so I think I'm really happy about that, that security."
Turner's deal included a full no-trade provision.
In Philadelphia's clubhouse at spring training, Turner's locker is right next to Bryce Harper's. The two played together in Washington before Harper signed with the Phillies before the 2019 season.
Harper, who had elbow surgery in the offseason, is not in camp yet. Turner says they've texted. There are quite a few former Nationals stars scattered around the majors. Juan Soto is with San Diego, and Scherzer is now with the Mets.
"We had a lot of talent over there," Turner said. "It's fun seeing guys still compete and be good — at a lot of different points in their career."
Scherzer has remained effective into his late 30s. Harper is 30 and still has nine years left on a contract that's similar to Turner's.
"For me, you kind of bet on the person," Turner said. "Betting on Bryce, betting on Max, you're not going to go wrong. They put in the work, they take care of themselves. They may have an injury here or there, but that's part of the game, but you know that over the long period of time, that they're going to bring a lot to the table, on and off the field. I would bet on both those guys any day of the week."
___
Follow Noah Trister at www.twitter.com/noahtrister
___
AP MLB: https://apnews.com/hub/mlb and https://twitter.com/AP_Sports