Expectations quite low for the 2015 Phillies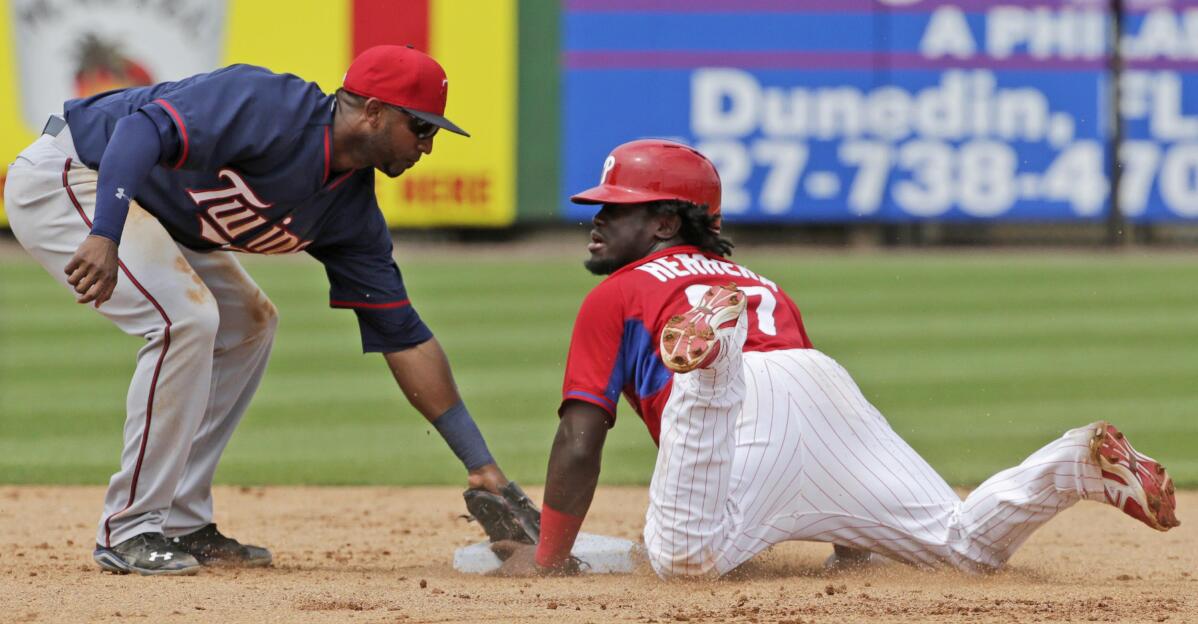 1 of 8

|
Minnesota Twins shortstop Eduardo Nunez , left, puts the tag on Philadelphia Phillies Odubel Herrera, but Herrrera is safe on a fifth-inning stolen base in a spring training baseball game in Clearwater, Fla., Monday, March 23, 2015. (AP Photo/Kathy Willens)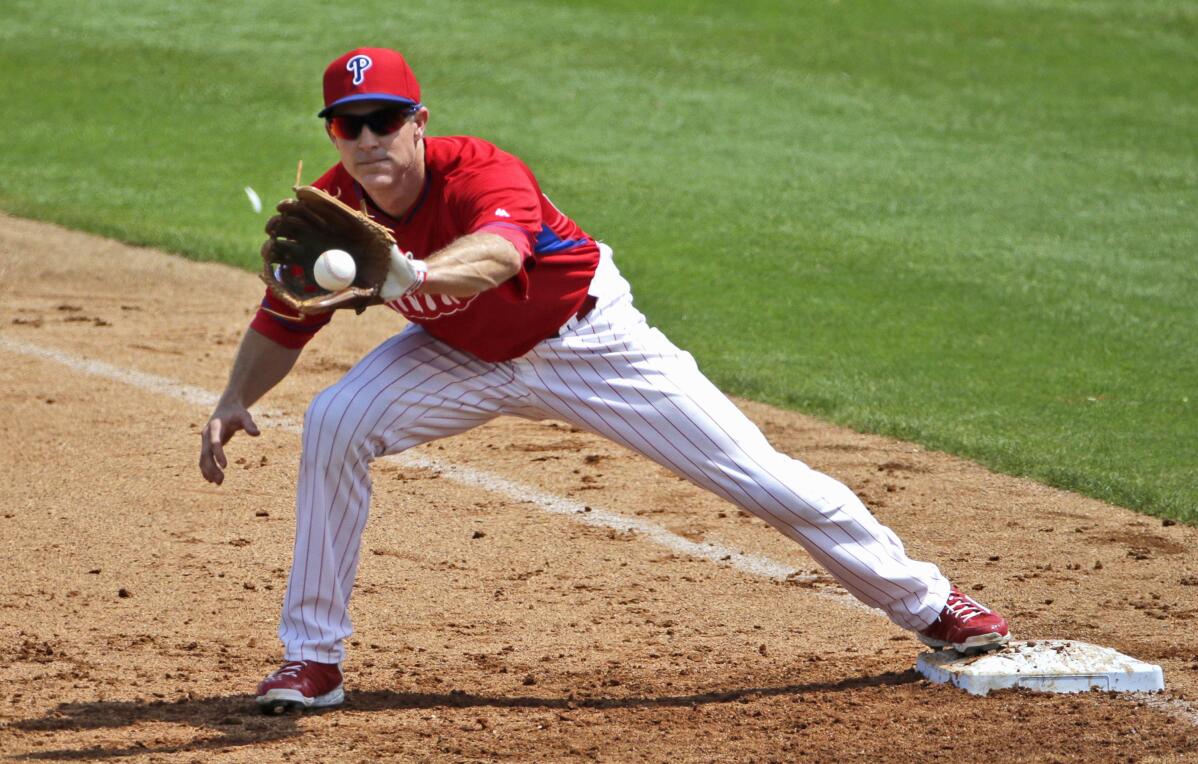 2 of 8

|
Covering first, Philadelphia Phillies second baseman Chase Utley fields the throw Mike Pelfrey's sacrifice bunt in a spring training baseball game against the Minnesota Twins in Clearwater, Fla., Monday, March 23, 2015. (AP Photo/Kathy Willens)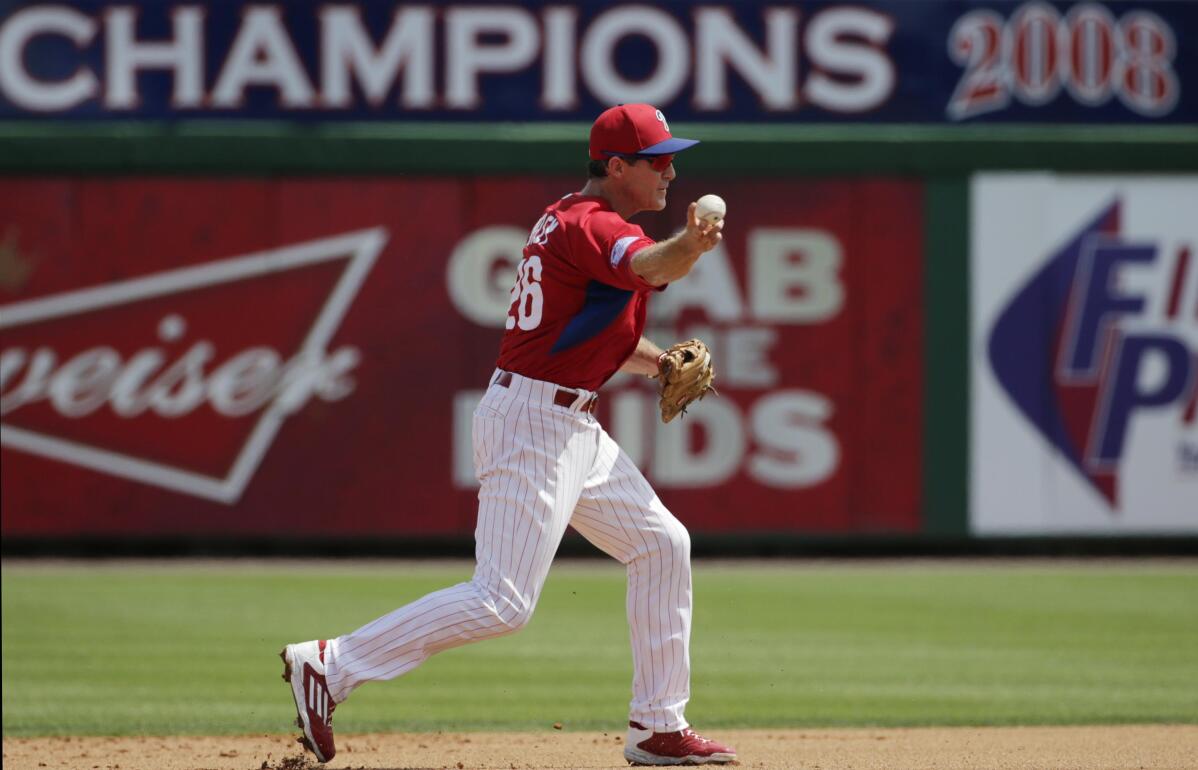 3 of 8

|
Philadelphia Phillies second baseman Chase Utley (26) throws to first on Oswaldo Garcia's second-inning groundout in a spring training baseball game against the Twins in Clearwater, Fla., Monday, March 23, 2015. (AP Photo/Kathy Willens)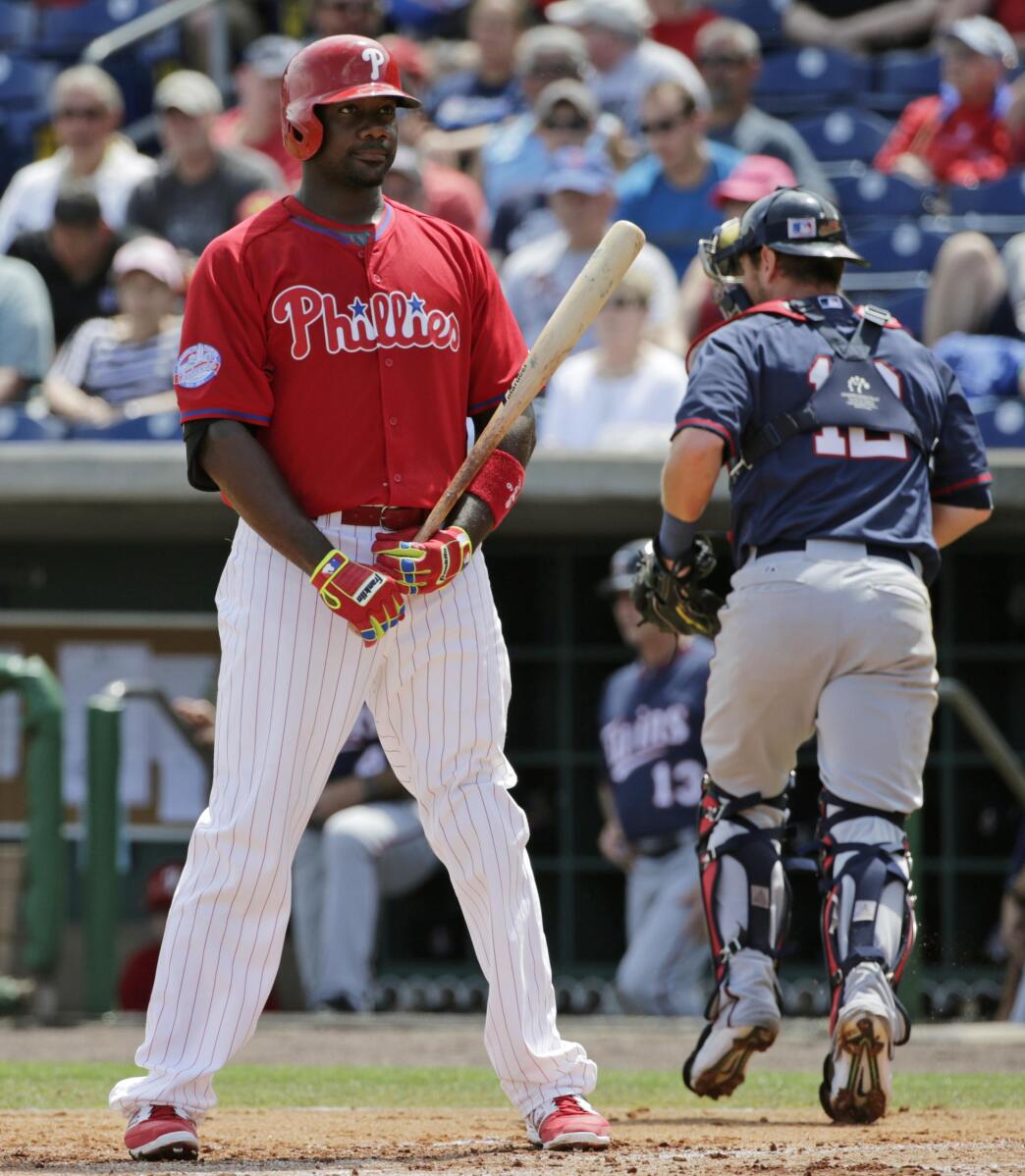 4 of 8

|
Philadelphia Phillies Ryan Howard stands at the plate after striking out as Minnesota Twins catcher Chris Herrmann (12) returns to the dugout in the first inning of a spring training baseball game in Clearwater, Fla., Monday, March 23, 2015. (AP Photo/Kathy Willens)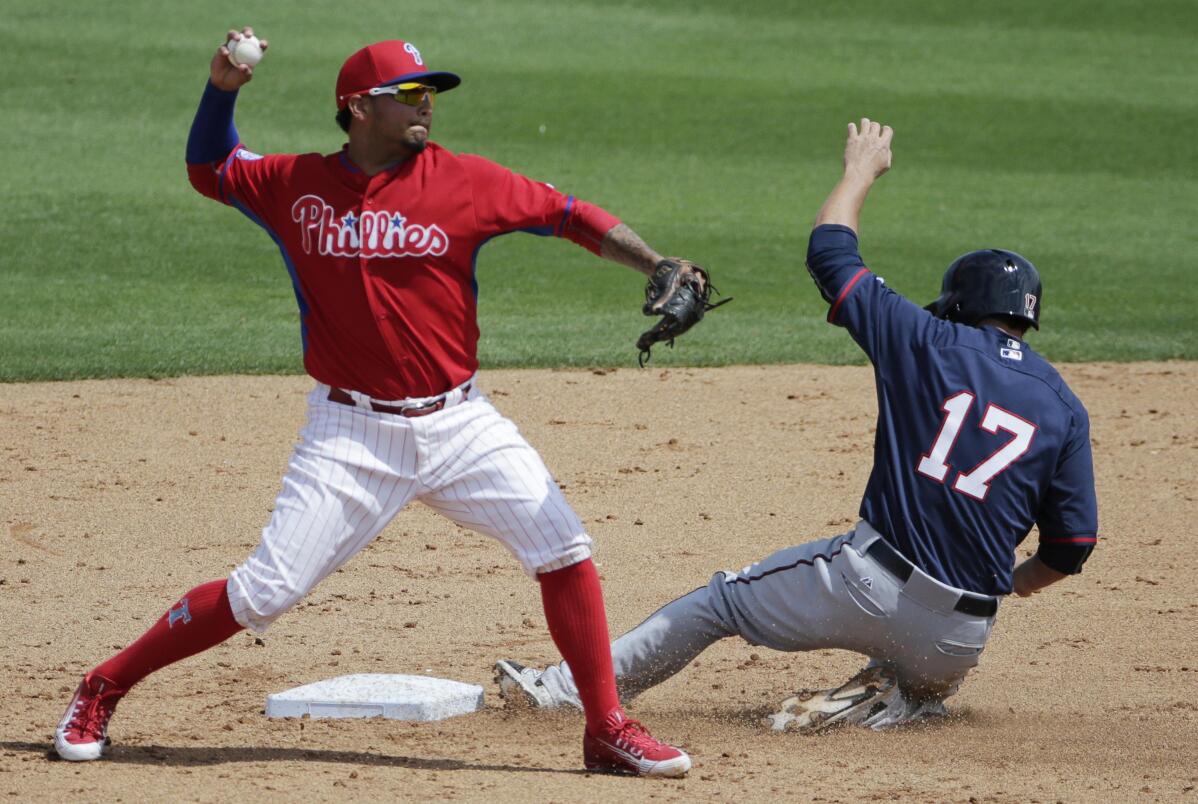 5 of 8

|
Philadelphia Phillies shortstop Freddy Galvis, left, throws to first after forcing out Minnesota Twins Doug Bernier (17) when the Twins Aaron Hicks hit into a third-inning fielder's choice in a spring training baseball game in Clearwater, Fla., Monday, March 23, 2015. (AP Photo/Kathy Willens)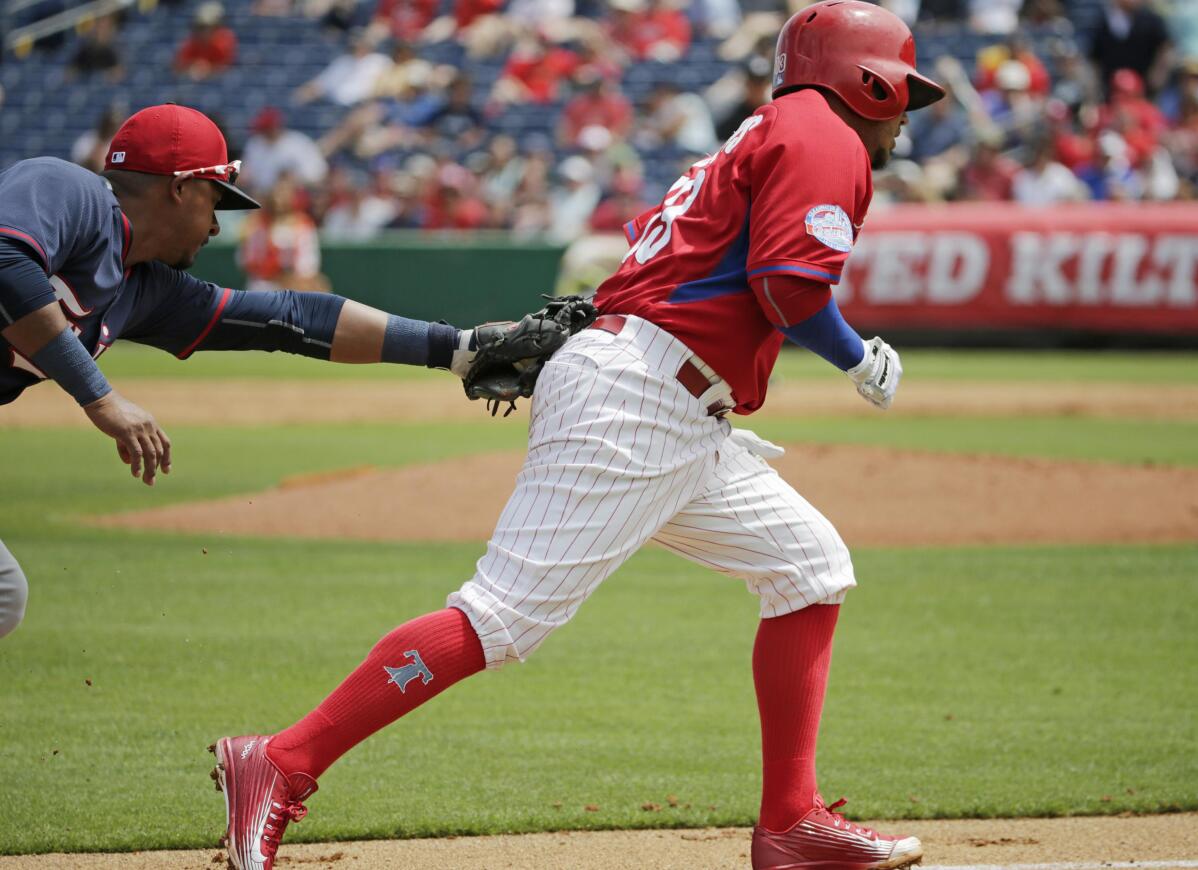 6 of 8

|
Minnesota Twins third baseman Eduardo Escobar, left, tags out Philadelphia Phillies Freddy Galvis (13) who was caught in a rundown between third and home in the second inning of a spring training baseball game in Clearwater, Fla., Monday, March 23, 2015. (AP Photo/Kathy Willens)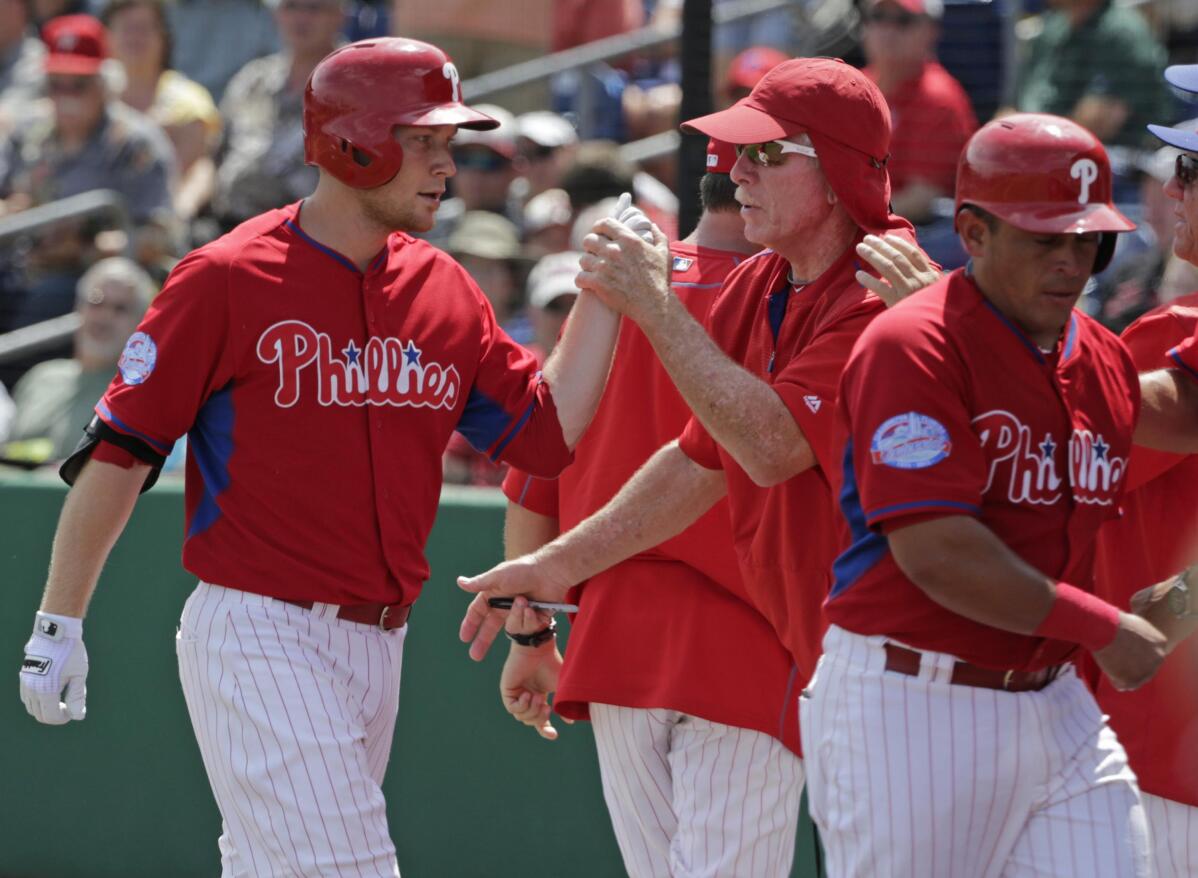 7 of 8

|
Philadelphia Phillies guest instructor and Hall of Famer Mike Schmidt, center, congratulates Philadelphia Phillies Cody Asche, left, after Asche hit a second-inning, two-run, home run off Minnesota Twins starting pitcher Mike Pelfrey in a spring training baseball game in Clearwater, Fla., Monday, March 23, 2015. Philadelphia Phillies catcher Carlos Ruiz, right, scored on Asche's home run. (AP Photo/Kathy Willens)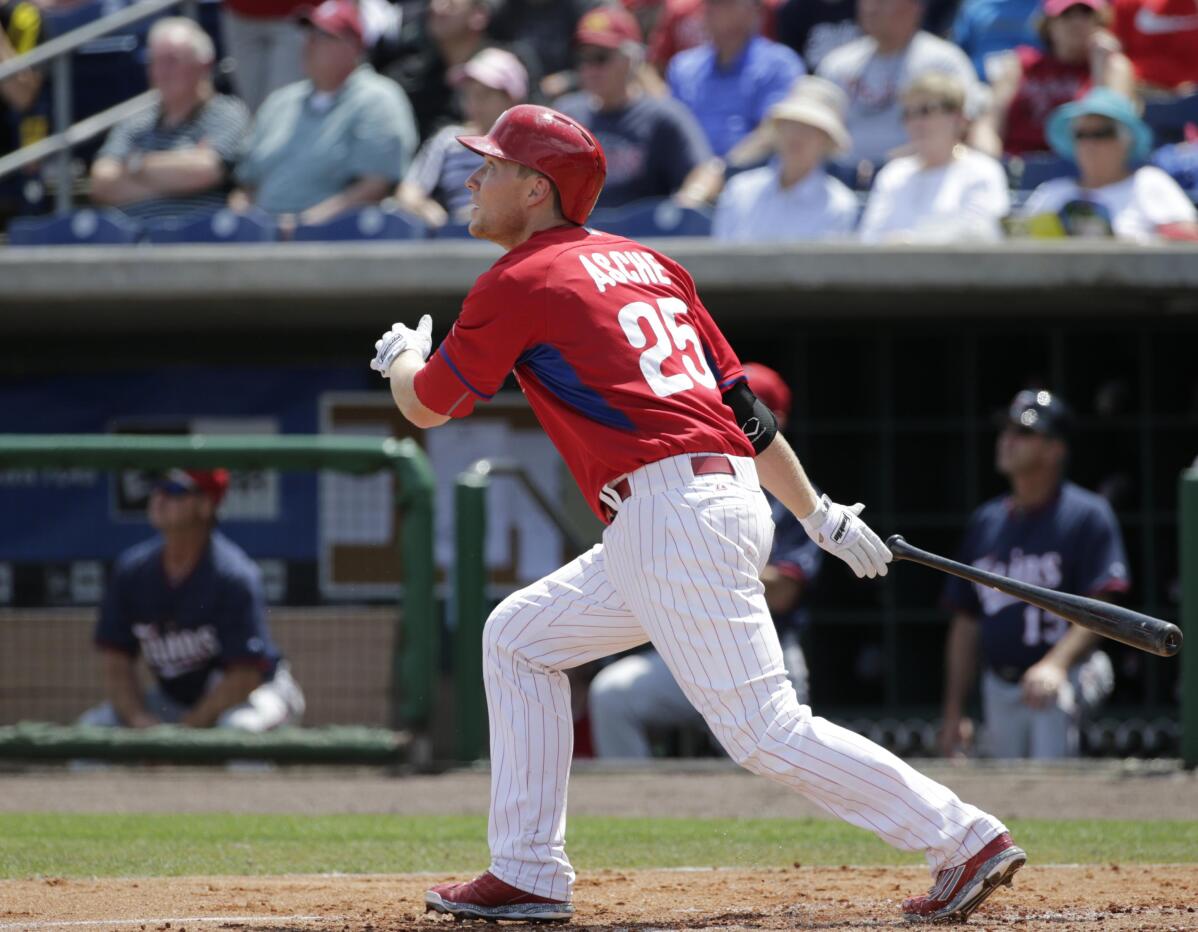 8 of 8

|
Philadelphia Phillies' Cody Asche watches his second-inning, two-run home run off Minnesota Twins starting pitcher Mike Pelfrey in a spring training baseball game in Clearwater, Fla., Monday, March 23, 2015. (AP Photo/Kathy Willens)
Expectations quite low for the 2015 Phillies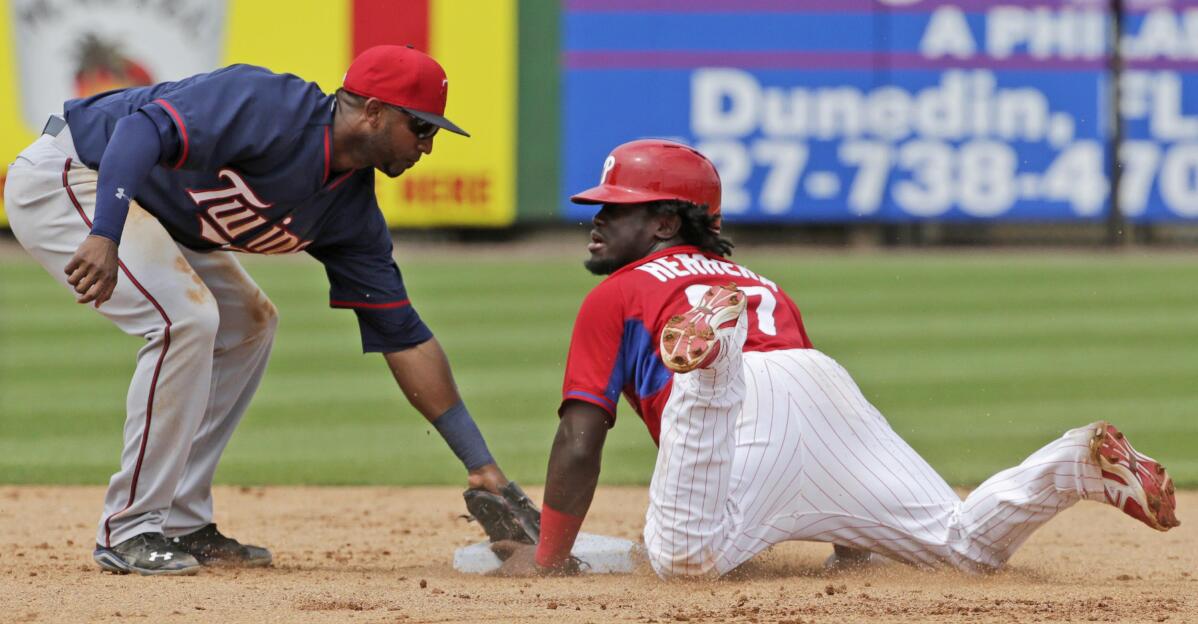 1 of 8

|
Minnesota Twins shortstop Eduardo Nunez , left, puts the tag on Philadelphia Phillies Odubel Herrera, but Herrrera is safe on a fifth-inning stolen base in a spring training baseball game in Clearwater, Fla., Monday, March 23, 2015. (AP Photo/Kathy Willens)
1 of 8
Minnesota Twins shortstop Eduardo Nunez , left, puts the tag on Philadelphia Phillies Odubel Herrera, but Herrrera is safe on a fifth-inning stolen base in a spring training baseball game in Clearwater, Fla., Monday, March 23, 2015. (AP Photo/Kathy Willens)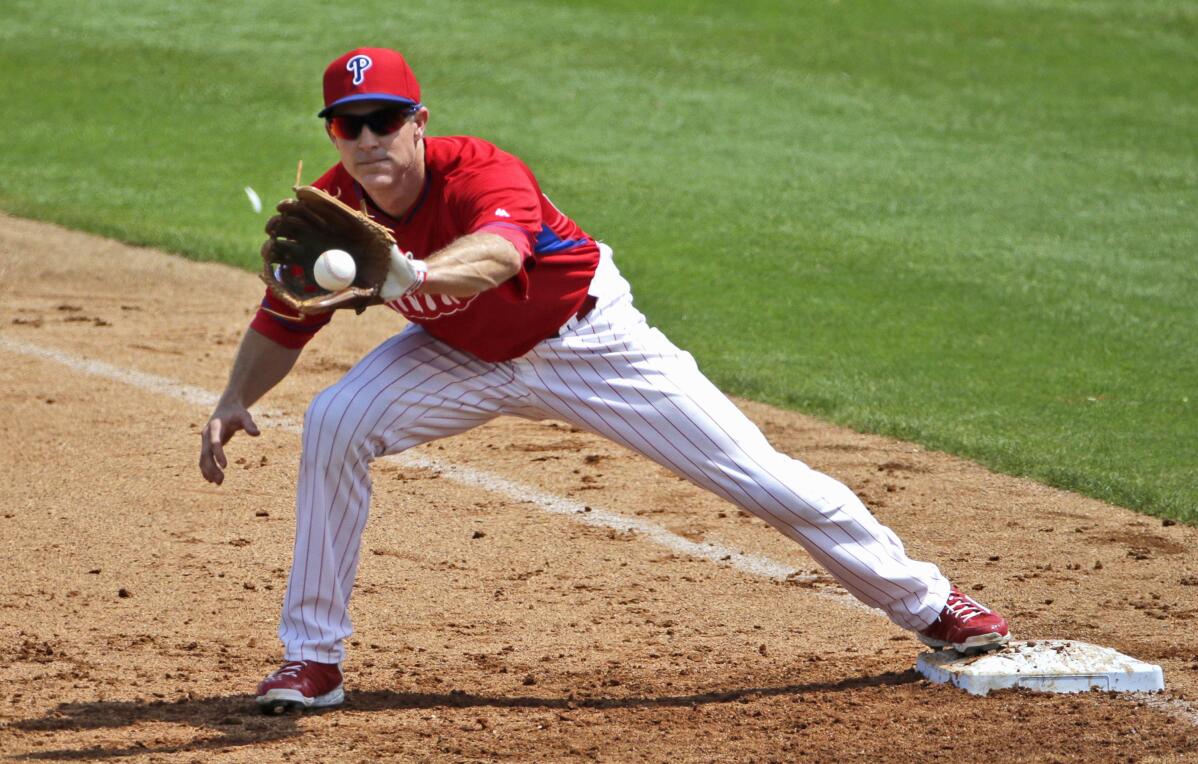 2 of 8

|
Covering first, Philadelphia Phillies second baseman Chase Utley fields the throw Mike Pelfrey's sacrifice bunt in a spring training baseball game against the Minnesota Twins in Clearwater, Fla., Monday, March 23, 2015. (AP Photo/Kathy Willens)
2 of 8
Covering first, Philadelphia Phillies second baseman Chase Utley fields the throw Mike Pelfrey's sacrifice bunt in a spring training baseball game against the Minnesota Twins in Clearwater, Fla., Monday, March 23, 2015. (AP Photo/Kathy Willens)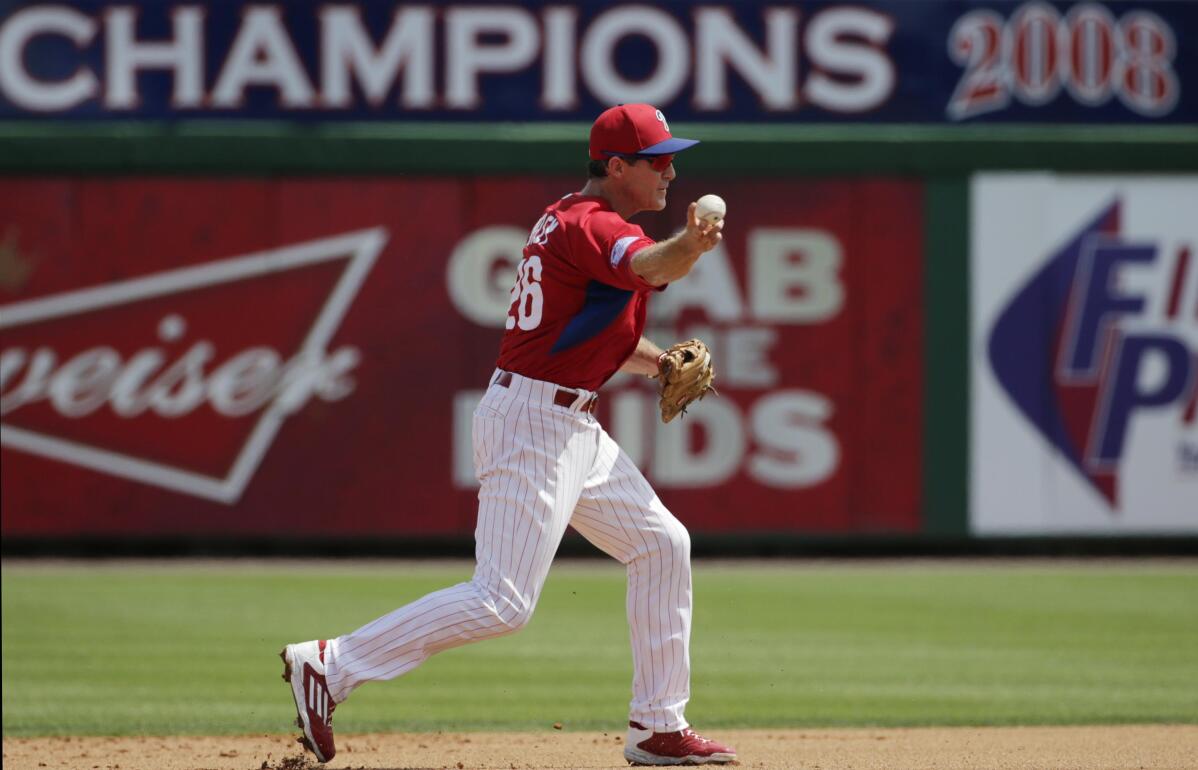 3 of 8

|
Philadelphia Phillies second baseman Chase Utley (26) throws to first on Oswaldo Garcia's second-inning groundout in a spring training baseball game against the Twins in Clearwater, Fla., Monday, March 23, 2015. (AP Photo/Kathy Willens)
3 of 8
Philadelphia Phillies second baseman Chase Utley (26) throws to first on Oswaldo Garcia's second-inning groundout in a spring training baseball game against the Twins in Clearwater, Fla., Monday, March 23, 2015. (AP Photo/Kathy Willens)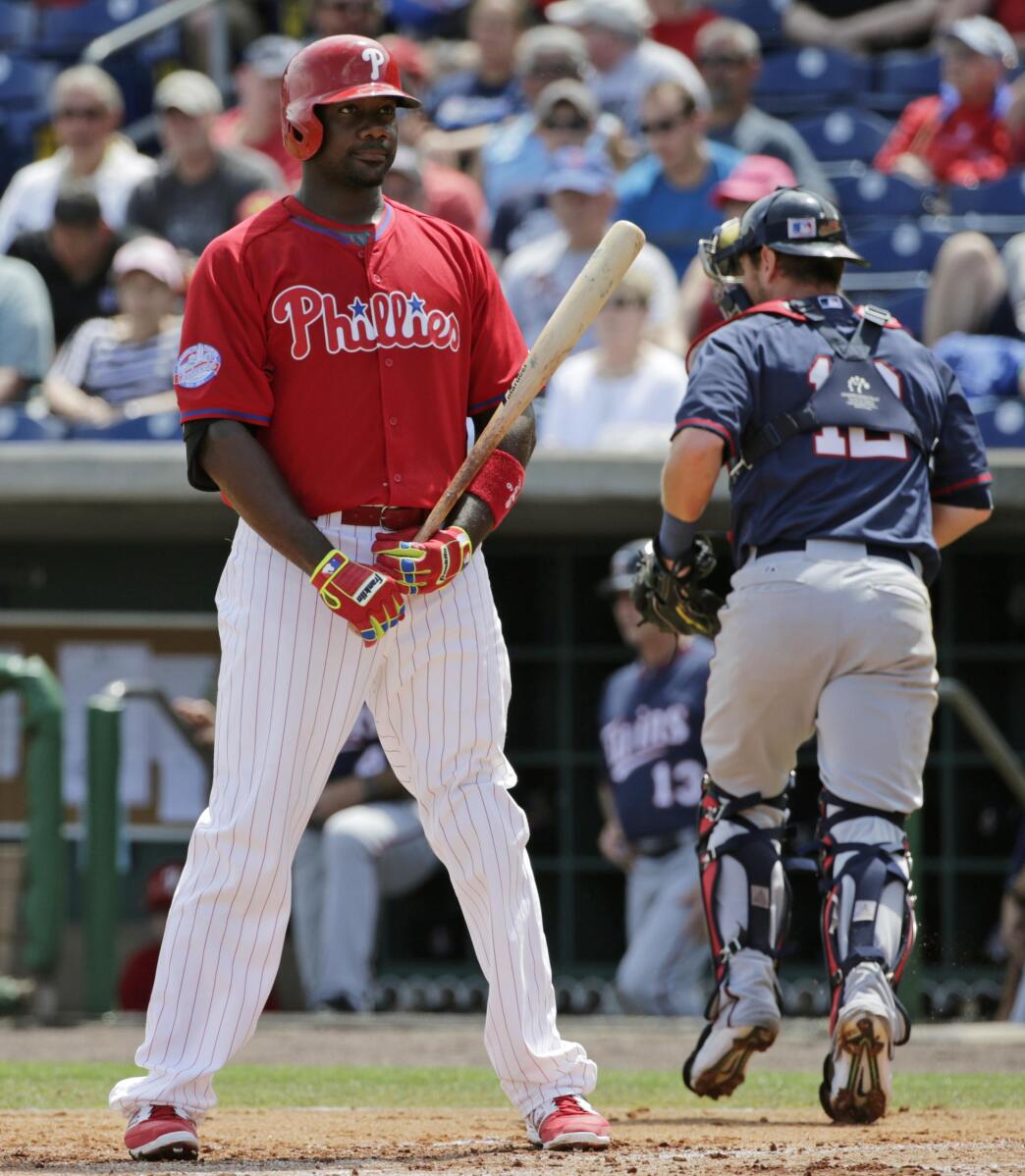 4 of 8

|
Philadelphia Phillies Ryan Howard stands at the plate after striking out as Minnesota Twins catcher Chris Herrmann (12) returns to the dugout in the first inning of a spring training baseball game in Clearwater, Fla., Monday, March 23, 2015. (AP Photo/Kathy Willens)
4 of 8
Philadelphia Phillies Ryan Howard stands at the plate after striking out as Minnesota Twins catcher Chris Herrmann (12) returns to the dugout in the first inning of a spring training baseball game in Clearwater, Fla., Monday, March 23, 2015. (AP Photo/Kathy Willens)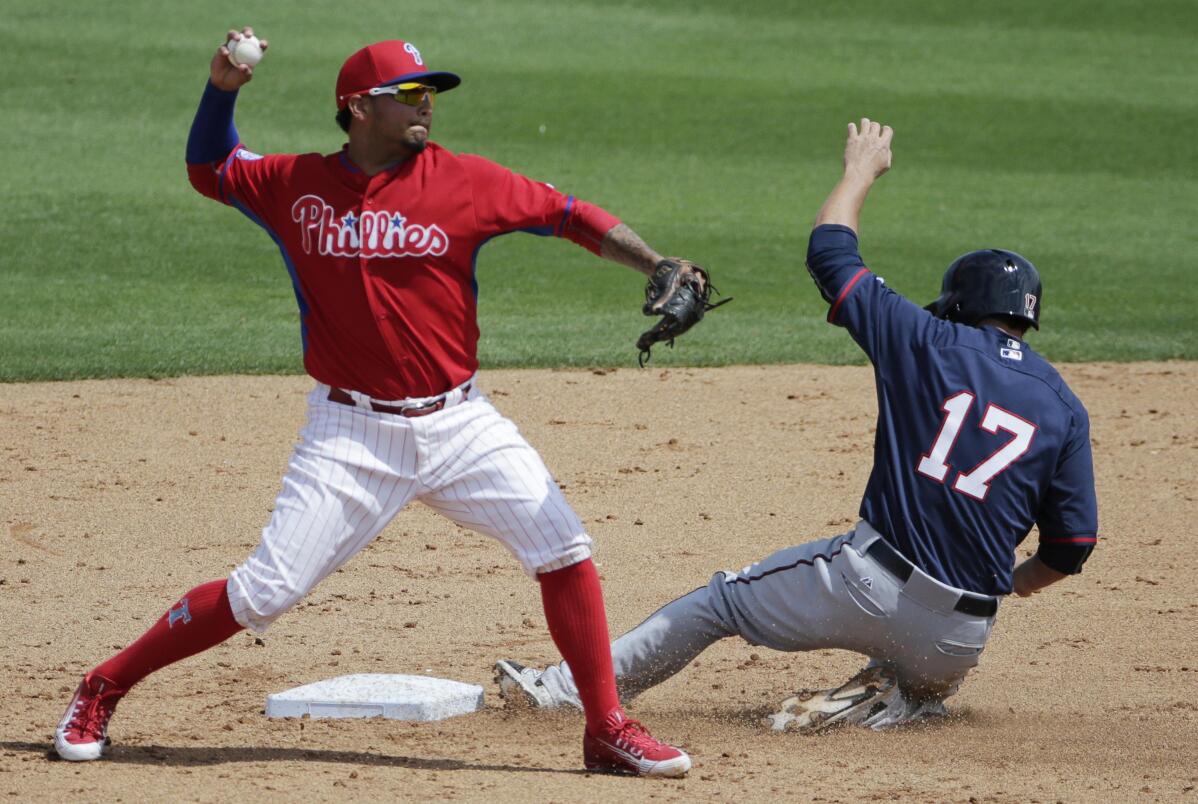 5 of 8

|
Philadelphia Phillies shortstop Freddy Galvis, left, throws to first after forcing out Minnesota Twins Doug Bernier (17) when the Twins Aaron Hicks hit into a third-inning fielder's choice in a spring training baseball game in Clearwater, Fla., Monday, March 23, 2015. (AP Photo/Kathy Willens)
5 of 8
Philadelphia Phillies shortstop Freddy Galvis, left, throws to first after forcing out Minnesota Twins Doug Bernier (17) when the Twins Aaron Hicks hit into a third-inning fielder's choice in a spring training baseball game in Clearwater, Fla., Monday, March 23, 2015. (AP Photo/Kathy Willens)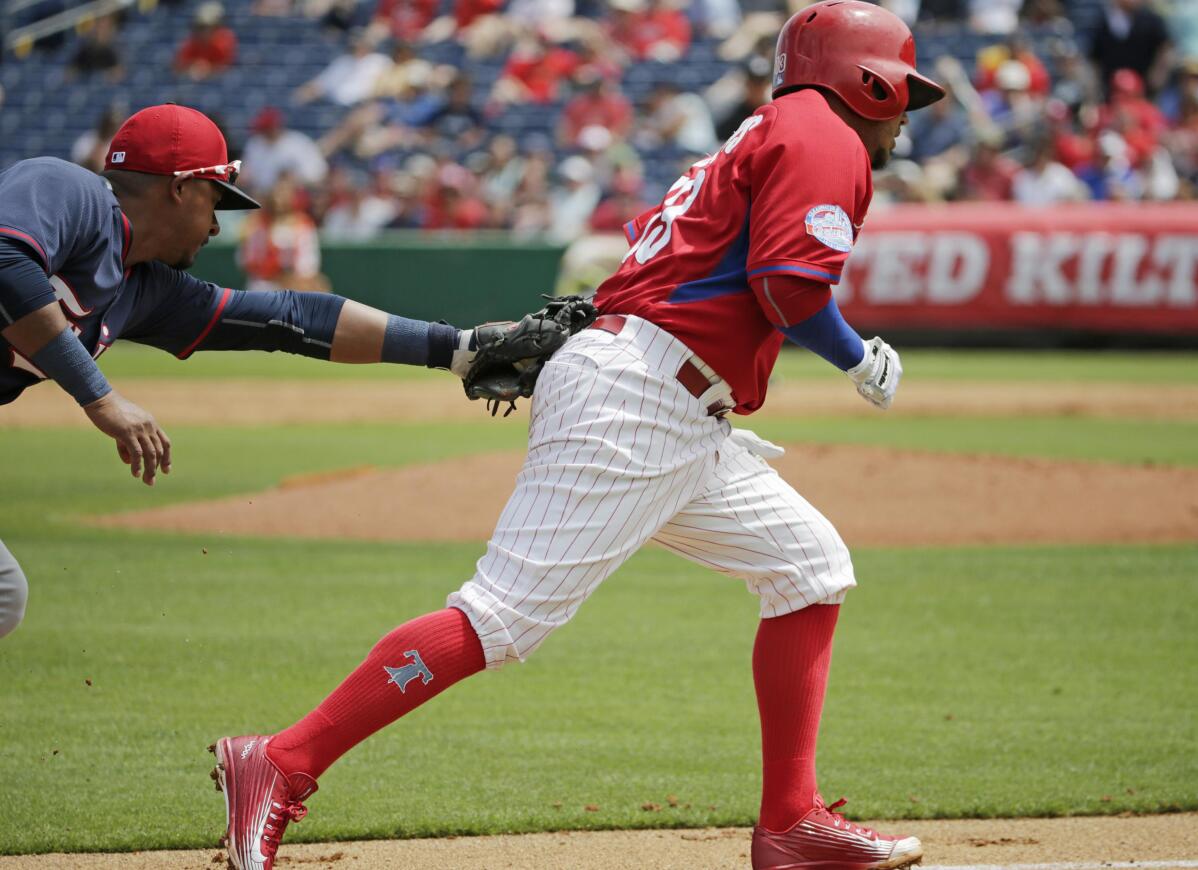 6 of 8

|
Minnesota Twins third baseman Eduardo Escobar, left, tags out Philadelphia Phillies Freddy Galvis (13) who was caught in a rundown between third and home in the second inning of a spring training baseball game in Clearwater, Fla., Monday, March 23, 2015. (AP Photo/Kathy Willens)
6 of 8
Minnesota Twins third baseman Eduardo Escobar, left, tags out Philadelphia Phillies Freddy Galvis (13) who was caught in a rundown between third and home in the second inning of a spring training baseball game in Clearwater, Fla., Monday, March 23, 2015. (AP Photo/Kathy Willens)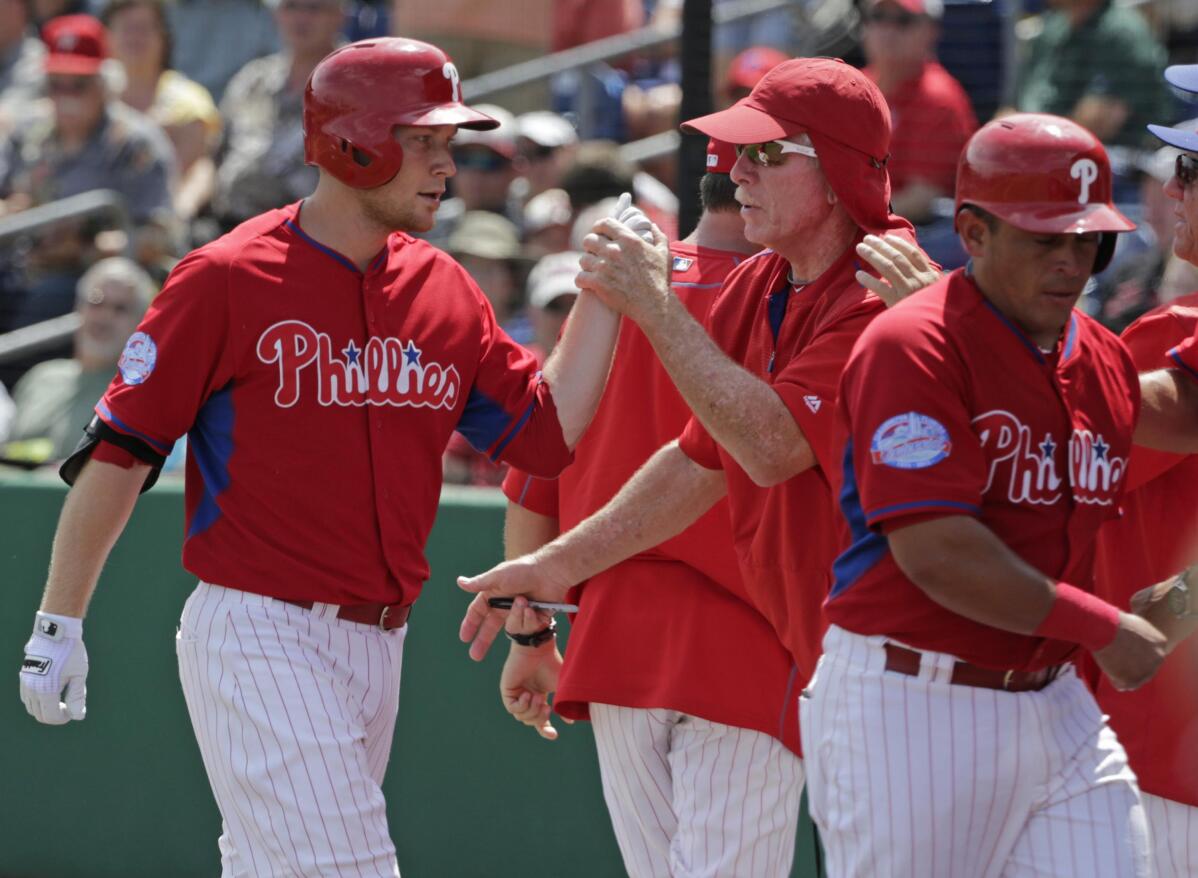 7 of 8

|
Philadelphia Phillies guest instructor and Hall of Famer Mike Schmidt, center, congratulates Philadelphia Phillies Cody Asche, left, after Asche hit a second-inning, two-run, home run off Minnesota Twins starting pitcher Mike Pelfrey in a spring training baseball game in Clearwater, Fla., Monday, March 23, 2015. Philadelphia Phillies catcher Carlos Ruiz, right, scored on Asche's home run. (AP Photo/Kathy Willens)
7 of 8
Philadelphia Phillies guest instructor and Hall of Famer Mike Schmidt, center, congratulates Philadelphia Phillies Cody Asche, left, after Asche hit a second-inning, two-run, home run off Minnesota Twins starting pitcher Mike Pelfrey in a spring training baseball game in Clearwater, Fla., Monday, March 23, 2015. Philadelphia Phillies catcher Carlos Ruiz, right, scored on Asche's home run. (AP Photo/Kathy Willens)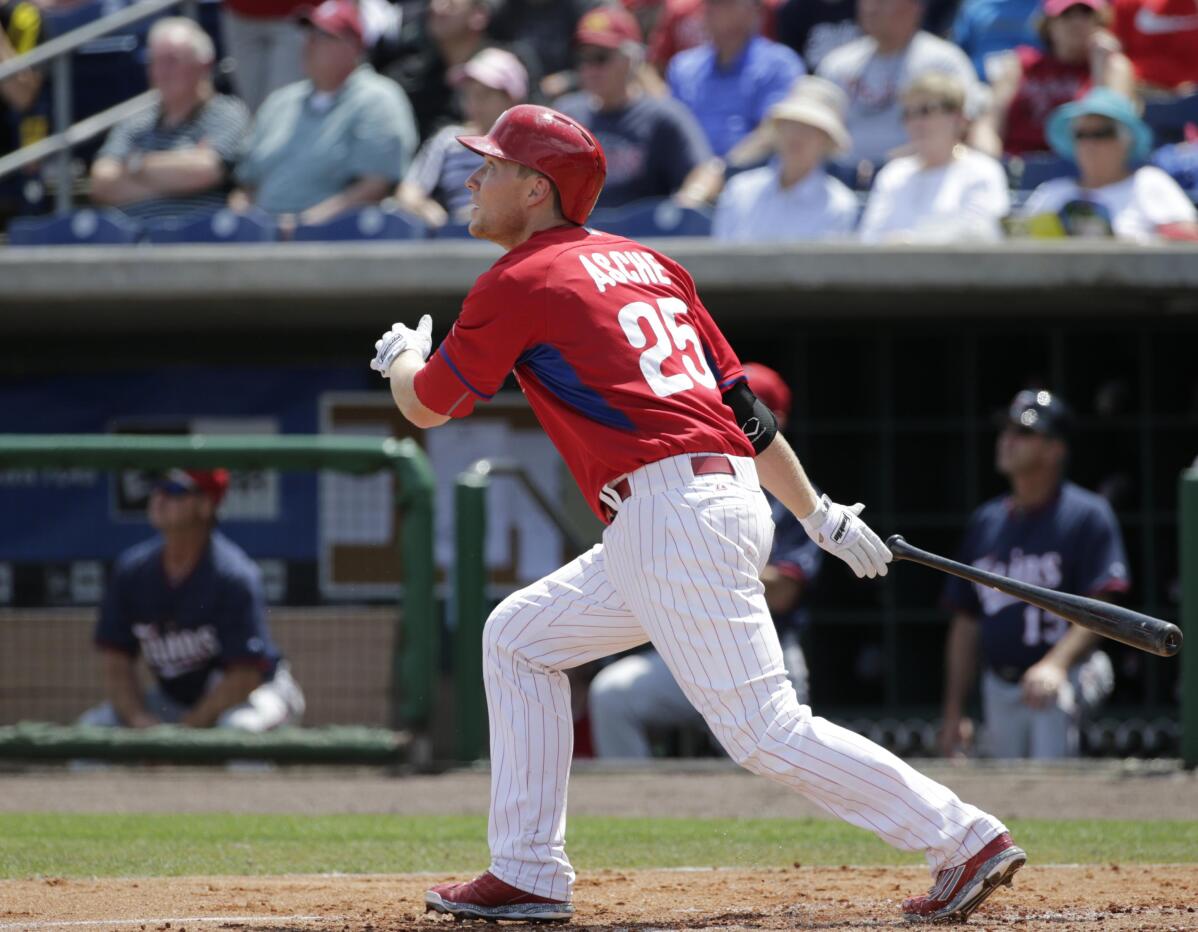 8 of 8

|
Philadelphia Phillies' Cody Asche watches his second-inning, two-run home run off Minnesota Twins starting pitcher Mike Pelfrey in a spring training baseball game in Clearwater, Fla., Monday, March 23, 2015. (AP Photo/Kathy Willens)
8 of 8
Philadelphia Phillies' Cody Asche watches his second-inning, two-run home run off Minnesota Twins starting pitcher Mike Pelfrey in a spring training baseball game in Clearwater, Fla., Monday, March 23, 2015. (AP Photo/Kathy Willens)
CLEARWATER, Fla. (AP) — No team is picked to win fewer games this season than the Philadelphia Phillies.
Rebuilding isn't easy.
After dominating the NL East from 2007-11, capturing five division titles, two pennants and one World Series championship, the Phillies have spiraled downward — all the way to the bottom.
Oddsmakers set Philadelphia's win total for 2015 at 67 or 68. Things could get even uglier if ace Cole Hamels is traded — a very realistic possibility — along with other veterans still hanging around. Ryan Howard and Jonathan Papelbon are available. Chase Utley and Carlos Ruiz also could be moved. Jimmy Rollins was the first member of the nucleus to go when he was traded to the Dodgers in December.
The goal this season is figuring out which players will be part of the future. Cody Asche, Maikel Franco, Freddy Galvis, Cesar Hernandez, Darin Ruf and Odubel Herrera are among those will get opportunities. Asche and Galvis form the left side of the infield. Franco will begin the season at Triple-A. Hernandez and Herrera will start off as role players. Ruf still is hoping to get a chance to play regularly.
"I'm very pleased with the demeanor of the players in the clubhouse," general manager Ruben Amaro, Jr. said. "Young players are stepping up and gaining confidence. It's all about experience and that's what these young guys are going to get and hopefully they take the ball and run with it."
Howard, Utley and Rollins each were homegrown players who developed into the best players at their position in franchise history. Those are big shoes for guys like Asche, Galvis and others to fill.
But they're up for the challenge.
"The faces might be different, the names might be different and they might not be big names, but the mentality is the same," Asche said. "We're still out there trying to earn it every day and we're going to have our bad days and good days, but I guarantee there's no one in that clubhouse not trying to earn something."
Here are some things to know about the Phillies entering the season:
___
REPLACING J-ROLL
Jimmy Rollins was a three-time All-Star shortstop and the 2007 NL MVP. Beyond the stats, he was a team leader who brought swagger to the clubhouse. Freddy Galvis takes his spot while top prospect J.P. Crawford is groomed in the minors. Galvis is an excellent defensive player whether he's playing second base, shortstop, third base or even the outfield. The switch-hitter has a .218 career average with 13 homers and 55 RBIs in 514 at-bats. Galvis has gap power — 42 extra-base hits — but needs to improve his average and stay on top of the ball at the plate.
___
FINISHING OFF
If starting pitchers get through six innings with a lead, the Phillies may win more games than people think. Their bullpen is a major strength. Jonathan Papelbon converted 39 of 43 save chances last year. Setup man Ken Giles brings a 100 mph heater to the eighth inning. Lefty Jake Diekman has a power arm in the seventh or eighth and righty Justin De Fratus is solid.
___
STARTING FIVE
Before Cliff Lee's elbow injury, the rotation was quite formidable with Cole Hamels, Lee and Aaron Harang. Now, Harang moves up to No. 2 and journeyman Jerome Williams takes the third spot ahead of David Buchanan. Several guys are competing for the No. 5 spot while Chad Billingsley works his way back from two elbow operations.
___
POWER OUTTAGE
Marlon Byrd led the Phillies with 25 homers last year before he was traded to Cincinnati in the offseason. Howard hit 23, but the former NL MVP looked good in spring training. If he sticks around, he should supply more power. But Chase Utley only hit 11 homers last year and Domonic Brown dropped from 27 to 10. This won't be the 2009 Phillies who had four guys hit 30 homers and five hit 20. But there's a chance they'll get a few more in the 15-20 range.
___
CALLING THE SHOTS
Hall of Famer Ryne Sandberg is finding out it was easier for him to play the game than to win games as the manager. Sandberg is 93-111 since replacing Charlie Manuel in August 2013.
___
Follow Rob Maaddi on Twitter: https://twitter.com/AP_RobMaaddi