AP Exclusive: Parole for young lifers inconsistent across US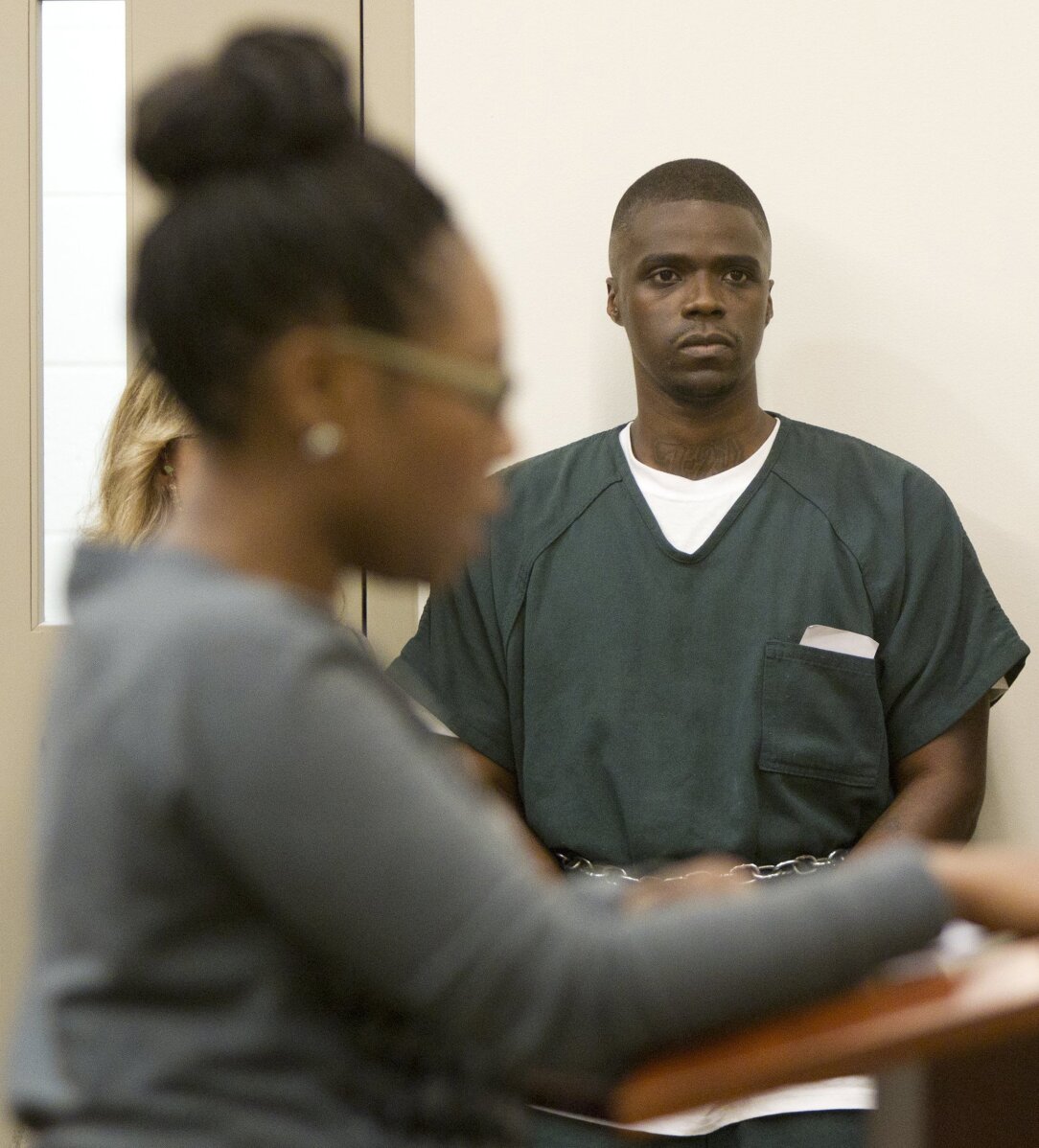 1 of 21

|
In this Friday, Sept. 30, 2016 photo, Ahmad Williams listens as Danneka Cooper, the sister of Derrick Pimpleton, gives a victim's statement during Williams' resentencing hearing at the Kent County Courthouse in Grand Rapids, Mich. Cooper testified that 18 years wasn't enough time to make up for her family's loss. "He broke my mother's heart," she said. Williams, who was 15 at the time of the killing, apologized. His new sentence makes him eligible for parole in 2024. (Cory Morse/The Grand Rapids Press via AP)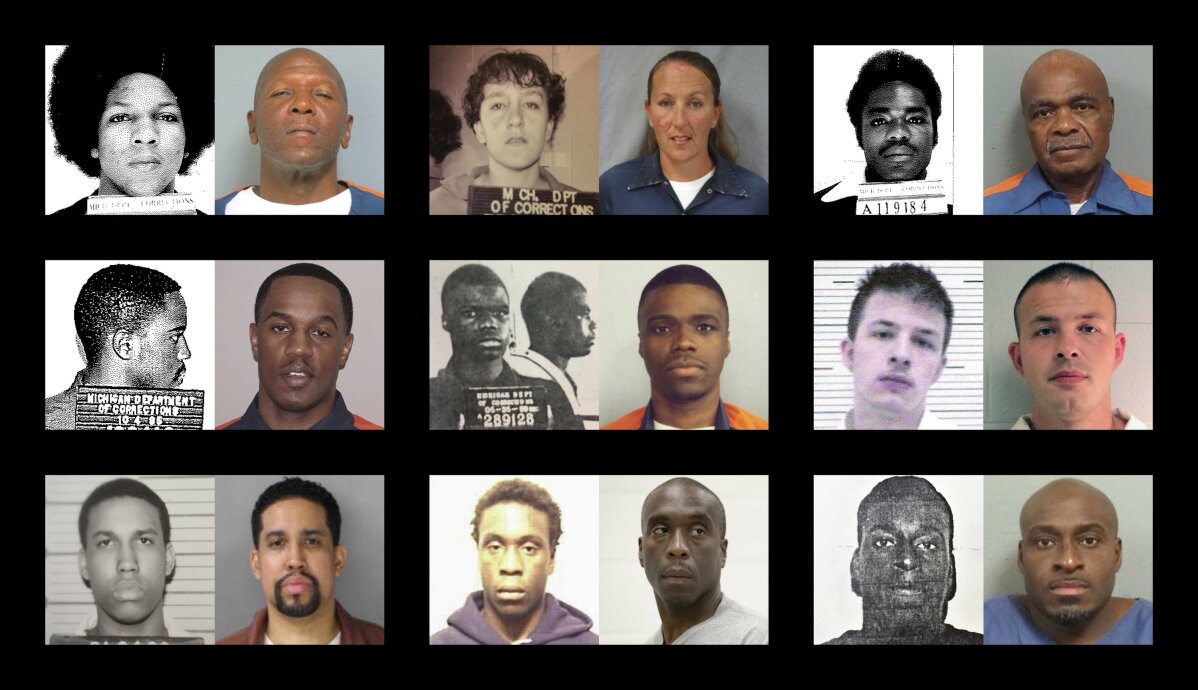 2 of 21

|
This combination of photos shows shows younger and older photos of "juvenile lifers," top row from left, William Washington, Jennifer M. Pruitt and John Sam Hall; middle row from left, Damion Lavoial Todd, Ahmad Rashad Williams and Evan Miller; bottom row from left, Giovanni Reid, Johnny Antoine Beck, and Bobby Hines. During the late 1980 and into the 1990s, many states enacted laws to punish juvenile criminals like adults and the U.S. became an international outlier, sentencing offenders under 18 to live out their lives in prison for homicide and, sometimes, rape, kidnapping, armed robbery. (Michigan Department of Corrections, Pennsylvania Department of Corrections, Lawrence County Alabama Sheriff's Office, Alabama Department of Corrections via AP)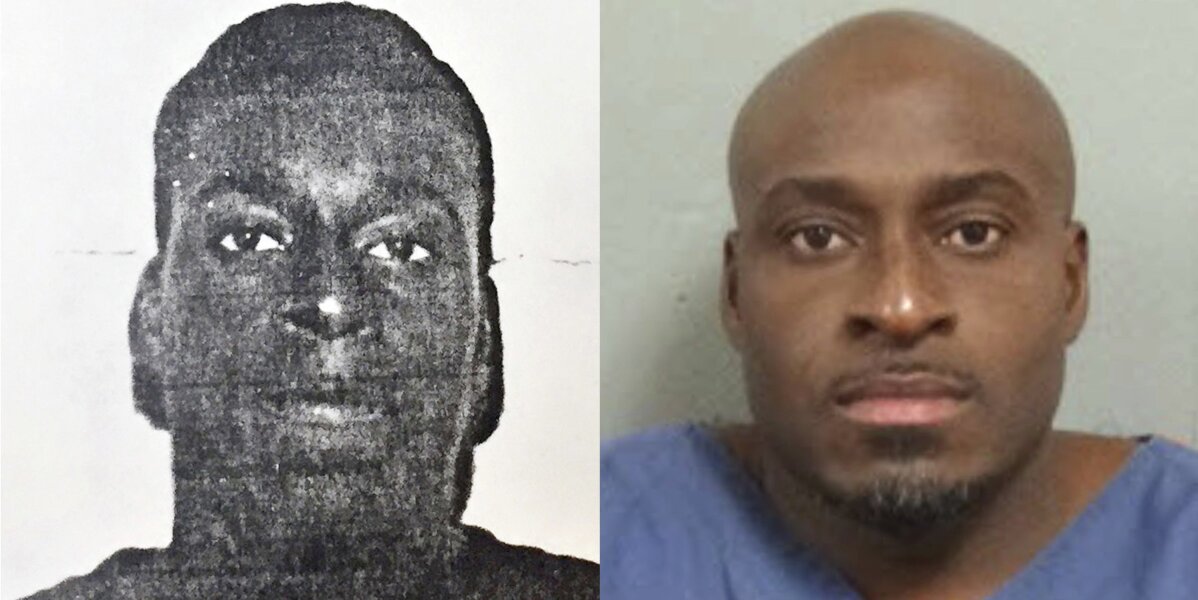 3 of 21

|
This combination of photos made available by the Michigan Department of Corrections shows a younger Bobby Hines and in November 2015. When he was 15, just out of eighth grade, he was in court answering for his role in the murder of a man over a friend's drug debt. He did not fire the deadly shot, but when he and two others confronted 21-year-old James Warren, Hines said something like, "Let him have it," words that sealed his conviction and punishment: mandatory life with no chance for parole. (MDOC via AP)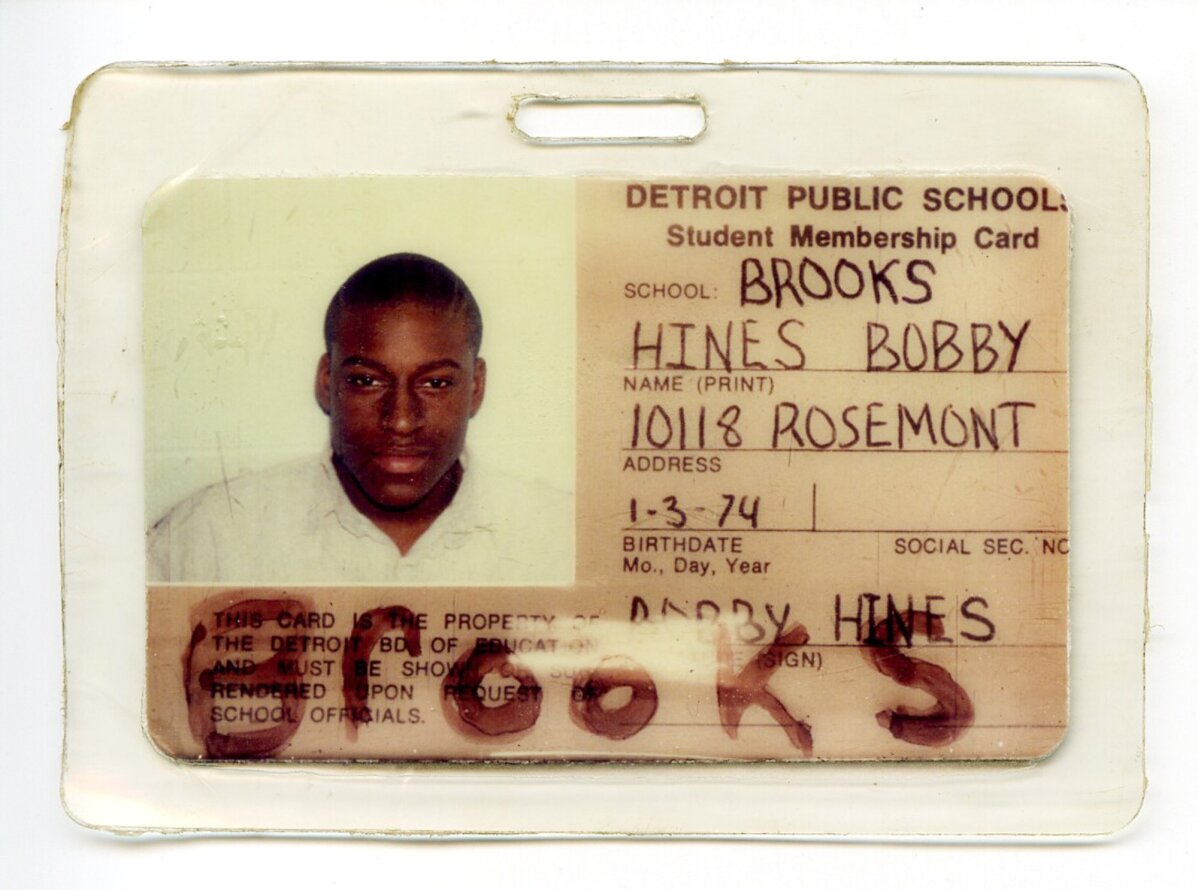 4 of 21

|
This photo provided by the American Civil Liberties Union in July 2017 shows a school identification card for Bobby Hines. When he was 15, just out of eighth grade, he was in court answering for his role in the murder of a man over a friend's drug debt. He did not fire the deadly shot, but when he and two others confronted 21-year-old James Warren, Hines said something like, "Let him have it," words that sealed his conviction and punishment: mandatory life with no chance for parole. At 43, he returned for a resentencing hearing this spring and is set to be paroled in September. (ACLU via AP)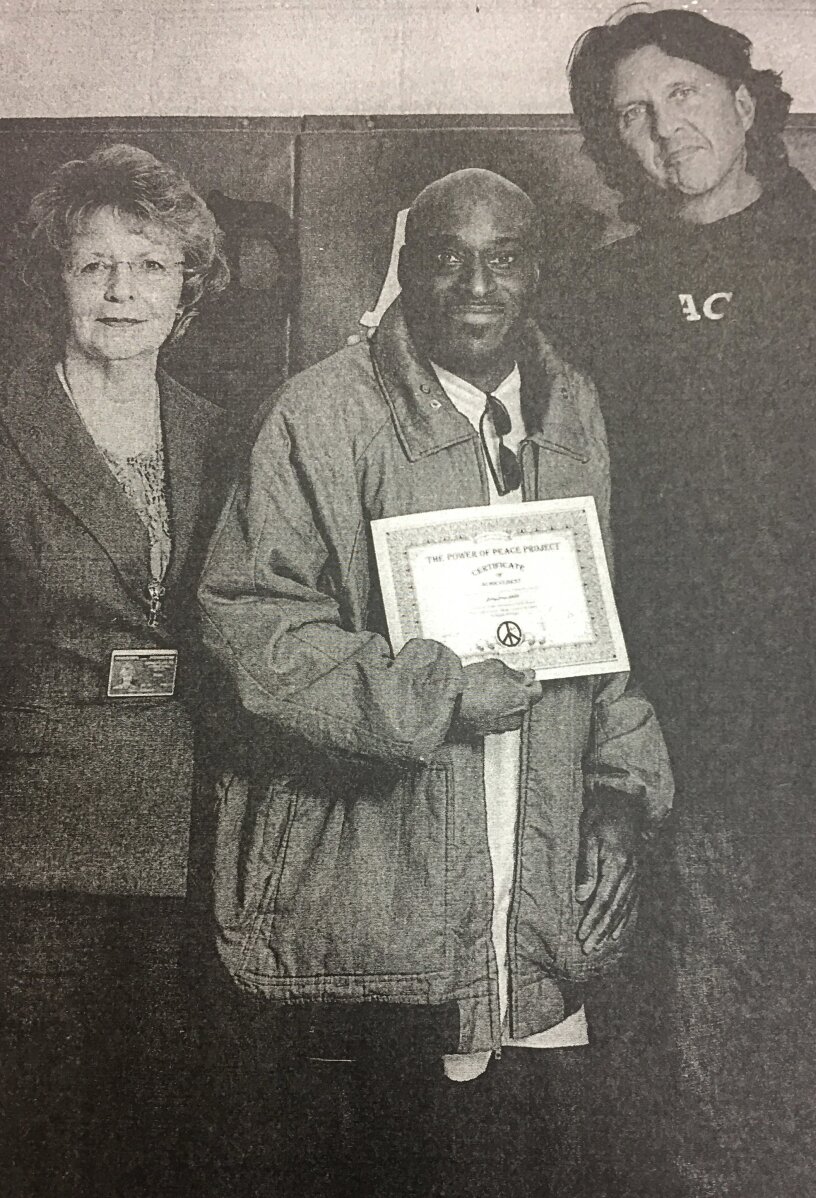 5 of 21

|
In this 2014 photo provided by the Michigan Department of Corrections, Bobby Hines holds a certificate for his 40 Days of Peace Training Program graduation at the F.C. Brooks and West Shoreline Correctional Facilities in Muskegon Heights, Mich. At left is Warden Mary Berghuis and at right is Kit Cummings, founder of The Power of Peace Project. In his first decade in prison, Hines racked up about a dozen misconduct tickets, many for fighting. But he eventually settled down, comforted by his mother, Gracie. He earned his GED certificate, enrolled in self-improvement programs and developed a reputation as a solid worker in maintenance, kitchen and recreation jobs. (MDOC via AP)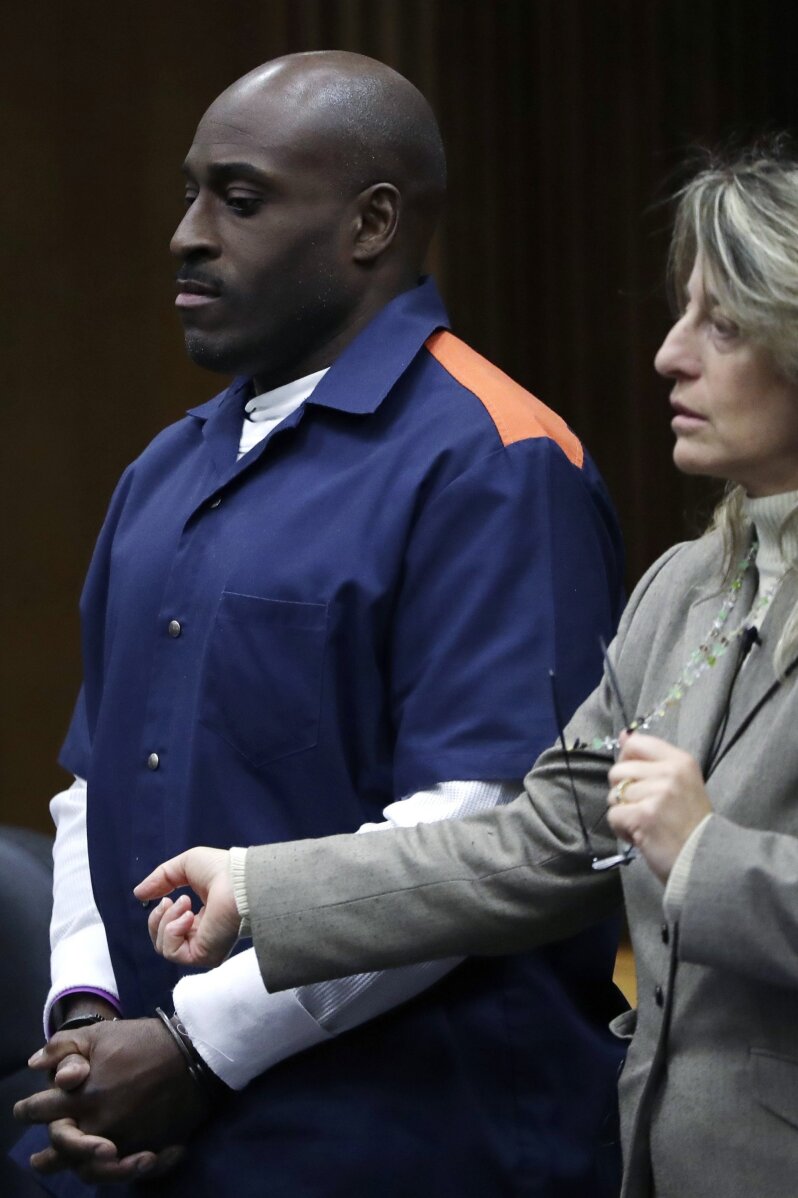 6 of 21

|
In this Thursday, March 16, 2017 photo, Bobby Hines, with his attorney Valerie Newman, stand before Judge Cynthia Gray Hathaway during a resentencing hearing in Detroit for the 1989 murder of James Warren. "As a man, I take full ownership for what I did," he tells the judge. "I tore their family up, and I didn't even realize what I was doing." (AP Photo/Carlos Osorio)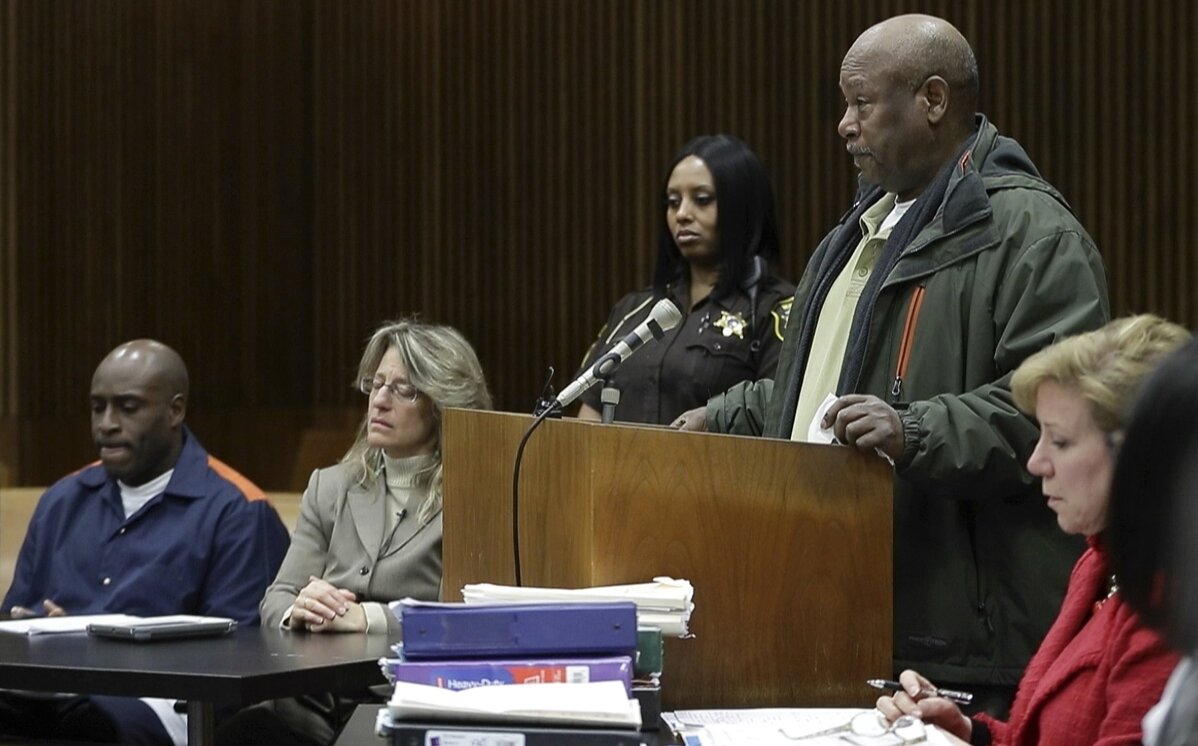 7 of 21

|
In this Thursday, March 16, 2017 image made from video, Henry Carpenter Warren Jr. addresses the court during a resentencing hearing for his son's killer, Bobby Hines, seated left, at the Frank Murphy Hall of Justice in Detroit. Warren says Hines "was punished excessively. ... He can go home today." (AP Photo/Carlos Osorio)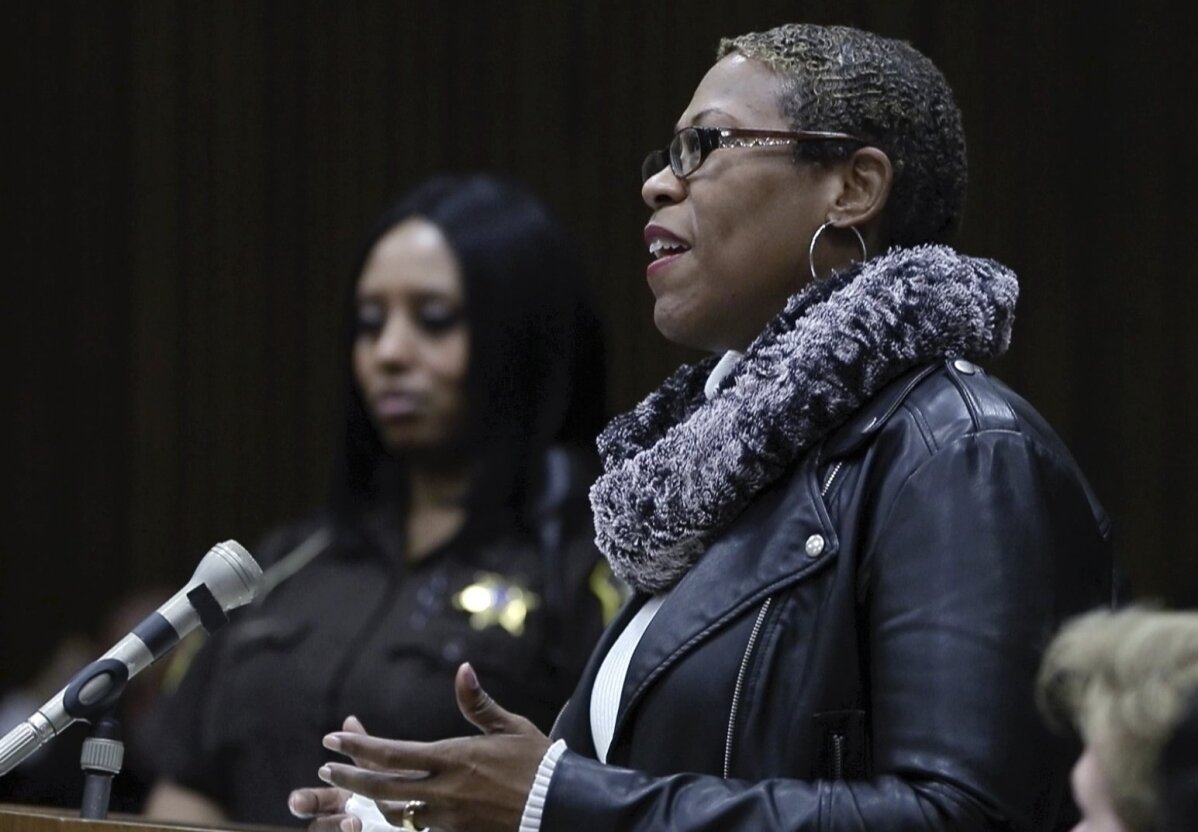 8 of 21

|
In this Thursday, March 16, 2017 image from video, Valencia Warren Gibbs, addresses the court during a hearing for her brother's killer, Bobby Hines, at the Frank Murphy Hall of Justice in Detroit. Gibbs and family have forgiven Hines for the murder of her brother, James Warren. (AP Photo/Carlos Osorio)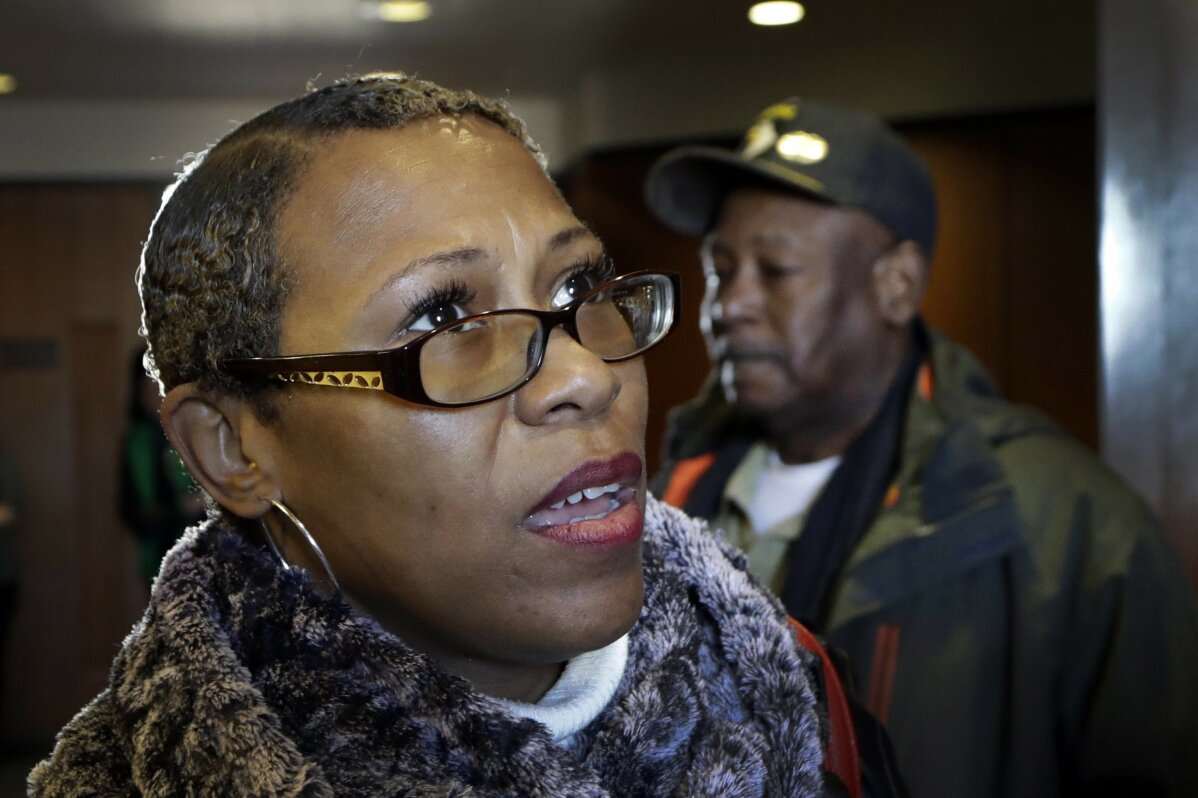 9 of 21

|
In this Thursday, March 16, 2017 photo, Valencia Warren Gibbs, standing next to her father, Henry Carpenter Warren Jr., speaks to reporters at the Frank Murphy Hall of Justice in Detroit. Gibbs and her family have forgiven Bobby Hines for the 1989 murder of her brother, James Warren. "He was 15 years old," she said during Hines' resentencing hearing. "I forgave him the day that it happened. ... I want him to be out. I want him to give himself a chance that he didn't give himself ... that day." (AP Photo/Carlos Osorio)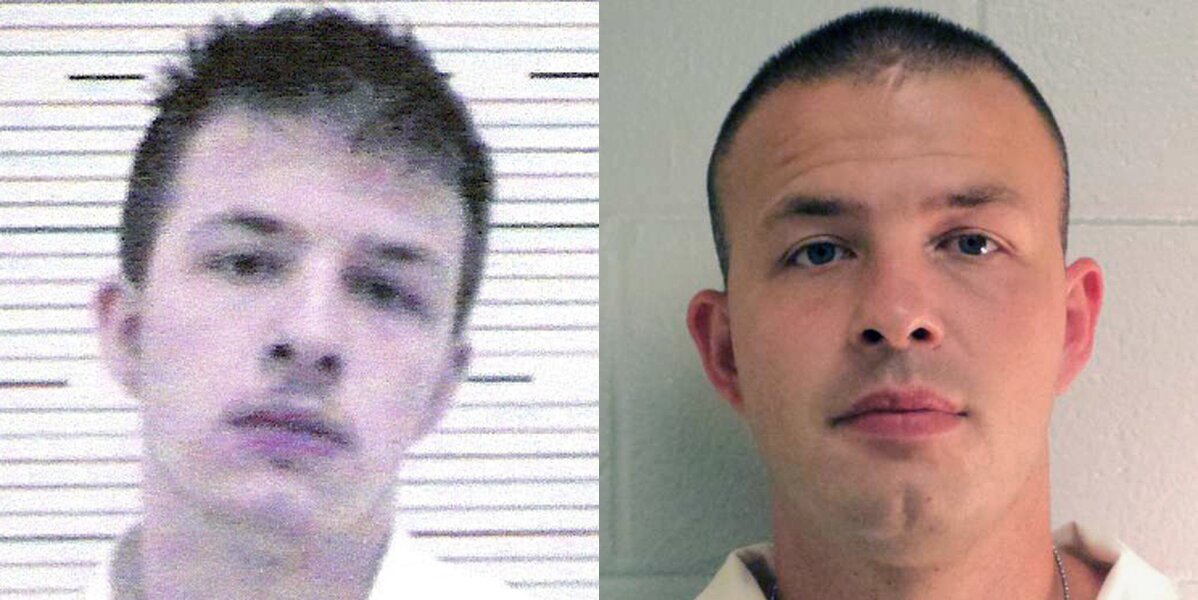 10 of 21

|
This combination of photos from the Lawrence County Alabama Sheriff's Office and the Alabama Department of Corrections shows Evan Miller on Nov. 4, 2005 and later. Miller was convicted at the age of 14 for the 2003 murder of Cole Cannon. (Lawrence County Alabama Sheriff's Office, Alabama Department of Corrections/The Decatur Daily via AP)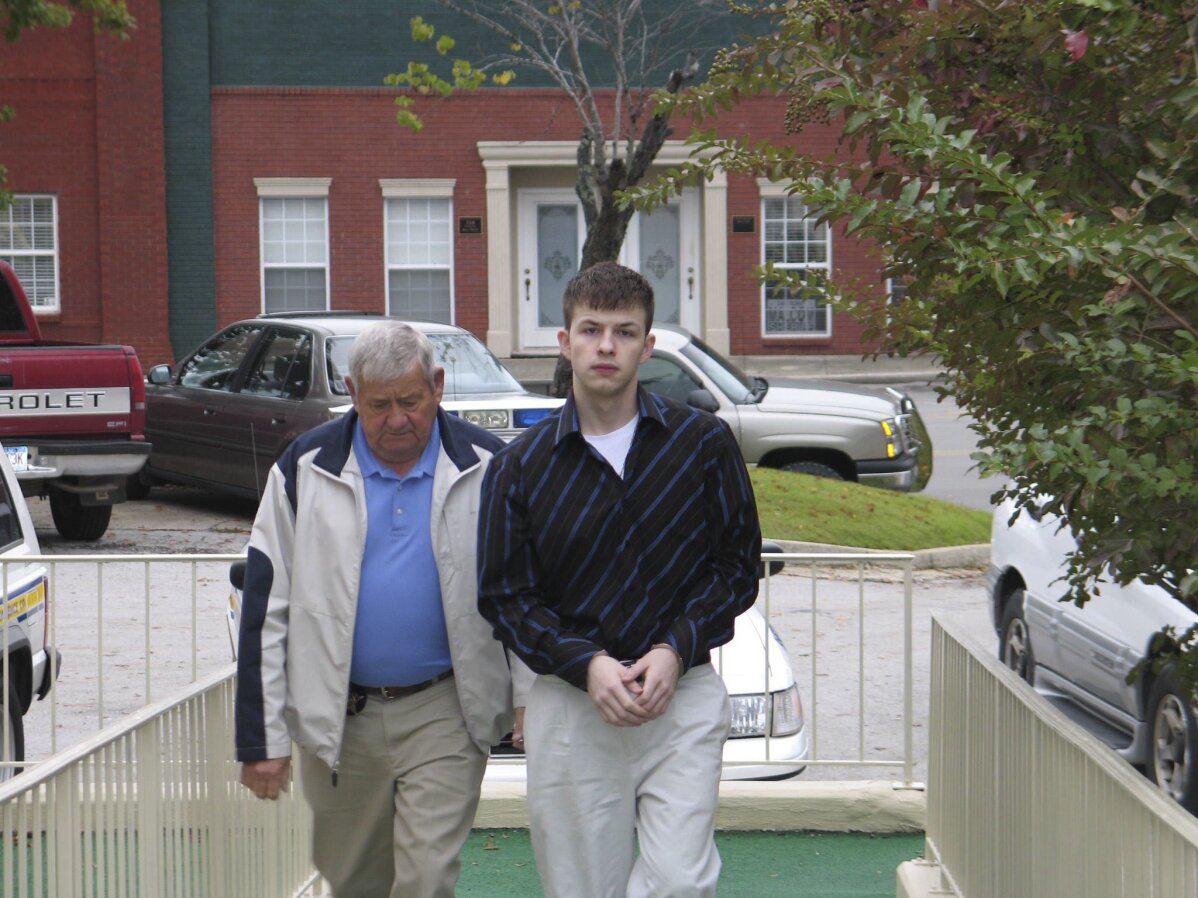 11 of 21

|
In this Oct. 20, 2006 photo, Evan Miller, right, is escorted to the Lawrence County Courthouse in Moulton, Ala. Miller and another teen beat Cole Cannon with a baseball bat before setting fire to Cannon's trailer with him inside. At a resentencing hearing in March 2017, Miller's lawyers cited his childhood of physical abuse and neglect and argued that at 14, his brain wasn't fully developed. The prosecution said his actions were those of an adult who acted mercilessly. (The Decatur Daily via AP)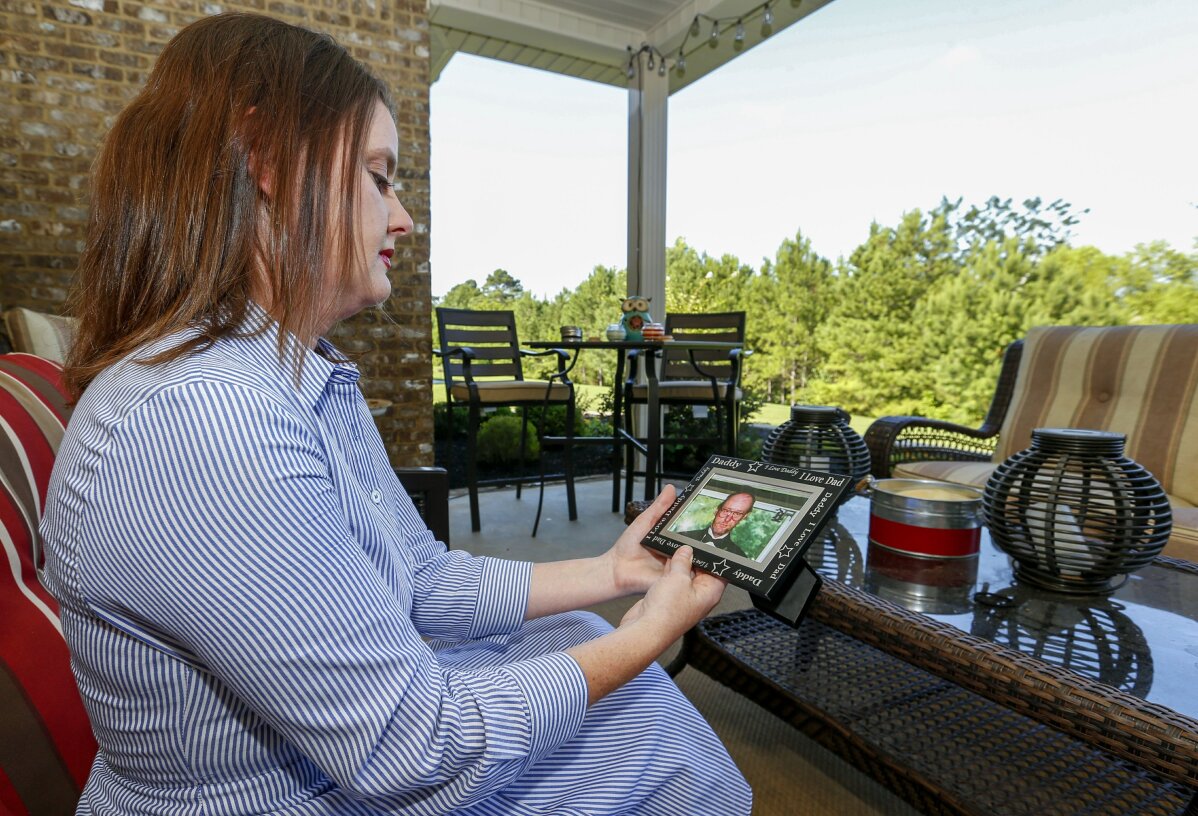 12 of 21

|
Candy Cheatham, daughter of murder victim Cole Cannon, holds a photo of him in Decatur, Ala., on Tuesday, July 18, 2017. At a March 2017 resentencing hearing, Evan Miller apologized to Cannon's family, but the victim's daughter, Cheatham, rejected that as insincere, "empty words." She testified of nightmares and despair. "To bring this up and make the victims' families relive this, that's being cruel and unusual," she says. (AP Photo/Butch Dill)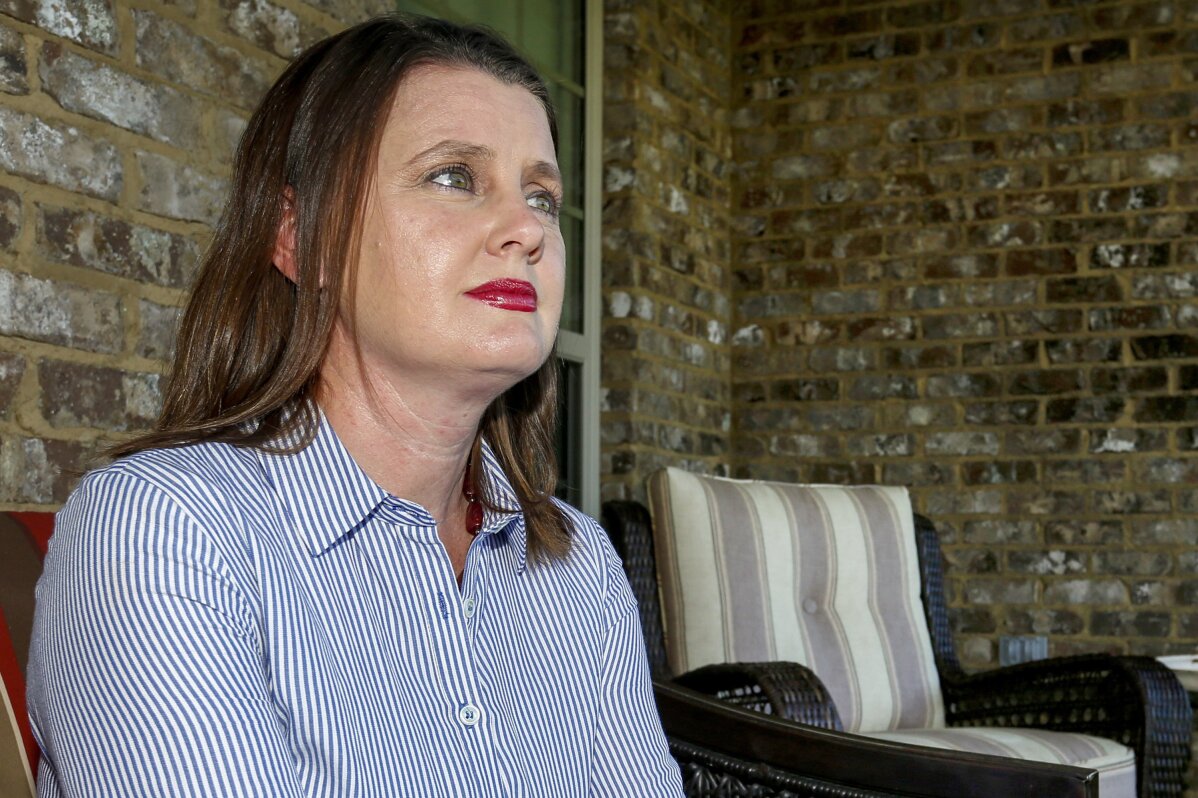 13 of 21

|
Candy Cheatham, daughter of murder victim Cole Cannon, sits for a photo in Decatur, Ala., on Tuesday, July 18, 2017. At a March 2017 resentencing hearing, Evan Miller apologized to Cannon's family, but the victim's daughter, Cheatham, rejected that as insincere, "empty words." She testified of nightmares and despair. "To bring this up and make the victims' families relive this, that's being cruel and unusual," she says. (AP Photo/Butch Dill)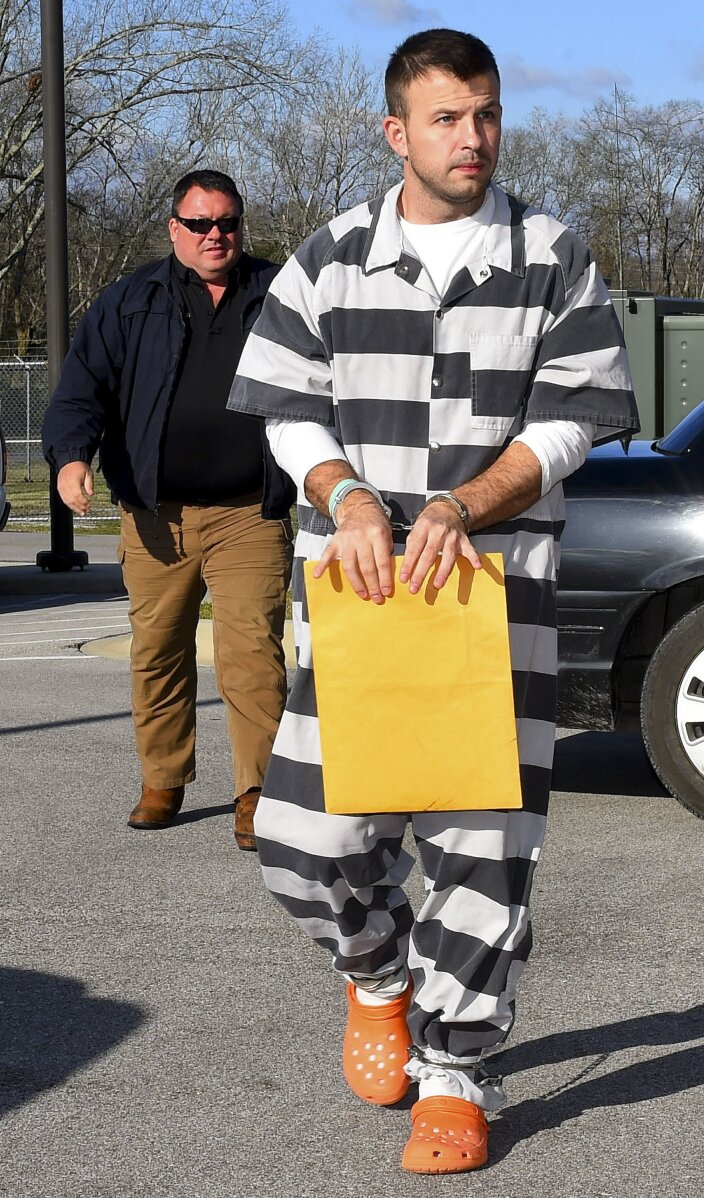 14 of 21

|
In this March 15, 2017 photo, Evan Miller, foreground, is escorted to the Lawrence County Courthouse in Moulton, Ala. Miller was convicted at the age of 14 for the 2003 murder of Cole Cannon. At the resentencing hearing, Miller's lawyers cited his childhood of physical abuse and neglect and argued that at 14, his brain wasn't fully developed. The prosecution said his actions were those of an adult who acted mercilessly. (John Godbey/The Decatur Daily via AP)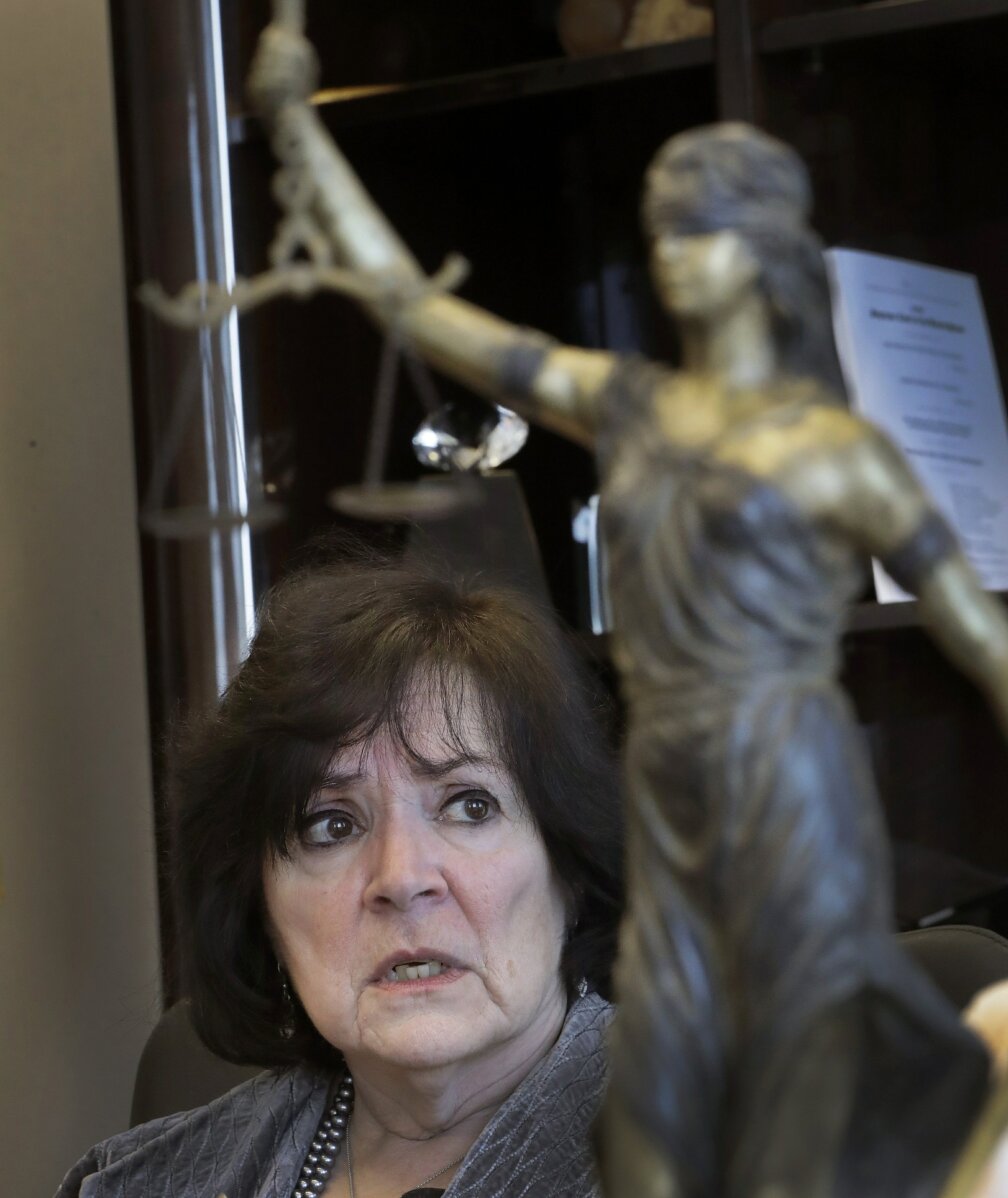 15 of 21

|
In this Wednesday, March 15, 2017 photo, Oakland County Prosecuting Attorney Jessica Cooper speaks during an interview in her office next to her statue of "Lady Justice" in Pontiac, Mich. Cooper argues that all her juvenile lifer cases are rare since they comprise just a small portion of all the criminal cases her office has handled over many years. She is seeking new natural life sentences in 44 of 49 of the county's juvenile lifer cases. (AP Photo/Carlos Osorio)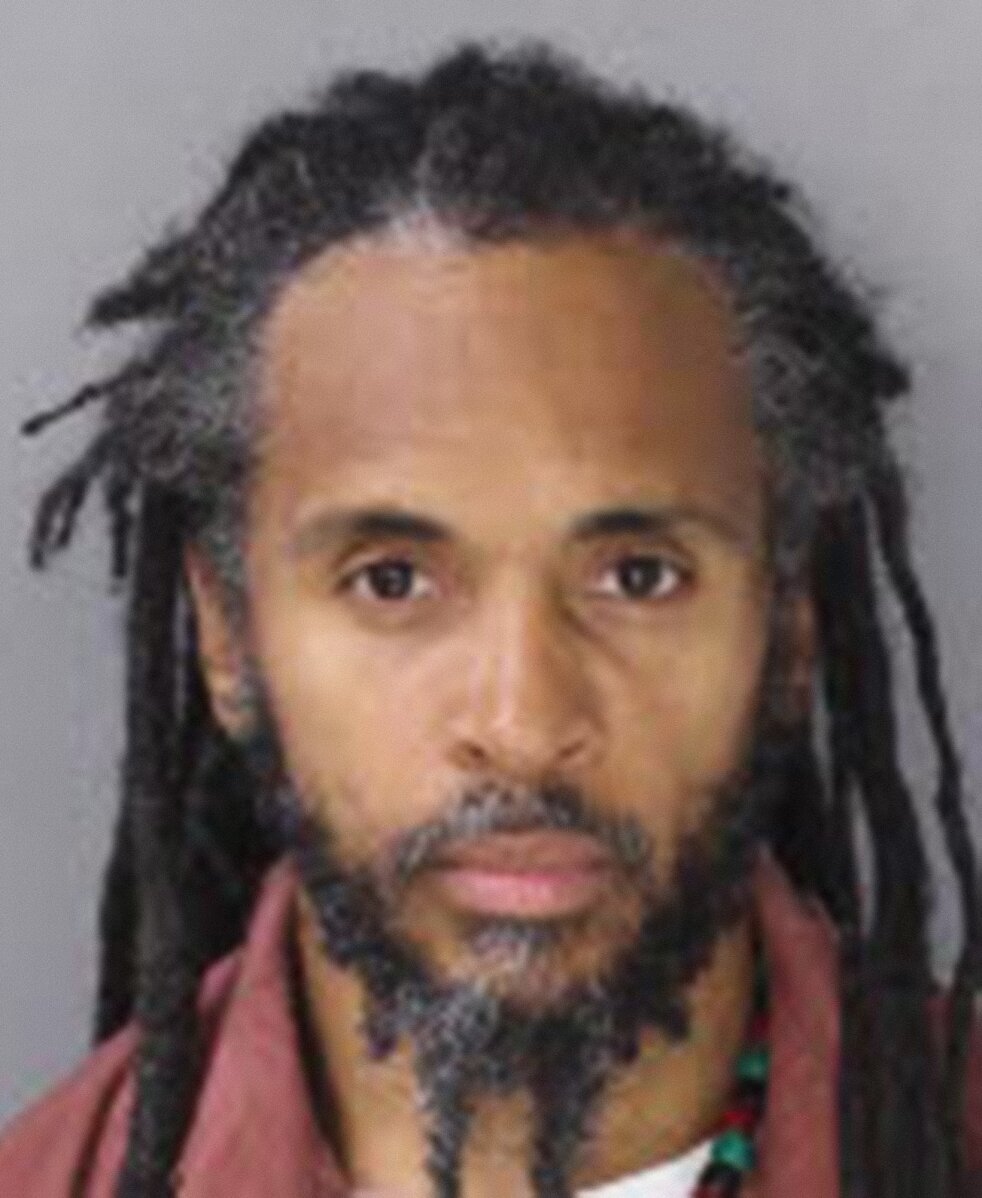 16 of 21

|
This undated photo provided by the Pennsylvania Department of Corrections in July 2017 shows Kempis Songster. He was a 15-year-old runaway when he joined another teen in the 1987 Philadelphia drug house stabbing of 17-year-old Anjo Pryce, a fellow gang member. At trial, Songster turned down a prosecutor's offer that would have likely seen him do eight to 10 years in prison. "I think they were the youngest guys I ever prosecuted for murder. You walk in there and see that they're children and you say, 'Wait a minute,'" says Jack McMahon, who offered the long-ago plea deal and chalks up Songster's refusal to youthful bravado. Now a defense attorney, McMahon had offered to testify for him. (Pennsylvania Department of Corrections via AP)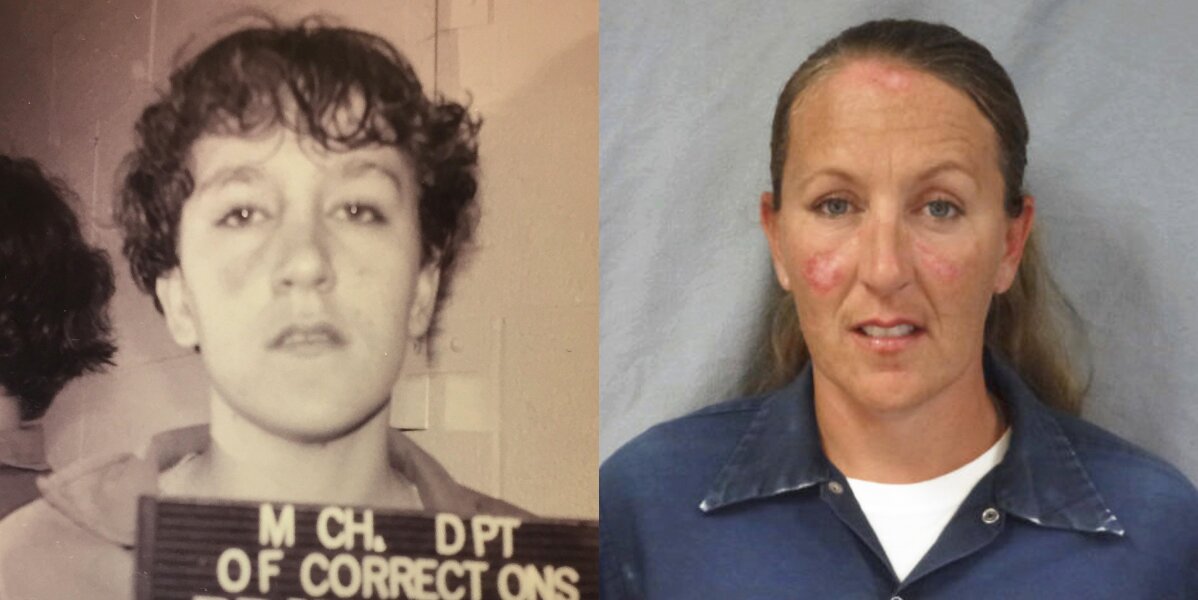 17 of 21

|
This combination of photos made available by the Michigan Department of Corrections shows Jennifer M. Pruitt in 1993 and in July 2013. In 1993 she targeted her 75-year-old neighbor for robbery and then stood by as an accomplice stabbed Elmer Heichel to death. When Pruitt got life without parole at the age of 17, the law provided only one other choice for punishment _ sentencing Pruitt as a juvenile, which meant just three years of court supervision. (MDOC via AP)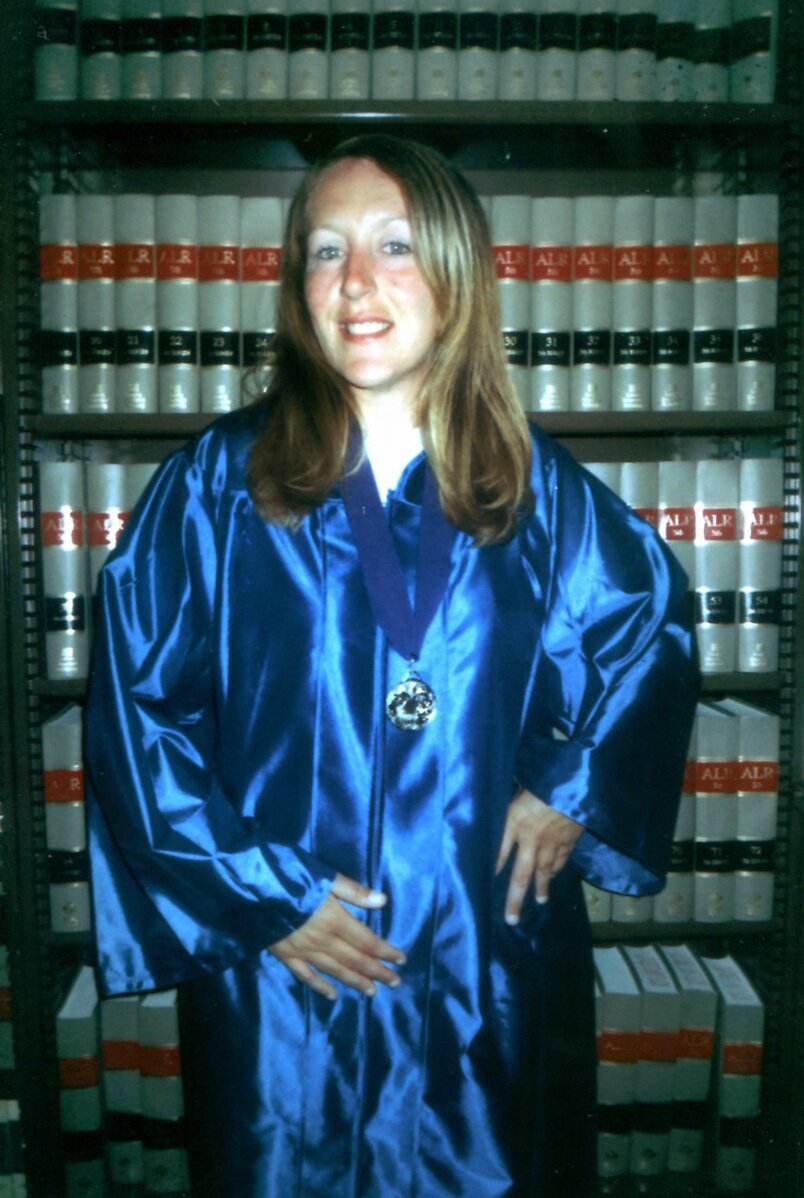 18 of 21

|
In this circa 2007 photo from the Michigan Department of Corrections, Jennifer Pruitt celebrates her graduation from a career tech class at the Robert Scott Correctional Facility in Plymouth, Mich. (Michigan Department of Corrections/Robyn Frankel via AP)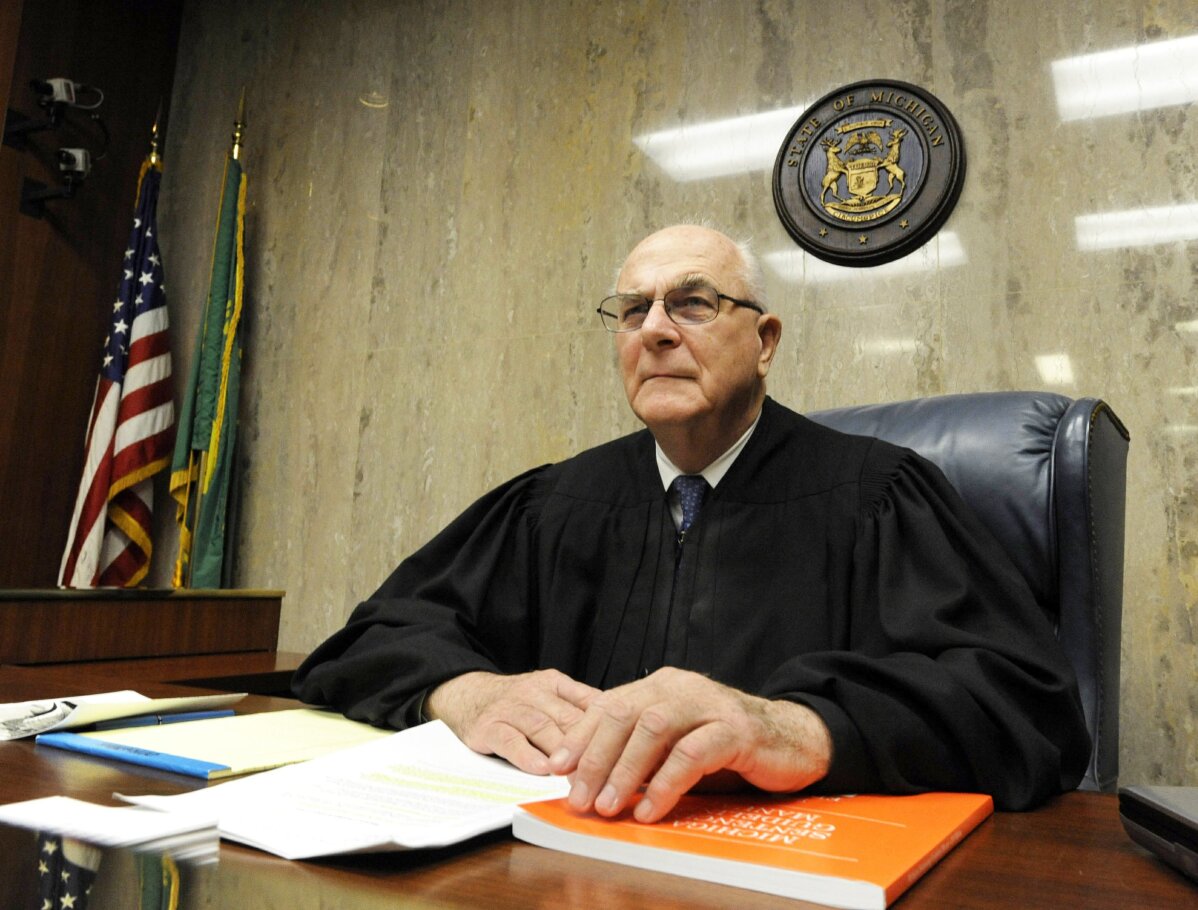 19 of 21

|
This 2010 photo shows Judge Fred Mester in Waterford, Mich. In 2016, the former judge, who imposed Jennifer Pruitt's life-without-parole sentence in 1993, visited her in prison, saying he found "a new person." He wrote letters to the prosecutor and a new judge, praising Pruitt for pursuing an education, tutoring others and counseling fellow inmates. (Charles V. Tines/Detroit News via AP)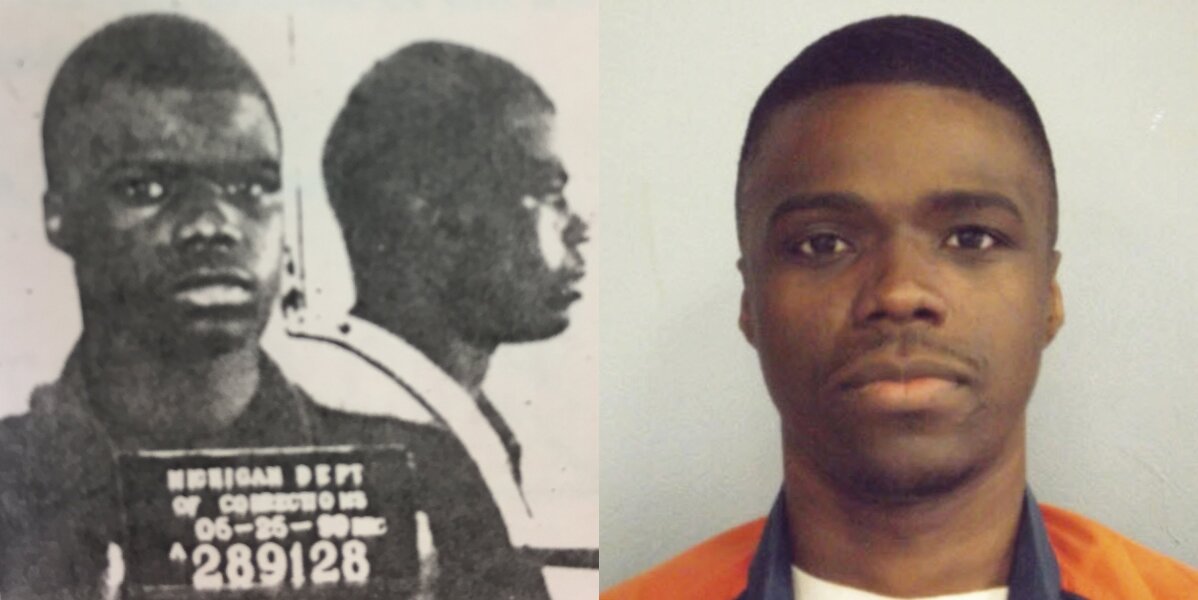 20 of 21

|
This combination of photos made available by the Michigan Department of Corrections shows a younger Ahmad Rashad Williams and in April 2014. Williams' mother, a crack addict, died when he was 10. His grandmother, who raised him in Grand Rapids, Mich., died soon after. By the time Williams shot and killed Derek Pimpleton in a dispute over marijuana, he was smoking it every day and regularly skipping school. Both boys were 15. (MDOC via AP)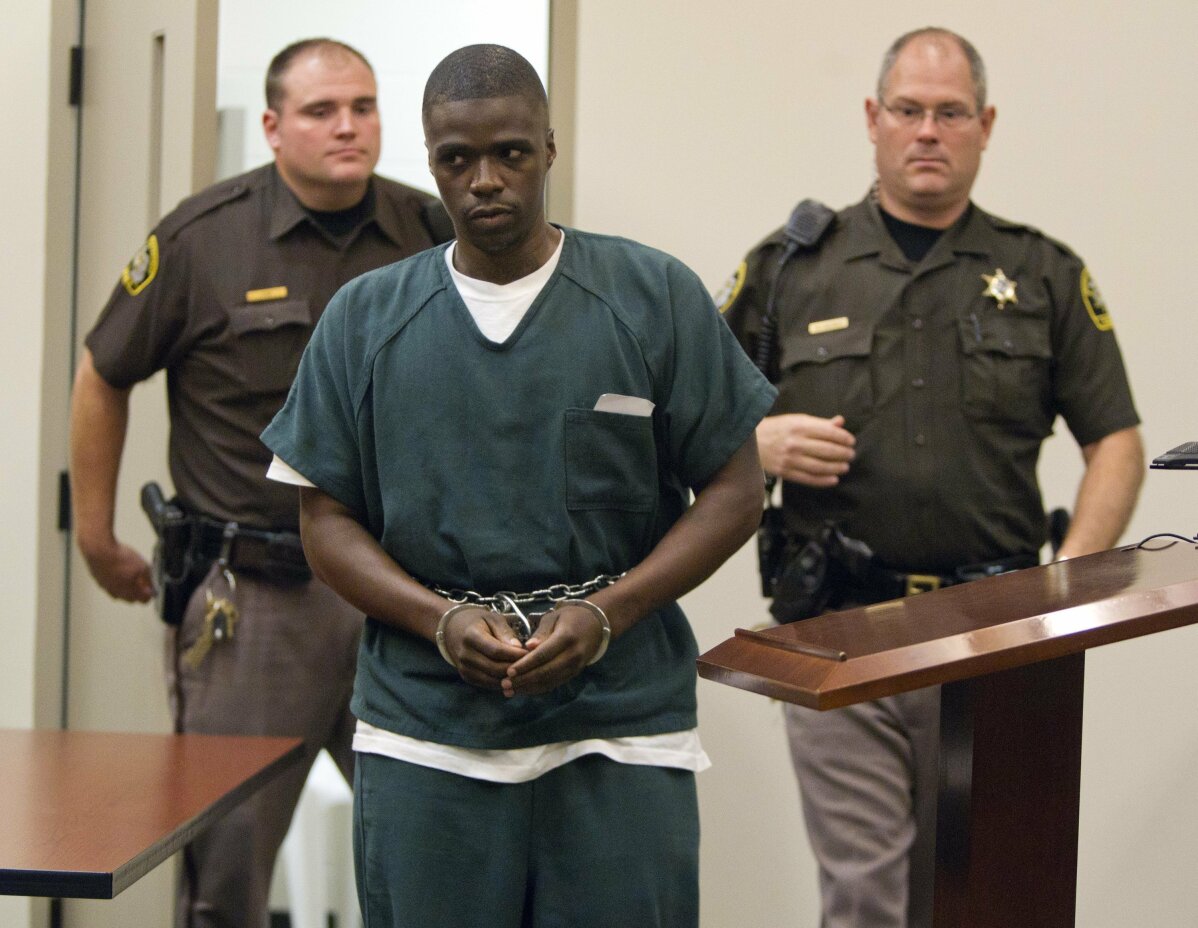 21 of 21

|
In this Friday, Sept. 30, 2016 photo, Ahmad Williams, center, appears for his resentencing hearing at the Kent County Courthouse in Grand Rapids, Mich. Williams was convicted in the 1988 fatal shooting of Derrick Pimpleton. "I didn't think for myself. I was basically a follower," Williams said from prison. He wanted to imitate older guys who took and sold drugs in his neighborhood, he said, because "I thought that was fun. ... I was doing what I thought a regular 15 year old would do." (Cory Morse/The Grand Rapids Press via AP)
AP Exclusive: Parole for young lifers inconsistent across US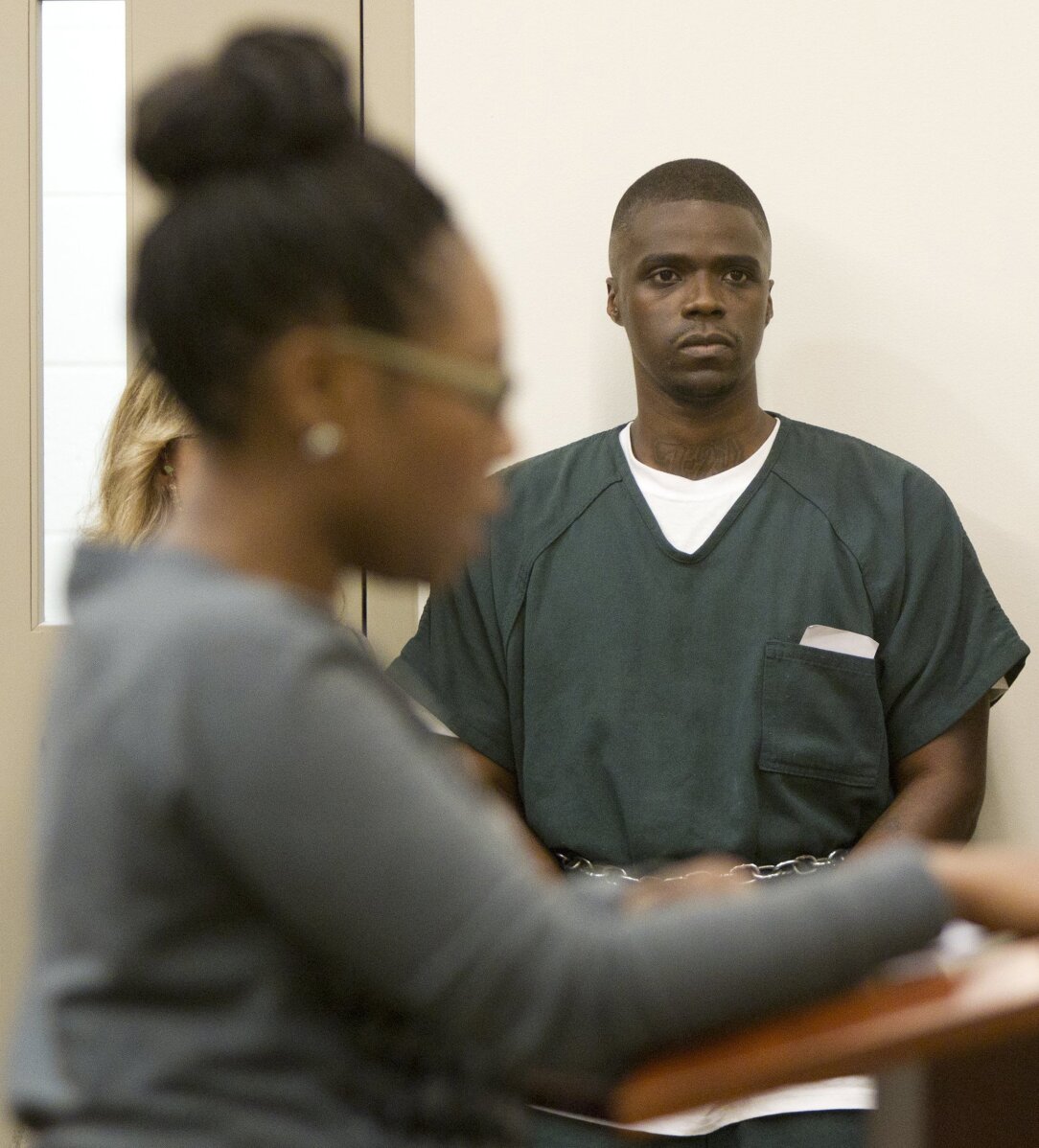 1 of 21

|
In this Friday, Sept. 30, 2016 photo, Ahmad Williams listens as Danneka Cooper, the sister of Derrick Pimpleton, gives a victim's statement during Williams' resentencing hearing at the Kent County Courthouse in Grand Rapids, Mich. Cooper testified that 18 years wasn't enough time to make up for her family's loss. "He broke my mother's heart," she said. Williams, who was 15 at the time of the killing, apologized. His new sentence makes him eligible for parole in 2024. (Cory Morse/The Grand Rapids Press via AP)
1 of 21
In this Friday, Sept. 30, 2016 photo, Ahmad Williams listens as Danneka Cooper, the sister of Derrick Pimpleton, gives a victim's statement during Williams' resentencing hearing at the Kent County Courthouse in Grand Rapids, Mich. Cooper testified that 18 years wasn't enough time to make up for her family's loss. "He broke my mother's heart," she said. Williams, who was 15 at the time of the killing, apologized. His new sentence makes him eligible for parole in 2024. (Cory Morse/The Grand Rapids Press via AP)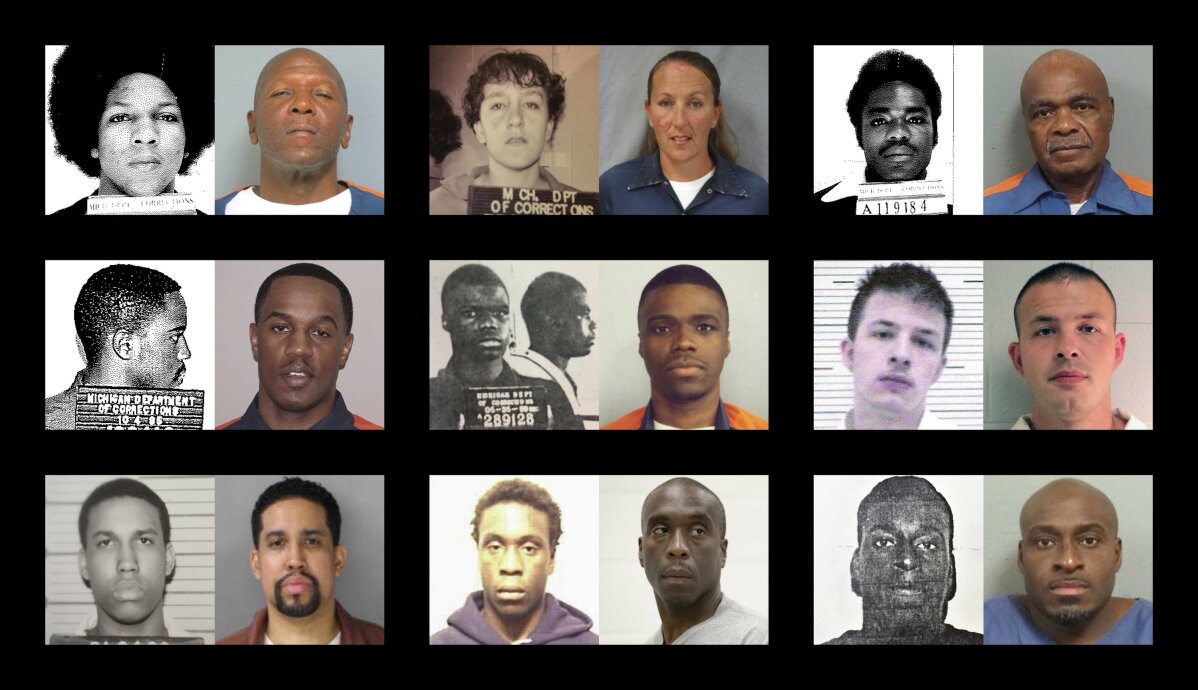 2 of 21

|
This combination of photos shows shows younger and older photos of "juvenile lifers," top row from left, William Washington, Jennifer M. Pruitt and John Sam Hall; middle row from left, Damion Lavoial Todd, Ahmad Rashad Williams and Evan Miller; bottom row from left, Giovanni Reid, Johnny Antoine Beck, and Bobby Hines. During the late 1980 and into the 1990s, many states enacted laws to punish juvenile criminals like adults and the U.S. became an international outlier, sentencing offenders under 18 to live out their lives in prison for homicide and, sometimes, rape, kidnapping, armed robbery. (Michigan Department of Corrections, Pennsylvania Department of Corrections, Lawrence County Alabama Sheriff's Office, Alabama Department of Corrections via AP)
2 of 21
This combination of photos shows shows younger and older photos of "juvenile lifers," top row from left, William Washington, Jennifer M. Pruitt and John Sam Hall; middle row from left, Damion Lavoial Todd, Ahmad Rashad Williams and Evan Miller; bottom row from left, Giovanni Reid, Johnny Antoine Beck, and Bobby Hines. During the late 1980 and into the 1990s, many states enacted laws to punish juvenile criminals like adults and the U.S. became an international outlier, sentencing offenders under 18 to live out their lives in prison for homicide and, sometimes, rape, kidnapping, armed robbery. (Michigan Department of Corrections, Pennsylvania Department of Corrections, Lawrence County Alabama Sheriff's Office, Alabama Department of Corrections via AP)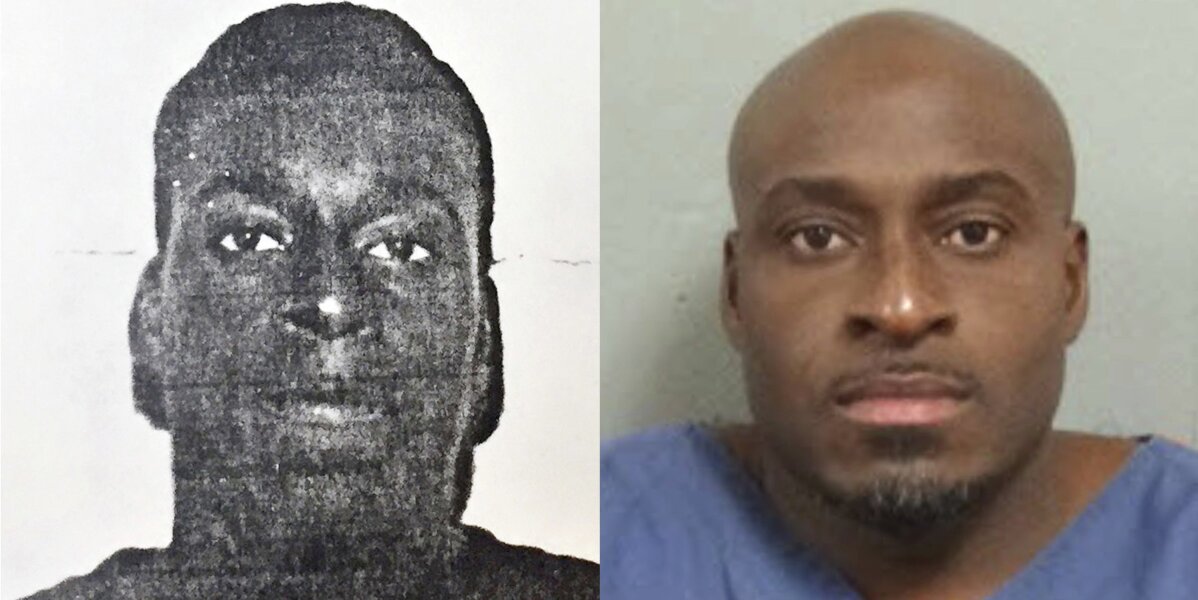 3 of 21

|
This combination of photos made available by the Michigan Department of Corrections shows a younger Bobby Hines and in November 2015. When he was 15, just out of eighth grade, he was in court answering for his role in the murder of a man over a friend's drug debt. He did not fire the deadly shot, but when he and two others confronted 21-year-old James Warren, Hines said something like, "Let him have it," words that sealed his conviction and punishment: mandatory life with no chance for parole. (MDOC via AP)
3 of 21
This combination of photos made available by the Michigan Department of Corrections shows a younger Bobby Hines and in November 2015. When he was 15, just out of eighth grade, he was in court answering for his role in the murder of a man over a friend's drug debt. He did not fire the deadly shot, but when he and two others confronted 21-year-old James Warren, Hines said something like, "Let him have it," words that sealed his conviction and punishment: mandatory life with no chance for parole. (MDOC via AP)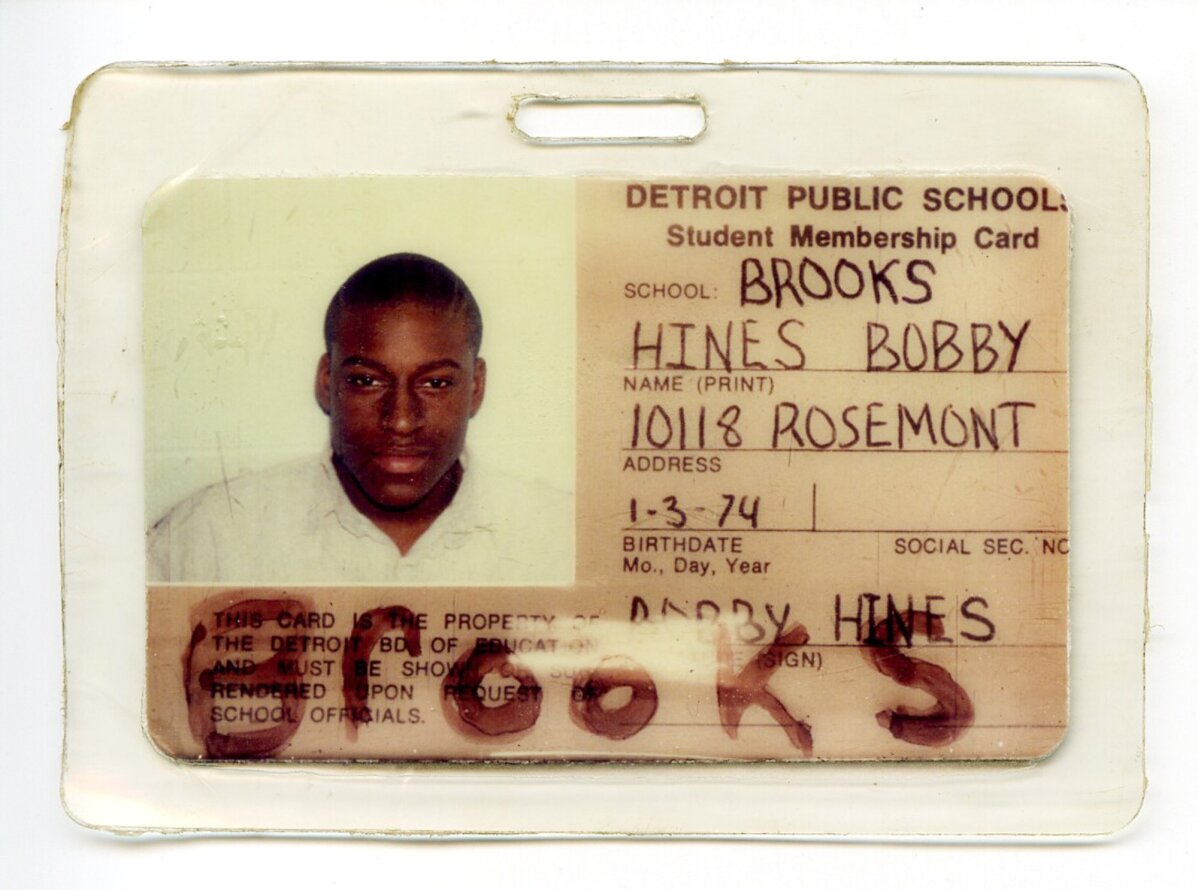 4 of 21

|
This photo provided by the American Civil Liberties Union in July 2017 shows a school identification card for Bobby Hines. When he was 15, just out of eighth grade, he was in court answering for his role in the murder of a man over a friend's drug debt. He did not fire the deadly shot, but when he and two others confronted 21-year-old James Warren, Hines said something like, "Let him have it," words that sealed his conviction and punishment: mandatory life with no chance for parole. At 43, he returned for a resentencing hearing this spring and is set to be paroled in September. (ACLU via AP)
4 of 21
This photo provided by the American Civil Liberties Union in July 2017 shows a school identification card for Bobby Hines. When he was 15, just out of eighth grade, he was in court answering for his role in the murder of a man over a friend's drug debt. He did not fire the deadly shot, but when he and two others confronted 21-year-old James Warren, Hines said something like, "Let him have it," words that sealed his conviction and punishment: mandatory life with no chance for parole. At 43, he returned for a resentencing hearing this spring and is set to be paroled in September. (ACLU via AP)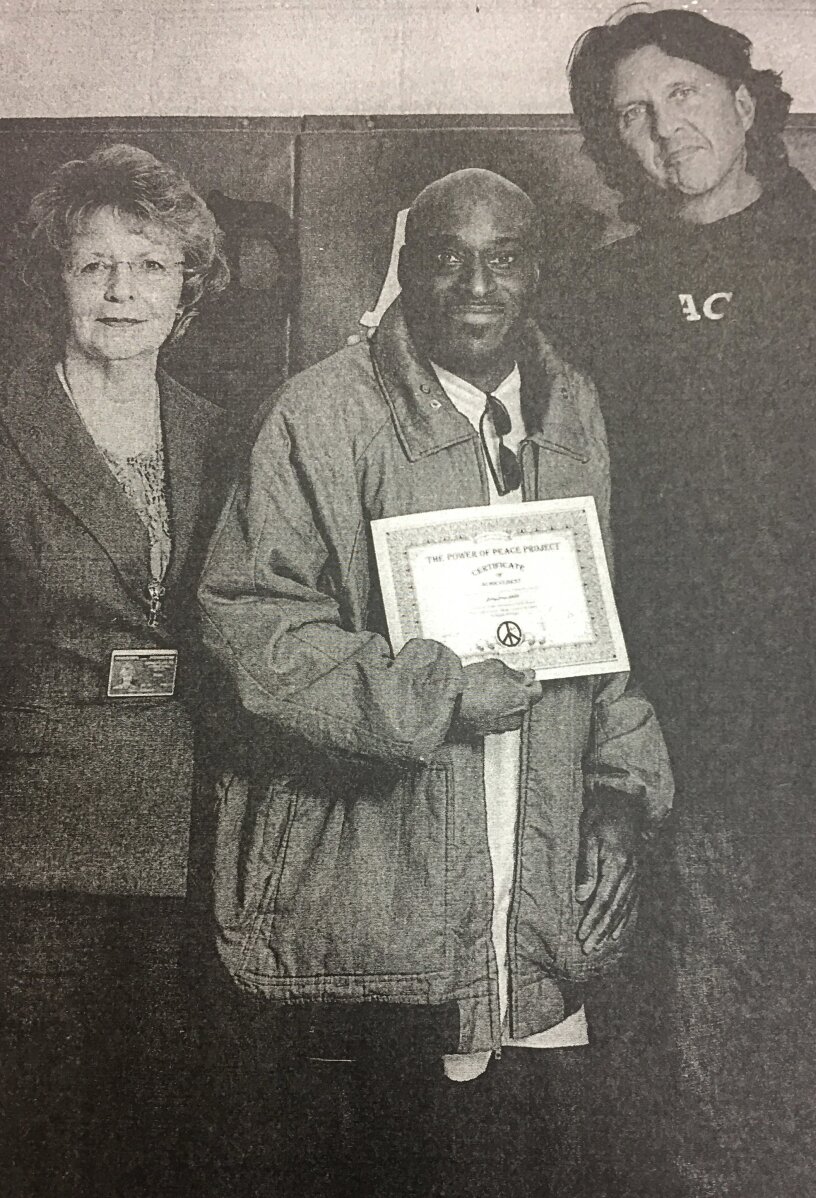 5 of 21

|
In this 2014 photo provided by the Michigan Department of Corrections, Bobby Hines holds a certificate for his 40 Days of Peace Training Program graduation at the F.C. Brooks and West Shoreline Correctional Facilities in Muskegon Heights, Mich. At left is Warden Mary Berghuis and at right is Kit Cummings, founder of The Power of Peace Project. In his first decade in prison, Hines racked up about a dozen misconduct tickets, many for fighting. But he eventually settled down, comforted by his mother, Gracie. He earned his GED certificate, enrolled in self-improvement programs and developed a reputation as a solid worker in maintenance, kitchen and recreation jobs. (MDOC via AP)
5 of 21
In this 2014 photo provided by the Michigan Department of Corrections, Bobby Hines holds a certificate for his 40 Days of Peace Training Program graduation at the F.C. Brooks and West Shoreline Correctional Facilities in Muskegon Heights, Mich. At left is Warden Mary Berghuis and at right is Kit Cummings, founder of The Power of Peace Project. In his first decade in prison, Hines racked up about a dozen misconduct tickets, many for fighting. But he eventually settled down, comforted by his mother, Gracie. He earned his GED certificate, enrolled in self-improvement programs and developed a reputation as a solid worker in maintenance, kitchen and recreation jobs. (MDOC via AP)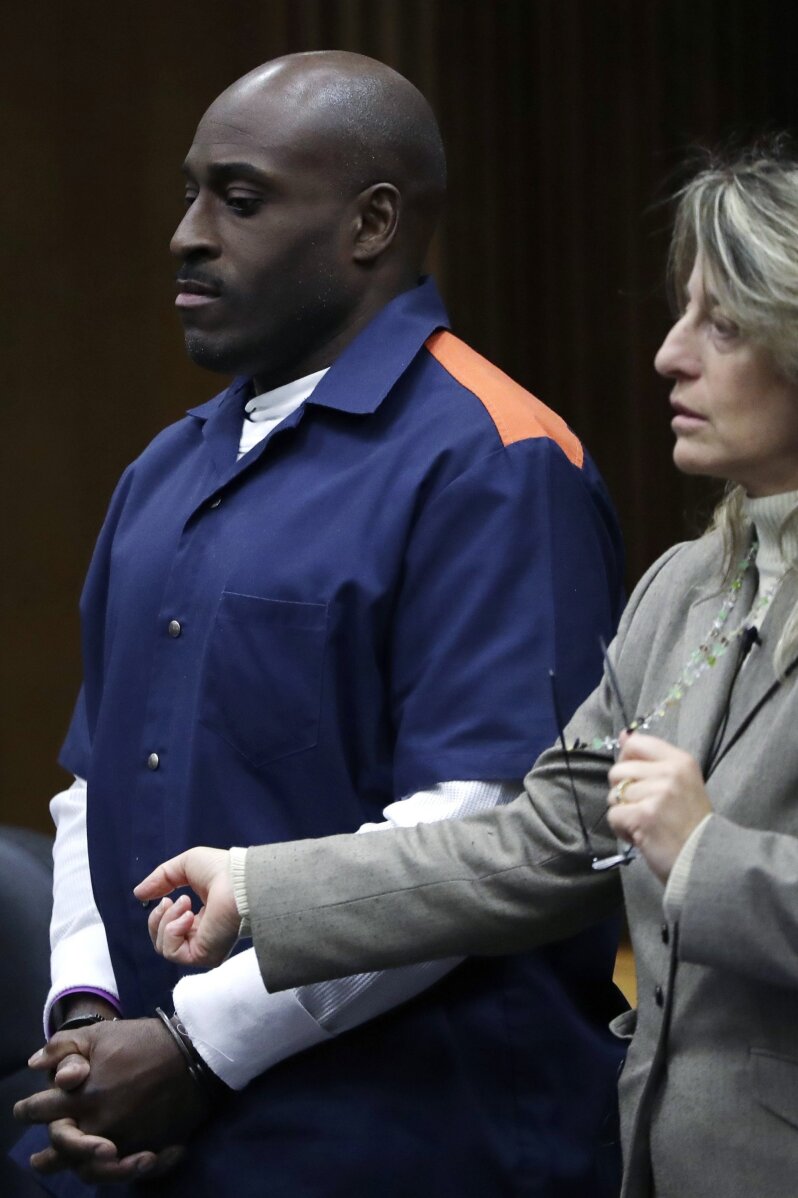 6 of 21

|
In this Thursday, March 16, 2017 photo, Bobby Hines, with his attorney Valerie Newman, stand before Judge Cynthia Gray Hathaway during a resentencing hearing in Detroit for the 1989 murder of James Warren. "As a man, I take full ownership for what I did," he tells the judge. "I tore their family up, and I didn't even realize what I was doing." (AP Photo/Carlos Osorio)
6 of 21
In this Thursday, March 16, 2017 photo, Bobby Hines, with his attorney Valerie Newman, stand before Judge Cynthia Gray Hathaway during a resentencing hearing in Detroit for the 1989 murder of James Warren. "As a man, I take full ownership for what I did," he tells the judge. "I tore their family up, and I didn't even realize what I was doing." (AP Photo/Carlos Osorio)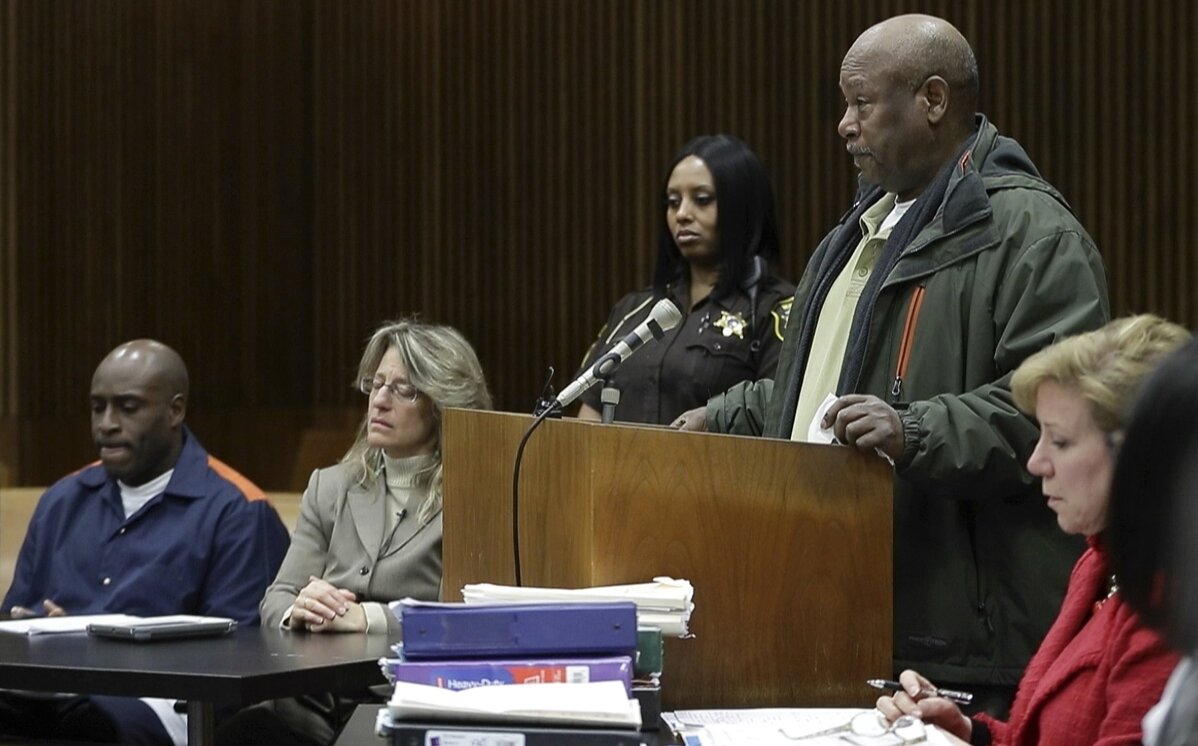 7 of 21

|
In this Thursday, March 16, 2017 image made from video, Henry Carpenter Warren Jr. addresses the court during a resentencing hearing for his son's killer, Bobby Hines, seated left, at the Frank Murphy Hall of Justice in Detroit. Warren says Hines "was punished excessively. ... He can go home today." (AP Photo/Carlos Osorio)
7 of 21
In this Thursday, March 16, 2017 image made from video, Henry Carpenter Warren Jr. addresses the court during a resentencing hearing for his son's killer, Bobby Hines, seated left, at the Frank Murphy Hall of Justice in Detroit. Warren says Hines "was punished excessively. ... He can go home today." (AP Photo/Carlos Osorio)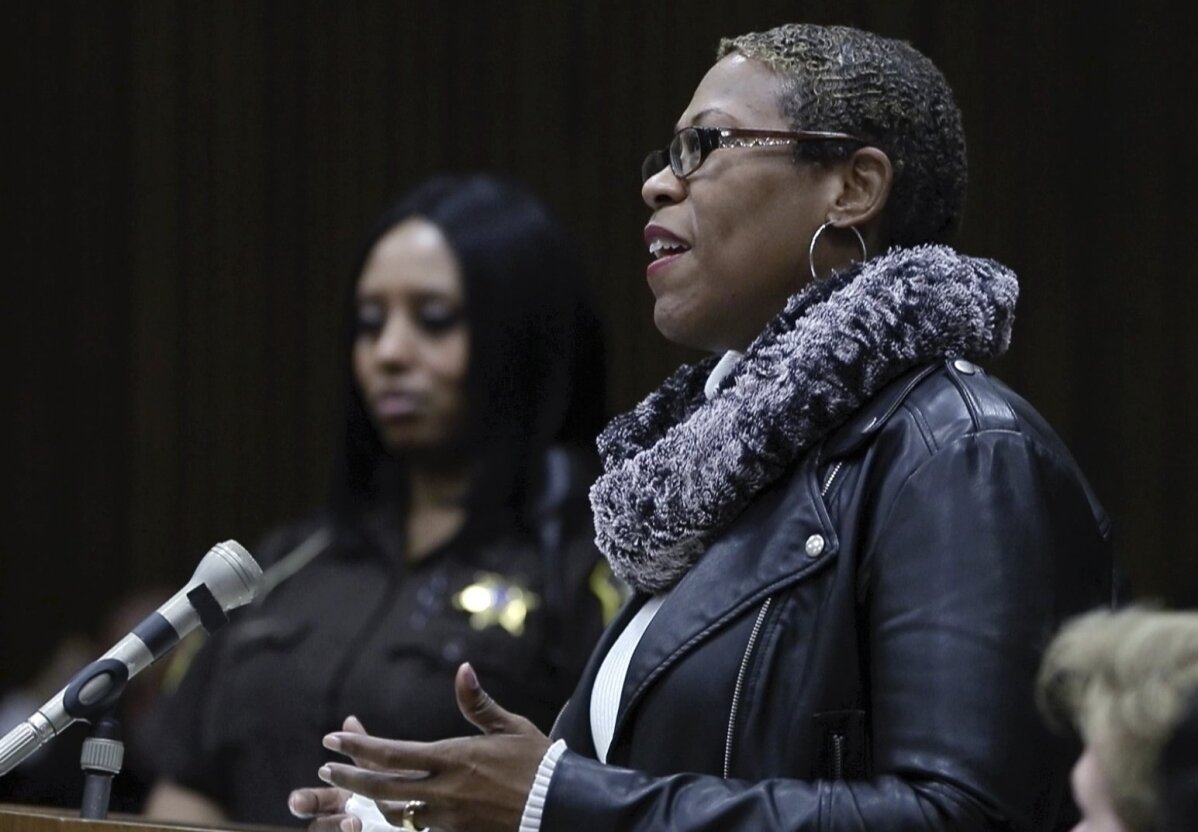 8 of 21

|
In this Thursday, March 16, 2017 image from video, Valencia Warren Gibbs, addresses the court during a hearing for her brother's killer, Bobby Hines, at the Frank Murphy Hall of Justice in Detroit. Gibbs and family have forgiven Hines for the murder of her brother, James Warren. (AP Photo/Carlos Osorio)
8 of 21
In this Thursday, March 16, 2017 image from video, Valencia Warren Gibbs, addresses the court during a hearing for her brother's killer, Bobby Hines, at the Frank Murphy Hall of Justice in Detroit. Gibbs and family have forgiven Hines for the murder of her brother, James Warren. (AP Photo/Carlos Osorio)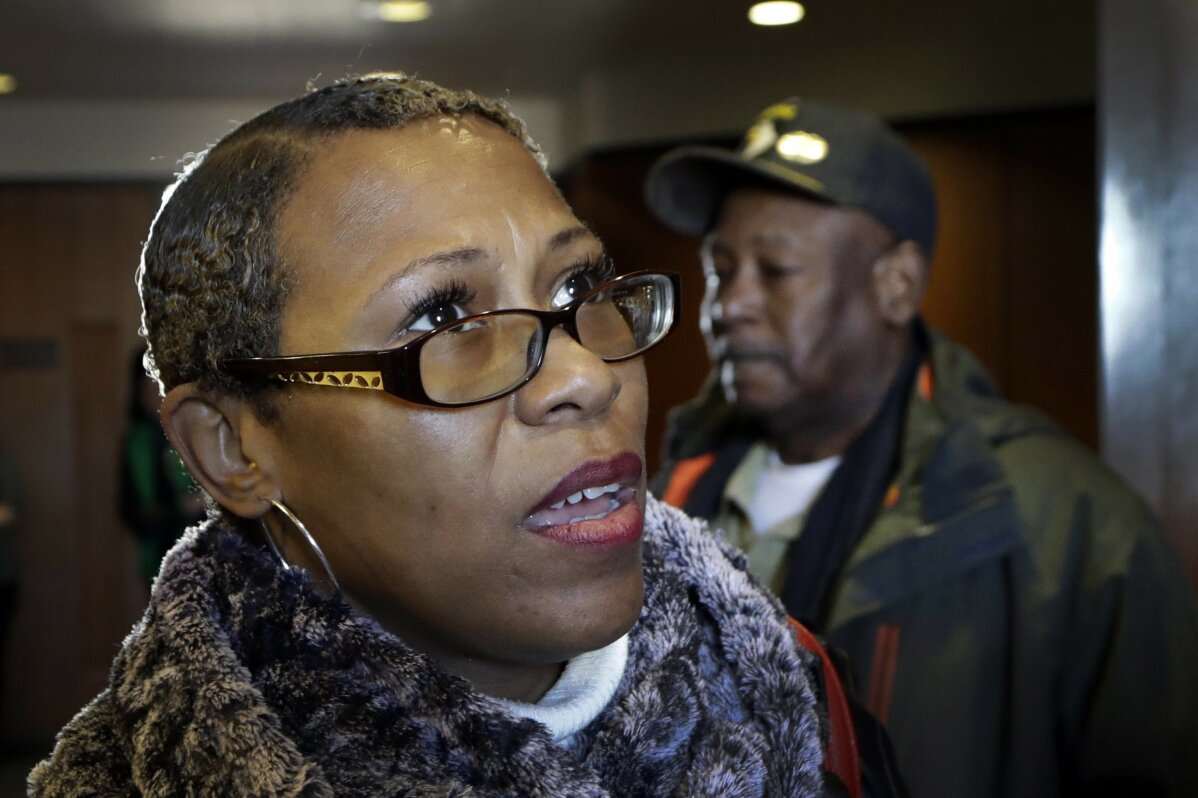 9 of 21

|
In this Thursday, March 16, 2017 photo, Valencia Warren Gibbs, standing next to her father, Henry Carpenter Warren Jr., speaks to reporters at the Frank Murphy Hall of Justice in Detroit. Gibbs and her family have forgiven Bobby Hines for the 1989 murder of her brother, James Warren. "He was 15 years old," she said during Hines' resentencing hearing. "I forgave him the day that it happened. ... I want him to be out. I want him to give himself a chance that he didn't give himself ... that day." (AP Photo/Carlos Osorio)
9 of 21
In this Thursday, March 16, 2017 photo, Valencia Warren Gibbs, standing next to her father, Henry Carpenter Warren Jr., speaks to reporters at the Frank Murphy Hall of Justice in Detroit. Gibbs and her family have forgiven Bobby Hines for the 1989 murder of her brother, James Warren. "He was 15 years old," she said during Hines' resentencing hearing. "I forgave him the day that it happened. ... I want him to be out. I want him to give himself a chance that he didn't give himself ... that day." (AP Photo/Carlos Osorio)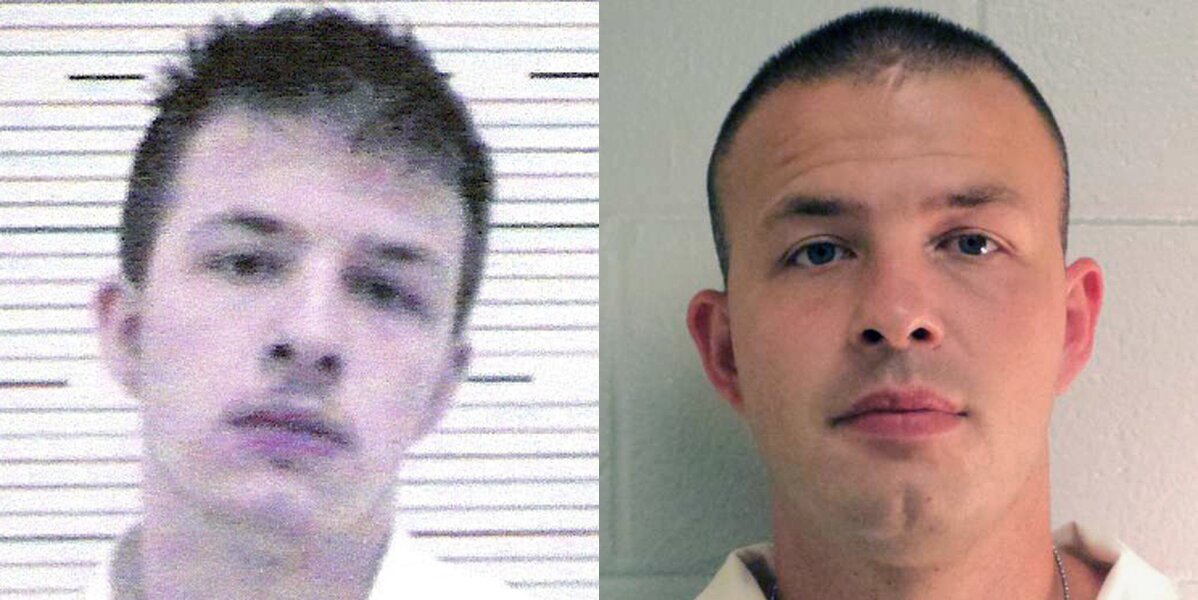 10 of 21

|
This combination of photos from the Lawrence County Alabama Sheriff's Office and the Alabama Department of Corrections shows Evan Miller on Nov. 4, 2005 and later. Miller was convicted at the age of 14 for the 2003 murder of Cole Cannon. (Lawrence County Alabama Sheriff's Office, Alabama Department of Corrections/The Decatur Daily via AP)
10 of 21
This combination of photos from the Lawrence County Alabama Sheriff's Office and the Alabama Department of Corrections shows Evan Miller on Nov. 4, 2005 and later. Miller was convicted at the age of 14 for the 2003 murder of Cole Cannon. (Lawrence County Alabama Sheriff's Office, Alabama Department of Corrections/The Decatur Daily via AP)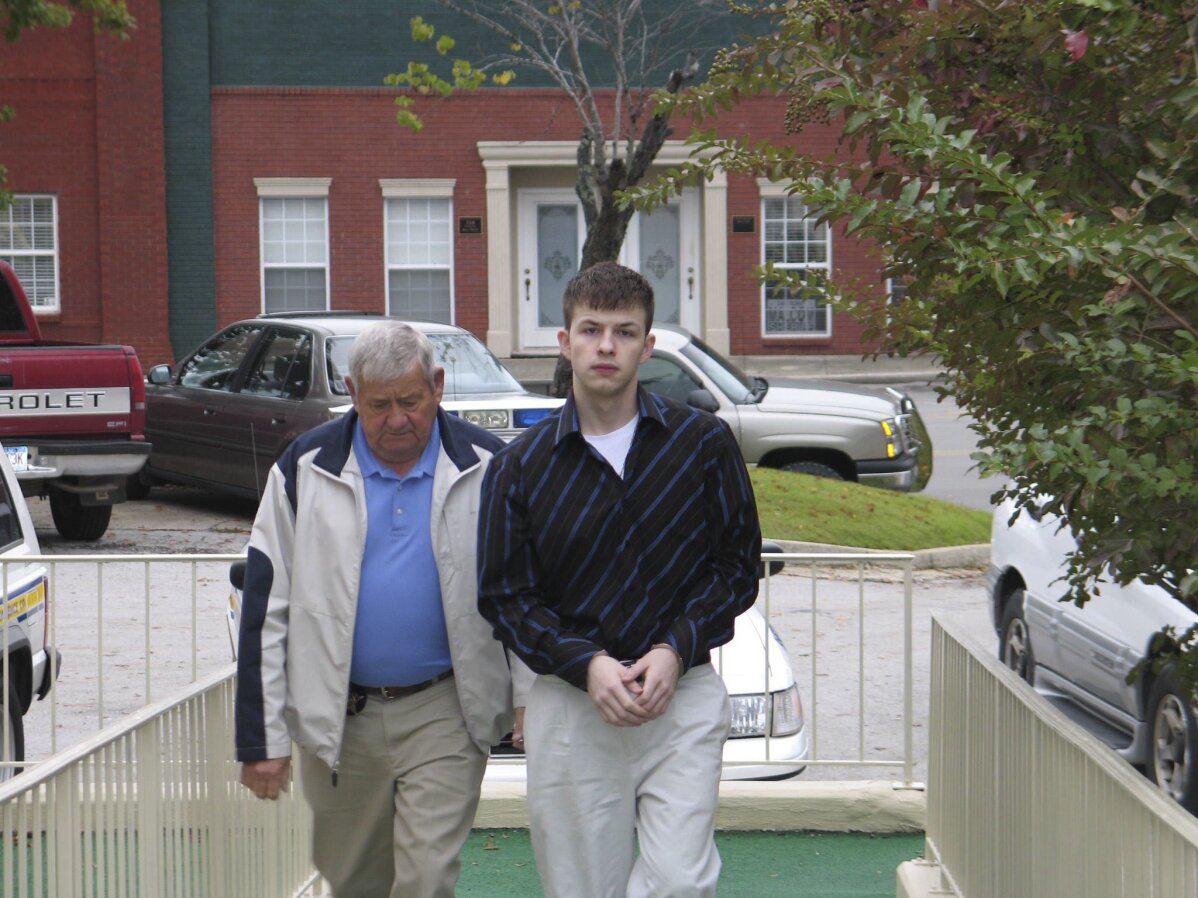 11 of 21

|
In this Oct. 20, 2006 photo, Evan Miller, right, is escorted to the Lawrence County Courthouse in Moulton, Ala. Miller and another teen beat Cole Cannon with a baseball bat before setting fire to Cannon's trailer with him inside. At a resentencing hearing in March 2017, Miller's lawyers cited his childhood of physical abuse and neglect and argued that at 14, his brain wasn't fully developed. The prosecution said his actions were those of an adult who acted mercilessly. (The Decatur Daily via AP)
11 of 21
In this Oct. 20, 2006 photo, Evan Miller, right, is escorted to the Lawrence County Courthouse in Moulton, Ala. Miller and another teen beat Cole Cannon with a baseball bat before setting fire to Cannon's trailer with him inside. At a resentencing hearing in March 2017, Miller's lawyers cited his childhood of physical abuse and neglect and argued that at 14, his brain wasn't fully developed. The prosecution said his actions were those of an adult who acted mercilessly. (The Decatur Daily via AP)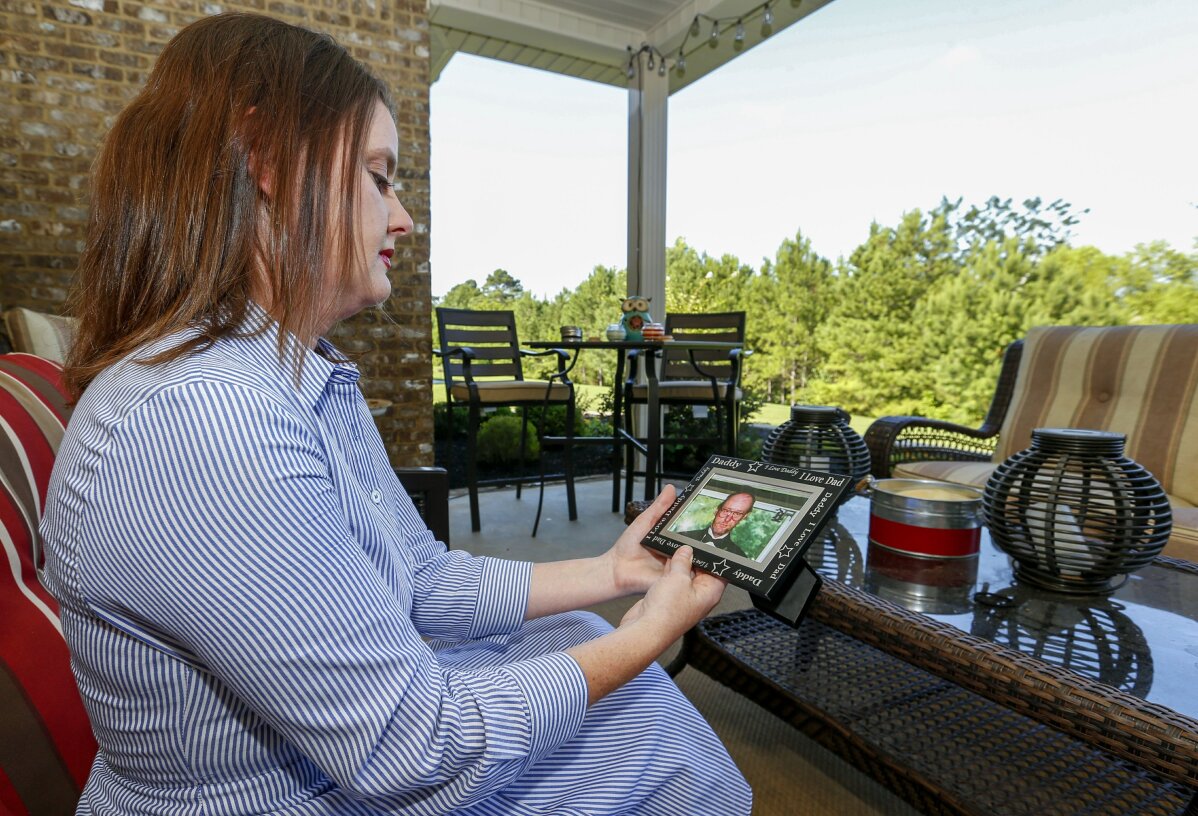 12 of 21

|
Candy Cheatham, daughter of murder victim Cole Cannon, holds a photo of him in Decatur, Ala., on Tuesday, July 18, 2017. At a March 2017 resentencing hearing, Evan Miller apologized to Cannon's family, but the victim's daughter, Cheatham, rejected that as insincere, "empty words." She testified of nightmares and despair. "To bring this up and make the victims' families relive this, that's being cruel and unusual," she says. (AP Photo/Butch Dill)
12 of 21
Candy Cheatham, daughter of murder victim Cole Cannon, holds a photo of him in Decatur, Ala., on Tuesday, July 18, 2017. At a March 2017 resentencing hearing, Evan Miller apologized to Cannon's family, but the victim's daughter, Cheatham, rejected that as insincere, "empty words." She testified of nightmares and despair. "To bring this up and make the victims' families relive this, that's being cruel and unusual," she says. (AP Photo/Butch Dill)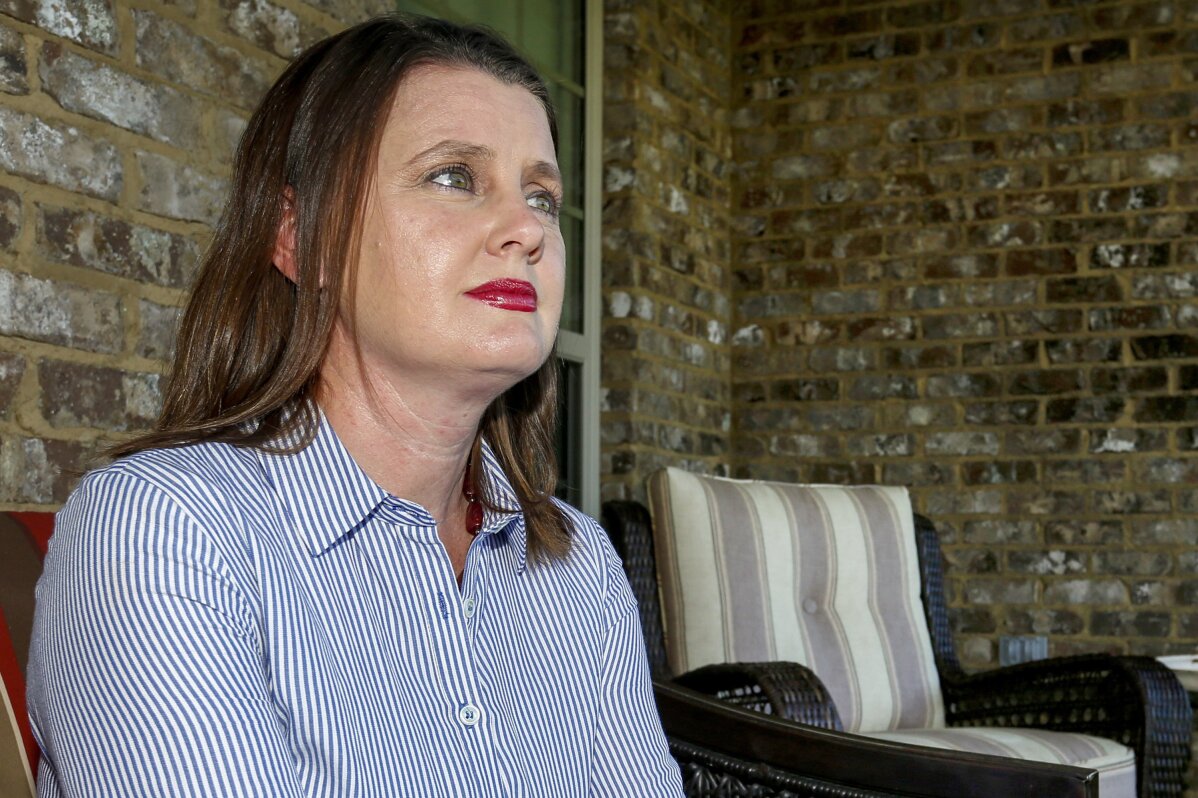 13 of 21

|
Candy Cheatham, daughter of murder victim Cole Cannon, sits for a photo in Decatur, Ala., on Tuesday, July 18, 2017. At a March 2017 resentencing hearing, Evan Miller apologized to Cannon's family, but the victim's daughter, Cheatham, rejected that as insincere, "empty words." She testified of nightmares and despair. "To bring this up and make the victims' families relive this, that's being cruel and unusual," she says. (AP Photo/Butch Dill)
13 of 21
Candy Cheatham, daughter of murder victim Cole Cannon, sits for a photo in Decatur, Ala., on Tuesday, July 18, 2017. At a March 2017 resentencing hearing, Evan Miller apologized to Cannon's family, but the victim's daughter, Cheatham, rejected that as insincere, "empty words." She testified of nightmares and despair. "To bring this up and make the victims' families relive this, that's being cruel and unusual," she says. (AP Photo/Butch Dill)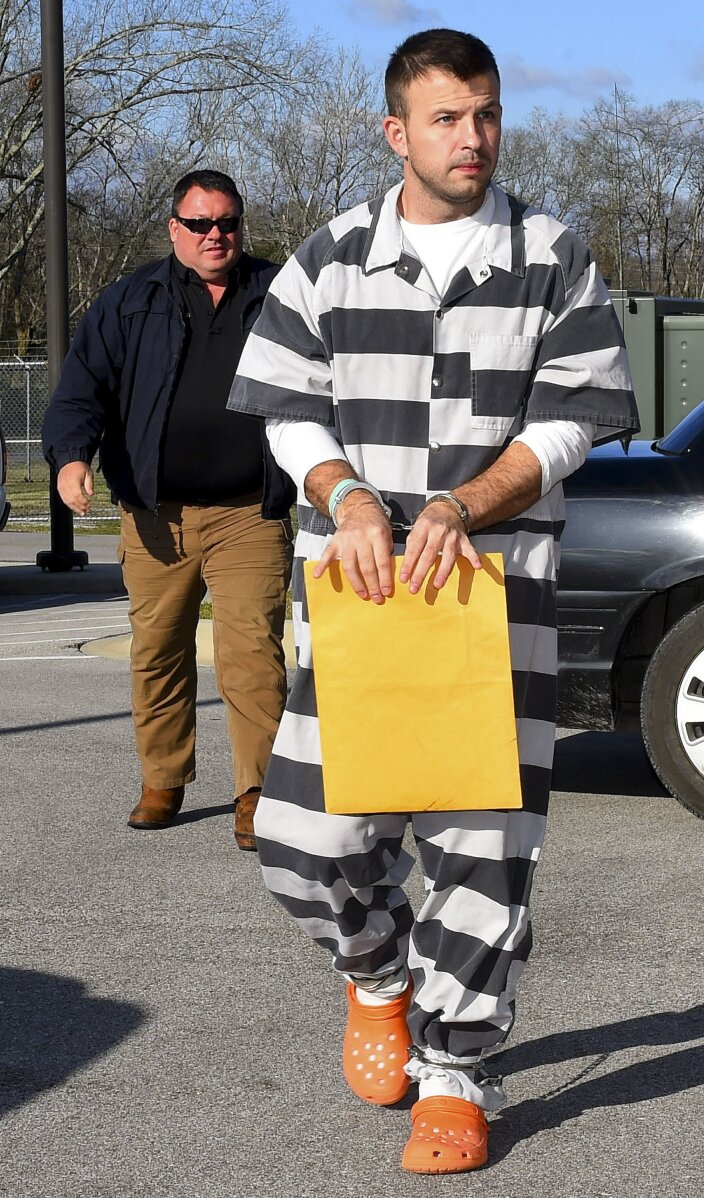 14 of 21

|
In this March 15, 2017 photo, Evan Miller, foreground, is escorted to the Lawrence County Courthouse in Moulton, Ala. Miller was convicted at the age of 14 for the 2003 murder of Cole Cannon. At the resentencing hearing, Miller's lawyers cited his childhood of physical abuse and neglect and argued that at 14, his brain wasn't fully developed. The prosecution said his actions were those of an adult who acted mercilessly. (John Godbey/The Decatur Daily via AP)
14 of 21
In this March 15, 2017 photo, Evan Miller, foreground, is escorted to the Lawrence County Courthouse in Moulton, Ala. Miller was convicted at the age of 14 for the 2003 murder of Cole Cannon. At the resentencing hearing, Miller's lawyers cited his childhood of physical abuse and neglect and argued that at 14, his brain wasn't fully developed. The prosecution said his actions were those of an adult who acted mercilessly. (John Godbey/The Decatur Daily via AP)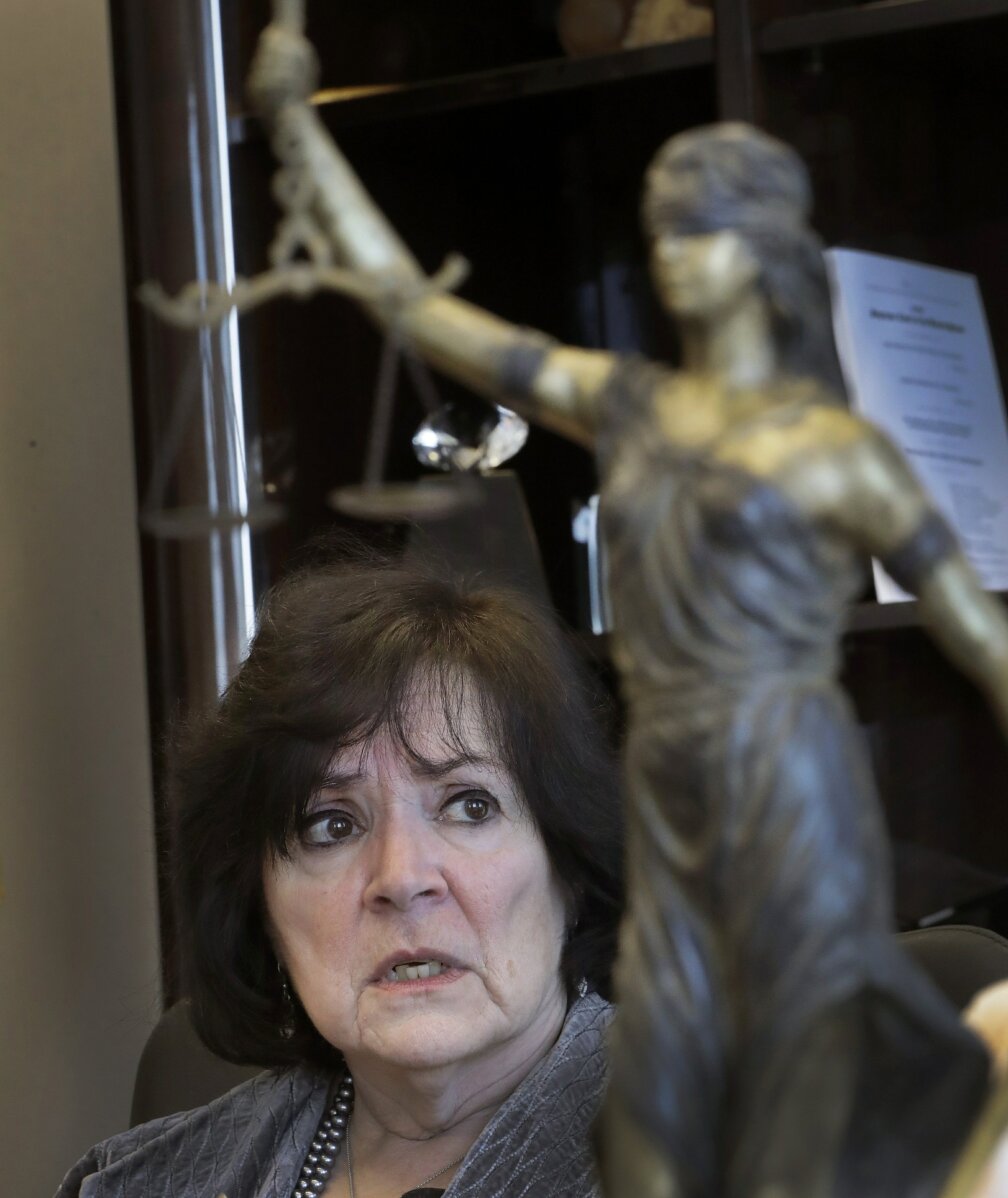 15 of 21

|
In this Wednesday, March 15, 2017 photo, Oakland County Prosecuting Attorney Jessica Cooper speaks during an interview in her office next to her statue of "Lady Justice" in Pontiac, Mich. Cooper argues that all her juvenile lifer cases are rare since they comprise just a small portion of all the criminal cases her office has handled over many years. She is seeking new natural life sentences in 44 of 49 of the county's juvenile lifer cases. (AP Photo/Carlos Osorio)
15 of 21
In this Wednesday, March 15, 2017 photo, Oakland County Prosecuting Attorney Jessica Cooper speaks during an interview in her office next to her statue of "Lady Justice" in Pontiac, Mich. Cooper argues that all her juvenile lifer cases are rare since they comprise just a small portion of all the criminal cases her office has handled over many years. She is seeking new natural life sentences in 44 of 49 of the county's juvenile lifer cases. (AP Photo/Carlos Osorio)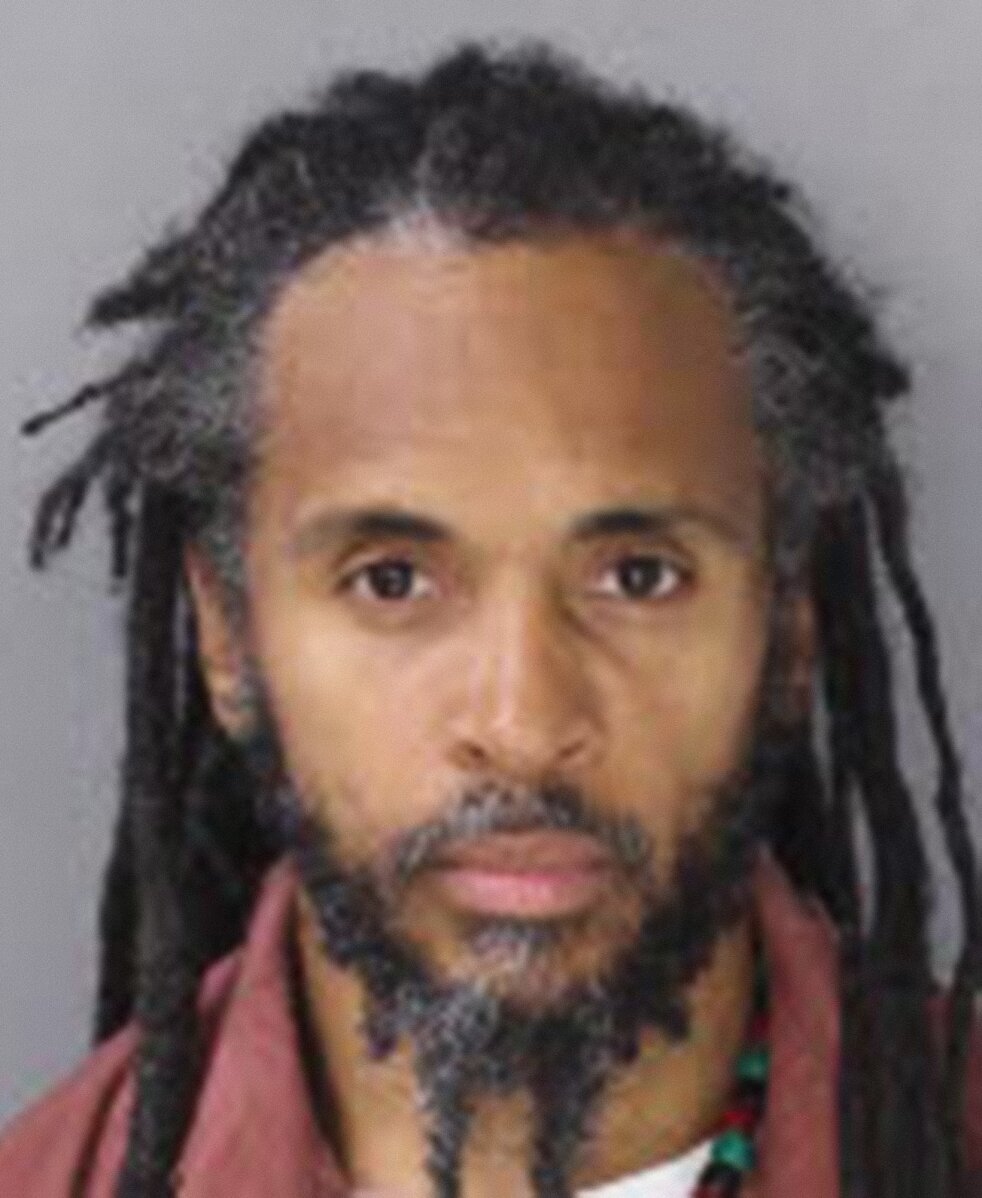 16 of 21

|
This undated photo provided by the Pennsylvania Department of Corrections in July 2017 shows Kempis Songster. He was a 15-year-old runaway when he joined another teen in the 1987 Philadelphia drug house stabbing of 17-year-old Anjo Pryce, a fellow gang member. At trial, Songster turned down a prosecutor's offer that would have likely seen him do eight to 10 years in prison. "I think they were the youngest guys I ever prosecuted for murder. You walk in there and see that they're children and you say, 'Wait a minute,'" says Jack McMahon, who offered the long-ago plea deal and chalks up Songster's refusal to youthful bravado. Now a defense attorney, McMahon had offered to testify for him. (Pennsylvania Department of Corrections via AP)
16 of 21
This undated photo provided by the Pennsylvania Department of Corrections in July 2017 shows Kempis Songster. He was a 15-year-old runaway when he joined another teen in the 1987 Philadelphia drug house stabbing of 17-year-old Anjo Pryce, a fellow gang member. At trial, Songster turned down a prosecutor's offer that would have likely seen him do eight to 10 years in prison. "I think they were the youngest guys I ever prosecuted for murder. You walk in there and see that they're children and you say, 'Wait a minute,'" says Jack McMahon, who offered the long-ago plea deal and chalks up Songster's refusal to youthful bravado. Now a defense attorney, McMahon had offered to testify for him. (Pennsylvania Department of Corrections via AP)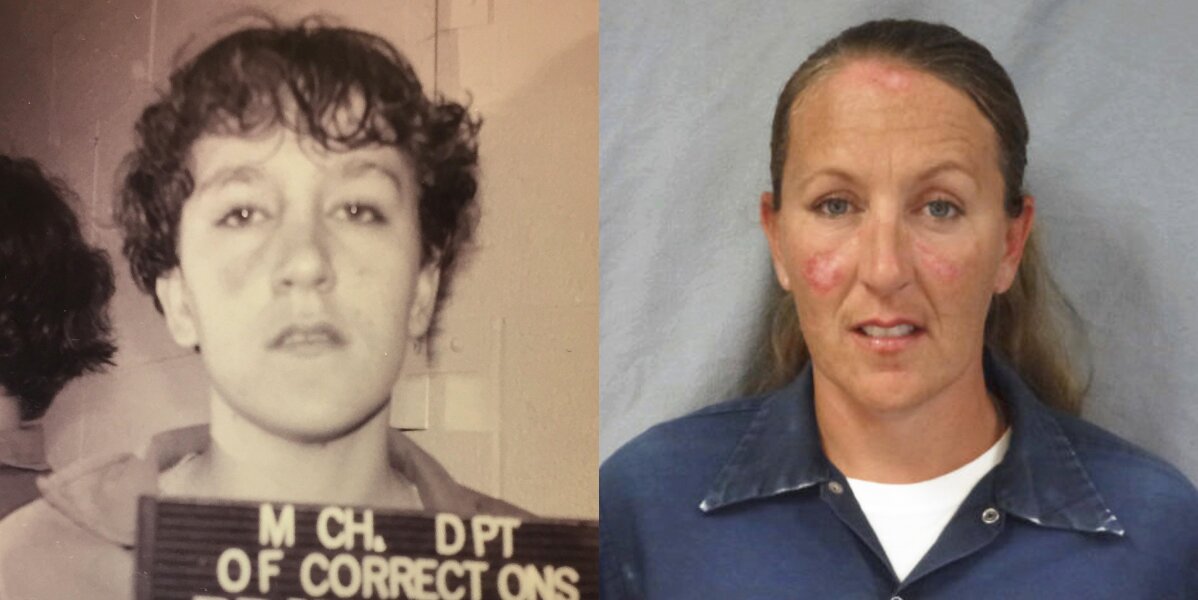 17 of 21

|
This combination of photos made available by the Michigan Department of Corrections shows Jennifer M. Pruitt in 1993 and in July 2013. In 1993 she targeted her 75-year-old neighbor for robbery and then stood by as an accomplice stabbed Elmer Heichel to death. When Pruitt got life without parole at the age of 17, the law provided only one other choice for punishment _ sentencing Pruitt as a juvenile, which meant just three years of court supervision. (MDOC via AP)
17 of 21
This combination of photos made available by the Michigan Department of Corrections shows Jennifer M. Pruitt in 1993 and in July 2013. In 1993 she targeted her 75-year-old neighbor for robbery and then stood by as an accomplice stabbed Elmer Heichel to death. When Pruitt got life without parole at the age of 17, the law provided only one other choice for punishment _ sentencing Pruitt as a juvenile, which meant just three years of court supervision. (MDOC via AP)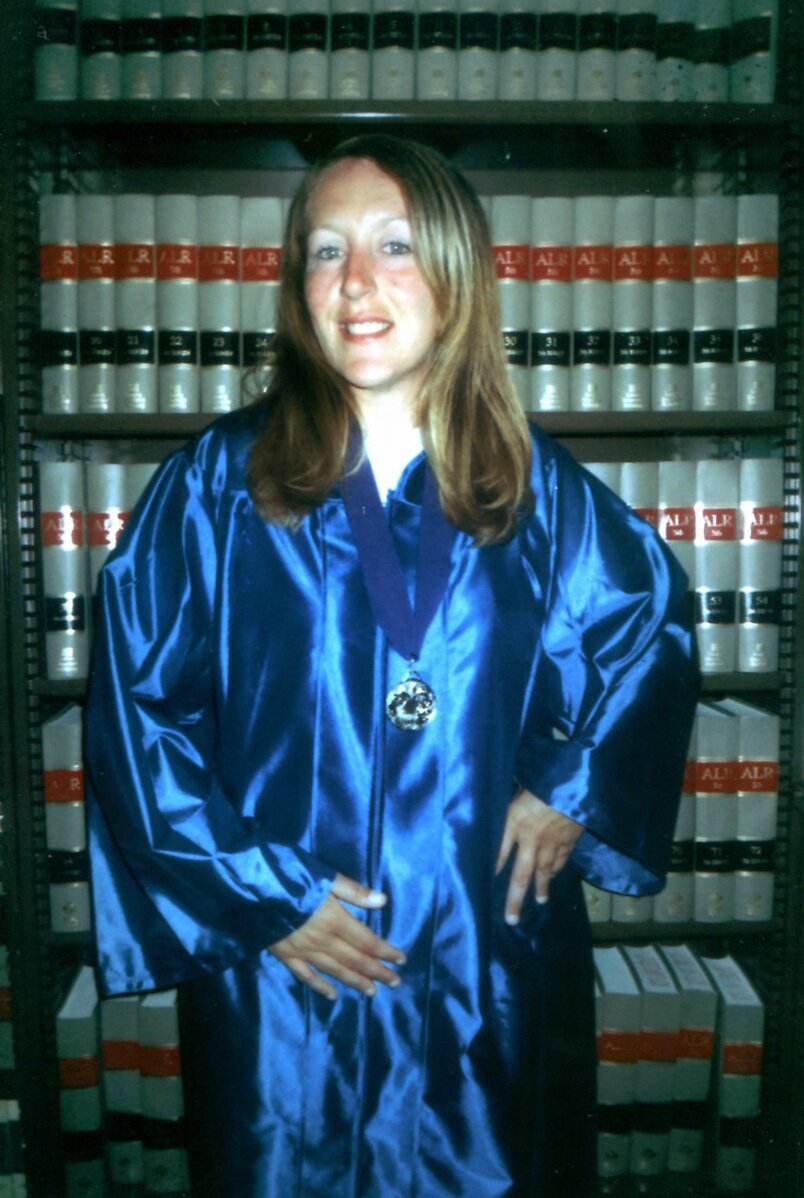 18 of 21

|
In this circa 2007 photo from the Michigan Department of Corrections, Jennifer Pruitt celebrates her graduation from a career tech class at the Robert Scott Correctional Facility in Plymouth, Mich. (Michigan Department of Corrections/Robyn Frankel via AP)
18 of 21
In this circa 2007 photo from the Michigan Department of Corrections, Jennifer Pruitt celebrates her graduation from a career tech class at the Robert Scott Correctional Facility in Plymouth, Mich. (Michigan Department of Corrections/Robyn Frankel via AP)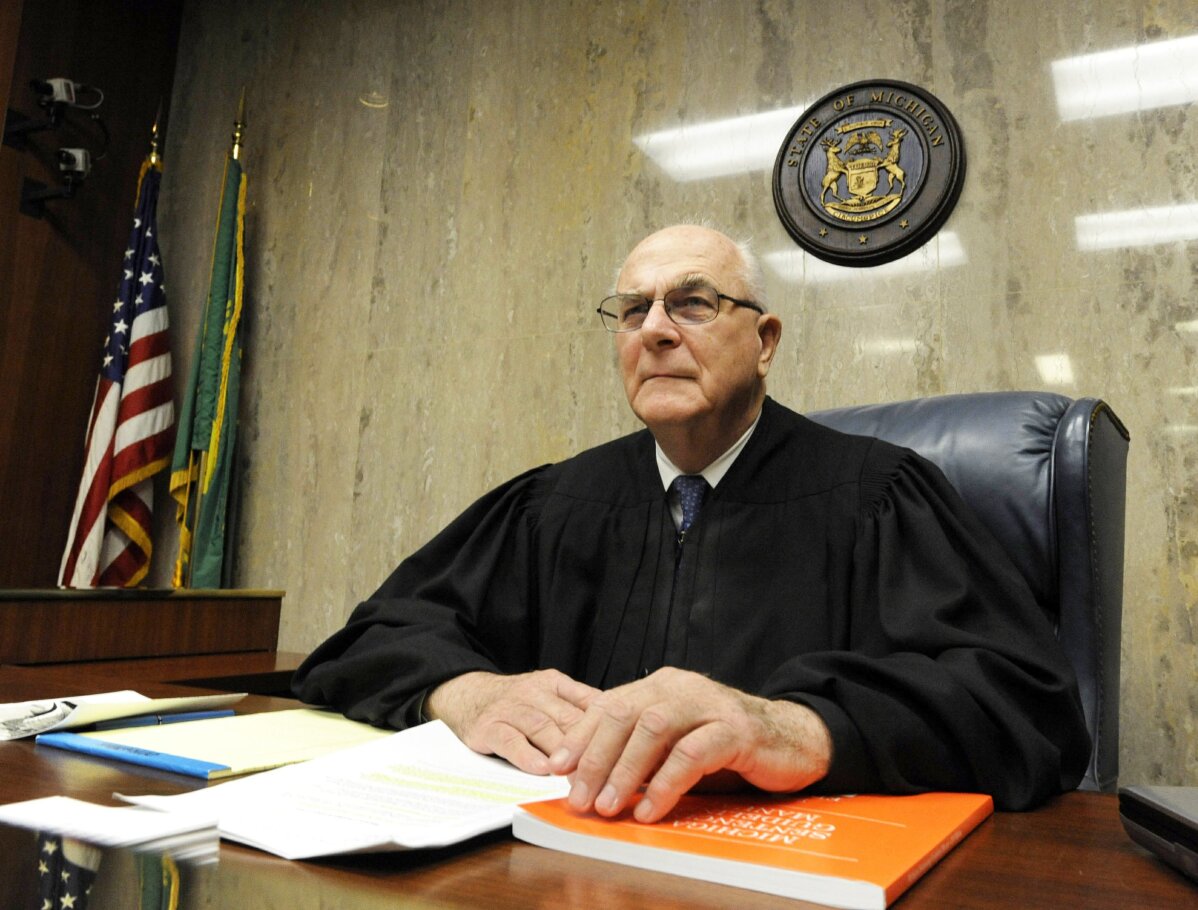 19 of 21

|
This 2010 photo shows Judge Fred Mester in Waterford, Mich. In 2016, the former judge, who imposed Jennifer Pruitt's life-without-parole sentence in 1993, visited her in prison, saying he found "a new person." He wrote letters to the prosecutor and a new judge, praising Pruitt for pursuing an education, tutoring others and counseling fellow inmates. (Charles V. Tines/Detroit News via AP)
19 of 21
This 2010 photo shows Judge Fred Mester in Waterford, Mich. In 2016, the former judge, who imposed Jennifer Pruitt's life-without-parole sentence in 1993, visited her in prison, saying he found "a new person." He wrote letters to the prosecutor and a new judge, praising Pruitt for pursuing an education, tutoring others and counseling fellow inmates. (Charles V. Tines/Detroit News via AP)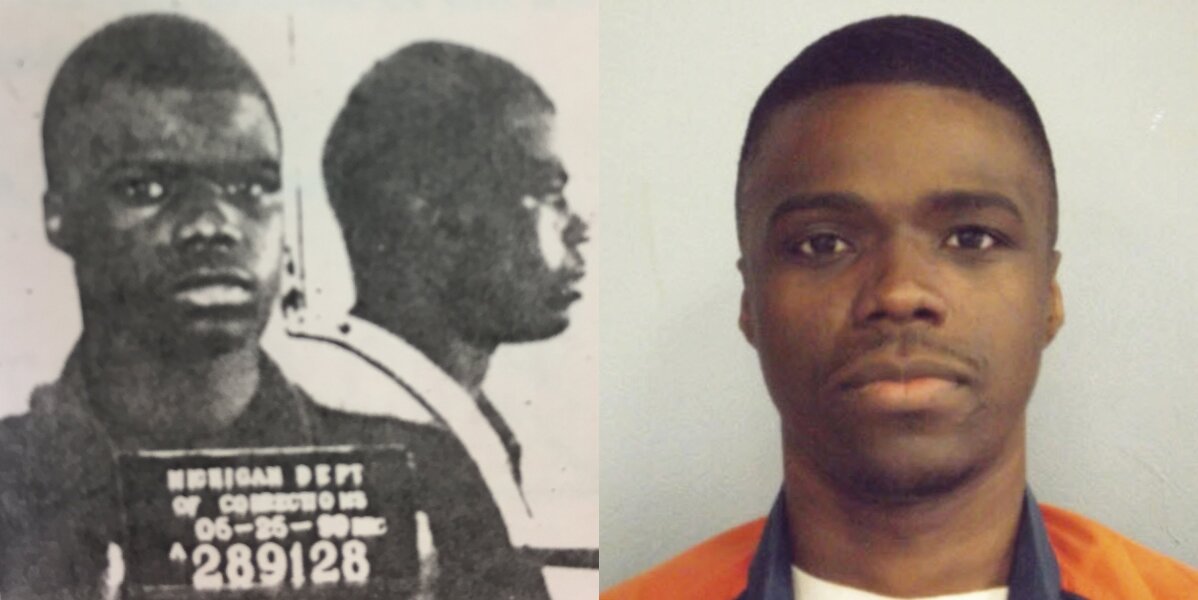 20 of 21

|
This combination of photos made available by the Michigan Department of Corrections shows a younger Ahmad Rashad Williams and in April 2014. Williams' mother, a crack addict, died when he was 10. His grandmother, who raised him in Grand Rapids, Mich., died soon after. By the time Williams shot and killed Derek Pimpleton in a dispute over marijuana, he was smoking it every day and regularly skipping school. Both boys were 15. (MDOC via AP)
20 of 21
This combination of photos made available by the Michigan Department of Corrections shows a younger Ahmad Rashad Williams and in April 2014. Williams' mother, a crack addict, died when he was 10. His grandmother, who raised him in Grand Rapids, Mich., died soon after. By the time Williams shot and killed Derek Pimpleton in a dispute over marijuana, he was smoking it every day and regularly skipping school. Both boys were 15. (MDOC via AP)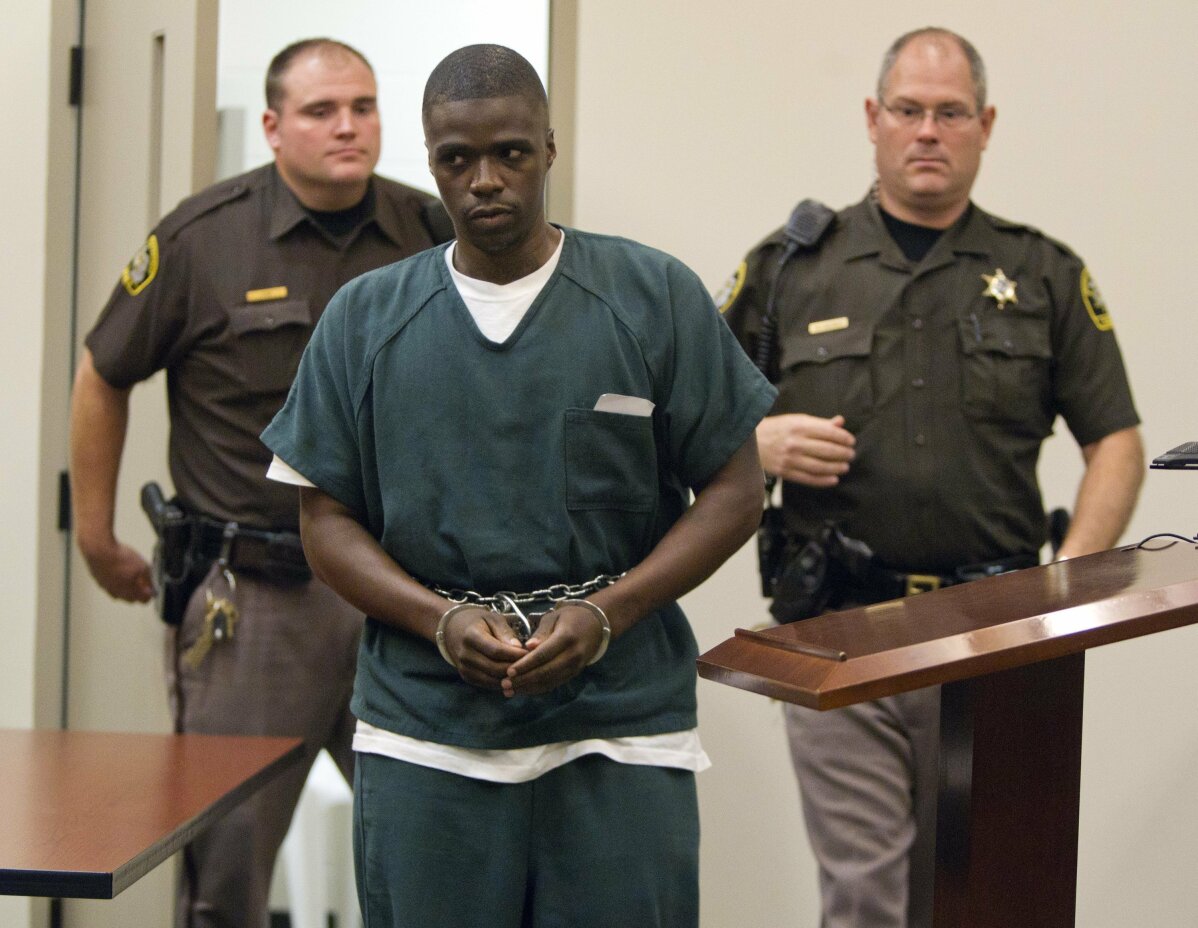 21 of 21

|
In this Friday, Sept. 30, 2016 photo, Ahmad Williams, center, appears for his resentencing hearing at the Kent County Courthouse in Grand Rapids, Mich. Williams was convicted in the 1988 fatal shooting of Derrick Pimpleton. "I didn't think for myself. I was basically a follower," Williams said from prison. He wanted to imitate older guys who took and sold drugs in his neighborhood, he said, because "I thought that was fun. ... I was doing what I thought a regular 15 year old would do." (Cory Morse/The Grand Rapids Press via AP)
21 of 21
In this Friday, Sept. 30, 2016 photo, Ahmad Williams, center, appears for his resentencing hearing at the Kent County Courthouse in Grand Rapids, Mich. Williams was convicted in the 1988 fatal shooting of Derrick Pimpleton. "I didn't think for myself. I was basically a follower," Williams said from prison. He wanted to imitate older guys who took and sold drugs in his neighborhood, he said, because "I thought that was fun. ... I was doing what I thought a regular 15 year old would do." (Cory Morse/The Grand Rapids Press via AP)
DETROIT (AP) — Courtroom 801 is nearly empty when guards bring in Bobby Hines, hands cuffed in front of navy prison scrubs.
It's been more than 27 years since Hines stood before a judge in this building. He was 15 then, just out of eighth grade, answering for his role in the murder of a man over a friend's drug debt. He did not fire the deadly shot, but when he and two others confronted 21-year-old James Warren, Hines said something like, "Let him have it," words that sealed his conviction and punishment: mandatory life with no chance for parole.
The judgment came during a tough-on-crime era in America. Stoked by fears of teen "superpredators," many states enacted laws to punish juvenile criminals like adults and the U.S. became an international outlier, sentencing offenders under 18 to live out their lives in prison for homicide and, in rare instances, rape, kidnapping, armed robbery.
There has since been a significant shift. Five years ago, the U.S. Supreme Court banned mandatory life without parole for juveniles in murder cases. Last year, the court went further, saying the more than 2,000 already serving such sentences must get a chance to show their crimes did not reflect "irreparable corruption" and, if not, have some hope for freedom.
But prison gates don't just swing open. Instead, uncertainty and opposition stirred by the new mandate have resulted in an uneven patchwork of policies as courts and lawmakers wrestle with these complicated, painful cases. The odds of release or continued imprisonment vary from state to state, even county to county, in a pattern that can make justice seem arbitrary.
The Associated Press surveyed all 50 states to see how judges and prosecutors, lawmakers and parole boards are re-examining juvenile lifer cases. Some have resentenced and released dozens of those deemed to have rehabilitated themselves and served sufficient time. Others have delayed review of cases, skirted the ruling on seeming technicalities or fought to keep the vast majority of their affected inmates locked up for life.
Many victims' relatives are also battling to keep these offenders in prison. They "already had their chance, their days in court, their due process," says Candy Cheatham. Her father, Cole Cannon, was killed in 2003 in Alabama by Evan Miller, the 14-year-old whose no-parole sentence was the basis for the 2012 sentencing ban.
But in Hines' case, James Warren's family is forgiving. And his crime was committed in a county whose prosecutor has offered parole-eligible terms to dozens of these offenders.
So Hines, now 43 years old, whiskers tinged with gray, is back in court to make a case for himself.
"As a man, I take full ownership for what I did," he tells the judge. "I tore their family up, and I didn't even realize what I was doing."
Hines bows his head when a woman stands to address the judge.
"He was 15 years old," says the murdered man's sister, Valencia Warren Gibbs. "I forgave him the day that it happened.
"I want him to be out," she says, her lips trembling. "I want him to give himself a chance that he didn't give himself ... that day."
___
It's been a year and a half since the Supreme Court's latest ruling on juvenile offenders — the fourth decision since 2005 to find that the harshest punishments given to adults are unconstitutionally cruel and unusual when imposed on teens.
The justices cite research showing the brains of adolescents are still developing, making them susceptible to peer pressure and likelier to commit reckless acts without considering the long-term effects. To punish teens with the same severity as adults — especially when those sentences provide no discretion for individual consideration — fails to account for the differences of youth or the potential for rehabilitation, the court says.
In the January 2016 decision, the court instructed states to take a second look at former juvenile offenders serving mandatory life without parole for homicide, saying the punishment should be reserved for only the rare inmate whose crime reflects "permanent incorrigibility." Officials are scrambling now to determine how best to review sometimes decades-old sentences, resulting in inconsistencies, confusion and some pushback across the U.S.
The cases include offenders who were as young as 14 at the time of their crimes. Some are now in their 50s, 60s and even 70s.
"It's taking far too long to get ... judges and prosecutors to understand that the mandates of the Supreme Court are not optional," says John O'Hair, who saw more than 90 juveniles sentenced to life when he was prosecutor in Wayne County, Michigan, but has since criticized how some in his state are responding. "While all this is going on, these individuals are serving unlawful sentences. I don't think that's a just situation."
GEOGRAPHIC JUSTICE
The AP's review found very different brands of justice from place to place.
For years, officials in states with the most juvenile life cases were united in arguing that the Supreme Court's ban on life without parole did not apply retroactively to inmates already serving such sentences. Now, states are heading in decidedly different directions.
Pennsylvania, which long resisted reopening the old cases, has resentenced more than 1 in 5 of its 517 juvenile lifers and released 58 so far. Attorneys there talk about working their way through all the cases in the next three years. Since the Supreme Court's ruling last year, two Pennsylvania inmates have been resentenced to life without parole, which the justices said should be uncommon and reserved for the rare offender who "exhibits such irretrievable depravity that rehabilitation is impossible." Another six inmates were resentenced to life without parole earlier, and could eventually be resentenced again.
In Michigan, meanwhile, prosecutors want new no-parole terms for some 236 of 363 juvenile lifers, and there are wide variances from county to county, which has prompted lawsuits. Defense lawyer Deb LaBelle says more than 200 of these cases are on hold until the state Supreme Court decides whether judges or juries should hear them.
Says Elizabeth Calvin of Human Rights Watch: "I don't think anybody who is being honest about what is happening in American courtrooms can walk away and say, 'Yes, the system has carefully culled out the worst of the worst and that's who these individuals are.'"
Louisiana lawmakers spent two sessions debating over that state's 303 juvenile lifers, with district attorneys lobbying against eliminating no-parole terms. The Louisiana Center for Children's Rights notes 18 of 23 juvenile offenders tried for murder since 2012 have gotten life without parole.
In June, the state Legislature finally changed the law, making juvenile homicide offenders eligible for release after 25 years, though prosecutors can still petition a judge for a no-parole sentence in old cases and new cases of first-degree murder.
A Louisiana inmate was at the center of last year's U.S. Supreme Court decision. Henry Montgomery, 71, originally got life without parole for the 1963 shooting of a sheriff's deputy. He is one of about 67 former teen offenders in the state so far resentenced to life with a chance for release; he now awaits a parole hearing. Montgomery "has been a mentor, he's helped others and, from all indications, he does appear to be rehabilitated," said the judge who resentenced him.
While life without parole for teens remains an option in Louisiana, 13 states have passed legislation in just the last five years that prohibit the sentence.
PAROLE IN THEORY ONLY
The AP also found that while many states have taken steps to make former teen criminals eligible for parole, in practice, officials regularly deny release.
In Missouri, the parole board has turned down 20 of 23 juvenile lifers, according to the MacArthur Justice Center, which filed a federal lawsuit this year claiming the board is denying the state's juvenile life-without-parole inmates a meaningful chance for release as required by the Supreme Court.
The lawsuit says these decisions were made after short hearings — some just 30 minutes long — before a three-person panel that includes just one of seven parole board members, and two corrections employees. Inmates can bring only one supporter, either a witness or lawyer, not both, and have been told their lawyers may not even take notes during hearings.
The state's parole board has come under fire after an investigation revealed a board member had made a game out of hearings by repeating words like "armadillo" and "hootenanny" and trying to get inmates to say the words, too. The board member resigned in June.
Maryland, meantime, has 271 juvenile lifers whose sentences have always given them a chance for release. But no such prisoner has won parole in more than 20 years, prompting a lawsuit by the American Civil Liberties Union.
CONFUSION OVER NON-MANDATORY TERMS
The impact of last year's Supreme Court ruling goes far beyond the 2,000-plus offenders who faced mandatory no-parole sentences as teens.
In many states, legal challenges are being mounted on behalf of juveniles sentenced to life without parole at the discretion of a judge or jury, or those who are legally entitled to parole but serving such lengthy terms they are unlikely to ever get out. The latter group encompasses some 7,300 inmates, according to The Sentencing Project. The Supreme Court didn't specifically address these cases, however, and that's led to different outcomes.
Tennessee, for example, is so far refusing to resentence its juvenile life-without-parole inmates. That's because judges and juries have a choice in sentencing, but that choice is between life in prison or life with the possibility of parole after serving 51 years, an option Marsha Levick of the national Juvenile Law Center calls "cruel."
In Oklahoma, juvenile life without parole isn't mandatory, either, but unlike in Tennessee, lifers are getting a second chance after a state court said their age at the time of their crimes and efforts to rehabilitate must be considered. Inmates there are now filing motions for reduced sentences, and in Oklahoma County, the state's largest, First Assistant District Attorney Scott Rowland says his office will address each on a case-by-case basis.
"On the one hand this is a mandate from the U.S. Supreme Court, and we have to comply with it," Rowland says. "On the other hand, you're talking about disturbing sentences on crimes that may be three decades old, and very violent, heinous crimes. So the stakes are high."
Responding to the AP's findings on Monday, Jody Kent Lavy, executive director of the Campaign for the Fair Sentencing of Youth, called on the Supreme Court to take additional action.
"Given that the implementation of reform varies dramatically from state to state, as highlighted by the AP series, it's clear that the U.S. Supreme Court needs to take up this issue again and ban juvenile life without parole once and for all," Lavy said. "Otherwise, a child's fate in the justice system may be arbitrarily determined by his or her geographic location or race, as opposed to his or her capacity for growth and change."
___
It is no exaggeration to say that Evan Miller's crime was heinous: He and another teen beat Cole Cannon with a baseball bat before setting fire to Cannon's trailer with him inside. At a resentencing hearing in March, Miller's lawyers cited his childhood of physical abuse and neglect and argued that at 14, his brain wasn't fully developed. The prosecution said his actions were those of an adult who acted mercilessly.
Miller apologized to Cannon's family, but the victim's daughter, Cheatham, rejected that as insincere, "empty words." She testified of anger and despair. "To bring this up and make the victims' families relive this, that's being cruel and unusual," she says.
Under an Alabama law adopted last year, a judge can resentence Miller to life without parole or allow parole after 30 years. A decision is pending.
"These are young Hannibal Lecters," says Sheriff Michael Bouchard in Oakland County, Michigan, where officials want new no-parole sentences in 44 of 49 juvenile-lifer cases. "These are not people you want to meet on the street on a dark night."
County prosecutor Jessica Cooper argues all her cases are rare since they comprise just a small portion of all the criminal cases her office has pursued over time.
She did offer possible parole to five offenders, including Jennifer Pruitt, who targeted her 75-year-old neighbor for robbery and then stood by as an accomplice stabbed Elmer Heichel to death.
When Pruitt got life at age 17, the law provided only one other choice for punishment — sentencing her as a juvenile, which meant just three years of court supervision.
In an extraordinary move, the former judge who imposed the sentence in 1993 visited Pruitt in prison last year. Fred Mester found "a new person." He wrote letters to Cooper and a new judge, praising Pruitt for pursuing an education, tutoring others and counseling fellow inmates.
"I was always hopeful that those who were sentenced before me would take advantage of all the programs offered to rehabilitate inmates," he wrote, and Pruitt had "done just that and more."
In March, Pruitt was resentenced to 30 to 60 years, making her earliest possible parole date in 2022, when she's 46. Mester says that's too long to wait.
"If the criminal justice system has any merit at all," he told the AP, "I think people should have a second chance."
Like Pruitt, other juvenile lifers did not actually kill but rather were convicted of participating in crimes where a companion took a life. And the AP's review found a number of others who long ago rejected plea bargains that would have seen them released already.
Kempis Songster was 15 when he joined another teen in the 1987 Philadelphia drug house stabbing of fellow gang member Anjo Pryce, 17. At trial, Songster turned down a prosecutor's offer that would have likely seen him do eight to 10 years in prison.
"You walk in there and see that they're children and you say, 'Wait a minute,'" says Jack McMahon, who offered the plea deal and chalks up Songster's refusal to youthful bravado. Now a defense attorney, McMahon had offered to testify for him. "So many of the people who are looking at it from the outside in, they want simplistic answers to it: They did the crime, they should do the time. It's not that simple, and anybody who thinks that just doesn't know."
Prosecutors recently offered a new sentence that would have made Songster eligible for parole in five years. Now 45, Songster sought less time. A judge on July 24 resentenced him to 30 years to life, making him eligible for parole in September.
The victim's father said the slaying shattered his family. "I know we want to get somebody released from prison and all, but there's a victim here who's never going to be released from where he is," Errol Pryce said in court.
Nearly two-thirds of juvenile-lifer inmates are African-American, according to a 2015 report by Phillips Black, a public interest law firm that analyzed data from corrections departments. And since 1992, the report said, a black juvenile arrested for homicide was twice as likely as a white teen to be sentenced to life without parole.
Most juvenile lifers also come from troubled backgrounds. A 2012 survey by The Sentencing Project, an advocacy group, found that nearly 60 percent had a close relative in prison, almost half had been physically abused as children, and about 80 percent reported violence at home. That is not an excuse for criminal behavior, but it puts it into context, defense lawyers and some experts say.
Ahmad Williams' mother, a crack addict, died when he was 10. The grandmother who raised him in Grand Rapids, Michigan, died soon after. By the time Williams shot and killed Derrick Pimpleton in a simmering feud, he was smoking marijuana daily and attending school just a few days a month. Both boys were 15.
"I didn't think for myself. I was basically a follower," Williams, now 35, said from prison. He wanted to imitate older guys who took and sold drugs in his neighborhood, he said, because "I thought that was fun. ... I was doing what I thought a regular 15 year old would do."
At a resentencing hearing last fall, Danneka Cooper, the victim's sister, testified that 18 years wasn't enough time to make up for her family's loss. "He broke my mother's heart," she said. Williams apologized. His new sentence makes him eligible for parole in early 2025.
___
In Michigan, Williams and Bobby Hines are among about 86 juvenile lifers resentenced so far. Prosecutors sought stays in almost all the other cases until the state Supreme Court, weighing appeals of two new no-parole sentences, decides whether judges or juries should hear them.
Hines, meanwhile, is the only one of the three teens convicted of killing Warren who is still serving time. Back in 1989, he rejected an offer to plead guilty in exchange for a sentence of 20 to 40 years. "When you're 15 years old and someone tells you 20 years in prison, it is longer than you've been alive," his attorney, Valerie Newman, says.
In his first decade in prison, Hines racked up about a dozen misconduct tickets, many for fighting. But he eventually settled down, comforted by his mother, Gracie, who lobbied for his release before her death. He earned his GED certificate, enrolled in self-improvement programs and developed a reputation as a solid worker in maintenance, kitchen and recreation jobs.
At his resentencing hearing in March, Judge Cynthia Gray Hathaway takes that all into account. Wiping away tears, the victim's father, Henry Carpenter Warren Jr., tells her Hines "was punished excessively. ... He can go home today."
In the end, Hathaway hands down a sentence — 27 to 60 years — that makes Hines immediately eligible for parole. He is due to be released Sept. 12.
"I hope that my decision today will not come back to haunt me," the judge says.
On his first day of freedom, Hines says, he intends to visit his mother's grave. Eventually, he wants to meet with the family of his victim.
"I pray for him," says the dead man's sister, Valencia Warren Gibbs. "I just want him to be OK."
Hines, too, is hopeful.
"I always tell people I don't know what I'm going to do," he says in an interview from prison. "But I know what I'm not going to do — and that's get in trouble."
____
Read more in the series: https://apnews.com/tag/LockedUpForLife and contact the reporters at: scohen@ap.org or http://twitter.com@scohenAP and ageller@ap.org or https://twitter.com/adgeller
____
Cohen reported from Detroit, and Geller from Philadelphia. Also contributing to this report were AP reporters Sheila Burke in Tennessee, Sean Murphy in Oklahoma, Juliet Linderman in Maryland, Mariah Brown in Pennsylvania and many other AP reporters across the nation.