Madrid's Modric injures thigh ahead of Copa final, CL semis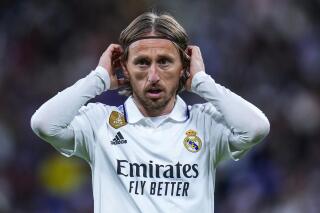 MADRID (AP) — Real Madrid midfielder Luka Modric has a left thigh injury that could make him a doubt for the Copa del Rey final and the club's Champions League semifinal against Manchester City.
Madrid said Friday that the 37-year-old Modric "had an injury to the back of his left thigh" without giving an estimate for how long he will need to recover.
Coach Carlo Ancelotti said he doubts his key playmaker will be able to play the Copa del Rey final against Osasuna in Seville on May 6. The first leg of the Champions League semifinal against City is three days later.
Ancelotti said Modric picked up the "small injury" during Tuesday's 4-2 loss at Girona in the Spanish league that left it 11 points behind leader Barcelona.
"This is soccer and these things happen," Ancelotti said. "We hope to have him back for the games left, which are important."
Modric, the 2018 Ballon d'Or winner, has helped Madrid win five Champions League titles, including the club's record-extending 14th European Cup last season. Despite his age, he starts Madrid's key matches and maintains his role as its best passer.
Madrid hosts Almeria in the Spanish league on Saturday and then faces Real Sociedad in another league game before the Copa del Rey final.
___
More AP soccer: https://apnews.com/hub/soccer and https://twitter.com/AP_Sports