Mourinho to miss derby against Lazio after appeal rejected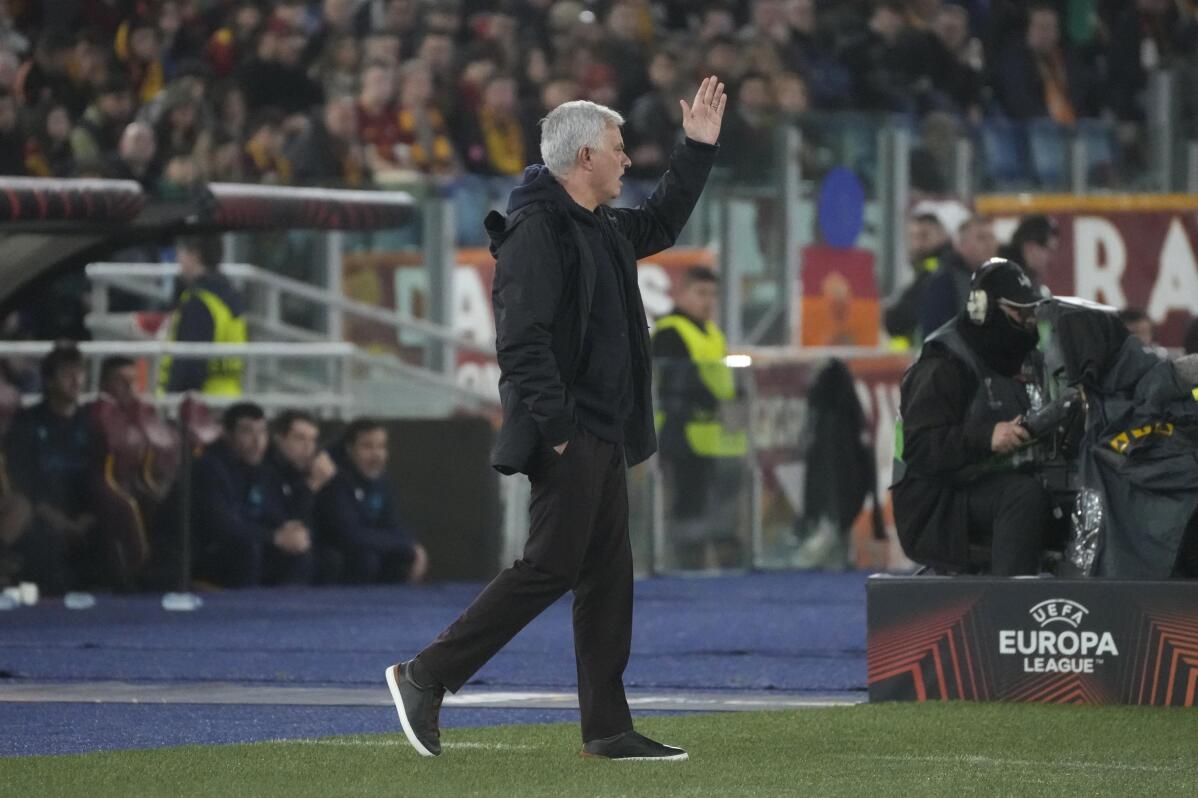 1 of 2

|
Roma's head coach Jose Mourinho gives directions to his players during the Europa League soccer match between Roma and Real Sociedad at Rome's Olympic stadium, Thursday, March 9, 2023. (AP Photo/Gregorio Borgia)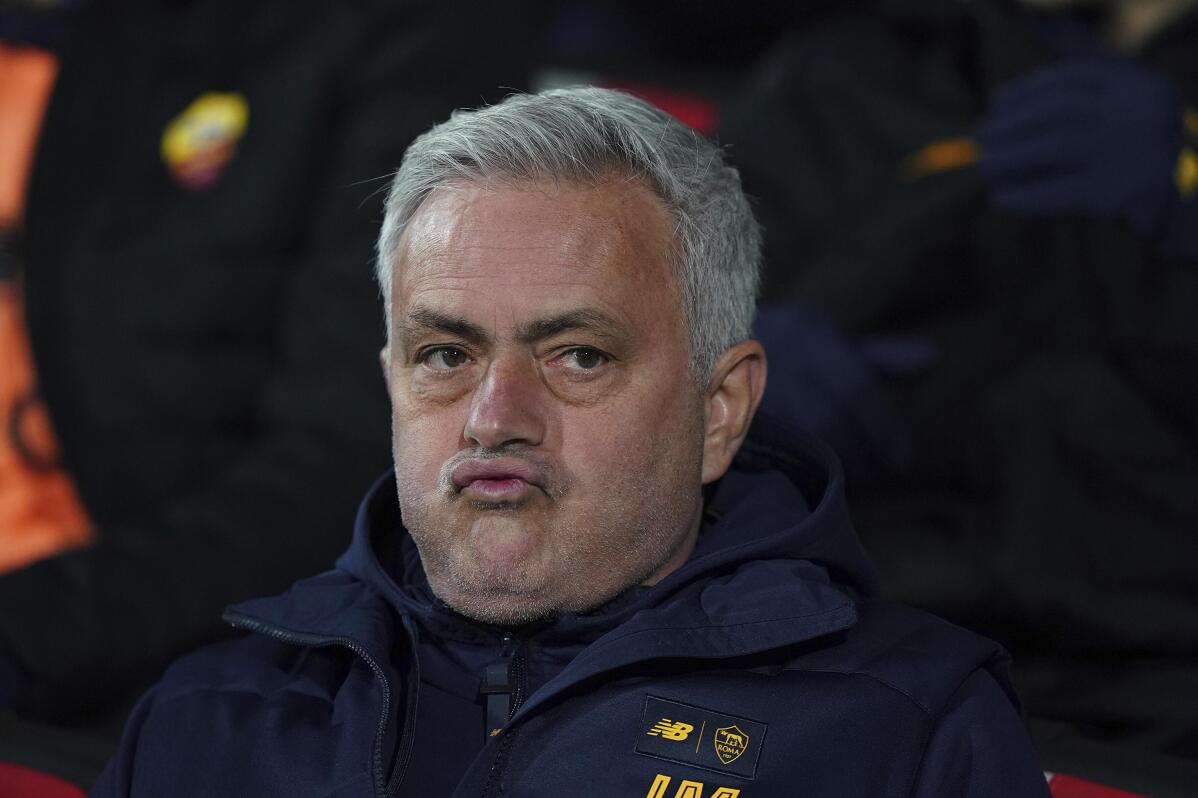 2 of 2

|
Roma coach Jose Mourinho sits on the bench during the Serie A soccer match between Cremonese and Roma at the Zini Stadium in Cremona, Italy, Tuesday, Feb. 28, 2023. (Spada/LaPresse via AP)
Mourinho to miss derby against Lazio after appeal rejected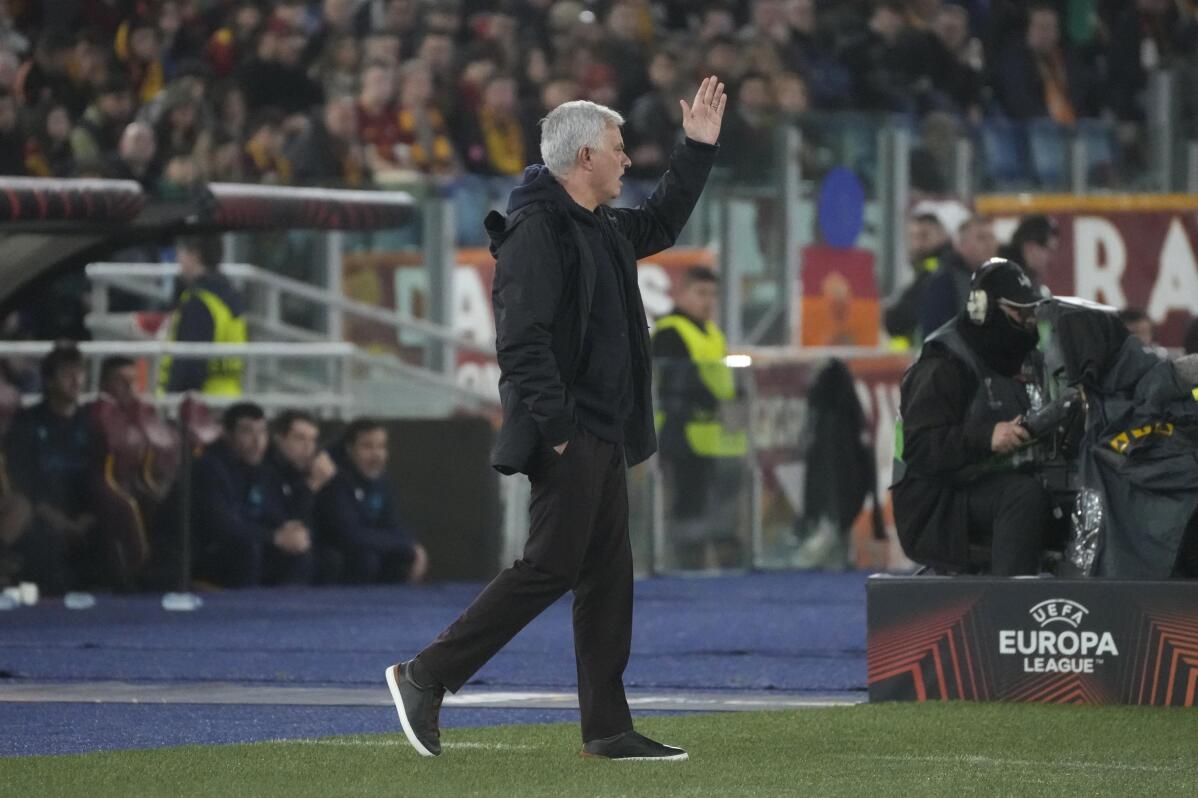 1 of 2

|
Roma's head coach Jose Mourinho gives directions to his players during the Europa League soccer match between Roma and Real Sociedad at Rome's Olympic stadium, Thursday, March 9, 2023. (AP Photo/Gregorio Borgia)
1 of 2
Roma's head coach Jose Mourinho gives directions to his players during the Europa League soccer match between Roma and Real Sociedad at Rome's Olympic stadium, Thursday, March 9, 2023. (AP Photo/Gregorio Borgia)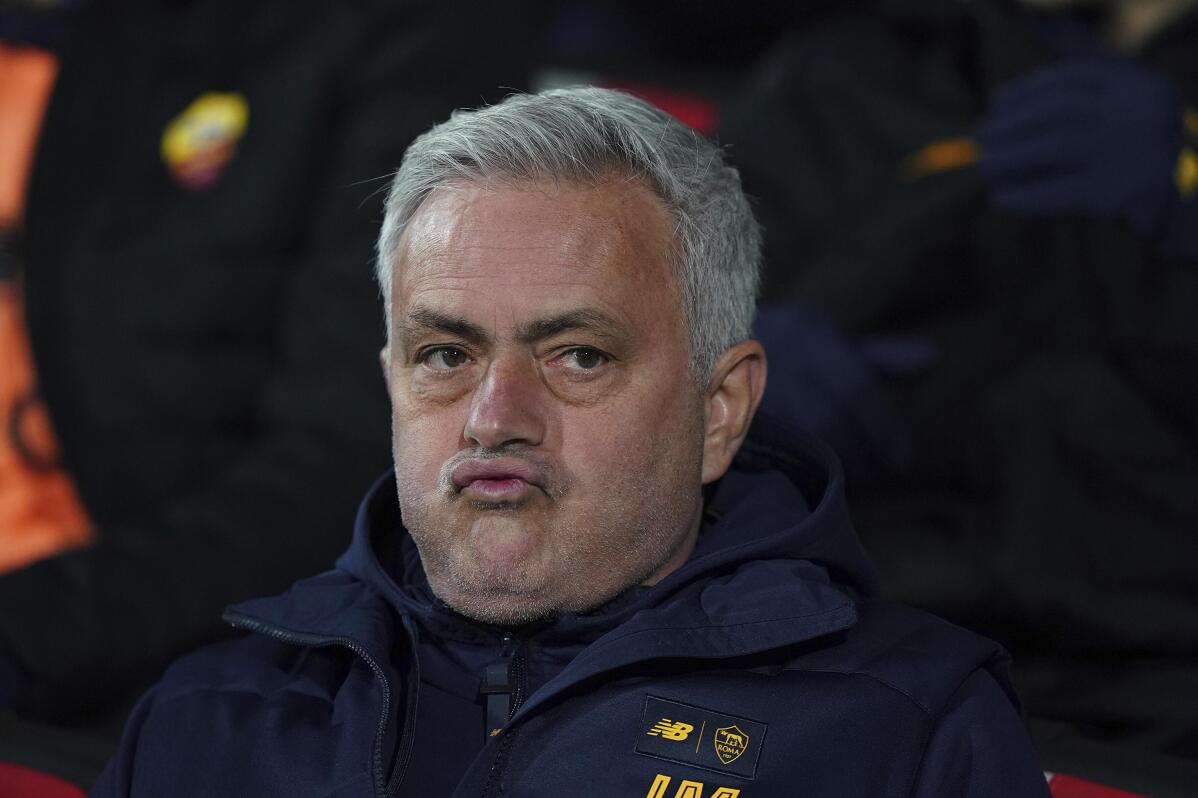 2 of 2

|
Roma coach Jose Mourinho sits on the bench during the Serie A soccer match between Cremonese and Roma at the Zini Stadium in Cremona, Italy, Tuesday, Feb. 28, 2023. (Spada/LaPresse via AP)
2 of 2
Roma coach Jose Mourinho sits on the bench during the Serie A soccer match between Cremonese and Roma at the Zini Stadium in Cremona, Italy, Tuesday, Feb. 28, 2023. (Spada/LaPresse via AP)
ROME (AP) — Roma coach José Mourinho's appeal against a two-match suspension was rejected on Friday, meaning he will be forced to watch the Serie A derby against Lazio from the stands.
Mourinho was banned after being sent off in Roma's surprise loss to Cremonese at the end of last month. An appeal court suspended its decision until after hearing from the fourth official, allowing Mourinho to be on the bench for his team's 1-0 win over Juventus last weekend.
However, the court has rejected the appeal. Mourinho will miss Sunday's home match against Sassuolo and next week's crucial match against city rival Lazio.
Roma and Lazio are in a tight battle for Champions League spots, with third-placed Lazio a point ahead of Mourinho's team.
The Portuguese coach was also fined 10,000 euros ($10,600).
Mourinho was sent off at the end of the first half of Roma's loss to Cremonese for vehement protests to the officials. He continued to argue after being red-carded, and at the end of the match went into the officials' changing room, where he insulted the fourth official.
Mourinho insisted he was insulted first by fourth official Marco Serra and that prompted his response and dismissal.
Italian media report Roma has declared a media blackout until the end of the Serie A in protest, barring its players and staff from speaking to journalists.
They will still be forced to speak around Europa League matches as that is contractually obliged by UEFA.
___ More AP soccer: https://apnews.com/hub/Soccer and https://twitter.com/AP_Sports