Theater owners group optimistic about future of moviegoing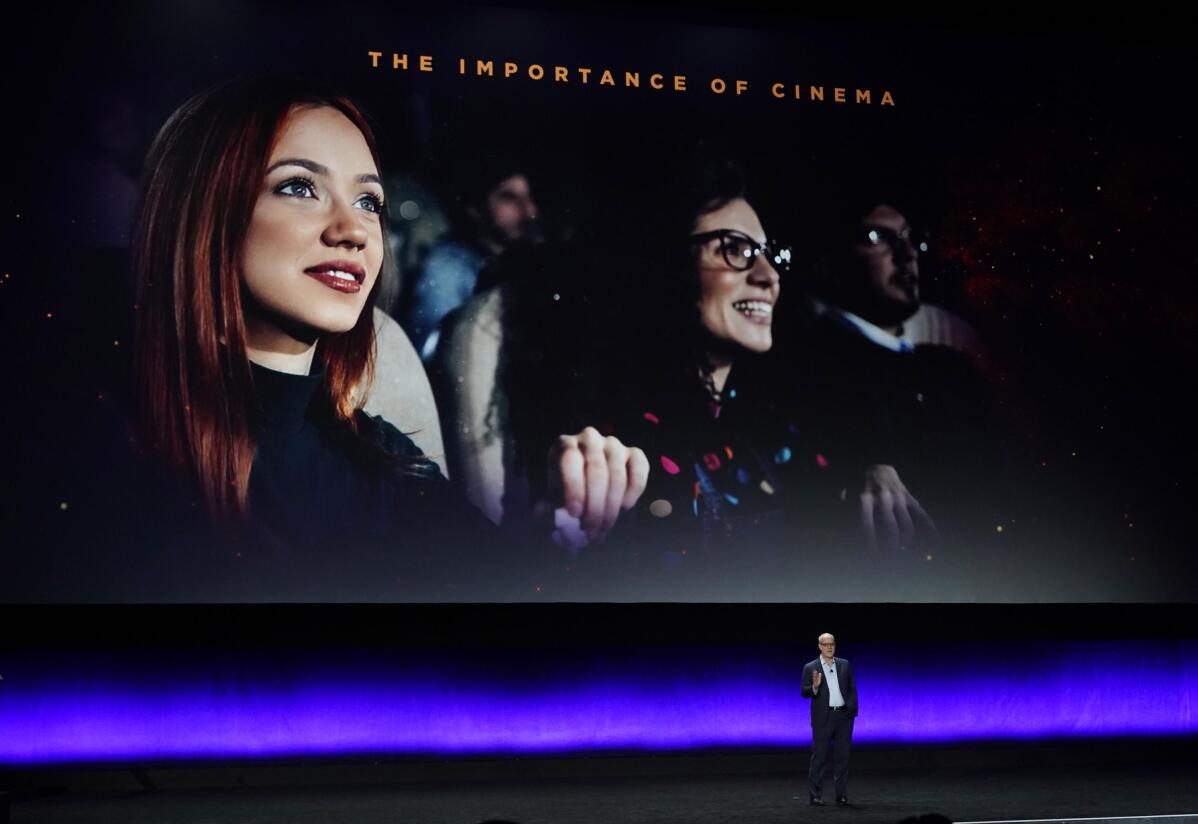 1 of 6

|
John Fithian, president and CEO of the National Association of Theatre Owners (NATO), addresses the audience during the State of the Industry presentation at CinemaCon 2023, the official convention of the National Association of Theatre Owners (NATO) at Caesars Palace, Tuesday, April 25, 2023, in Las Vegas. (AP Photo/Chris Pizzello)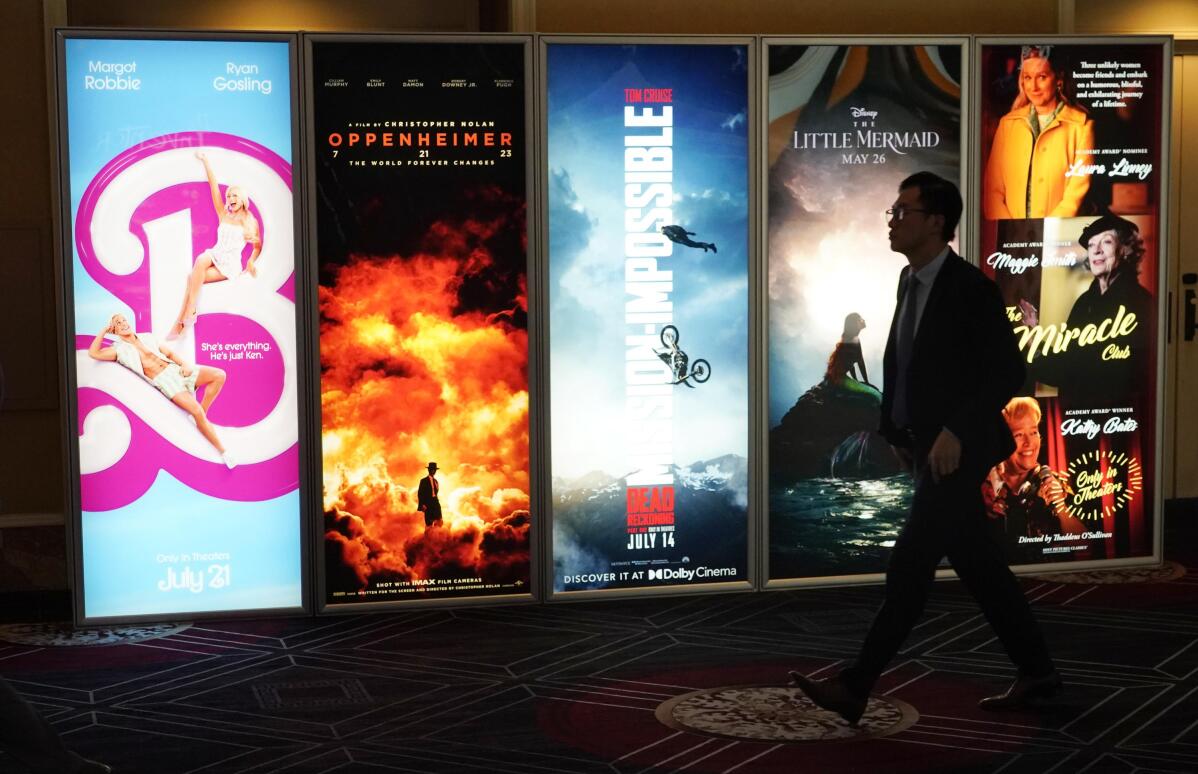 2 of 6

|
An attendee walks past advertisements for upcoming films on the opening day of CinemaCon 2023, the official convention of the National Association of Theatre Owners (NATO) at Caesars Palace, Monday, April 24, 2023, in Las Vegas. The four-day convention runs through Thursday. (AP Photo/Chris Pizzello)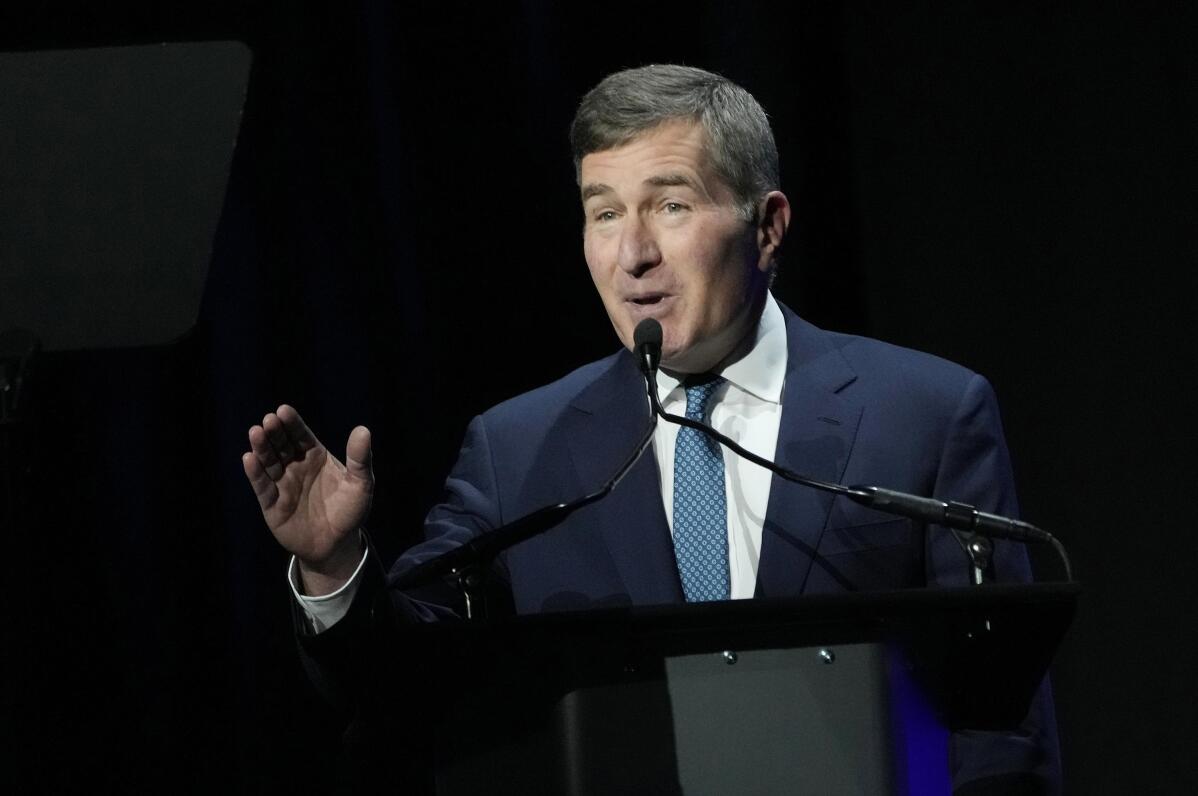 3 of 6

|
Charles Rivkin, chairman and CEO of the Motion Picture Association (MPA), addresses the audience during the State of the Industry presentation at CinemaCon 2023, the official convention of the National Association of Theatre Owners (NATO) at Caesars Palace, Tuesday, April 25, 2023, in Las Vegas. (AP Photo/Chris Pizzello)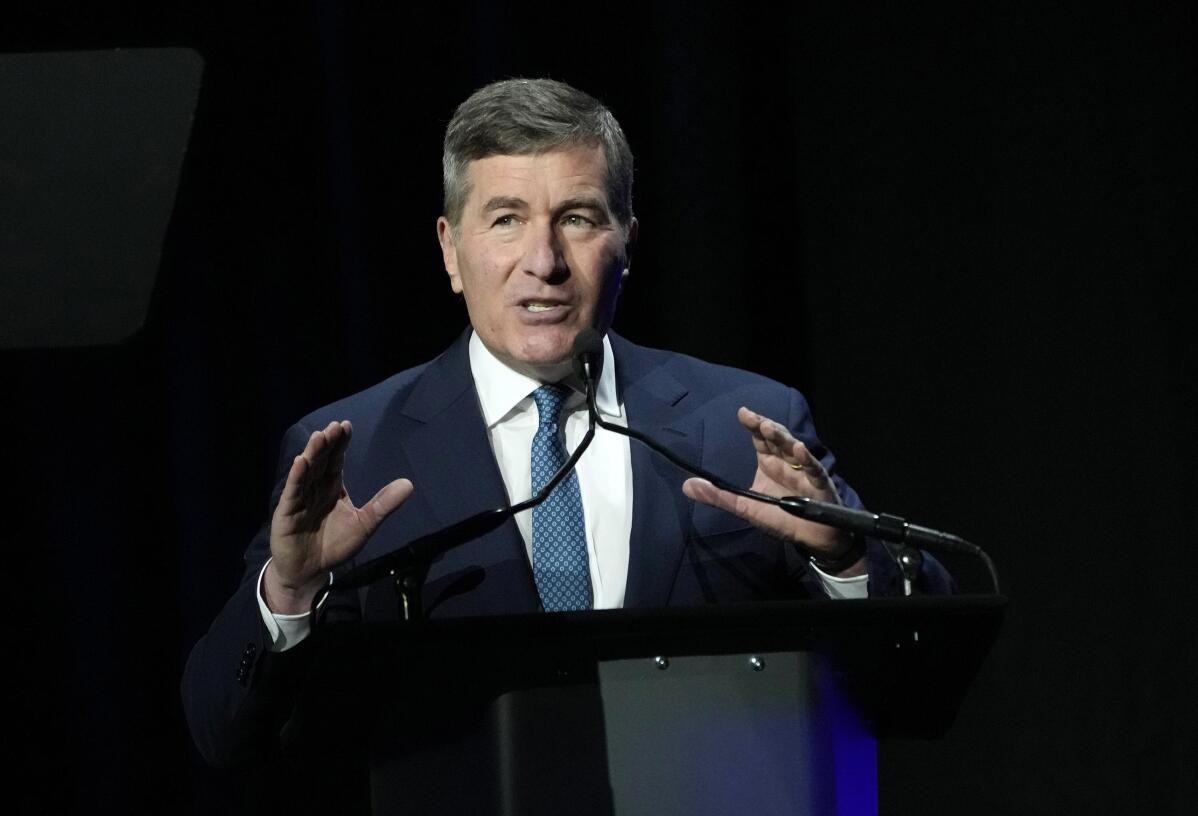 4 of 6

|
Charles Rivkin, chairman and CEO of the Motion Picture Association (MPA), addresses the audience during the State of the Industry presentation at CinemaCon 2023, the official convention of the National Association of Theatre Owners (NATO) at Caesars Palace, Tuesday, April 25, 2023, in Las Vegas. (AP Photo/Chris Pizzello)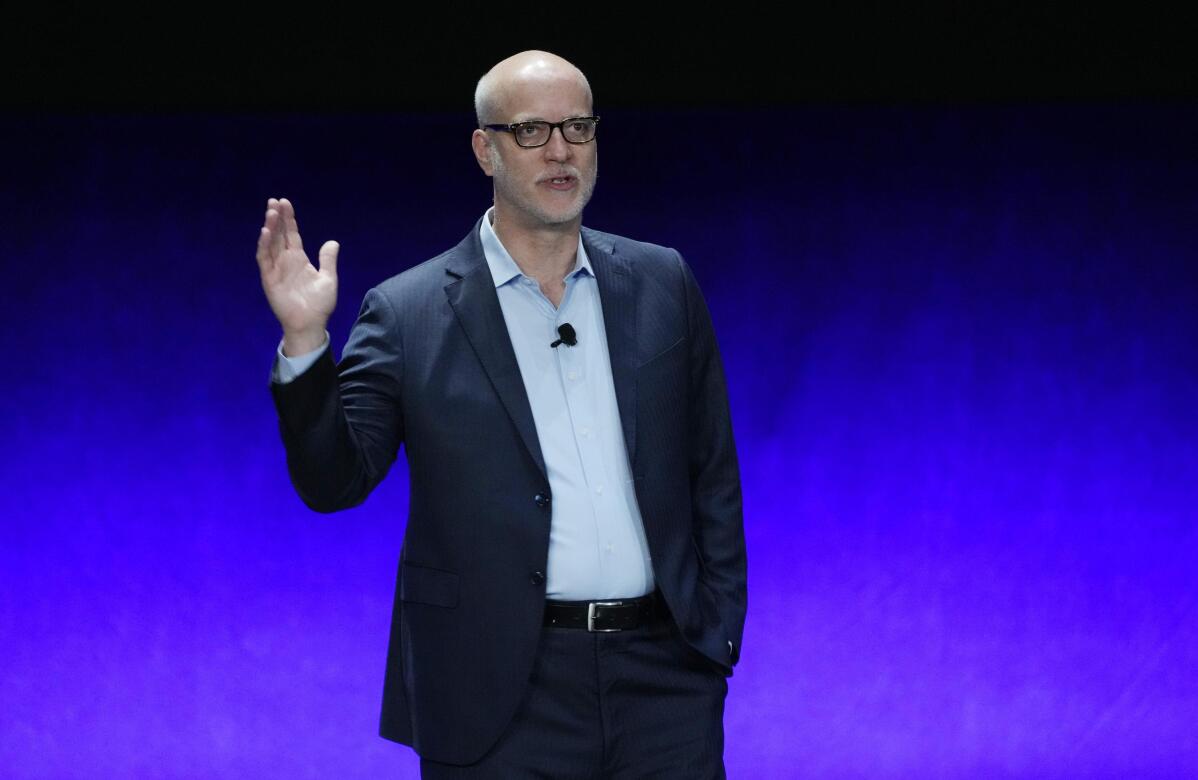 5 of 6

|
John Fithian, president and CEO of the National Association of Theatre Owners (NATO), addresses the audience during the State of the Industry presentation at CinemaCon 2023, the official convention of the National Association of Theatre Owners (NATO) at Caesars Palace, Tuesday, April 25, 2023, in Las Vegas. (AP Photo/Chris Pizzello)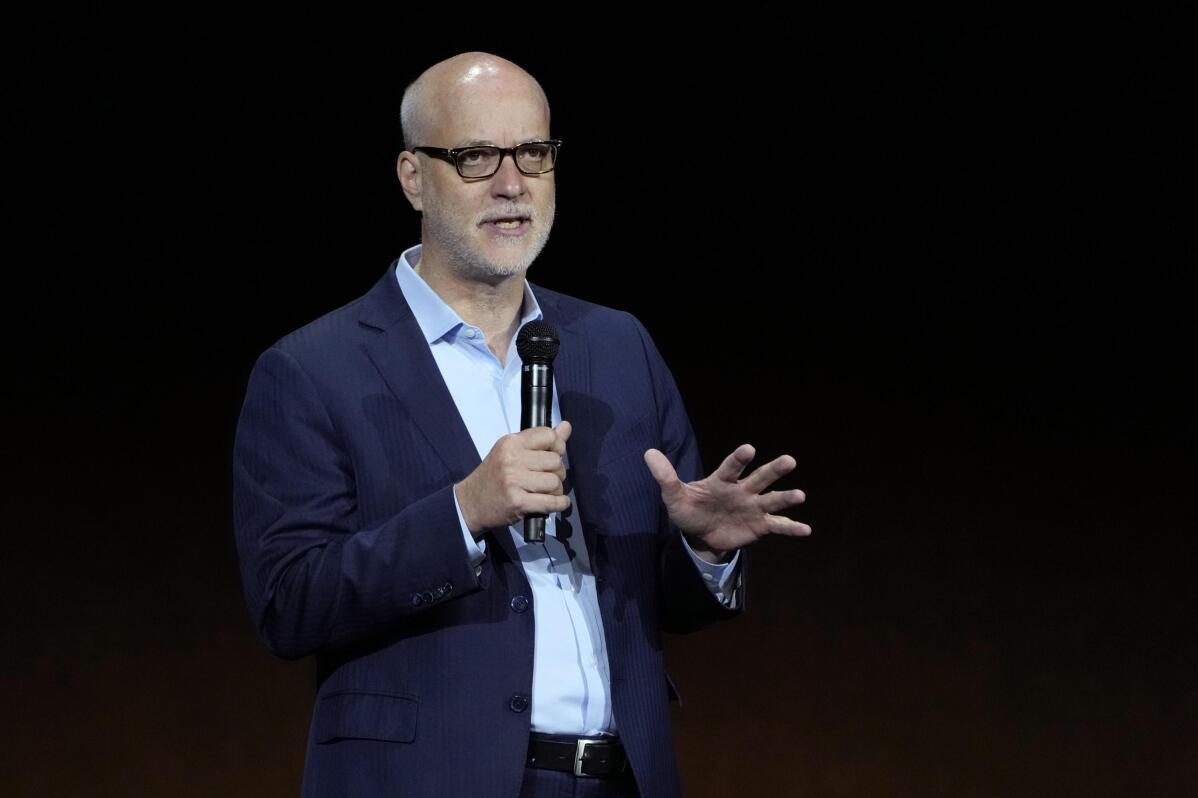 6 of 6

|
John Fithian, president and CEO of the National Association of Theatre Owners (NATO), addresses the audience during the State of the Industry presentation at CinemaCon 2023, the official convention of the National Association of Theatre Owners (NATO) at Caesars Palace, Tuesday, April 25, 2023, in Las Vegas. (AP Photo/Chris Pizzello)
Theater owners group optimistic about future of moviegoing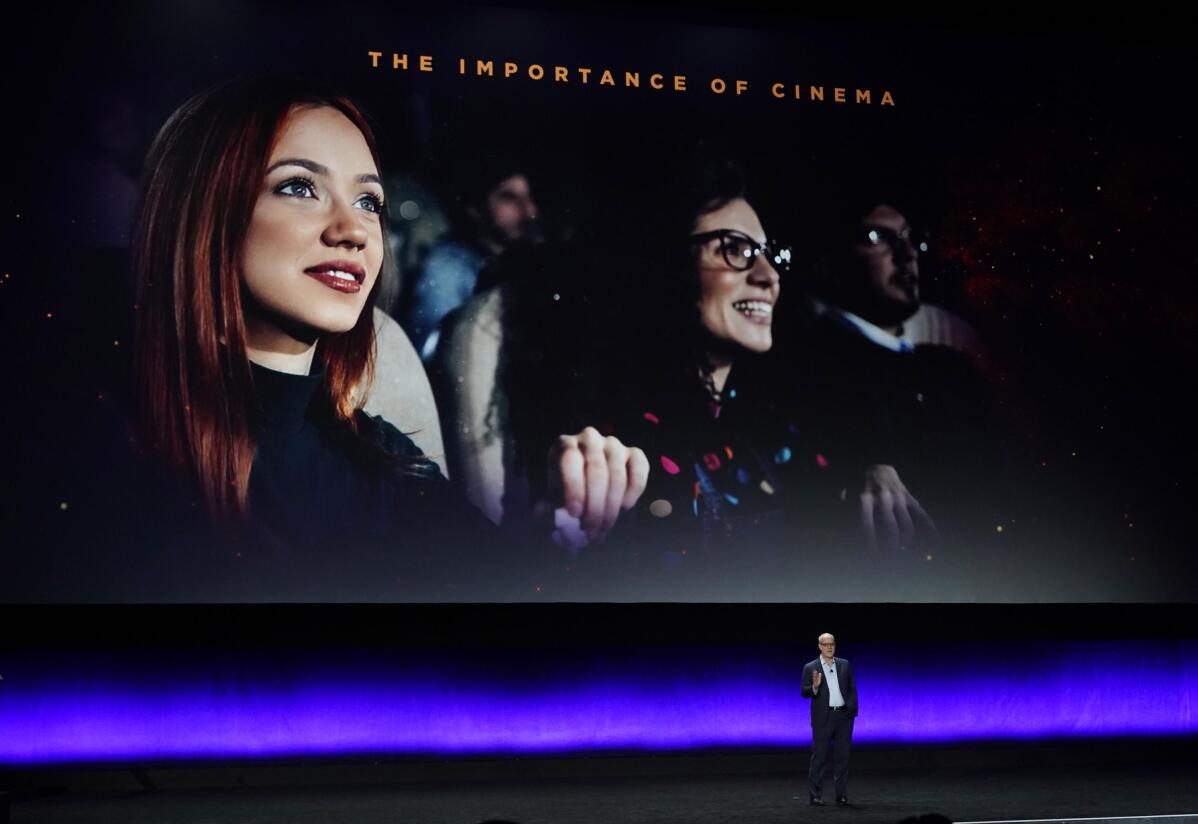 1 of 6

|
John Fithian, president and CEO of the National Association of Theatre Owners (NATO), addresses the audience during the State of the Industry presentation at CinemaCon 2023, the official convention of the National Association of Theatre Owners (NATO) at Caesars Palace, Tuesday, April 25, 2023, in Las Vegas. (AP Photo/Chris Pizzello)
1 of 6
John Fithian, president and CEO of the National Association of Theatre Owners (NATO), addresses the audience during the State of the Industry presentation at CinemaCon 2023, the official convention of the National Association of Theatre Owners (NATO) at Caesars Palace, Tuesday, April 25, 2023, in Las Vegas. (AP Photo/Chris Pizzello)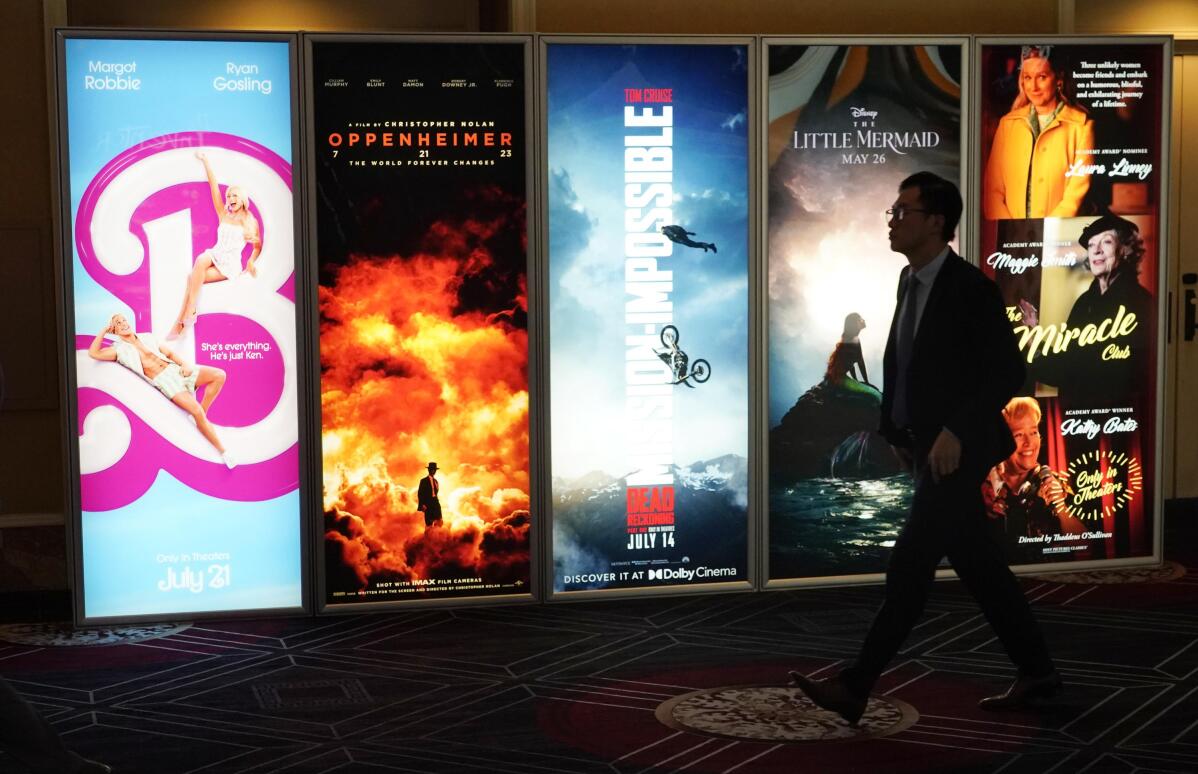 2 of 6

|
An attendee walks past advertisements for upcoming films on the opening day of CinemaCon 2023, the official convention of the National Association of Theatre Owners (NATO) at Caesars Palace, Monday, April 24, 2023, in Las Vegas. The four-day convention runs through Thursday. (AP Photo/Chris Pizzello)
2 of 6
An attendee walks past advertisements for upcoming films on the opening day of CinemaCon 2023, the official convention of the National Association of Theatre Owners (NATO) at Caesars Palace, Monday, April 24, 2023, in Las Vegas. The four-day convention runs through Thursday. (AP Photo/Chris Pizzello)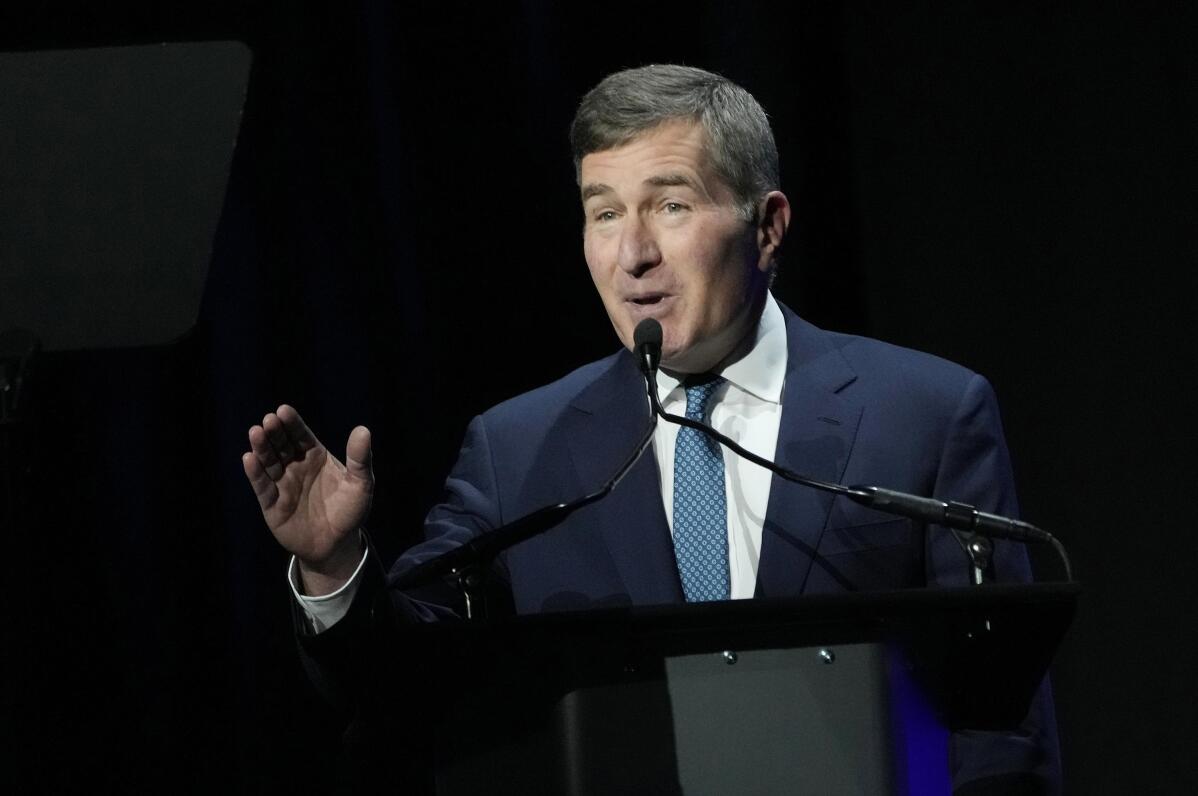 3 of 6

|
Charles Rivkin, chairman and CEO of the Motion Picture Association (MPA), addresses the audience during the State of the Industry presentation at CinemaCon 2023, the official convention of the National Association of Theatre Owners (NATO) at Caesars Palace, Tuesday, April 25, 2023, in Las Vegas. (AP Photo/Chris Pizzello)
3 of 6
Charles Rivkin, chairman and CEO of the Motion Picture Association (MPA), addresses the audience during the State of the Industry presentation at CinemaCon 2023, the official convention of the National Association of Theatre Owners (NATO) at Caesars Palace, Tuesday, April 25, 2023, in Las Vegas. (AP Photo/Chris Pizzello)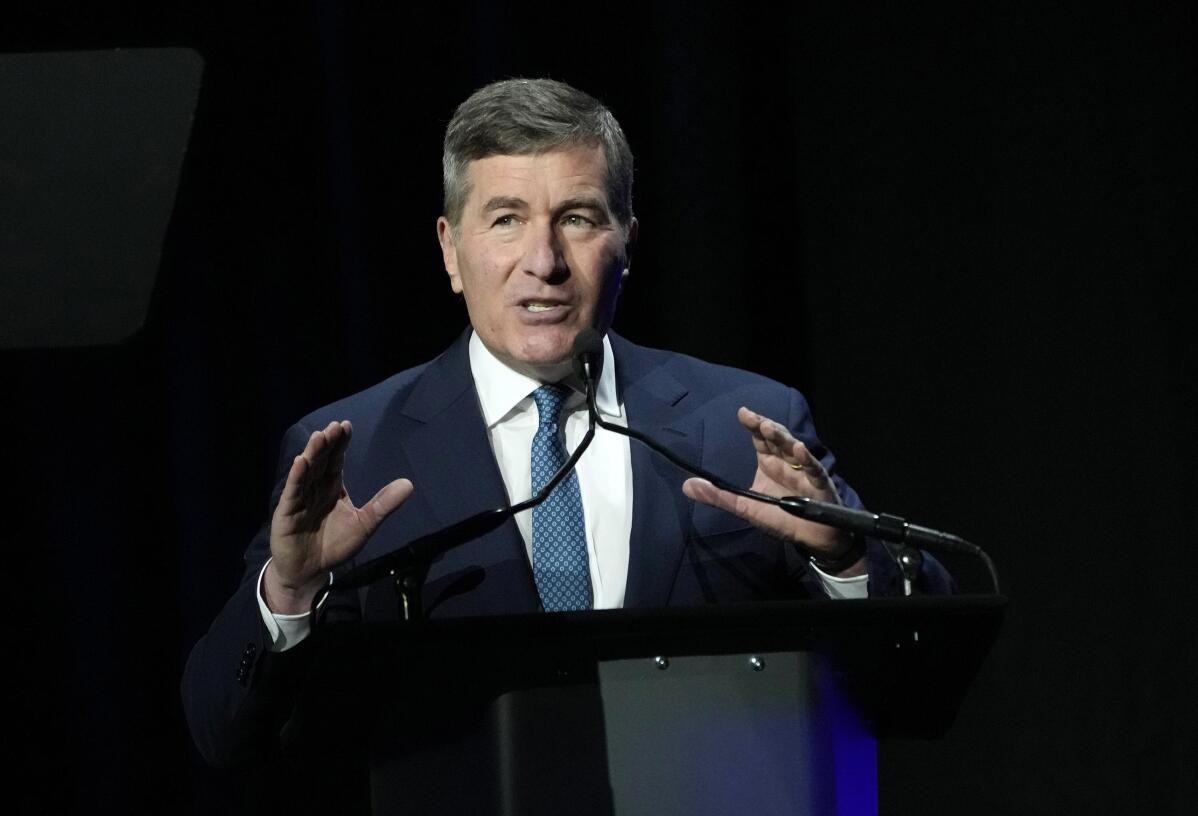 4 of 6

|
Charles Rivkin, chairman and CEO of the Motion Picture Association (MPA), addresses the audience during the State of the Industry presentation at CinemaCon 2023, the official convention of the National Association of Theatre Owners (NATO) at Caesars Palace, Tuesday, April 25, 2023, in Las Vegas. (AP Photo/Chris Pizzello)
4 of 6
Charles Rivkin, chairman and CEO of the Motion Picture Association (MPA), addresses the audience during the State of the Industry presentation at CinemaCon 2023, the official convention of the National Association of Theatre Owners (NATO) at Caesars Palace, Tuesday, April 25, 2023, in Las Vegas. (AP Photo/Chris Pizzello)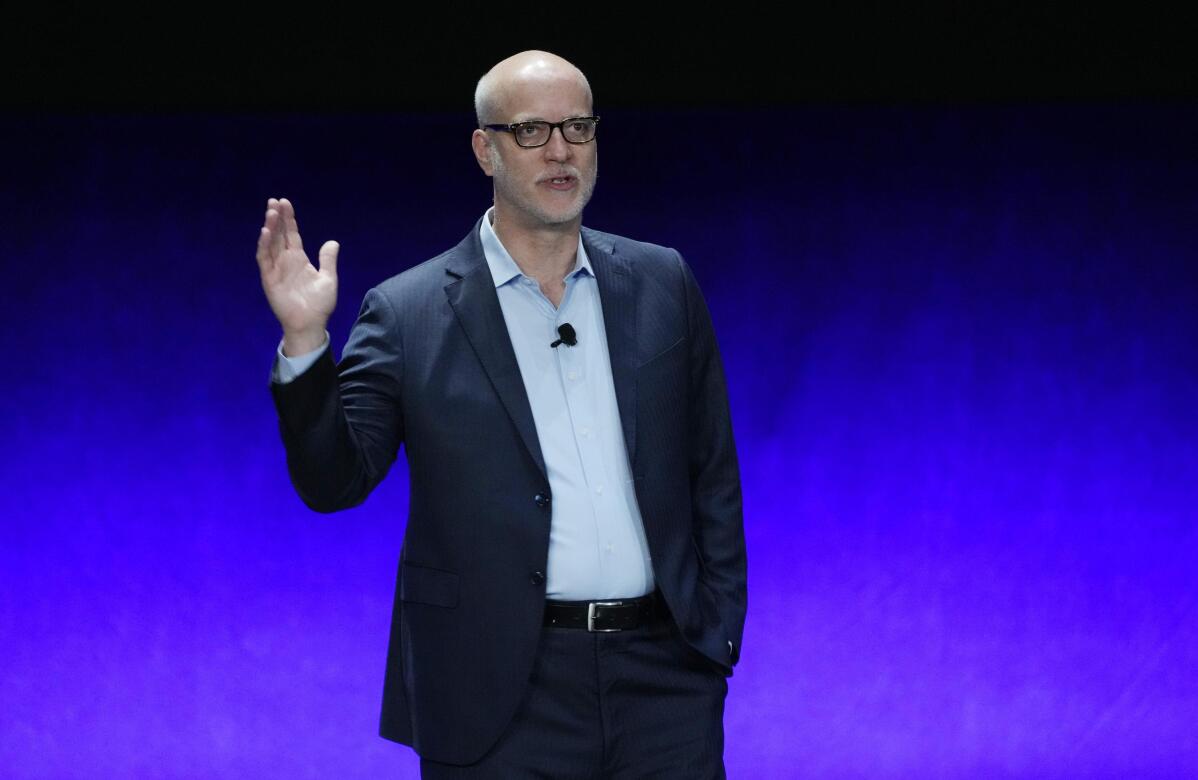 5 of 6

|
John Fithian, president and CEO of the National Association of Theatre Owners (NATO), addresses the audience during the State of the Industry presentation at CinemaCon 2023, the official convention of the National Association of Theatre Owners (NATO) at Caesars Palace, Tuesday, April 25, 2023, in Las Vegas. (AP Photo/Chris Pizzello)
5 of 6
John Fithian, president and CEO of the National Association of Theatre Owners (NATO), addresses the audience during the State of the Industry presentation at CinemaCon 2023, the official convention of the National Association of Theatre Owners (NATO) at Caesars Palace, Tuesday, April 25, 2023, in Las Vegas. (AP Photo/Chris Pizzello)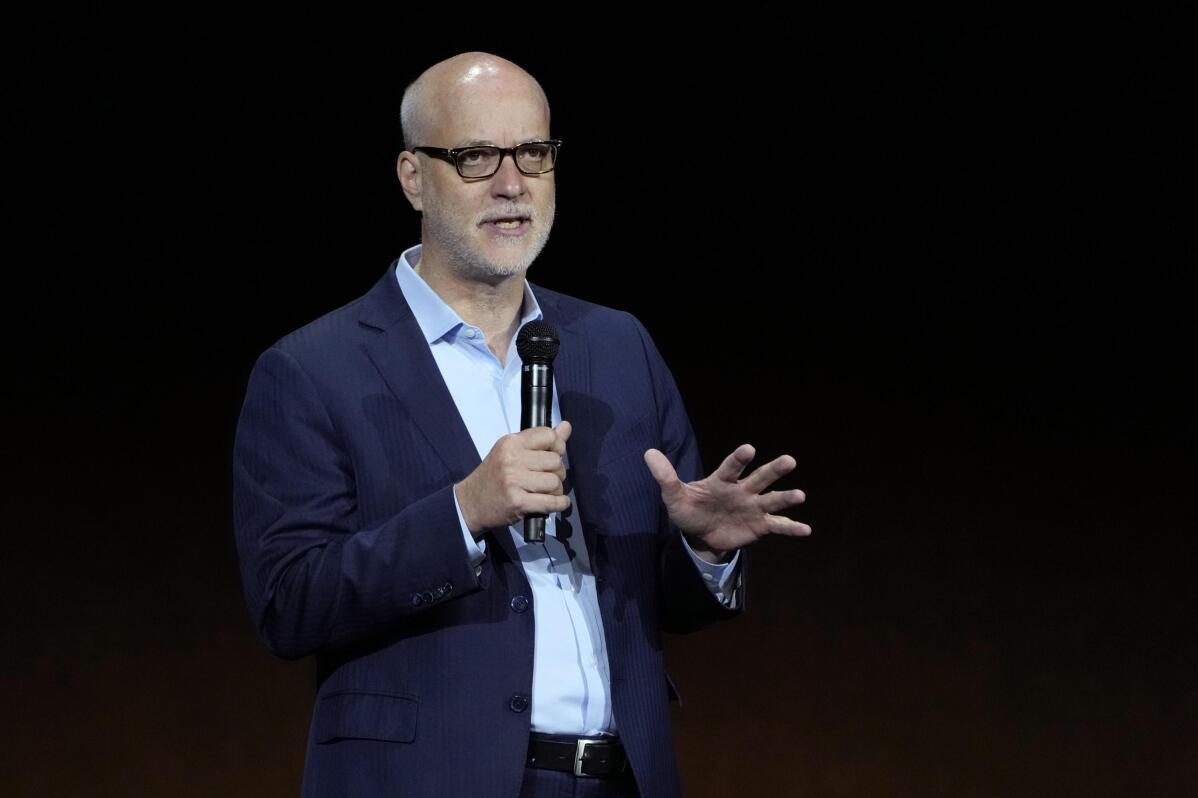 6 of 6

|
John Fithian, president and CEO of the National Association of Theatre Owners (NATO), addresses the audience during the State of the Industry presentation at CinemaCon 2023, the official convention of the National Association of Theatre Owners (NATO) at Caesars Palace, Tuesday, April 25, 2023, in Las Vegas. (AP Photo/Chris Pizzello)
6 of 6
John Fithian, president and CEO of the National Association of Theatre Owners (NATO), addresses the audience during the State of the Industry presentation at CinemaCon 2023, the official convention of the National Association of Theatre Owners (NATO) at Caesars Palace, Tuesday, April 25, 2023, in Las Vegas. (AP Photo/Chris Pizzello)
LAS VEGAS (AP) — For the movie theater industry, the math behind recovery is simple: More movies in theaters equals more money for theaters and Hollywood.
John Fithian, the outgoing CEO of the National Association of Theater Owners, assured exhibitors Tuesday at the CinemaCon trade convention that the industry is " off to an incredible start in 2023."
In 2022, the domestic box office rebounded to $7.4 million, aided by the enormous successes of films like "Top: Gun Maverick" and "Avatar: The Way of Water." According to a report from The Cinema Foundation, the biggest difference between the pre-pandemic landscape of 2019 and 2022 was the number of wide releases. In 2019 there were 112 wide releases. In 2022, there were 71 movies that opened on over 2,000 screens. Eight of them grossed over $300 million domestically and 18 surpassed $100 million, the foundation found.
"This year, we will have more than 100. And new titles are being added at a steady place," Fithian said. "The major studios are all aggressively claiming release dates for major titles in 2024 and beyond."
One of the big themes of the convention, which runs through the week, is the renewed focus on theaters as the most profitable way to release a film, as opposed to on a streaming service. Monday night, Sony touted its partnership with Apple to release Ridley Scott's historical epic "Napoleon" in theaters in November. Later in the week, Paramount will talk about how it will release another Apple TV+-made film, Martin Scorsese's "Killers of the Flower Moon" in theaters in October.
"It is now more irrefutable than ever that theatrical is the keystone of the movie industry," Fithian said. "Releasing major films with massive budgets directly to streaming platforms is not a sustainable business model. The return on investment is non-existent."
The Cinema Foundation found in a poll that nine out of ten people are 50% more likely to watch a movie on a streaming service when it was released theatrically first.
A recent test case of that is Ben Affleck's "Air," sold as a streaming product to Amazon but which Amazon decided to give a theatrical release where in several weeks it has grossed over $68.4 million worldwide.
Motion Picture Association Chairman and CEO Charles Rivkin spoke about what his group is doing to "ensure that more movies are being made in more markets."
"It starts by engaging and partnering with elected officials, regulators, and local industry around the world to help create the right conditions for global production," Rivkin said. "What are those conditions? Policies that encourage Investment and a strong rule of law. Robust copyright laws that protect creators. Tax laws that give producers the motive, and the means, to invest in creating jobs. And the commercial freedom that enables distributors like many of you here today to bring unique and exciting movies to your audiences."
Rivkin also said the Middle East holds great potential for the industry.
"Just look at Saudi Arabia. Since 2018, the country has become one of the region's top movie markets, and they now cite production incentives, which we are helping to shape, as a core element of their Vision 2030 economic plan," he said. "Similarly, the King of Jordan last year shared with me his ambitious plans to attract more international investment in new sound stages to make movies in iconic locations like Petra and Wadi Rum."
There were somber tributes to several distribution executives who died unexpectedly recently, including MGM Domestic Distribution Chief Erik Lomis, who died in March at age 64 and Dave Hollis, the former Disney distribution chief who died in February at 47.
And Fithian and Rivkin also wished well to Michael O'Leary the incumbent president and CEO of the theater owners' association.
"I have known Michael for many years, and he is a born leader with extensive experience in government relations and knowledge of the movie industry too," Fithian said.