Osimhen back for Napoli, Giroud cleared to play for AC Milan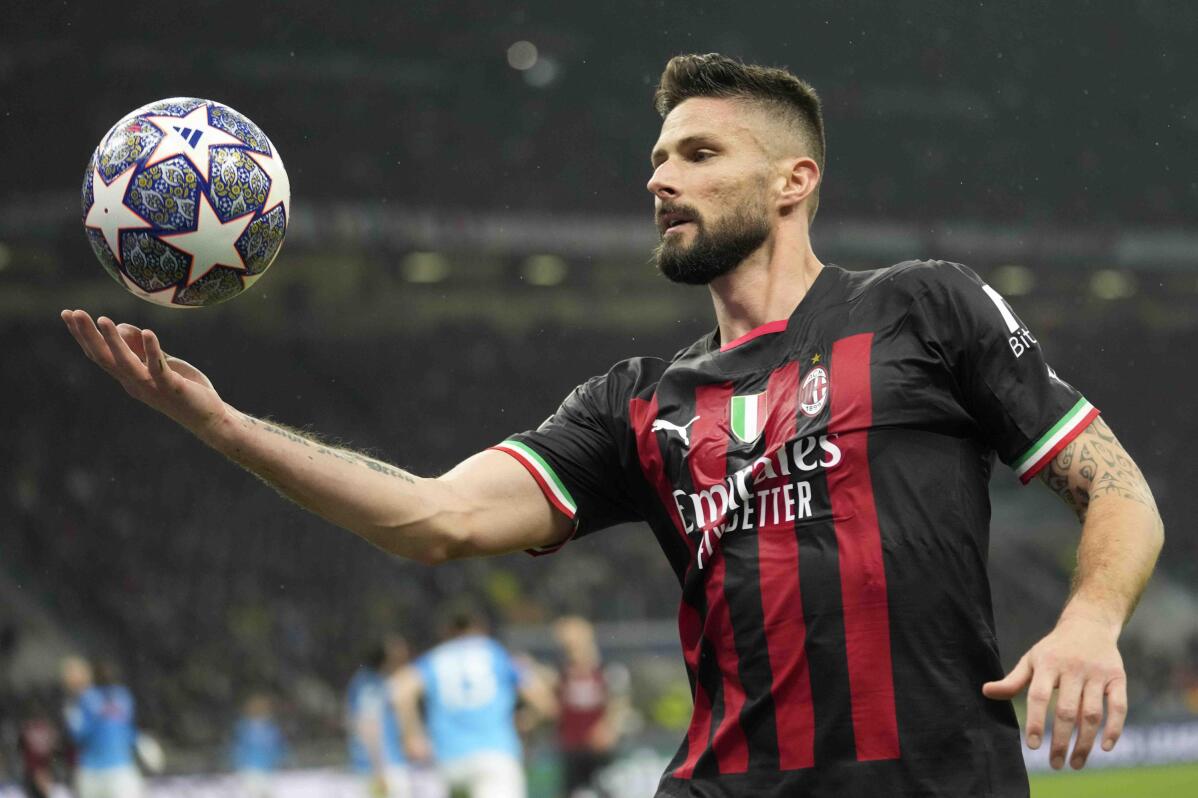 1 of 6

|
AC Milan's Olivier Giroud holds the ball during the Champions League quarterfinal, first leg, soccer match between AC Milan and Napoli, at the San Siro stadium in Milan , Italy, Wednesday, April 12, 2023. (AP Photo/Luca Bruno)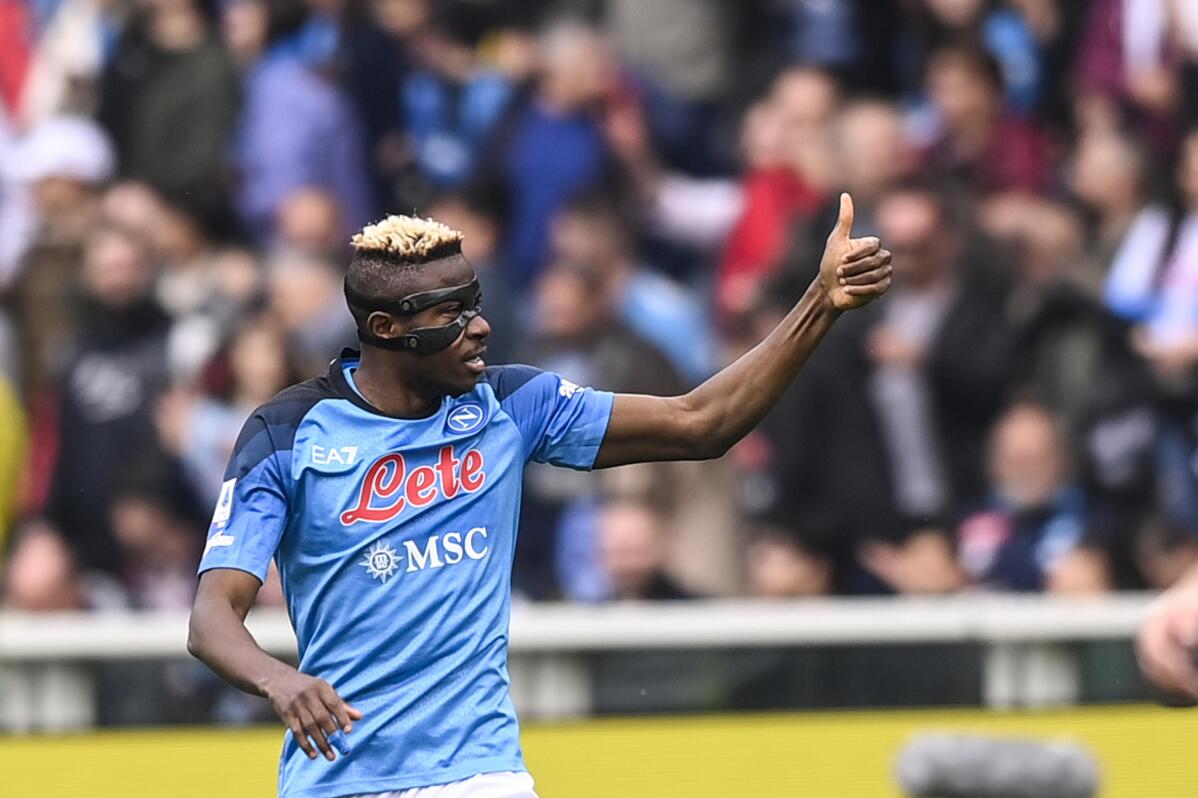 2 of 6

|
Napoli's Victor Osimhen celebrates after scoring during the Serie A soccer match between Torino and Napoli at the Turin Olympic stadium, Italy, Sunday, March 19, 2023. (Fabio Ferrari/LaPresse via AP)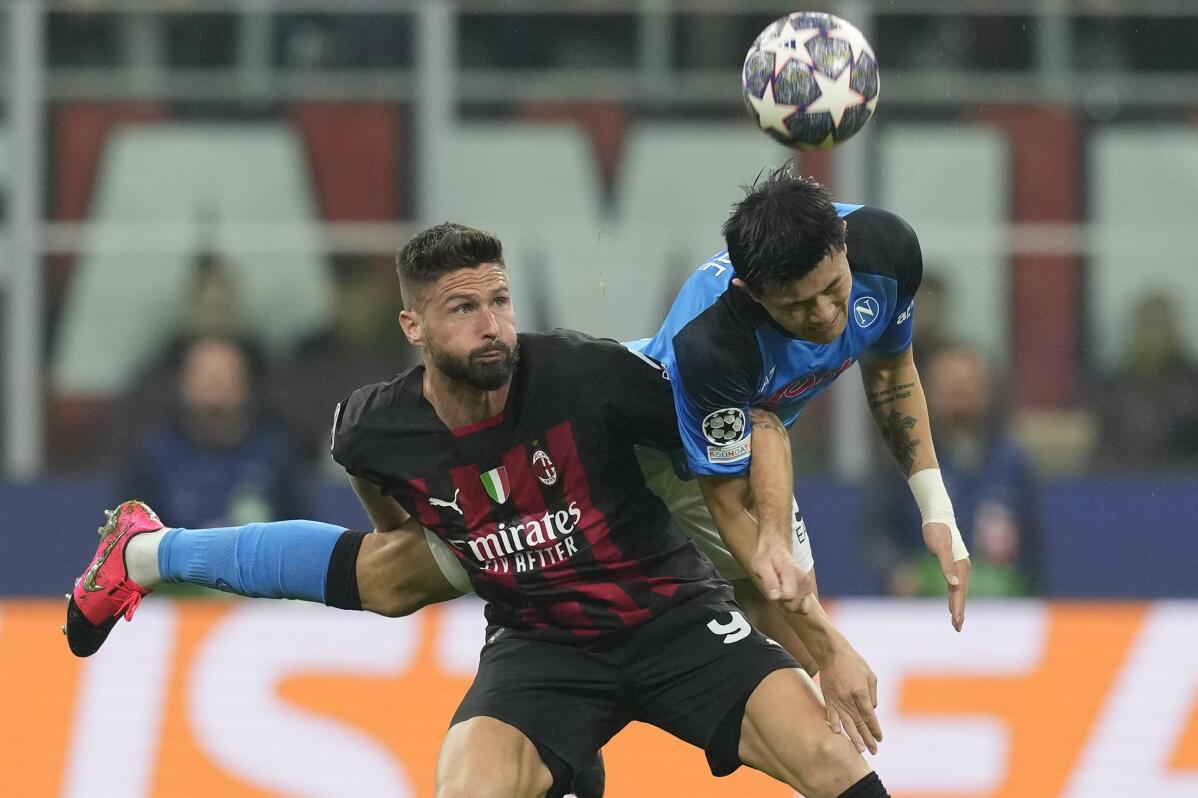 3 of 6

|
AC Milan's Olivier Giroud, left, is challenged by Napoli's Kim Min-jae during the Champions League quarterfinal, first leg, soccer match between AC Milan and Napoli, at the San Siro stadium in Milan , Italy, Wednesday, April 12, 2023. (AP Photo/Antonio Calanni)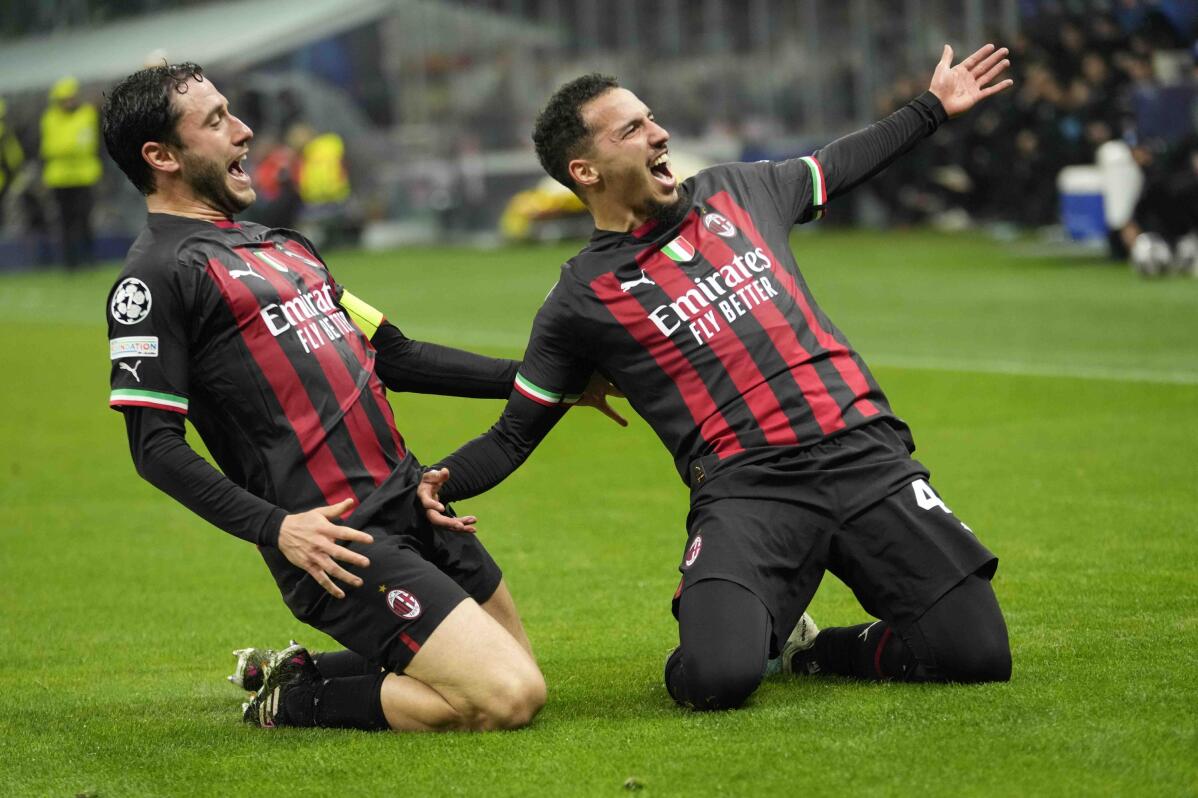 4 of 6

|
AC Milan's Ismael Bennacer, right, celebrates with AC Milan's Davide Calabria after scoring his side's opening goal during the Champions League quarterfinal, first leg, soccer match between AC Milan and Napoli, at the San Siro stadium in Milan , Italy, Wednesday, April 12, 2023. (AP Photo/Luca Bruno)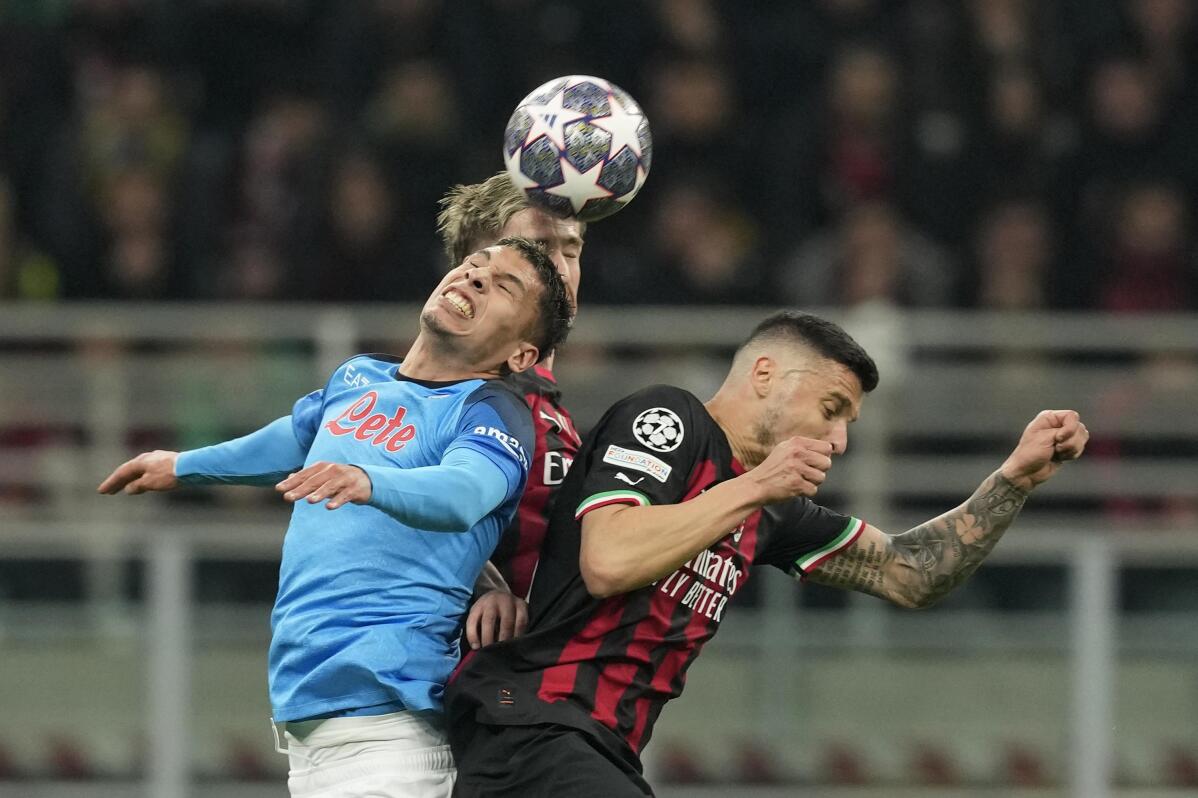 5 of 6

|
Napoli's Mathias Olivera, left, fights for the ball with AC Milan's Alexis Saelemaekers, and AC Milan's Rade Krunic, right, during the Champions League quarterfinal, first leg, soccer match between AC Milan and Napoli, at the San Siro stadium in Milan , Italy, Wednesday, April 12, 2023. (AP Photo/Antonio Calanni)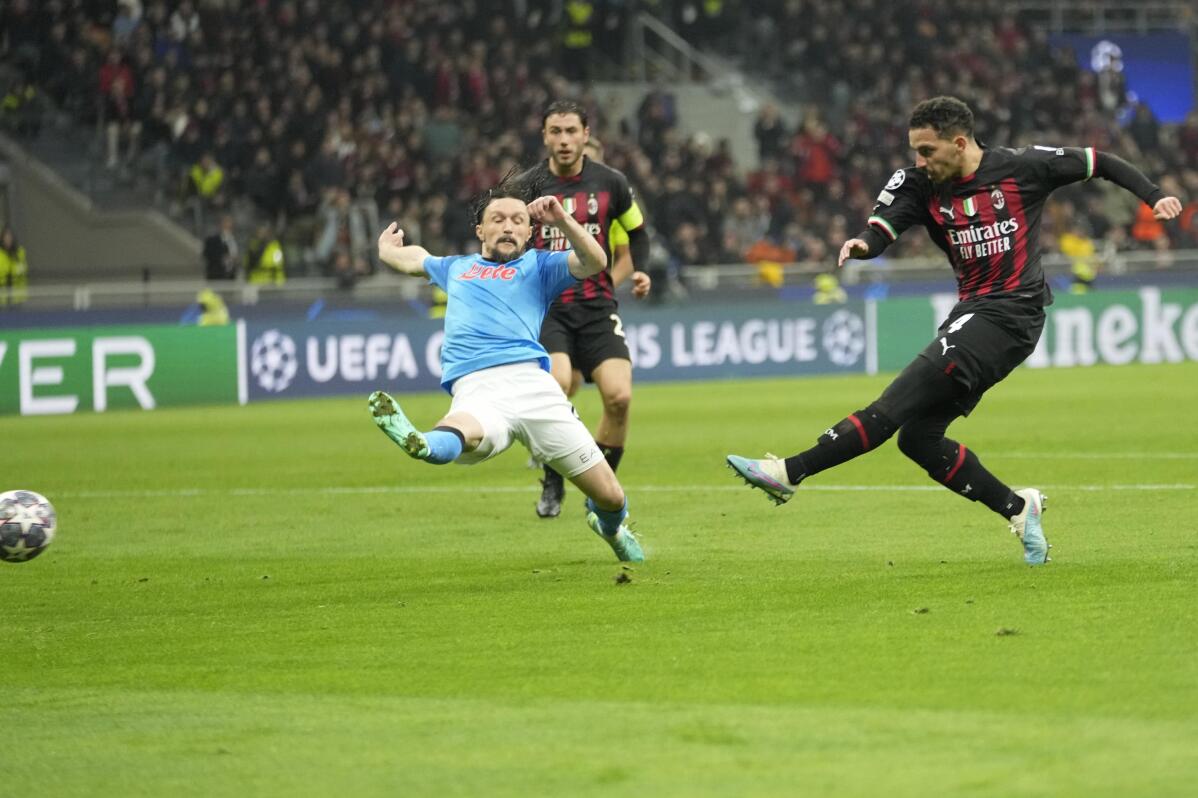 6 of 6

|
AC Milan's Ismael Bennacer scores his side's opening goal during the Champions League quarterfinal, first leg, soccer match between AC Milan and Napoli, at the San Siro stadium in Milan , Italy, Wednesday, April 12, 2023. (AP Photo/Luca Bruno)
Osimhen back for Napoli, Giroud cleared to play for AC Milan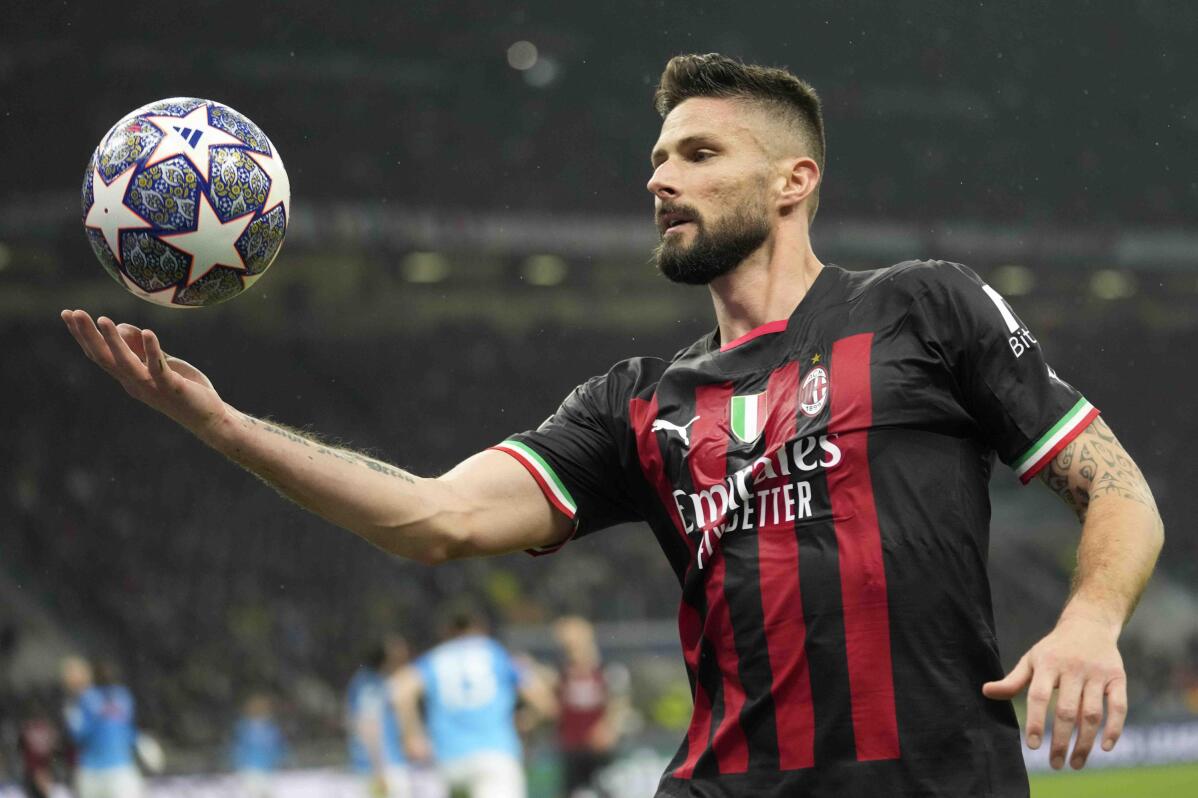 1 of 6

|
AC Milan's Olivier Giroud holds the ball during the Champions League quarterfinal, first leg, soccer match between AC Milan and Napoli, at the San Siro stadium in Milan , Italy, Wednesday, April 12, 2023. (AP Photo/Luca Bruno)
1 of 6
AC Milan's Olivier Giroud holds the ball during the Champions League quarterfinal, first leg, soccer match between AC Milan and Napoli, at the San Siro stadium in Milan , Italy, Wednesday, April 12, 2023. (AP Photo/Luca Bruno)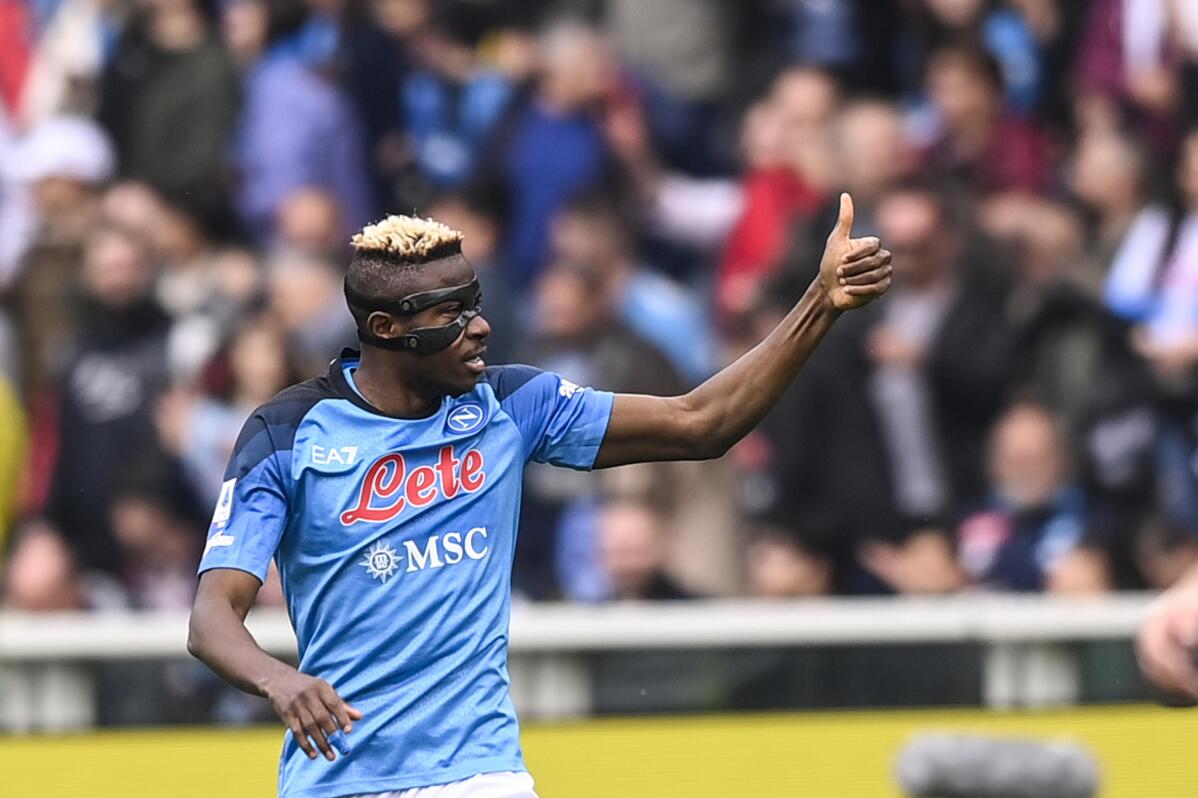 2 of 6

|
Napoli's Victor Osimhen celebrates after scoring during the Serie A soccer match between Torino and Napoli at the Turin Olympic stadium, Italy, Sunday, March 19, 2023. (Fabio Ferrari/LaPresse via AP)
2 of 6
Napoli's Victor Osimhen celebrates after scoring during the Serie A soccer match between Torino and Napoli at the Turin Olympic stadium, Italy, Sunday, March 19, 2023. (Fabio Ferrari/LaPresse via AP)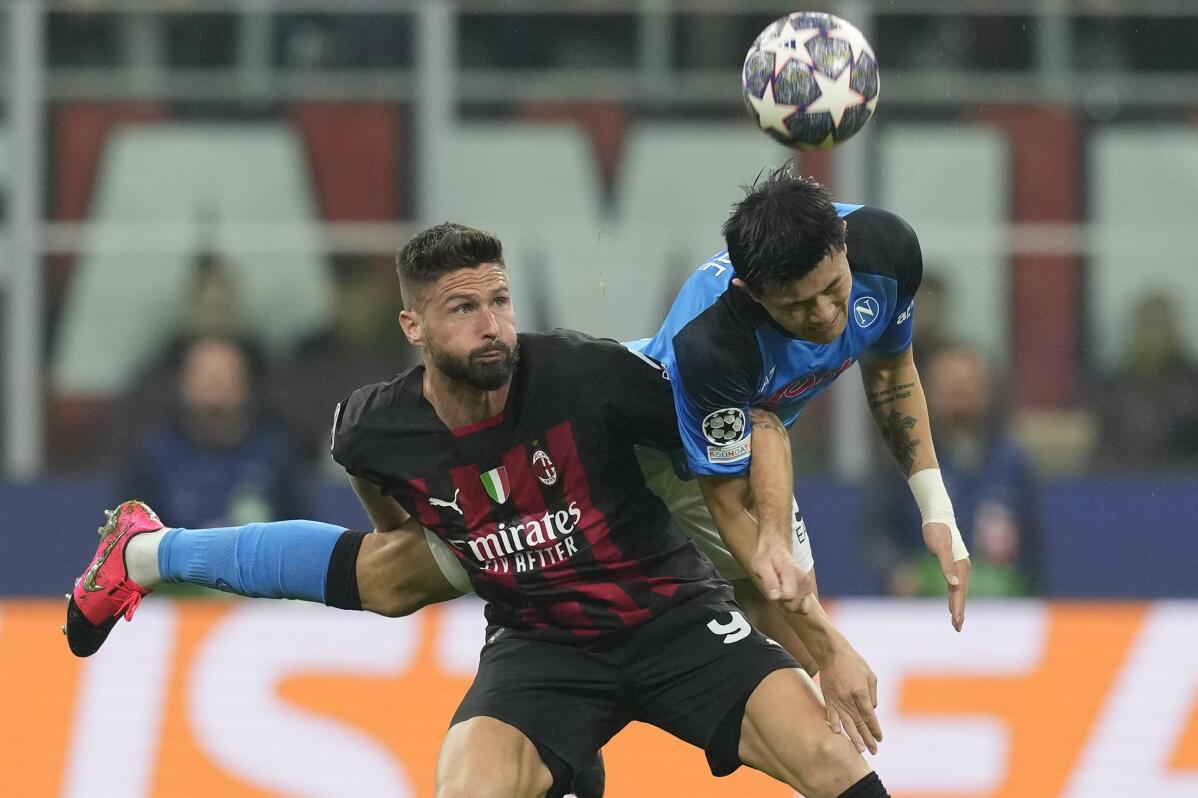 3 of 6

|
AC Milan's Olivier Giroud, left, is challenged by Napoli's Kim Min-jae during the Champions League quarterfinal, first leg, soccer match between AC Milan and Napoli, at the San Siro stadium in Milan , Italy, Wednesday, April 12, 2023. (AP Photo/Antonio Calanni)
3 of 6
AC Milan's Olivier Giroud, left, is challenged by Napoli's Kim Min-jae during the Champions League quarterfinal, first leg, soccer match between AC Milan and Napoli, at the San Siro stadium in Milan , Italy, Wednesday, April 12, 2023. (AP Photo/Antonio Calanni)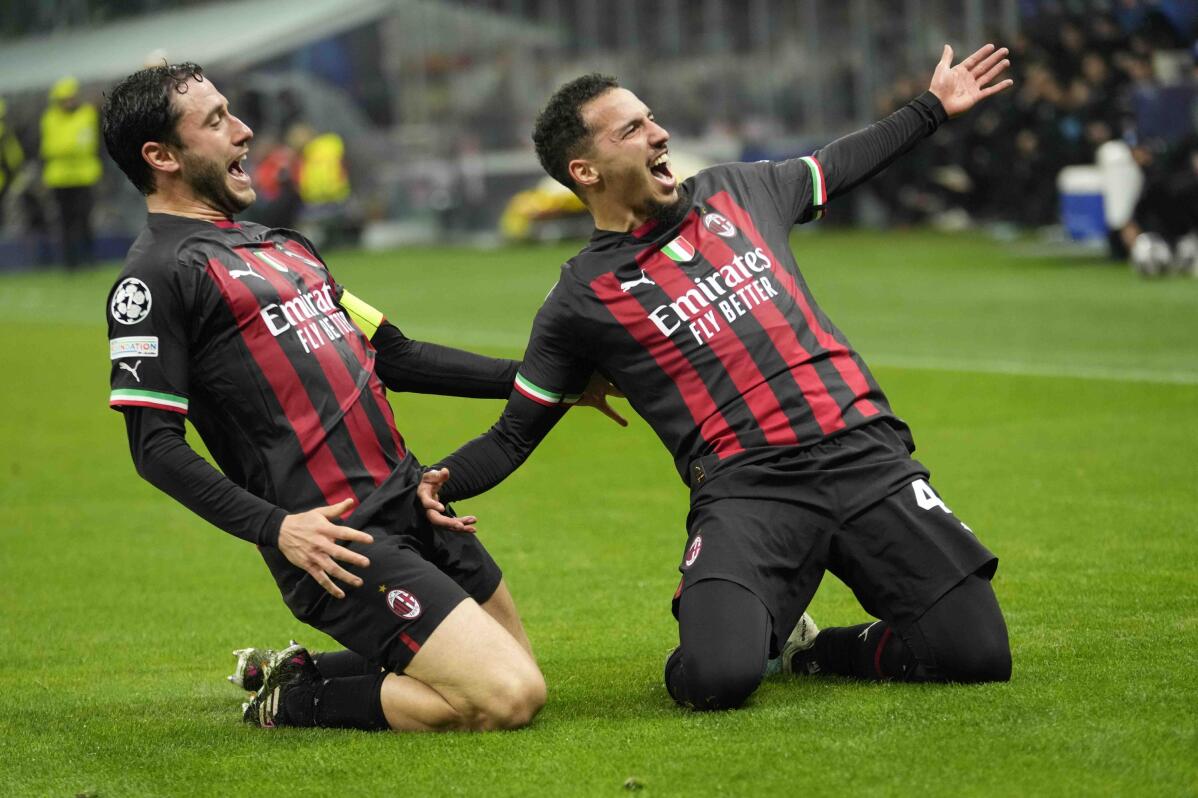 4 of 6

|
AC Milan's Ismael Bennacer, right, celebrates with AC Milan's Davide Calabria after scoring his side's opening goal during the Champions League quarterfinal, first leg, soccer match between AC Milan and Napoli, at the San Siro stadium in Milan , Italy, Wednesday, April 12, 2023. (AP Photo/Luca Bruno)
4 of 6
AC Milan's Ismael Bennacer, right, celebrates with AC Milan's Davide Calabria after scoring his side's opening goal during the Champions League quarterfinal, first leg, soccer match between AC Milan and Napoli, at the San Siro stadium in Milan , Italy, Wednesday, April 12, 2023. (AP Photo/Luca Bruno)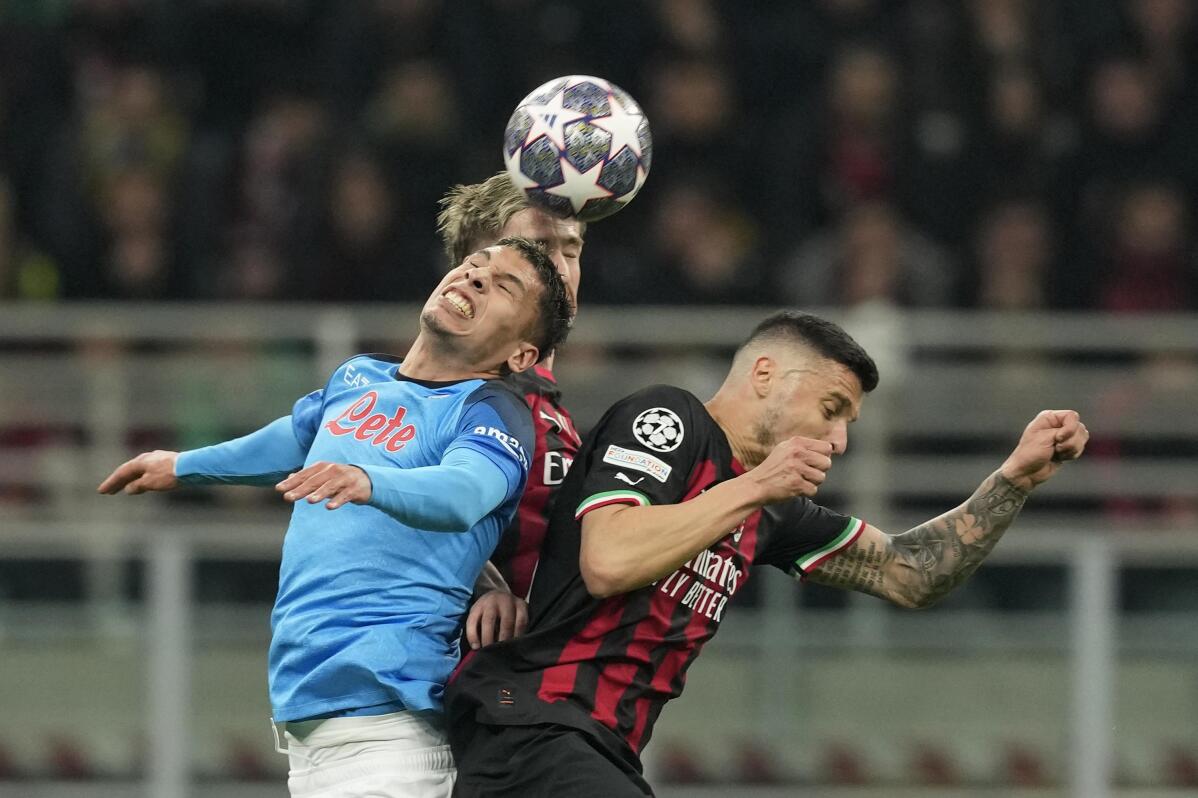 5 of 6

|
Napoli's Mathias Olivera, left, fights for the ball with AC Milan's Alexis Saelemaekers, and AC Milan's Rade Krunic, right, during the Champions League quarterfinal, first leg, soccer match between AC Milan and Napoli, at the San Siro stadium in Milan , Italy, Wednesday, April 12, 2023. (AP Photo/Antonio Calanni)
5 of 6
Napoli's Mathias Olivera, left, fights for the ball with AC Milan's Alexis Saelemaekers, and AC Milan's Rade Krunic, right, during the Champions League quarterfinal, first leg, soccer match between AC Milan and Napoli, at the San Siro stadium in Milan , Italy, Wednesday, April 12, 2023. (AP Photo/Antonio Calanni)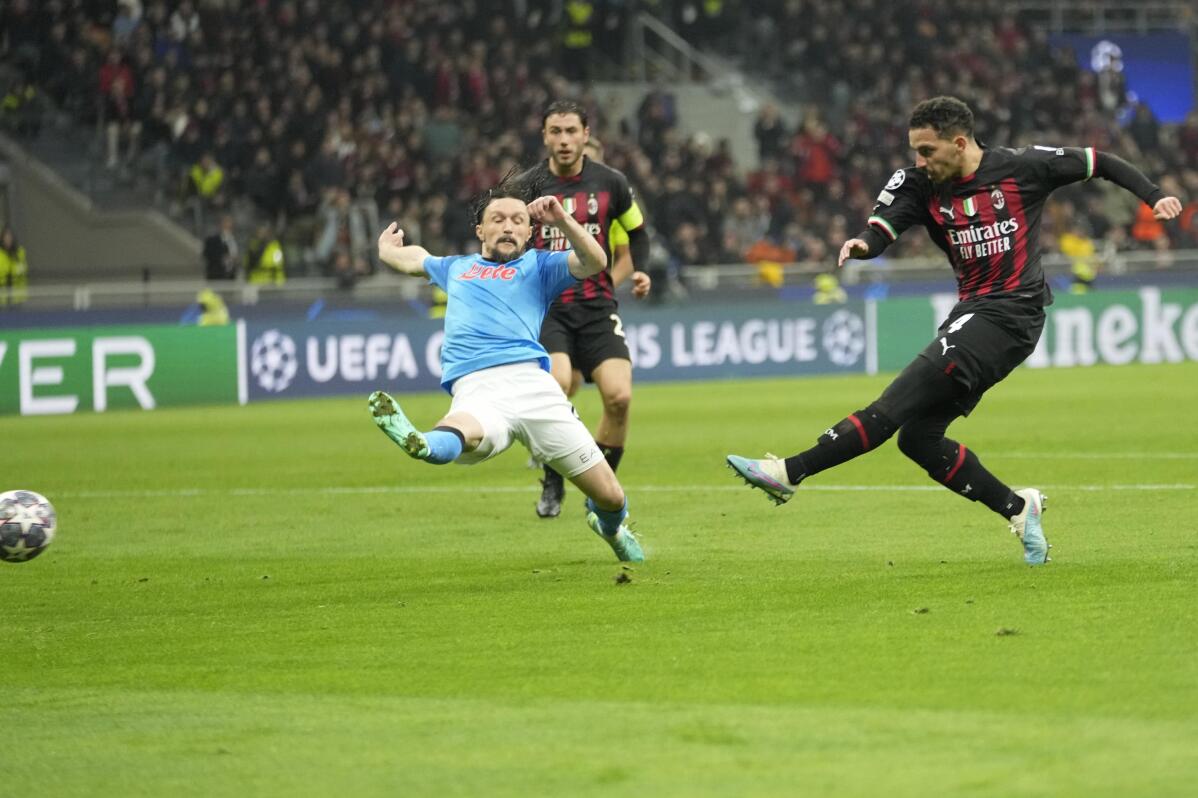 6 of 6

|
AC Milan's Ismael Bennacer scores his side's opening goal during the Champions League quarterfinal, first leg, soccer match between AC Milan and Napoli, at the San Siro stadium in Milan , Italy, Wednesday, April 12, 2023. (AP Photo/Luca Bruno)
6 of 6
AC Milan's Ismael Bennacer scores his side's opening goal during the Champions League quarterfinal, first leg, soccer match between AC Milan and Napoli, at the San Siro stadium in Milan , Italy, Wednesday, April 12, 2023. (AP Photo/Luca Bruno)
ROME (AP) — AC Milan can move one step closer to reviving its past European glory. Napoli can add another milestone to its extraordinary season.
Figuring out which team will come out on top after the second leg of their all-Italian Champions League quarterfinal on Tuesday at Stadio Diego Armando Maradona may come down to the status of their center forwards.
Serie A scoring leader Victor Osimhen is back from an injured abductor muscle in his left leg that kept him out of Napoli's 1-0 loss in the first game last week. Milan striker Olivier Giroud has been cleared to play the second leg after an Achilles tendon issue but questions remain over his status.
Milan won the last of its seven European Cup and Champions League titles in 2007, while Napoli is playing in the quarterfinals for the first time.
Napoli is also nearing its first Serie A title in more than 30 years, with a 14-point lead over second-placed Lazio. Maradona led the southern club to its only two Serie A titles in 1987 and 1990, as well as its only European title in 1989 when Napoli lifted the second-tier UEFA Cup.
Osimhen returned on Sunday in the second half of Napoli's 0-0 draw with Hellas Verona in Serie A and showed immediately how dangerous he can be by rattling a shot off the crossbar.
"Osimhen has this physicality and speed whereby you can throw the ball up to him and he can protect it, use his head or use a change of pace," Napoli coach Luciano Spalletti said. "He has so many different alternatives."
Osimhen has been one of the top strikers in Europe this season with 25 goals in 29 appearances across all competitions.
At age 36, Giroud leads Milan with 12 goals in 37 games. But the France international had to sit out training on Sunday, possibly leaving coach Stefano Pioli to choose from Ante Rebic and Divock Origi as a replacement – with Zlatan Ibrahimovic also out injured.
"He's OK and ready to play," Pioli said of Giroud on Monday. "He had a minor problem during the week but he's gotten over it."
Ismael Bennacer scored for Milan in the first leg, which also included two yellow cards to physical Napoli midfielder Andre-Frank Zambo Anguissa.
Zambo Anguissa and Napoli's top center back, Kim Min-jae, who is suspended for accumulated cards, will both miss the second leg.
Milan also routed Napoli 4-0 in Serie A at the start of the month but Osimhen missed that game, too.
Spalletti attributed Napoli's recent struggles to last month's international break.
"Over those 15 days with their national teams, some players lost their habit of training a certain way, and producing our type of football" Spalletti said.
After the first leg, Pioli said it's still "50-50" who will advance.
Milan failed to add to its advantage after Zambo Anguissa was sent off 16 minutes from time.
"There are regrets, but the tie is wide open and that is what we wanted," Pioli said.
"Thinking about defending would be a mistake," Pioli added. "We have a minimal advantage against a squad that has scored an average of three, four goals at home in the Champions League. We've got to play our game, as a squad, and control the ball well when we have it."
The winner will play Inter Milan or Benfica in the semifinals. Inter holds a 2-0 advantage heading into the second leg at the San Siro on Wednesday.
The final will be on June 10 in Istanbul, where Milan wasted a three-goal halftime lead in the 2005 final and was beaten by Liverpool in a penalty shootout.
Current Milan sporting director Paolo Maldini was Milan's captain for that game and current Real Madrid manager Carlo Ancelotti was the Rossoneri coach.
Madrid takes a 2-0 first-leg lead into its quarterfinal against Chelsea on Tuesday.
Ancelotti turns 64 on the day of the final.
"We spoke to each other shortly after the draw and we said wouldn't it be nice to celebrate his birthday together in Istanbul," Maldini said. "We both have something to reclaim in Istanbul."
___ Andrew Dampf is at https://twitter.com/AndrewDampf
___ More AP soccer: https://apnews.com/hub/Soccer and https://twitter.com/AP_Sports