Surprise factor key to Napoli's success in Champions League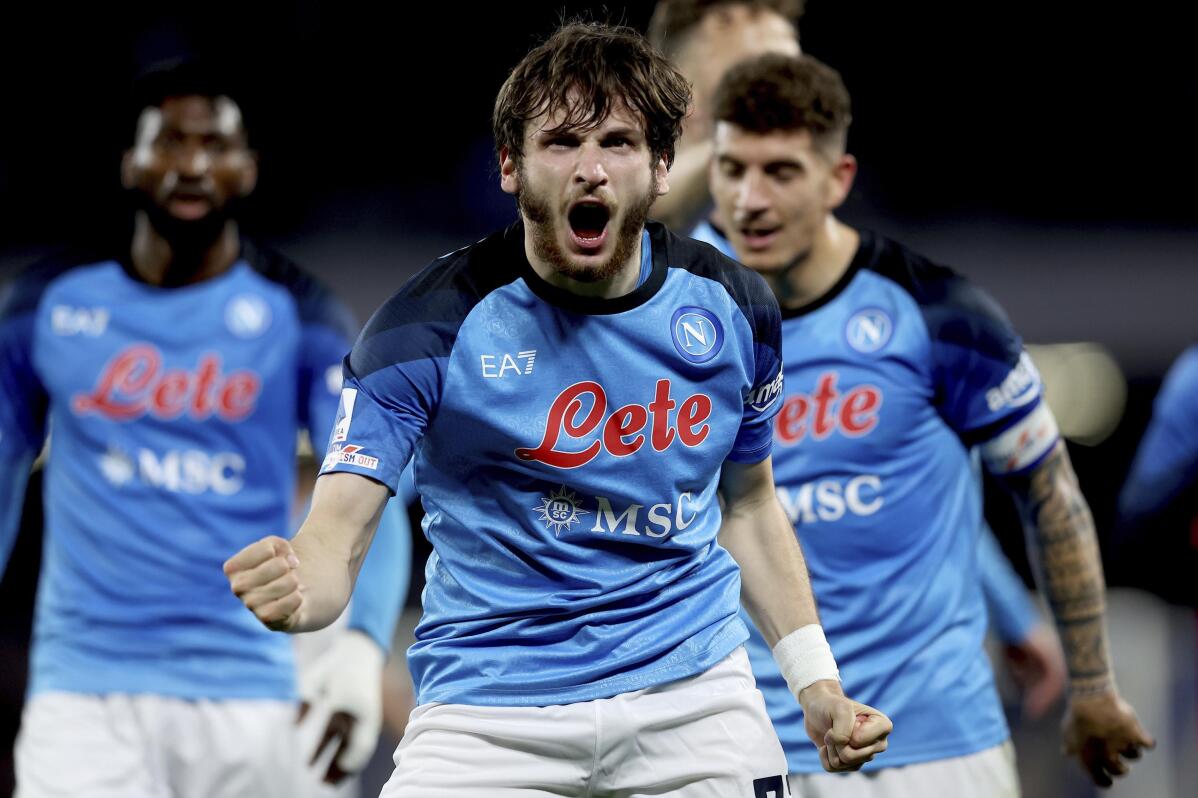 1 of 5

|
Napoli's Khvicha Kvaratskhelia celebrates scoring during the Serie A soccer match between Napoli and Atalanta at Diego Armando Maradona stadium in Naples, Italy, Saturday March 11, 2023. (Alessandro Garofalo/LaPresse via AP)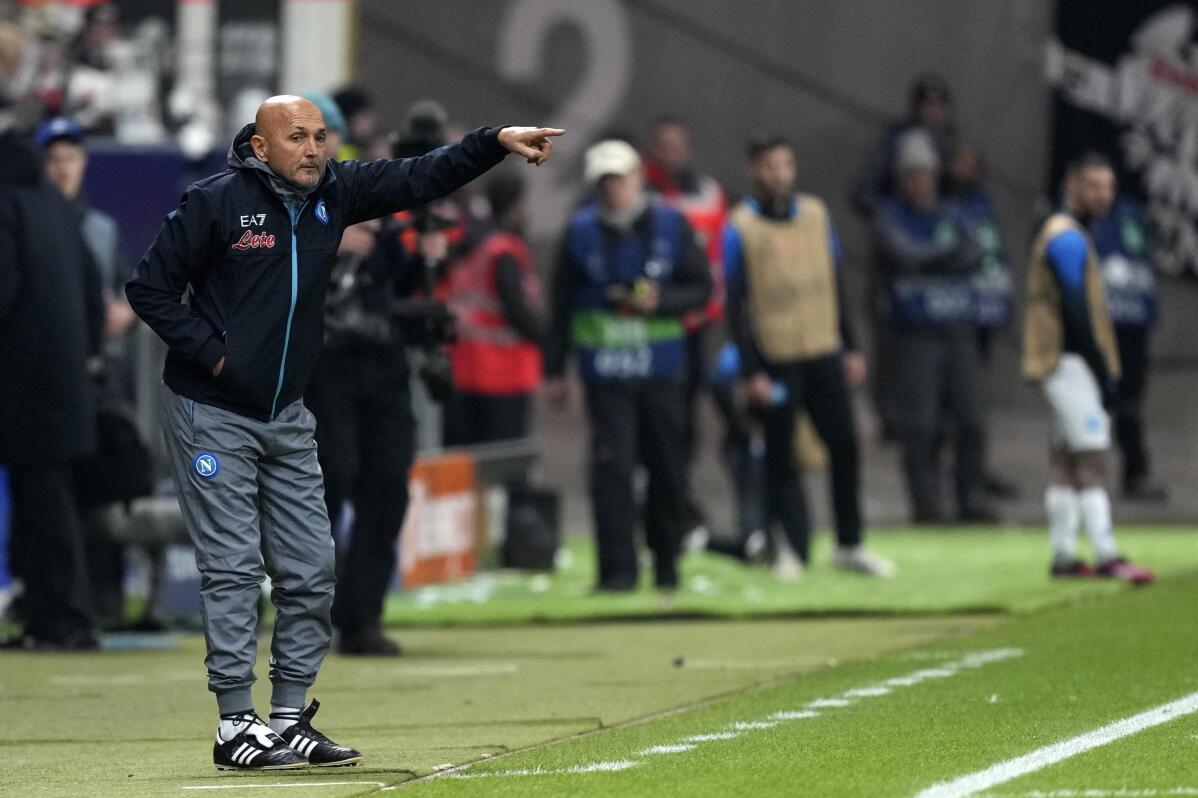 2 of 5

|
Napoli's head coach Luciano Spalletti gives instructions to his players during the Champions League round of 16 second leg soccer match between Eintracht Frankfurt and Napoli, at the Deutsche Bank Arena in Frankfurt, Germany, Tuesday, Feb. 21, 2023. (AP Photo/Michael Probst)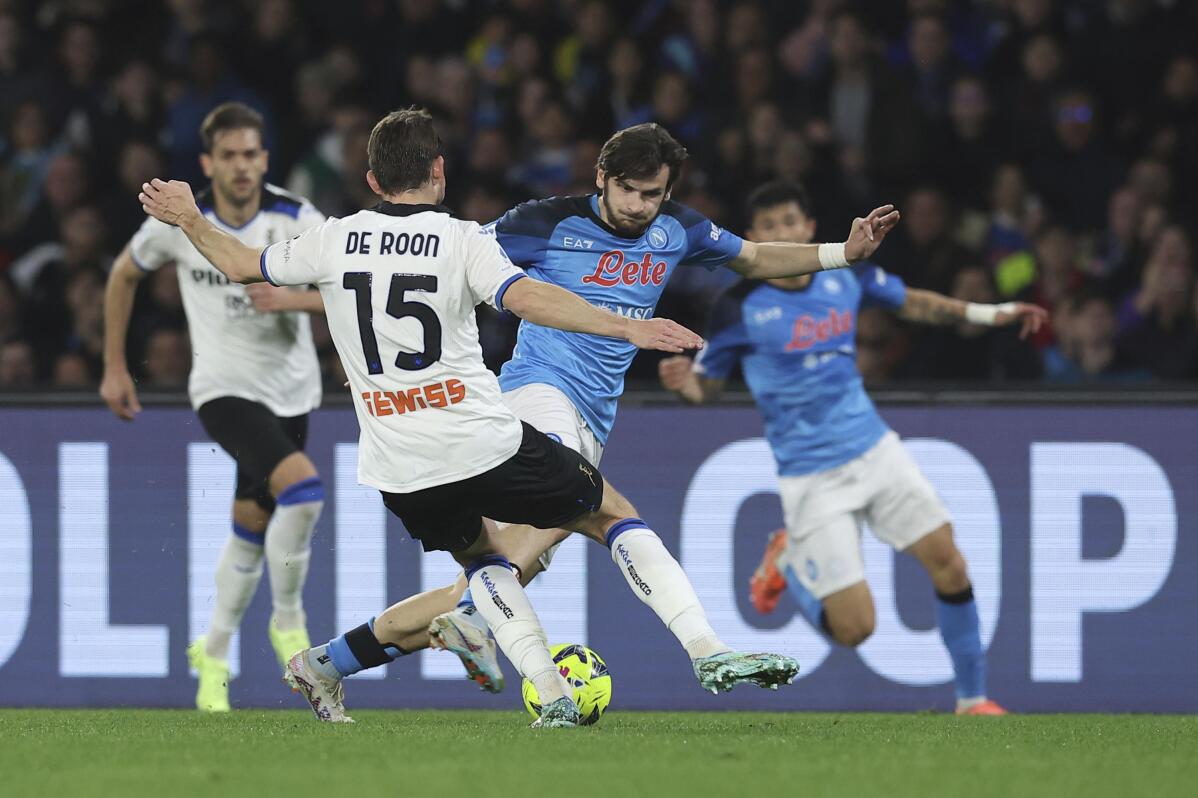 3 of 5

|
Atalanta's Marten de Roon, left, and Napoli's Khvicha Kvaratskhelia battle for the ball during the Serie A soccer match between Napoli and Atalanta at Diego Armando Maradona stadium in Naples, Italy, Saturday March 11, 2023. (Alessandro Garofalo/LaPresse via AP)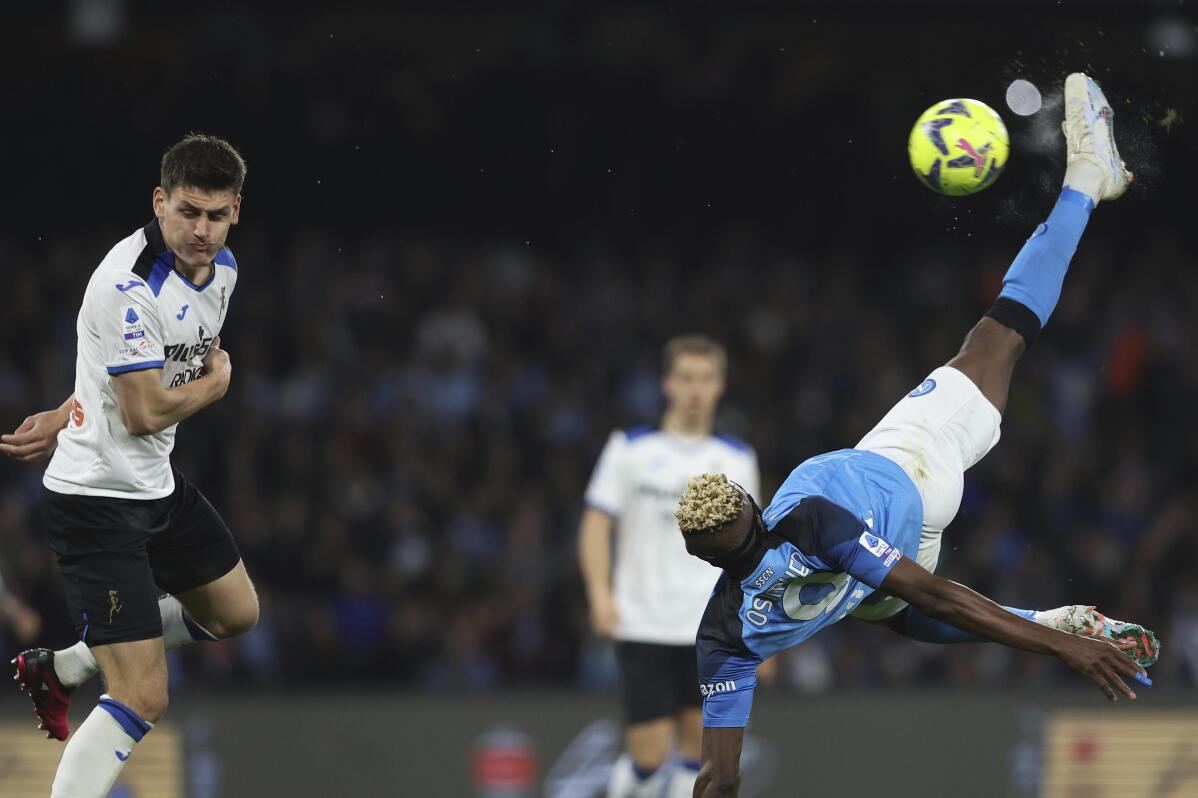 4 of 5

|
Napoli's Victor Osimhen celebrates kicks the ball, during the Serie A soccer match between Napoli and Atalanta at Diego Armando Maradona stadium in Naples, Italy, Saturday March 11, 2023. (Alessandro Garofalo/LaPresse via AP)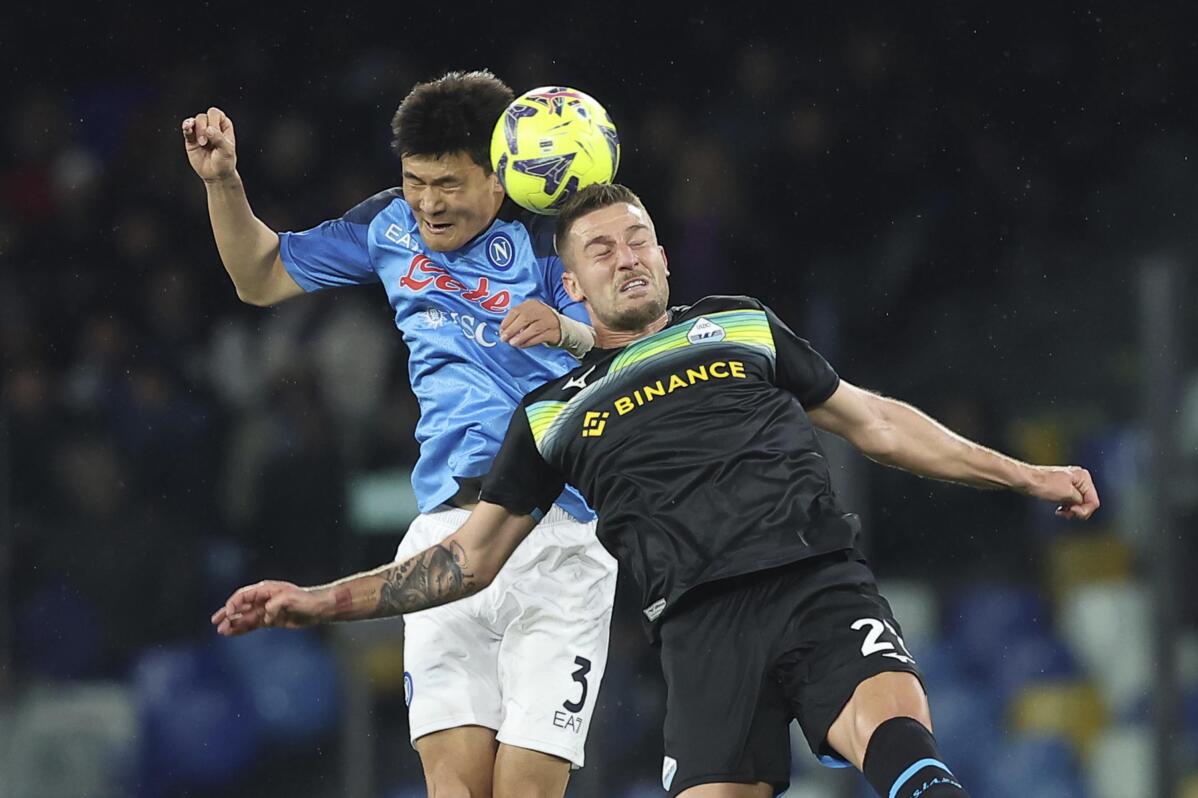 5 of 5

|
Napoli's Kim Min-Jae battles for a head ball with Lazio's Elseid Hysaj during the Serie A soccer match between Napoli and Lazio, at the Diego Armando Maradona stadium in Naples, Italy, Friday, March 3, 2023. (Alessandro Garofalo/LaPresse via AP)
Surprise factor key to Napoli's success in Champions League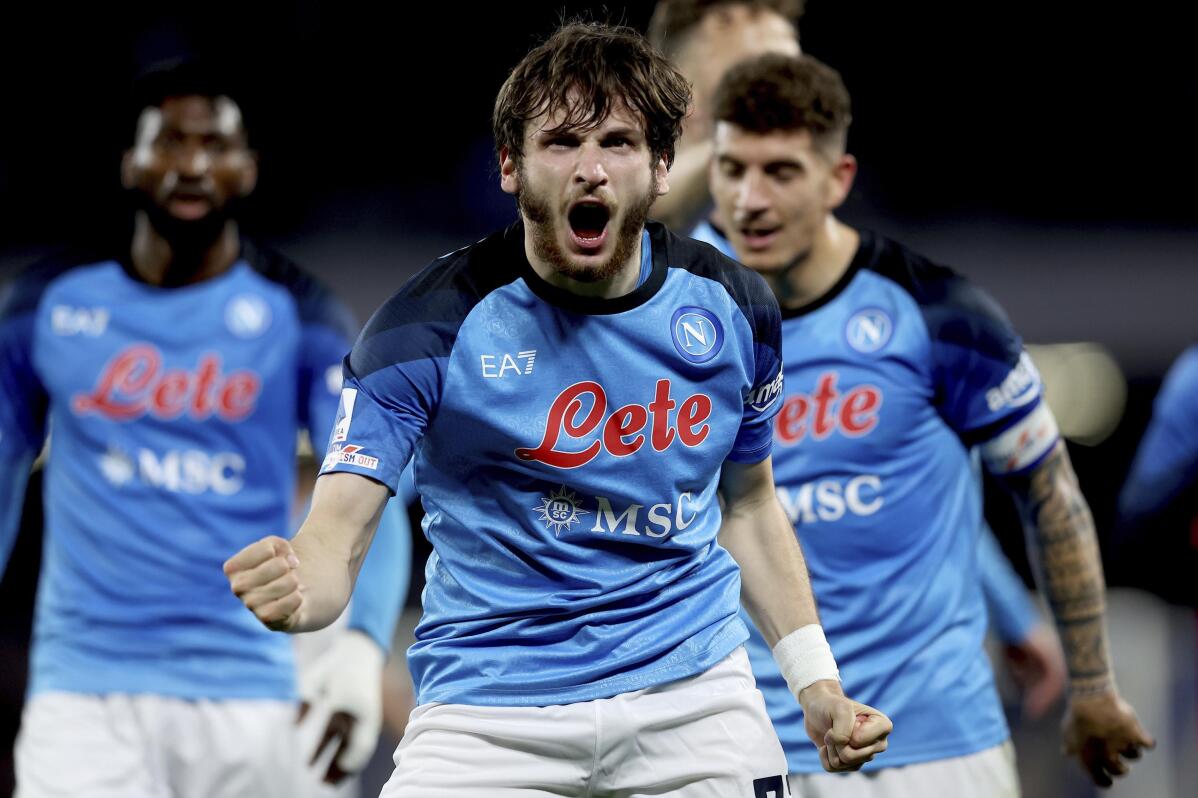 1 of 5

|
Napoli's Khvicha Kvaratskhelia celebrates scoring during the Serie A soccer match between Napoli and Atalanta at Diego Armando Maradona stadium in Naples, Italy, Saturday March 11, 2023. (Alessandro Garofalo/LaPresse via AP)
1 of 5
Napoli's Khvicha Kvaratskhelia celebrates scoring during the Serie A soccer match between Napoli and Atalanta at Diego Armando Maradona stadium in Naples, Italy, Saturday March 11, 2023. (Alessandro Garofalo/LaPresse via AP)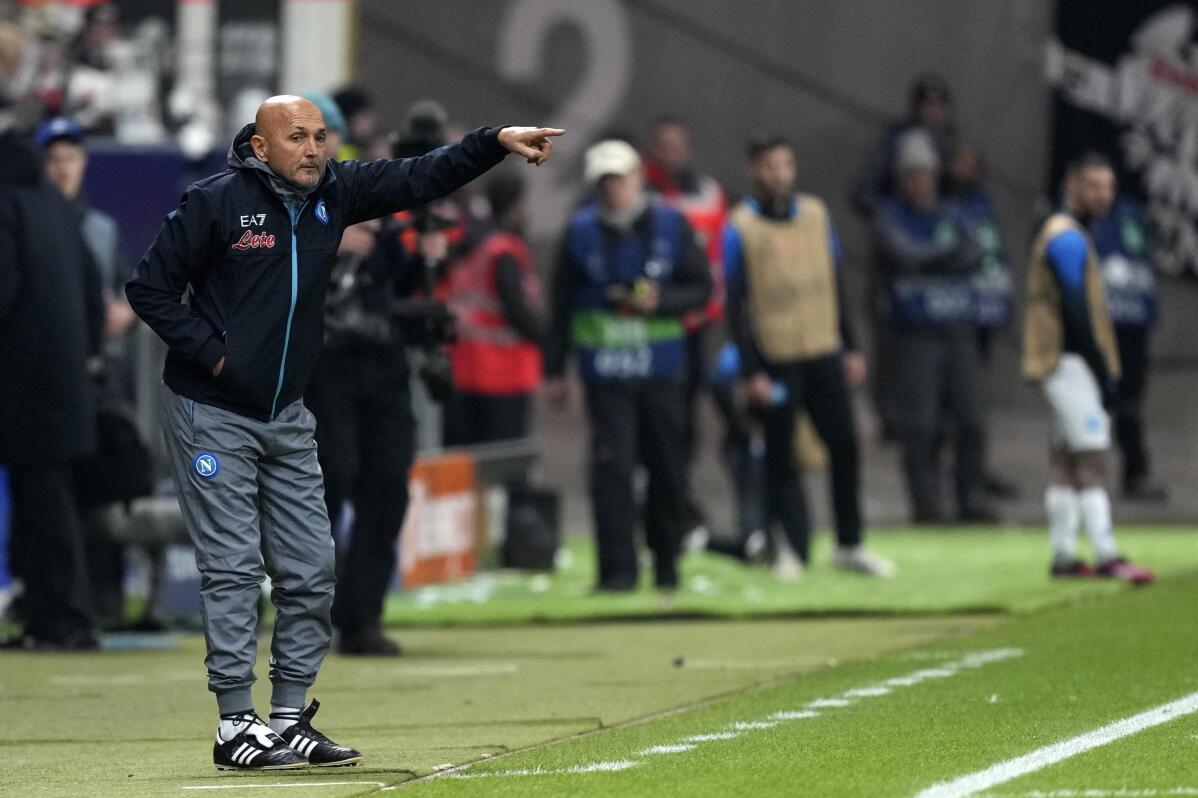 2 of 5

|
Napoli's head coach Luciano Spalletti gives instructions to his players during the Champions League round of 16 second leg soccer match between Eintracht Frankfurt and Napoli, at the Deutsche Bank Arena in Frankfurt, Germany, Tuesday, Feb. 21, 2023. (AP Photo/Michael Probst)
2 of 5
Napoli's head coach Luciano Spalletti gives instructions to his players during the Champions League round of 16 second leg soccer match between Eintracht Frankfurt and Napoli, at the Deutsche Bank Arena in Frankfurt, Germany, Tuesday, Feb. 21, 2023. (AP Photo/Michael Probst)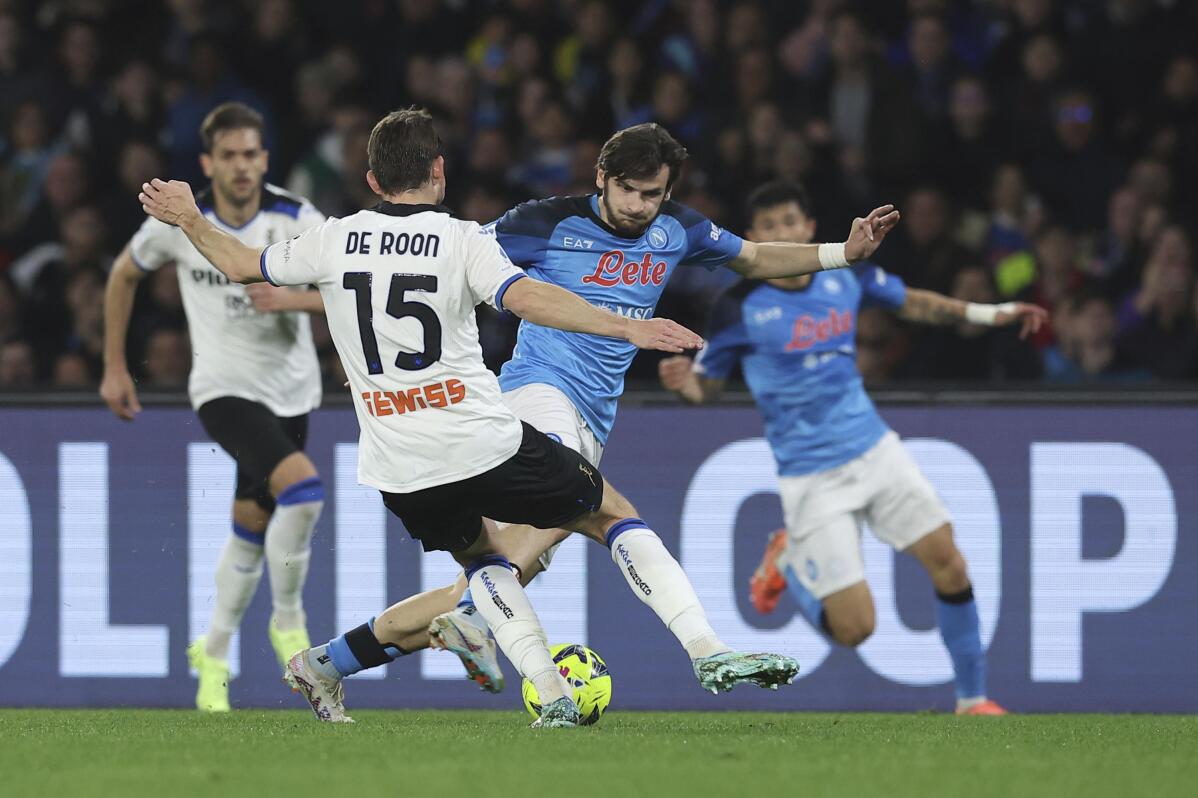 3 of 5

|
Atalanta's Marten de Roon, left, and Napoli's Khvicha Kvaratskhelia battle for the ball during the Serie A soccer match between Napoli and Atalanta at Diego Armando Maradona stadium in Naples, Italy, Saturday March 11, 2023. (Alessandro Garofalo/LaPresse via AP)
3 of 5
Atalanta's Marten de Roon, left, and Napoli's Khvicha Kvaratskhelia battle for the ball during the Serie A soccer match between Napoli and Atalanta at Diego Armando Maradona stadium in Naples, Italy, Saturday March 11, 2023. (Alessandro Garofalo/LaPresse via AP)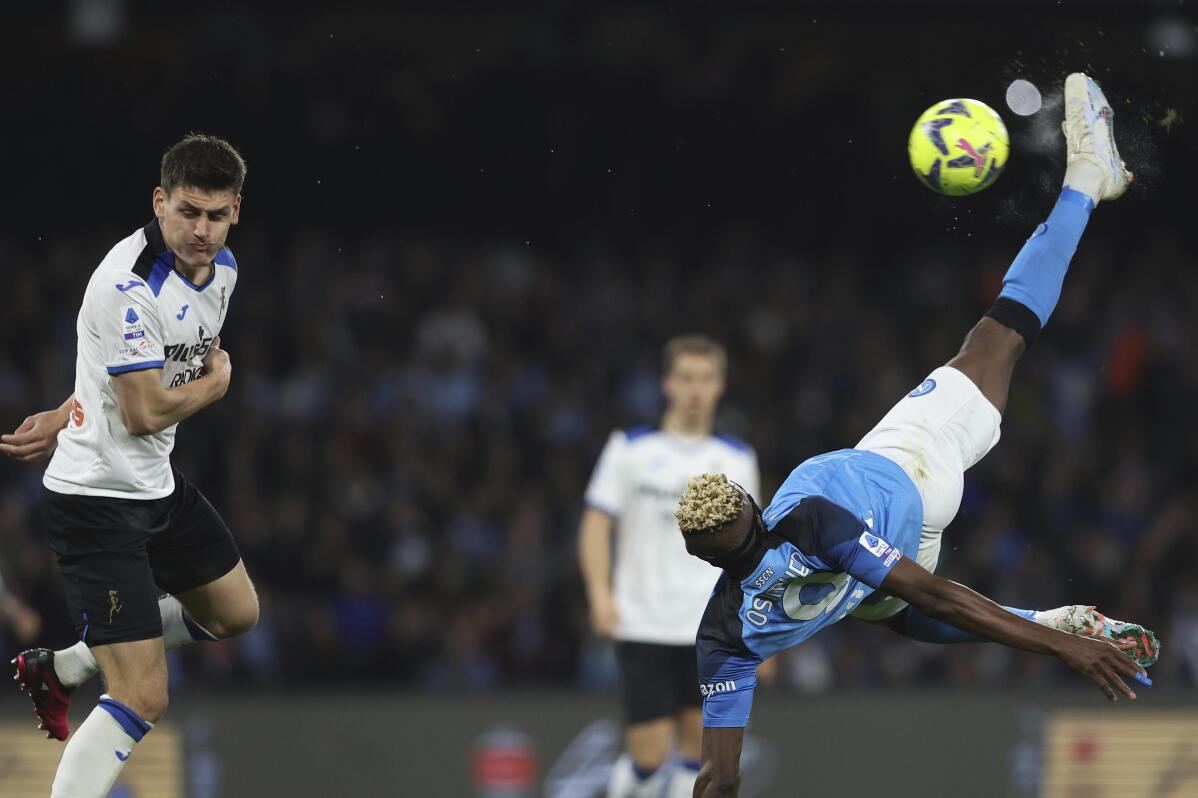 4 of 5

|
Napoli's Victor Osimhen celebrates kicks the ball, during the Serie A soccer match between Napoli and Atalanta at Diego Armando Maradona stadium in Naples, Italy, Saturday March 11, 2023. (Alessandro Garofalo/LaPresse via AP)
4 of 5
Napoli's Victor Osimhen celebrates kicks the ball, during the Serie A soccer match between Napoli and Atalanta at Diego Armando Maradona stadium in Naples, Italy, Saturday March 11, 2023. (Alessandro Garofalo/LaPresse via AP)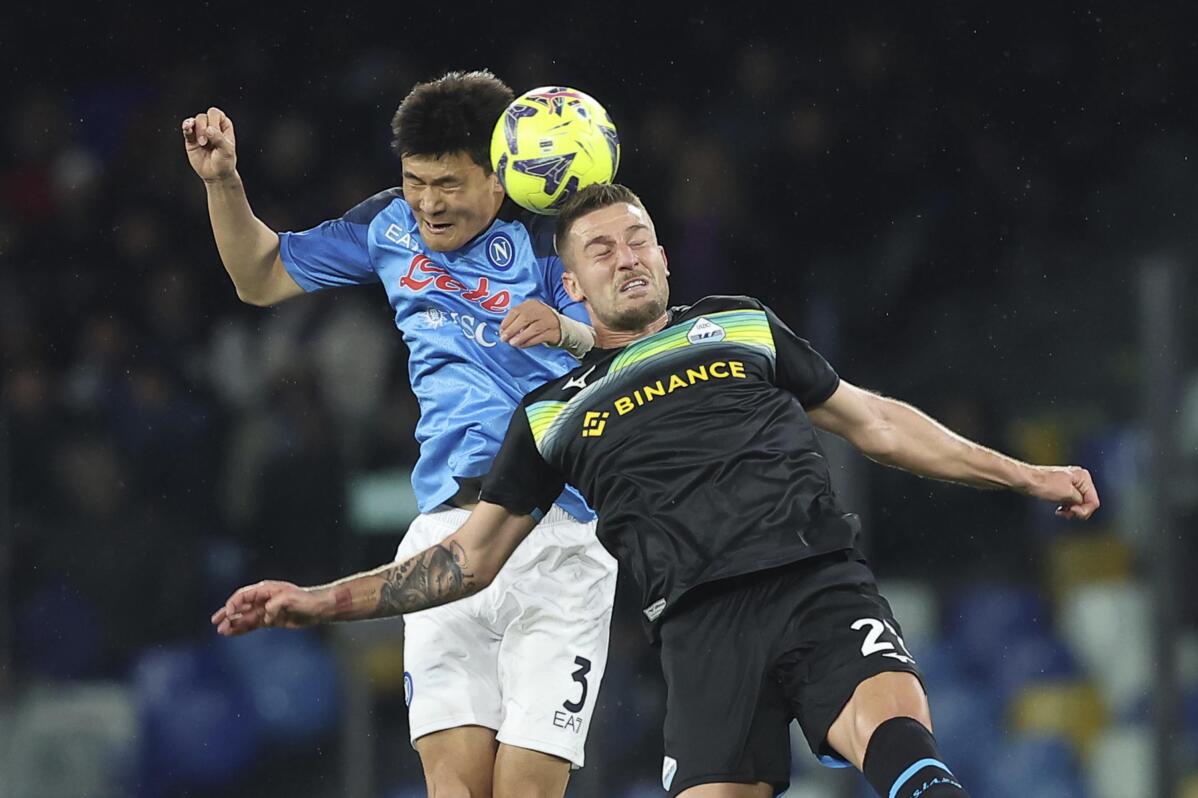 5 of 5

|
Napoli's Kim Min-Jae battles for a head ball with Lazio's Elseid Hysaj during the Serie A soccer match between Napoli and Lazio, at the Diego Armando Maradona stadium in Naples, Italy, Friday, March 3, 2023. (Alessandro Garofalo/LaPresse via AP)
5 of 5
Napoli's Kim Min-Jae battles for a head ball with Lazio's Elseid Hysaj during the Serie A soccer match between Napoli and Lazio, at the Diego Armando Maradona stadium in Naples, Italy, Friday, March 3, 2023. (Alessandro Garofalo/LaPresse via AP)
Napoli has been a revelation this season at home and abroad and that is helping set it on course for some firsts.
It has become more a matter of when and not if Napoli will win a first Serie A title in more than three decades, while the surprise factor has also left it on the verge of a first-ever Champions League quarterfinal appearance.
Standing in its way is Eintracht Frankfurt, and Napoli takes a 2-0 lead into the round-of-16 second leg at the Stadio Diego Armando Maradona on Wednesday.
"Everyone dreams of winning the Champions League, but we know it's difficult," Napoli midfielder Stanislav Lobotka told Italian newspaper Corriere dello Sport. "But we have nothing to lose, we're playing without pressure, we are not like Real Madrid.
"If we manage to progress, we could meet them and we will face them — them or anyone else — with the conviction that we can play on par. Nobody expects Napoli to reach the final."
Napoli announced its return to the Champions League with a 4-1 victory over last season's runner-up Liverpool in the opening match and never looked back. Napoli swept through the group stage with five victories, scoring 20 goals and conceding just six as it comfortably topped its group.
The team has been almost unplayable in Serie A this season and leads the Italian league by 18 points with 12 matches remaining.
"We'll do everything we can to reach the stars but there are lots of games left and we must play them with conviction and character," coach Luciano Spalletti said after Napoli's 2-0 win over Atalanta on Saturday. "If we keep up this mentality, we can remain calm."
Spalletti, in his second year in charge, said he's been "enveloped by this immense, unique passion" of the team's supporters.
Those same fans were livid in the offseason following the departures of the club's record scorer Dries Mertens, homegrown captain Lorenzo Insigne and defensive stalwart Kalidou Koulibaly. And they were even more irate when Napoli brought in the previously unknown Georgia winger Khvicha Kvaratskhelia to replace Insigne on the left wing and South Korea center back Kim Min-jae for Koulibaly.
But Kvaratskhelia and Kim have become two of the top players in the league this season. Kvaratskhelia, in particular, has been so impressive that the 22-year-old has earned comparisons with Diego Maradona, who led Napoli to its only two Italian league titles in 1987 and 1990.
The success of Napoli's new-look squad surprised many, but Lobotka said he realized how strong it was during pre-season training.
"So many players had left but we looked at each other and we knew that the new arrivals would keep our level high," he said. "And then in the first Champions League match we had important responses ... our self-esteem grew, we became convinced of our strength, of what Spalletti was telling us.
"And we began to play how no one was expecting."
___
More AP soccer: https://apnews.com/hub/soccer and https://twitter.com/AP_Sports