Napoli fans go from celebrating to reacting to draw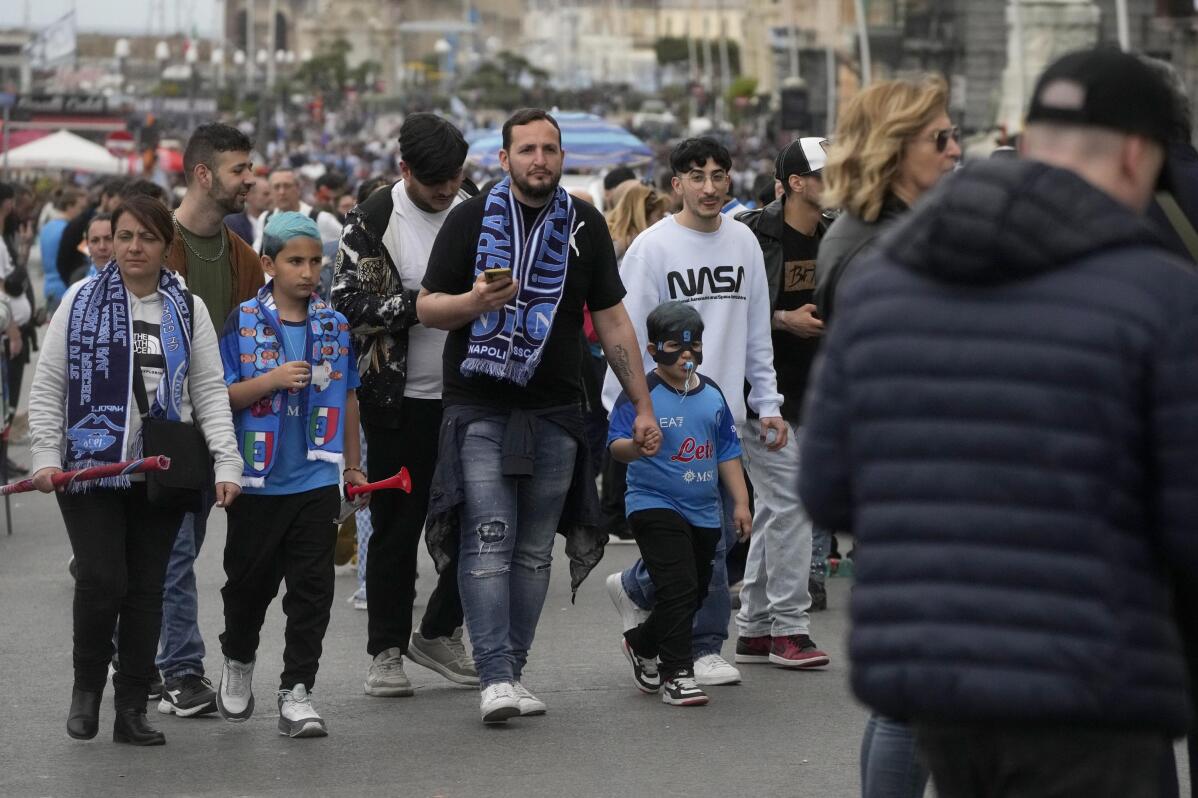 1 of 20

|
Napoli fans on the street in Naples react at the end of the Serie A soccer match between Napoli and Salernitana at the Diego Armando Maradona stadium, in Naples, Italy, Sunday, April 30, 2023. The game ended in a 1-1 draw and Napoli missed a chance to win the Italian title Sunday with six rounds left to play. (AP Photo/Gregorio Borgia)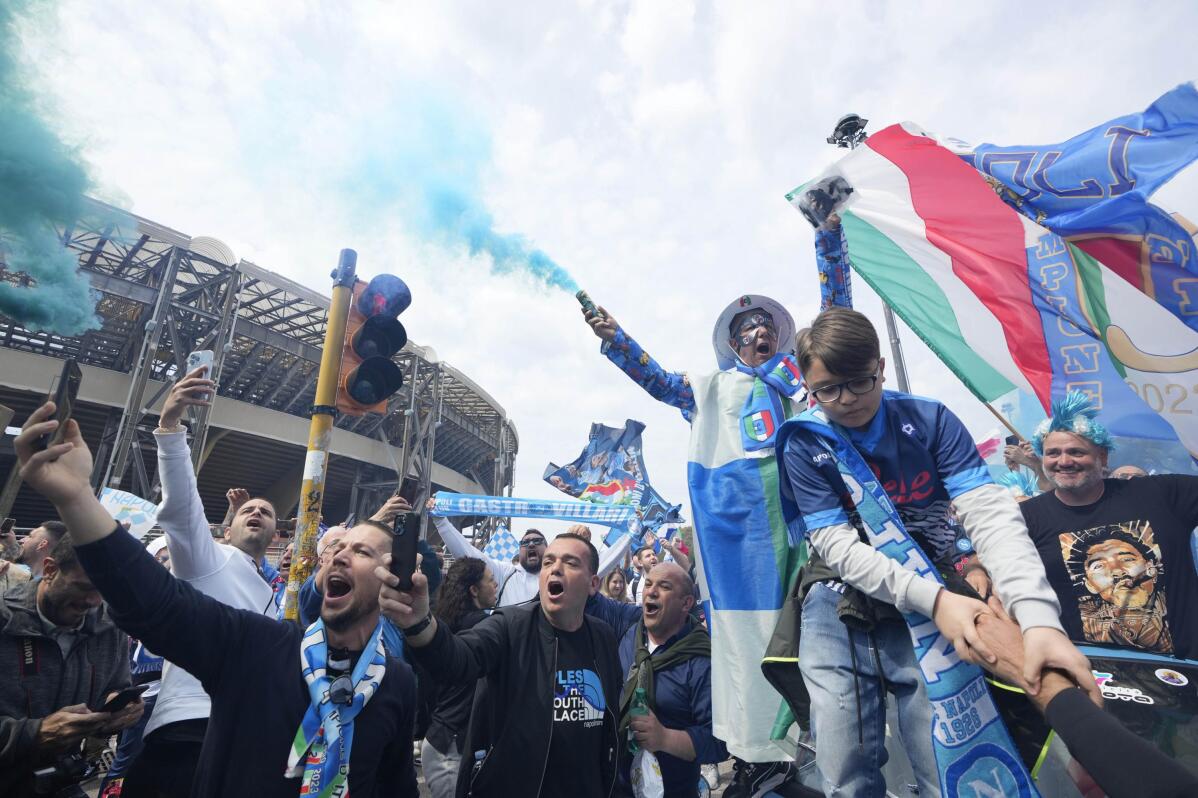 2 of 20

|
Napoli fans celebrate outside the Diego Maradona stadium in Naples, Italy, Sunday, April 30, 2023. After Napoli's game was moved to Sunday, the team could secure the title in front of their own fans by beating Salernitana — if Lazio fails to win at Inter Milan earlier in the day. Diego Maradona led Napoli to its only previous Serie A titles in 1987 and 1990. (AP Photo/Gregorio Borgia)
3 of 20

|
Napoli fans celebrate ahead of a Serie A soccer match between Napoli and Salernitana, in Naples, Italy, Sunday, April 30, 2023. Napoli could end a wait of more than three decades for the Serie A title. Napoli will know the permutations before its match against Salernitana. If second-placed Lazio fails to win at Inter Milan earlier in the day, then a Napoli win will clinch the scudetto. (Alessandro Garofalo/LaPresse via AP)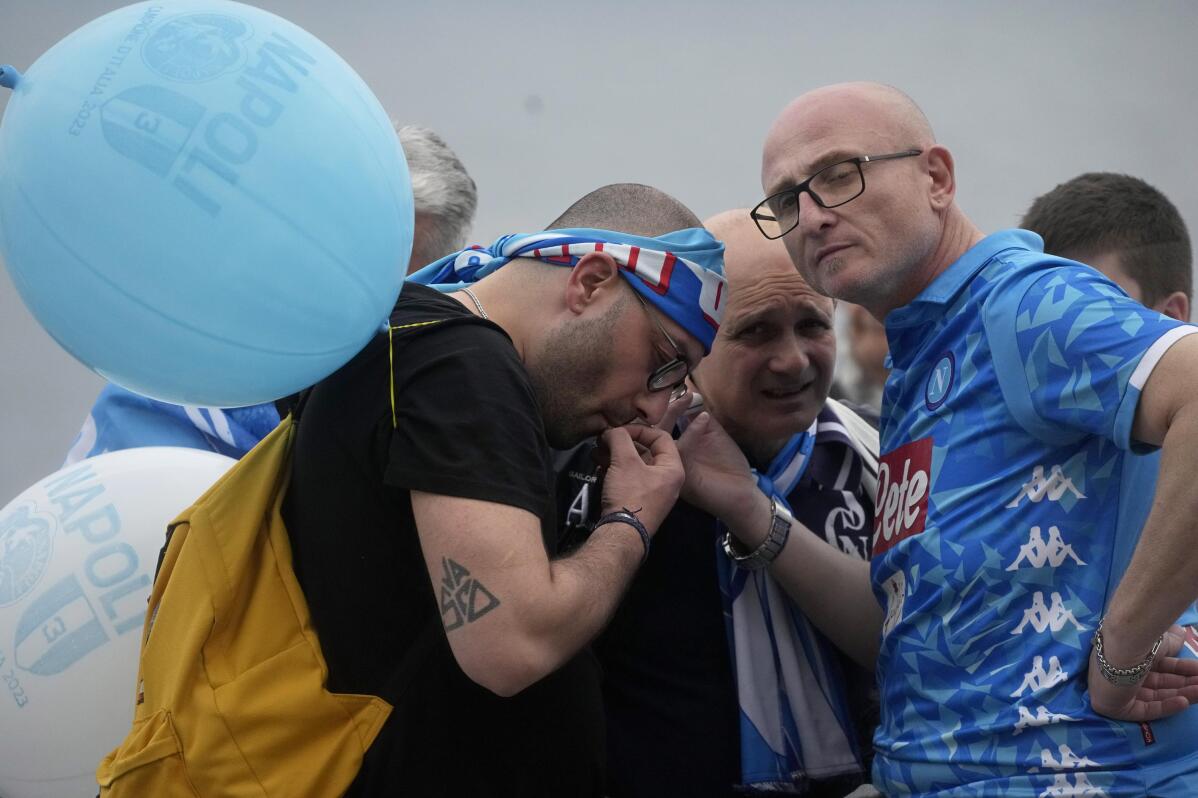 4 of 20

|
Napoli fans on the street in Naples listen to the last minutes of the Serie A soccer match between Napoli and Salernitana at the Diego Armando Maradona stadium, in Naples, Italy, Sunday, April 30, 2023. The game ended in a 1-1 draw and Napoli missed a chance to win the Italian title Sunday with six rounds left to play. (AP Photo/Gregorio Borgia)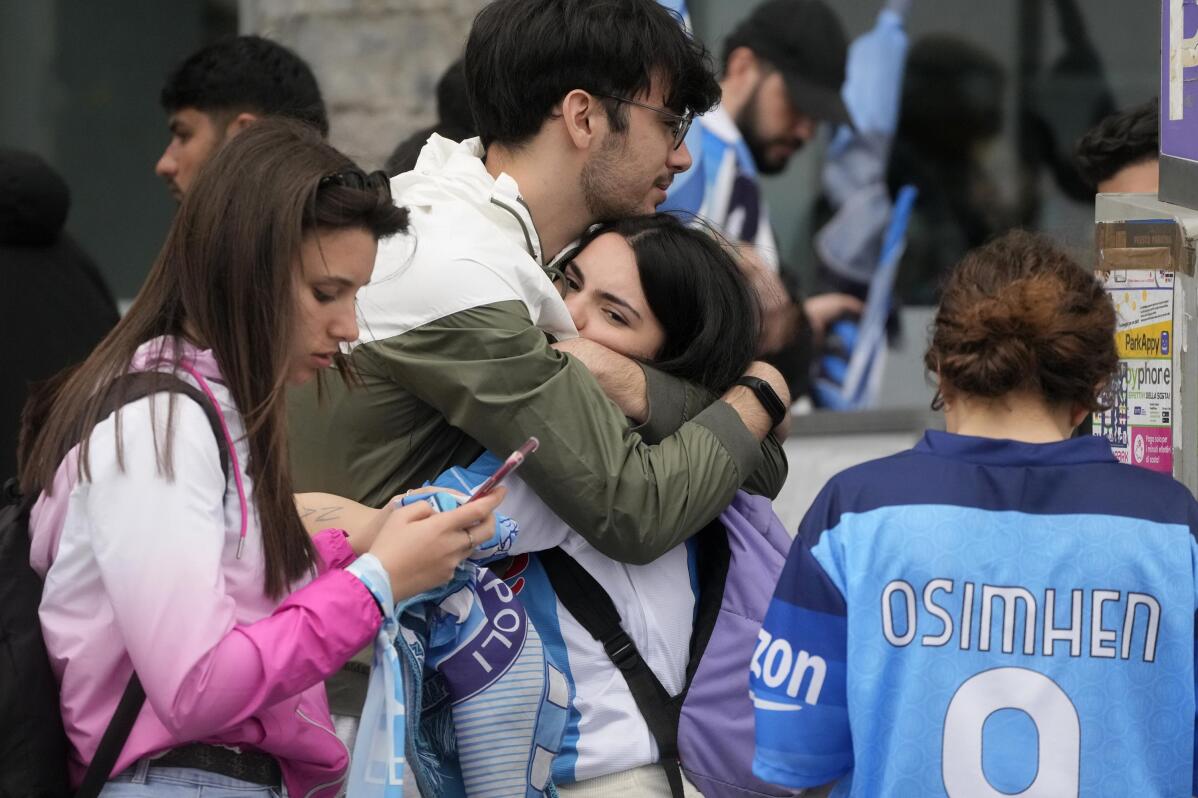 5 of 20

|
Napoli fans on the street in Naples react at the end of the Serie A soccer match between Napoli and Salernitana at the Diego Armando Maradona stadium, in Naples, Italy, Sunday, April 30, 2023. The game ended in a 1-1 draw and Napoli missed a chance to win the Italian title Sunday with six rounds left to play. (AP Photo/Gregorio Borgia)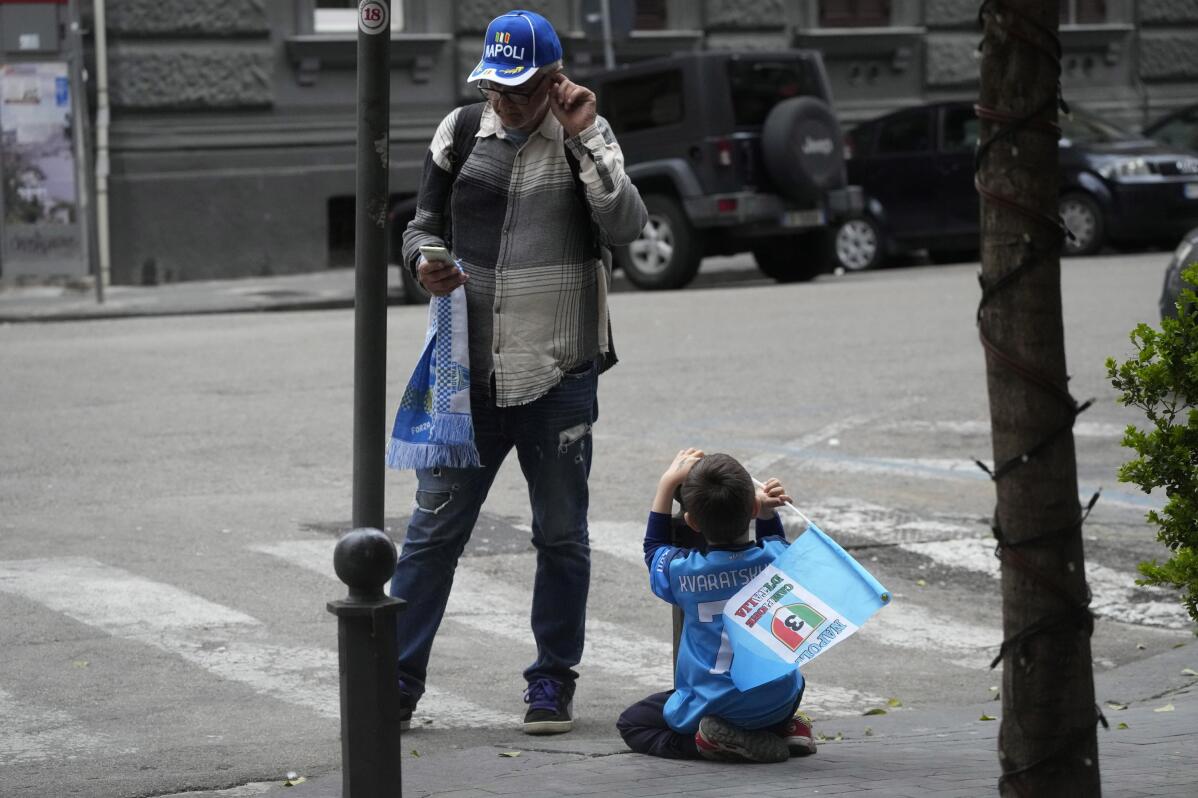 6 of 20

|
Napoli fans on the street in Naples during the Serie A soccer match between Napoli and Salernitana at the Diego Armando Maradona stadium, in Naples, Italy, Sunday, April 30, 2023. The game ended in a 1-1 draw and Napoli missed a chance to win the Italian title Sunday with six rounds left to play. (AP Photo/Gregorio Borgia)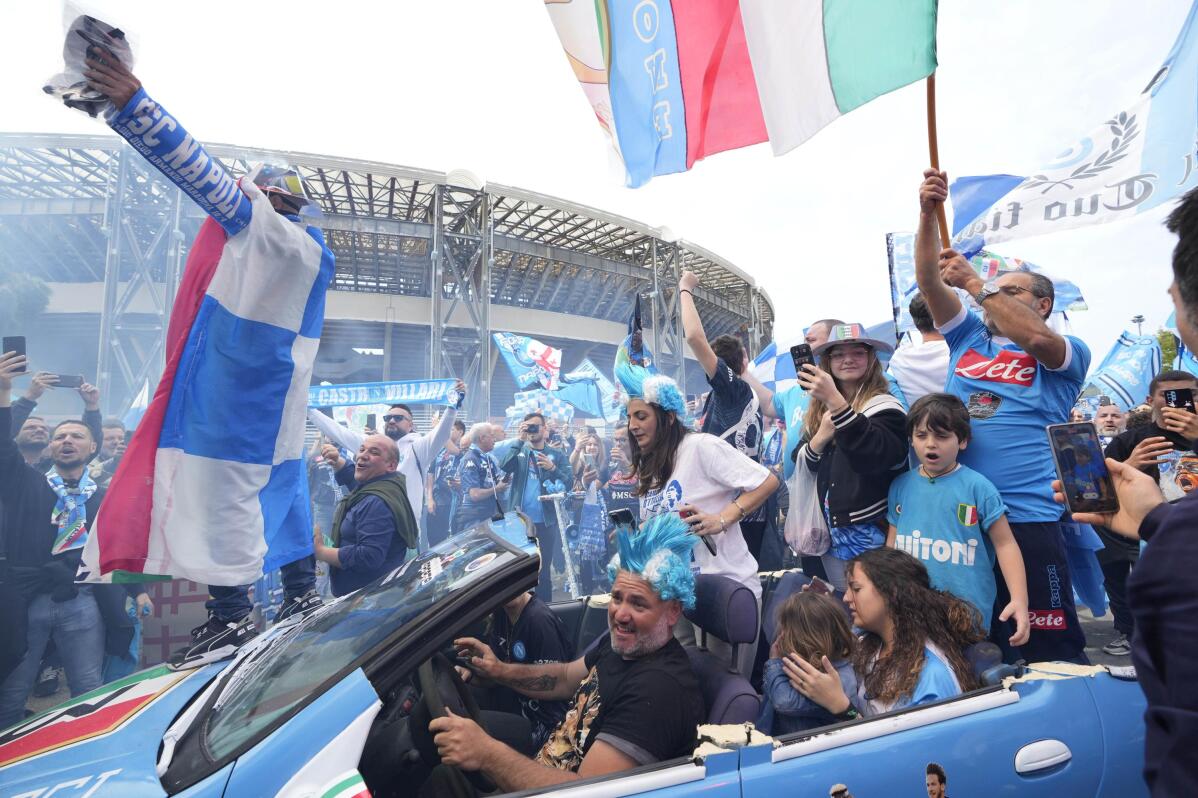 7 of 20

|
Napoli fans celebrate outside the Diego Maradona stadium in Naples, Italy, Sunday, April 30, 2023. After Napoli's game was moved to Sunday, the team could secure the title in front of their own fans by beating Salernitana — if Lazio fails to win at Inter Milan earlier in the day. Diego Maradona led Napoli to its only previous Serie A titles in 1987 and 1990. (AP Photo/Gregorio Borgia)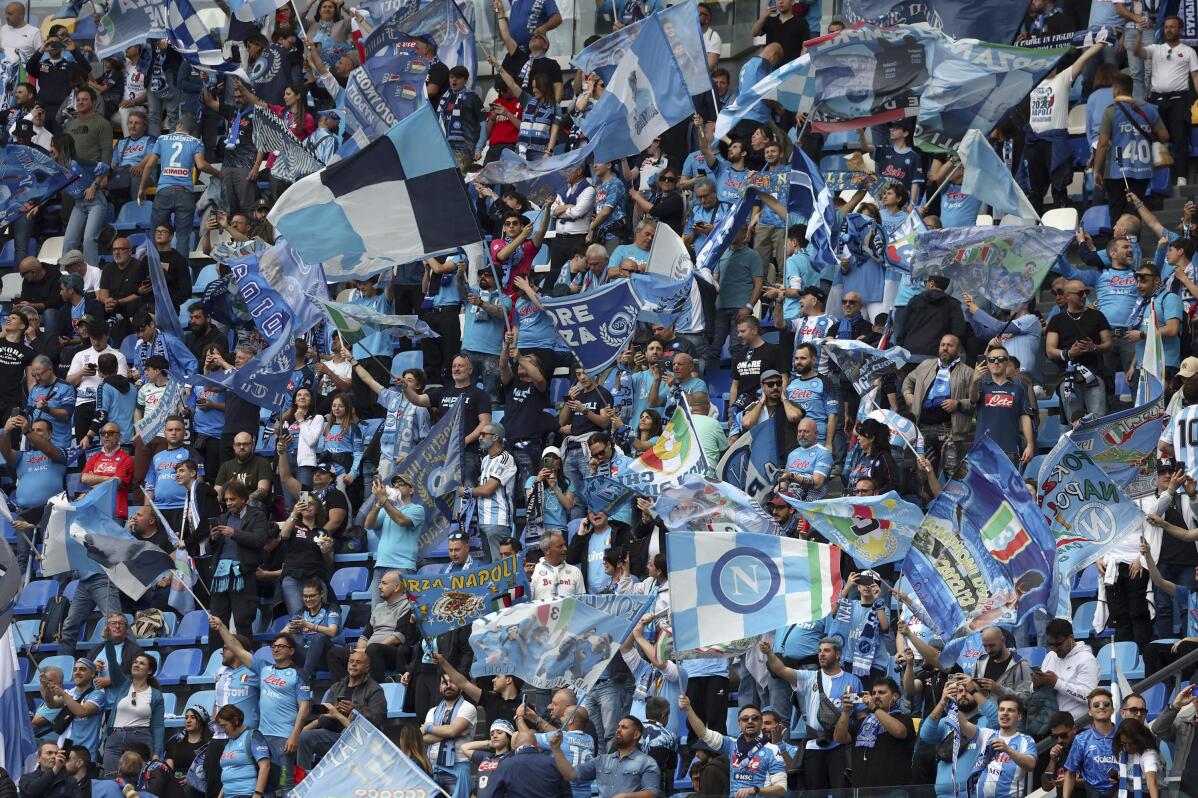 8 of 20

|
Napoli fans celebrate as they wait for the start of the Serie A soccer match between Napoli and Salernitana, at Naples' Diego Armando Maradona stadium, Italy, Sunday, April 30, 2021. Napoli fans are already celebrating in anticipation of sealing the club's first Italian league title since the days when Diego Maradona played for the club. Hours before Napoli's match against Salernitana later Sunday, fans waved flags in Italy's green, white and red colors that featured a "3" on them to signify what would be the team's third Serie A championship after Maradona led the Partenopei to their first two titles in 1987 and 1990. (Alessandro Garofalo/LaPresse via AP)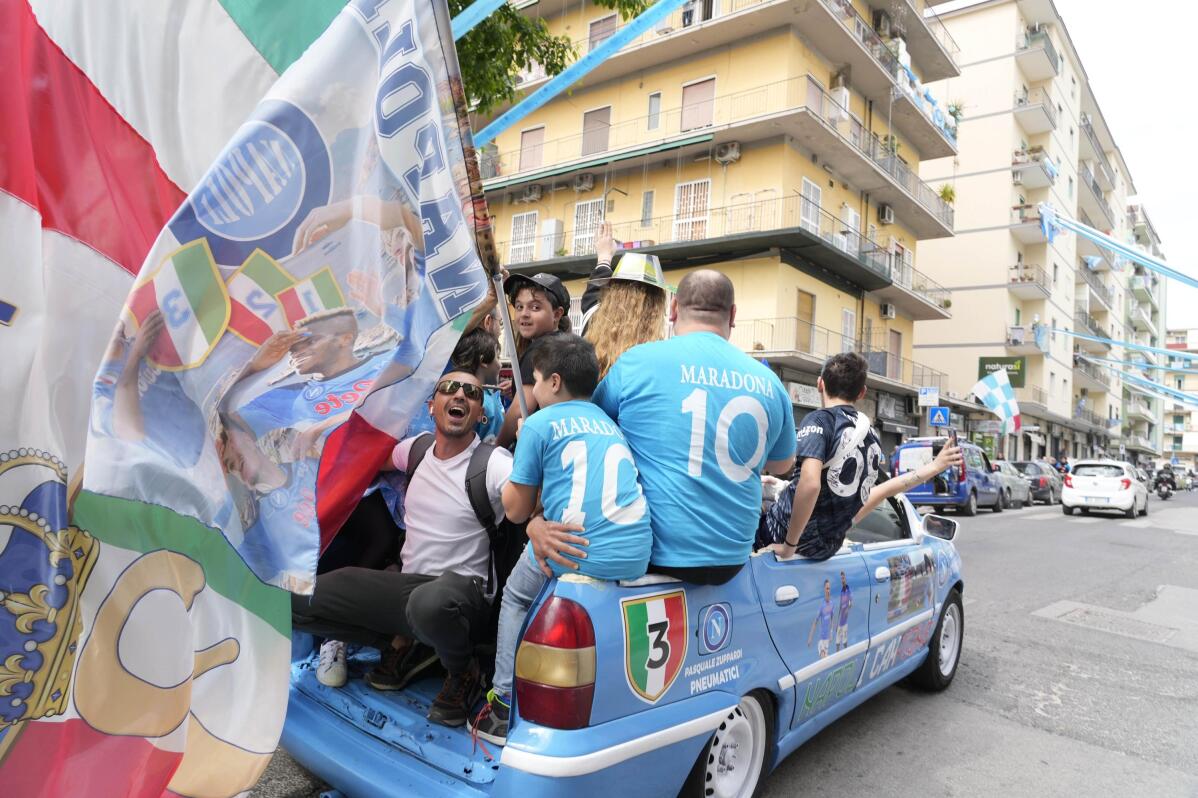 9 of 20

|
Napoli fans celebrate outside the Diego Maradona stadium in Naples, Italy, Sunday, April 30, 2023. After Napoli's game was moved to Sunday, the team could secure the title in front of their own fans by beating Salernitana — if Lazio fails to win at Inter Milan earlier in the day. Diego Maradona led Napoli to its only previous Serie A titles in 1987 and 1990. (AP Photo/Gregorio Borgia)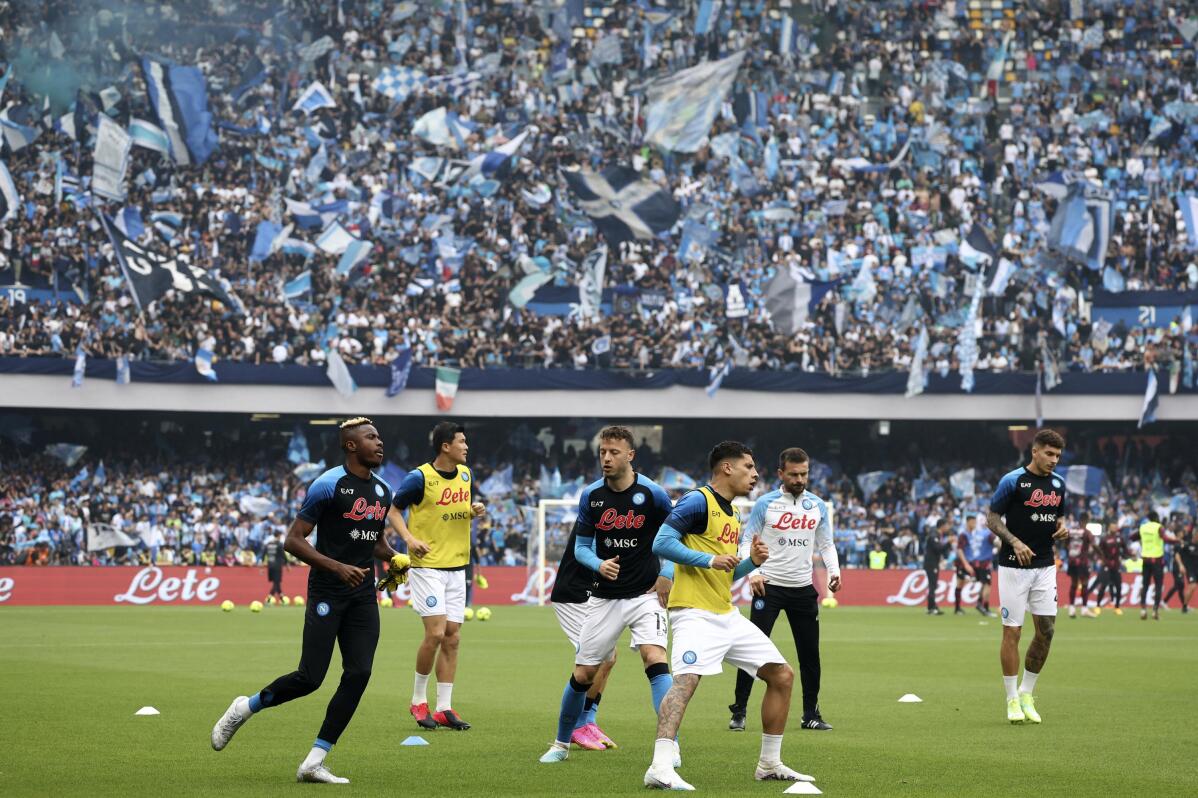 10 of 20

|
Napoli players warm up on the field before a Serie A soccer match between Napoli and Salernitana, at Naples' Diego Armando Maradona stadium, Italy, Sunday, April 30, 2021. Napoli fans are already celebrating in anticipation of sealing the club's first Italian league title since the days when Diego Maradona played for the club. (Alessandro Garofalo/LaPresse via AP)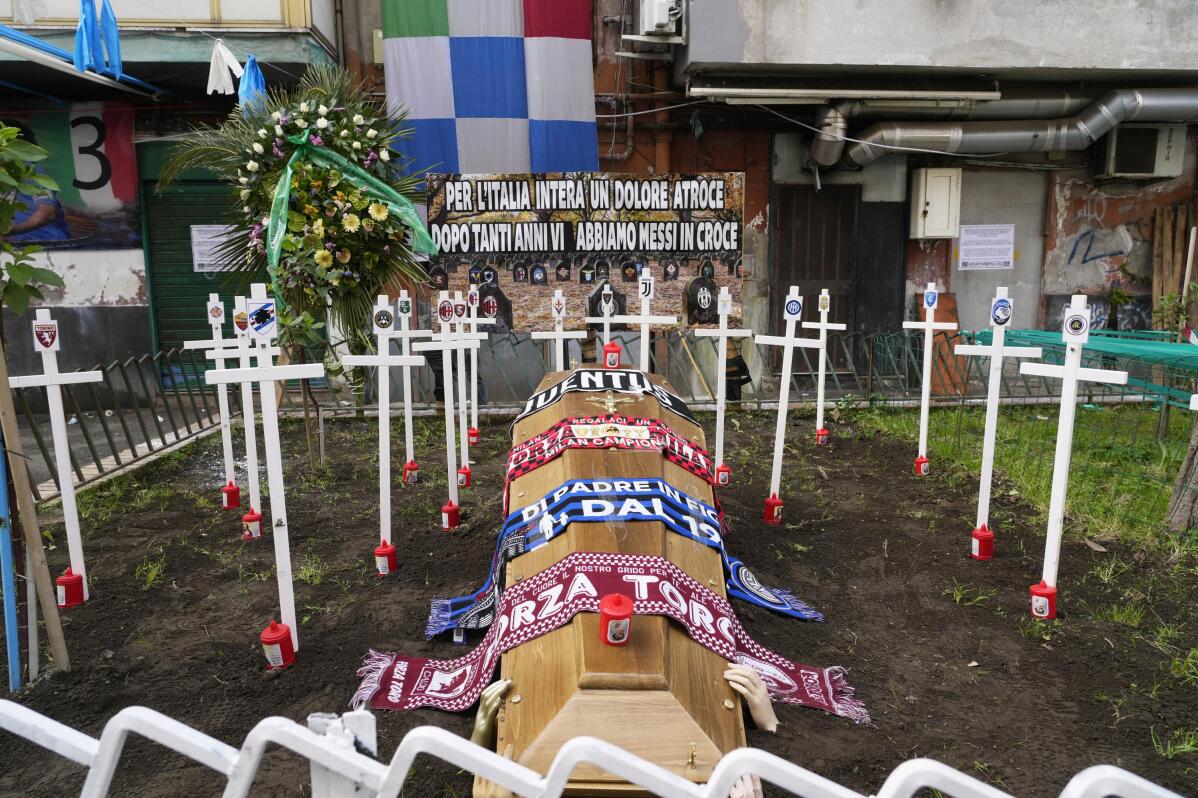 11 of 20

|
A mock cemetery with crosses bearing the Italian Serie A soccer teams flags and a coffin with the scarfs of the Juventus, Milan and Inter teams and a banner in background reading: " for all of Italy an atrocious pain, after so many years we have put you all on the crosses" , is seen in Naples, Italy, Sunday, April 30, 2023. After Napoli's game was moved to Sunday, the team could secure the title in front of their own fans by beating Salernitana — if Lazio fails to win at Inter Milan earlier in the day. Diego Maradona led Napoli to its only previous Serie A titles in 1987 and 1990. (AP Photo/Gregorio Borgia)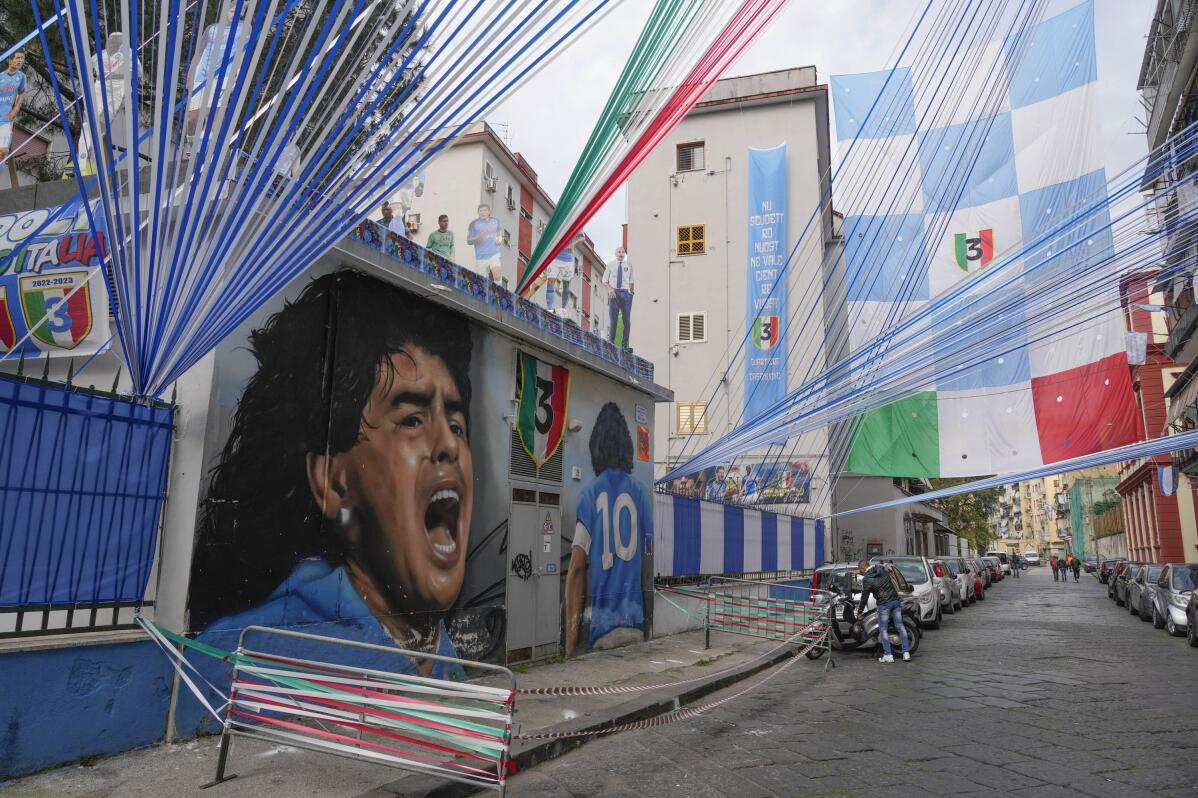 12 of 20

|
A huge mural of Diego Armando Maradona and Napoli soccer team flags adorn a street in Naples, Italy, Sunday, April 30, 2023. After Napoli's game was moved to Sunday, the team could secure the title in front of their own fans by beating Salernitana — if Lazio fails to win at Inter Milan earlier in the day. Diego Maradona led Napoli to its only previous Serie A titles in 1987 and 1990. (AP Photo/Gregorio Borgia)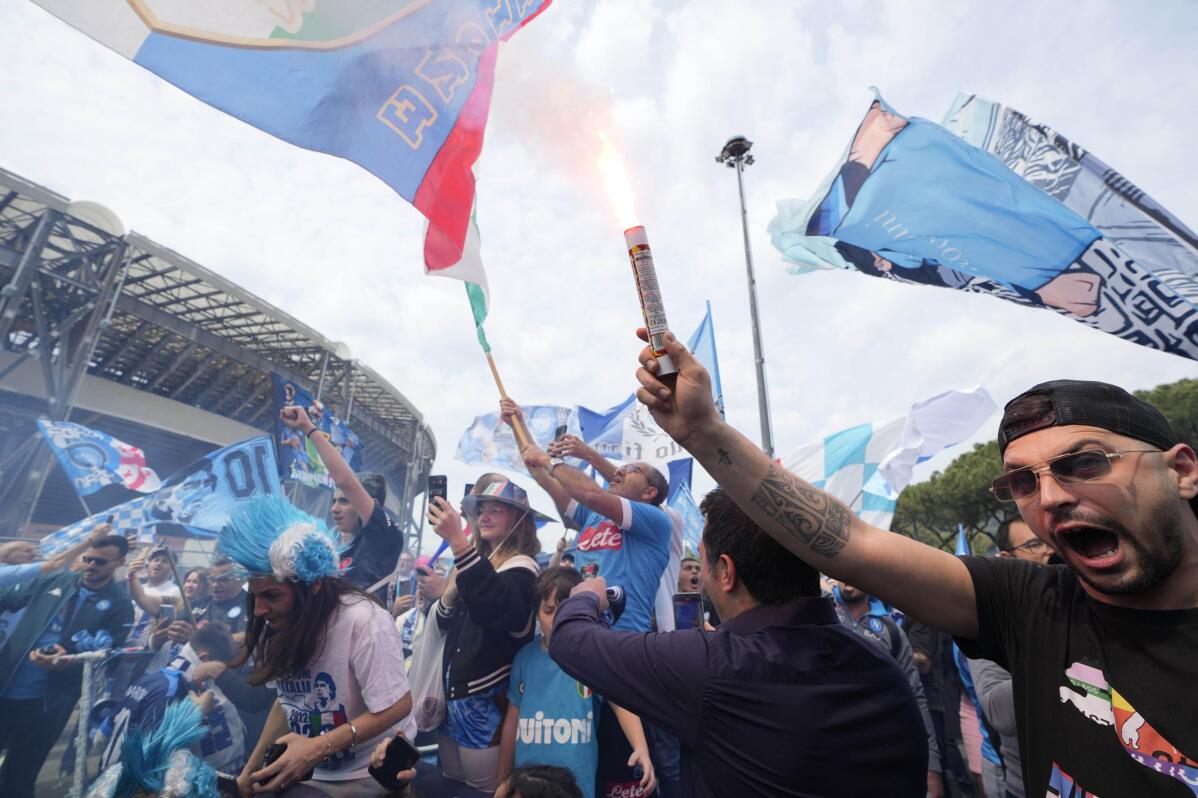 13 of 20

|
Napoli fans celebrate outside the Diego Maradona stadium in Naples, Italy, Sunday, April 30, 2023. After Napoli's game was moved to Sunday, the team could secure the title in front of their own fans by beating Salernitana — if Lazio fails to win at Inter Milan earlier in the day. Diego Maradona led Napoli to its only previous Serie A titles in 1987 and 1990. (AP Photo/Gregorio Borgia)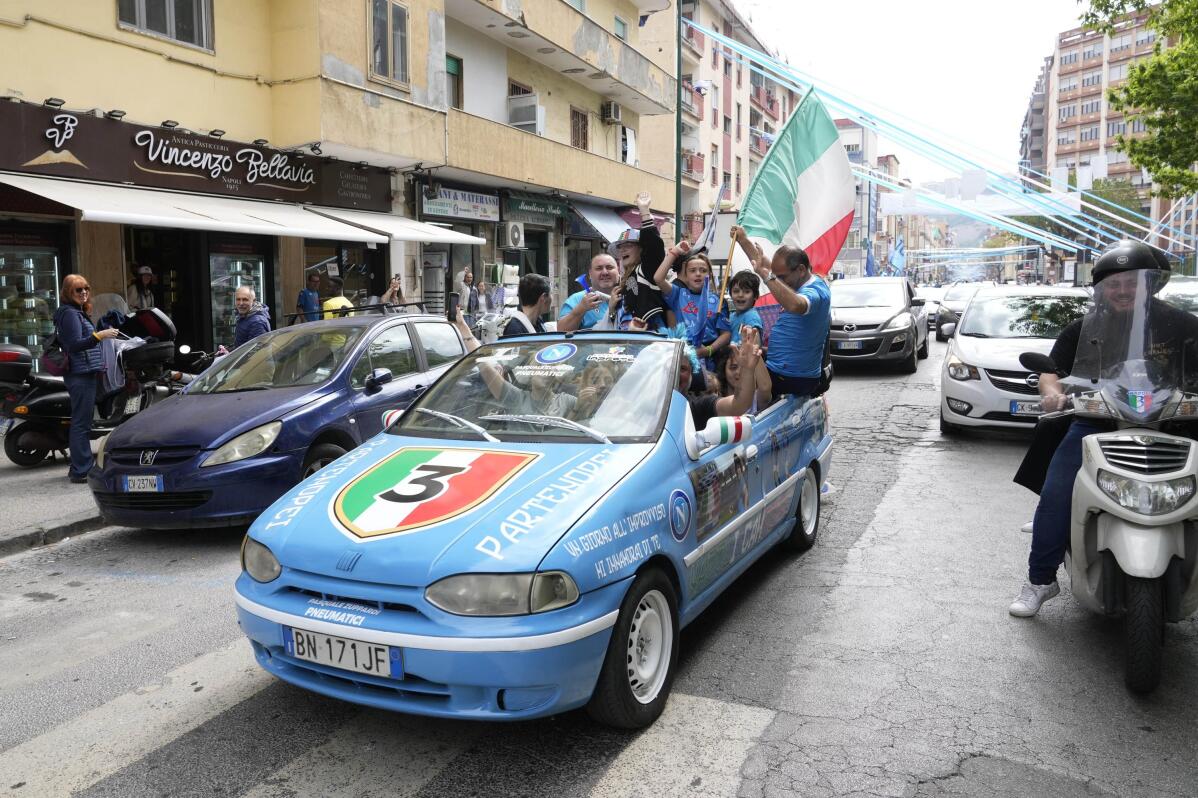 14 of 20

|
Napoli fans celebrate outside the Diego Maradona stadium in Naples, Italy, Sunday, April 30, 2023. After Napoli's game was moved to Sunday, the team could secure the title in front of their own fans by beating Salernitana — if Lazio fails to win at Inter Milan earlier in the day. Diego Maradona led Napoli to its only previous Serie A titles in 1987 and 1990. (AP Photo/Gregorio Borgia)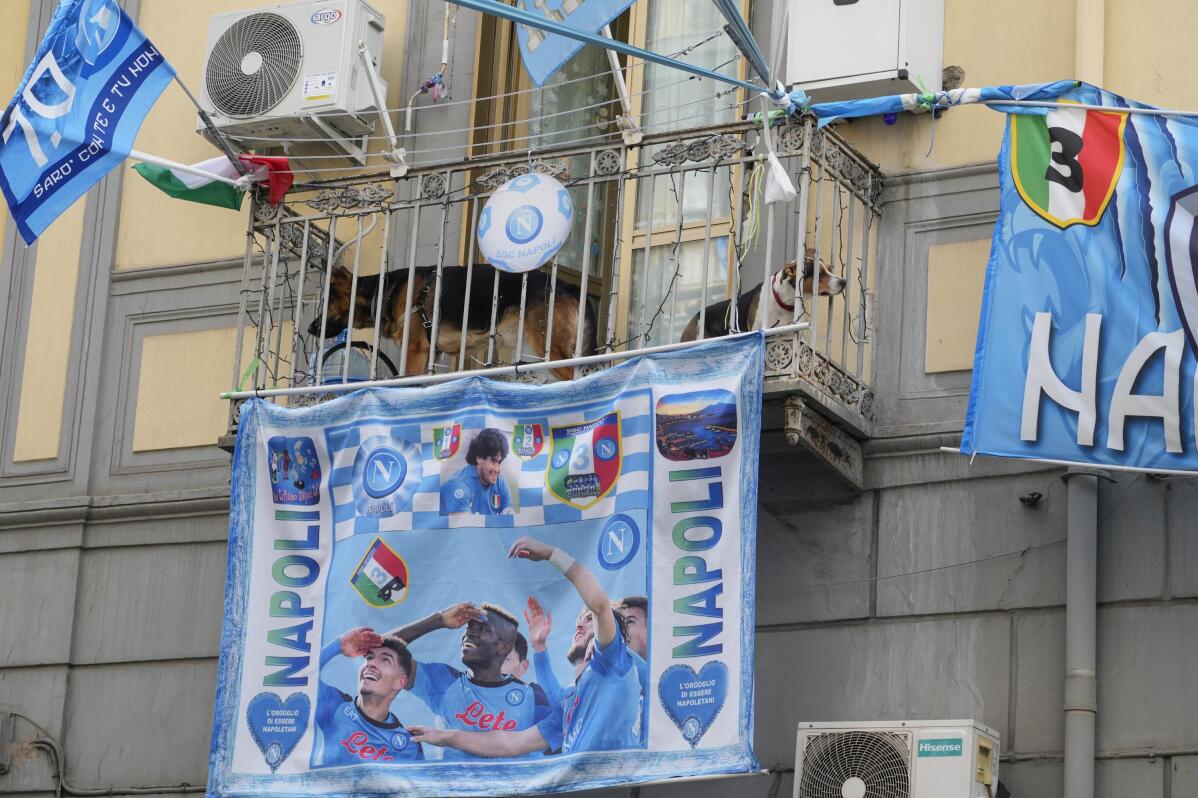 15 of 20

|
Dogs peers through the fence of a balcony adorned with Napoli soccer team flags, in Naples, Italy, Sunday, April 30, 2023. After Napoli's game was moved to Sunday, the team could secure the title in front of their own fans by beating Salernitana — if Lazio fails to win at Inter Milan earlier in the day. Diego Maradona led Napoli to its only previous Serie A titles in 1987 and 1990. (AP Photo/Gregorio Borgia)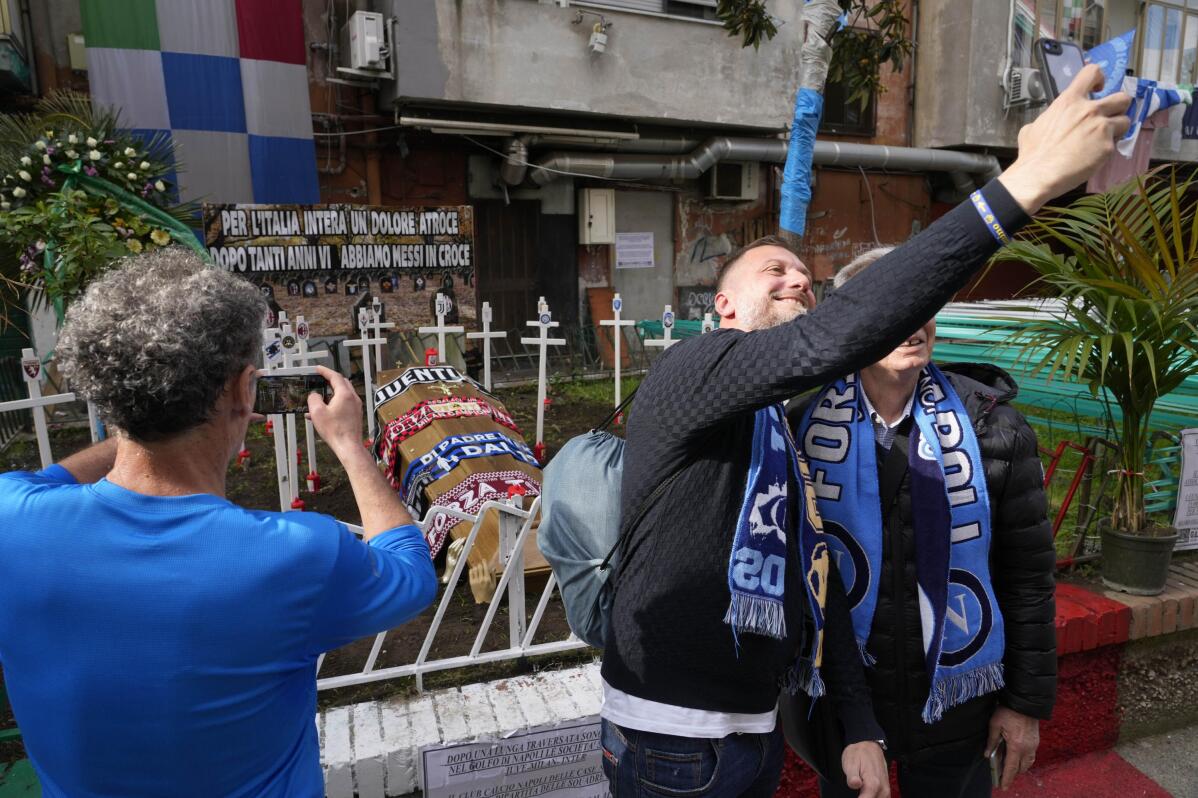 16 of 20

|
Napoli fans take pictures near a mock cemetery with crosses bearing the Italian Serie A soccer teams flags and a coffin with the scarfs of the Juventus, Milan and Inter teams and a banner in background reading: " for all of Italy an atrocious pain, after so many years we have put you all on the crosses" , is seen in Naples, Italy, Sunday, April 30, 2023. After Napoli's game was moved to Sunday, the team could secure the title in front of their own fans by beating Salernitana — if Lazio fails to win at Inter Milan earlier in the day. Diego Maradona led Napoli to its only previous Serie A titles in 1987 and 1990. (AP Photo/Gregorio Borgia)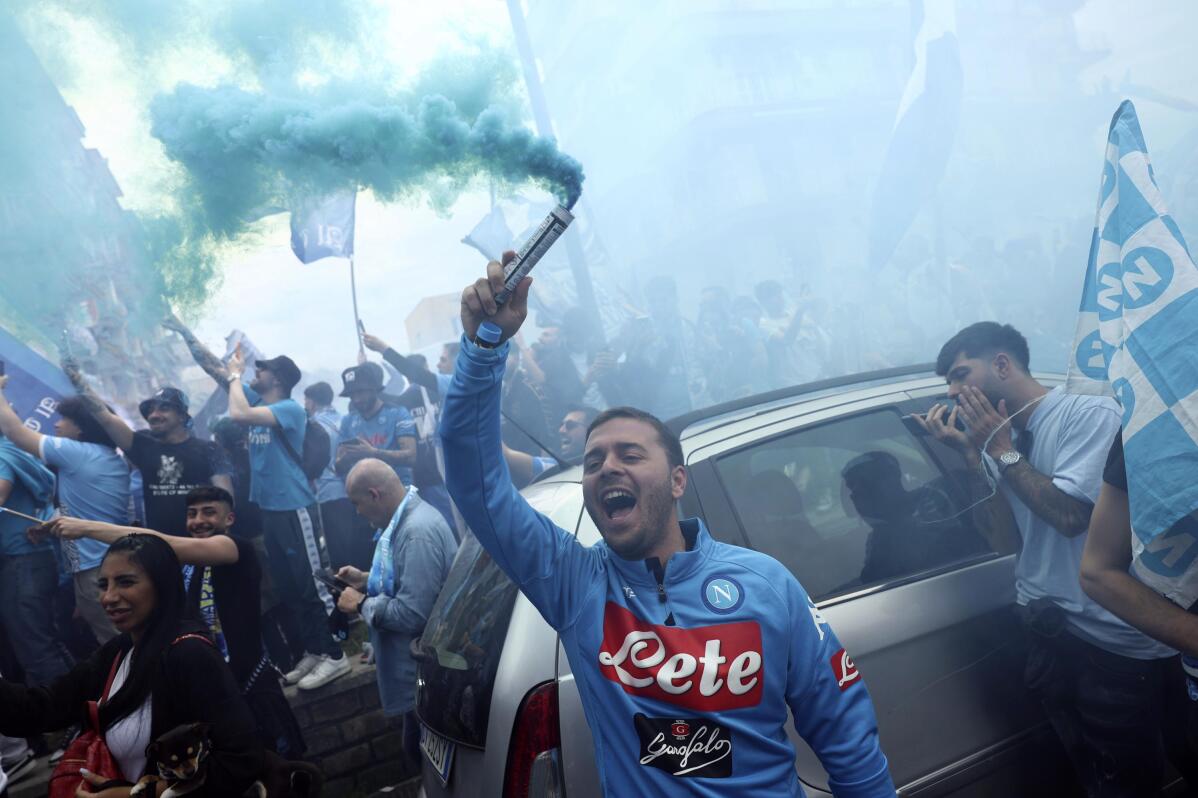 17 of 20

|
Napoli fans celebrate as they wait for the start of the Serie A soccer match between Napoli and Salernitana, in Naples, Italy, Sunday, April 30, 2021. Napoli fans are already celebrating in anticipation of sealing the club's first Italian league title since the days when Diego Maradona played for the club. Hours before Napoli's match against Salernitana later Sunday, fans waved flags in Italy's green, white and red colors that featured a "3" on them to signify what would be the team's third Serie A championship after Maradona led the Partenopei to their first two titles in 1987 and 1990. (Alessandro Garofalo/LaPresse via AP)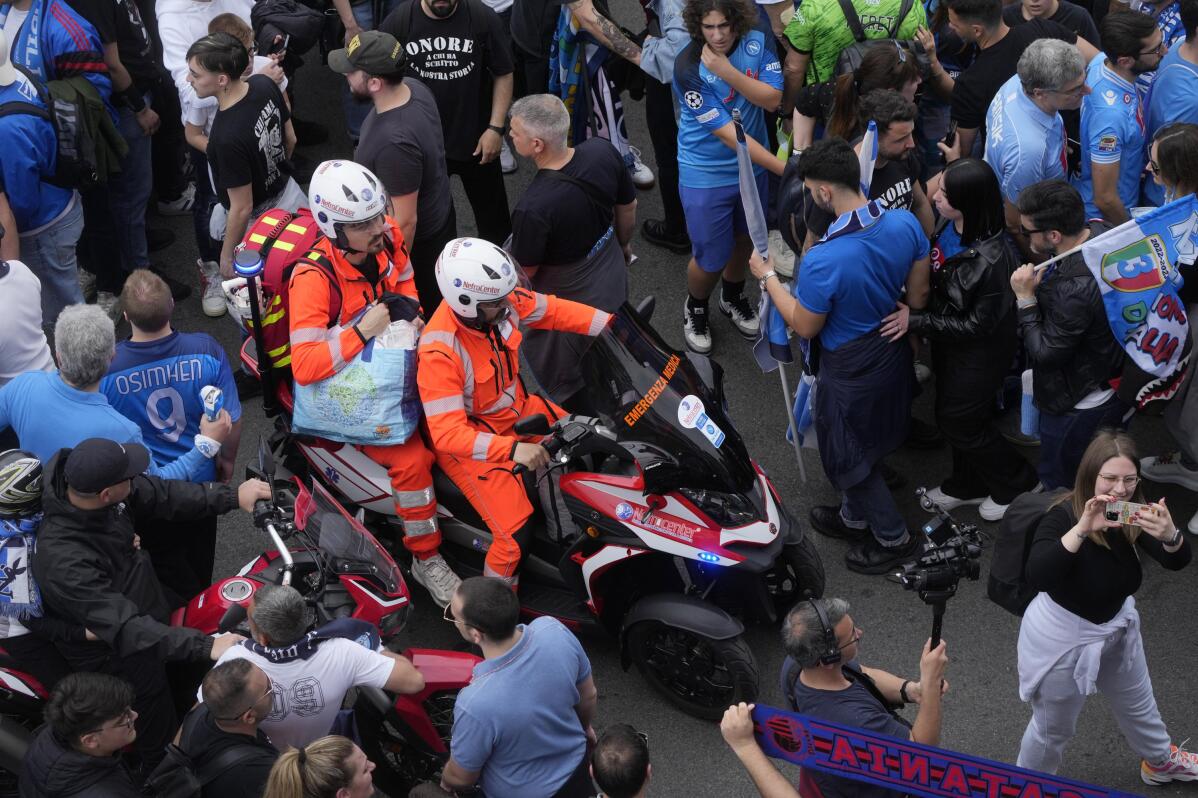 18 of 20

|
Paramedics drive through a crowd of fans outside the stadium for the Serie A soccer match between Napoli and Salernitana at the Diego Armando Maradona stadium, in Naples, Italy, Sunday, April 30, 2023. (AP Photo/Gregorio Borgia)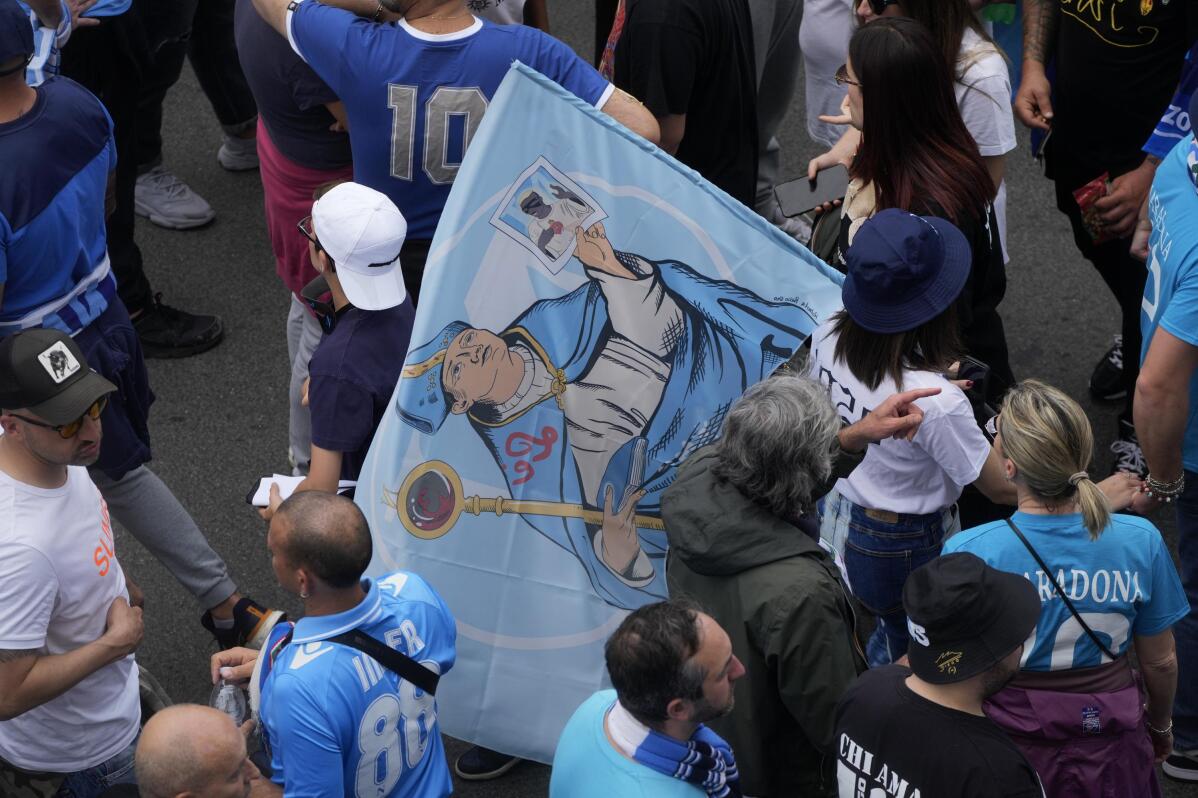 19 of 20

|
Fans walk outside the stadium before the Serie A soccer match between Napoli and Salernitana at the Diego Armando Maradona stadium, in Naples, Italy, Sunday, April 30, 2023. (AP Photo/Gregorio Borgia)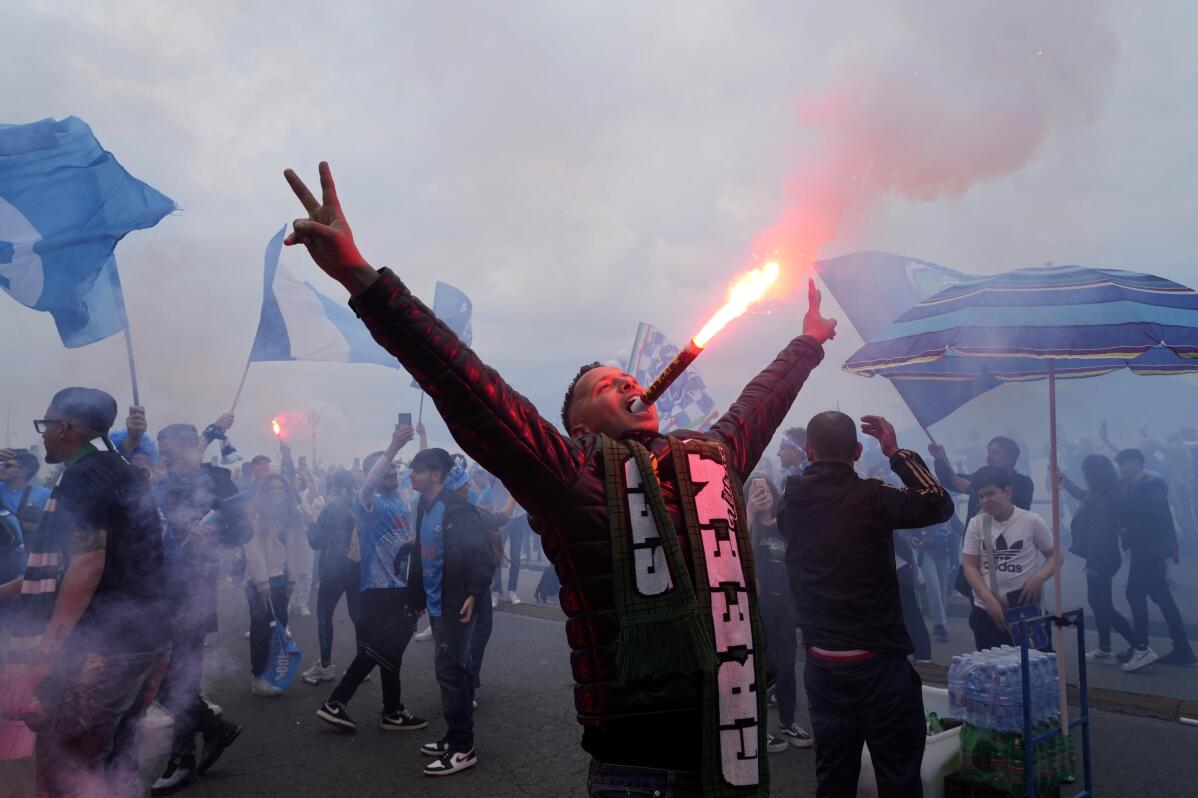 20 of 20

|
Napoli fans celebrates on the street after their team scored the first goal during the Serie A soccer match between Napoli and Salernitana at the Diego Armando Maradona stadium, in Naples, Italy, Sunday, April 30, 2023. (AP Photo/Gregorio Borgia)
Napoli fans go from celebrating to reacting to draw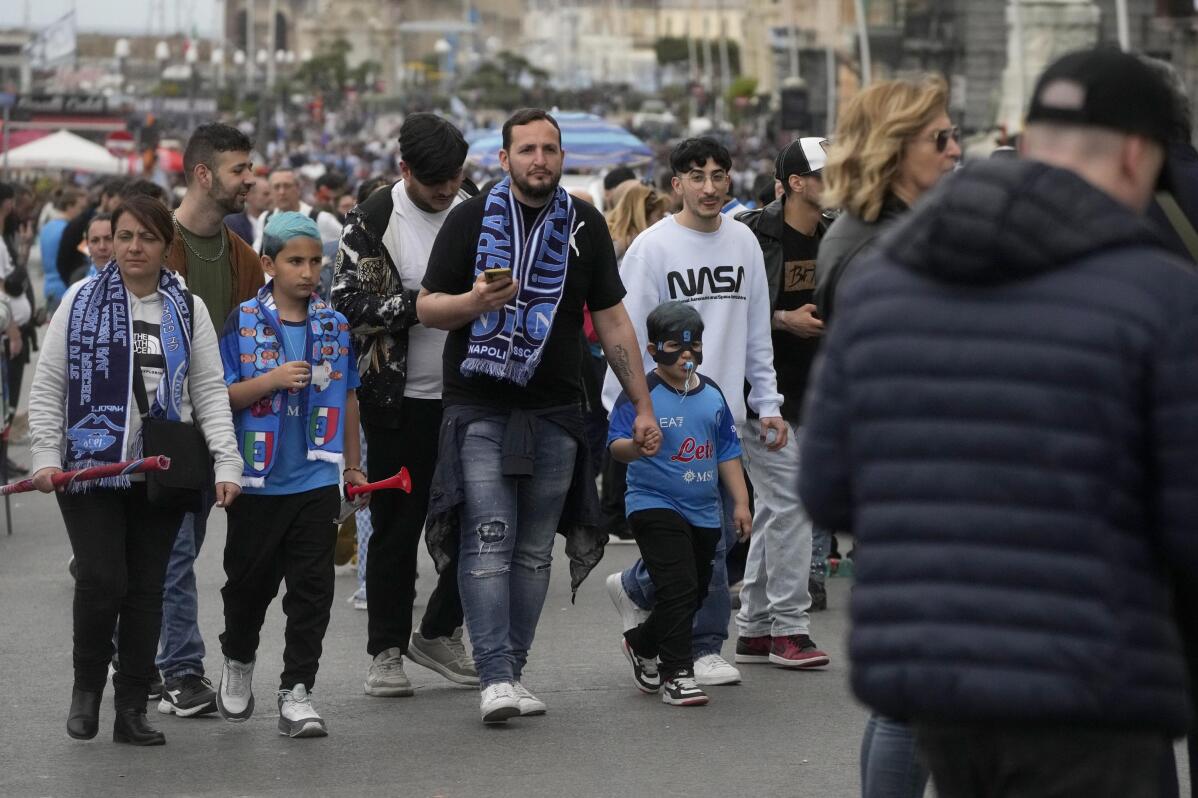 1 of 20

|
Napoli fans on the street in Naples react at the end of the Serie A soccer match between Napoli and Salernitana at the Diego Armando Maradona stadium, in Naples, Italy, Sunday, April 30, 2023. The game ended in a 1-1 draw and Napoli missed a chance to win the Italian title Sunday with six rounds left to play. (AP Photo/Gregorio Borgia)
1 of 20
Napoli fans on the street in Naples react at the end of the Serie A soccer match between Napoli and Salernitana at the Diego Armando Maradona stadium, in Naples, Italy, Sunday, April 30, 2023. The game ended in a 1-1 draw and Napoli missed a chance to win the Italian title Sunday with six rounds left to play. (AP Photo/Gregorio Borgia)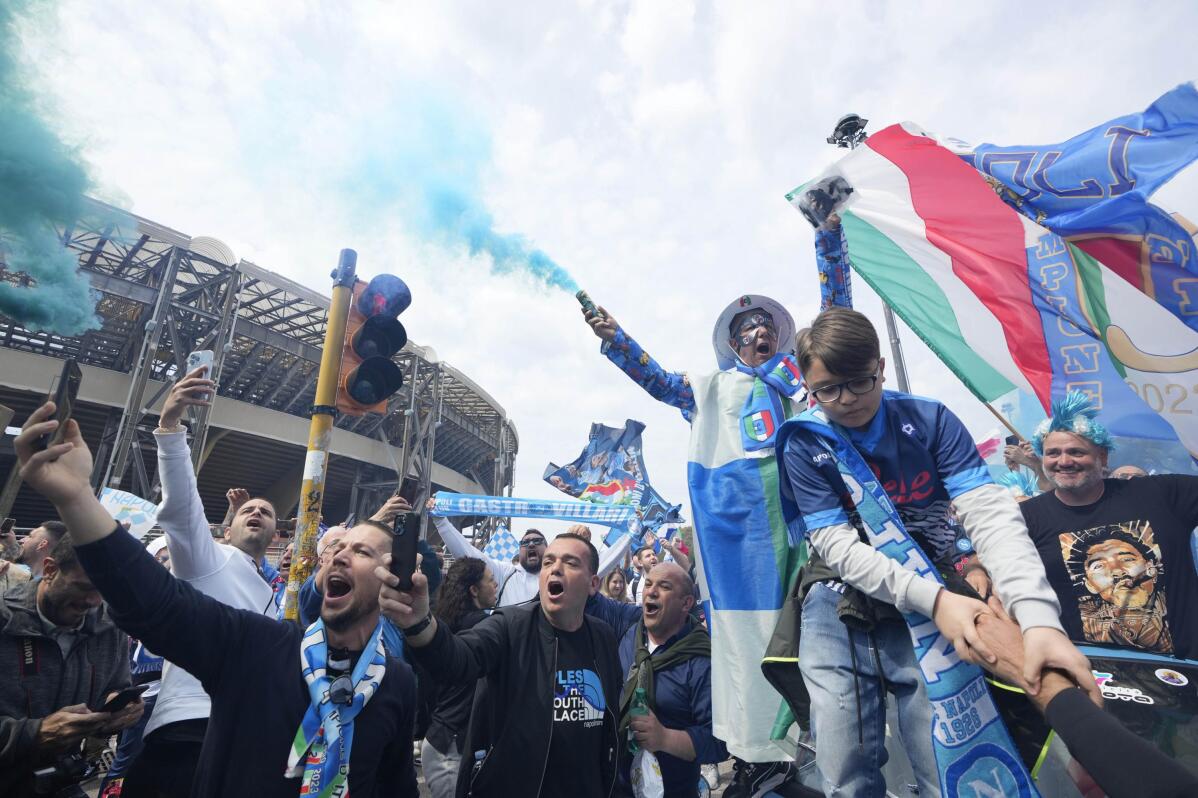 2 of 20

|
Napoli fans celebrate outside the Diego Maradona stadium in Naples, Italy, Sunday, April 30, 2023. After Napoli's game was moved to Sunday, the team could secure the title in front of their own fans by beating Salernitana — if Lazio fails to win at Inter Milan earlier in the day. Diego Maradona led Napoli to its only previous Serie A titles in 1987 and 1990. (AP Photo/Gregorio Borgia)
2 of 20
Napoli fans celebrate outside the Diego Maradona stadium in Naples, Italy, Sunday, April 30, 2023. After Napoli's game was moved to Sunday, the team could secure the title in front of their own fans by beating Salernitana — if Lazio fails to win at Inter Milan earlier in the day. Diego Maradona led Napoli to its only previous Serie A titles in 1987 and 1990. (AP Photo/Gregorio Borgia)
3 of 20

|
Napoli fans celebrate ahead of a Serie A soccer match between Napoli and Salernitana, in Naples, Italy, Sunday, April 30, 2023. Napoli could end a wait of more than three decades for the Serie A title. Napoli will know the permutations before its match against Salernitana. If second-placed Lazio fails to win at Inter Milan earlier in the day, then a Napoli win will clinch the scudetto. (Alessandro Garofalo/LaPresse via AP)
3 of 20
Napoli fans celebrate ahead of a Serie A soccer match between Napoli and Salernitana, in Naples, Italy, Sunday, April 30, 2023. Napoli could end a wait of more than three decades for the Serie A title. Napoli will know the permutations before its match against Salernitana. If second-placed Lazio fails to win at Inter Milan earlier in the day, then a Napoli win will clinch the scudetto. (Alessandro Garofalo/LaPresse via AP)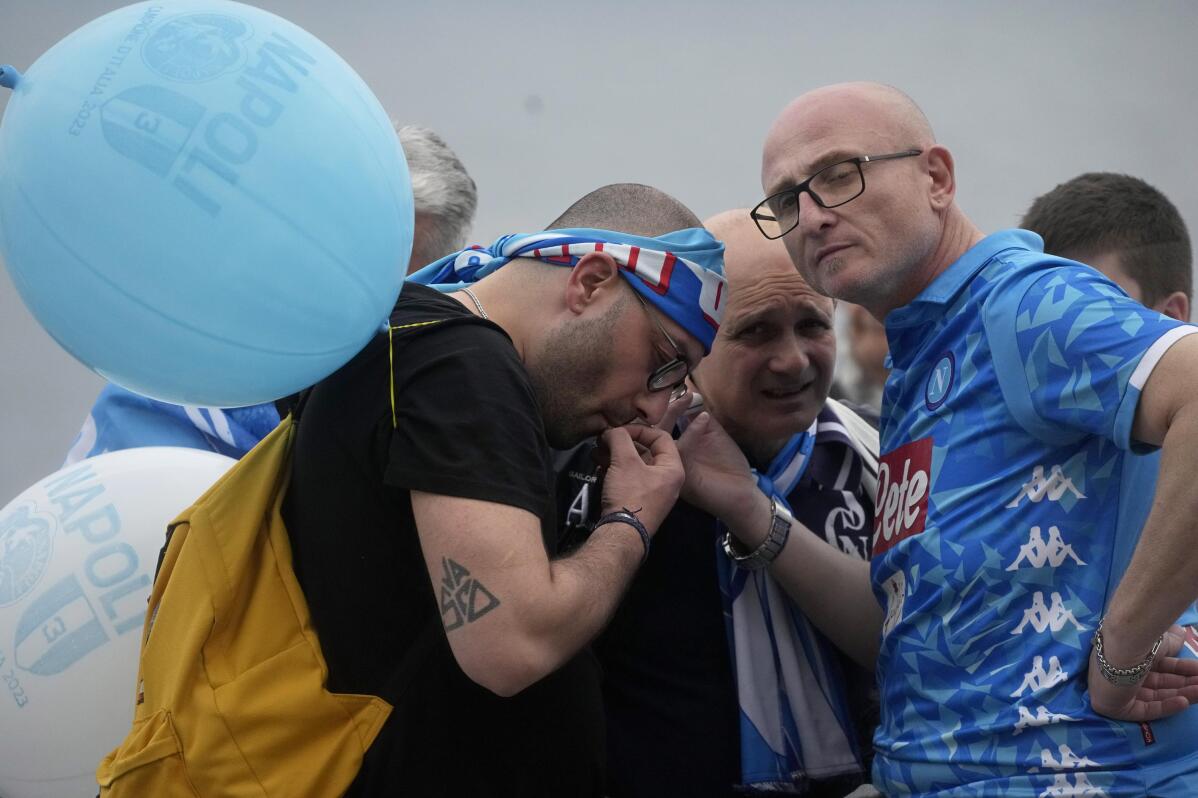 4 of 20

|
Napoli fans on the street in Naples listen to the last minutes of the Serie A soccer match between Napoli and Salernitana at the Diego Armando Maradona stadium, in Naples, Italy, Sunday, April 30, 2023. The game ended in a 1-1 draw and Napoli missed a chance to win the Italian title Sunday with six rounds left to play. (AP Photo/Gregorio Borgia)
4 of 20
Napoli fans on the street in Naples listen to the last minutes of the Serie A soccer match between Napoli and Salernitana at the Diego Armando Maradona stadium, in Naples, Italy, Sunday, April 30, 2023. The game ended in a 1-1 draw and Napoli missed a chance to win the Italian title Sunday with six rounds left to play. (AP Photo/Gregorio Borgia)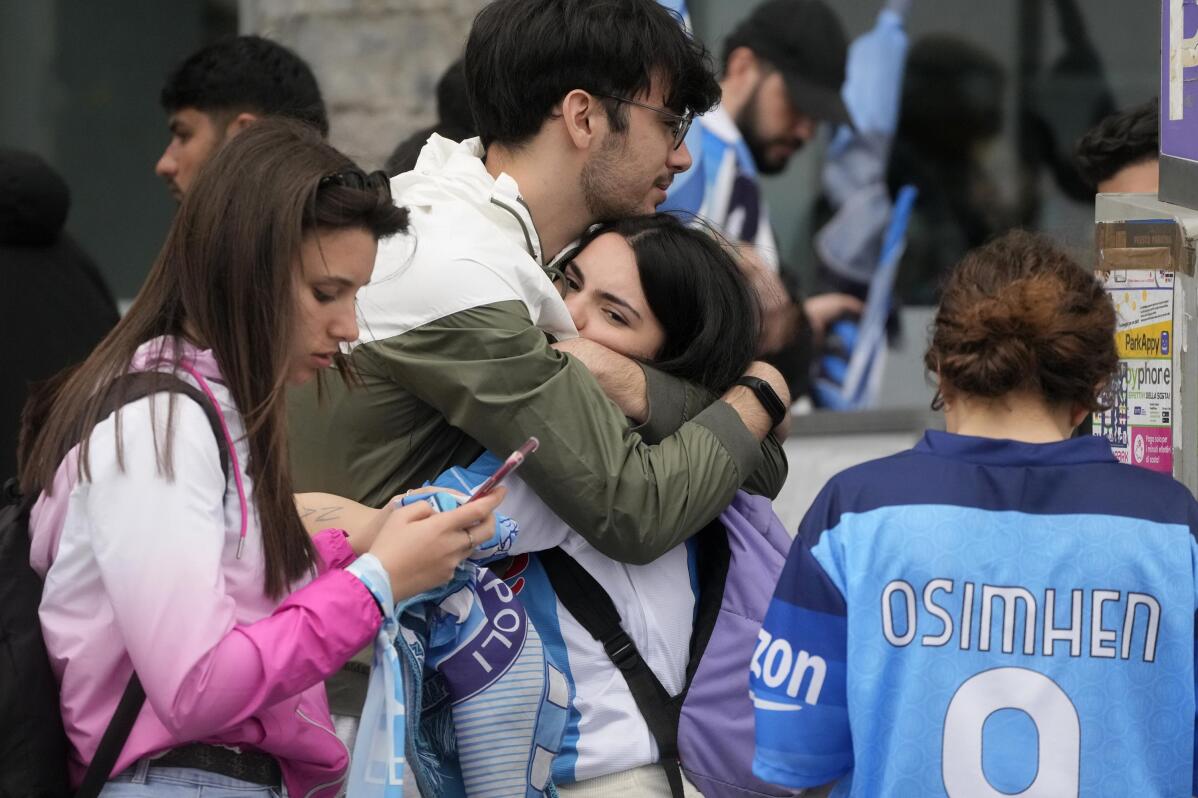 5 of 20

|
Napoli fans on the street in Naples react at the end of the Serie A soccer match between Napoli and Salernitana at the Diego Armando Maradona stadium, in Naples, Italy, Sunday, April 30, 2023. The game ended in a 1-1 draw and Napoli missed a chance to win the Italian title Sunday with six rounds left to play. (AP Photo/Gregorio Borgia)
5 of 20
Napoli fans on the street in Naples react at the end of the Serie A soccer match between Napoli and Salernitana at the Diego Armando Maradona stadium, in Naples, Italy, Sunday, April 30, 2023. The game ended in a 1-1 draw and Napoli missed a chance to win the Italian title Sunday with six rounds left to play. (AP Photo/Gregorio Borgia)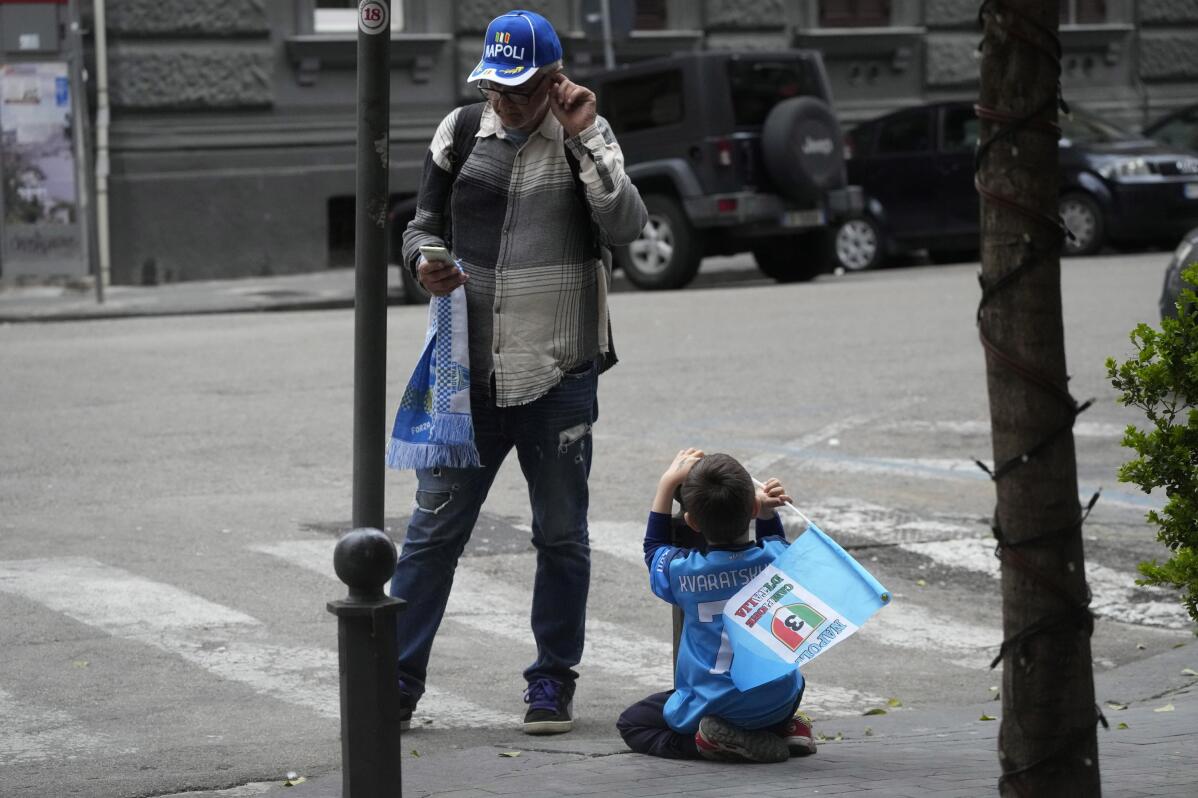 6 of 20

|
Napoli fans on the street in Naples during the Serie A soccer match between Napoli and Salernitana at the Diego Armando Maradona stadium, in Naples, Italy, Sunday, April 30, 2023. The game ended in a 1-1 draw and Napoli missed a chance to win the Italian title Sunday with six rounds left to play. (AP Photo/Gregorio Borgia)
6 of 20
Napoli fans on the street in Naples during the Serie A soccer match between Napoli and Salernitana at the Diego Armando Maradona stadium, in Naples, Italy, Sunday, April 30, 2023. The game ended in a 1-1 draw and Napoli missed a chance to win the Italian title Sunday with six rounds left to play. (AP Photo/Gregorio Borgia)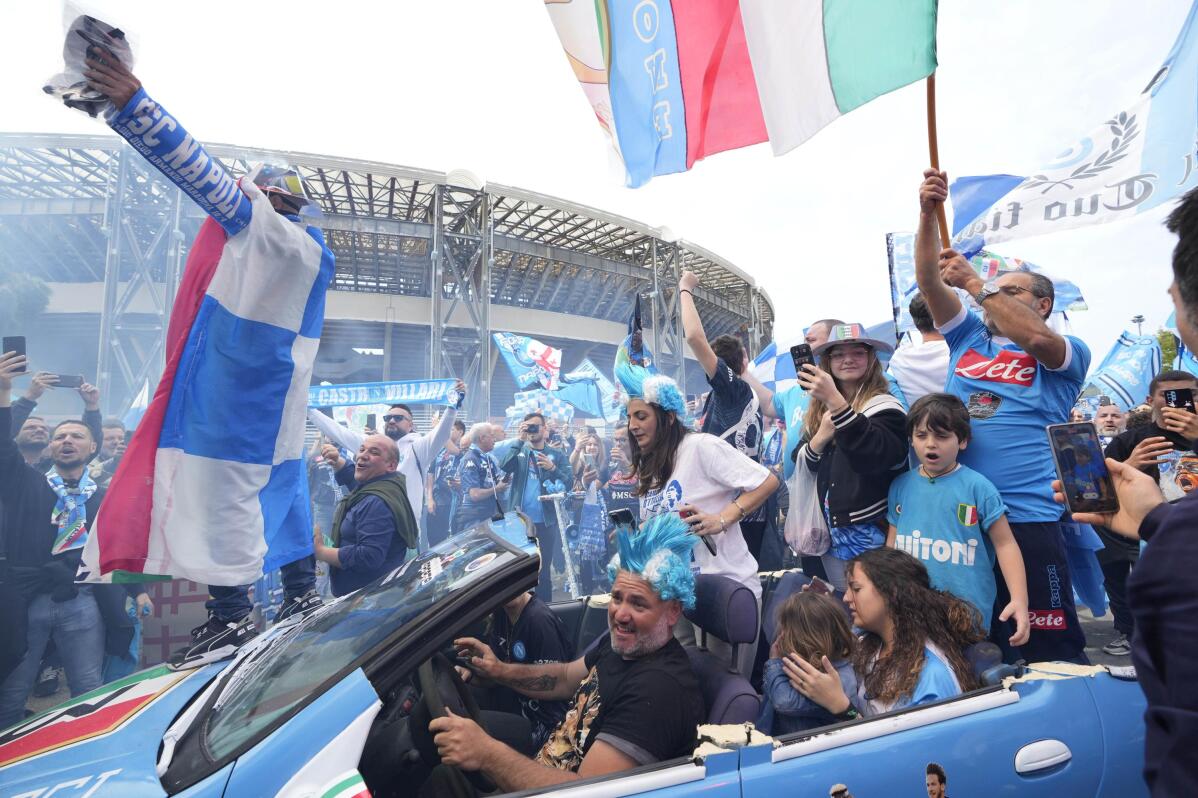 7 of 20

|
Napoli fans celebrate outside the Diego Maradona stadium in Naples, Italy, Sunday, April 30, 2023. After Napoli's game was moved to Sunday, the team could secure the title in front of their own fans by beating Salernitana — if Lazio fails to win at Inter Milan earlier in the day. Diego Maradona led Napoli to its only previous Serie A titles in 1987 and 1990. (AP Photo/Gregorio Borgia)
7 of 20
Napoli fans celebrate outside the Diego Maradona stadium in Naples, Italy, Sunday, April 30, 2023. After Napoli's game was moved to Sunday, the team could secure the title in front of their own fans by beating Salernitana — if Lazio fails to win at Inter Milan earlier in the day. Diego Maradona led Napoli to its only previous Serie A titles in 1987 and 1990. (AP Photo/Gregorio Borgia)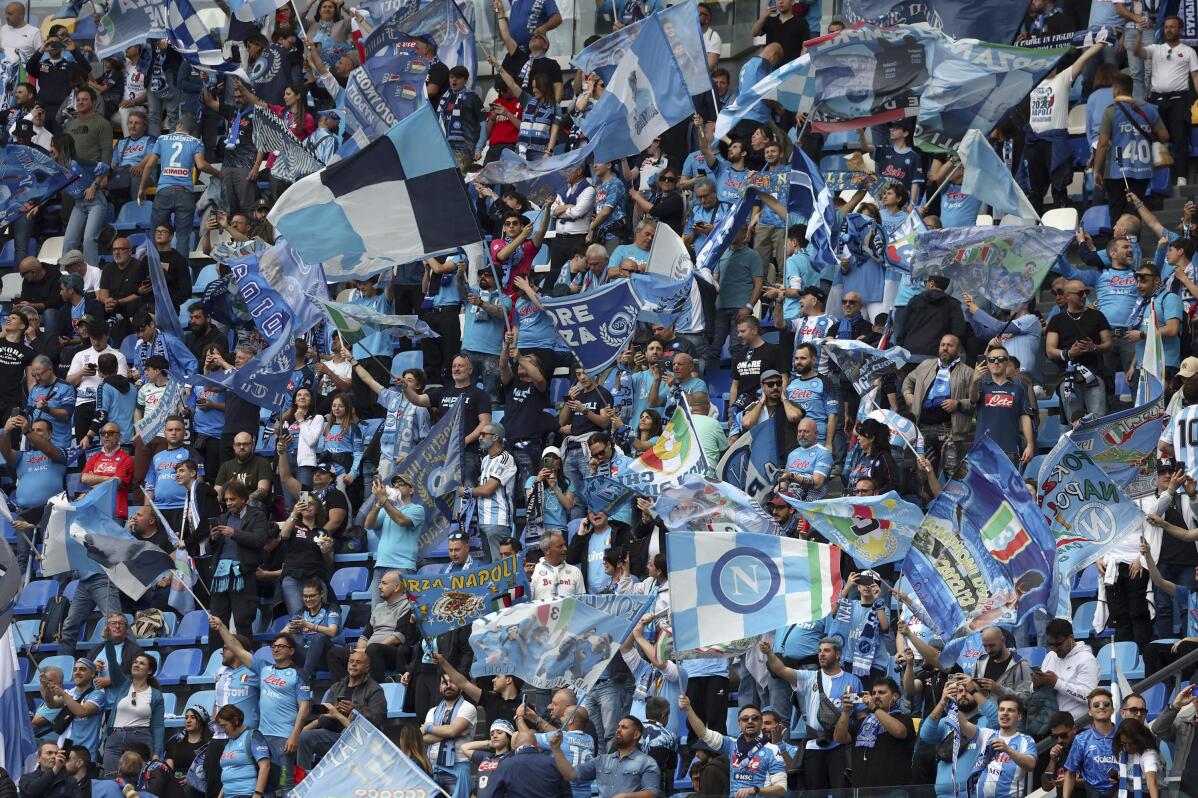 8 of 20

|
Napoli fans celebrate as they wait for the start of the Serie A soccer match between Napoli and Salernitana, at Naples' Diego Armando Maradona stadium, Italy, Sunday, April 30, 2021. Napoli fans are already celebrating in anticipation of sealing the club's first Italian league title since the days when Diego Maradona played for the club. Hours before Napoli's match against Salernitana later Sunday, fans waved flags in Italy's green, white and red colors that featured a "3" on them to signify what would be the team's third Serie A championship after Maradona led the Partenopei to their first two titles in 1987 and 1990. (Alessandro Garofalo/LaPresse via AP)
8 of 20
Napoli fans celebrate as they wait for the start of the Serie A soccer match between Napoli and Salernitana, at Naples' Diego Armando Maradona stadium, Italy, Sunday, April 30, 2021. Napoli fans are already celebrating in anticipation of sealing the club's first Italian league title since the days when Diego Maradona played for the club. Hours before Napoli's match against Salernitana later Sunday, fans waved flags in Italy's green, white and red colors that featured a "3" on them to signify what would be the team's third Serie A championship after Maradona led the Partenopei to their first two titles in 1987 and 1990. (Alessandro Garofalo/LaPresse via AP)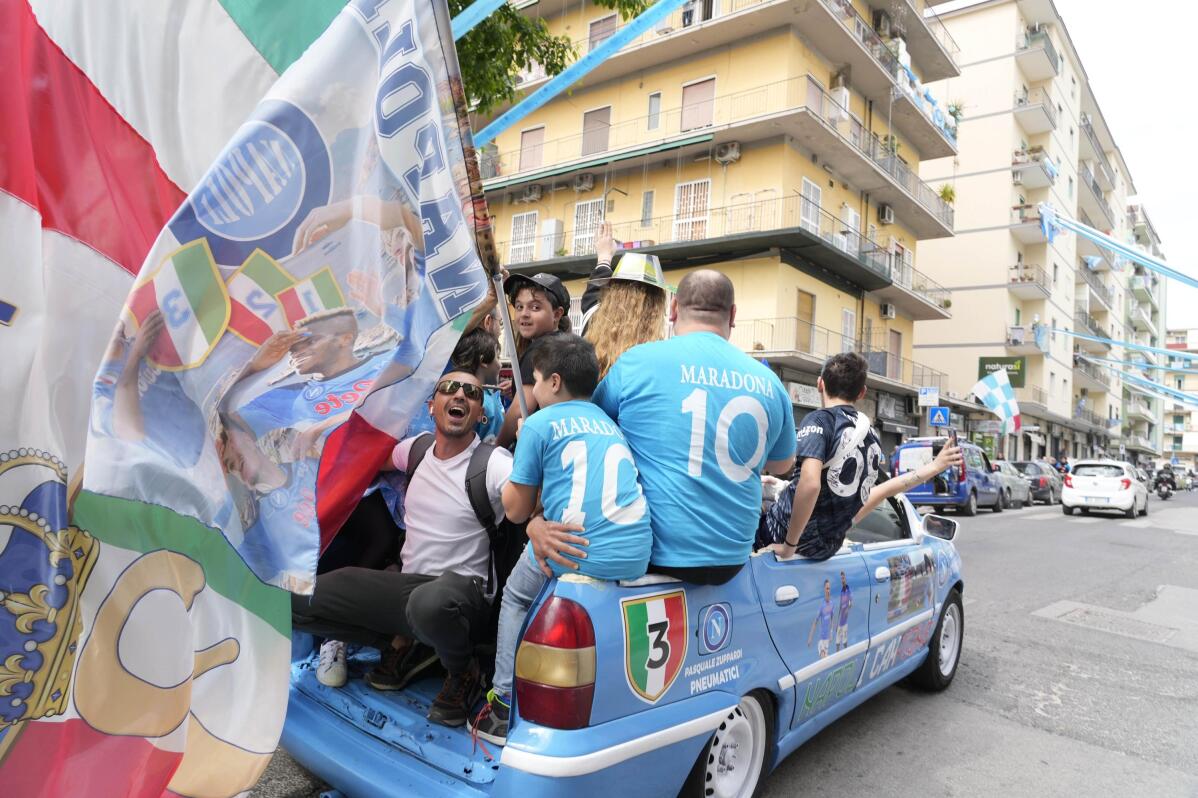 9 of 20

|
Napoli fans celebrate outside the Diego Maradona stadium in Naples, Italy, Sunday, April 30, 2023. After Napoli's game was moved to Sunday, the team could secure the title in front of their own fans by beating Salernitana — if Lazio fails to win at Inter Milan earlier in the day. Diego Maradona led Napoli to its only previous Serie A titles in 1987 and 1990. (AP Photo/Gregorio Borgia)
9 of 20
Napoli fans celebrate outside the Diego Maradona stadium in Naples, Italy, Sunday, April 30, 2023. After Napoli's game was moved to Sunday, the team could secure the title in front of their own fans by beating Salernitana — if Lazio fails to win at Inter Milan earlier in the day. Diego Maradona led Napoli to its only previous Serie A titles in 1987 and 1990. (AP Photo/Gregorio Borgia)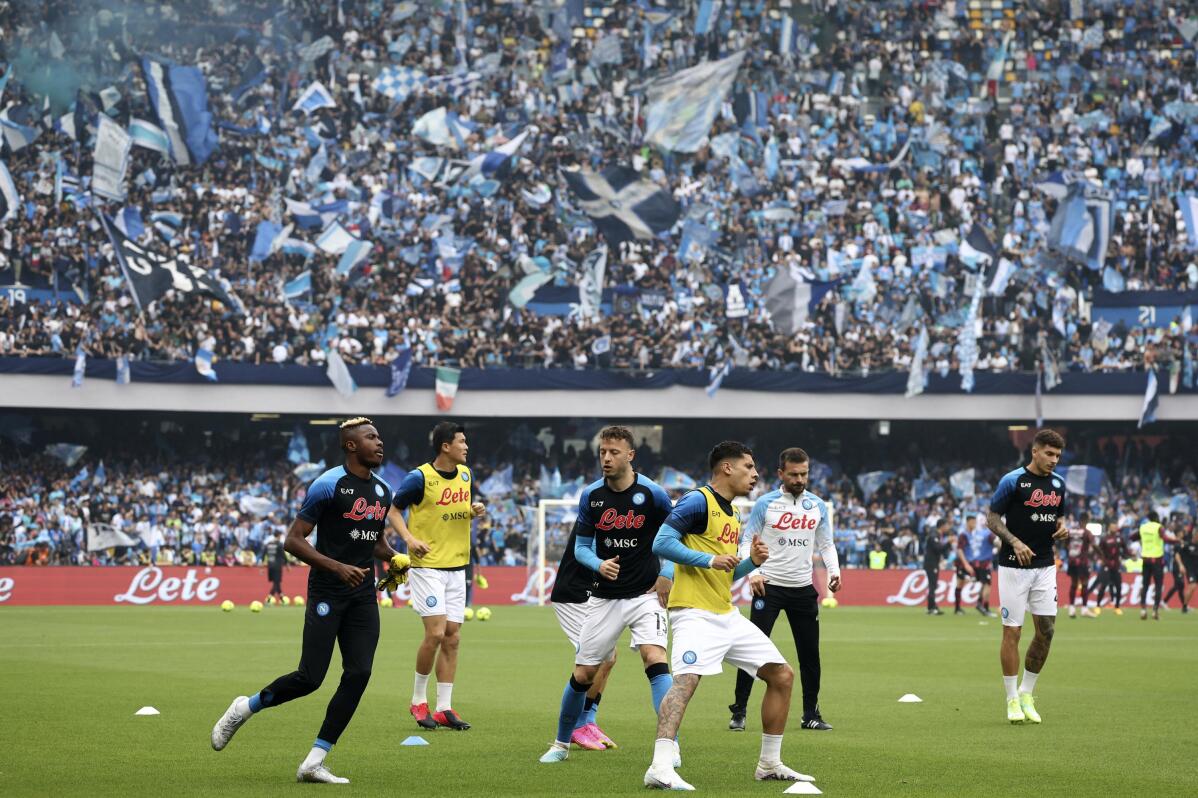 10 of 20

|
Napoli players warm up on the field before a Serie A soccer match between Napoli and Salernitana, at Naples' Diego Armando Maradona stadium, Italy, Sunday, April 30, 2021. Napoli fans are already celebrating in anticipation of sealing the club's first Italian league title since the days when Diego Maradona played for the club. (Alessandro Garofalo/LaPresse via AP)
10 of 20
Napoli players warm up on the field before a Serie A soccer match between Napoli and Salernitana, at Naples' Diego Armando Maradona stadium, Italy, Sunday, April 30, 2021. Napoli fans are already celebrating in anticipation of sealing the club's first Italian league title since the days when Diego Maradona played for the club. (Alessandro Garofalo/LaPresse via AP)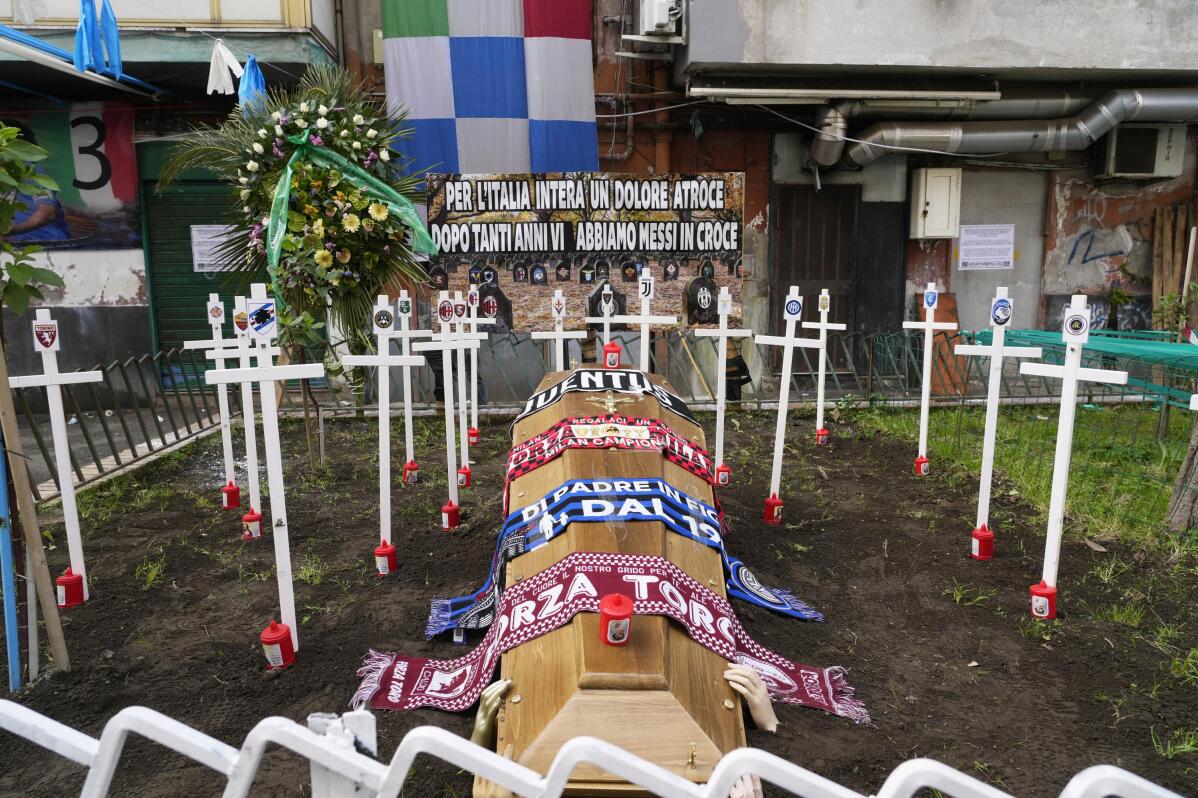 11 of 20

|
A mock cemetery with crosses bearing the Italian Serie A soccer teams flags and a coffin with the scarfs of the Juventus, Milan and Inter teams and a banner in background reading: " for all of Italy an atrocious pain, after so many years we have put you all on the crosses" , is seen in Naples, Italy, Sunday, April 30, 2023. After Napoli's game was moved to Sunday, the team could secure the title in front of their own fans by beating Salernitana — if Lazio fails to win at Inter Milan earlier in the day. Diego Maradona led Napoli to its only previous Serie A titles in 1987 and 1990. (AP Photo/Gregorio Borgia)
11 of 20
A mock cemetery with crosses bearing the Italian Serie A soccer teams flags and a coffin with the scarfs of the Juventus, Milan and Inter teams and a banner in background reading: " for all of Italy an atrocious pain, after so many years we have put you all on the crosses" , is seen in Naples, Italy, Sunday, April 30, 2023. After Napoli's game was moved to Sunday, the team could secure the title in front of their own fans by beating Salernitana — if Lazio fails to win at Inter Milan earlier in the day. Diego Maradona led Napoli to its only previous Serie A titles in 1987 and 1990. (AP Photo/Gregorio Borgia)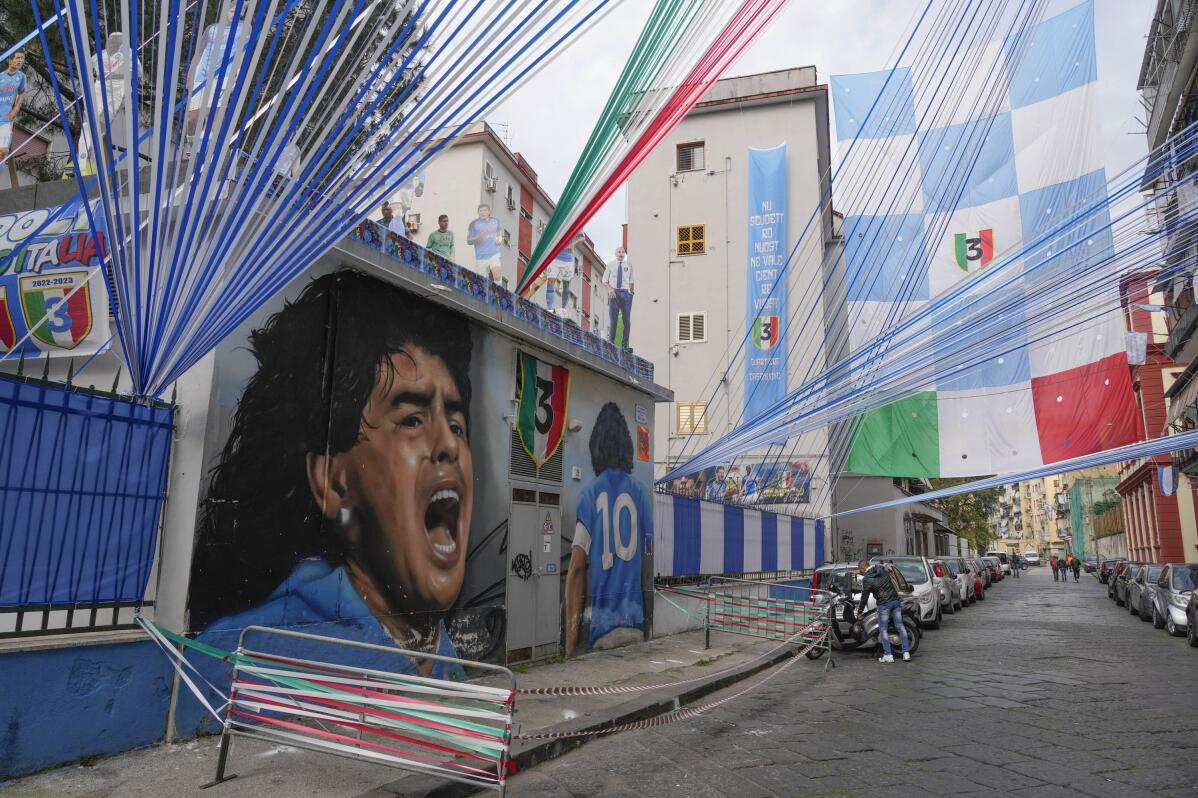 12 of 20

|
A huge mural of Diego Armando Maradona and Napoli soccer team flags adorn a street in Naples, Italy, Sunday, April 30, 2023. After Napoli's game was moved to Sunday, the team could secure the title in front of their own fans by beating Salernitana — if Lazio fails to win at Inter Milan earlier in the day. Diego Maradona led Napoli to its only previous Serie A titles in 1987 and 1990. (AP Photo/Gregorio Borgia)
12 of 20
A huge mural of Diego Armando Maradona and Napoli soccer team flags adorn a street in Naples, Italy, Sunday, April 30, 2023. After Napoli's game was moved to Sunday, the team could secure the title in front of their own fans by beating Salernitana — if Lazio fails to win at Inter Milan earlier in the day. Diego Maradona led Napoli to its only previous Serie A titles in 1987 and 1990. (AP Photo/Gregorio Borgia)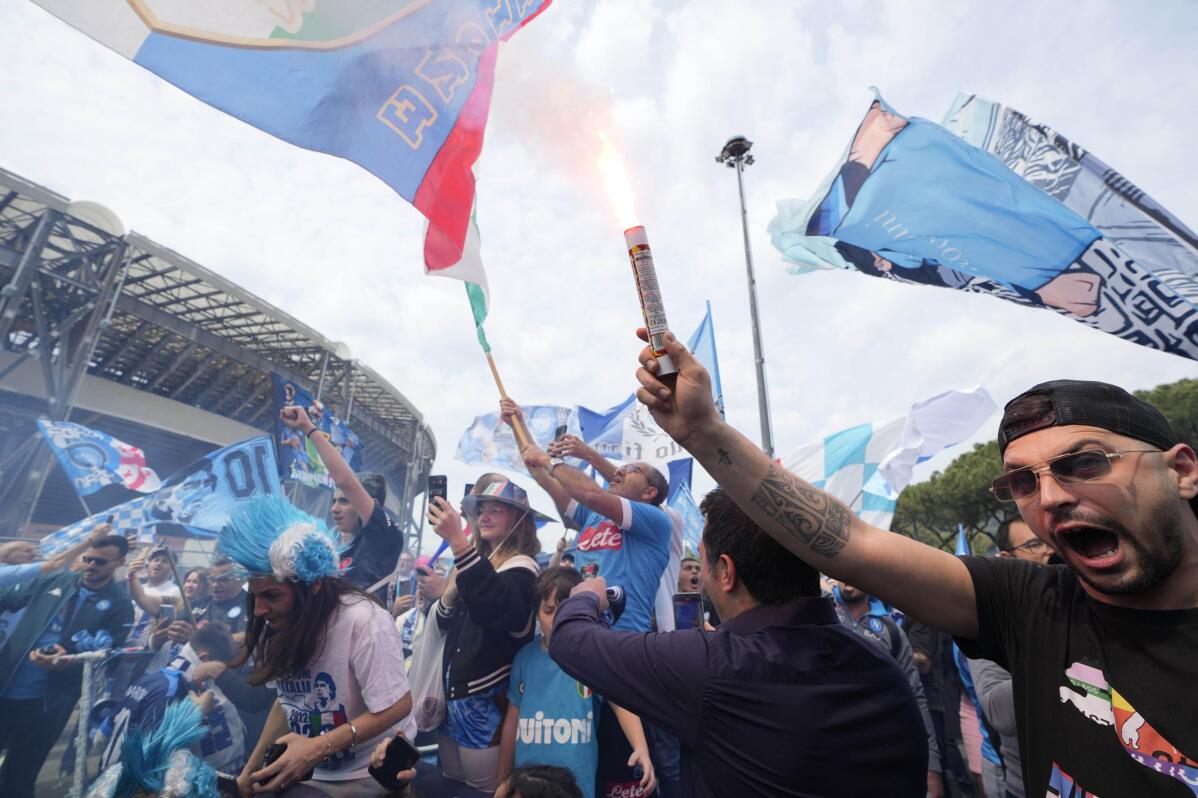 13 of 20

|
Napoli fans celebrate outside the Diego Maradona stadium in Naples, Italy, Sunday, April 30, 2023. After Napoli's game was moved to Sunday, the team could secure the title in front of their own fans by beating Salernitana — if Lazio fails to win at Inter Milan earlier in the day. Diego Maradona led Napoli to its only previous Serie A titles in 1987 and 1990. (AP Photo/Gregorio Borgia)
13 of 20
Napoli fans celebrate outside the Diego Maradona stadium in Naples, Italy, Sunday, April 30, 2023. After Napoli's game was moved to Sunday, the team could secure the title in front of their own fans by beating Salernitana — if Lazio fails to win at Inter Milan earlier in the day. Diego Maradona led Napoli to its only previous Serie A titles in 1987 and 1990. (AP Photo/Gregorio Borgia)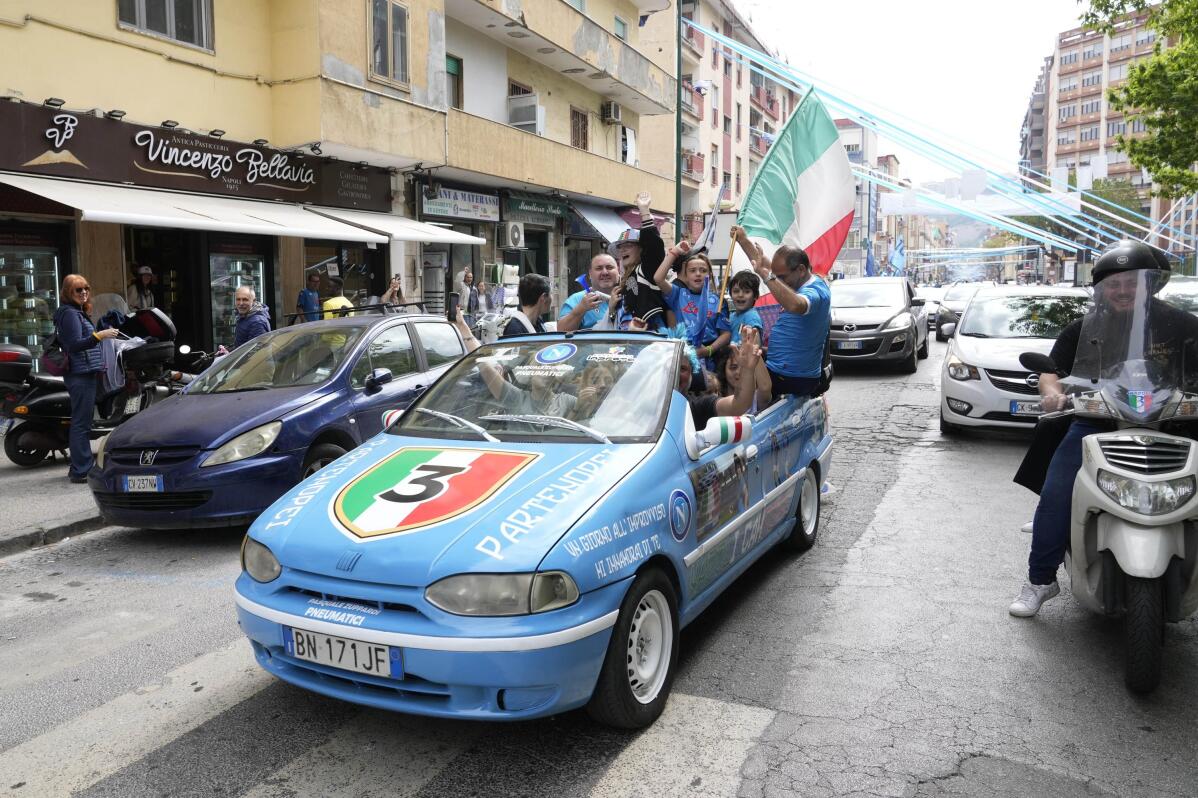 14 of 20

|
Napoli fans celebrate outside the Diego Maradona stadium in Naples, Italy, Sunday, April 30, 2023. After Napoli's game was moved to Sunday, the team could secure the title in front of their own fans by beating Salernitana — if Lazio fails to win at Inter Milan earlier in the day. Diego Maradona led Napoli to its only previous Serie A titles in 1987 and 1990. (AP Photo/Gregorio Borgia)
14 of 20
Napoli fans celebrate outside the Diego Maradona stadium in Naples, Italy, Sunday, April 30, 2023. After Napoli's game was moved to Sunday, the team could secure the title in front of their own fans by beating Salernitana — if Lazio fails to win at Inter Milan earlier in the day. Diego Maradona led Napoli to its only previous Serie A titles in 1987 and 1990. (AP Photo/Gregorio Borgia)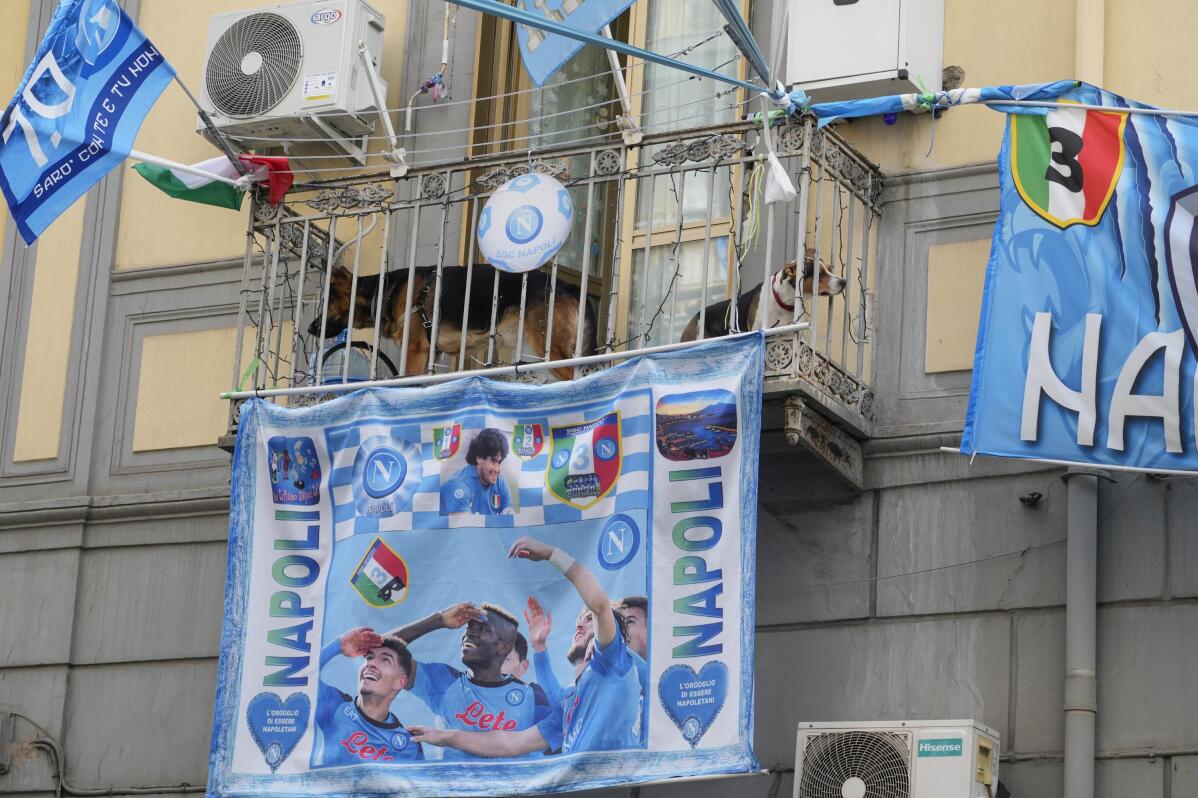 15 of 20

|
Dogs peers through the fence of a balcony adorned with Napoli soccer team flags, in Naples, Italy, Sunday, April 30, 2023. After Napoli's game was moved to Sunday, the team could secure the title in front of their own fans by beating Salernitana — if Lazio fails to win at Inter Milan earlier in the day. Diego Maradona led Napoli to its only previous Serie A titles in 1987 and 1990. (AP Photo/Gregorio Borgia)
15 of 20
Dogs peers through the fence of a balcony adorned with Napoli soccer team flags, in Naples, Italy, Sunday, April 30, 2023. After Napoli's game was moved to Sunday, the team could secure the title in front of their own fans by beating Salernitana — if Lazio fails to win at Inter Milan earlier in the day. Diego Maradona led Napoli to its only previous Serie A titles in 1987 and 1990. (AP Photo/Gregorio Borgia)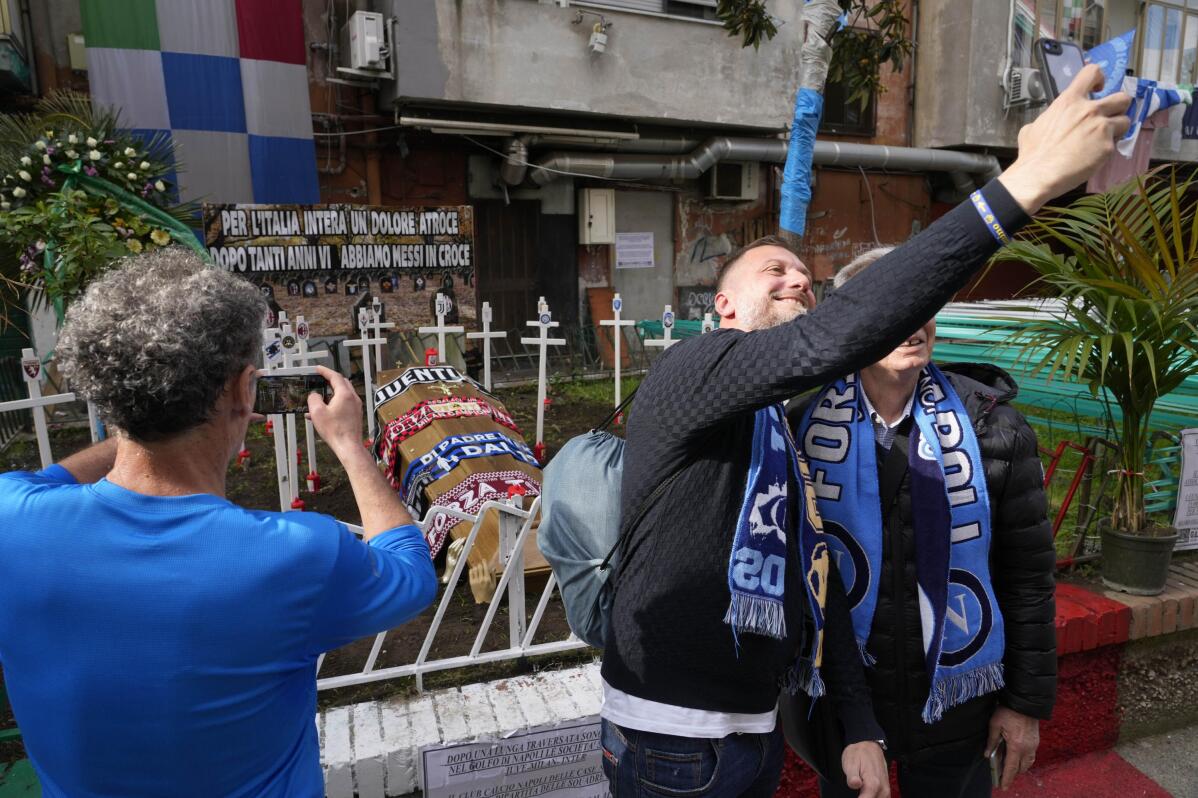 16 of 20

|
Napoli fans take pictures near a mock cemetery with crosses bearing the Italian Serie A soccer teams flags and a coffin with the scarfs of the Juventus, Milan and Inter teams and a banner in background reading: " for all of Italy an atrocious pain, after so many years we have put you all on the crosses" , is seen in Naples, Italy, Sunday, April 30, 2023. After Napoli's game was moved to Sunday, the team could secure the title in front of their own fans by beating Salernitana — if Lazio fails to win at Inter Milan earlier in the day. Diego Maradona led Napoli to its only previous Serie A titles in 1987 and 1990. (AP Photo/Gregorio Borgia)
16 of 20
Napoli fans take pictures near a mock cemetery with crosses bearing the Italian Serie A soccer teams flags and a coffin with the scarfs of the Juventus, Milan and Inter teams and a banner in background reading: " for all of Italy an atrocious pain, after so many years we have put you all on the crosses" , is seen in Naples, Italy, Sunday, April 30, 2023. After Napoli's game was moved to Sunday, the team could secure the title in front of their own fans by beating Salernitana — if Lazio fails to win at Inter Milan earlier in the day. Diego Maradona led Napoli to its only previous Serie A titles in 1987 and 1990. (AP Photo/Gregorio Borgia)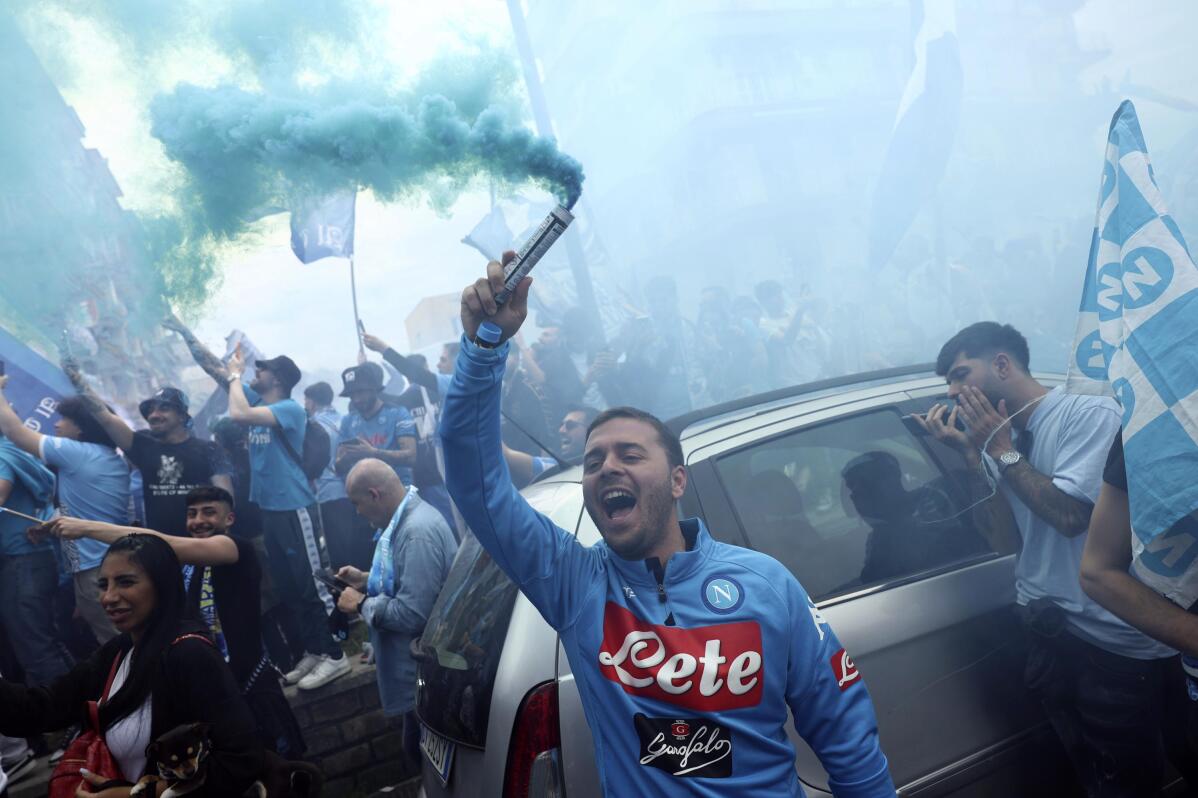 17 of 20

|
Napoli fans celebrate as they wait for the start of the Serie A soccer match between Napoli and Salernitana, in Naples, Italy, Sunday, April 30, 2021. Napoli fans are already celebrating in anticipation of sealing the club's first Italian league title since the days when Diego Maradona played for the club. Hours before Napoli's match against Salernitana later Sunday, fans waved flags in Italy's green, white and red colors that featured a "3" on them to signify what would be the team's third Serie A championship after Maradona led the Partenopei to their first two titles in 1987 and 1990. (Alessandro Garofalo/LaPresse via AP)
17 of 20
Napoli fans celebrate as they wait for the start of the Serie A soccer match between Napoli and Salernitana, in Naples, Italy, Sunday, April 30, 2021. Napoli fans are already celebrating in anticipation of sealing the club's first Italian league title since the days when Diego Maradona played for the club. Hours before Napoli's match against Salernitana later Sunday, fans waved flags in Italy's green, white and red colors that featured a "3" on them to signify what would be the team's third Serie A championship after Maradona led the Partenopei to their first two titles in 1987 and 1990. (Alessandro Garofalo/LaPresse via AP)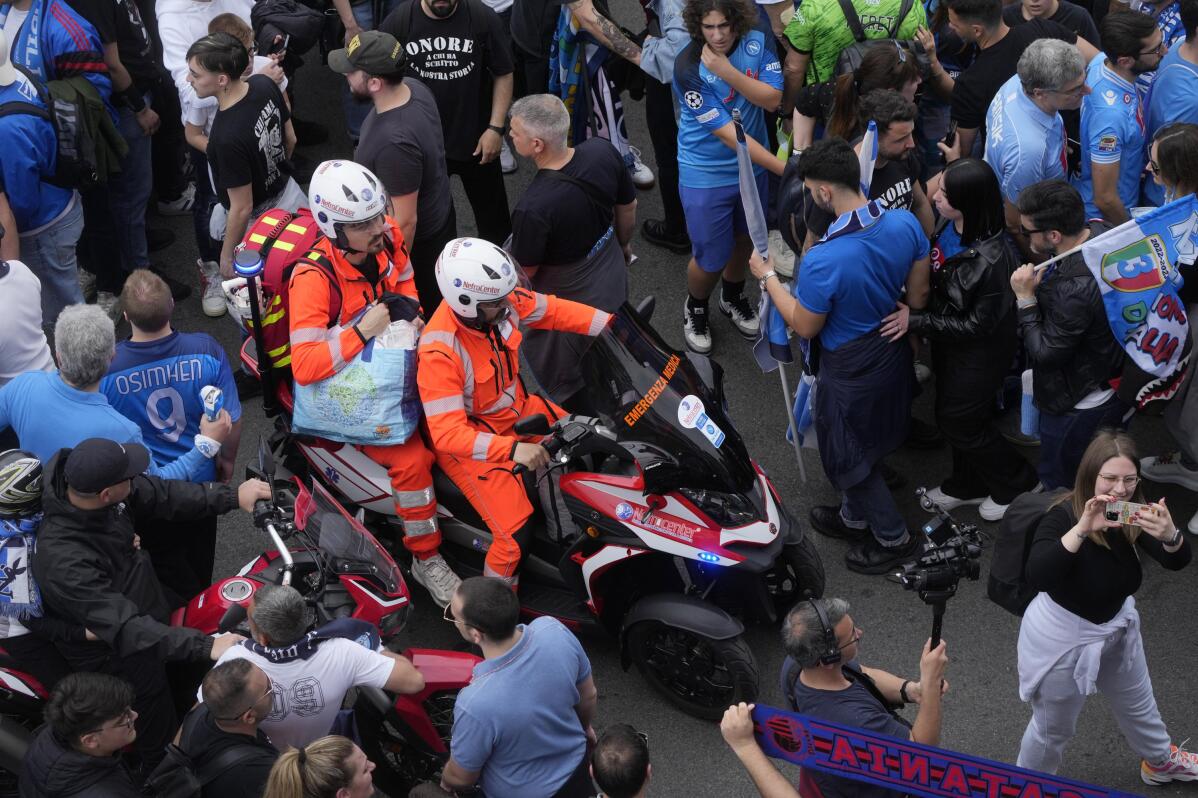 18 of 20

|
Paramedics drive through a crowd of fans outside the stadium for the Serie A soccer match between Napoli and Salernitana at the Diego Armando Maradona stadium, in Naples, Italy, Sunday, April 30, 2023. (AP Photo/Gregorio Borgia)
18 of 20
Paramedics drive through a crowd of fans outside the stadium for the Serie A soccer match between Napoli and Salernitana at the Diego Armando Maradona stadium, in Naples, Italy, Sunday, April 30, 2023. (AP Photo/Gregorio Borgia)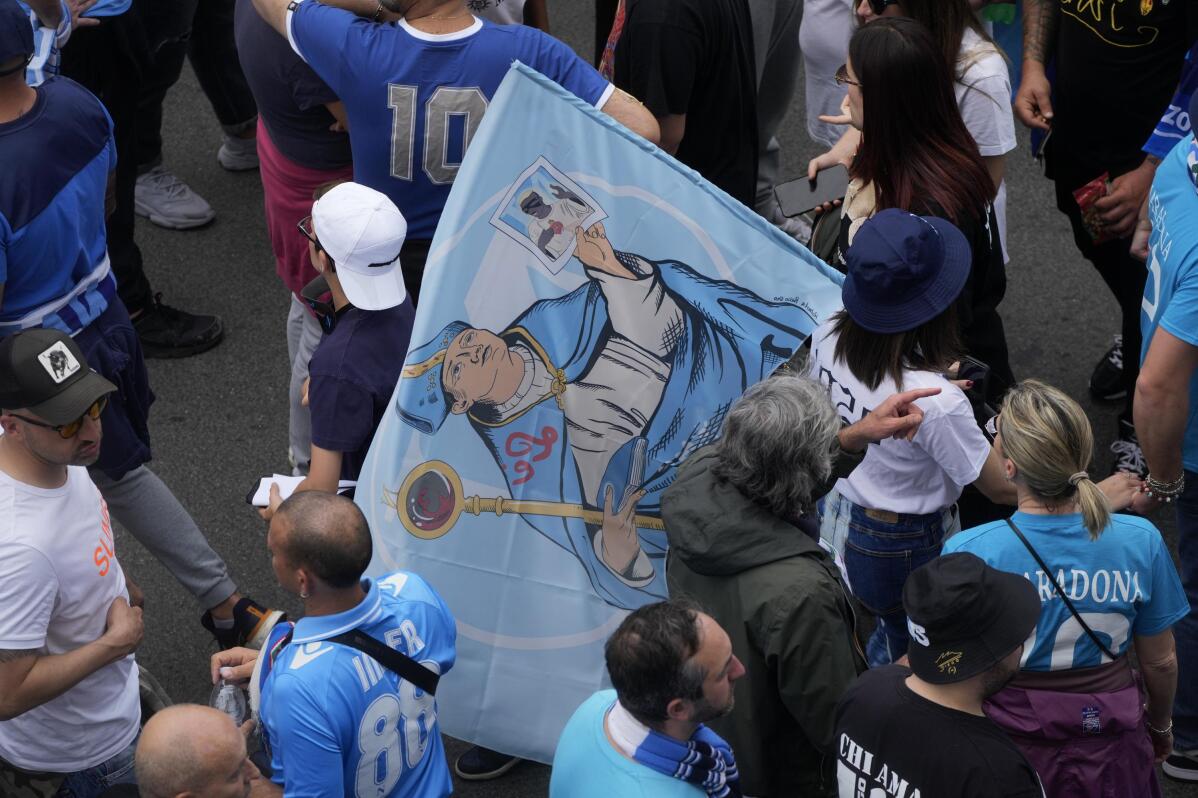 19 of 20

|
Fans walk outside the stadium before the Serie A soccer match between Napoli and Salernitana at the Diego Armando Maradona stadium, in Naples, Italy, Sunday, April 30, 2023. (AP Photo/Gregorio Borgia)
19 of 20
Fans walk outside the stadium before the Serie A soccer match between Napoli and Salernitana at the Diego Armando Maradona stadium, in Naples, Italy, Sunday, April 30, 2023. (AP Photo/Gregorio Borgia)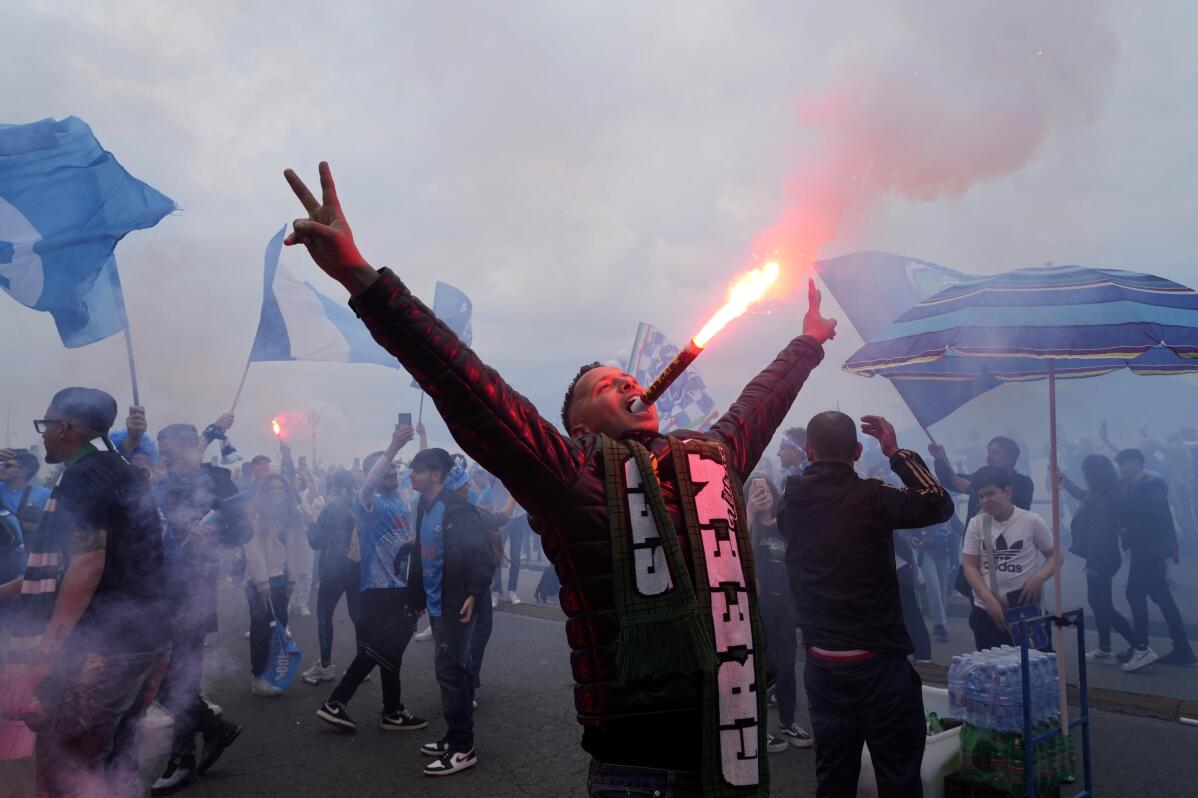 20 of 20

|
Napoli fans celebrates on the street after their team scored the first goal during the Serie A soccer match between Napoli and Salernitana at the Diego Armando Maradona stadium, in Naples, Italy, Sunday, April 30, 2023. (AP Photo/Gregorio Borgia)
20 of 20
Napoli fans celebrates on the street after their team scored the first goal during the Serie A soccer match between Napoli and Salernitana at the Diego Armando Maradona stadium, in Naples, Italy, Sunday, April 30, 2023. (AP Photo/Gregorio Borgia)
NAPLES, Italy (AP) — Napoli fans experienced a full range of emotions Sunday, first celebrating in anticipation of the club's first Italian league title since the days when Diego Maradona played for the club — then reacting to a draw that pushed back the celebrations for at least a few days.
Napoli was held to a 1-1 draw at home by regional rival Salernitana.
Inside and outside the stadium before and during the match, fans waved flags in Italy's green, white and red colors that featured a "3" on them to signify what would be Napoli's third Serie A championship after Maradona led the Partenopei to their first two titles in 1987 and 1990.
To clinch with a record six rounds to spare, Napoli needed only to beat Salernitana after second-place Lazio lost 3-1 at Inter Milan earlier.
The results left Napoli with an 18-point advantage over Lazio and the team can now clinch mid-week.
Napoli Mayor Gaetano Manfredi told The Associated Press in a recent interview that there will be "a big earthquake of joy" when Napoli seals the title.
Napoli's game against Salernitana at the Stadio Diego Armando Maradona was moved from Saturday to Sunday following requests from local authorities in order to maintain public order.
___
More AP soccer: https://apnews.com/hub/Soccer and https://twitter.com/AP_Sports