Napoli title celebration on hold after draw with Salernitana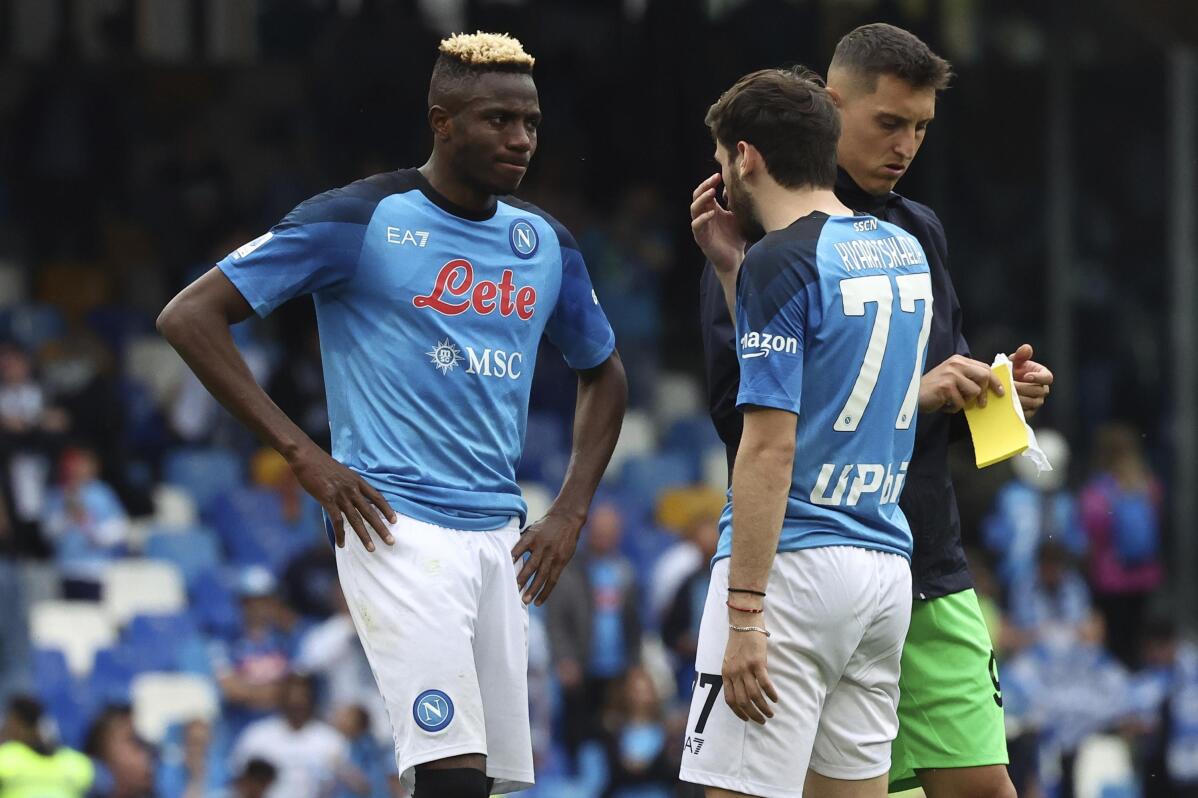 1 of 15

|
Napoli's Victor Osimhen, left, reacts after the Serie A soccer match between Napoli and Salernitana, at the Diego Armando Maradona stadium in Naples, Italy, Sunday, April 30, 2023. The match ended in a 1-1 draw. (Alessandro Garofalo/LaPresse via AP)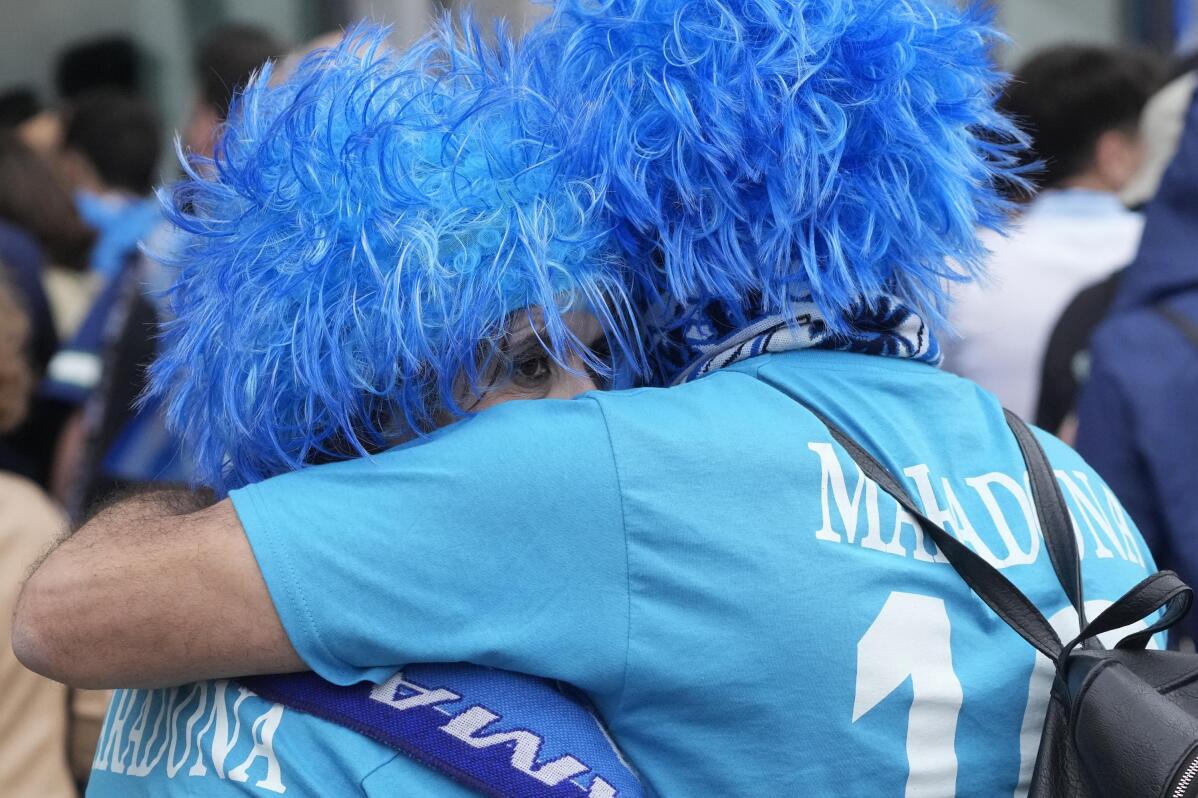 2 of 15

|
Napoli fans on the street in Naples react at the end of the Serie A soccer match between Napoli and Salernitana at the Diego Armando Maradona stadium, in Naples, Italy, Sunday, April 30, 2023. The game ended in a 1-1 draw and Napoli missed a chance to win the Italian title Sunday with six rounds left to play. (AP Photo/Gregorio Borgia)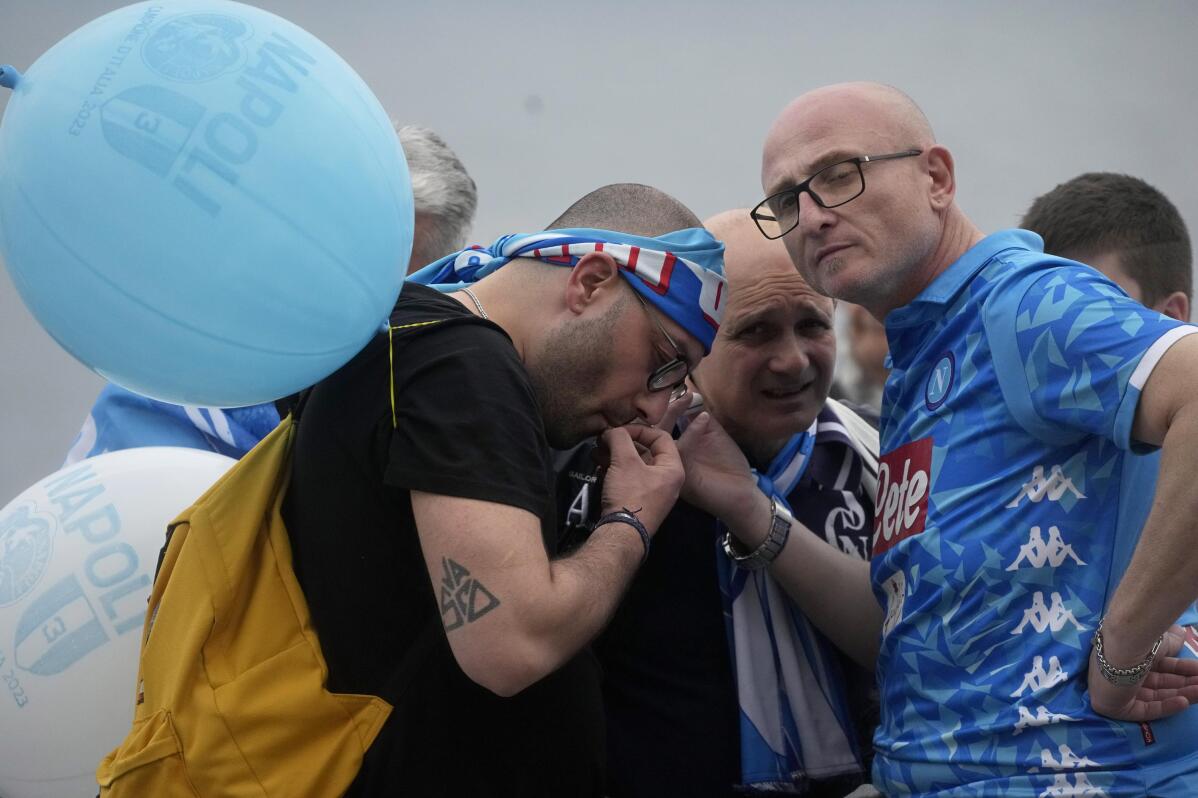 3 of 15

|
Napoli fans on the street in Naples listen to the last minutes of the Serie A soccer match between Napoli and Salernitana at the Diego Armando Maradona stadium, in Naples, Italy, Sunday, April 30, 2023. The game ended in a 1-1 draw and Napoli missed a chance to win the Italian title Sunday with six rounds left to play. (AP Photo/Gregorio Borgia)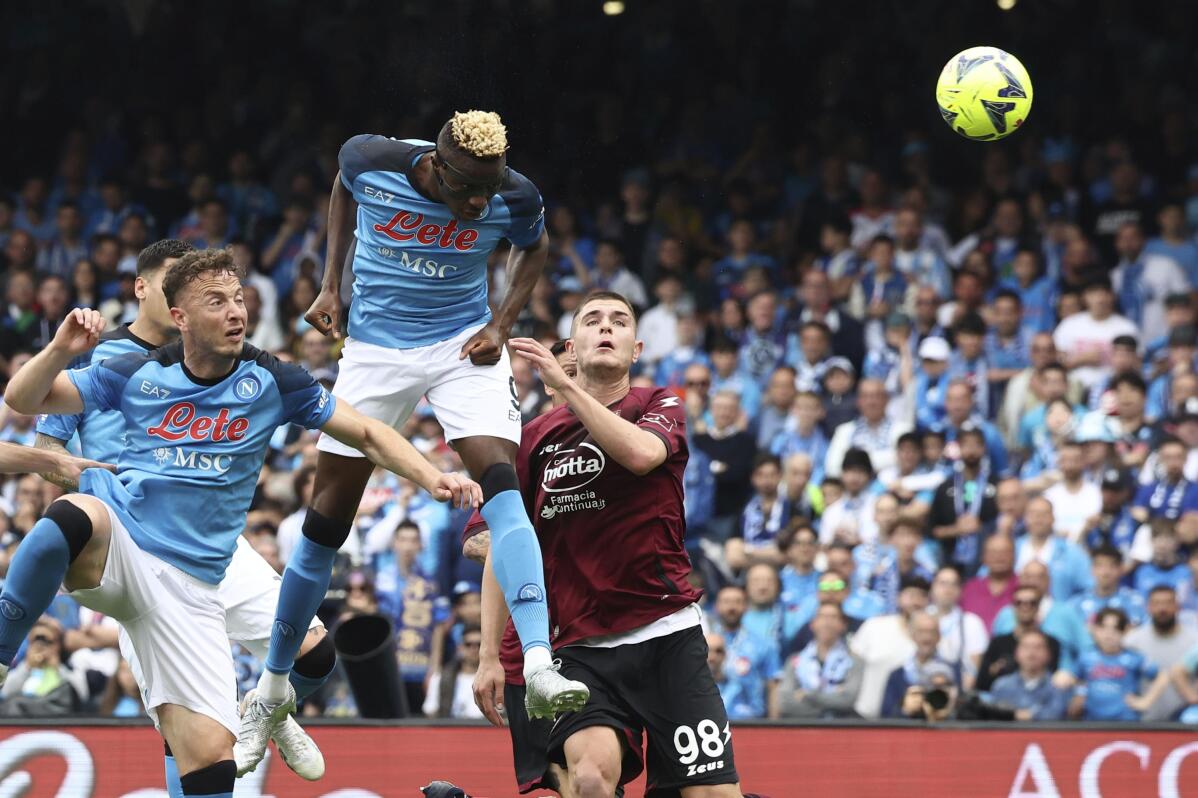 4 of 15

|
Napoli's Victor Osimhen, top center, heads the ball during the Serie A soccer match between Napoli and Salernitana, at the Diego Armando Maradona stadium in Naples, Italy, Sunday, April 30, 2023. (Alessandro Garofalo/LaPresse via AP)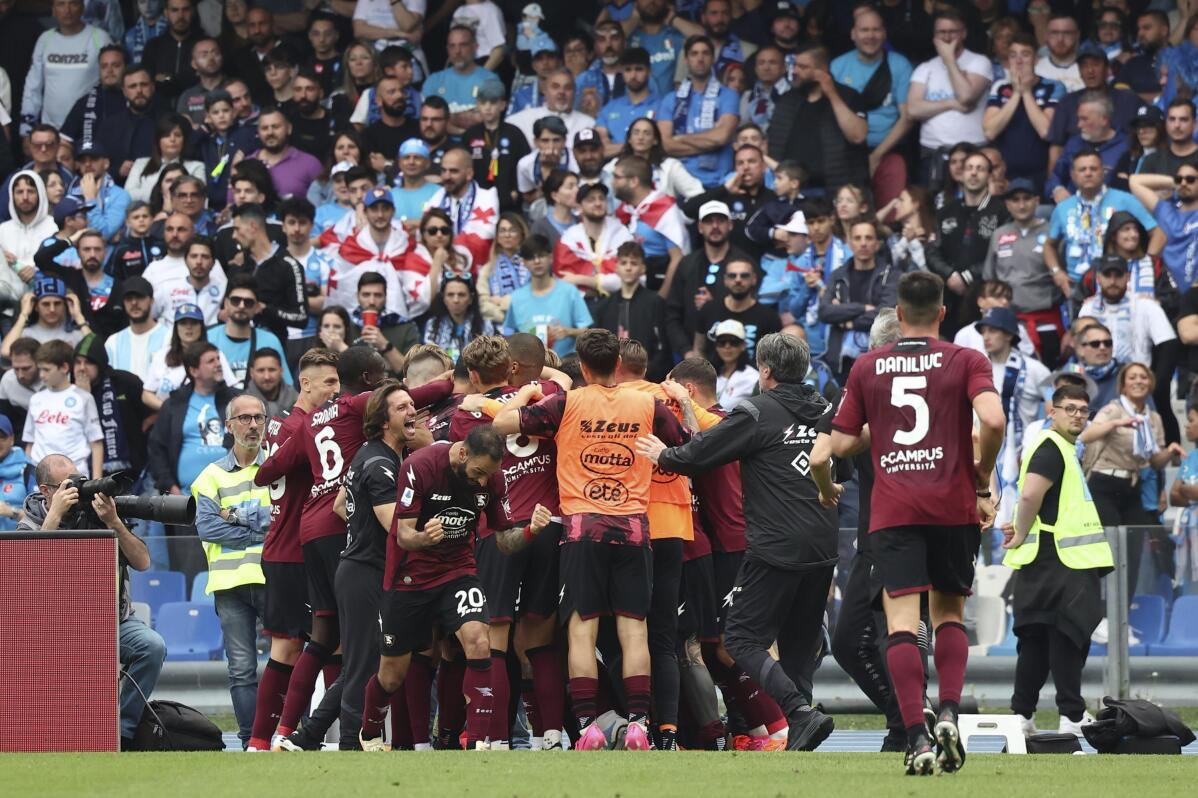 5 of 15

|
Salernitana's Boulaye Dia celebrates with teammates after scoring his side's first goal during the Serie A soccer match between Napoli and Salernitana, at the Diego Armando Maradona stadium in Naples, Italy, Sunday, April 30, 2023. (Alessandro Garofalo/LaPresse via AP)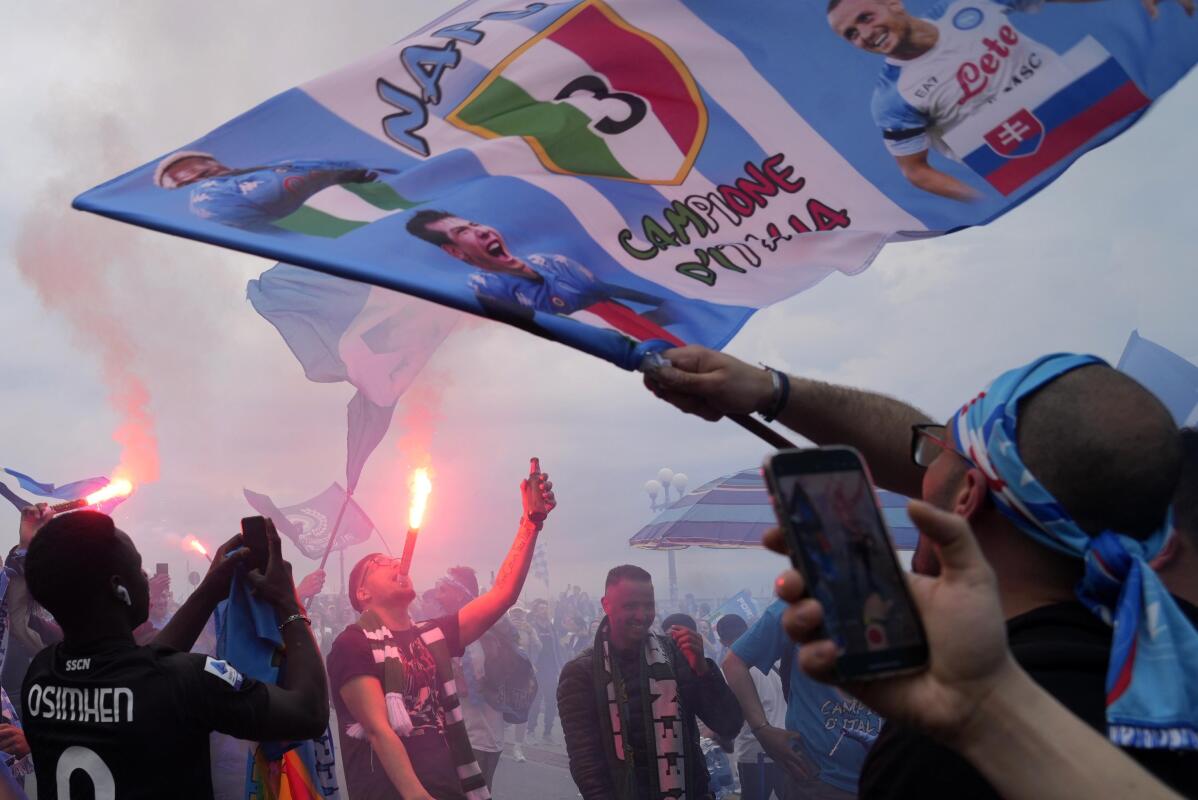 6 of 15

|
Napoli fans celebrates on the street after their team scored the first goal during the Serie A soccer match between Napoli and Salernitana at the Diego Armando Maradona stadium, in Naples, Italy, Sunday, April 30, 2023. (AP Photo/Gregorio Borgia)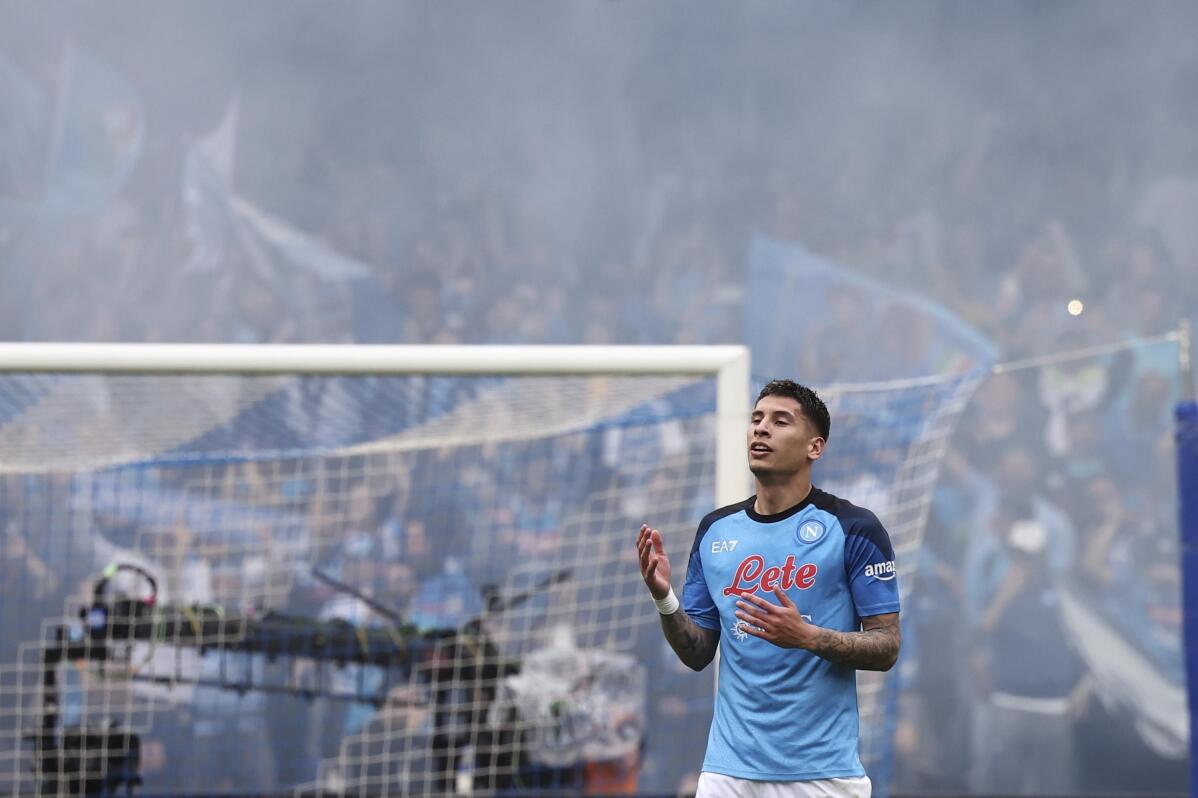 7 of 15

|
Napoli's Mathias Olivera celebrates scoring his side's first goal during the Serie A soccer match between Napoli and Salernitana, at the Diego Armando Maradona stadium in Naples, Italy, Sunday, April 30, 2023. (Alessandro Garofalo/LaPresse via AP)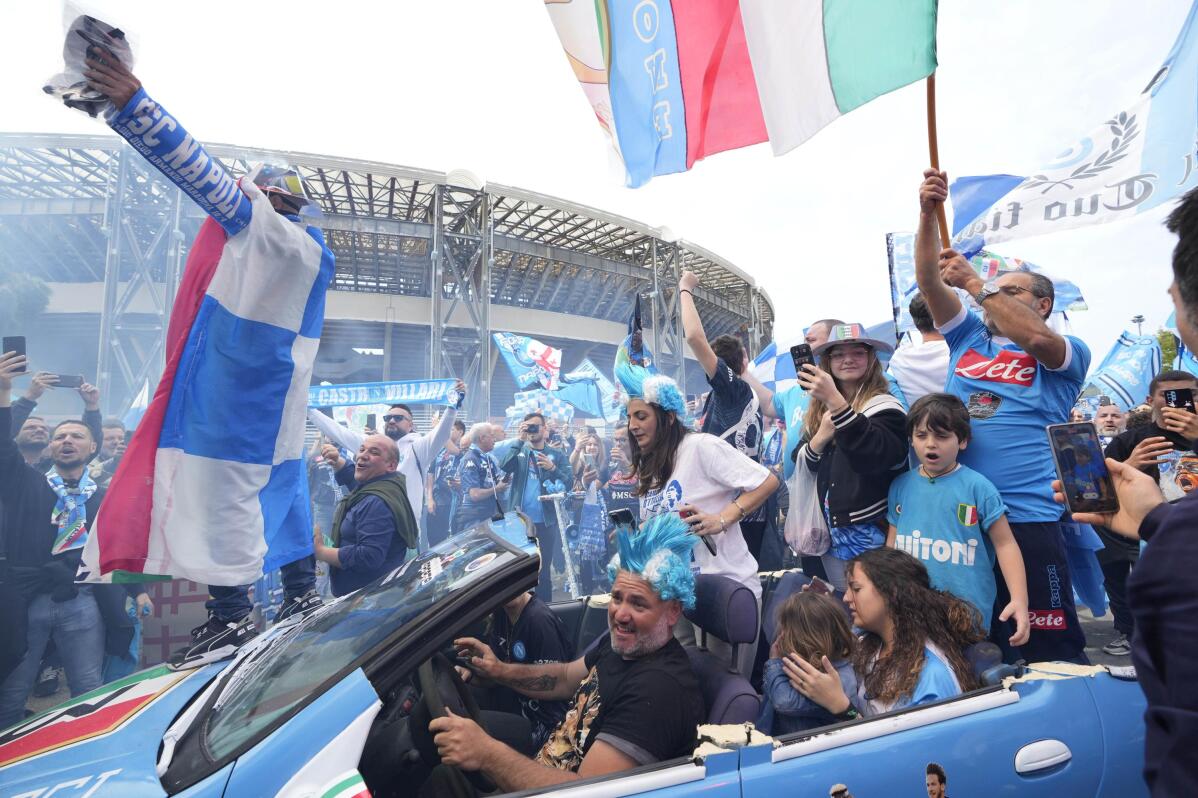 8 of 15

|
Napoli fans celebrate outside the Diego Maradona stadium in Naples, Italy, Sunday, April 30, 2023. After Napoli's game was moved to Sunday, the team could secure the title in front of their own fans by beating Salernitana — if Lazio fails to win at Inter Milan earlier in the day. Diego Maradona led Napoli to its only previous Serie A titles in 1987 and 1990. (AP Photo/Gregorio Borgia)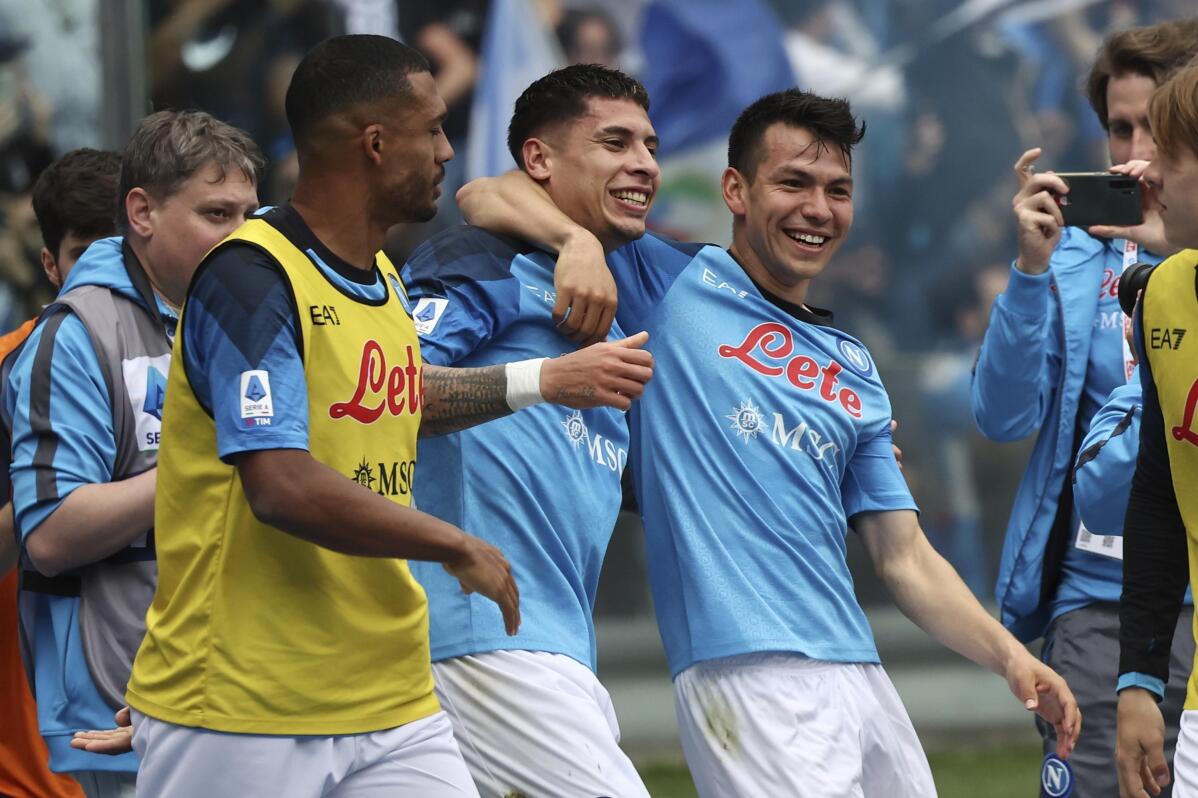 9 of 15

|
Mathias Olivera celebra tras anotar el gol del Napoli para el empate 1-1 ante Salernitana en el partido por la Serie A italiana en el estadio Diego Armando Maradona en Nápoles, el domingo 30 de abril de 2023. (Alessandro Garofalo/LaPresse vía AP)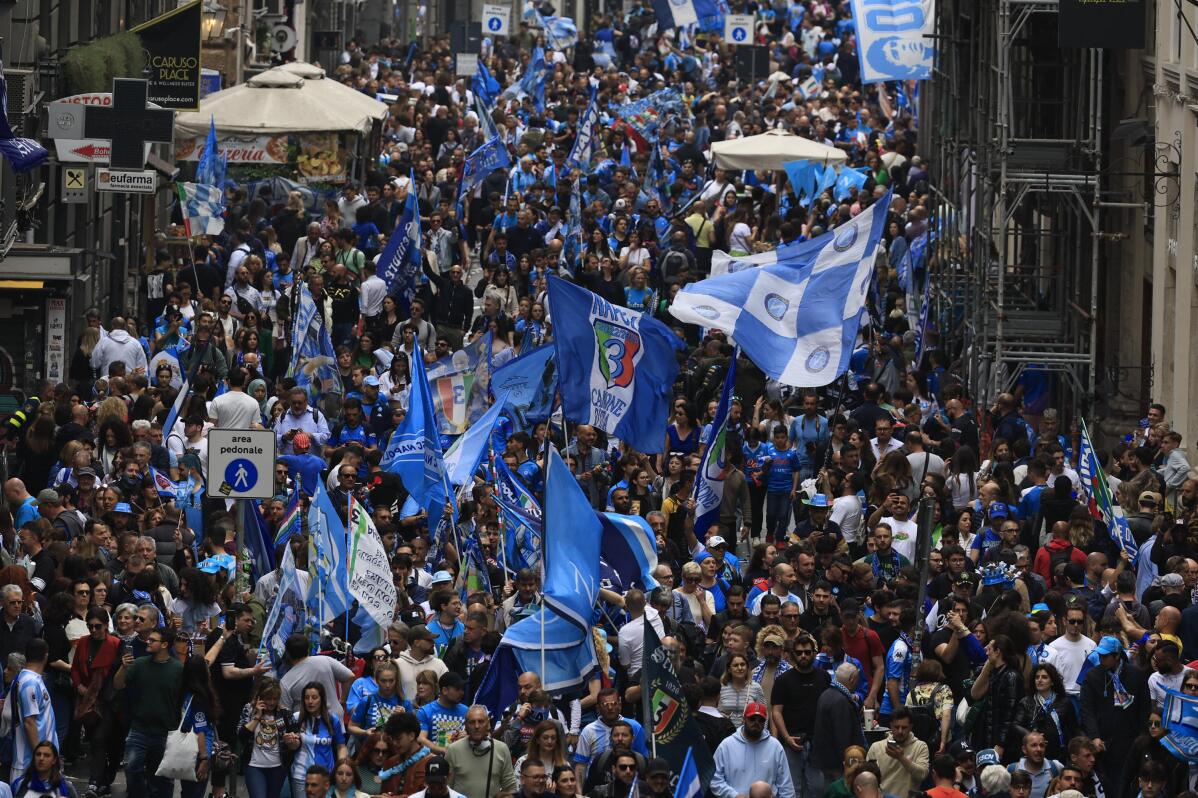 10 of 15

|
Napoli fans wave flags and cheer in Naples, Italy, Sunday, April 30, 2023. (Mauro Palumbo/LaPresse via AP)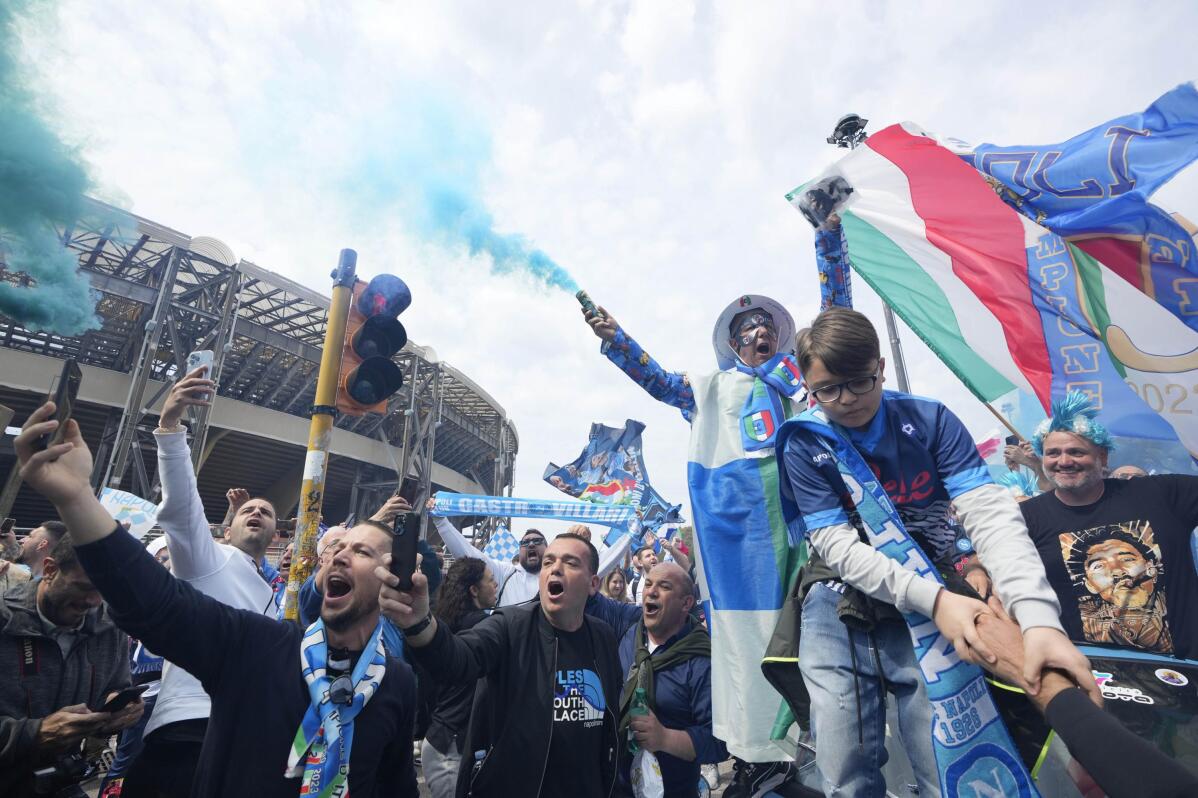 11 of 15

|
Napoli fans celebrate outside the Diego Maradona stadium in Naples, Italy, Sunday, April 30, 2023. After Napoli's game was moved to Sunday, the team could secure the title in front of their own fans by beating Salernitana — if Lazio fails to win at Inter Milan earlier in the day. Diego Maradona led Napoli to its only previous Serie A titles in 1987 and 1990. (AP Photo/Gregorio Borgia)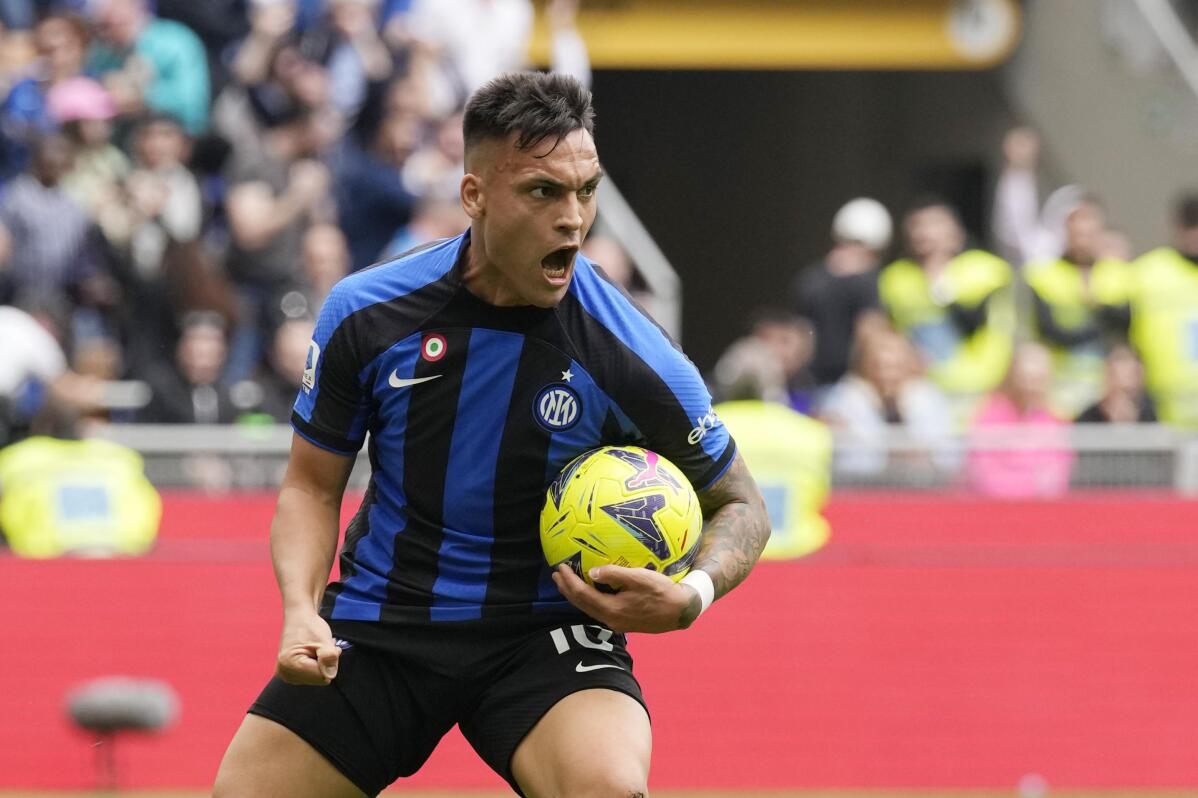 12 of 15

|
Inter Milan's Lautaro Martinez celebrates after scoring his side's opening goal during the Serie A soccer match between Inter Milan and Lazio at the San Siro Stadium, in Milan, Italy, Sunday, April 30, 2023. (AP Photo/Antonio Calanni)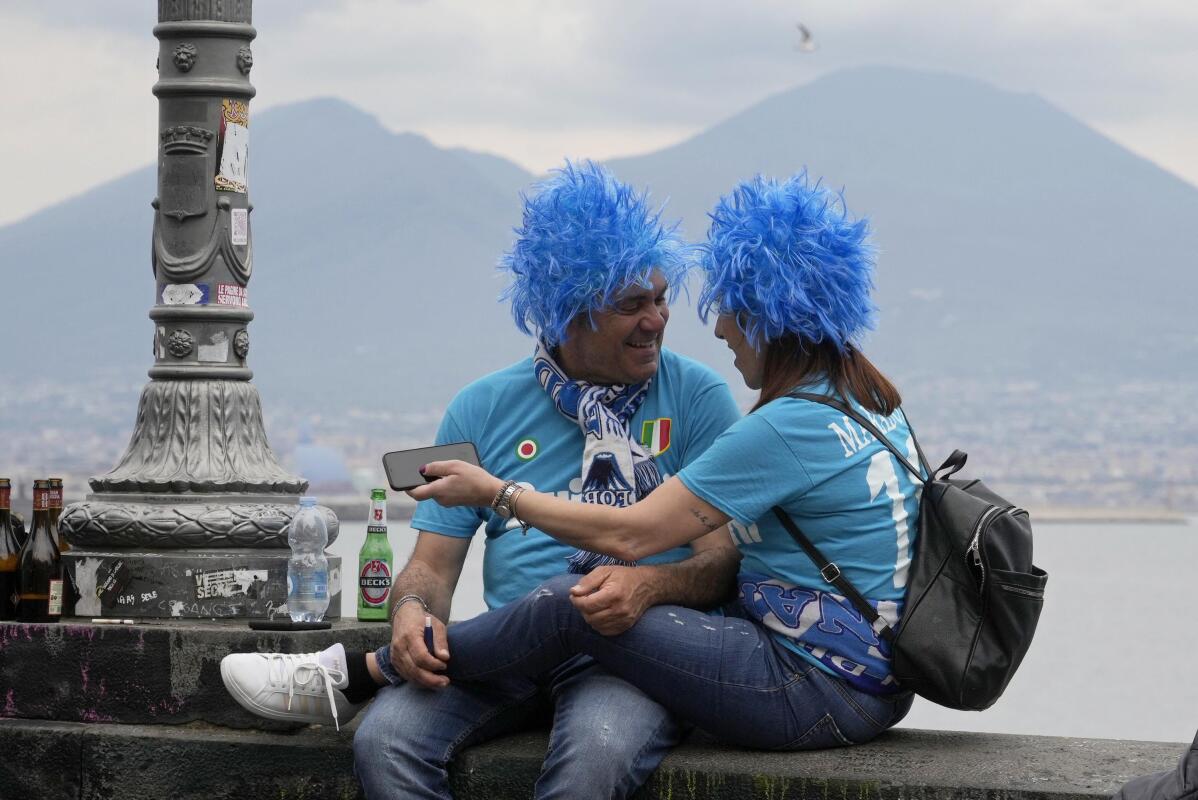 13 of 15

|
Napoli fans sit by the waterfront during the Serie A soccer match between Napoli and Salernitana at the Diego Armando Maradona stadium, in Naples, Italy, Sunday, April 30, 2023. (AP Photo/Gregorio Borgia)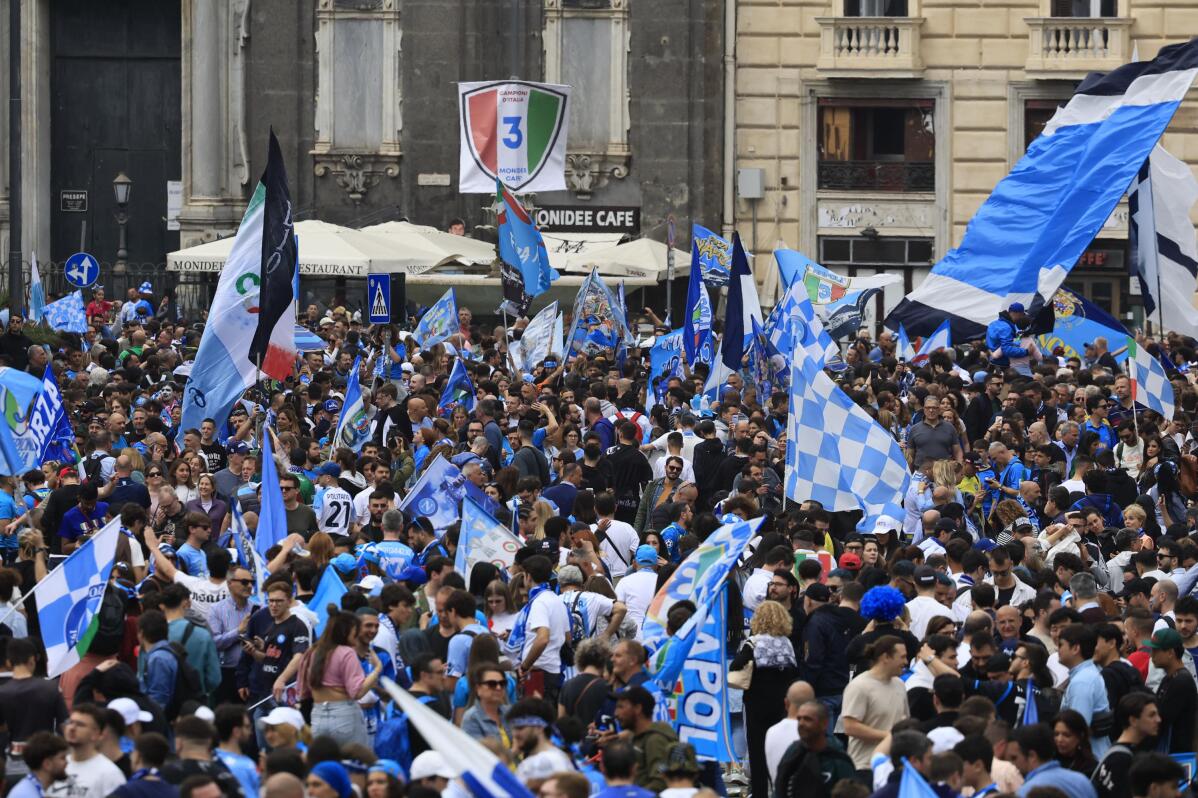 14 of 15

|
Napoli fans wave flags and cheer in Naples, Italy, Sunday, April 30, 2023. (Mauro Palumbo/LaPresse via AP)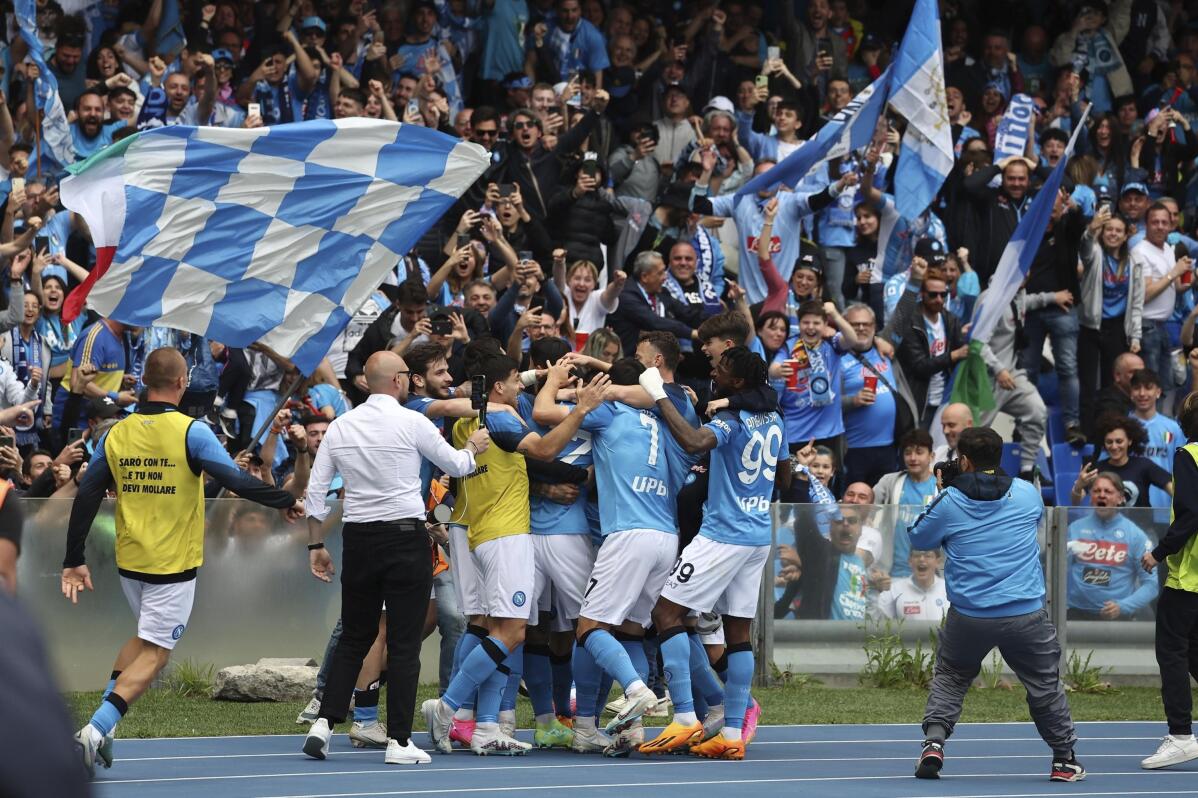 15 of 15

|
Napoli's Mathias Olivera celebrates with teammates after scoring his side's first goal during the Serie A soccer match between Napoli and Salernitana, at the Diego Armando Maradona stadium in Naples, Italy, Sunday, April 30, 2023. (Alessandro Garofalo/LaPresse via AP)
Napoli title celebration on hold after draw with Salernitana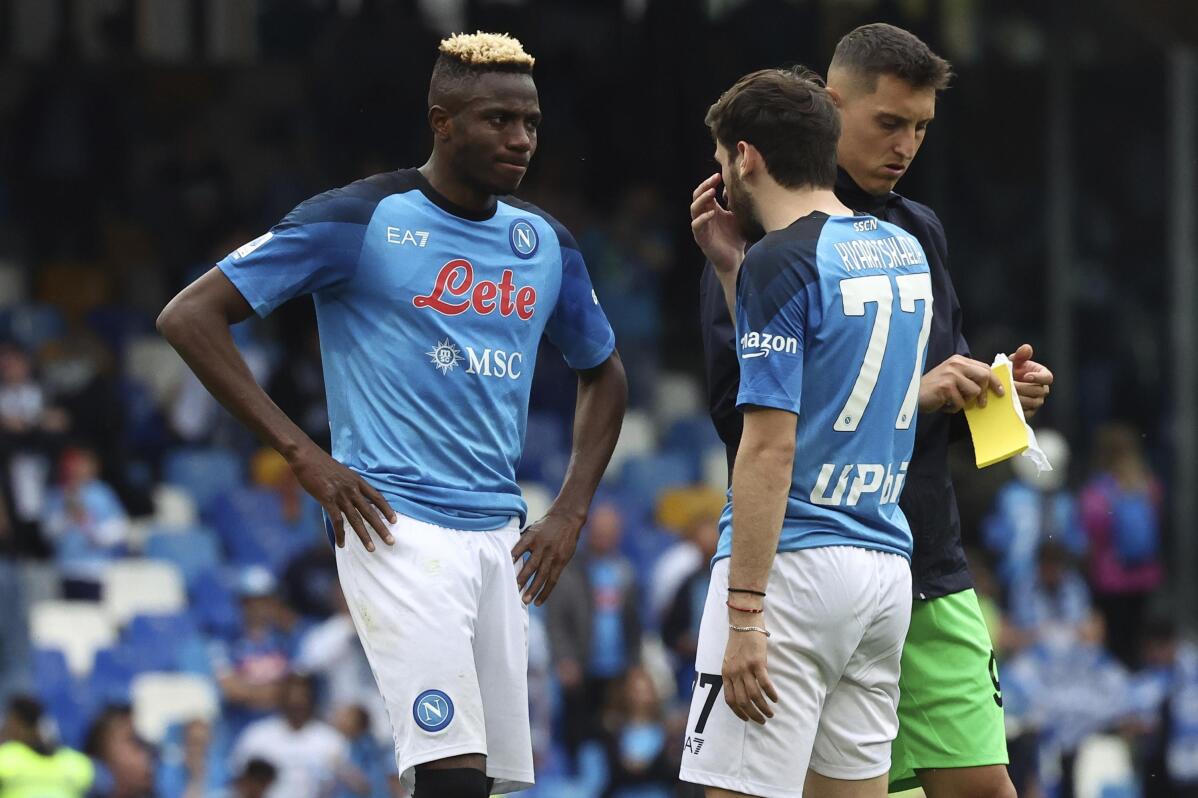 1 of 15

|
Napoli's Victor Osimhen, left, reacts after the Serie A soccer match between Napoli and Salernitana, at the Diego Armando Maradona stadium in Naples, Italy, Sunday, April 30, 2023. The match ended in a 1-1 draw. (Alessandro Garofalo/LaPresse via AP)
1 of 15
Napoli's Victor Osimhen, left, reacts after the Serie A soccer match between Napoli and Salernitana, at the Diego Armando Maradona stadium in Naples, Italy, Sunday, April 30, 2023. The match ended in a 1-1 draw. (Alessandro Garofalo/LaPresse via AP)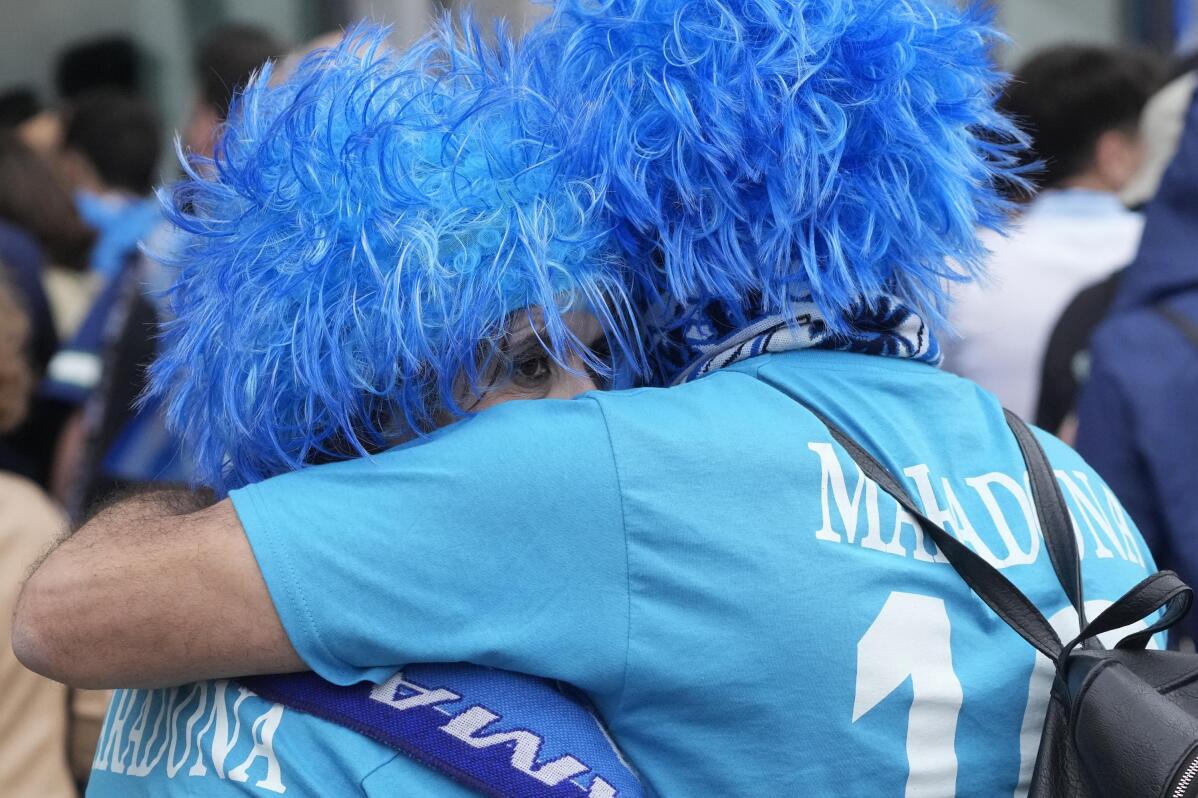 2 of 15

|
Napoli fans on the street in Naples react at the end of the Serie A soccer match between Napoli and Salernitana at the Diego Armando Maradona stadium, in Naples, Italy, Sunday, April 30, 2023. The game ended in a 1-1 draw and Napoli missed a chance to win the Italian title Sunday with six rounds left to play. (AP Photo/Gregorio Borgia)
2 of 15
Napoli fans on the street in Naples react at the end of the Serie A soccer match between Napoli and Salernitana at the Diego Armando Maradona stadium, in Naples, Italy, Sunday, April 30, 2023. The game ended in a 1-1 draw and Napoli missed a chance to win the Italian title Sunday with six rounds left to play. (AP Photo/Gregorio Borgia)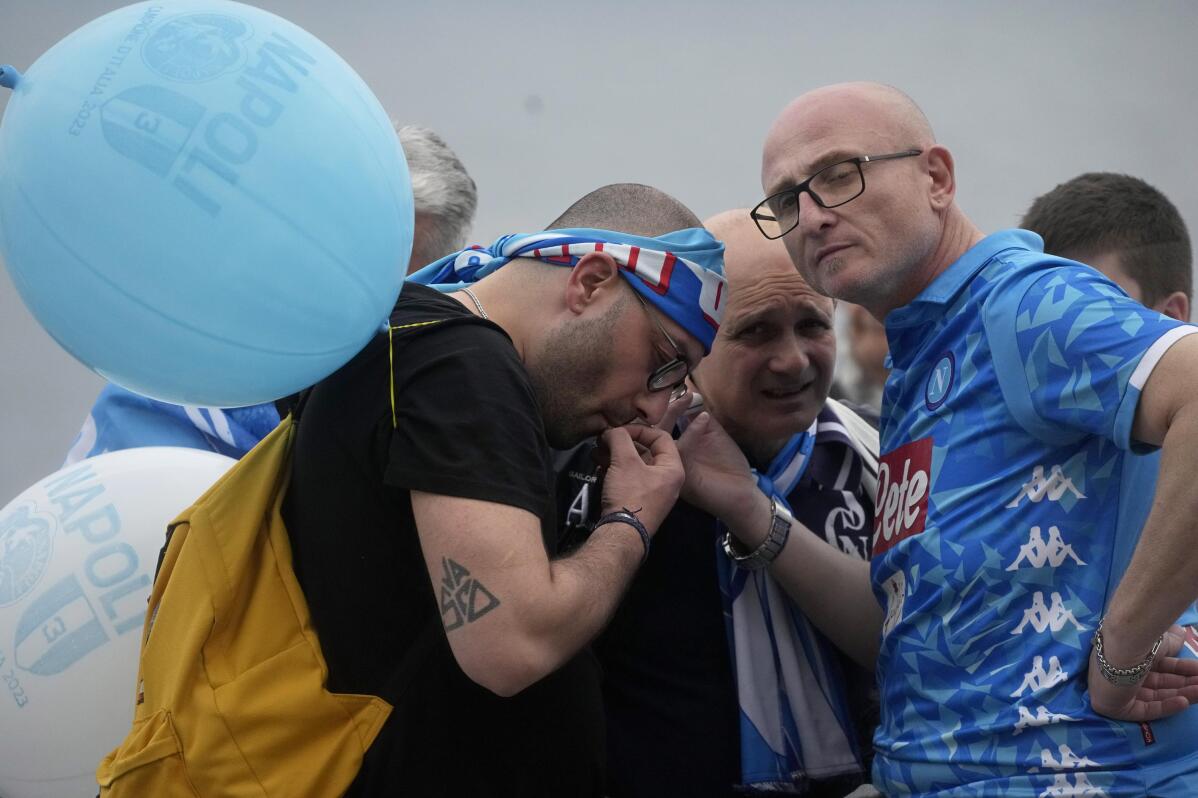 3 of 15

|
Napoli fans on the street in Naples listen to the last minutes of the Serie A soccer match between Napoli and Salernitana at the Diego Armando Maradona stadium, in Naples, Italy, Sunday, April 30, 2023. The game ended in a 1-1 draw and Napoli missed a chance to win the Italian title Sunday with six rounds left to play. (AP Photo/Gregorio Borgia)
3 of 15
Napoli fans on the street in Naples listen to the last minutes of the Serie A soccer match between Napoli and Salernitana at the Diego Armando Maradona stadium, in Naples, Italy, Sunday, April 30, 2023. The game ended in a 1-1 draw and Napoli missed a chance to win the Italian title Sunday with six rounds left to play. (AP Photo/Gregorio Borgia)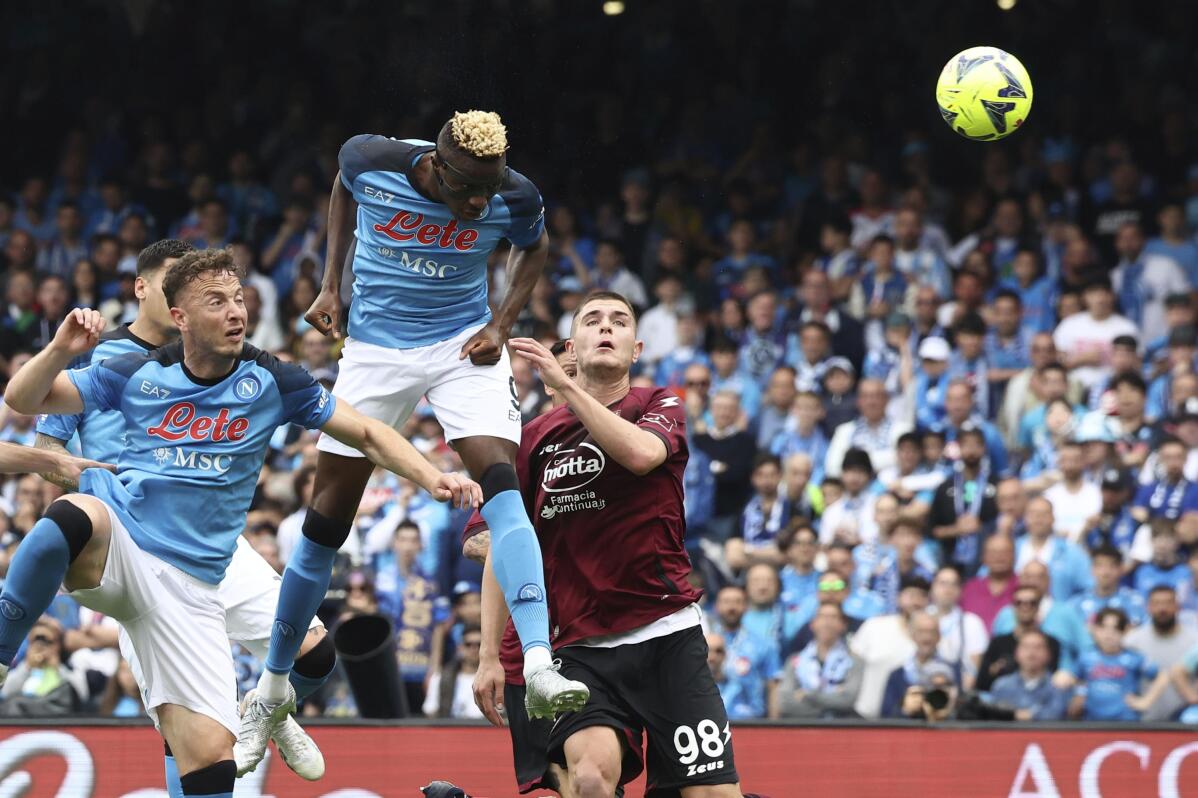 4 of 15

|
Napoli's Victor Osimhen, top center, heads the ball during the Serie A soccer match between Napoli and Salernitana, at the Diego Armando Maradona stadium in Naples, Italy, Sunday, April 30, 2023. (Alessandro Garofalo/LaPresse via AP)
4 of 15
Napoli's Victor Osimhen, top center, heads the ball during the Serie A soccer match between Napoli and Salernitana, at the Diego Armando Maradona stadium in Naples, Italy, Sunday, April 30, 2023. (Alessandro Garofalo/LaPresse via AP)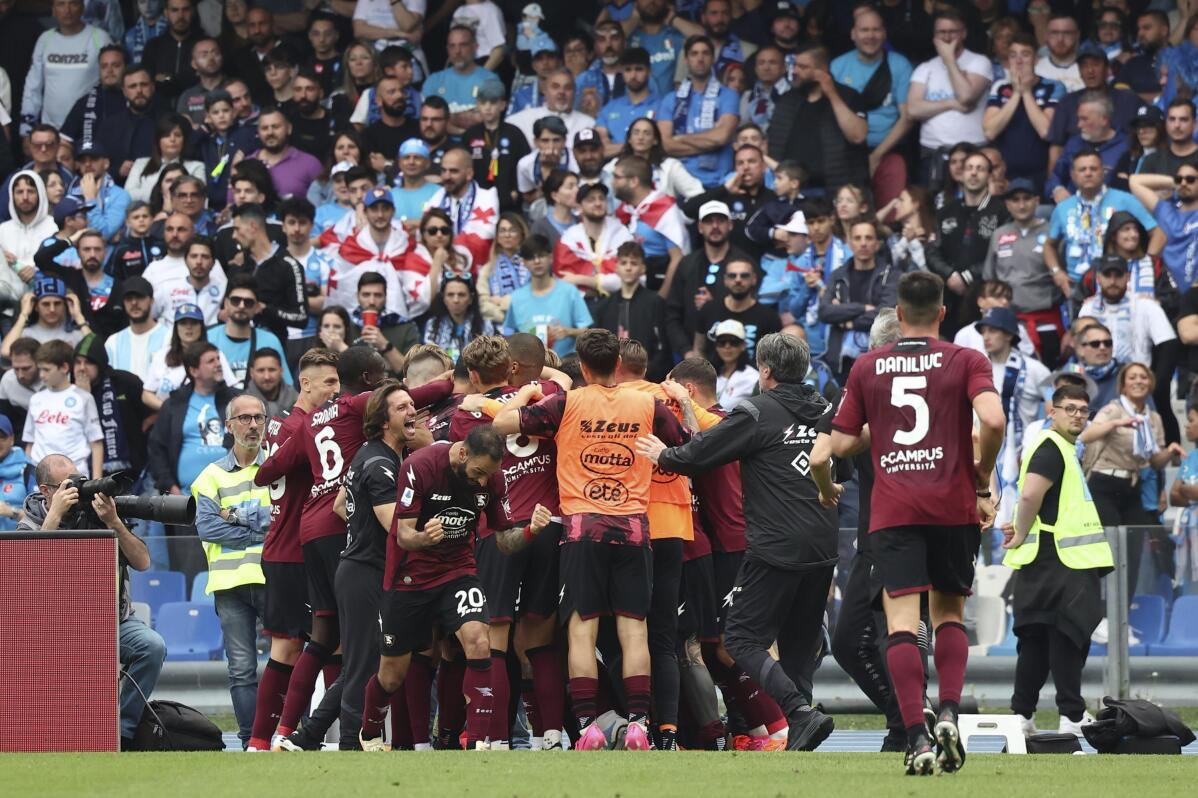 5 of 15

|
Salernitana's Boulaye Dia celebrates with teammates after scoring his side's first goal during the Serie A soccer match between Napoli and Salernitana, at the Diego Armando Maradona stadium in Naples, Italy, Sunday, April 30, 2023. (Alessandro Garofalo/LaPresse via AP)
5 of 15
Salernitana's Boulaye Dia celebrates with teammates after scoring his side's first goal during the Serie A soccer match between Napoli and Salernitana, at the Diego Armando Maradona stadium in Naples, Italy, Sunday, April 30, 2023. (Alessandro Garofalo/LaPresse via AP)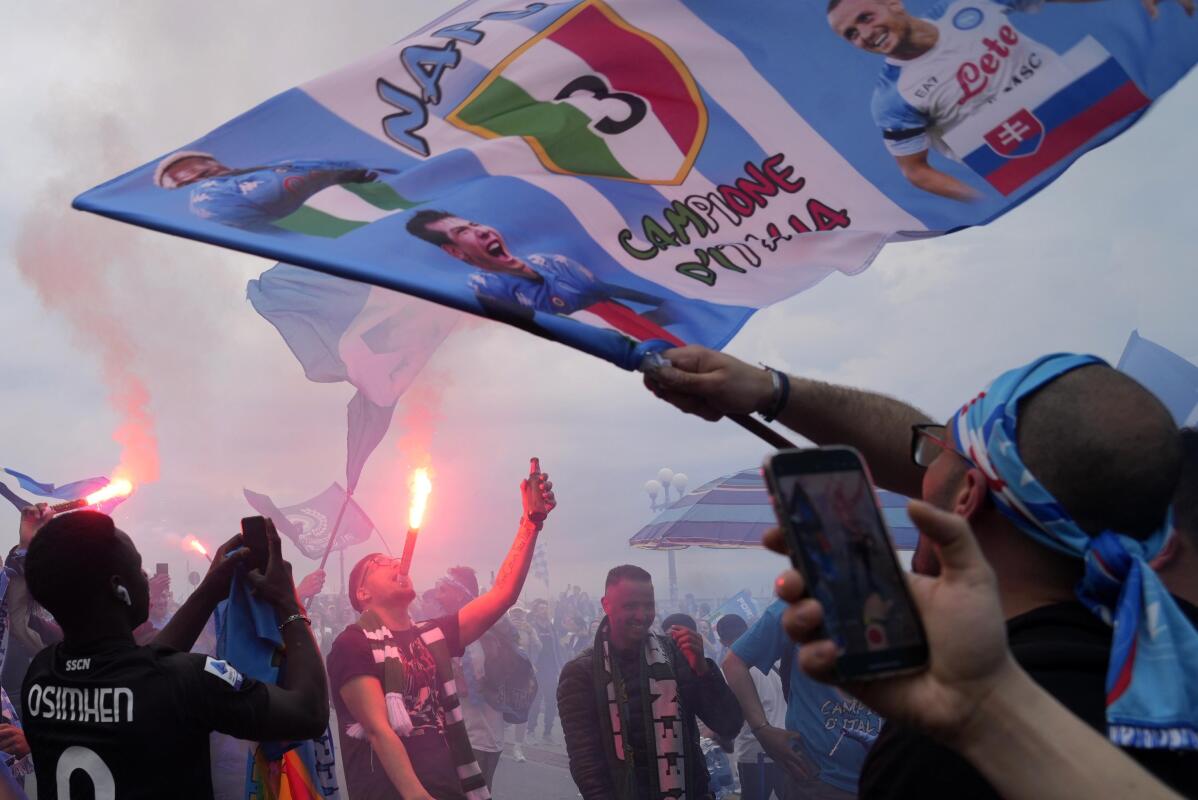 6 of 15

|
Napoli fans celebrates on the street after their team scored the first goal during the Serie A soccer match between Napoli and Salernitana at the Diego Armando Maradona stadium, in Naples, Italy, Sunday, April 30, 2023. (AP Photo/Gregorio Borgia)
6 of 15
Napoli fans celebrates on the street after their team scored the first goal during the Serie A soccer match between Napoli and Salernitana at the Diego Armando Maradona stadium, in Naples, Italy, Sunday, April 30, 2023. (AP Photo/Gregorio Borgia)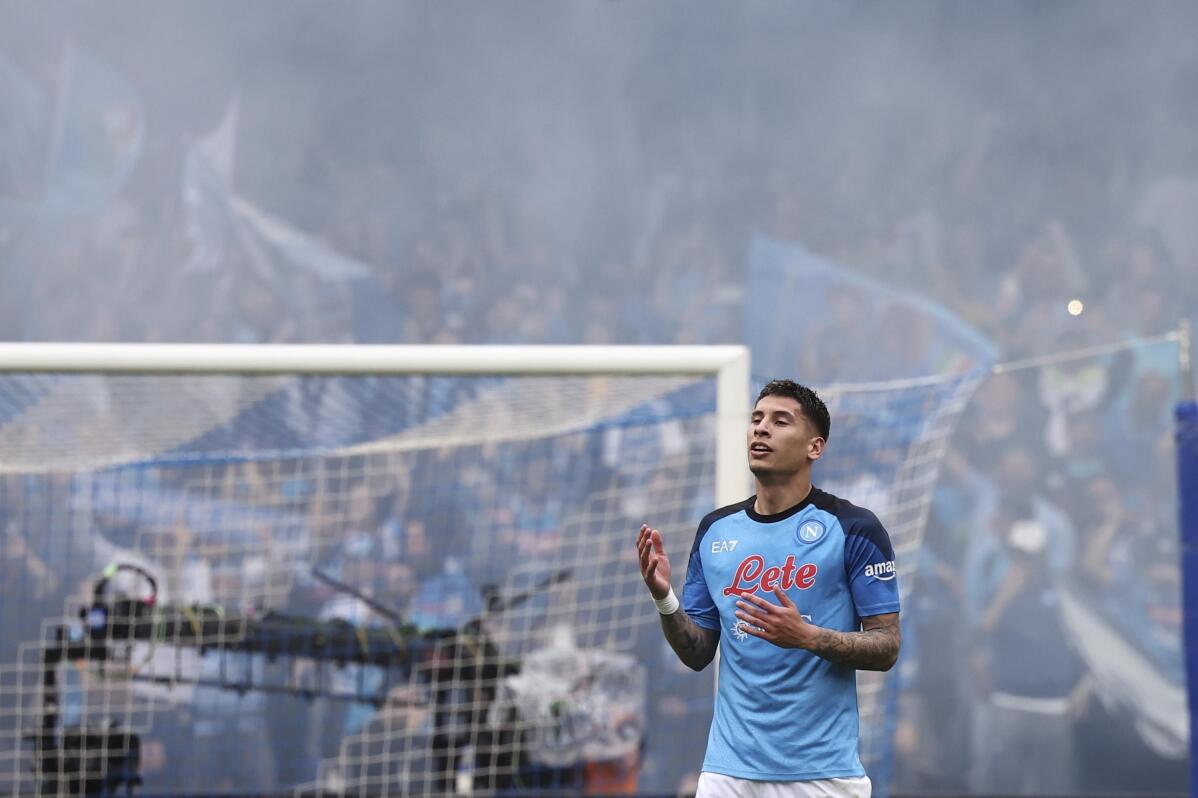 7 of 15

|
Napoli's Mathias Olivera celebrates scoring his side's first goal during the Serie A soccer match between Napoli and Salernitana, at the Diego Armando Maradona stadium in Naples, Italy, Sunday, April 30, 2023. (Alessandro Garofalo/LaPresse via AP)
7 of 15
Napoli's Mathias Olivera celebrates scoring his side's first goal during the Serie A soccer match between Napoli and Salernitana, at the Diego Armando Maradona stadium in Naples, Italy, Sunday, April 30, 2023. (Alessandro Garofalo/LaPresse via AP)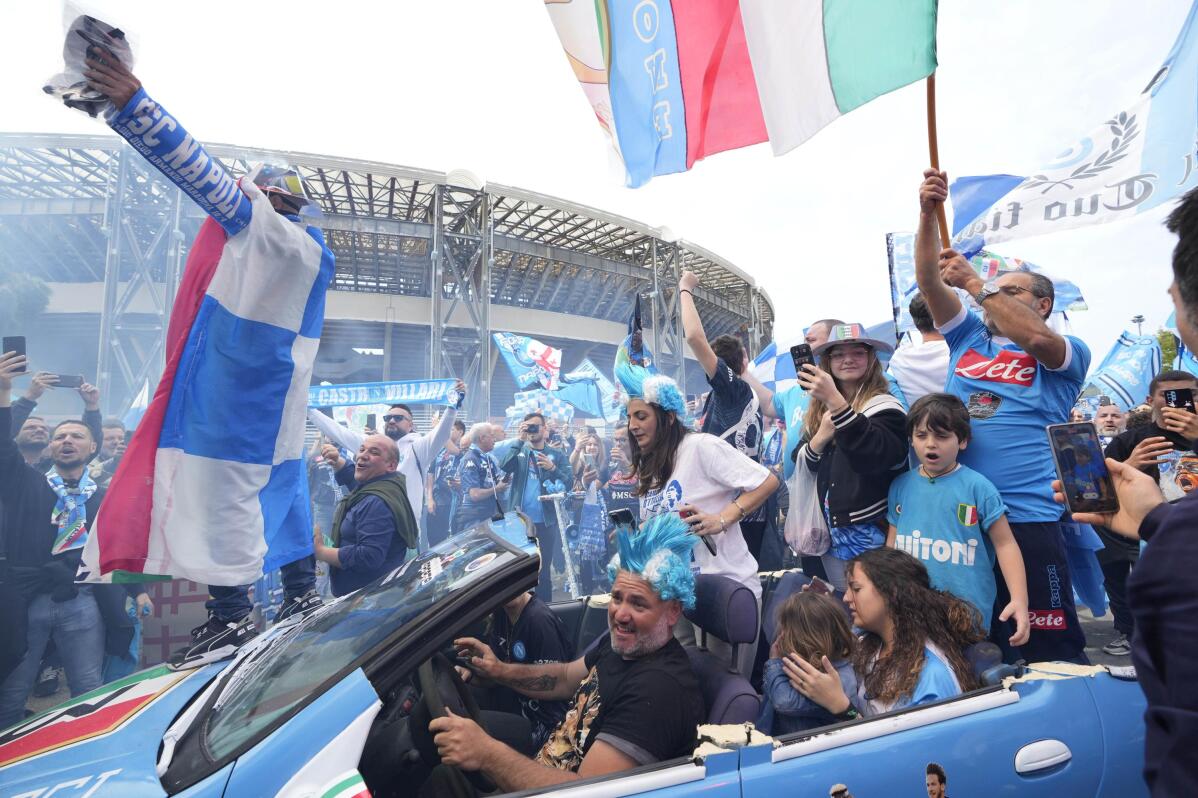 8 of 15

|
Napoli fans celebrate outside the Diego Maradona stadium in Naples, Italy, Sunday, April 30, 2023. After Napoli's game was moved to Sunday, the team could secure the title in front of their own fans by beating Salernitana — if Lazio fails to win at Inter Milan earlier in the day. Diego Maradona led Napoli to its only previous Serie A titles in 1987 and 1990. (AP Photo/Gregorio Borgia)
8 of 15
Napoli fans celebrate outside the Diego Maradona stadium in Naples, Italy, Sunday, April 30, 2023. After Napoli's game was moved to Sunday, the team could secure the title in front of their own fans by beating Salernitana — if Lazio fails to win at Inter Milan earlier in the day. Diego Maradona led Napoli to its only previous Serie A titles in 1987 and 1990. (AP Photo/Gregorio Borgia)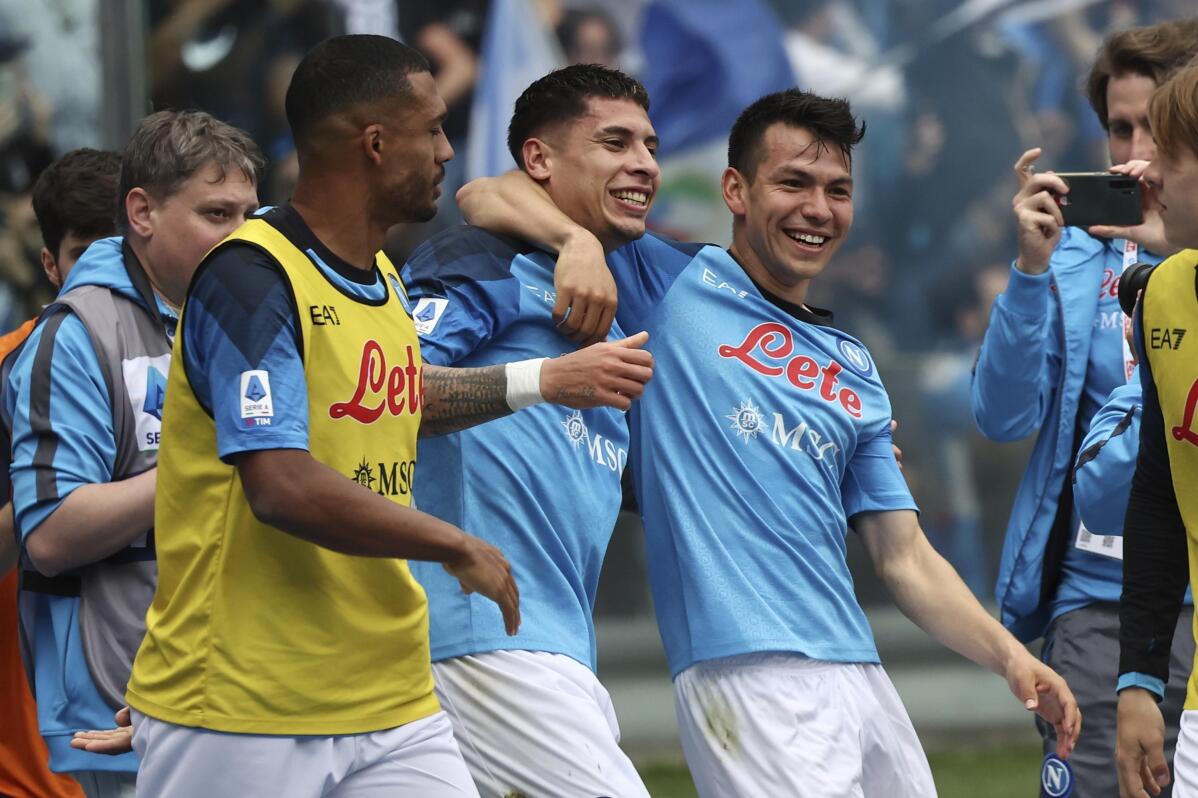 9 of 15

|
Mathias Olivera celebra tras anotar el gol del Napoli para el empate 1-1 ante Salernitana en el partido por la Serie A italiana en el estadio Diego Armando Maradona en Nápoles, el domingo 30 de abril de 2023. (Alessandro Garofalo/LaPresse vía AP)
9 of 15
Mathias Olivera celebra tras anotar el gol del Napoli para el empate 1-1 ante Salernitana en el partido por la Serie A italiana en el estadio Diego Armando Maradona en Nápoles, el domingo 30 de abril de 2023. (Alessandro Garofalo/LaPresse vía AP)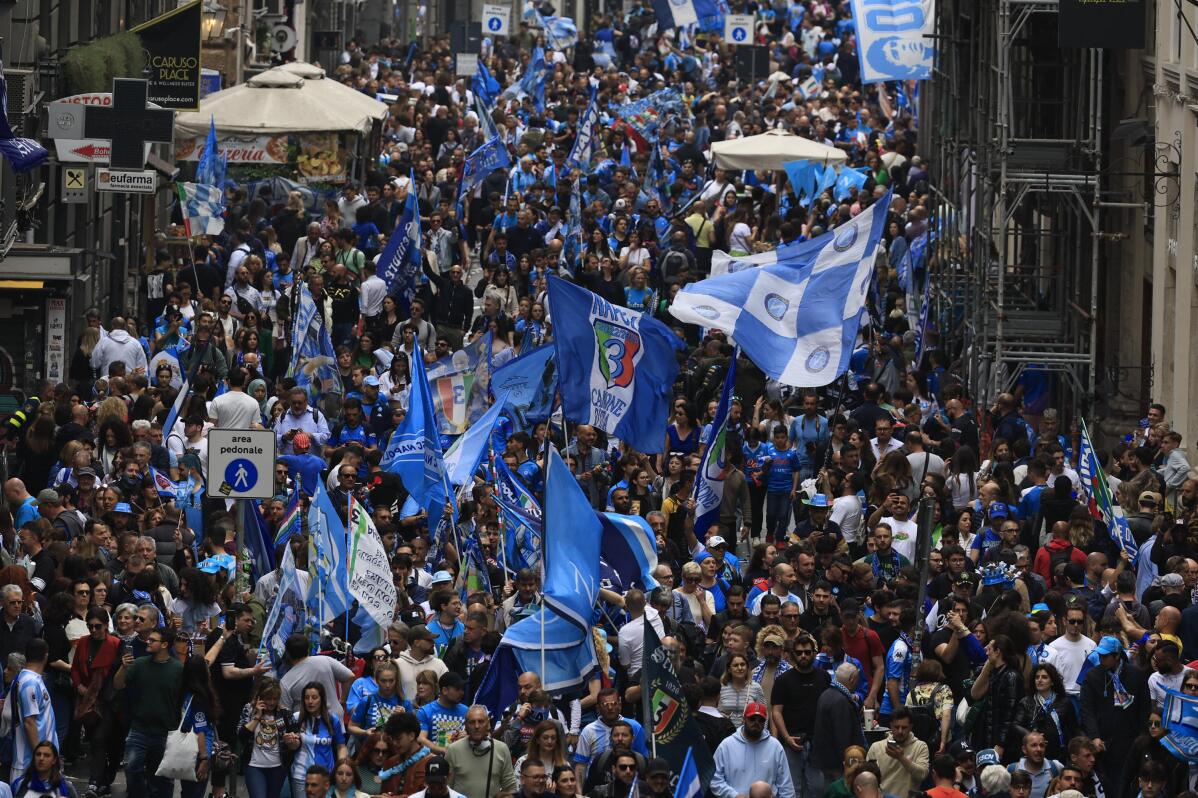 10 of 15

|
Napoli fans wave flags and cheer in Naples, Italy, Sunday, April 30, 2023. (Mauro Palumbo/LaPresse via AP)
10 of 15
Napoli fans wave flags and cheer in Naples, Italy, Sunday, April 30, 2023. (Mauro Palumbo/LaPresse via AP)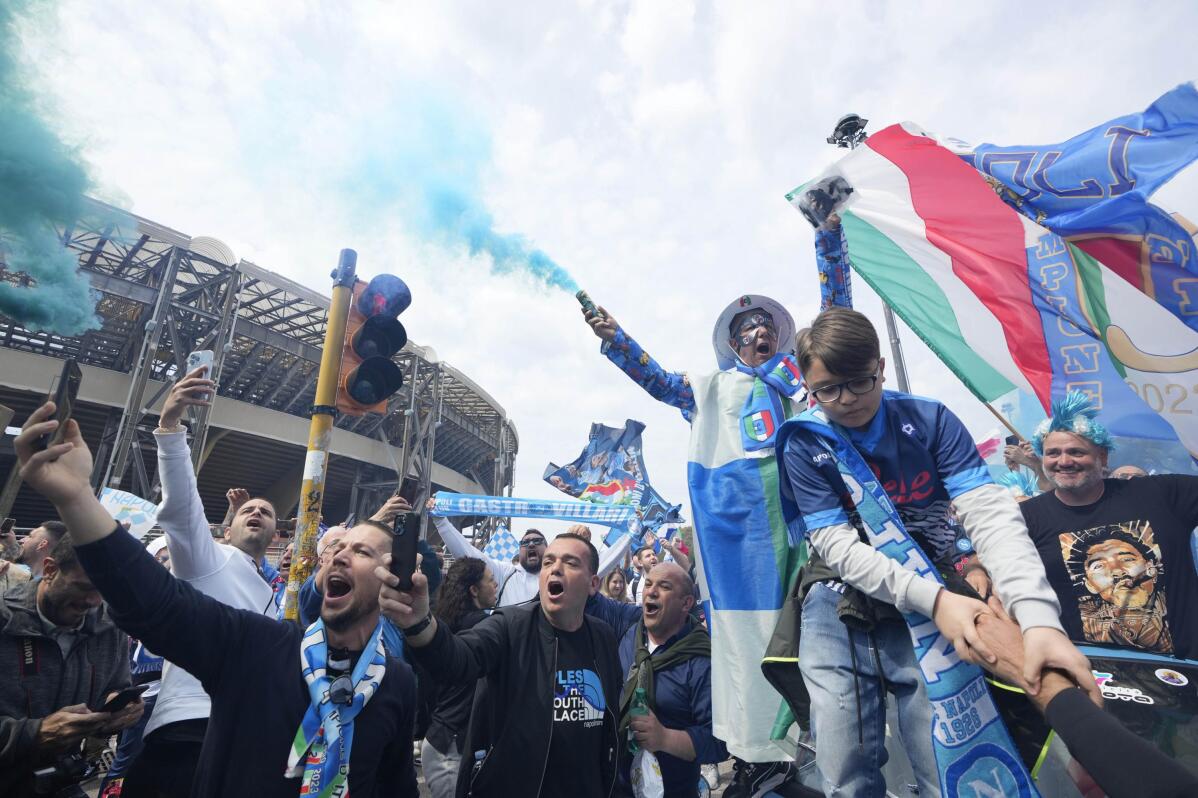 11 of 15

|
Napoli fans celebrate outside the Diego Maradona stadium in Naples, Italy, Sunday, April 30, 2023. After Napoli's game was moved to Sunday, the team could secure the title in front of their own fans by beating Salernitana — if Lazio fails to win at Inter Milan earlier in the day. Diego Maradona led Napoli to its only previous Serie A titles in 1987 and 1990. (AP Photo/Gregorio Borgia)
11 of 15
Napoli fans celebrate outside the Diego Maradona stadium in Naples, Italy, Sunday, April 30, 2023. After Napoli's game was moved to Sunday, the team could secure the title in front of their own fans by beating Salernitana — if Lazio fails to win at Inter Milan earlier in the day. Diego Maradona led Napoli to its only previous Serie A titles in 1987 and 1990. (AP Photo/Gregorio Borgia)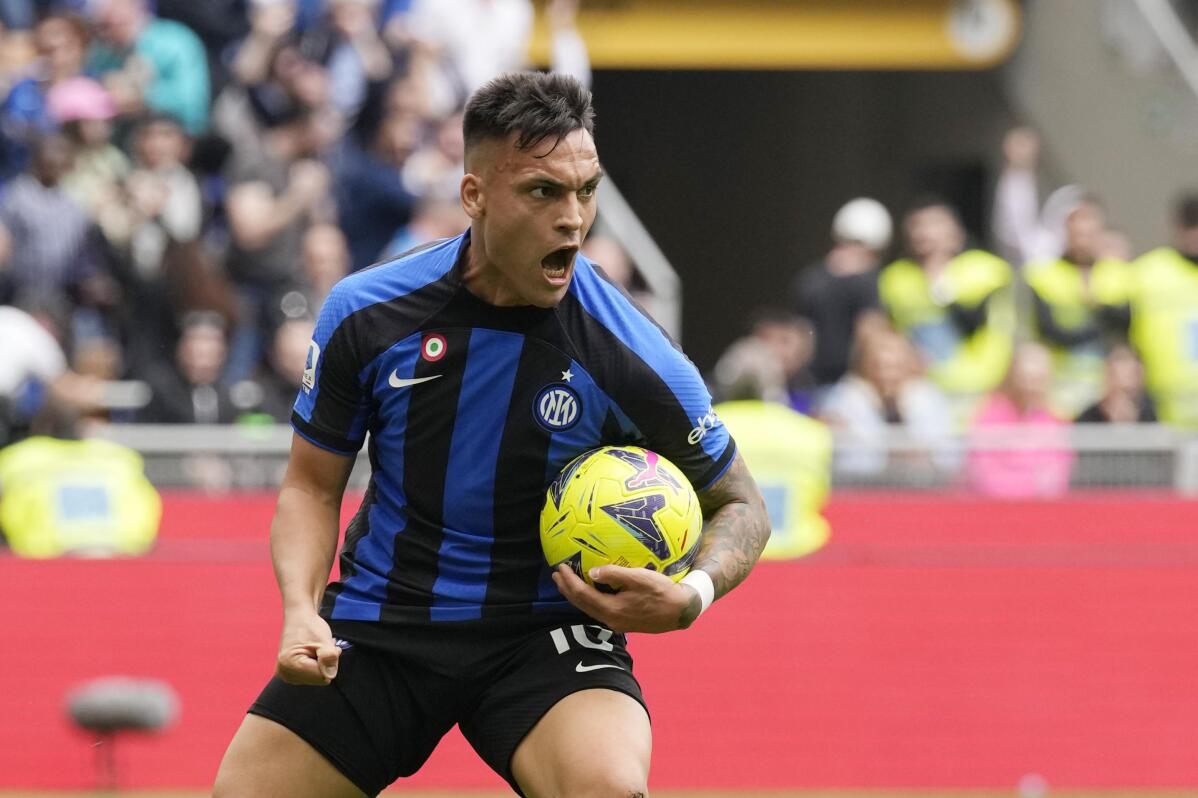 12 of 15

|
Inter Milan's Lautaro Martinez celebrates after scoring his side's opening goal during the Serie A soccer match between Inter Milan and Lazio at the San Siro Stadium, in Milan, Italy, Sunday, April 30, 2023. (AP Photo/Antonio Calanni)
12 of 15
Inter Milan's Lautaro Martinez celebrates after scoring his side's opening goal during the Serie A soccer match between Inter Milan and Lazio at the San Siro Stadium, in Milan, Italy, Sunday, April 30, 2023. (AP Photo/Antonio Calanni)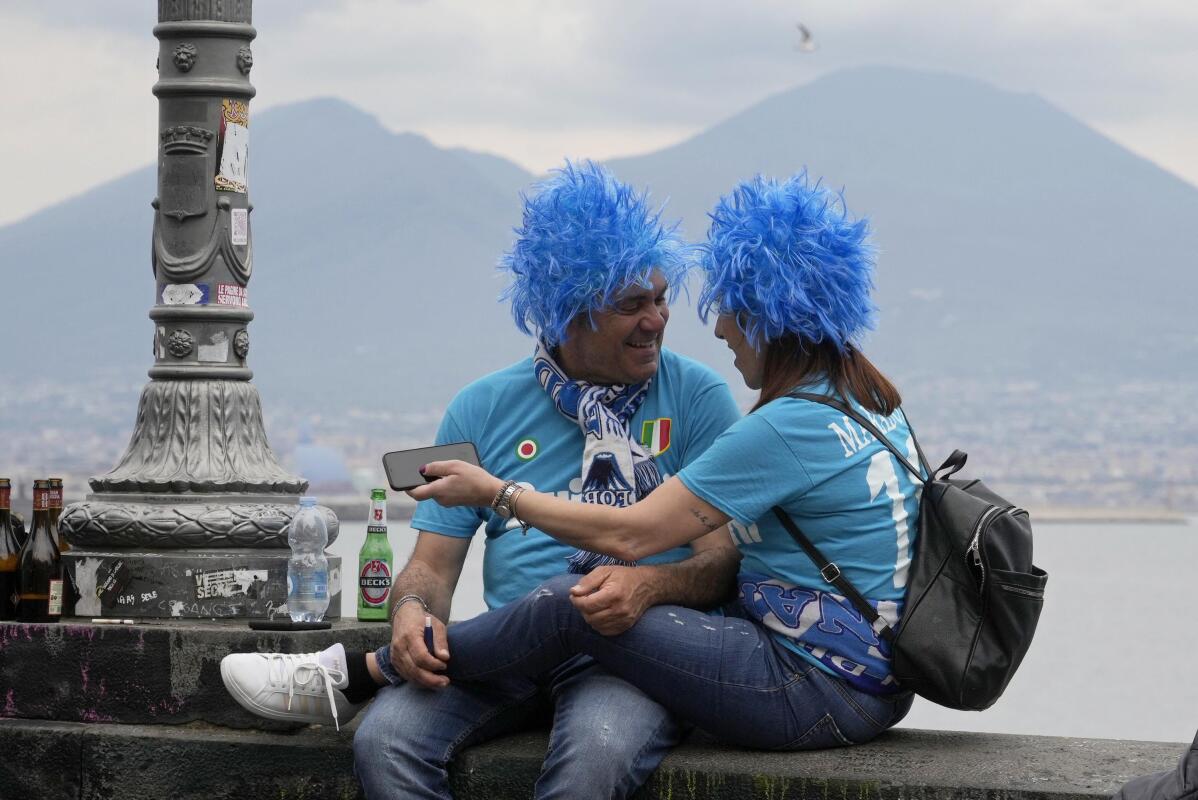 13 of 15

|
Napoli fans sit by the waterfront during the Serie A soccer match between Napoli and Salernitana at the Diego Armando Maradona stadium, in Naples, Italy, Sunday, April 30, 2023. (AP Photo/Gregorio Borgia)
13 of 15
Napoli fans sit by the waterfront during the Serie A soccer match between Napoli and Salernitana at the Diego Armando Maradona stadium, in Naples, Italy, Sunday, April 30, 2023. (AP Photo/Gregorio Borgia)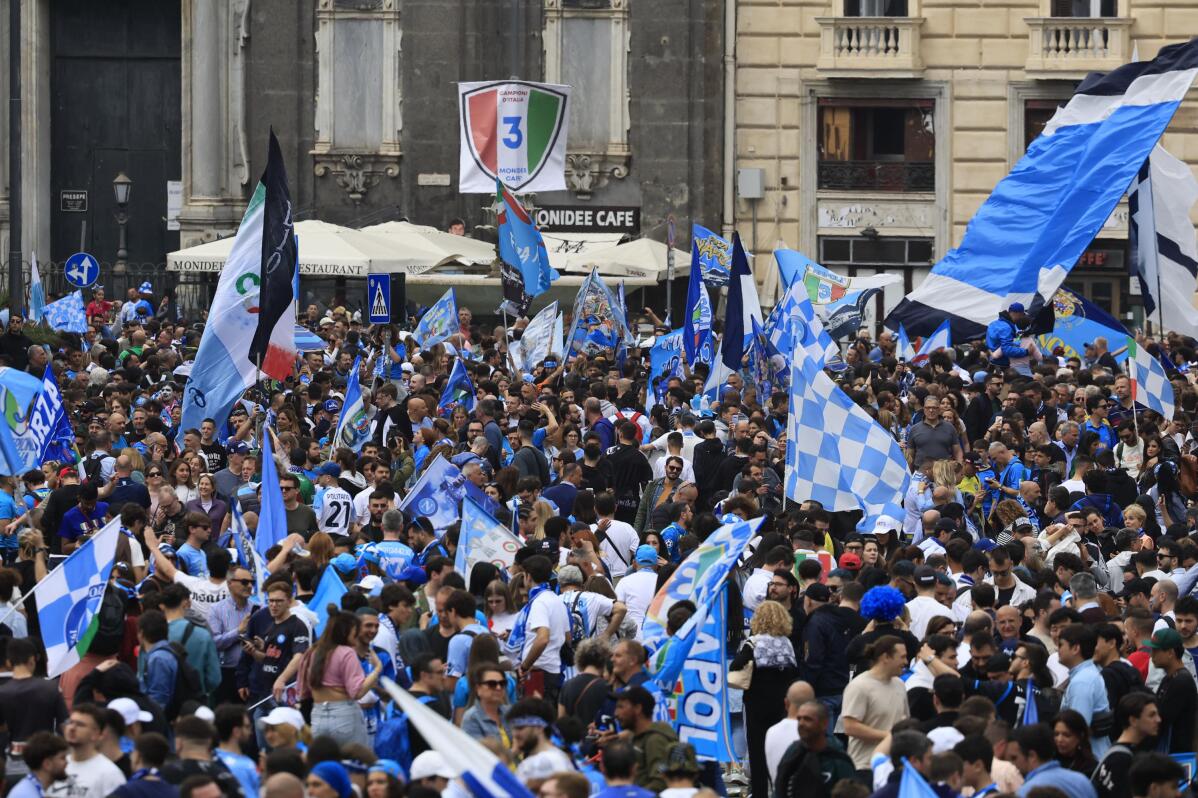 14 of 15

|
Napoli fans wave flags and cheer in Naples, Italy, Sunday, April 30, 2023. (Mauro Palumbo/LaPresse via AP)
14 of 15
Napoli fans wave flags and cheer in Naples, Italy, Sunday, April 30, 2023. (Mauro Palumbo/LaPresse via AP)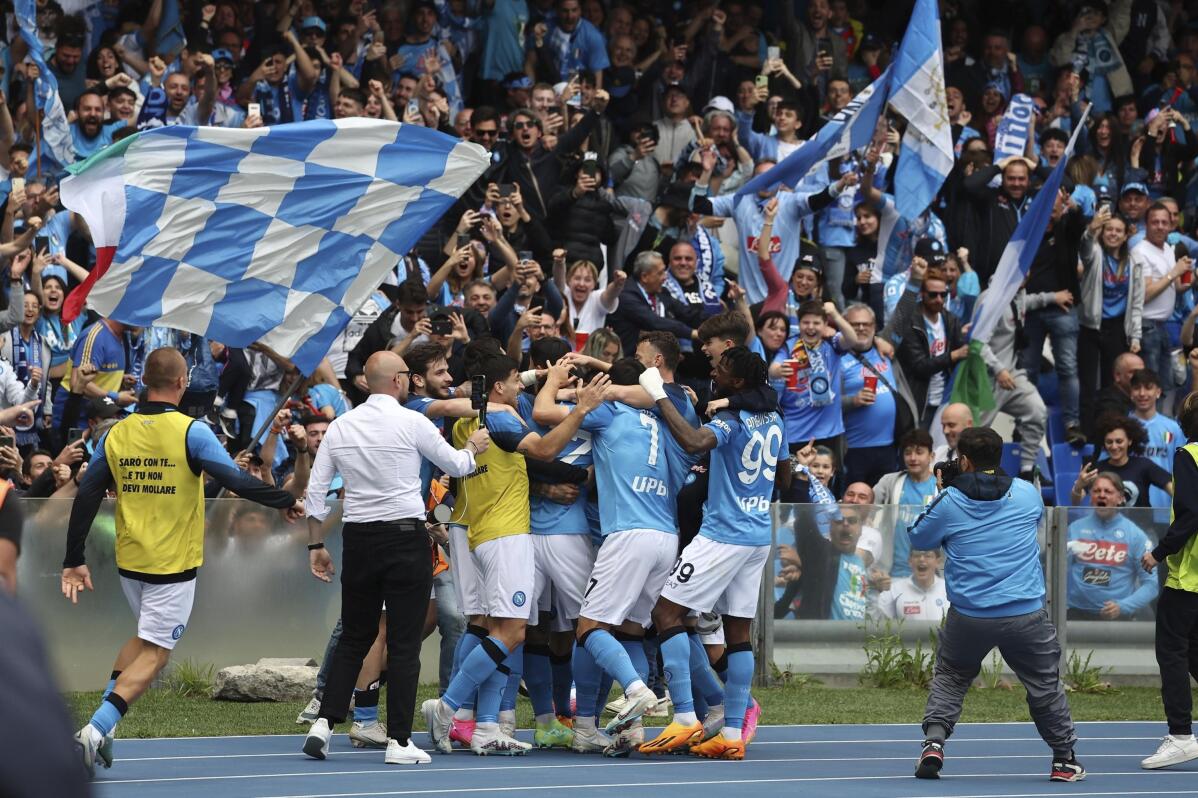 15 of 15

|
Napoli's Mathias Olivera celebrates with teammates after scoring his side's first goal during the Serie A soccer match between Napoli and Salernitana, at the Diego Armando Maradona stadium in Naples, Italy, Sunday, April 30, 2023. (Alessandro Garofalo/LaPresse via AP)
15 of 15
Napoli's Mathias Olivera celebrates with teammates after scoring his side's first goal during the Serie A soccer match between Napoli and Salernitana, at the Diego Armando Maradona stadium in Naples, Italy, Sunday, April 30, 2023. (Alessandro Garofalo/LaPresse via AP)
ROME (AP) — It's a celebration 33 years in the making. And now a few more days of waiting.
Napoli wasted what seemed like a perfect chance to seal the Serie A title — at home inside the Stadio Diego Armando Maradona on a holiday weekend afternoon — in a 1-1 draw with regional rival Salernitana on Sunday.
The result disappointed legions of Napoli fans who had already started celebrating in anticipation of the championship.
The Partenopei could have clinched with a record six rounds to spare if they beat Salernitana but Boulaye Dia equalized for the visitors six minutes from time after Mathias Olivera had given Napoli the lead 22 minutes earlier.
"The guys are so disappointed they couldn't provide joy to the amazing crowd," Napoli coach Luciano Spalletti said.
The result left runaway leader Napoli 18 points ahead of second-place Lazio, which lost 3-1 at Inter Milan earlier.
Third-place Juventus was eliminated from title contention with a 1-1 draw at Bologna — leaving the Bianconeri 19 points back.
Napoli is attempting to win the Italian league for the first time since Diego Maradona led the club to its only two Serie A titles in 1987 and 1990.
Olivera scored just after the hour mark with a header inside the far post from a corner. Dia then dribbled by Napoli center forward Victor Osimhen and unleashed an angled shot to equalize.
"These are the most difficult points on a psychological level and they take something from you," Spalletti said. "Salernitana are organized and they shut down in defense, which made it more difficult, and then we were a little naive on the goal we conceded."
Napoli visits Udinese in its next match on Thursday, a day after Lazio hosts Sassuolo.
Napoli can now clinch the title with a win or a draw at Udinese on Thursday, and could even seal it a day earlier if Lazio doesn't win.
Napoli fans had been celebrating inside and outside the Stadio Diego Armando Maradona for hours before the match — raising their voices even louder after Lazio lost, which set up the chance for Napoli to clinch.
The game had been moved back a day from Saturday on a request from local authorities to maintain public order. But Salernitana, which hasn't lost in more than two months, wouldn't let the celebration happen.
Osimhen had a couple of early chances for Napoli – one of them stopped by Salernitana's standout goalkeeper Guillermo Ochoa, who recently went to his fifth World Cup with Mexico.
Ochoa also negated an opportunity from Napoli midfielder Andre-Frank Zambo Anguissa in the first half.
There was also a long, curling effort from Napoli's dribbling wizard Khvicha Kvaratskhelia that sailed high shortly after the break.
The match finally enlivened with a deadball opportunity, as Olivera beat several defenders to meet a corner from substitute Giacomo Raspadori and send it beyond Ochoa's reach.
Kvaratskhelia nearly doubled the advantage with a shot that missed just wide in the 80th. Minutes later, after Olivera was removed to make room for another defender, Dia equalized.
"We had two decisions to make. We knew that defending deeper — not something I like to do — was the first choice. Then after conceding the goal we reshuffled and tried to hurt them," Salernitana coach Paulo Sousa said.
Napoli fans applauded their team at the final whistle.
"We sense the affection loud and clear in our ears and minds," Spalletti said. "This just extends the enjoyment."
INTER COMEBACK
Lautaro Martinez scored twice and Romelu Lukaku provided two assists as Inter came back from a goal down to beat Lazio and set up the opportunity for Napoli to seal it.
Inter defender Francesco Acerbi lost possession to set up an early Lazio goal from Felipe Anderson, with Ciro Immobile also helping out before the Brazilian fooled the defense to gain some space and fire in from the edge of the area.
After numerous chances for Inter, the Nerazzurri finally equalized in the 78th when Lukaku threaded a through ball for Martinez, who scored from the center of the area as he was sliding to the ground.
Lukaku then provided a cross-field pass that Robin Gosens redirected in with an acrobatic volley near the far post — injuring himself in the process.
Martinez scored his second in the 90th after a defensive error.
It was only the second win in seven Serie A matches for Inter, which has reached the Champions League semifinals and Italian Cup final.
"It was one of our best performances," Inter coach Simone Inzaghi said.
Inter moved up to fourth, level on points with fifth-place AC Milan and sixth-place Roma.
JUVE SLUMP
Juventus' winless streak in the league reached four matches. Also, the Bianconeri were eliminated from the Italian Cup by Inter in the semifinals although they have reached the last four of the Europa League.
Riccardo Orsolini converted a first-half penalty for Bologna and Arkadiusz Milik had a poor penalty attempt saved by Bologna goalkeeper Lukasz Skorupski, who also made several other difficult saves.
Milik equalized near the hour mark.
Also, Fiorentina routed last-place Sampdoria 5-0, Sassuolo beat Empoli 2-1, and Cremonese and Hellas Verona drew 1-1.
___
Andrew Dampf is at https://twitter.com/AndrewDampf
___
More AP soccer: https://apnews.com/hub/Soccer and https://twitter.com/AP_Sports