Napoli can clinch title in its stadium named after Maradona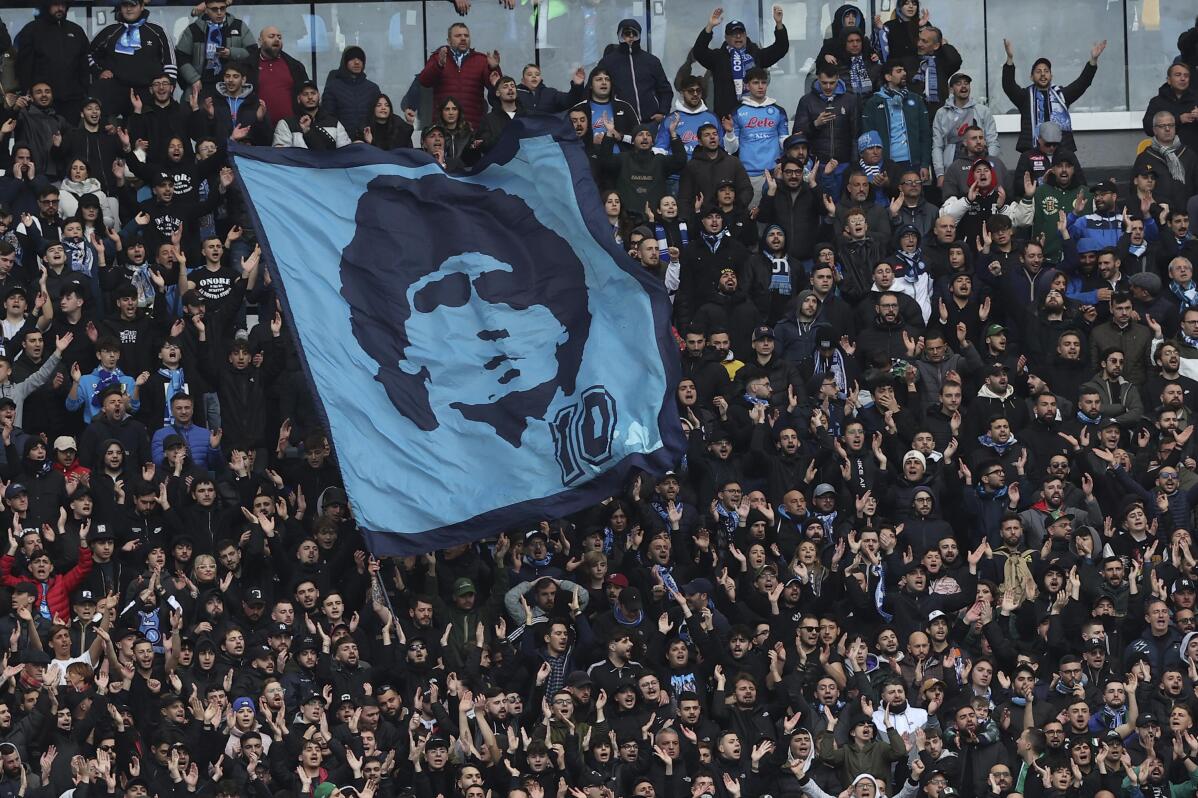 1 of 6

|
Napoli fans wave a flag portraying soccer legend Diego Armando Maradona during the Serie A soccer match between Napoli and Hellas Verona, at the Diego Armando Maradona stadium in Naples, Italy, Saturday, April 15, 2023. It's a celebration more than 30 years in the making, and historically superstitious Napoli fans are already painting the city blue in anticipation of the team's first Italian league title since the days when Diego Maradona played for the club. (Alessandro Garofalo/LaPresse via AP)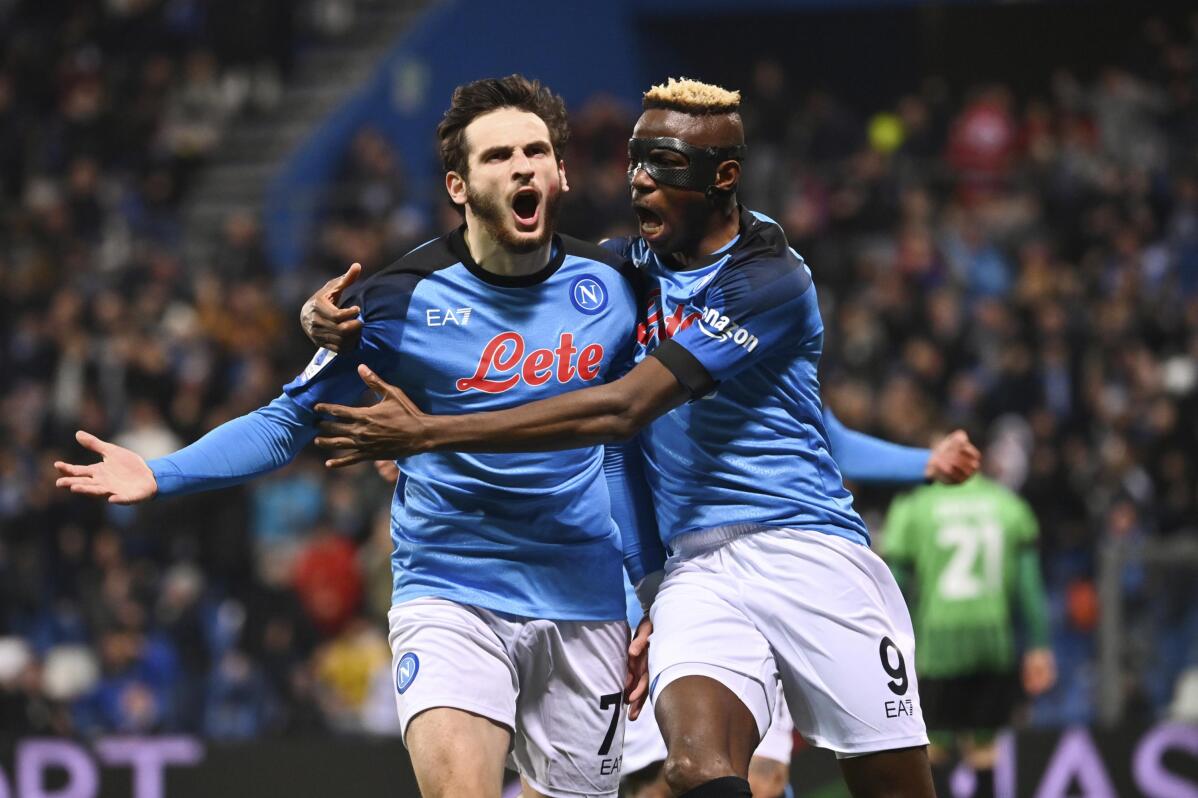 2 of 6

|
FILE - Napoli's Khvicha Kvaratskhelia, left, celebrates with team mate Victor Asimhen after scoring during the Serie A soccer match between Sassuolo and Napoli, at the Mapei Stadium in Reggio Emilia, Italy, on Feb. 17, 2023. It's a celebration more than 30 years in the making, and historically superstitious Napoli fans are already painting the city blue in anticipation of the team's first Italian league title since the days when Diego Maradona played for the club. (Massimo Paolone/LaPresse via AP)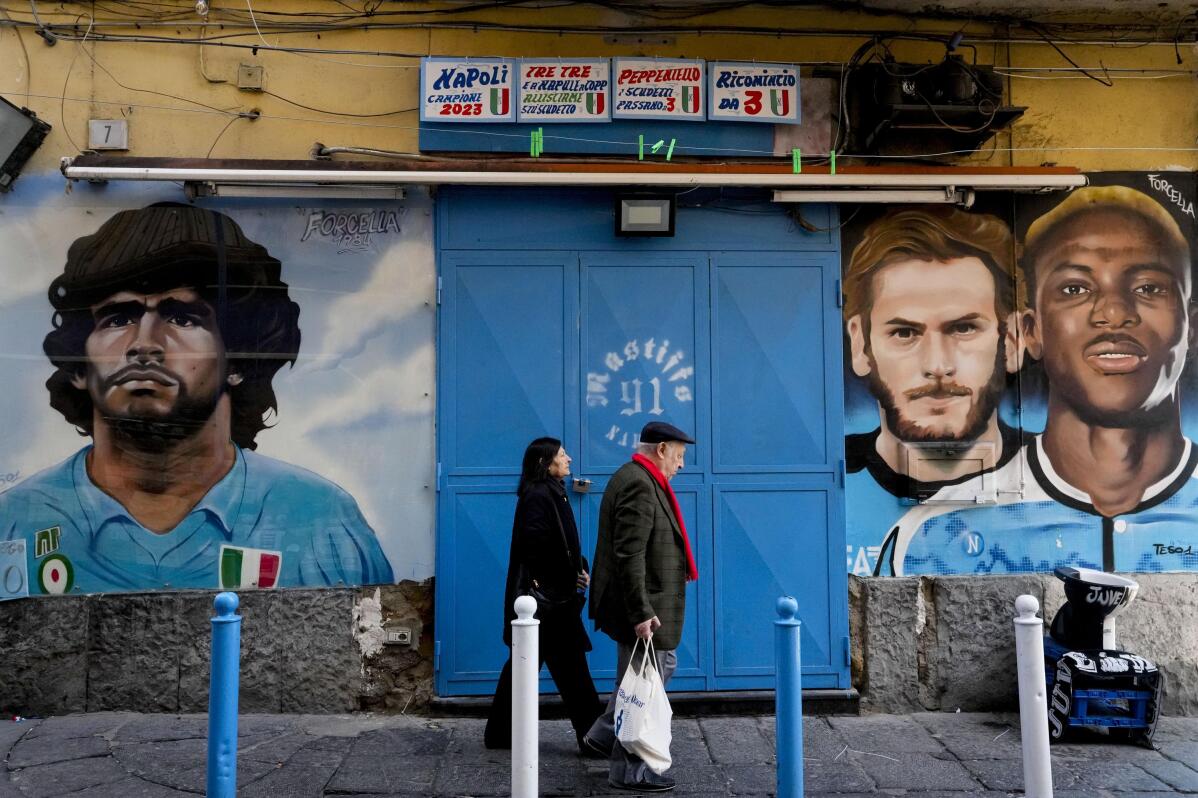 3 of 6

|
People walk past wall paintings of Napoli former and present soccer stars, from left, Diego Armando Maradona, Khvicha Kvaratskhelia and Victor Osimhen, in downtown Naples, Italy, Wednesday, April 19, 2023. It's a celebration more than 30 years in the making, and historically superstitious Napoli fans are already painting the city blue in anticipation of the team's first Italian league title since the days when Diego Maradona played for the club. (AP Photo/Andrew Medichini)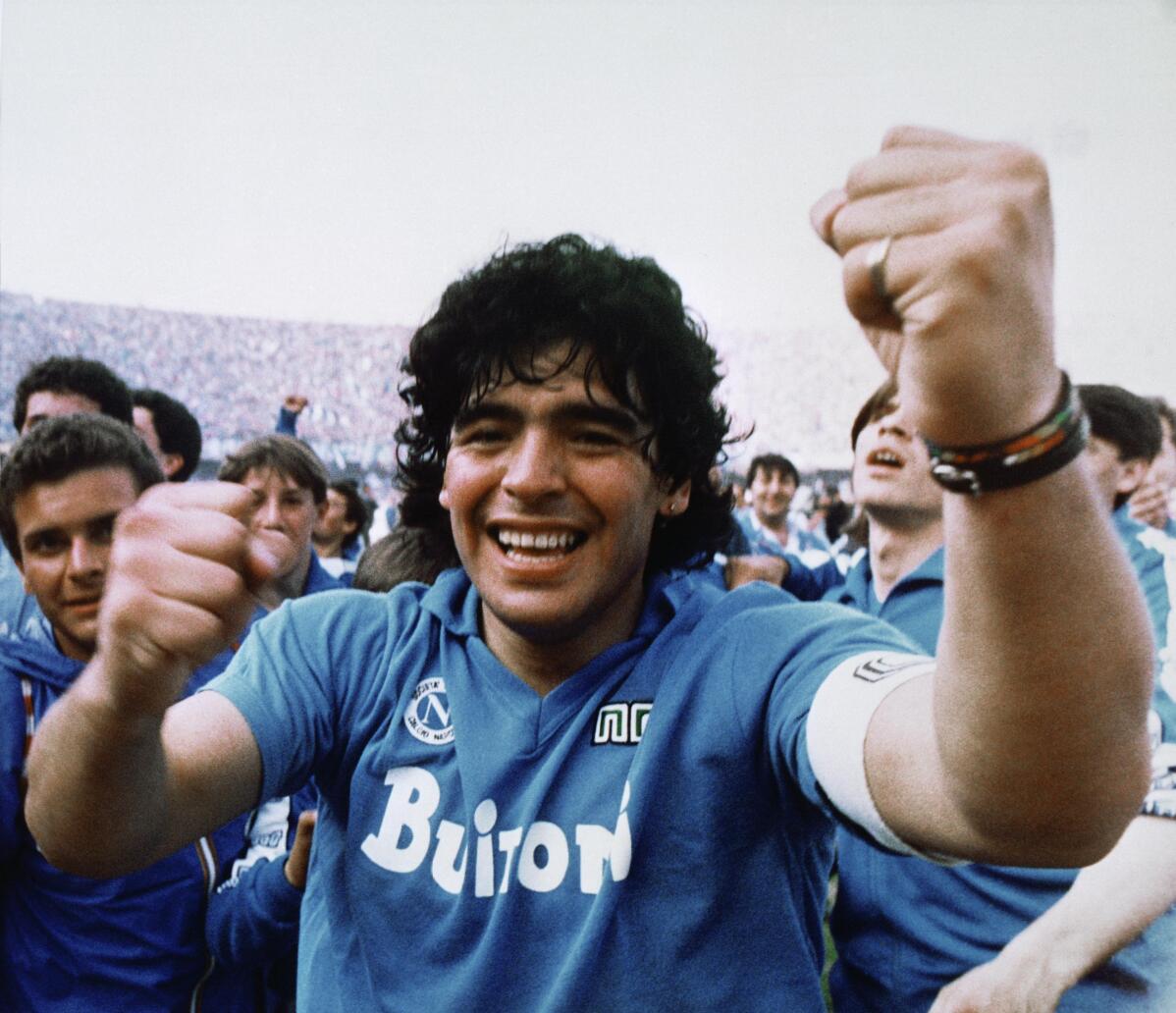 4 of 6

|
FILE - Argentine soccer superstar Diego Armando Maradona cheers after the Napoli team clinched its first Italian major league title in Naples, Italy, on May 10, 1987. It's a celebration more than 30 years in the making, and historically superstitious Napoli fans are already painting the city blue in anticipation of the team's first Italian league title since the days when Diego Maradona played for the club. (AP Photo/Massimo Sambucetti, File )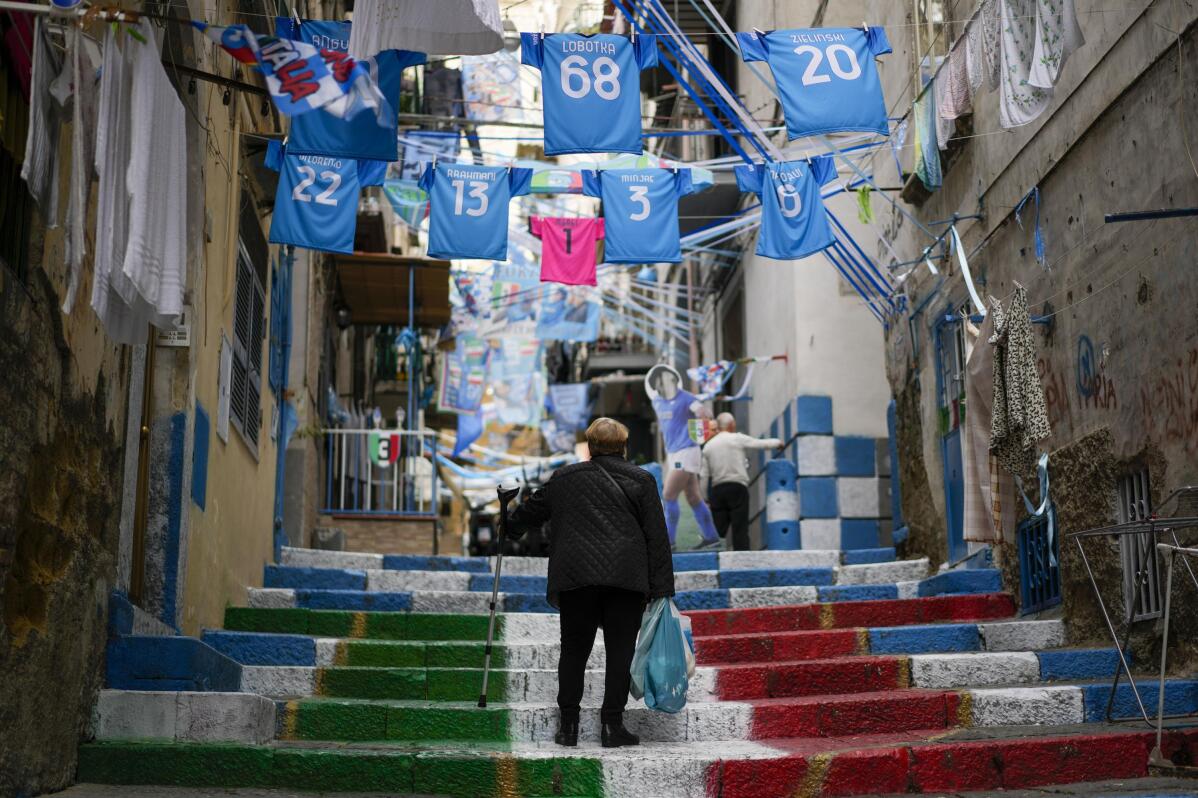 5 of 6

|
A woman walks among banners and writings in support of Napoli soccer team in downtown Naples, Italy, Tuesday, April 18, 2023. It's a celebration more than 30 years in the making, and historically superstitious Napoli fans are already painting the city blue in anticipation of the team's first Italian league title since the days when Diego Maradona played for the club. (AP Photo/Andrew Medichini)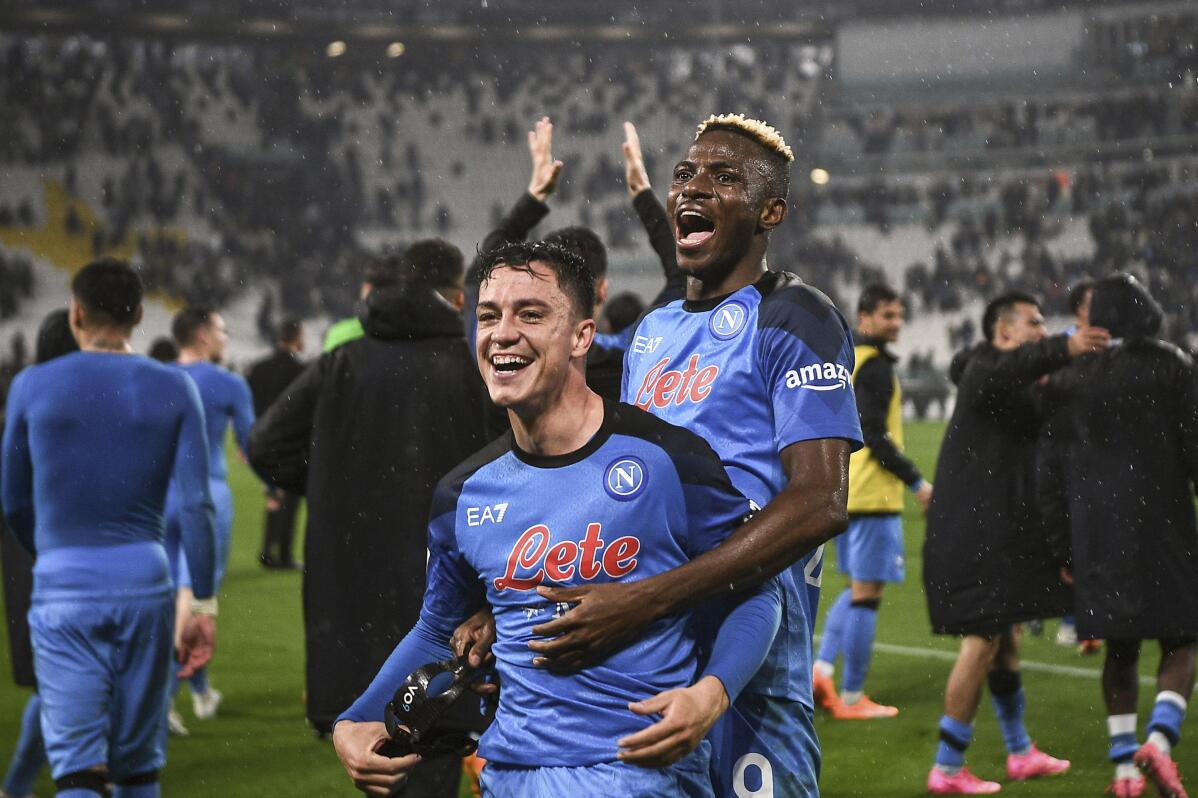 6 of 6

|
Napoli's Victor Osimhen, top, and Giacomo Raspadori celebrate their side's 1-0 win at the end of the Italian Serie A soccer match between Juventus and Napoli at the Allianz stadium in Turin, Italy, Sunday April 23, 2023. (Marco Alpozzi/LaPresse via AP)
Napoli can clinch title in its stadium named after Maradona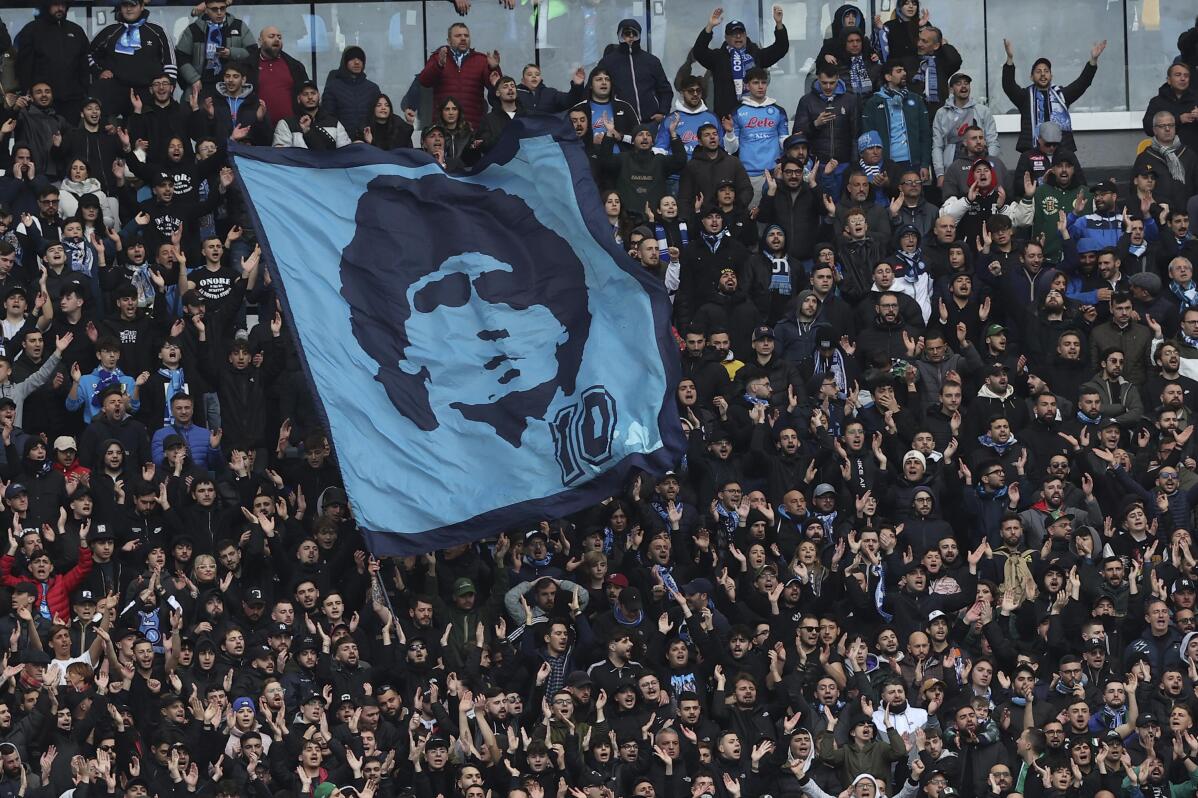 1 of 6

|
Napoli fans wave a flag portraying soccer legend Diego Armando Maradona during the Serie A soccer match between Napoli and Hellas Verona, at the Diego Armando Maradona stadium in Naples, Italy, Saturday, April 15, 2023. It's a celebration more than 30 years in the making, and historically superstitious Napoli fans are already painting the city blue in anticipation of the team's first Italian league title since the days when Diego Maradona played for the club. (Alessandro Garofalo/LaPresse via AP)
1 of 6
Napoli fans wave a flag portraying soccer legend Diego Armando Maradona during the Serie A soccer match between Napoli and Hellas Verona, at the Diego Armando Maradona stadium in Naples, Italy, Saturday, April 15, 2023. It's a celebration more than 30 years in the making, and historically superstitious Napoli fans are already painting the city blue in anticipation of the team's first Italian league title since the days when Diego Maradona played for the club. (Alessandro Garofalo/LaPresse via AP)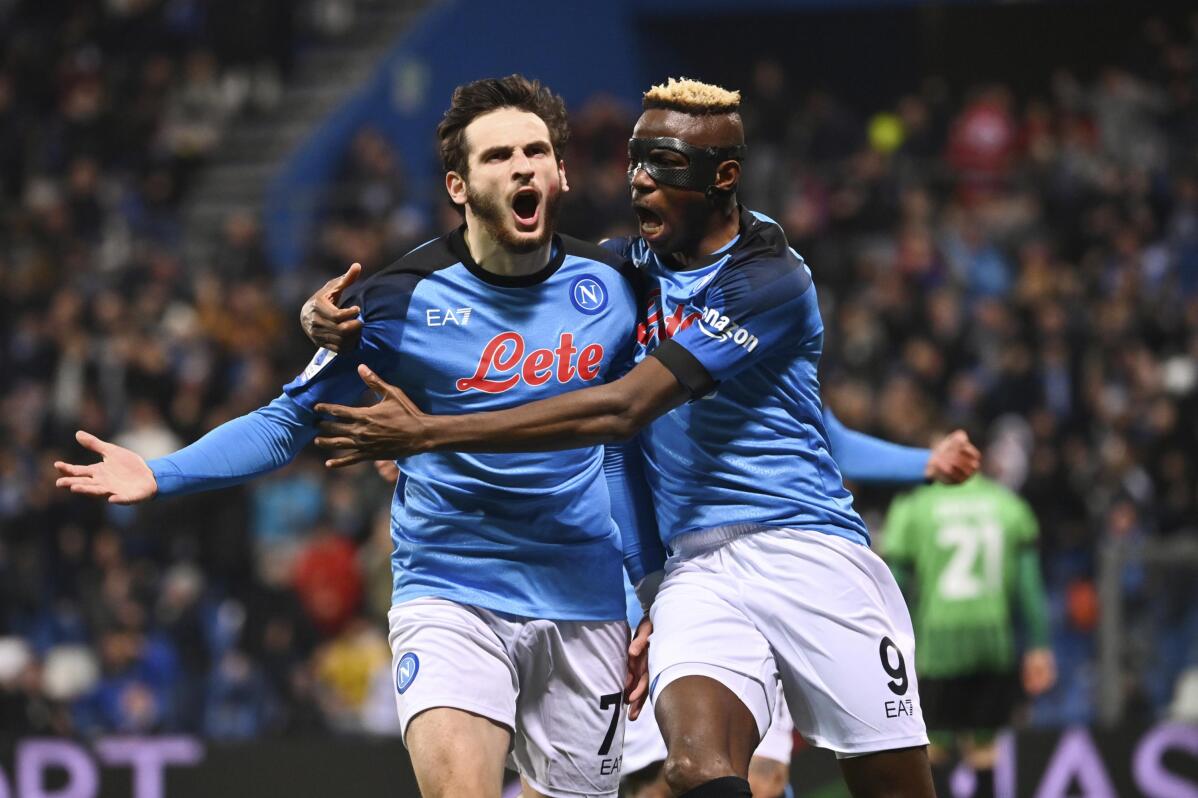 2 of 6

|
FILE - Napoli's Khvicha Kvaratskhelia, left, celebrates with team mate Victor Asimhen after scoring during the Serie A soccer match between Sassuolo and Napoli, at the Mapei Stadium in Reggio Emilia, Italy, on Feb. 17, 2023. It's a celebration more than 30 years in the making, and historically superstitious Napoli fans are already painting the city blue in anticipation of the team's first Italian league title since the days when Diego Maradona played for the club. (Massimo Paolone/LaPresse via AP)
2 of 6
FILE - Napoli's Khvicha Kvaratskhelia, left, celebrates with team mate Victor Asimhen after scoring during the Serie A soccer match between Sassuolo and Napoli, at the Mapei Stadium in Reggio Emilia, Italy, on Feb. 17, 2023. It's a celebration more than 30 years in the making, and historically superstitious Napoli fans are already painting the city blue in anticipation of the team's first Italian league title since the days when Diego Maradona played for the club. (Massimo Paolone/LaPresse via AP)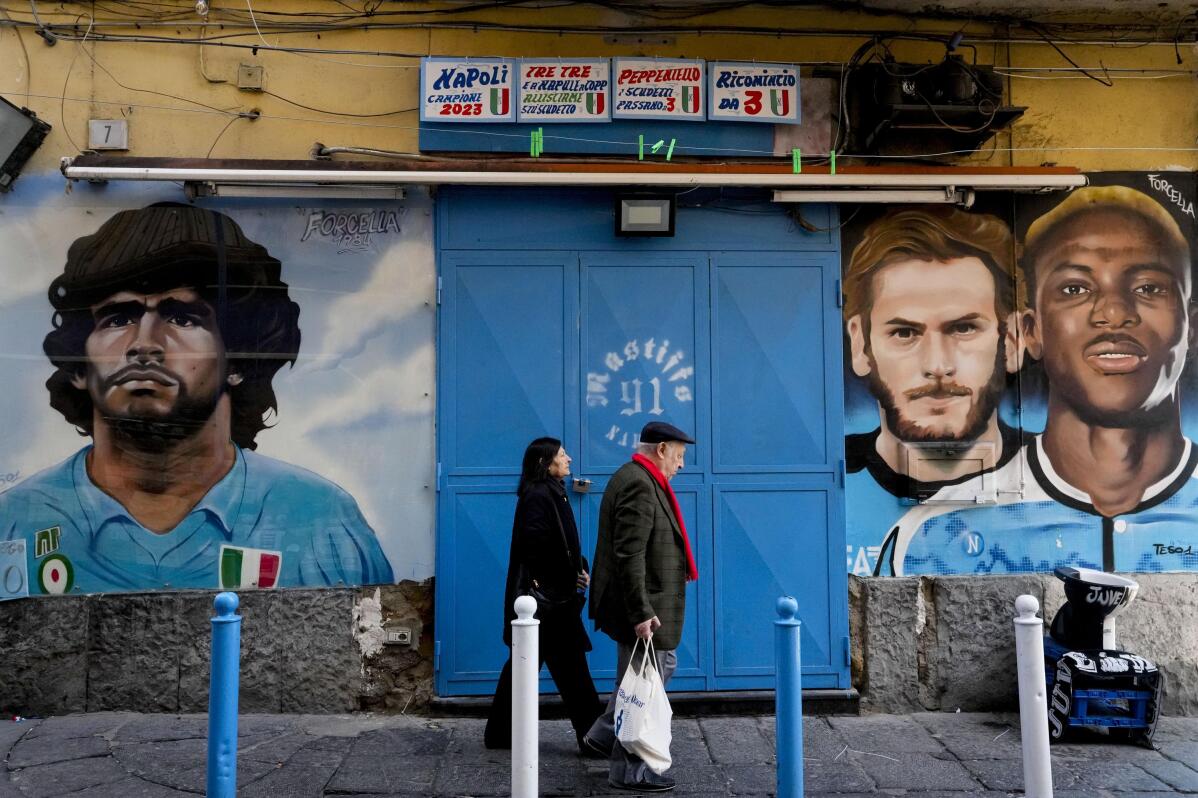 3 of 6

|
People walk past wall paintings of Napoli former and present soccer stars, from left, Diego Armando Maradona, Khvicha Kvaratskhelia and Victor Osimhen, in downtown Naples, Italy, Wednesday, April 19, 2023. It's a celebration more than 30 years in the making, and historically superstitious Napoli fans are already painting the city blue in anticipation of the team's first Italian league title since the days when Diego Maradona played for the club. (AP Photo/Andrew Medichini)
3 of 6
People walk past wall paintings of Napoli former and present soccer stars, from left, Diego Armando Maradona, Khvicha Kvaratskhelia and Victor Osimhen, in downtown Naples, Italy, Wednesday, April 19, 2023. It's a celebration more than 30 years in the making, and historically superstitious Napoli fans are already painting the city blue in anticipation of the team's first Italian league title since the days when Diego Maradona played for the club. (AP Photo/Andrew Medichini)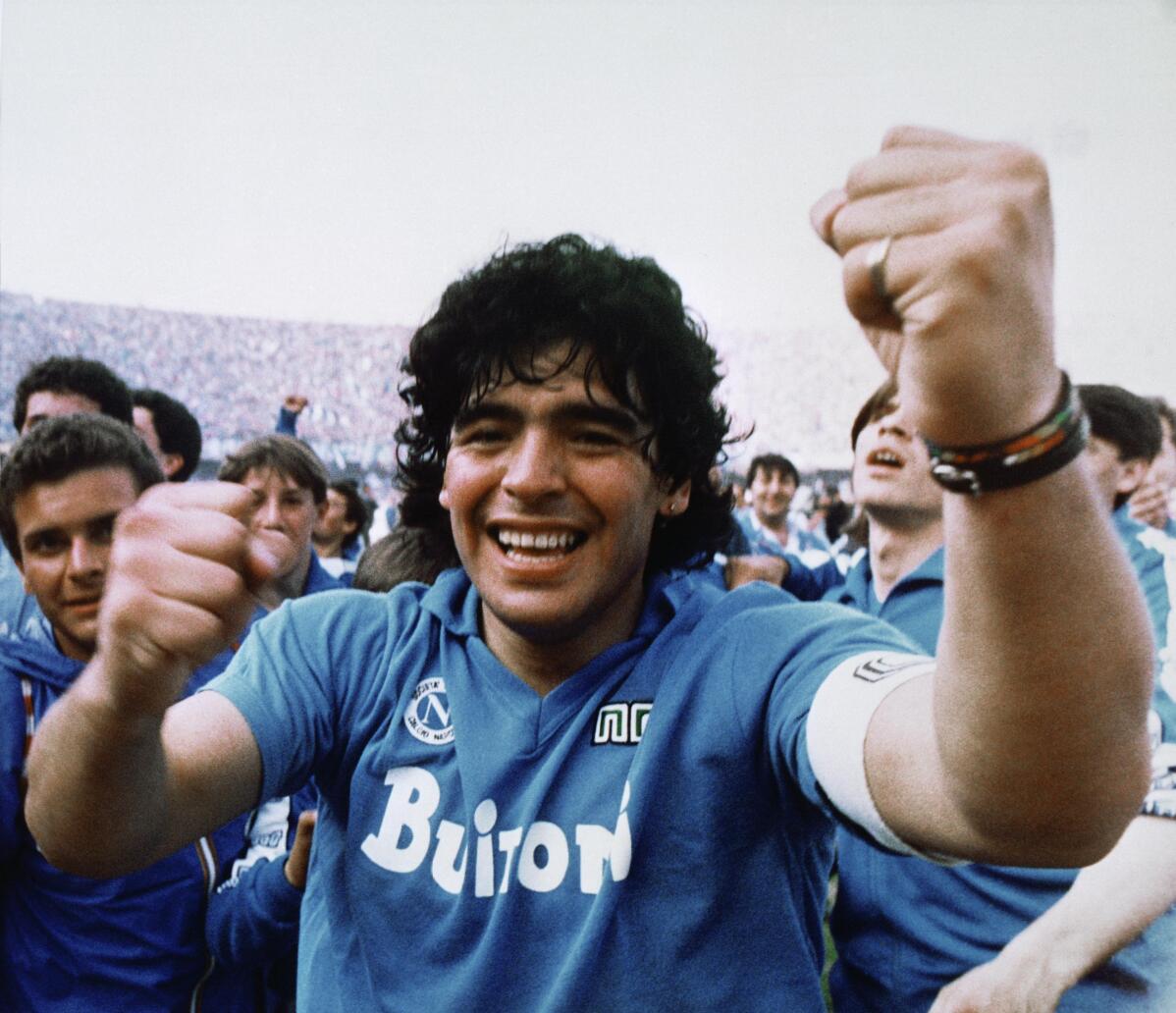 4 of 6

|
FILE - Argentine soccer superstar Diego Armando Maradona cheers after the Napoli team clinched its first Italian major league title in Naples, Italy, on May 10, 1987. It's a celebration more than 30 years in the making, and historically superstitious Napoli fans are already painting the city blue in anticipation of the team's first Italian league title since the days when Diego Maradona played for the club. (AP Photo/Massimo Sambucetti, File )
4 of 6
FILE - Argentine soccer superstar Diego Armando Maradona cheers after the Napoli team clinched its first Italian major league title in Naples, Italy, on May 10, 1987. It's a celebration more than 30 years in the making, and historically superstitious Napoli fans are already painting the city blue in anticipation of the team's first Italian league title since the days when Diego Maradona played for the club. (AP Photo/Massimo Sambucetti, File )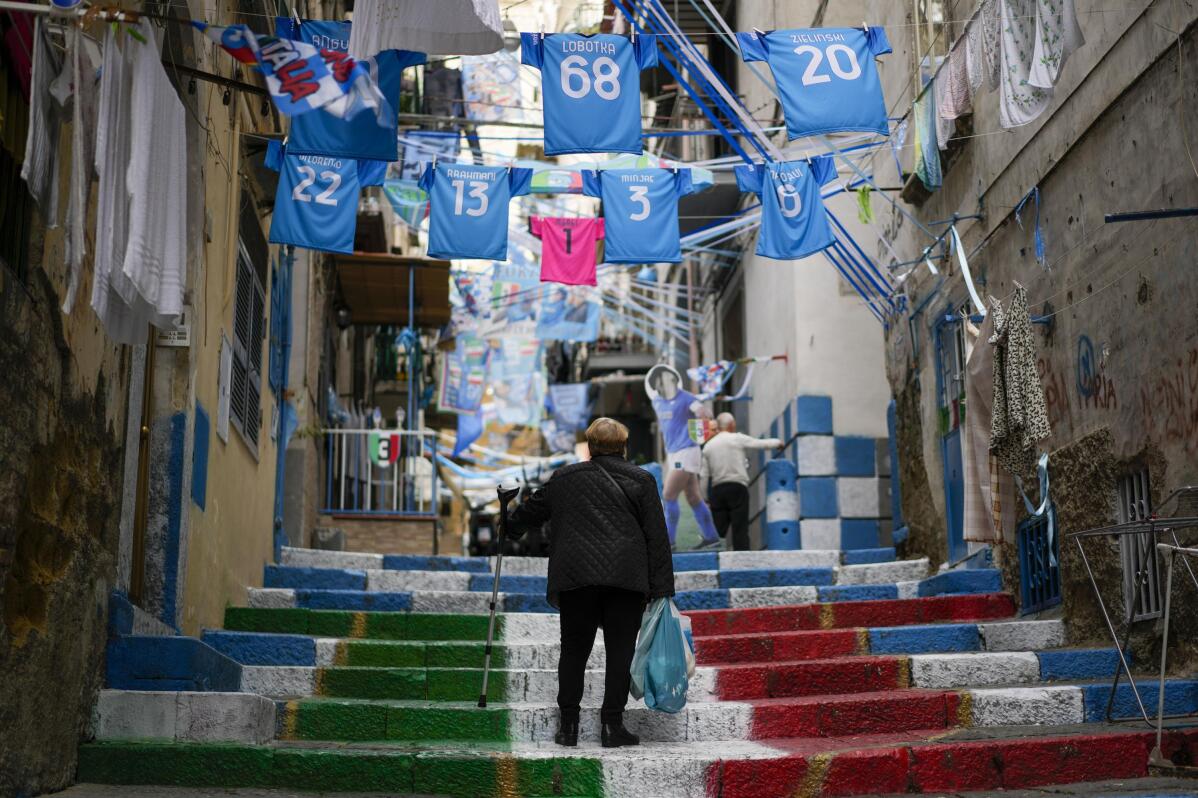 5 of 6

|
A woman walks among banners and writings in support of Napoli soccer team in downtown Naples, Italy, Tuesday, April 18, 2023. It's a celebration more than 30 years in the making, and historically superstitious Napoli fans are already painting the city blue in anticipation of the team's first Italian league title since the days when Diego Maradona played for the club. (AP Photo/Andrew Medichini)
5 of 6
A woman walks among banners and writings in support of Napoli soccer team in downtown Naples, Italy, Tuesday, April 18, 2023. It's a celebration more than 30 years in the making, and historically superstitious Napoli fans are already painting the city blue in anticipation of the team's first Italian league title since the days when Diego Maradona played for the club. (AP Photo/Andrew Medichini)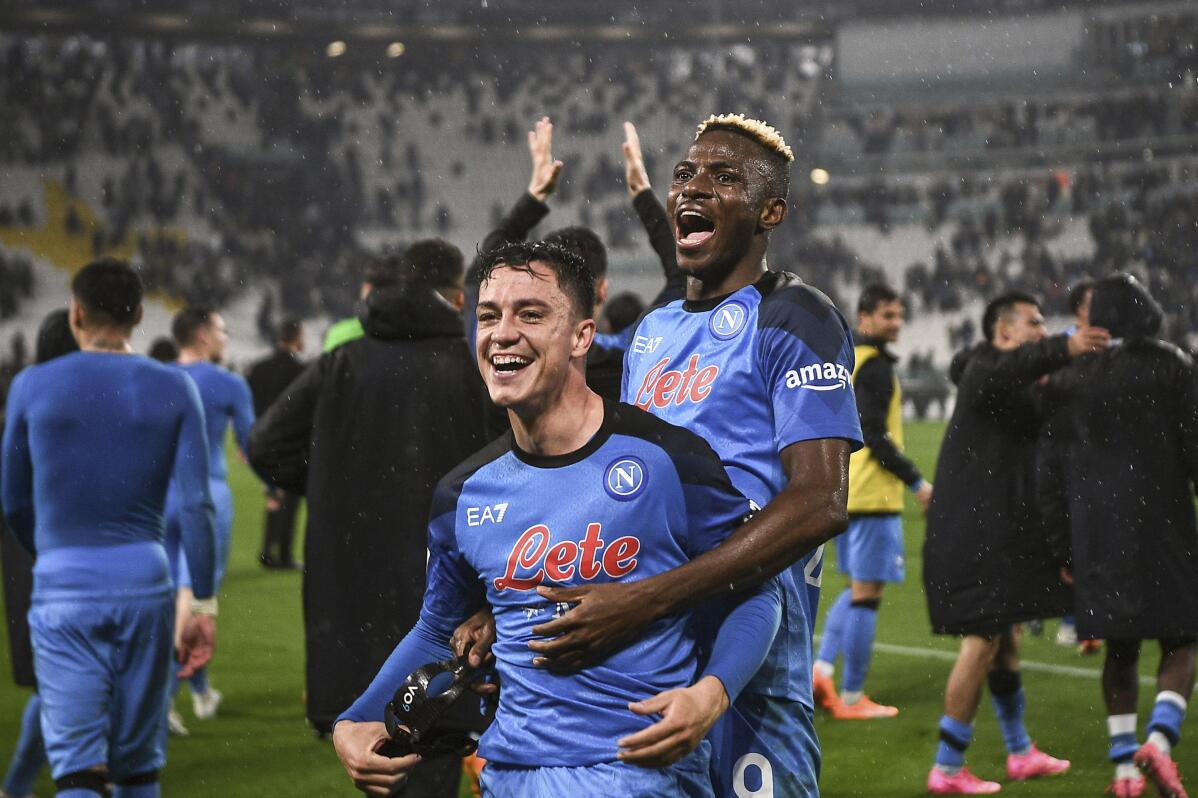 6 of 6

|
Napoli's Victor Osimhen, top, and Giacomo Raspadori celebrate their side's 1-0 win at the end of the Italian Serie A soccer match between Juventus and Napoli at the Allianz stadium in Turin, Italy, Sunday April 23, 2023. (Marco Alpozzi/LaPresse via AP)
6 of 6
Napoli's Victor Osimhen, top, and Giacomo Raspadori celebrate their side's 1-0 win at the end of the Italian Serie A soccer match between Juventus and Napoli at the Allianz stadium in Turin, Italy, Sunday April 23, 2023. (Marco Alpozzi/LaPresse via AP)
MILAN (AP) — Napoli could get the chance to clinch its first Serie A title since Diego Maradona's playing days in front of its fans this weekend at the stadium now named after the club's most emblematic player.
The Italian league announced Friday that Napoli's match against regional rival Salernitana originally scheduled for Saturday will now be played on Sunday at 3 p.m. (1300 GMT). That means that if second-place Lazio doesn't win at Inter Milan earlier Sunday, Napoli would seal the "scudetto" with six rounds to spare if it wins at home.
The scheduling move was made following a request by authorities in Naples in order to maintain public safety in the city, by concentrating the initial celebrations inside the stadium in case of the title.
Maradona led Napoli to its only Serie A trophies in 1987 and 1990 in what was previously known as the Stadio San Paolo. The stadium was renamed for him when he died 2 ½ years ago.
Napoli enters the weekend 17 points ahead of Lazio.
Also, Napoli's next game at Udinese was moved from Tuesday to Thursday.
___ More AP soccer: https://apnews.com/hub/Soccer and https://twitter.com/AP_Sports