Imprisoned Iranian activist Narges Mohammadi to receive PEN America's Freedom to Write Award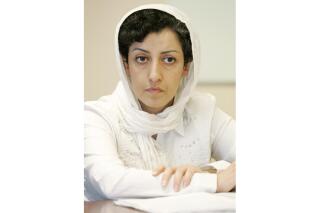 NEW YORK (AP) — The Iranian writer, journalist and human rights activist Narges Mohammadi will be honored at this week's PEN America Literary Gala. Mohammadi, currently jailed for "spreading propaganda," is to receive the 2023 PEN/Barbey Freedom to Write Award.
"Narges Mohammadi inspires awe across the world for her unflinching courage and resistance to the Iranian government's determined campaign to silence her," PEN America CEO Suzanne Nossel said in a statement released Monday. "The sacrifices that she and her family have made are heartbreaking. She is a beacon for free expression in one of the most harsh places in the world for writers, journalists, and artists."
Mohammadi's husband, the journalist and activist Taghi Rahmani, will accept the prize on her behalf. The PEN gala will take place Thursday night at the American Museum of Natural History, with fellow honorees including "Saturday Night Live" creator Lorne Michaels, winner of the PEN/Audible Literary Service Award.
The PEN/Barbey prize is given to writers persecuted for their work. Previous recipients include Ukrainian freelance journalist Vladyslav Yesypenko and Chinese activist Xu Zhiyong.
The 51-year-old Mohammadi has a long history of imprisonment and harsh punishment, including torture and solitary confinement. In 2020, she was released after serving 8 1/2 years on charges ranging from planning crimes against Iran to forming an illegal organization. At one time, Mohammadi was vice president of the banned Defenders of Human Rights Center.
Earlier in May, she was one of three imprisoned Iranian journalists to receive the United Nations' World Press Freedom Prize.