Ex-F1 champ Button to enter 3 NASCAR races starting at Texas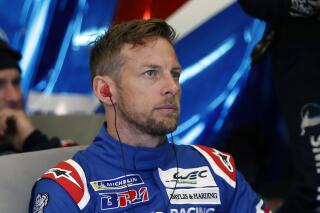 Jenson Button will make his NASCAR debut later this month at Circuit of the Americas, the first of three Cup Series races scheduled for the former Formula One world champion.
Button puts two former F1 champions in the field for the March 26 race on the permanent road course in Austin, Texas. Kimi Räikkönen announced Wednesday he'll race there for Trackhouse Racing.
"Two F1 world champions in a NASCAR race. Who would have ever predicted that?" Button told The Associated Press. "A lot of people think I'm crazy for doing this because it's so different, but that's why I love the challenge of it. For me, it's not about how quick the car is, it's about how close the racing can be.
"In the Cup Series, the racing is awesome. It's definitely going to be a shock to the system, but a toe in the water, so to speak, and hopefully help me be more competitive the next time I do it."
Button put together his three-race deal with support from longtime partner Mobil 1, which paired him with Stewart-Haas Racing for marketing and promotional support. Mobil 1 has a longstanding relationship with SHR co-owner Tony Stewart.
Button will drive the No. 15 Mobil 1 Ford Mustang for Rick Ware Racing — an arrangement similar to how SHR collaborated with Ware's team a year ago to run then-reserve driver Ryan Preece in a pair of Cup races.
Button is also scheduled to enter NASCAR's inaugural street course race, scheduled for downtown Chicago in July, and the road course at Indianapolis Motor Speedway in August. Rick Ware Racing will be the listed team for all three of Button's entries.
Although he's been announced as one of the drivers for NASCAR's special entry in the 24 Hours of Le Mans, Button told The AP that his three-race road course deal has nothing to do with the Garage 56 project. Instead, he said it stems from a love of NASCAR he is certain developed from watching the movie "Days of Thunder" in 1990.
"I wouldn't have had NASCAR on the TV in the U.K. We had four channels, and we definitely didn't have NASCAR," Button said. "I hate most motorsports movies, but as a 10-year-old, I loved that movie, it was amazing. It was like, 'This is what I want to be part of!' But being so far from America, it was never going to be for me."
Or so he thought.
Button, the 2009 F1 champion, ended his 17-year career after the 2016 season and transitioned into a television role and occasionally raced in various series. He drove sports cars in the Japanese Super GT Series' GT500 class and won the 2018 championship, did five races from in the FIA World Endurance Championship that included the 24 Hours of Le Mans, and the Baja 1000 in 2019.
He has done some karting recently, but his last competitive race was in GP3 in 2020. His final F1 race was in 2017, when he subbed for Fernando Alonso, who skipped the Monaco Grand Prix to enter the Indianapolis 500.
Almost all of Button's racing has been supported by Mobil 1, which was his sponsor for 14 of his 15 career F1 victories and the Super GT championship. Bored and eager to give a NASCAR a chance, he asked Mobil 1 if there was any possibility it could happen.
The existing relationship with Stewart made it possible.
"We are thrilled to celebrate Jenson Button as he makes his debut in the NASCAR Cup Series and support him on his journey to making one of his racing dreams a reality," said Rob Shearer on behalf of Mobil 1. "We're driven by the love of driving and committed to helping more people get behind the wheel, wherever they may be."
Stewart, who is a multi-discipline racer with titles in NASCAR, IndyCar and sprint cars, is excited to watch Button attempt a new series. Stewart, who turns 52 in May, is running a full season of NHRA drag racing this year.
Button, who turned 43 in January, has done a variety of crossover promotions with Stewart on behalf of Mobil 1 over the years.
"It's always a challenge to try a new racing discipline, and the best thing you can bring to a new opportunity like this is an open mind," Stewart said. "Jenson has been doing that his entire career. Those F1 cars evolve every year, and Jenson always found a way to adapt. And when he got out of F1, he jumped into sports cars and won another championship.
"He's new to NASCAR, but he's not new to racing. This is going to be fun for all of us, and we're very appreciative of Mobil 1 for making it happen."
___
AP auto racing: https://apnews.com/hub/auto-racing and https://twitter.com/AP_Sports