Kaulig Racing has points restored by NASCAR appeals officer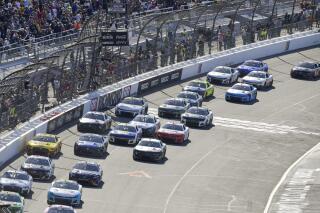 CHARLOTTE, N.C. (AP) — NASCAR's final appeals officer restored points Tuesday that had been stripped from Kaulig Racing for unapproved parts modifications to match the amendments made to Hendrick Motorsports' penalty for the same infraction.
Both teams were stripped of 100 championship points and 10 playoff points for having unapproved parts in inspection at Phoenix Raceway last month. Both teams appealed and a three-member panel restored the Hendrick points, but upheld $400,000 in fines and four race suspensions for four HMS crew chiefs.
The Kaulig initial appeal upheld all the penalties and Kaulig took its case to NASCAR's final appeals officer.
In a rare statement, final appeals officer Bill Mullis said the restoration of points for driver Justin Haley came at NASCAR's request "in the interest of fairness."
"During its opening remarks, NASCAR stated it believes that the violations did occur, the penalties were appropriate and the three-person appeals panel ruled correctly," Mullis said. "But, because the Kaulig infraction closely mirrored that of Hendrick Motorsports, NASCAR requested I rule in the same manner as the three-person appeals panel following the Hendrick Motorsports appeal on March 29.
"The information I heard in the room this morning created an overwhelming and unique circumstance. In fairness to the team and sanctioning body, as NASCAR documented in its remarks, this request is fully in the interest of fairness and consistency, and I agree."
Kaulig Racing said in a statement the restoration of points "means the world to us as an organization that the sanctioning body is working hard to ensure fairness and consistency across the board within our sport."
NASCAR in its own statement reiterated it believes Kaulig Racing had illegal parts and the initial penalties were appropriate. But "in the interest of treating all competitors fairly" NASCAR asked for the points reinstatement.
"The Kaulig and Hendrick Motorsports violations involved the same modified part found during the same race weekend, and with fairness and consistency top of mind, NASCAR requested that the FAO match the final Hendrick Motorsports penalty," NASCAR said. "NASCAR believes that the updates made to the Rule Book will address similar issues in the future and keep its promise to the owners for strict penalties when single-source parts are modified."
The modified parts were hood louvers, which are openings or vents in the hood that serve as a release point for ducts that transfer air out of the radiator. The system is intended to decouple engine performance from aero performance, offsetting the practice of teams taping off air intakes and placing undue pressure and heat strain on the car's engine.
___
AP auto racing: https://apnews.com/hub/auto-racing and https://twitter.com/AP_Sports