Natalie Merchant emerges from darkness with nothing but love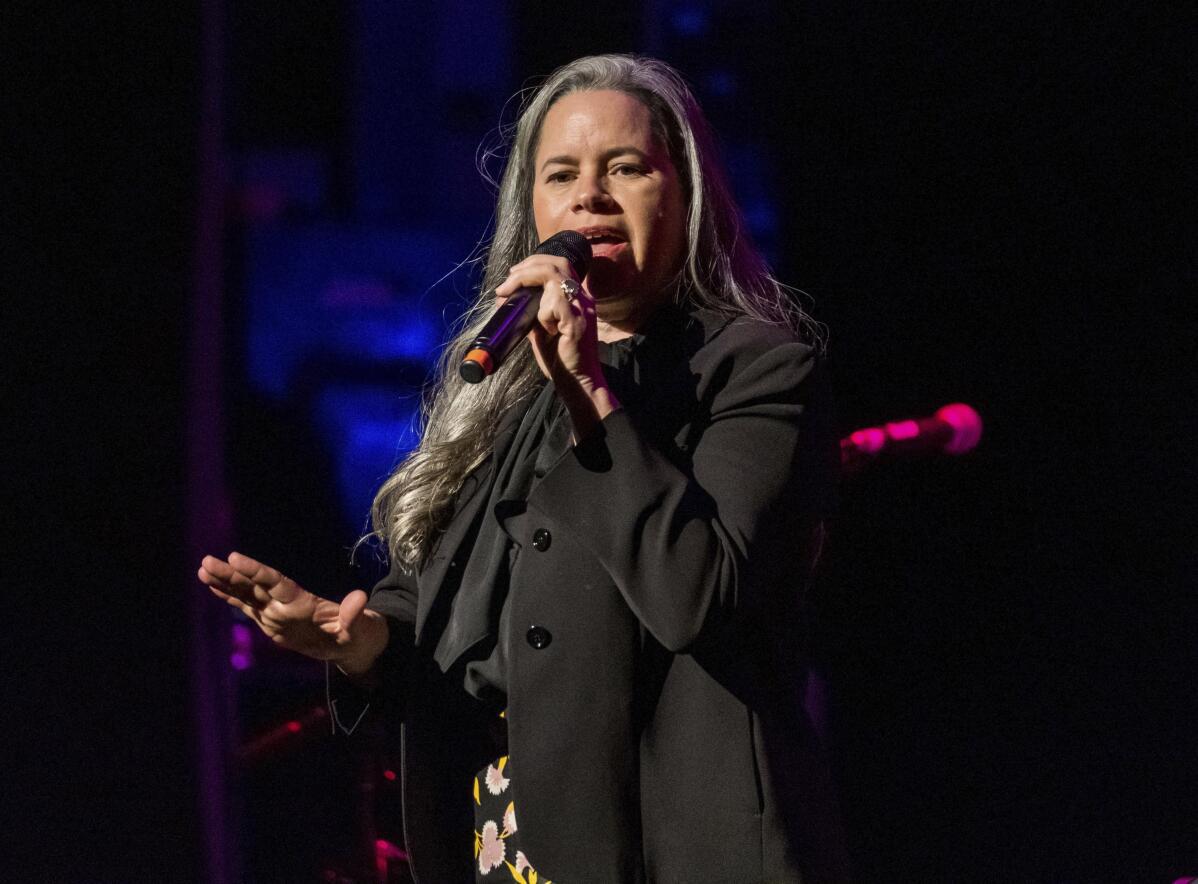 1 of 2

|
FILE - Natalie Merchant performs at Cyndi Lauper's 8th Annual "Home for the Holidays" benefit concert in New York on Dec. 8, 2018. Merchant's latest album, "Keep Your Courage," releases on Friday. (Photo by Charles Sykes/Invision/AP, File)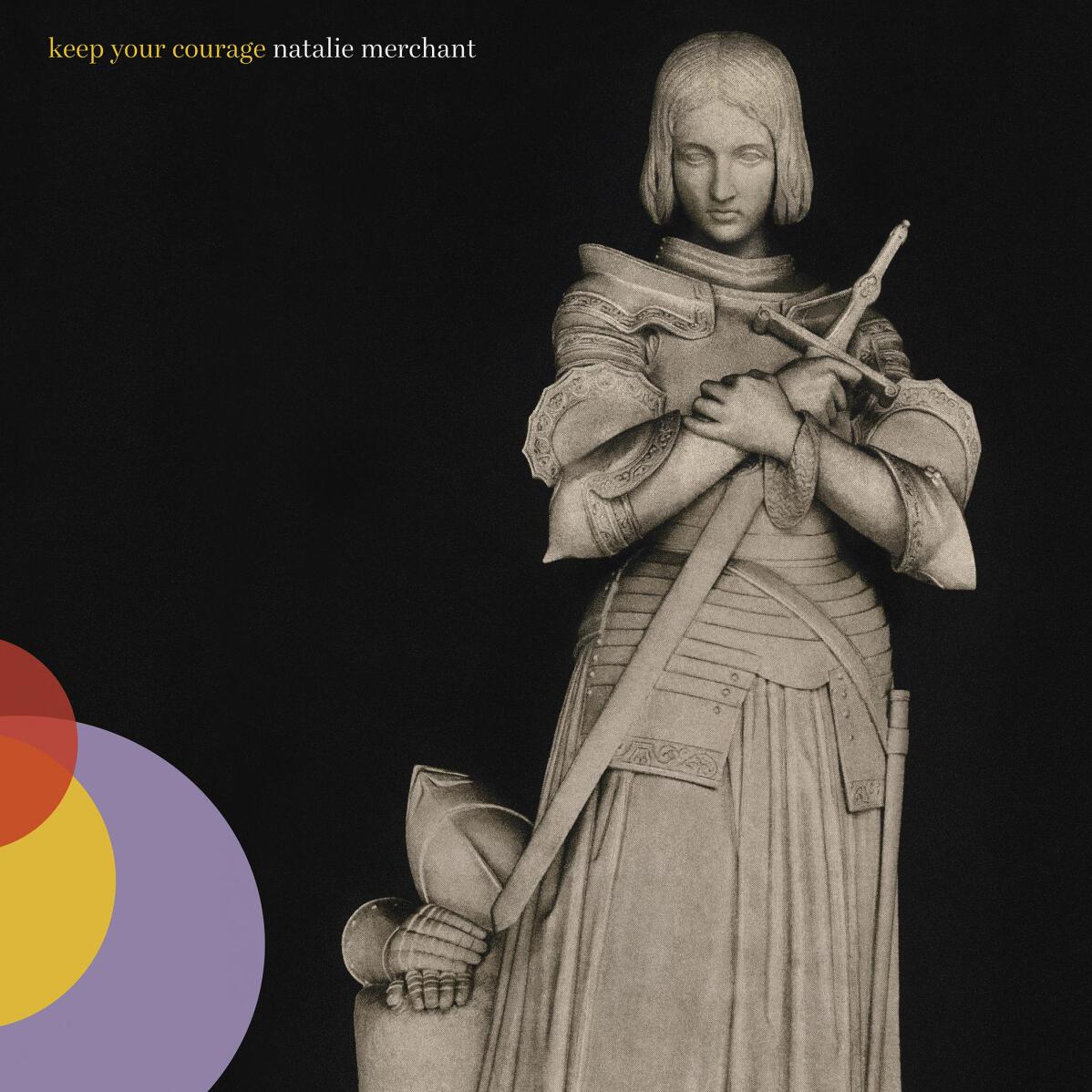 2 of 2

|
This cover image released by Nonesuch Records shows "Keep Your Courage" by Natalie Merchant. (Nonesuch via AP)
Natalie Merchant emerges from darkness with nothing but love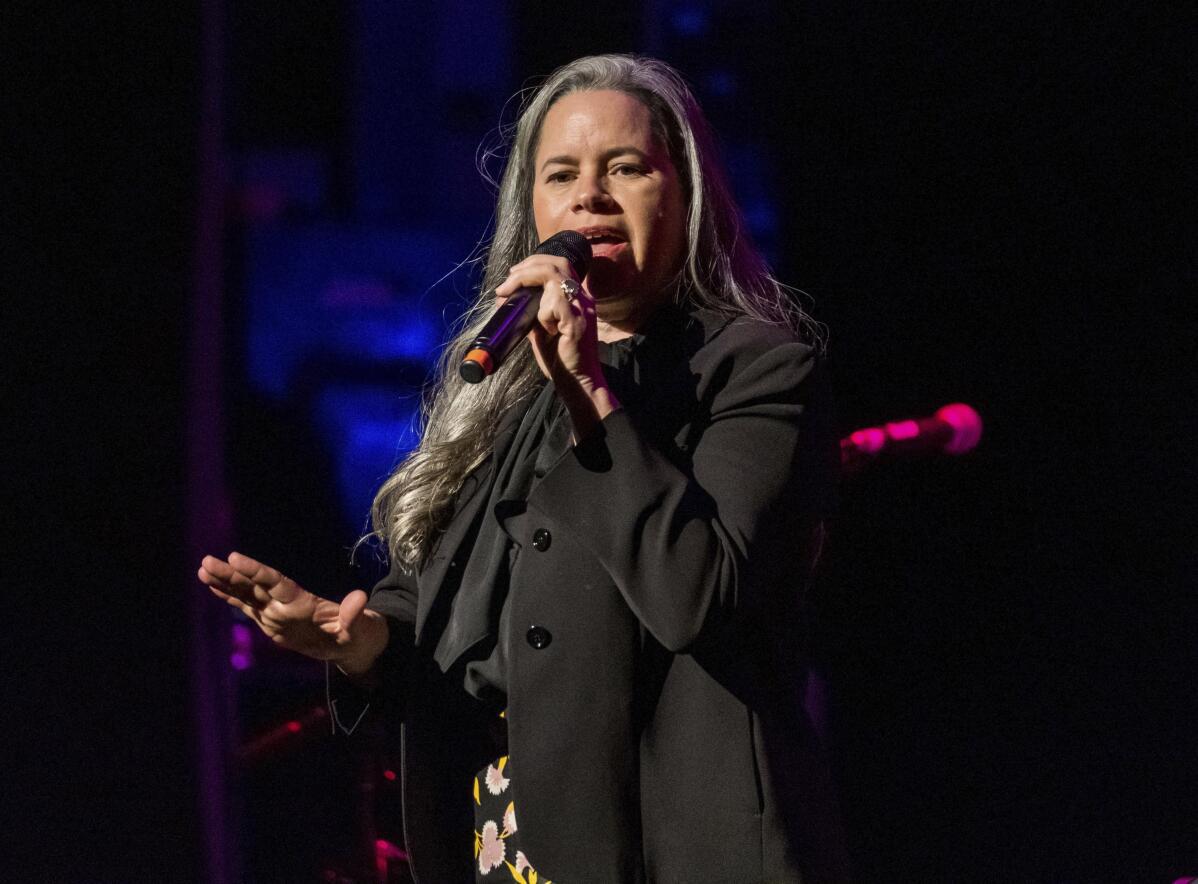 1 of 2

|
FILE - Natalie Merchant performs at Cyndi Lauper's 8th Annual "Home for the Holidays" benefit concert in New York on Dec. 8, 2018. Merchant's latest album, "Keep Your Courage," releases on Friday. (Photo by Charles Sykes/Invision/AP, File)
1 of 2
FILE - Natalie Merchant performs at Cyndi Lauper's 8th Annual "Home for the Holidays" benefit concert in New York on Dec. 8, 2018. Merchant's latest album, "Keep Your Courage," releases on Friday. (Photo by Charles Sykes/Invision/AP, File)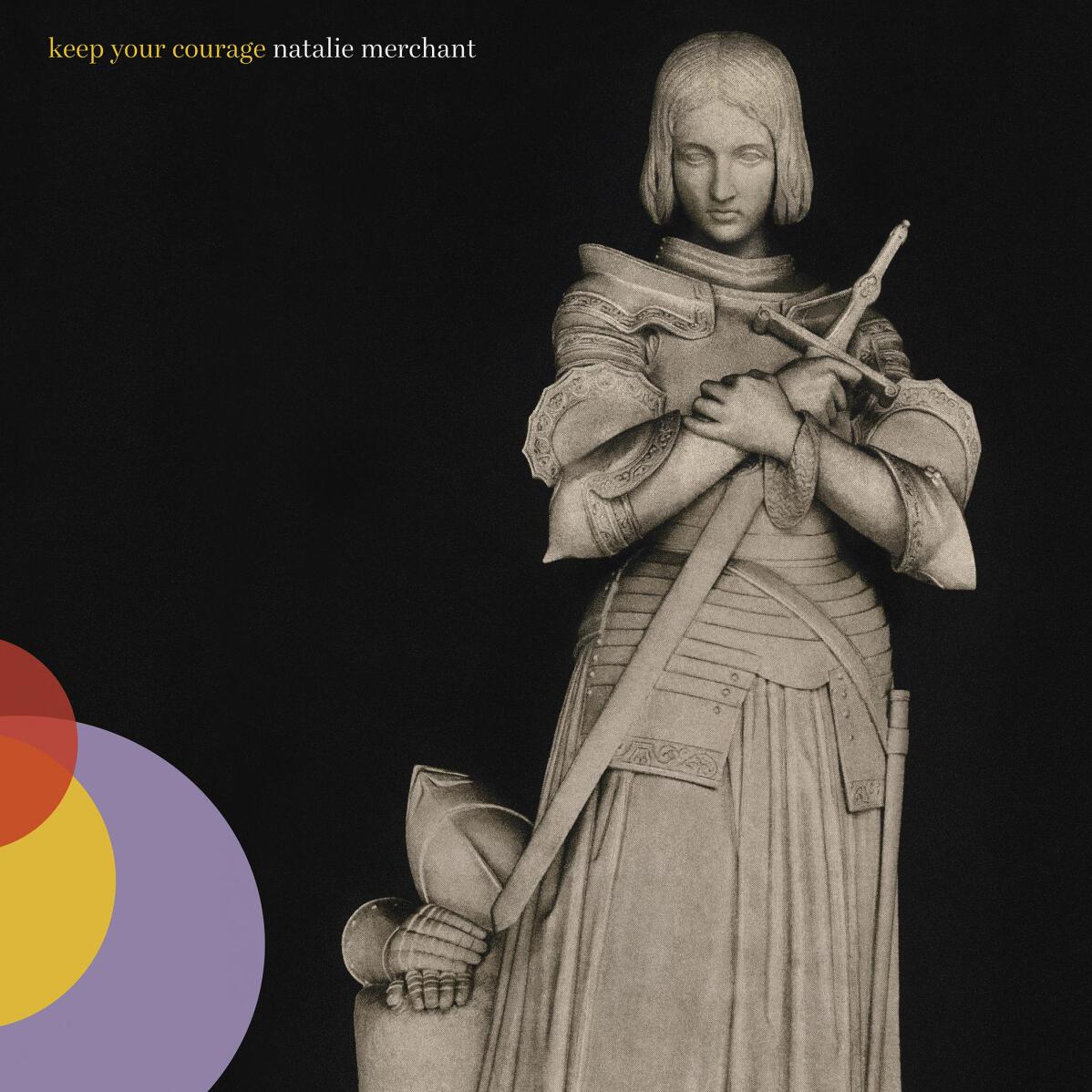 2 of 2

|
This cover image released by Nonesuch Records shows "Keep Your Courage" by Natalie Merchant. (Nonesuch via AP)
2 of 2
This cover image released by Nonesuch Records shows "Keep Your Courage" by Natalie Merchant. (Nonesuch via AP)
NEW YORK (AP) — As the nation went through a health emergency in 2020, so did Natalie Merchant.
The singer-songwriter had major spine surgery just four days before lockdown, with three bones removed from her neck and an incision made over her vocal cords. She lost her voice and suffered nerve damage in her right hand.
It took nine months to get her voice back and a year to get her hand to behave. And yet out of that came not bitterness or anger, but love: The heart-forward new album "Keep Your Courage."
"This album sort of grew out of all that. It was a health crisis, but also everything was in crisis in the world," she says. "We all turned inward and held on to each other. And the only thing that really mattered was love. Love and caring for people."
"Keep Your Courage" has some of Merchant's best songwriting, with melodies that veer from Gaelic to Middle Eastern, delving into horn-driven soul, melancholy ballads, pure pop and defiant sisterhood anthems. The last lines are: "Love will conquer all."
"It wasn't until I wrote the liner notes that I realized how connected all the songs were," she says from her home in New York's Hudson Valley. "This is kind of a de facto concept record."
The 10-track collection is rooted in myth and legend, with some songs titled "Come on, Aphrodite," "Narcissus," "Tower of Babel" and "The Feast of Saint Valentine." Joan of Arc graces the cover.
"It's very valuable to use cultural references because they carry so much meaning and iconic symbolism. During the pandemic, it really felt like we were living in the myth," she says. "I really turn to mythology not to understand what's happening, but to see a reflection of what's happening in our contemporary world."
Abena Koomson-Davis, musical director of The Resistance Revival Chorus, and Merchant first duetted at a Radio City Music Hall benefit for healthcare workers impacted by COVID-19 and instantly felt something click.
"It was kind of like our voices met and said, 'Hey, I know you! We're friends.' And then our relationship followed," Koomson-Davis says, laughing. "Our voices kind of introduced us to each other."
The album kicks off with both women singing "Big Girls" and "Come on, Aphrodite." Other songs include "Sister Tilly," a loving ode to the trailblazing women of her mother's generation — "Your Rilke poems and your stacks of Mother Jones," she sings — and "Song of Himself," a "love letter" to poet Walt Whitman with the lyrics, "Come sing your song of love bold, brave and proud."
"I read his poetry like sacred text. It's really, really helpful to me, helps me," Merchant says. "It reinforces my hope for humanity, and it makes me pause and notice the miracles all around me."
She chose an image of Joan of Arc — a photo of a sculpture of the young woman in armor with a sword over her heart — as the symbol of courage, a warrior for love.
"I think women need a suit of armor these days, as we always have. We keep thinking that we're moving toward a more just liberal society where women can feel safe, and yet sexual violence against especially young women is higher than it's been in decades."
Merchant is preparing to tour the new music, with stops this spring and summer in such cities as Pittsburgh, Boston, Cleveland, Atlanta, Milwaukee, Chicago, New York, San Francisco and Los Angeles.
Merchant first made musical waves in the the 1980s with the band 10,000 Maniacs — with such hits as "These Are Days" and "Trouble Me" — and followed in the 1990s with a successful solo career, beginning with the hit album, "Tigerlily," which included "Carnival."
"Keep Your Courage" emerges as a triumph over personal pain. Merchant went under the knife, risking paralysis, a lost voice and possibly death. She recovered in a neck brace, unable to see a doctor in person due to lockdowns, relying on friends and her soon-to-be-in college daughter.
"Music got me through the pandemic, and what I wanted to hear was thoughtful, beautiful music, or I wanted to dance," she says. "Once I could move around again, I just wanted to dance. My daughter and I would have dance parties all the time."
That upbeat vibe can be heard in "Come on, Aphrodite" and the funky "Tower of Babel," with a video of Merchant dancing along.
In addition to Koomson-Davis, there are contributions from the Celtic folk group Lúnasa, Syrian clarinetist Kinan Azmeh and a cover of "Hunting the Wren" by Ian Lynch of the Irish band Lankum, a powerful song about patriarchy.
"As someone who cares about justice and someone who cares about young people and someone who cares about older people, I really appreciate the way she lives her life," says Koomson-Davis. "Being able to sing her music, which is doing the same work, it's an inspiration for me."
The title of the album comes from the last song, "The Feast of Saint Valentine," with the lyrics, "In the deep and darkest night of your soul/When you curse and rue the day that you did dare to give your heart away/Take courage in the thought that you belong."
"The premise of the song is that love can be a battle that you endure," Merchant says. "And there's always the chance that you'll be wounded in love. But the courage comes from having the strength to make yourself vulnerable enough to love."
___ Mark Kennedy is at http://twitter.com/KennedyTwits