New Mexico tribe keeps title to portion of national preserve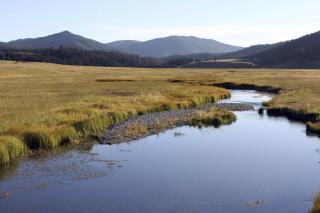 ALBUQUERQUE, N.M. (AP) — A Native American tribe has been granted title to a portion of a national preserve in northern New Mexico following a yearslong court battle against the federal government, a ruling that could provide hope to other tribes seeking to regain rights to their traditional homelands.
The 10th U.S. Circuit of Appeals issued a split ruling Wednesday in the case brought by Jemez Pueblo over lands it was seeking to reclaim in the Valles Caldera National Preserve.
The pueblo had argued its aboriginal property rights — or rights to occupy and use land as their ancestors did — were never extinguished despite a lower court ruling in 2019 that found the U.S. government had clear title to the expansive preserve. Following an appeal and a subsequent trial, the pueblo opted to narrow its claims to four specific areas within Valles Caldera's boundaries.
The latest ruling acknowledged the pueblo's title to an area known as Banco Bonito but rejected claims to three other areas, with the court saying the tribe had not put the government on notice that it was seeking claim to those specific areas.
Legal experts say the partial victory marks the first time in the U.S. that a tribe has ever demanded the return of an aboriginal title that has not been extinguished, or terminated, and gone to court successfully to recover it. Still they say it's unclear what the broader implications will be for future land disputes as more tribes seek to reclaim traditional homelands.
Jemez Pueblo officials could not immediately be reached for comment Thursday, and the National Park Service declined to comment on the decision, saying only that the litigation was pending.
Both the pueblo and federal government still could appeal Wednesday ruling.
Robert Coulter, executive director of the Indian Law Resource Center in Montana, called it a long and complex case.
"I think one of the most significant things is that it made what I believe is a breakthrough in determining that tribes can reclaim land to which they have aboriginal title that has not been lawfully extinguished," he said. "That point was not at all clear in the past."
The appellate ruling unwinds a previous lower court finding that Jemez Pueblo would have had to maintain control over Banco Bonito before and after 1860 — when the government granted the land to private owners — in order to keep its title. Judge Gregory Phillips wrote that creating such a hurdle would likely keep other tribes from "establishing aboriginal title into the modern era."
In a dissenting opinion, Judge Nancy Moritz argued that relying on a tribe's exclusive use of an area "for a long time" during any time period could subject the government to new aboriginal title claims.
"There is no reason tribes nationwide could not file similar claims seeking aboriginal title to lands within the 18 other national preserves scattered throughout the United States or, for that matter, to any lands owned or later acquired by the government," Moritz wrote.
Jemez Pueblo considers Valles Caldera a spiritual sanctuary and part of its traditional homeland. It's home to vast grasslands, the remnants of a massive volcanic eruption and one of New Mexico's most famous elk herds.
The court record states that for over 800 years, many tribes and pueblos have used Valles Caldera for hunting, gathering and various cultural and religious practices. Redondo Peak, the highest mountain in the caldera, is a site long used as part of religious pilgrimages and is home to several shrines.
Jemez Pueblo first sued the federal government in 2012, saying tribes have legal and just claims to retain possession of land that they have historically occupied within the United States. The legal fight came as members of Congress and others started to push for management of the sprawling preserve to be transferred to the National Park Service.
When the tribe first made its case before the appellate court in 2014, then-Pueblo Gov. Joshua Madalena described Valles Caldera as the tribe's spiritual mother, likening it to the Vatican for Catholics. Many of the court filings are redacted, seeking to keep secret details about traditions and culturally significant locations.
Federal attorneys initially argued that the tribe's aboriginal title was essentially extinguished when surveyors, working under the authority of Congress, determined the land was vacant and turned it over to land grant heirs in 1860 as part of a swap.
The federal government purchased the property in 2000 with the goal of operating it as a working ranch while developing recreational opportunities for the public. It was eventually taken over by the Park Service.
Coulter said the ruling by the 10th Circuit panel of judges is significant even though Jemez Pueblo didn't get everything it had hoped for.
"We've seen generations of judicial decisions where the courts simply were not willing to apply the law in a straightforward manner in Indian cases," he said.