EU chief von der Leyen says she isn't interested in the top job at NATO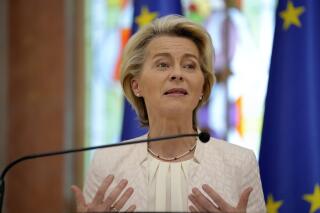 BERLIN (AP) — The president of the European Commission, Ursula von der Leyen, says she has no interest in becoming the new leader of NATO as the trans-Atlantic military alliance seeks a successor to Jens Stoltenberg.
Stoltenberg, a former Norwegian prime minister, has been NATO secretary general since 2014. His term was due to expire last year but was extended to provide stability after Russia's full-scale invasion of Ukraine in early 2022.
The leaders of NATO members are due to choose a successor when they meet for a summit in Vilnius, Lithuania, on July 11-12. No candidate has been proposed publicly and Stoltenberg appears unlikely to extend again.
Von der Leyen, who in 2019 emerged as a surprise candidate to lead the European Union's executive branch, has featured regularly in speculation about who might be NATO's next leader. Officials and experts suggest that it is time for a woman to take the helm for the first time.
Von der Leyen, a 64-year-old center-right politician from Germany, served as her country's defense minister from 2013 to 2019. But she roundly dismissed the idea of moving to NATO when asked about the possibility in an interview with German broadcaster WDR broadcast Tuesday.
"I am most certainly not available for that," she replied. "I think NATO is great, and if it didn't exist it would have to be created. I very, very much enjoyed working in NATO as defense minister, but I'm most certainly not available for that job. My place is in Europe."
Von der Leyen again declined to say whether she will seek a second term at the helm of the European Commission after next year's European Parliament election. She said she plans to make a decision in the second half of the year.