Second straight collapse caps Bucks' stunningly early exit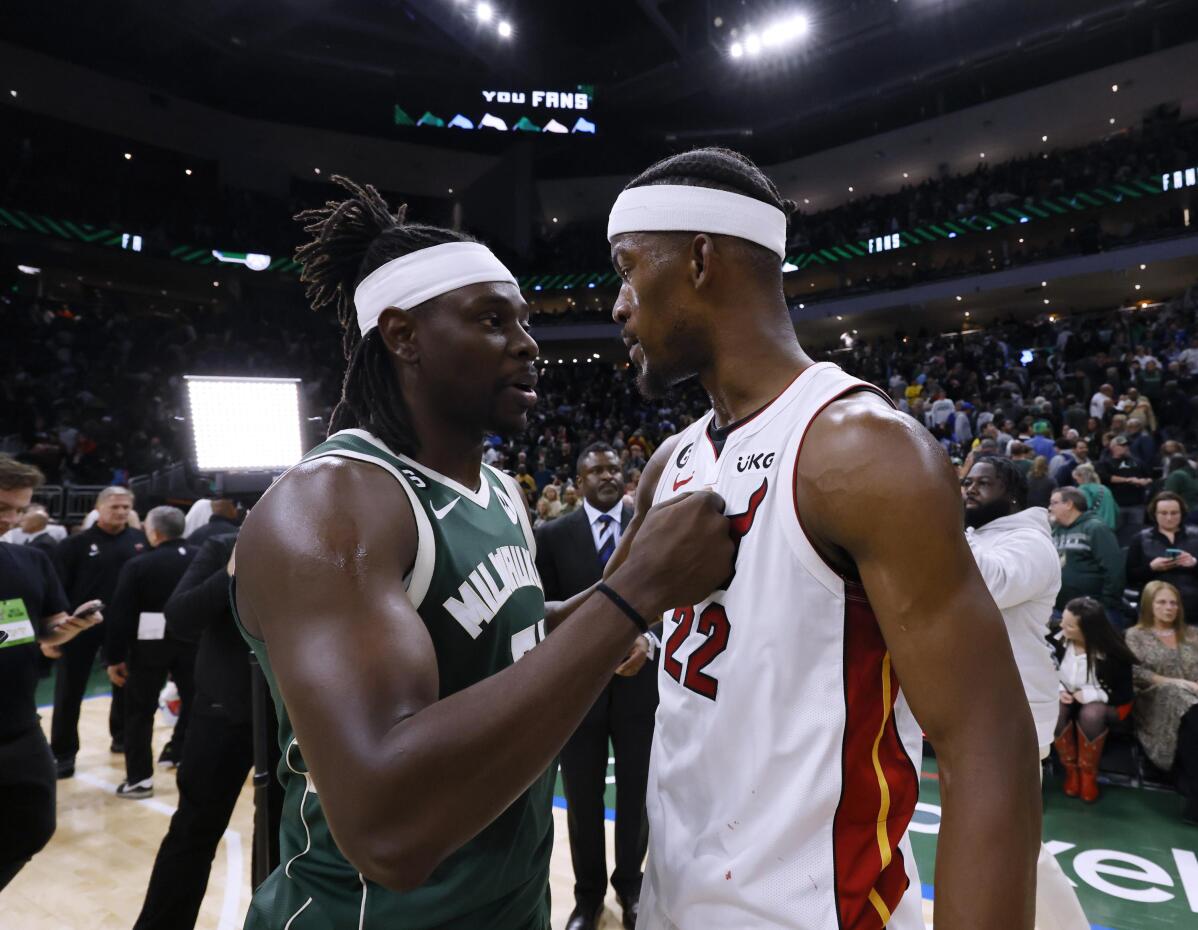 1 of 7

|
Milwaukee Bucks' Jrue Holiday, left, congratulates Miami Heat's Jimmy Butler after Game 5 in a first-round NBA basketball playoff series Wednesday, April 26, 2023, in Milwaukee. The Heat won 128-126 in overtime, eliminating the Bucks from the playoffs. (AP Photo/Jeffrey Phelps)
2 of 7

|
Milwaukee Bucks forward Giannis Antetokounmpo (34) loses the ball out of bounds during overtime of Game 5 of the team's first-round NBA basketball playoff series against the Miami Heat on Wednesday, April 26, 2023, in Milwaukee. The Heat won 128-126, eliminating the Bucks from the playoffs.(AP Photo/Jeffrey Phelps)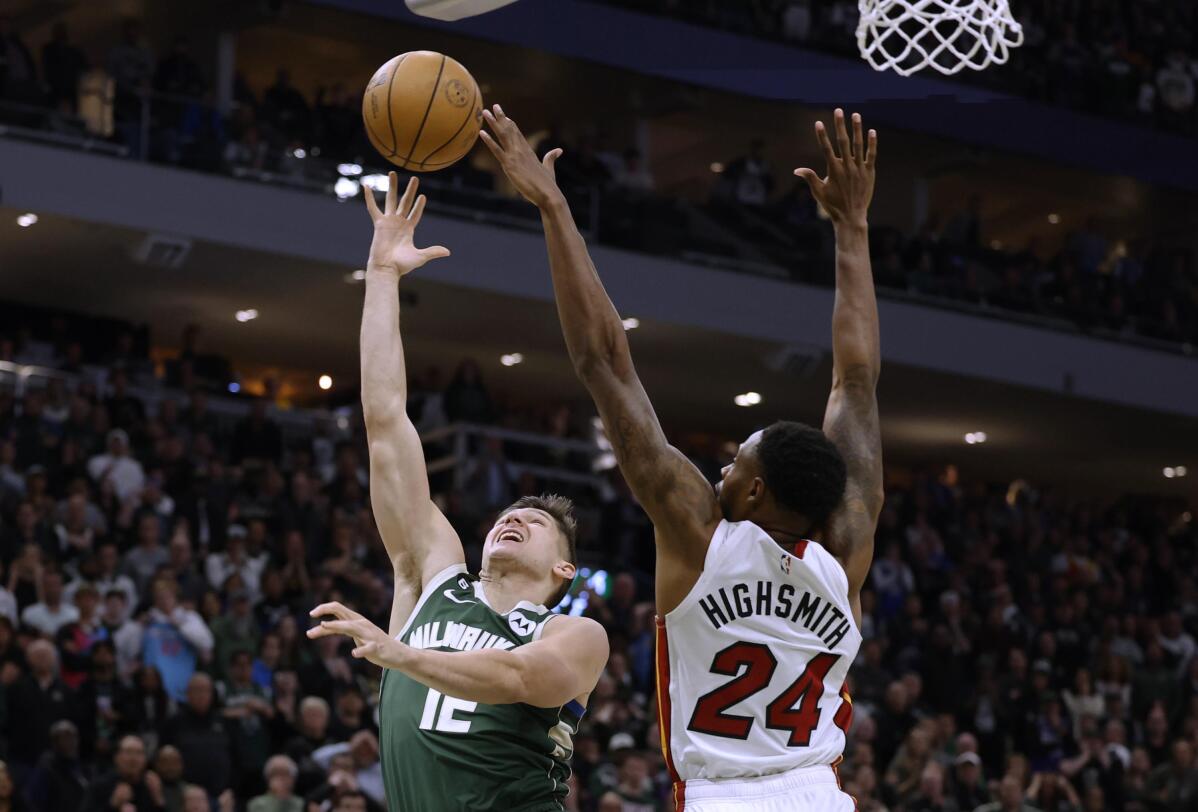 3 of 7

|
Milwaukee Bucks guard Grayson Allen (12) shoots against Miami Heat forward Haywood Highsmith (24) during overtime in Game 5 of an first-round NBA basketball playoff series Wednesday, April 26, 2023, in Milwaukee. The Heat won 128-126, eliminating the Bucks from the playoffs.(AP Photo/Jeffrey Phelps)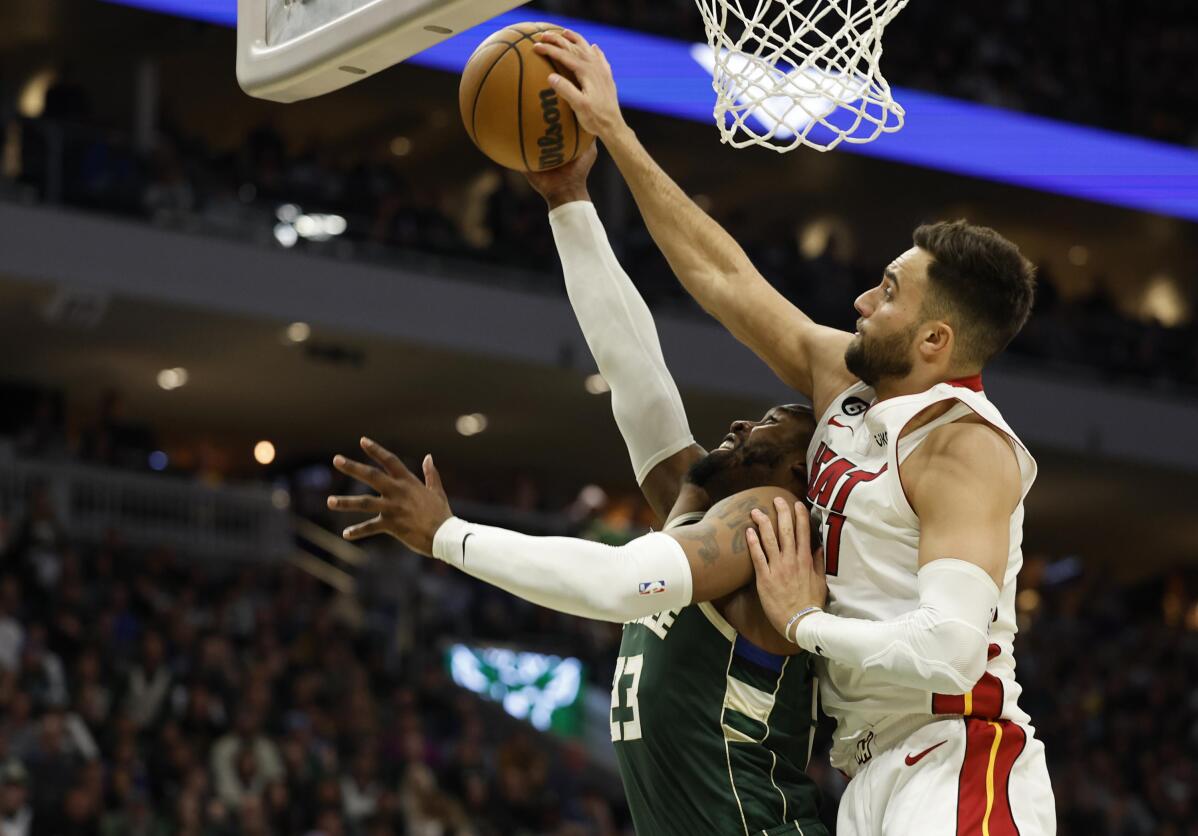 4 of 7

|
Miami Heat guard Max Strus, right, blocks a shot by Milwaukee Bucks guard Wesley Matthews during the second half of Game 5 in a first-round NBA basketball playoff series Wednesday, April 26, 2023, in Milwaukee. The Heat won 128-126 in overtime, eliminating the Bucks from the playoffs. (AP Photo/Jeffrey Phelps)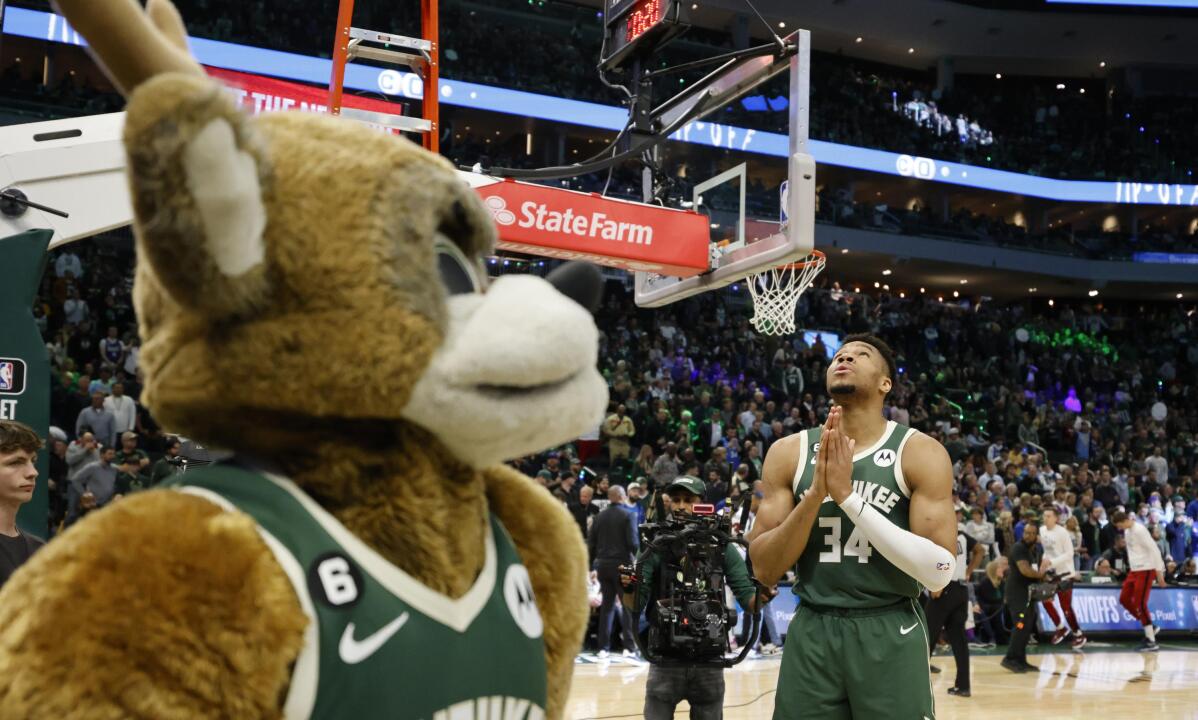 5 of 7

|
Milwaukee Bucks forward Giannis Antetokounmpo (34) gestures on the floor at the start of the first half of Game 5 in a first-round NBA basketball playoff series Wednesday, April 26, 2023, in Milwaukee. (AP Photo/Jeffrey Phelps)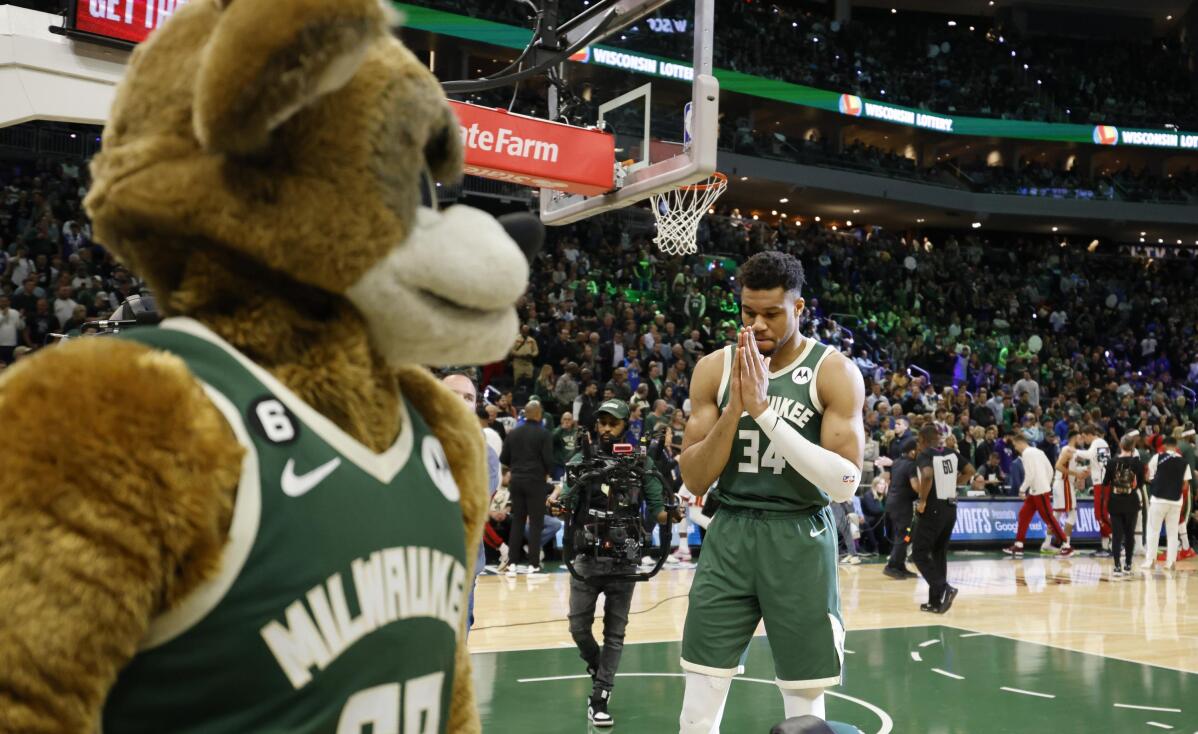 6 of 7

|
Milwaukee Bucks forward Giannis Antetokounmpo (34) reacts on the floor at the start of the first half of Game 5 in a first-round NBA basketball playoff series Wednesday, April 26, 2023, in Milwaukee. (AP Photo/Jeffrey Phelps)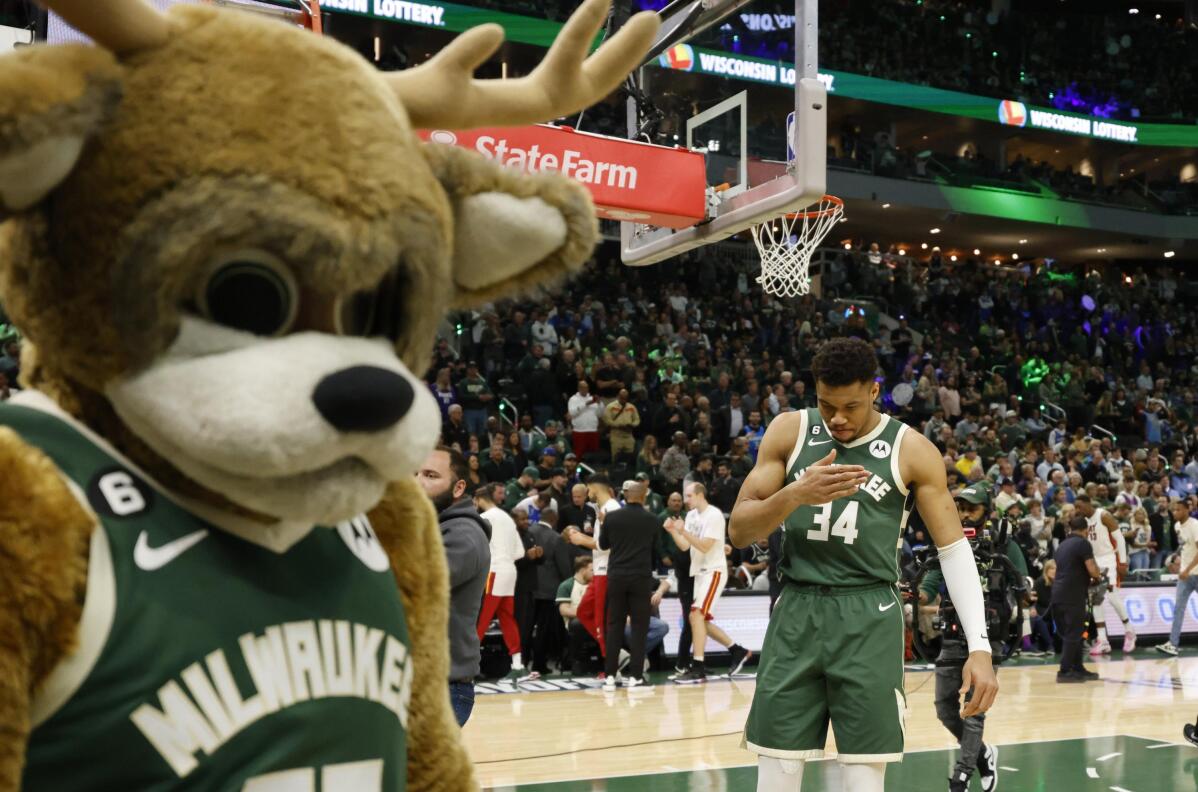 7 of 7

|
Milwaukee Bucks forward Giannis Antetokounmpo (34) reacts on the floor at the start of the first half of Game 5 in a first-round NBA basketball playoff series Wednesday, April 26, 2023, in Milwaukee. (AP Photo/Jeffrey Phelps)
Second straight collapse caps Bucks' stunningly early exit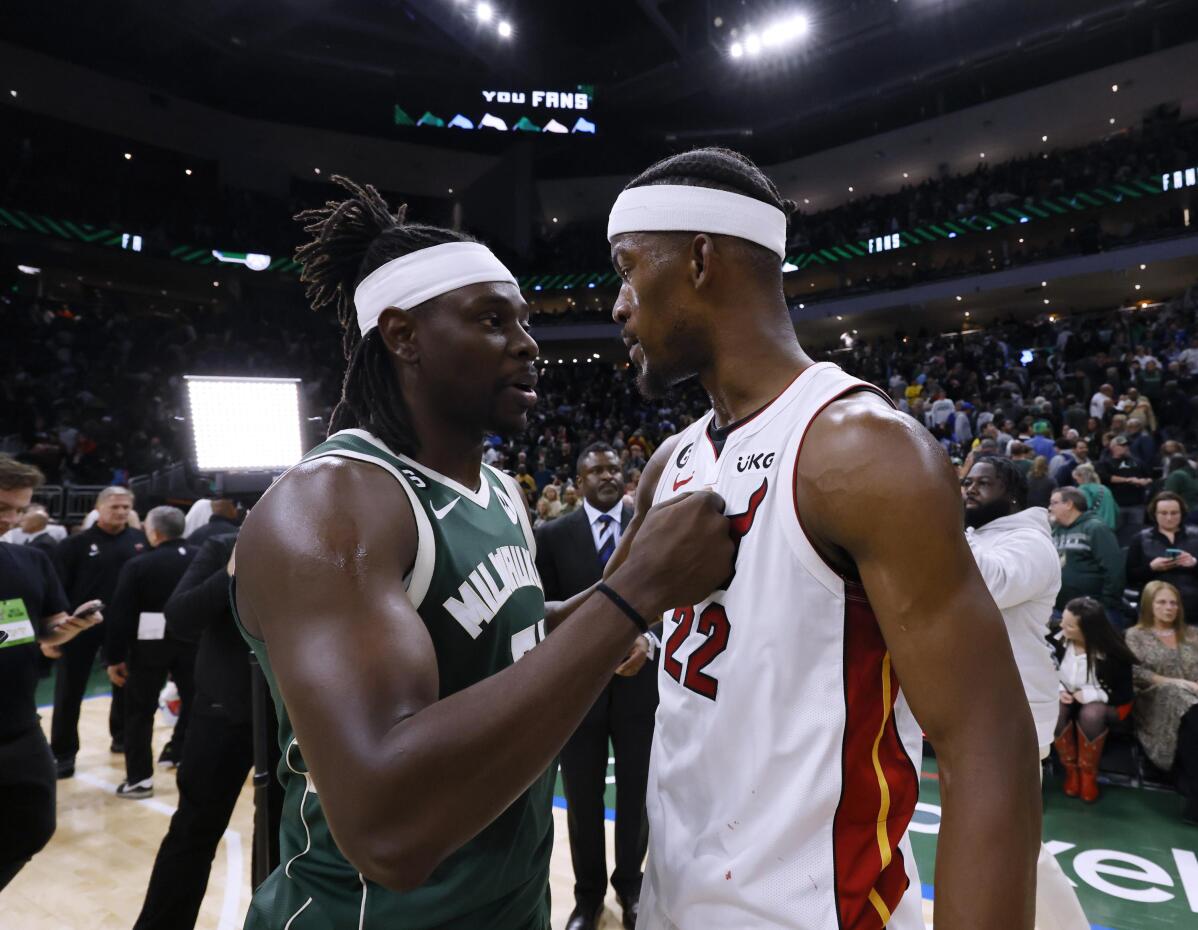 1 of 7

|
Milwaukee Bucks' Jrue Holiday, left, congratulates Miami Heat's Jimmy Butler after Game 5 in a first-round NBA basketball playoff series Wednesday, April 26, 2023, in Milwaukee. The Heat won 128-126 in overtime, eliminating the Bucks from the playoffs. (AP Photo/Jeffrey Phelps)
1 of 7
Milwaukee Bucks' Jrue Holiday, left, congratulates Miami Heat's Jimmy Butler after Game 5 in a first-round NBA basketball playoff series Wednesday, April 26, 2023, in Milwaukee. The Heat won 128-126 in overtime, eliminating the Bucks from the playoffs. (AP Photo/Jeffrey Phelps)
2 of 7

|
Milwaukee Bucks forward Giannis Antetokounmpo (34) loses the ball out of bounds during overtime of Game 5 of the team's first-round NBA basketball playoff series against the Miami Heat on Wednesday, April 26, 2023, in Milwaukee. The Heat won 128-126, eliminating the Bucks from the playoffs.(AP Photo/Jeffrey Phelps)
2 of 7
Milwaukee Bucks forward Giannis Antetokounmpo (34) loses the ball out of bounds during overtime of Game 5 of the team's first-round NBA basketball playoff series against the Miami Heat on Wednesday, April 26, 2023, in Milwaukee. The Heat won 128-126, eliminating the Bucks from the playoffs.(AP Photo/Jeffrey Phelps)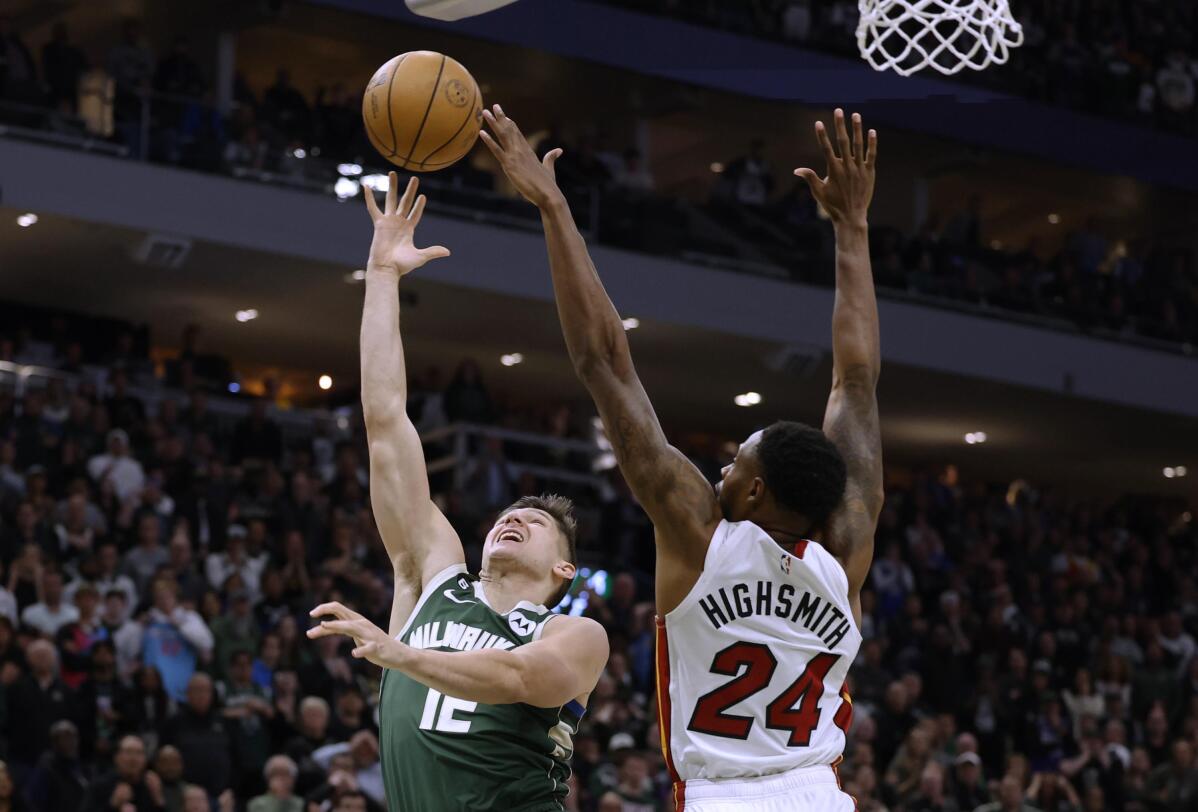 3 of 7

|
Milwaukee Bucks guard Grayson Allen (12) shoots against Miami Heat forward Haywood Highsmith (24) during overtime in Game 5 of an first-round NBA basketball playoff series Wednesday, April 26, 2023, in Milwaukee. The Heat won 128-126, eliminating the Bucks from the playoffs.(AP Photo/Jeffrey Phelps)
3 of 7
Milwaukee Bucks guard Grayson Allen (12) shoots against Miami Heat forward Haywood Highsmith (24) during overtime in Game 5 of an first-round NBA basketball playoff series Wednesday, April 26, 2023, in Milwaukee. The Heat won 128-126, eliminating the Bucks from the playoffs.(AP Photo/Jeffrey Phelps)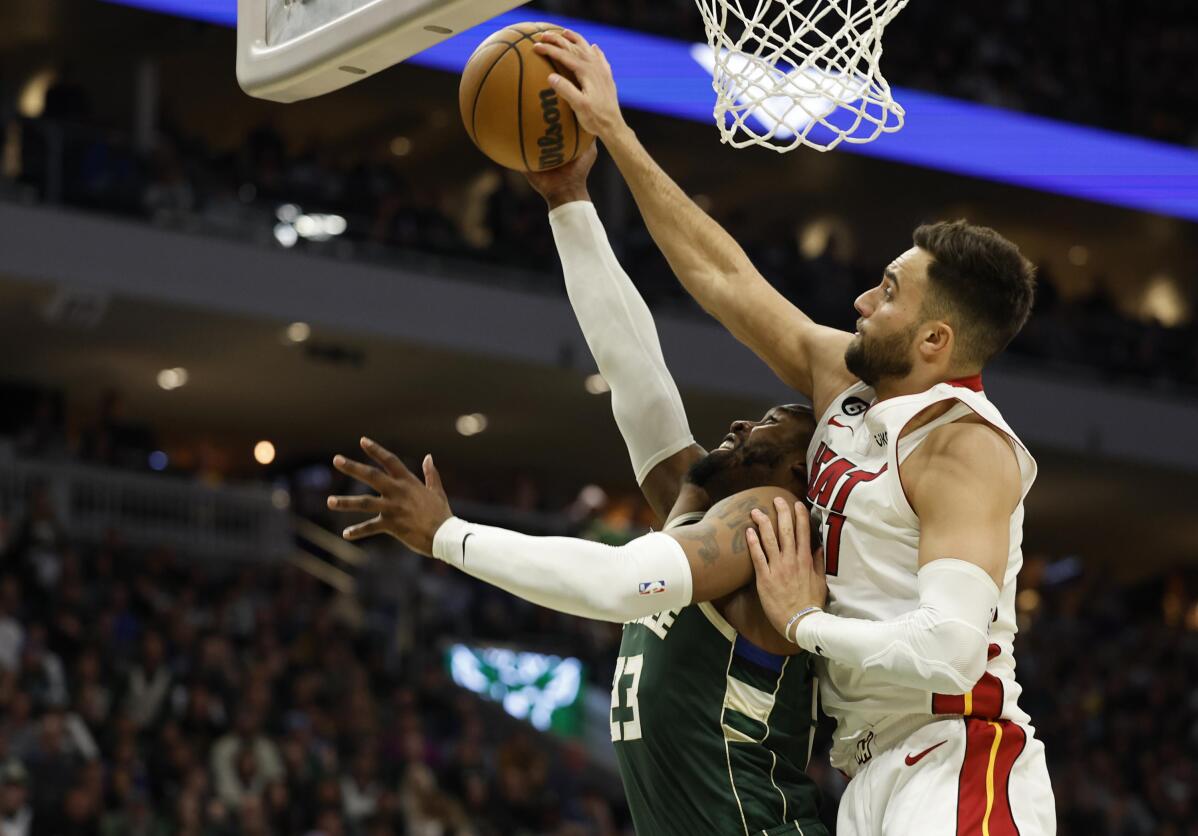 4 of 7

|
Miami Heat guard Max Strus, right, blocks a shot by Milwaukee Bucks guard Wesley Matthews during the second half of Game 5 in a first-round NBA basketball playoff series Wednesday, April 26, 2023, in Milwaukee. The Heat won 128-126 in overtime, eliminating the Bucks from the playoffs. (AP Photo/Jeffrey Phelps)
4 of 7
Miami Heat guard Max Strus, right, blocks a shot by Milwaukee Bucks guard Wesley Matthews during the second half of Game 5 in a first-round NBA basketball playoff series Wednesday, April 26, 2023, in Milwaukee. The Heat won 128-126 in overtime, eliminating the Bucks from the playoffs. (AP Photo/Jeffrey Phelps)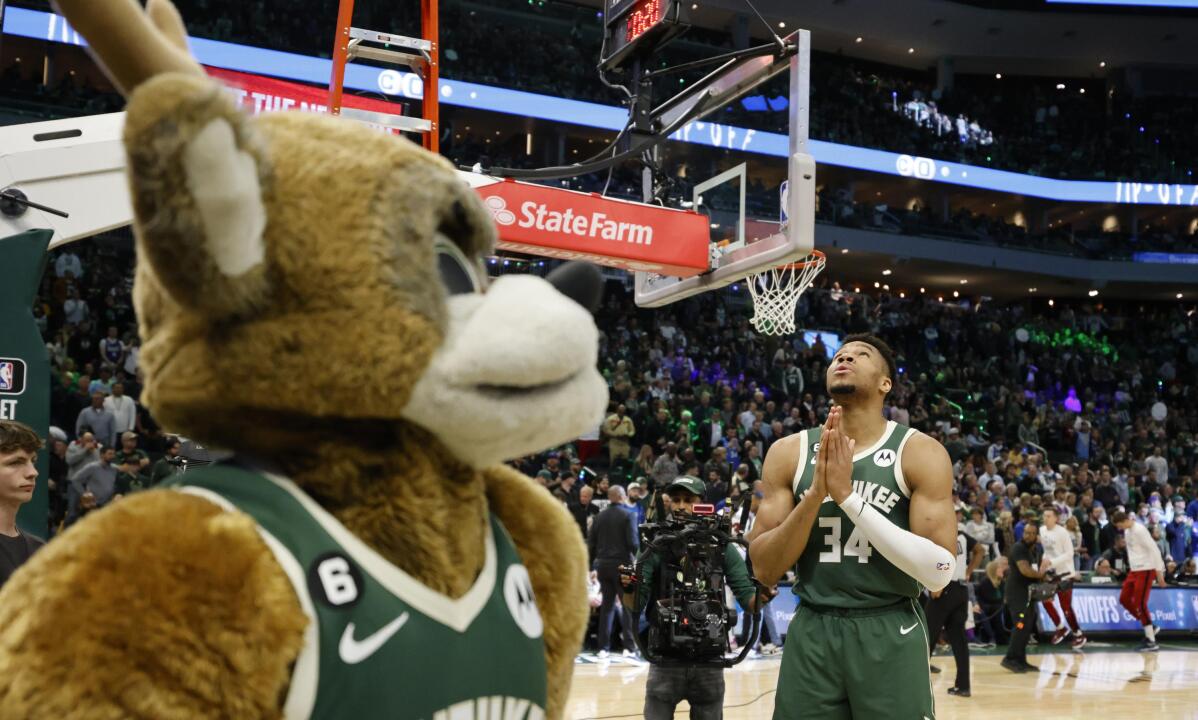 5 of 7

|
Milwaukee Bucks forward Giannis Antetokounmpo (34) gestures on the floor at the start of the first half of Game 5 in a first-round NBA basketball playoff series Wednesday, April 26, 2023, in Milwaukee. (AP Photo/Jeffrey Phelps)
5 of 7
Milwaukee Bucks forward Giannis Antetokounmpo (34) gestures on the floor at the start of the first half of Game 5 in a first-round NBA basketball playoff series Wednesday, April 26, 2023, in Milwaukee. (AP Photo/Jeffrey Phelps)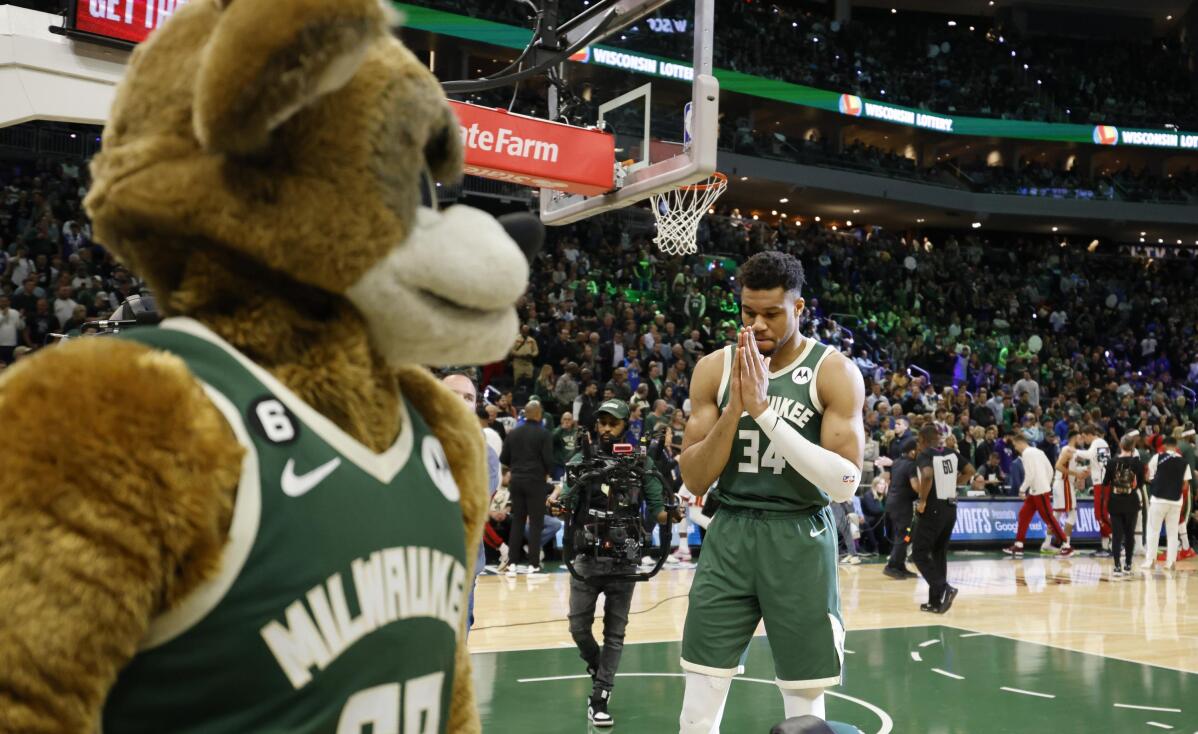 6 of 7

|
Milwaukee Bucks forward Giannis Antetokounmpo (34) reacts on the floor at the start of the first half of Game 5 in a first-round NBA basketball playoff series Wednesday, April 26, 2023, in Milwaukee. (AP Photo/Jeffrey Phelps)
6 of 7
Milwaukee Bucks forward Giannis Antetokounmpo (34) reacts on the floor at the start of the first half of Game 5 in a first-round NBA basketball playoff series Wednesday, April 26, 2023, in Milwaukee. (AP Photo/Jeffrey Phelps)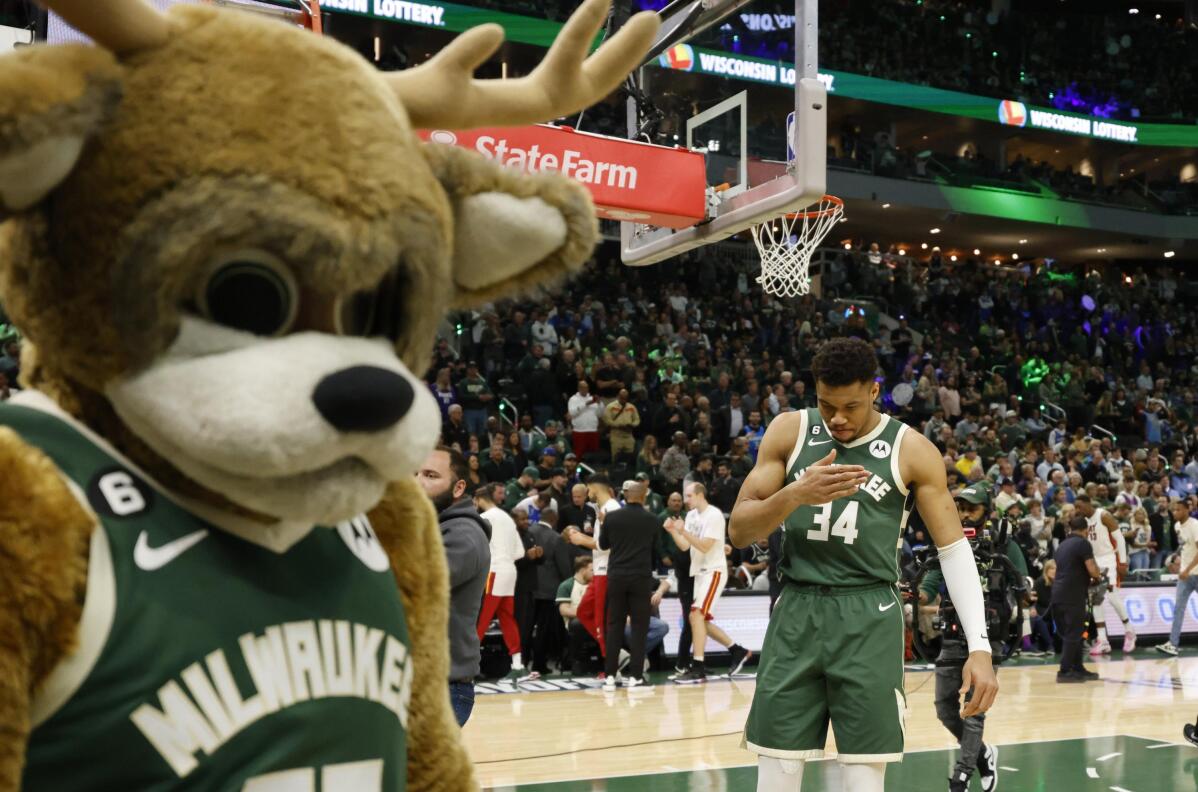 7 of 7

|
Milwaukee Bucks forward Giannis Antetokounmpo (34) reacts on the floor at the start of the first half of Game 5 in a first-round NBA basketball playoff series Wednesday, April 26, 2023, in Milwaukee. (AP Photo/Jeffrey Phelps)
7 of 7
Milwaukee Bucks forward Giannis Antetokounmpo (34) reacts on the floor at the start of the first half of Game 5 in a first-round NBA basketball playoff series Wednesday, April 26, 2023, in Milwaukee. (AP Photo/Jeffrey Phelps)
MILWAUKEE (AP) — The Milwaukee Bucks entered the playoffs boasting the NBA's best record and believing they had a great shot at winning their second title in three seasons.
They instead are finished before May after suffering one of the most stunning first-round playoff losses in league history.
The top-seeded Bucks collapsed down the stretch for a second straight game and fell 128-126 in overtime to Miami on Wednesday, losing 4-1 to the eighth-seeded Heat.
When he was asked after the game if this early exit made the season a failure, two-time MVP Giannis Antetokounmpo took issue with the question.
"There's no failure in sports," Antetokounmpo said. "There's good days, bad days. Some days you're able to be successful. Some days you're not. Some days it's your turn. Some days it's not your turn. That's what sports is about. You don't always win. Other people are going to win. And this year, somebody else is going to win. Simple as that."
The Bucks are just the sixth No. 1 seed to lose to a No. 8 in the opening round. The five previous won at least two games in their series losses.
"There's a ton of disappointment when your season ends, no matter how it happens," Bucks coach Mike Budenholzer said. "It's a hard feeling. It's a disappointing feeling. I believe and trust those guys. We all got to be better."
The way this season ended could make it particularly painful.
Milwaukee owned a 12-point lead in Game 4 before getting outscored 30-13 in the final six minutes of a 119-114 loss in which Miami's Jimmy Butler scored 56 points. The Bucks blew a 16-point, fourth-quarter advantage at home Wednesday as Butler scored with half a second left to force overtime.
The Bucks shot 5 of 25 from the floor and 12 of 20 from the foul line in the fourth quarter and overtime Wednesday.
"We had a lot of good shots, a lot of shots we typically make," All-Star guard Jrue Holiday said. "Sometimes they don't fall."
The Bucks had the ball while trailing by two in the final seconds of overtime, but the clock ran out before a driving Grayson Allen attempted a shot.
Milwaukee had timeouts remaining when the game ended. Budenholzer said he didn't regret not calling a timeout in the closing seconds of overtime. He did regret not calling one after Butler's tying basket in the final second of the fourth quarter.
"We need to call a timeout there," Budenholzer said.
Budenholzer led the 2021 Bucks to the franchise's first title in half a century, but his tenure also has featured plenty of postseason disappointments.
The Bucks have owned the NBA's top playoff seed three times during Budenholzer's five seasons as coach. They haven't even reached the league finals any of those years.
Milwaukee blew a 2-0 lead in the 2019 Eastern Conference finals to the eventual NBA champion Toronto Raptors. The 2020 Bucks lost 4-1 to Miami in a second-round series that bore numerous resemblances to this year's matchup, with Butler carrying the Heat to an upset.
This exit is the most disappointing of all, with the Bucks unable to even make it out of the first round.
The series started ominously enough with Antetokounmpo exiting a Game 1 loss with a bruised lower back. The two-time MVP missed Games 2 and 3 before coming back to record a triple-double in Game 4.
Antetokounmpo had 38 points and 20 rebounds Wednesday, though he also shot 10 of 23 from the free-throw line. He declined comment on how much his back was bothering him these last two games.
"It doesn't matter," Antetokounmpo said. "It's over. We lost the series." ___
AP NBA: https://apnews.com/hub/NBA and https://twitter.com/AP_Sports