Dirk to Doncic: Mavs tap brakes on inevitable comparisons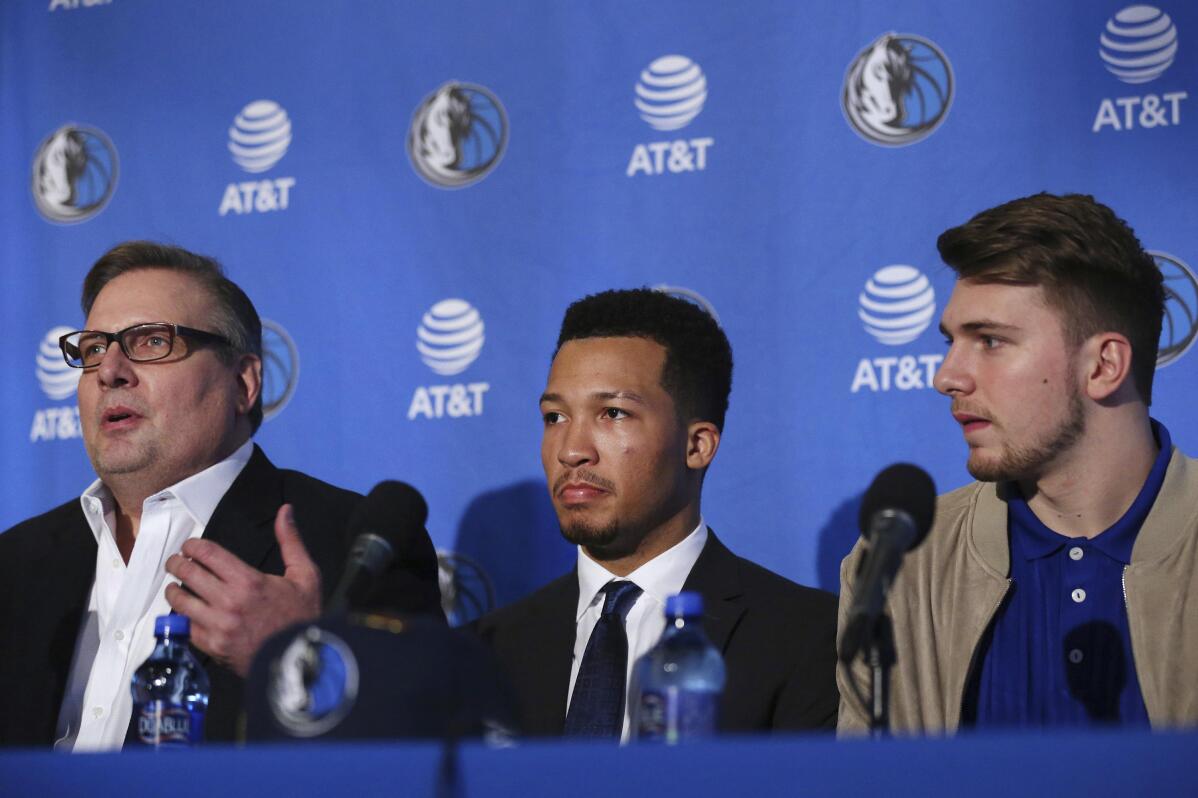 1 of 4

|
Dallas Mavericks general manager Donnie Nelson, left, speaks while he introduces Jalen Brunson, center, and Luka Doncic in Dallas on Friday, June 22, 2018. (Andy Jacobsohn/The Dallas Morning News via AP)
2 of 4

|
Luka Doncic speaks while he is introduced with Jalen Brunson, left, by the Dallas Mavericks to reporters in Dallas on Friday, June 22, 2018. (Andy Jacobsohn/The Dallas Morning News via AP)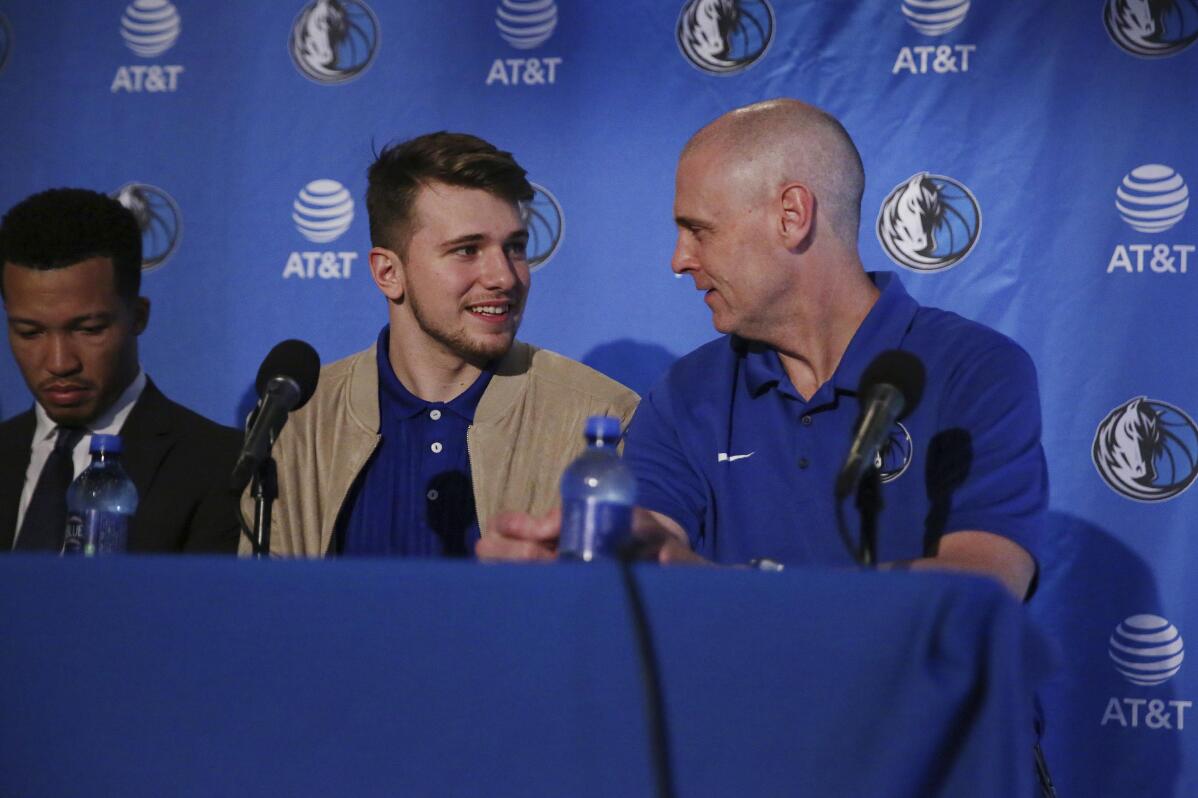 3 of 4

|
New Dallas Mavericks player Luka Doncic, center, speaks with head coach Rick Carlisle, right, before being introduced in Dallas, Friday, June 22, 2018. Doncic was drafted by the Atlanta Hawks with the third overall pick of the NBA draft and traded for Mavericks fifth overall draft pick Trae Young. (Andy Jacobsohn/The Dallas Morning News via AP)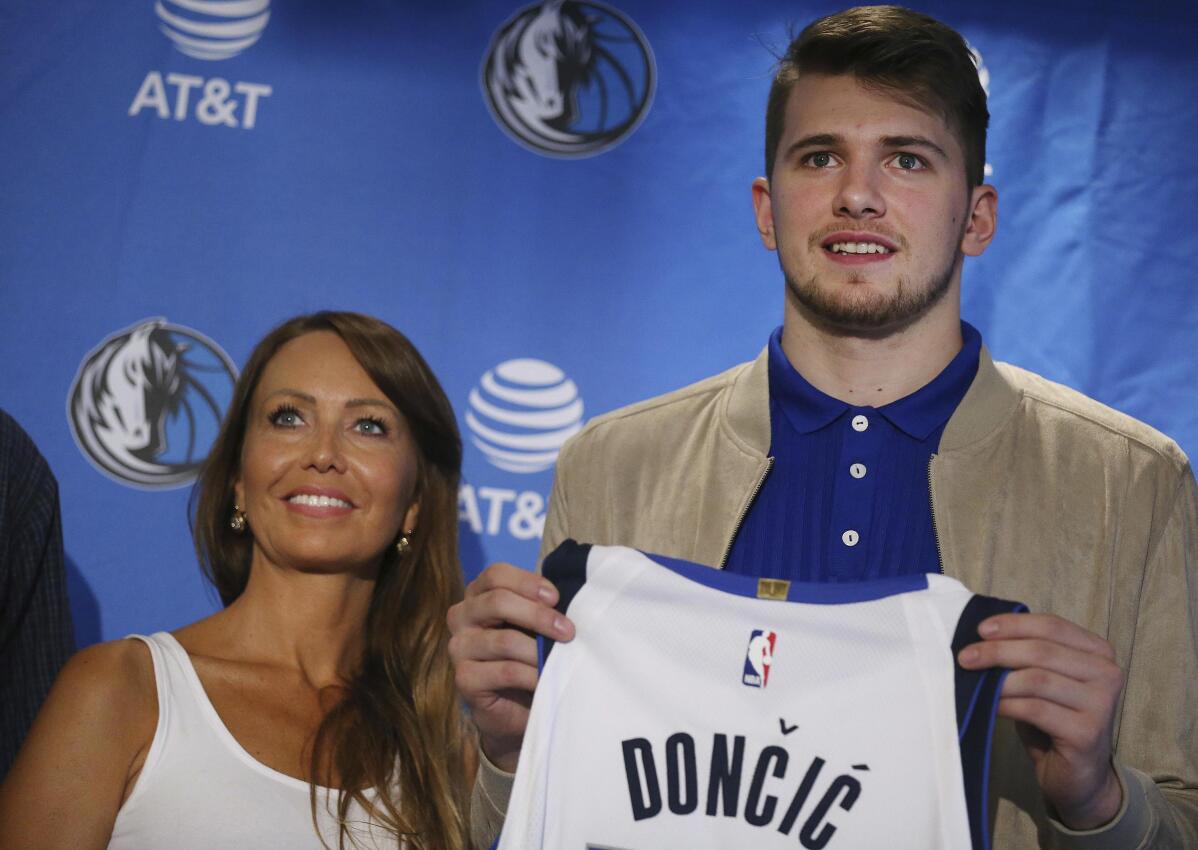 4 of 4

|
Mirjam Poterbin stands with her son Luka Doncic after he was introduced to reporters by the Dallas Mavericks in Dallas on Friday, June 22, 2018, the day after the first two rounds of the NBA draft. (Andy Jacobsohn/The Dallas Morning News via AP)
Dirk to Doncic: Mavs tap brakes on inevitable comparisons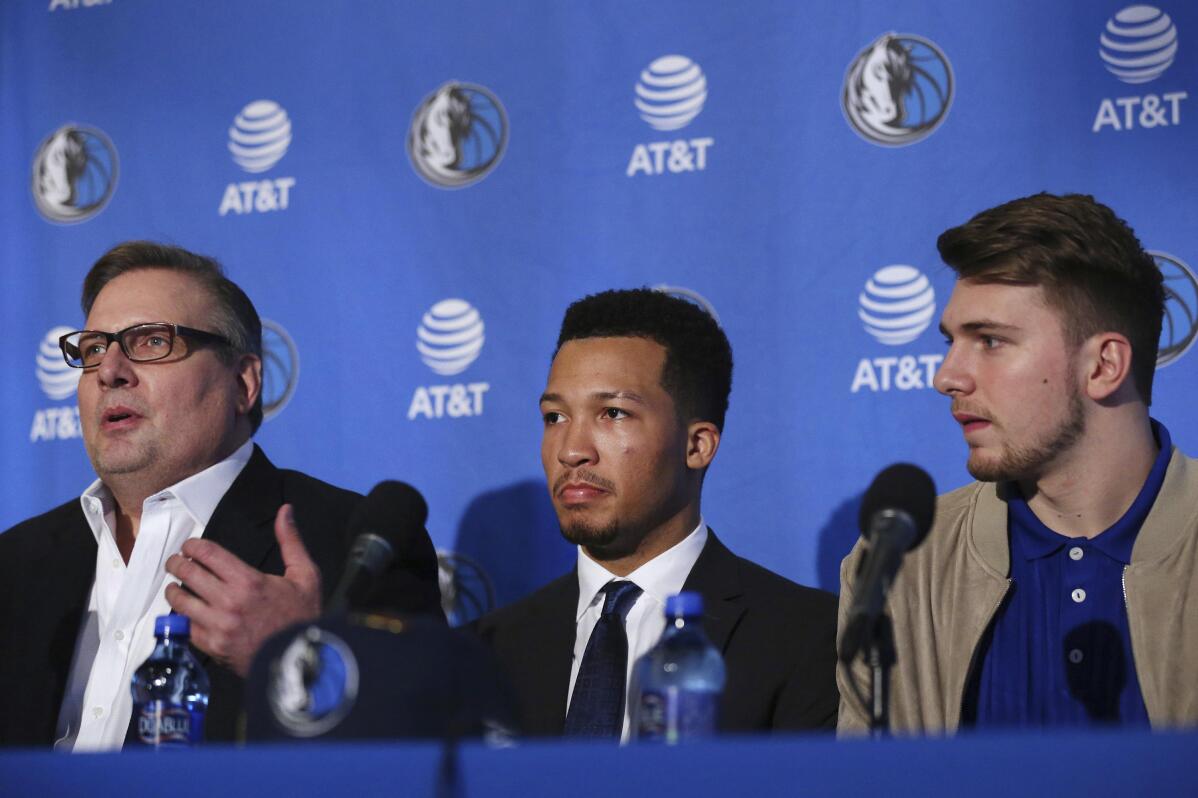 1 of 4

|
Dallas Mavericks general manager Donnie Nelson, left, speaks while he introduces Jalen Brunson, center, and Luka Doncic in Dallas on Friday, June 22, 2018. (Andy Jacobsohn/The Dallas Morning News via AP)
1 of 4
Dallas Mavericks general manager Donnie Nelson, left, speaks while he introduces Jalen Brunson, center, and Luka Doncic in Dallas on Friday, June 22, 2018. (Andy Jacobsohn/The Dallas Morning News via AP)
2 of 4

|
Luka Doncic speaks while he is introduced with Jalen Brunson, left, by the Dallas Mavericks to reporters in Dallas on Friday, June 22, 2018. (Andy Jacobsohn/The Dallas Morning News via AP)
2 of 4
Luka Doncic speaks while he is introduced with Jalen Brunson, left, by the Dallas Mavericks to reporters in Dallas on Friday, June 22, 2018. (Andy Jacobsohn/The Dallas Morning News via AP)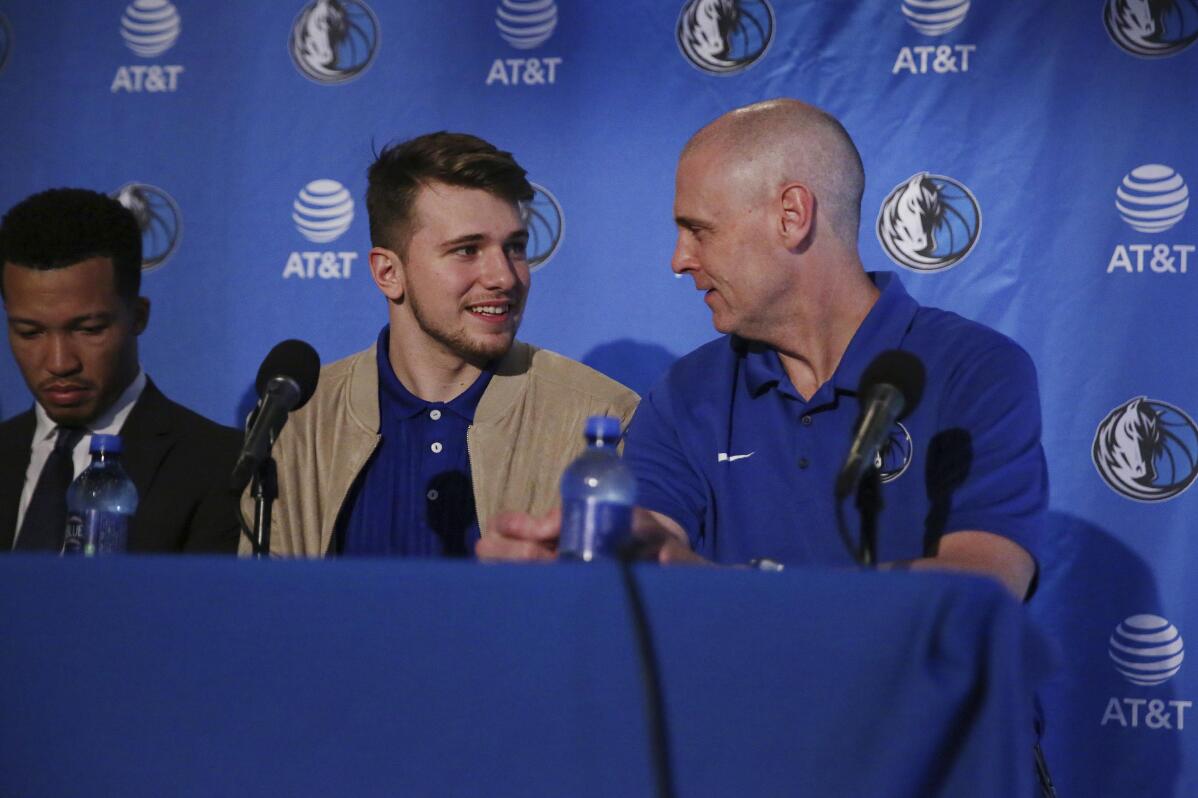 3 of 4

|
New Dallas Mavericks player Luka Doncic, center, speaks with head coach Rick Carlisle, right, before being introduced in Dallas, Friday, June 22, 2018. Doncic was drafted by the Atlanta Hawks with the third overall pick of the NBA draft and traded for Mavericks fifth overall draft pick Trae Young. (Andy Jacobsohn/The Dallas Morning News via AP)
3 of 4
New Dallas Mavericks player Luka Doncic, center, speaks with head coach Rick Carlisle, right, before being introduced in Dallas, Friday, June 22, 2018. Doncic was drafted by the Atlanta Hawks with the third overall pick of the NBA draft and traded for Mavericks fifth overall draft pick Trae Young. (Andy Jacobsohn/The Dallas Morning News via AP)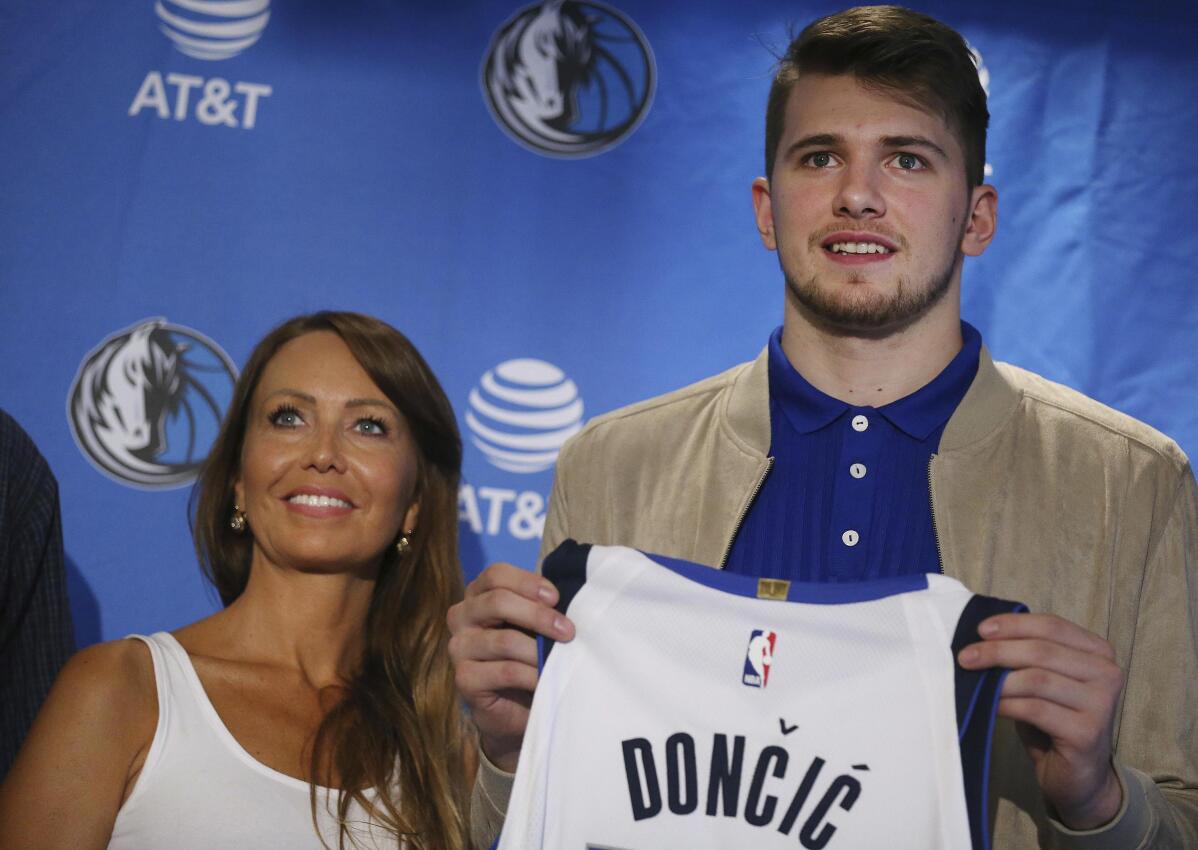 4 of 4

|
Mirjam Poterbin stands with her son Luka Doncic after he was introduced to reporters by the Dallas Mavericks in Dallas on Friday, June 22, 2018, the day after the first two rounds of the NBA draft. (Andy Jacobsohn/The Dallas Morning News via AP)
4 of 4
Mirjam Poterbin stands with her son Luka Doncic after he was introduced to reporters by the Dallas Mavericks in Dallas on Friday, June 22, 2018, the day after the first two rounds of the NBA draft. (Andy Jacobsohn/The Dallas Morning News via AP)
DALLAS (AP) — Luka Doncic didn't get compared to Larry Bird when he was introduced a day after the Dallas Mavericks traded up to get the third overall pick in the NBA draft.
For president of basketball operations Donnie Nelson, that's progress based on his last experience of getting a tender-aged European in hopes of lifting the Mavericks out of the doldrums.
Twenty years later, Dirk Nowitzki is the highest-scoring foreign-born player in league history. Back then, the big German wasn't remotely comparable to Larry Legend — and his rough first two years proved it.
So ask Nelson about a player the Mavericks clearly coveted heading into the draft in Doncic, and he'll choose his words carefully regarding the 19-year-old from Slovenia. Doncic won't turn 20 until after the All-Star break of his rookie season, which is expected to be Nowitzki's record 21st with one franchise.
"Dirk and I had a long talk coming in," Nelson said about the player Dallas drafted days after his 20th birthday in 1998.
"We're obviously very excited to have (Doncic) but he's got a very tough road ahead of him. Dirk wasn't done any favors in his first two years. We are going to steer away from any of those comparisons. Luka is his own guy. He's got his own challenges."
Coach Rick Carlisle dropped a few international names in trying to describe the versatility Dallas thinks is offered by the 6-foot-7 Doncic, who won Euroleague MVP and Final Four MVP honors while helping Real Madrid win the title just days before the draft.
After offering comparisons to the late Drazen Petrovic, three-time champion Toni Kukoc and longtime San Antonio star Manu Ginobili, Carlisle stopped.
"I really feel it's important that we shouldn't try to compare this guy to anybody," Carlisle said Friday during an introductory news conference that included Doncic and second-round pick Jalen Brunson, who won two NCAA titles in three years at Villanova. "Let him be himself. Let his game takes its own form."
Doncic figures to shape the future of the Mavericks in some form with Dallas coming off consecutive losing seasons for the first time since the second of Nowitzki's two difficult years at the start of his career.
Those 1990s-era Mavericks had 10 straight losing seasons. Combine the drafting of Doncic with last year's ninth overall pick in point guard Dennis Smith Jr. and a still-young leading scorer in Harrison Barnes, and Carlisle expects the losing to stop soon, if not this coming season.
"Last night was symbolic to me that it was kind of a defining moment in this rebuild," said Carlisle, who had just one losing season as a coach before the current Dallas slide. "We're going propel forward with the idea that we've got to start winning games."
Just as he did last year with Smith, Carlisle is declaring Doncic a starter, which means the opening night lineup will have a teenager for the second straight year. Youth partly explains a two-year record of 57-107, including the 24-58 mark last season that landed Dallas the fifth pick before the draft-night trade with Atlanta on Thursday.
Another explanation was an unusually large number of undrafted players, including a young German in Maxi Kleber who grew up watching his countryman become the 2007 MVP and 2011 NBA Finals MVP.
The Mavericks haven't won a playoff series since taking their only title in 2011, and have missed the postseason three of the past six seasons coming off a 12-year playoff streak. Doncic might only get one chance to get Dallas back on track with Nowitzki, the 13-time All-Star who has hinted that 40 is a nice round number as a retirement age.
If this is it for Nowitzki, Nelson sees a trio in Barnes, Smith and Doncic that reminds him of Michael Finley mentoring Nowitzki and point guard Steve Nash and helping the Mavericks end a 10-year playoff drought in 2001.
"Michael Finley was our Harrison Barnes back in the day," Nelson said. "We feel like we've got that here in a different form. There's just some really cool elements to this that take me back and remind me about what it was like 20 years ago when we were watching these young guys."
Just don't remind Nelson about the Nowitzki-Bird comparisons.
___
More AP NBA: https://apnews.com/tag/NBAbasketball