James makes Cavs better, now East more wide open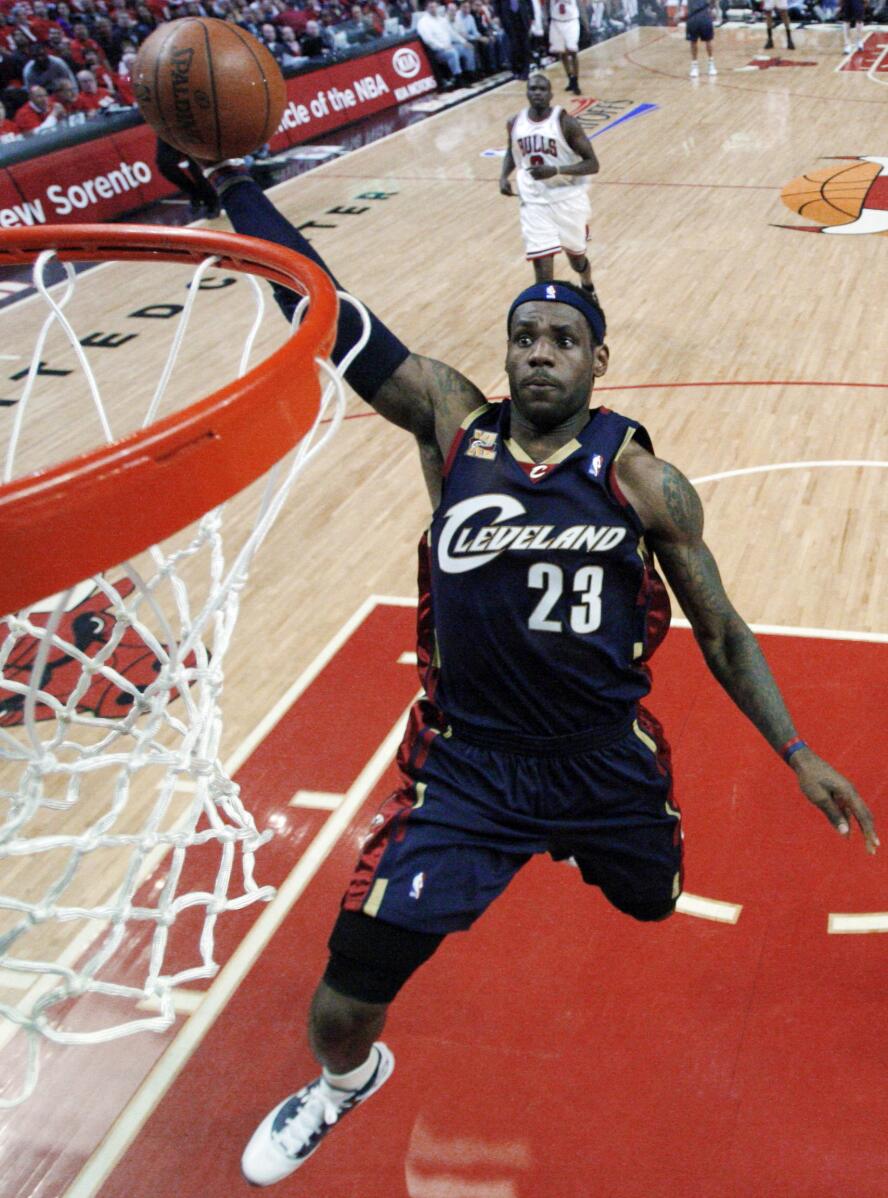 1 of 5

|
FILE - IN this April 22, 2010, file photo, Cleveland Cavaliers' LeBron James dunks against the Chicago Bulls during the second quarter of Game 3 of a first-round NBA basketball playoff series in Chicago. James told Sports Illustrated on Friday, July 11, 2014, he is leaving the Miami Heat to go back to the Cleveland Cavaliers. (AP Photo/Charles Cherney, File)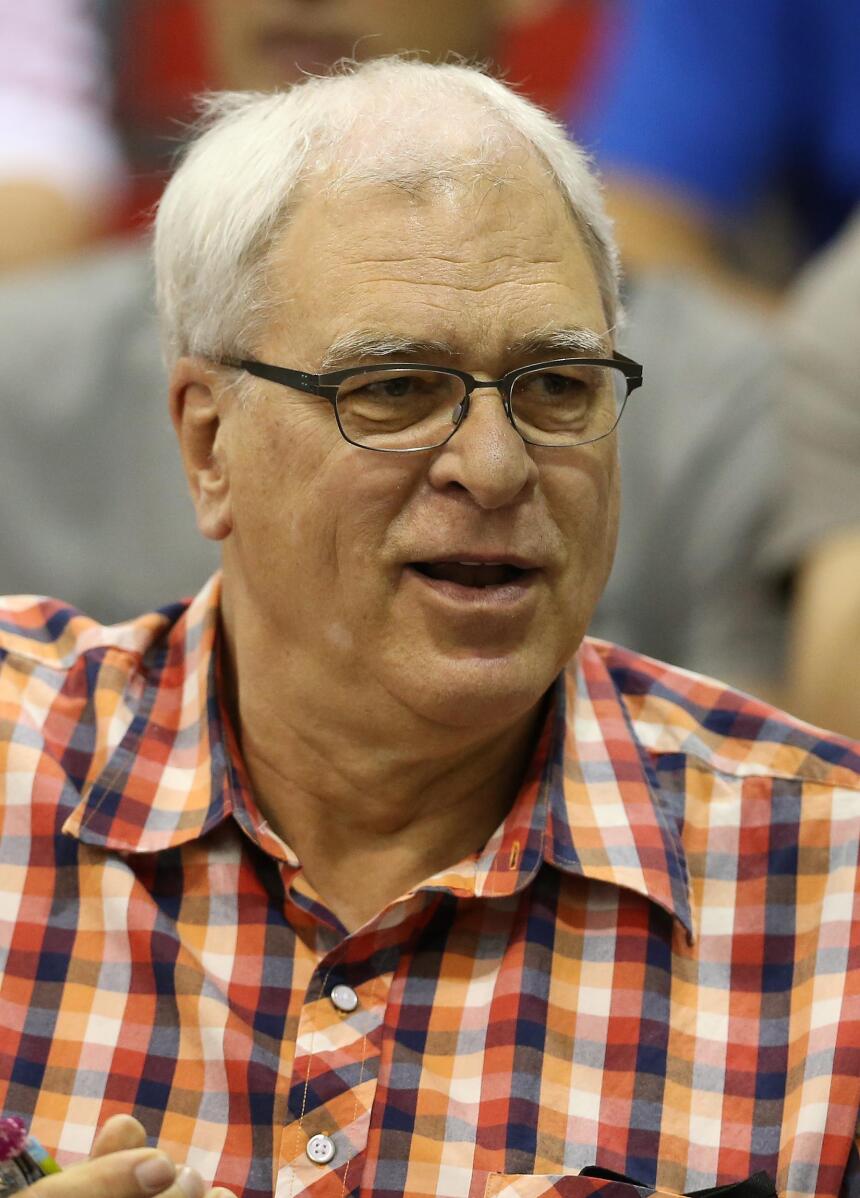 2 of 5

|
New York Knicks president Phil Jackson watches his team play the Dallas Mavericks in an NBA summer league basketball game Friday, July 11, 2014, in Las Vegas. (AP Photo/John Locher)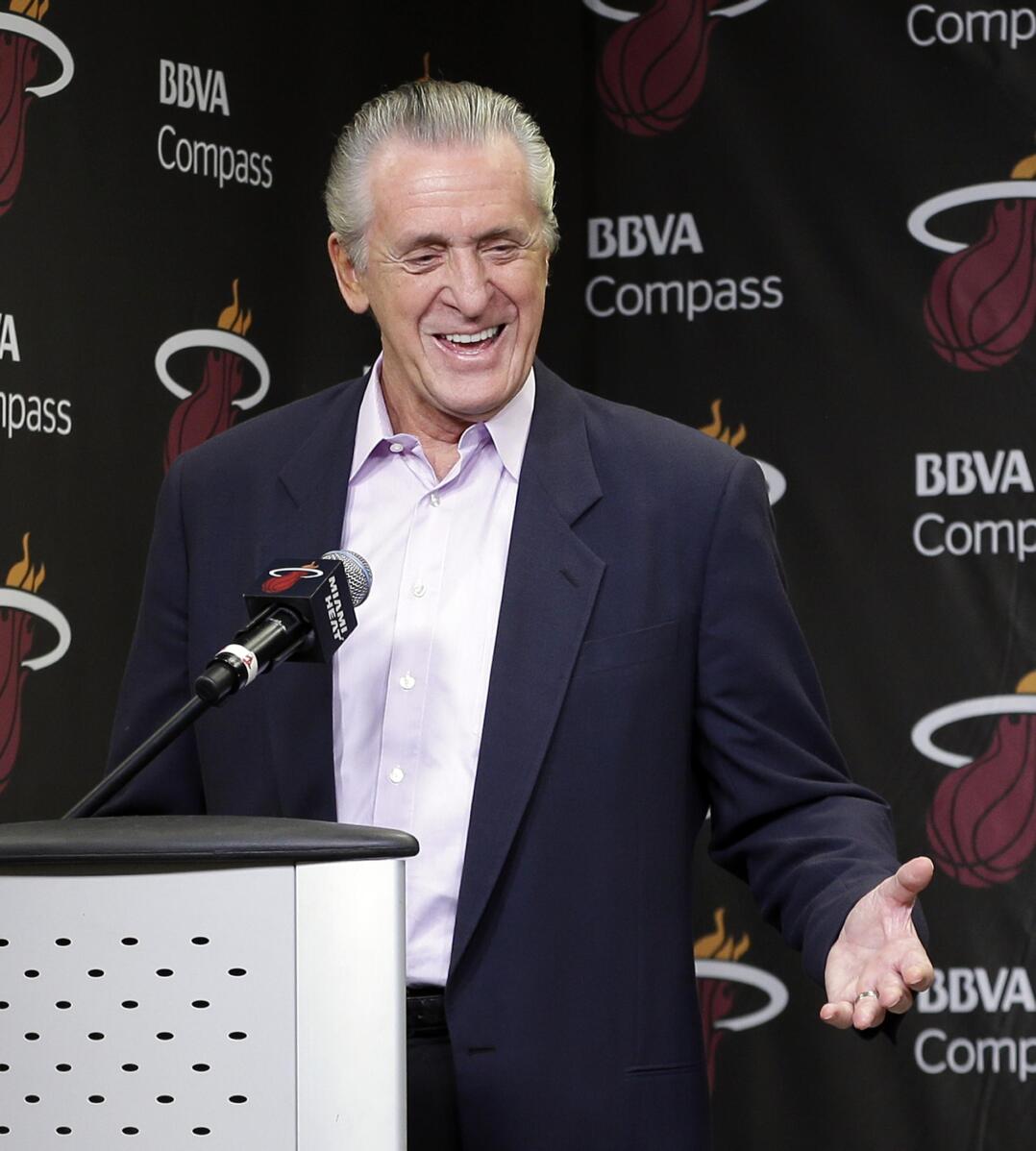 3 of 5

|
Miami Heat President Pat Riley smiles as he introduces Shabazz Napier at a news conference in Miami, Monday, June 30, 2014. The Heat acquired the draft rights to Connecticut guard Shabazz Napier in a trade with the Charlotte Hornets on Thursday night, giving up the 26th and 55th picks to make the deal happen, along with a future second-round choice and cash considerations. (AP Photo/Alan Diaz)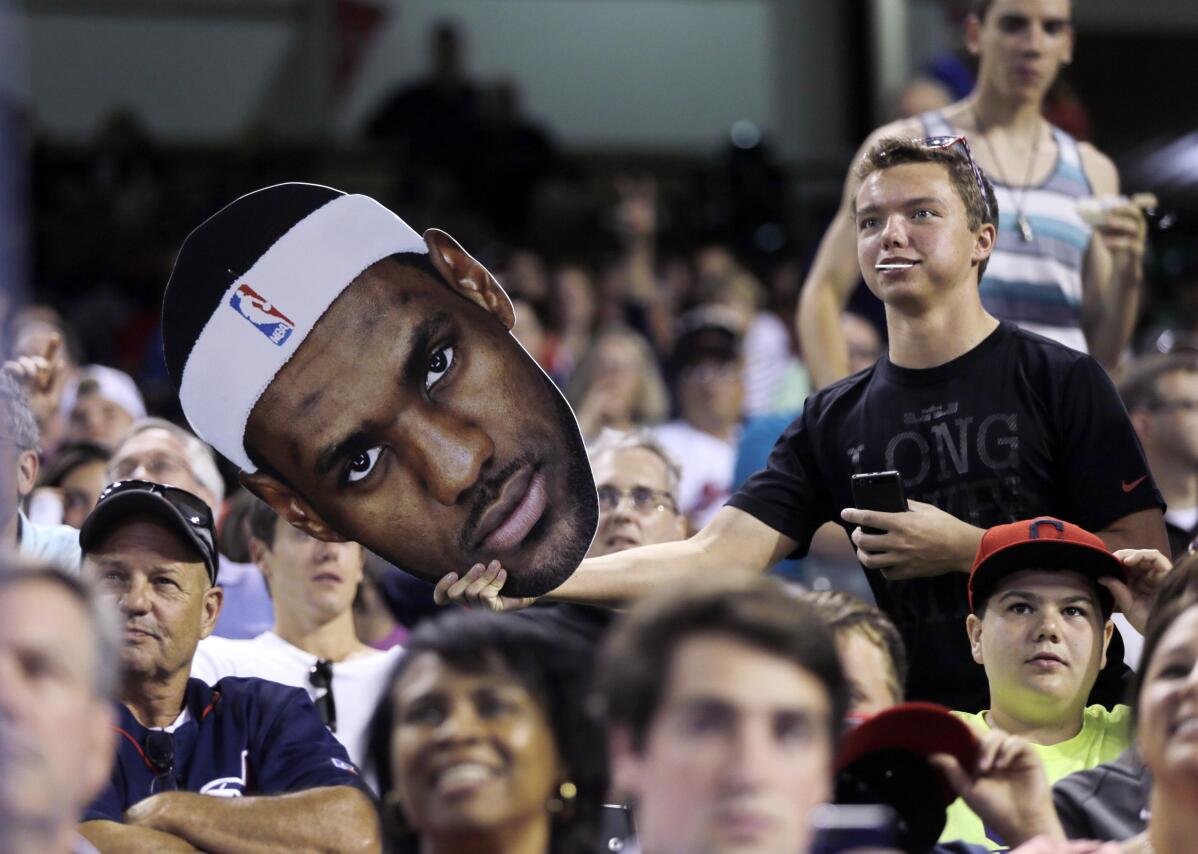 4 of 5

|
A fan waves a cutout of LeBron James during a baseball game between the Chicago White Sox and Cleveland Indians on Friday, July 11, 2014, in Cleveland. James announced earlier Friday he is returning to play for the Cleveland Cavaliers. (AP Photo/Mark Duncan)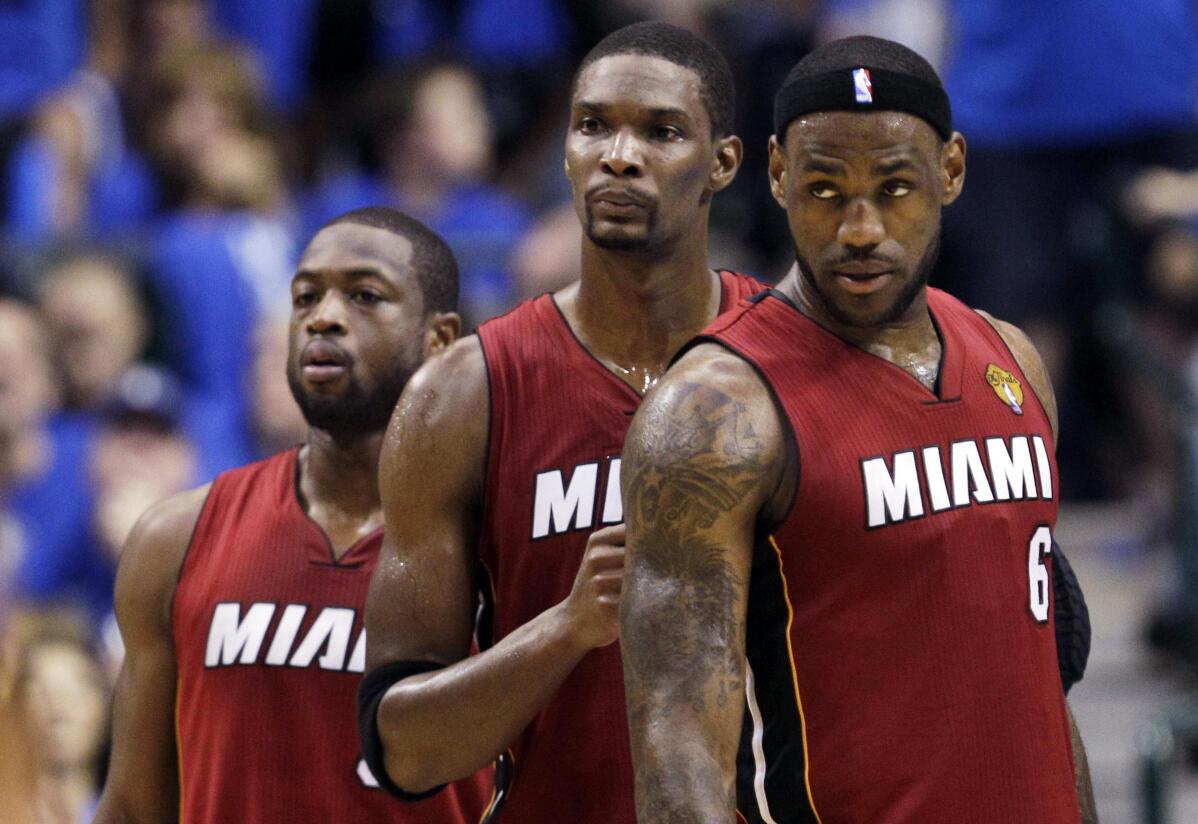 5 of 5

|
FILE - In this June 7, 2011, file photo, Miami Heat's Dwyane Wade, left, Chris Bosh, center, and LeBron James (6) look on during a break in the second half of Game 4 of the NBA Finals basketball game in Dallas. James told Sports Illustrated on Friday, July 11, 2014, he is leaving the Miami Heat to go back to the Cleveland Cavaliers. (AP Photo/David J. Phillip, File)
James makes Cavs better, now East more wide open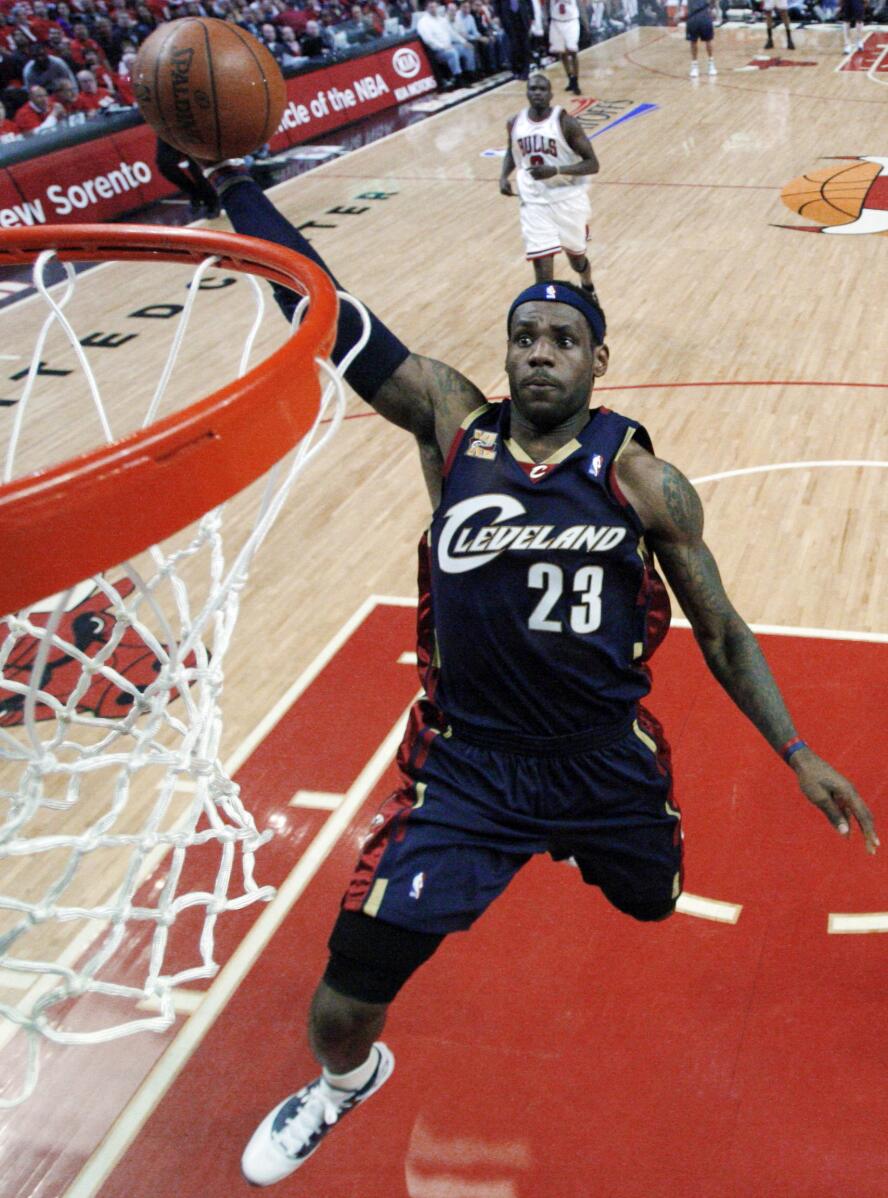 1 of 5

|
FILE - IN this April 22, 2010, file photo, Cleveland Cavaliers' LeBron James dunks against the Chicago Bulls during the second quarter of Game 3 of a first-round NBA basketball playoff series in Chicago. James told Sports Illustrated on Friday, July 11, 2014, he is leaving the Miami Heat to go back to the Cleveland Cavaliers. (AP Photo/Charles Cherney, File)
1 of 5
FILE - IN this April 22, 2010, file photo, Cleveland Cavaliers' LeBron James dunks against the Chicago Bulls during the second quarter of Game 3 of a first-round NBA basketball playoff series in Chicago. James told Sports Illustrated on Friday, July 11, 2014, he is leaving the Miami Heat to go back to the Cleveland Cavaliers. (AP Photo/Charles Cherney, File)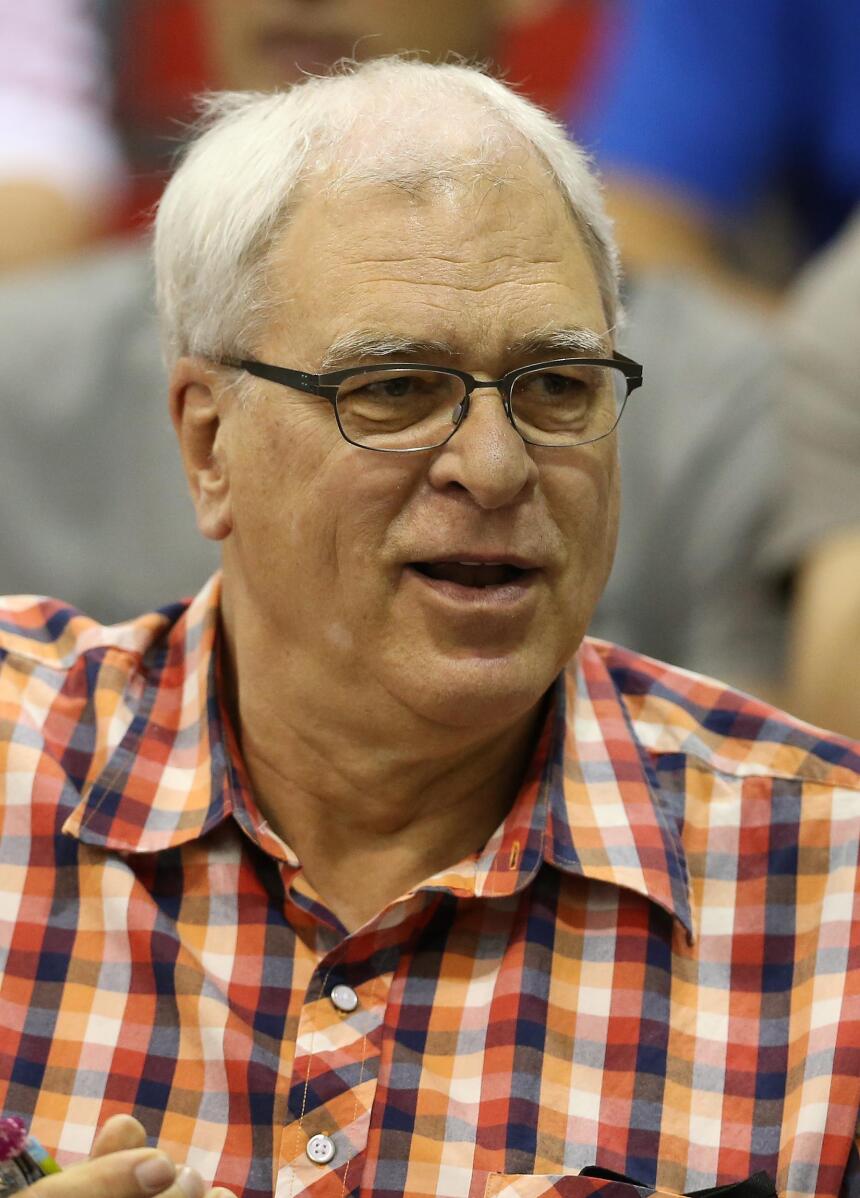 2 of 5

|
New York Knicks president Phil Jackson watches his team play the Dallas Mavericks in an NBA summer league basketball game Friday, July 11, 2014, in Las Vegas. (AP Photo/John Locher)
2 of 5
New York Knicks president Phil Jackson watches his team play the Dallas Mavericks in an NBA summer league basketball game Friday, July 11, 2014, in Las Vegas. (AP Photo/John Locher)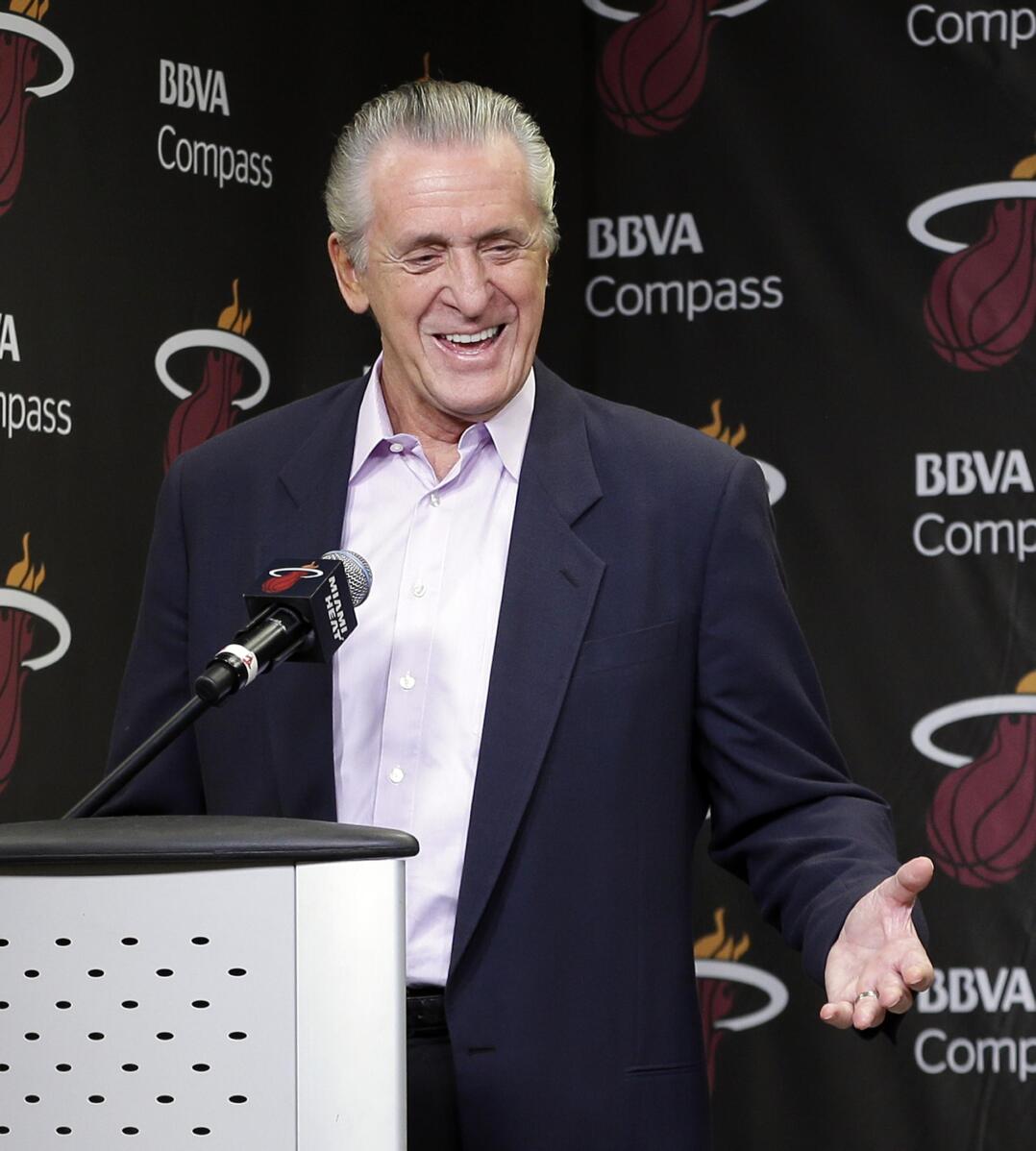 3 of 5

|
Miami Heat President Pat Riley smiles as he introduces Shabazz Napier at a news conference in Miami, Monday, June 30, 2014. The Heat acquired the draft rights to Connecticut guard Shabazz Napier in a trade with the Charlotte Hornets on Thursday night, giving up the 26th and 55th picks to make the deal happen, along with a future second-round choice and cash considerations. (AP Photo/Alan Diaz)
3 of 5
Miami Heat President Pat Riley smiles as he introduces Shabazz Napier at a news conference in Miami, Monday, June 30, 2014. The Heat acquired the draft rights to Connecticut guard Shabazz Napier in a trade with the Charlotte Hornets on Thursday night, giving up the 26th and 55th picks to make the deal happen, along with a future second-round choice and cash considerations. (AP Photo/Alan Diaz)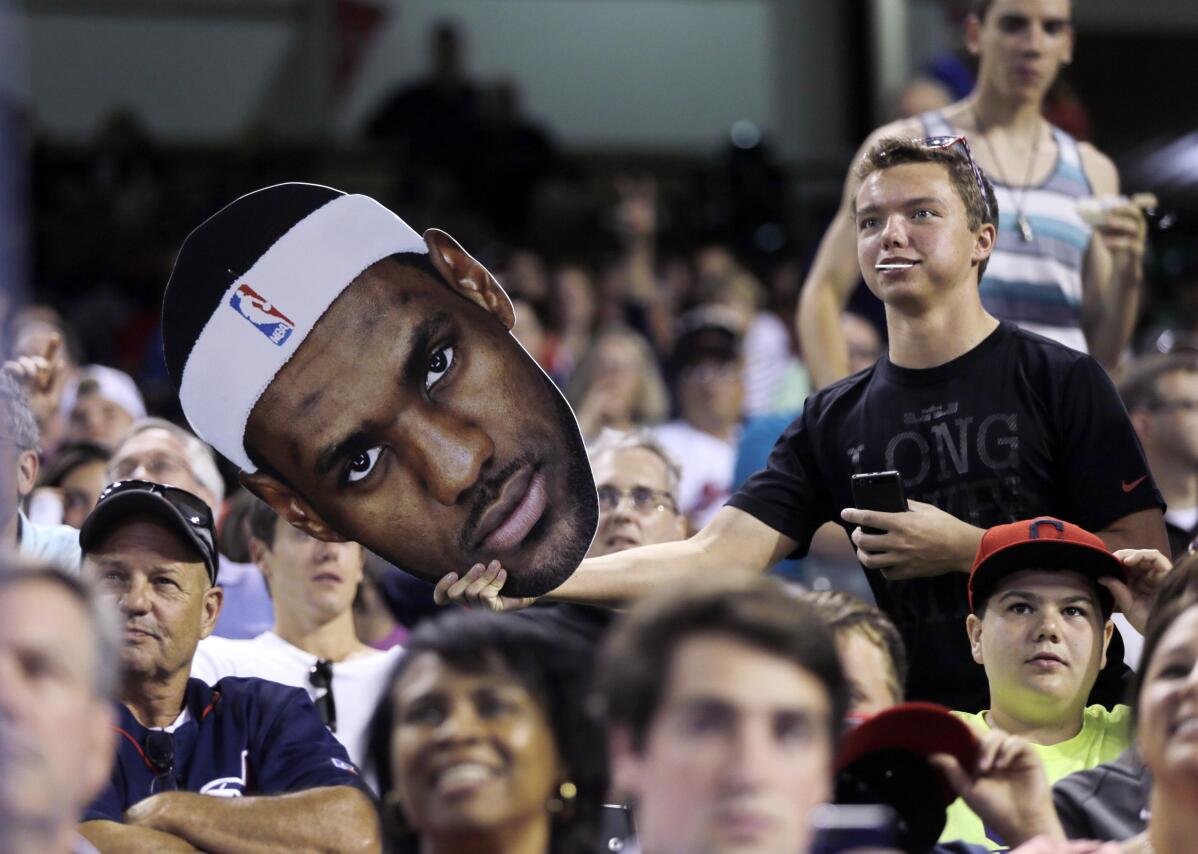 4 of 5

|
A fan waves a cutout of LeBron James during a baseball game between the Chicago White Sox and Cleveland Indians on Friday, July 11, 2014, in Cleveland. James announced earlier Friday he is returning to play for the Cleveland Cavaliers. (AP Photo/Mark Duncan)
4 of 5
A fan waves a cutout of LeBron James during a baseball game between the Chicago White Sox and Cleveland Indians on Friday, July 11, 2014, in Cleveland. James announced earlier Friday he is returning to play for the Cleveland Cavaliers. (AP Photo/Mark Duncan)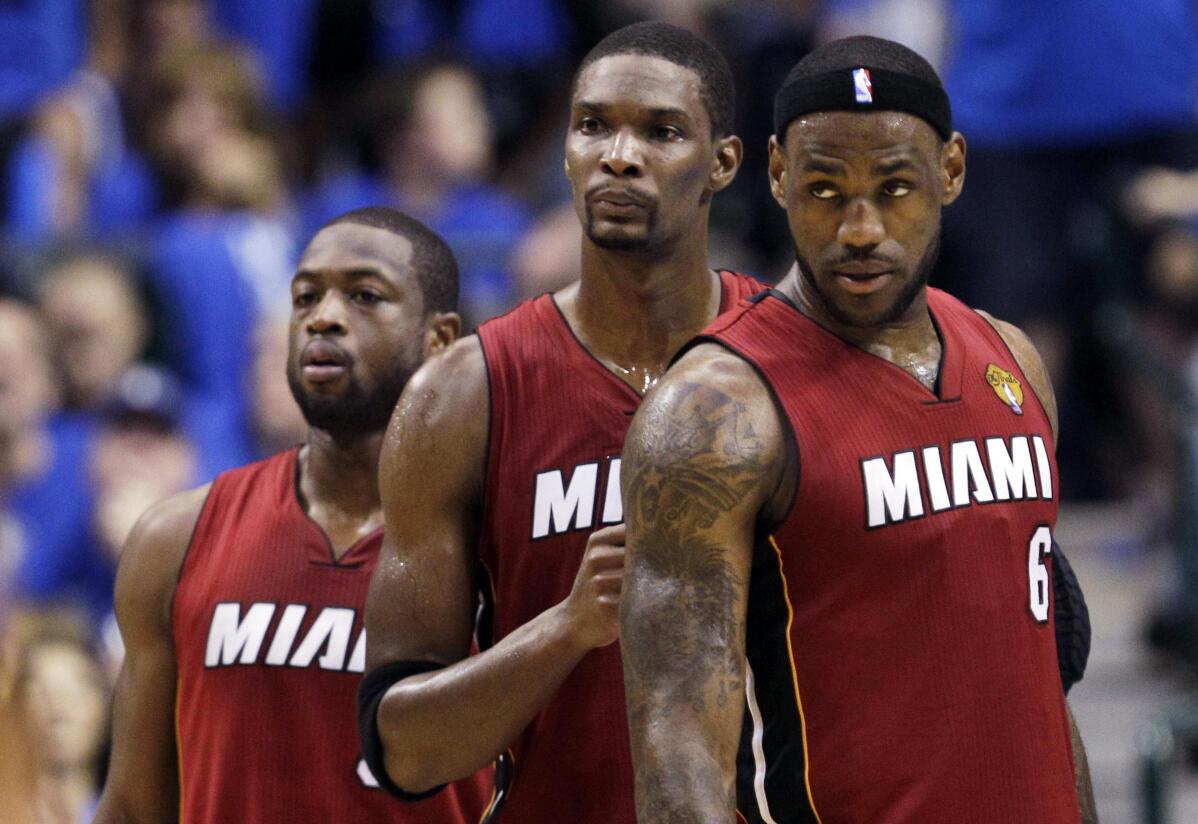 5 of 5

|
FILE - In this June 7, 2011, file photo, Miami Heat's Dwyane Wade, left, Chris Bosh, center, and LeBron James (6) look on during a break in the second half of Game 4 of the NBA Finals basketball game in Dallas. James told Sports Illustrated on Friday, July 11, 2014, he is leaving the Miami Heat to go back to the Cleveland Cavaliers. (AP Photo/David J. Phillip, File)
5 of 5
FILE - In this June 7, 2011, file photo, Miami Heat's Dwyane Wade, left, Chris Bosh, center, and LeBron James (6) look on during a break in the second half of Game 4 of the NBA Finals basketball game in Dallas. James told Sports Illustrated on Friday, July 11, 2014, he is leaving the Miami Heat to go back to the Cleveland Cavaliers. (AP Photo/David J. Phillip, File)
NEW YORK (AP) — A word of caution to anyone anointing the Cleveland Cavaliers as the NBA favorites.
Yes, the Cavaliers are going to be good, no doubt. It's impossible not to be with the game's best player. But even LeBron James knows Cleveland has a lot of work to do.
"We're not ready right now. No way," he wrote in his first-person essay in Sports Illustrated.
Quite a different tone than when he arrived in Miami four years ago.
Quite a different situation, too.
While the player dominos continue to fall in place during free agency, James' decision has leveled the playing field even more in the up-for-grabs Eastern Conference.
And the battle should be very entertaining: James vs. the likes of Pat Riley, Phil Jackson and Larry Bird.
Cleveland won't even be a sure thing within its own division where Bird's Indiana Pacers and the Chicago Bulls have veteran squads that have played together for years.
And an NBA championship is surely no guarantee, not with the San Antonio Spurs possibly even stronger than the powerhouse that rolled through James and the Heat in the NBA Finals. The Oklahoma City Thunder and Los Angeles Clippers are potent, and the Houston Rockets and Portland Trail Blazers don't look far away.
So if Cleveland's a favorite, it may only be a sentimental one, for those wanting to see James lead his home team to a title that has eluded the city in all major sports for 50 years.
"We have to pull for the Cavaliers now," Charles Barkley said on NBA TV. "We have to pull for that team."
Some will, but it's going to be a challenge.
Toronto (Kyle Lowry) and Washington (Marcin Gortat) held on to key pieces from their up-and-coming squads. Brooklyn believes it has another year to contend if Paul Pierce and Kevin Garnett stick around, and the Knicks have been telling Carmelo Anthony they expect to be better if he returns.
Even James' old team could remain formidable with Chris Bosh sticking around and Dwyane Wade expected to do the same, setting up the potential for a wide-open Eastern Conference race that didn't exist while the Heat ruled it since 2011.
But in the hours after James announced he was trading Biscayne Bay for Lake Erie, it was hard not to get excited about the Cavs' possibilities.
"LeBron James, Kyrie Irving and Andrew Wiggins have the potential to be a great 'Big 3,'" Hall of Famer Magic Johnson wrote on Twitter.
His Lakers tussled with one of the best, the Celtics with Bird, Kevin McHale and Robert Parish. Boston later had another championship trio with Kevin Garnett, Paul Pierce and Ray Allen, and the Spurs' core of Tim Duncan, Tony Parker and Manu Ginobili is the winningest postseason trio of them all.
It was those models that forced James to leave home in the first place, realizing he needed the help he found with Wade and Bosh. He boasted of "not two, not three, not four ..." titles upon his arrival, though he abandoned that chase to return to Ohio.
There's potential there. Irving was the MVP of the All-Star game last year, and Wiggins was the No. 1 pick in the draft. The Cavs' roster features a fourth No. 1 pick, Anthony Bennett, who struggled badly as a rookie last season but should benefit from a full offseason after he was sidelined while recovering from shoulder surgery last summer.
But potential has gotten many coaches fired.
Oddsmakers, however, seemed convinced, many Las Vegas sports books making the Cavs a 4-1 favorite to win the championship. It will be the fifth straight season James' team is the preseason NBA favorite, according to RJ Bell, founder of the website Pregame.com.
The other team with them is the Spurs, who got Duncan to return and re-signed coach Gregg Popovich and key players Boris Diaw and Patty Mills to multiyear deals. If they can get Pau Gasol, who tweeted Friday that he's close to deciding on a team, it's hard to envision much drop-off from last season's 62 victories.
But the Spurs are always a sure thing. Things are more uncertain for James and his new team.
He knew he was on an instant title contender when he went to Miami. Even he realizes that may not be the case heading home.
The road to the Eastern Conference championship may no longer go through Miami. The question is whether it still goes through James.
"LeBron's still in the East," new Knicks coach Derek Fisher said. "It still makes my job difficult."