Harden scores 41, Rockets beat Nuggets in OT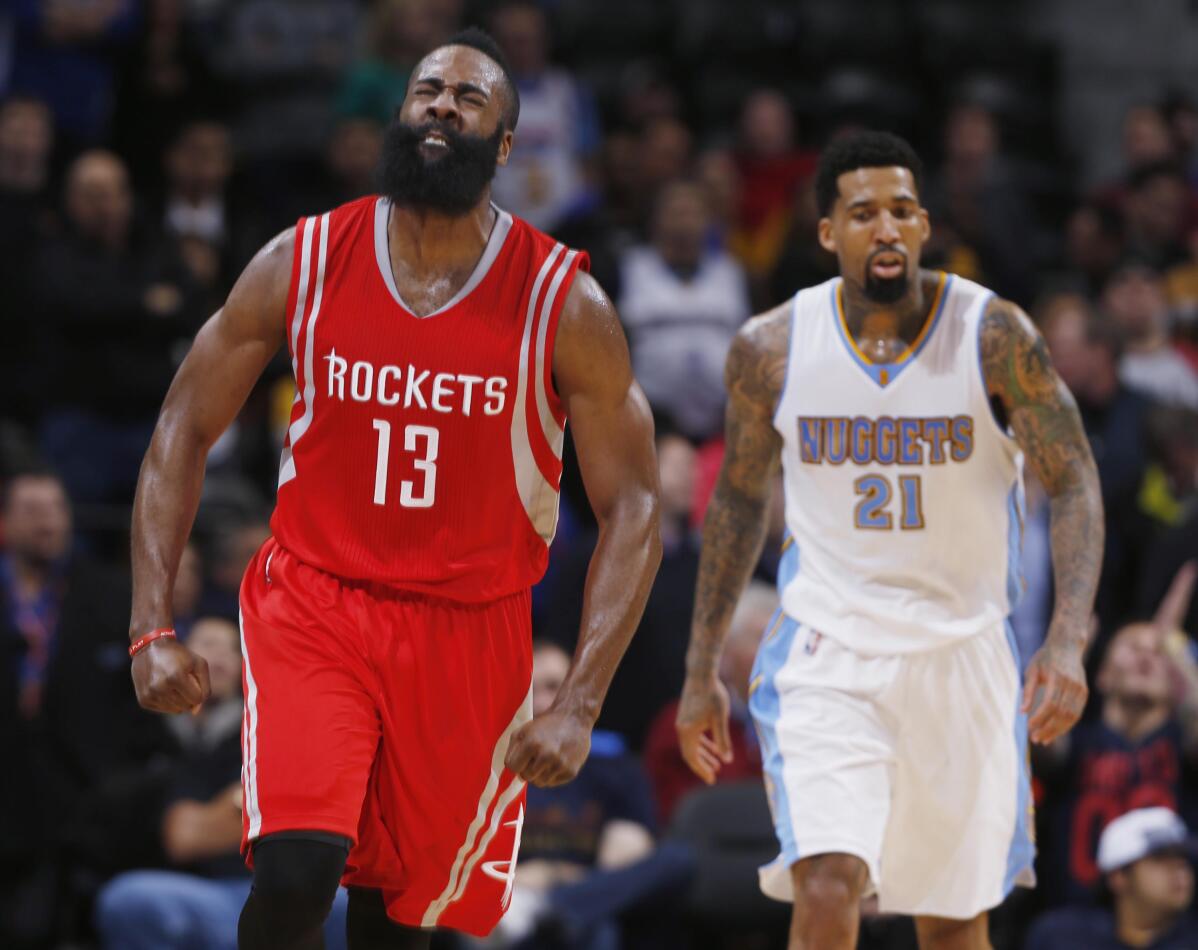 1 of 11

|
Houston Rockets guard James Harden, front, reacts after hitting a basket over Denver Nuggets forward Wilson Chandler late in the overtime session of an NBA basketball game Wednesday, Dec. 17, 2014, in Denver. Houston won 115-111 in overtime. (AP Photo/David Zalubowski)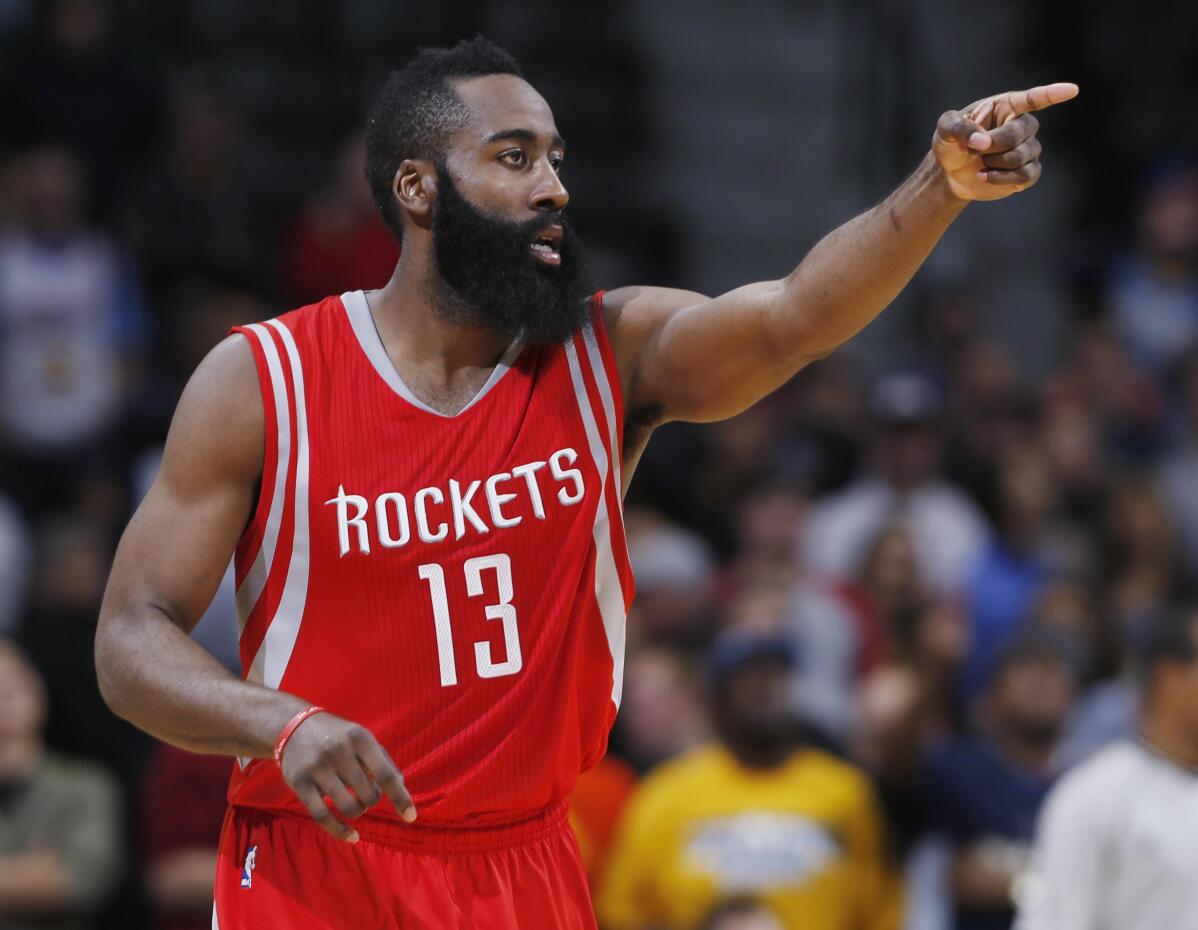 2 of 11

|
Houston Rockets guard James Harden celebrates after scoring a basket against the Denver Nuggets late in the fourth quarter overtime session of an NBA basketball game Wednesday, Dec. 17, 2014, in Denver. Houston won 115-111 in overtime. (AP Photo/David Zalubowski)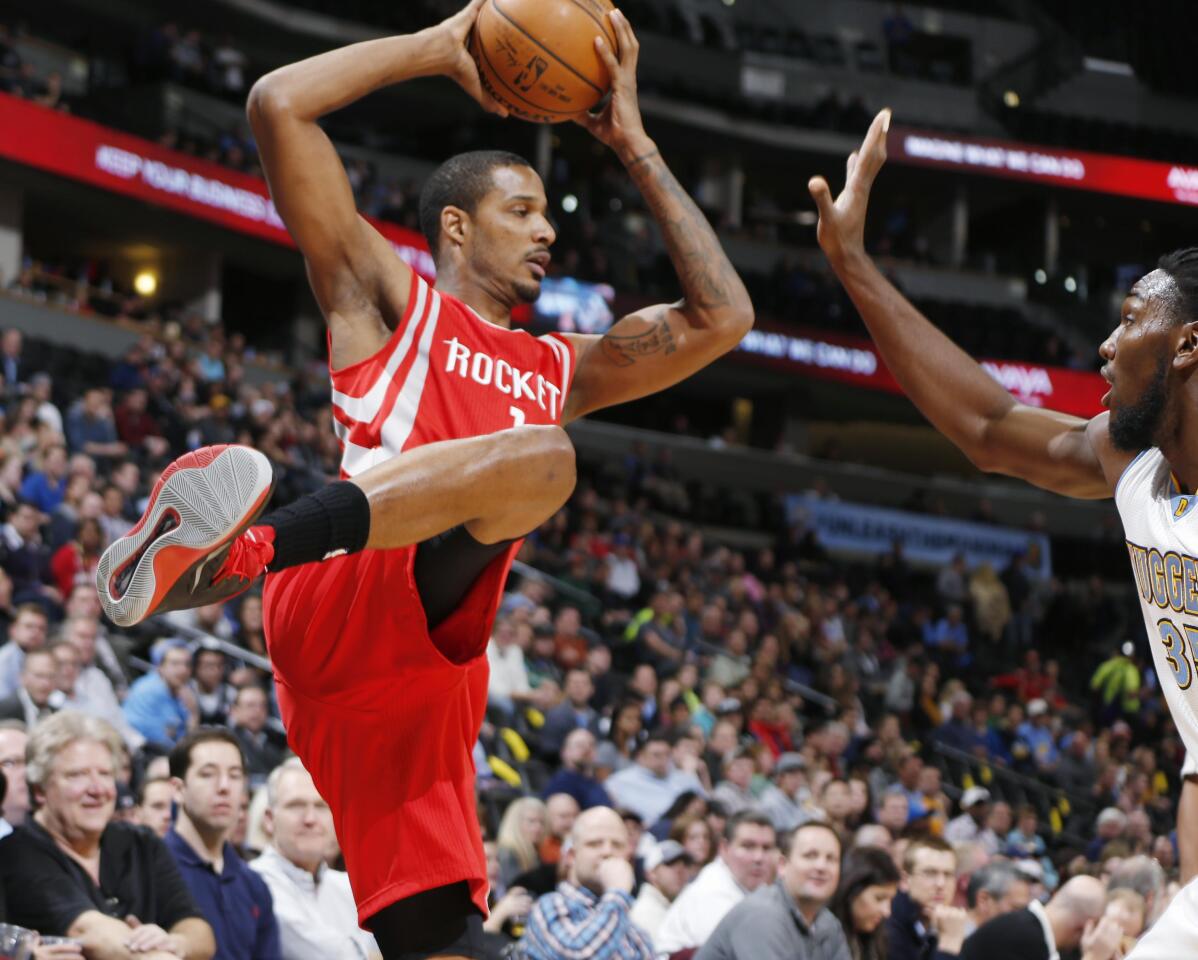 3 of 11

|
Houston Rockets forward Trevor Ariza, left, pulls in a loose ball as Denver Nuggets forward Kenneth Faried watches during the first quarter of an NBA basketball game Wednesday, Dec. 17, 2014, in Denver. (AP Photo/David Zalubowski)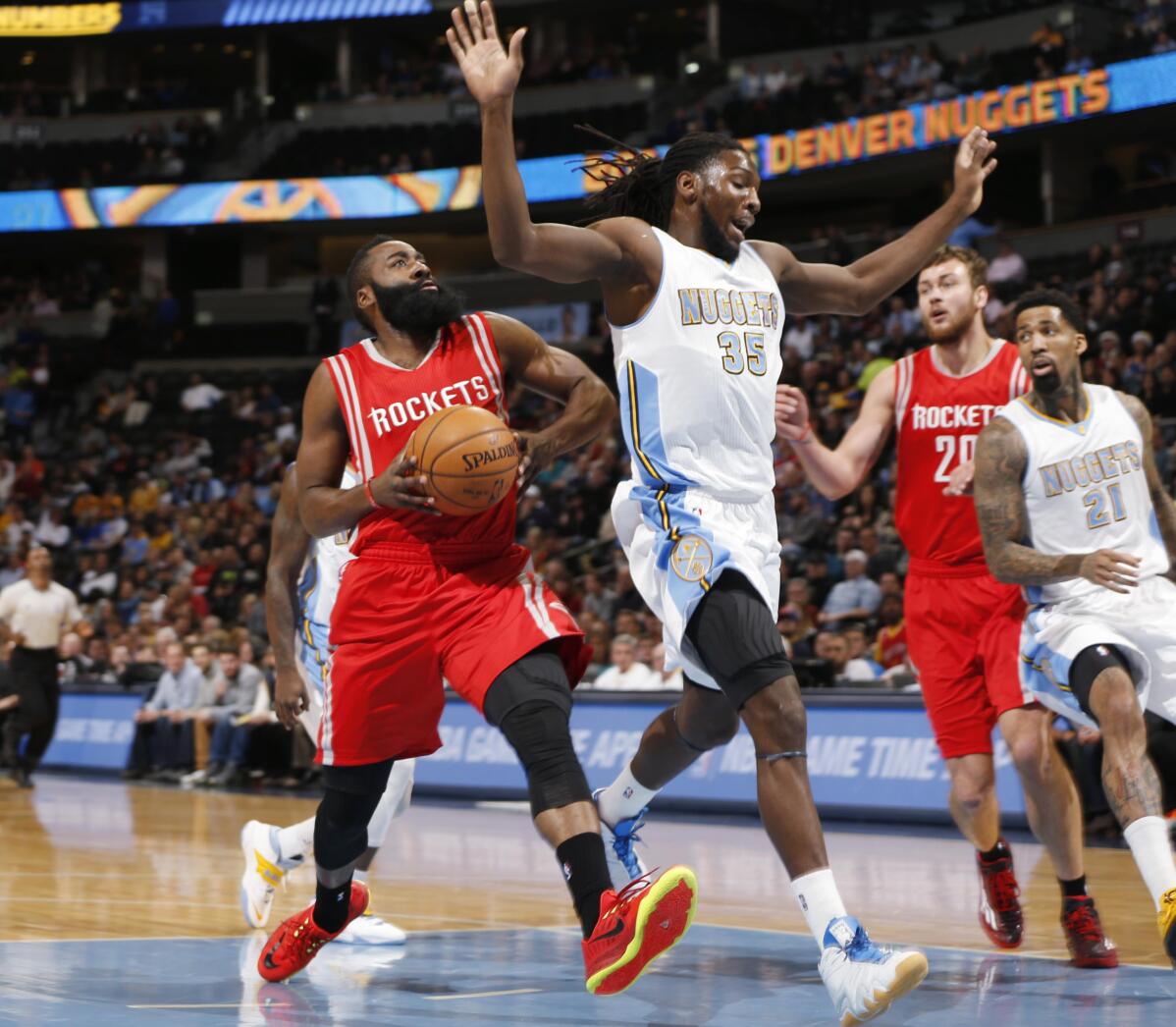 4 of 11

|
From left, Houston Rockets guard James Harden drives for a shot past Denver Nuggets forward Kenneth Faried as Rockets forward Donatas Motiejunas, of Lithuania, and Nuggets forward Wilson Chandler watch during the first quarter of an NBA basketball game on Wednesday, Dec. 17, 2014, in Denver. (AP Photo/David Zalubowski)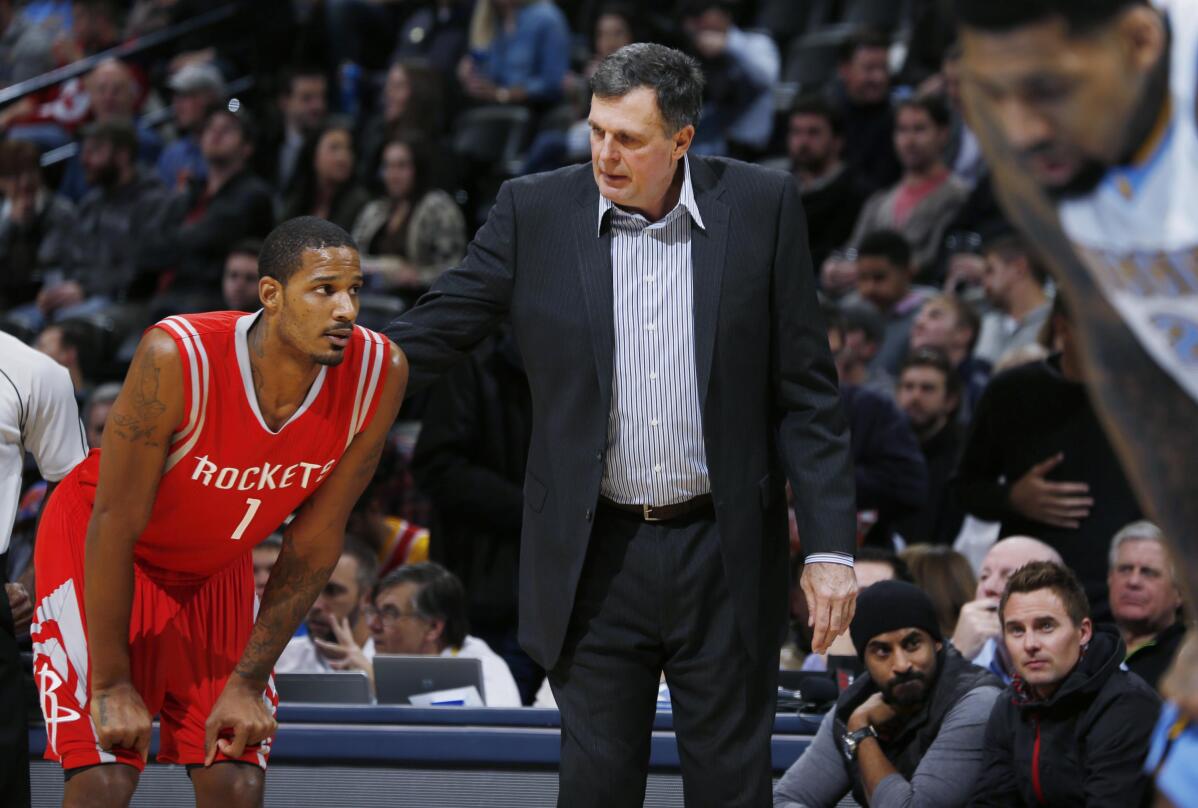 5 of 11

|
Houston Rockets coach Kevin McHale confers with forward Trevor Ariza during break in the first quarter of an NBA basketball game against the Denver Nuggets on Wednesday, Dec. 17, 2014, in Denver. (AP Photo/David Zalubowski)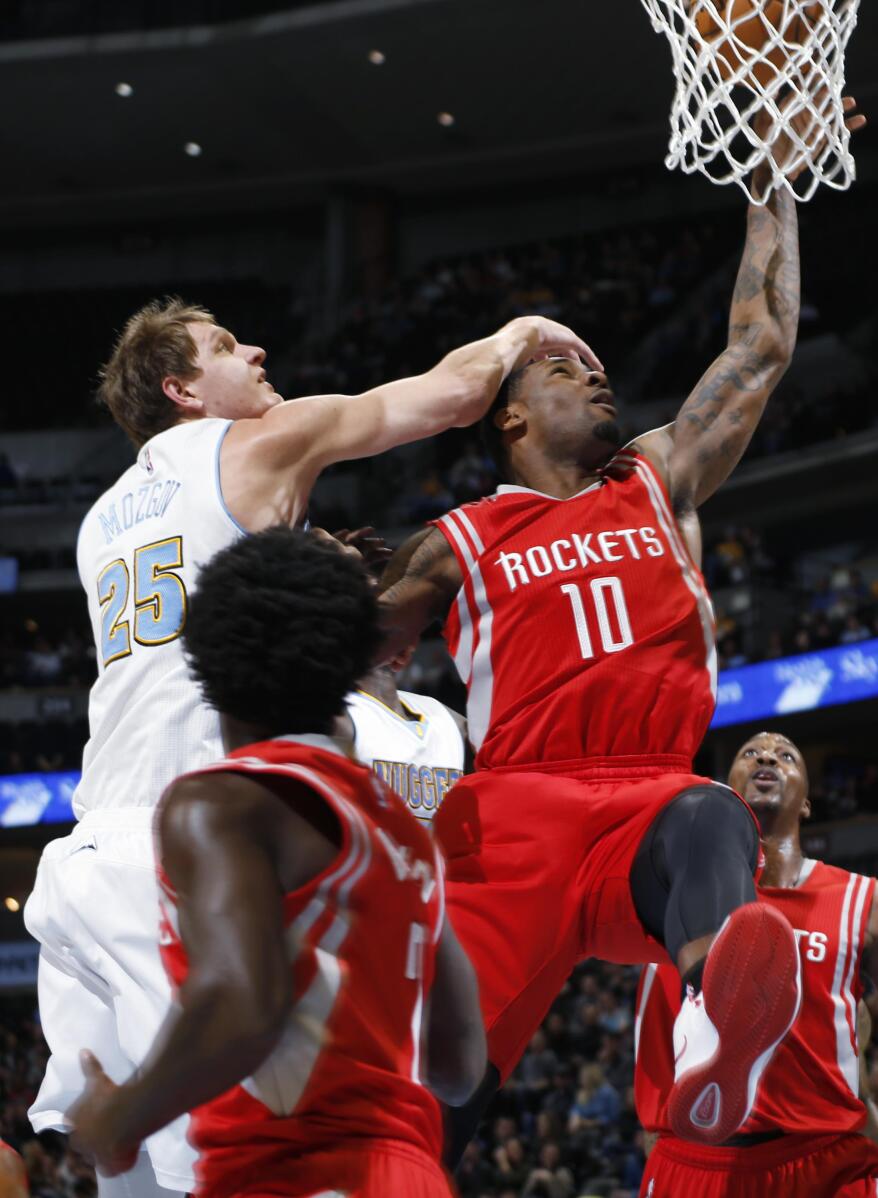 6 of 11

|
Houston Rockets center Tarik Black, right, takes a hand to the head as he drives for a shot past Denver Nuggets center Timofey Mozgov, of Russia, during the first quarter of an NBA basketball game Wednesday, Dec. 17, 2014, in Denver. (AP Photo/David Zalubowski)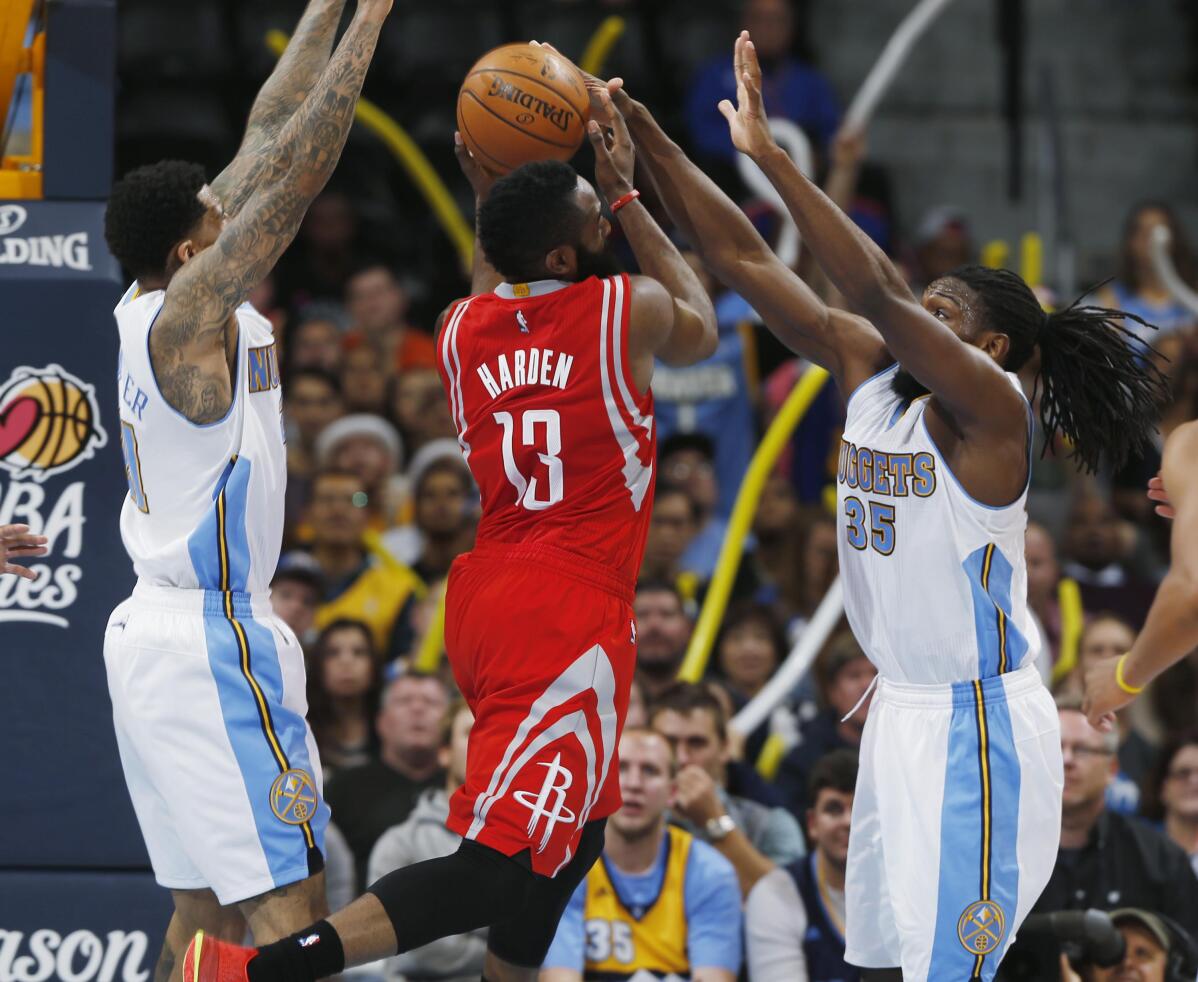 7 of 11

|
Houston Rockets guard James Harden, center, drives the lane for a shot between Denver Nuggets forwards Wilson Chandler, left, and Kenneth Faried in the fourth quarter of an NBA basketball game Wednesday, Dec. 17, 2014, in Denver. Houston won 115-111 in overtime. (AP Photo/David Zalubowski)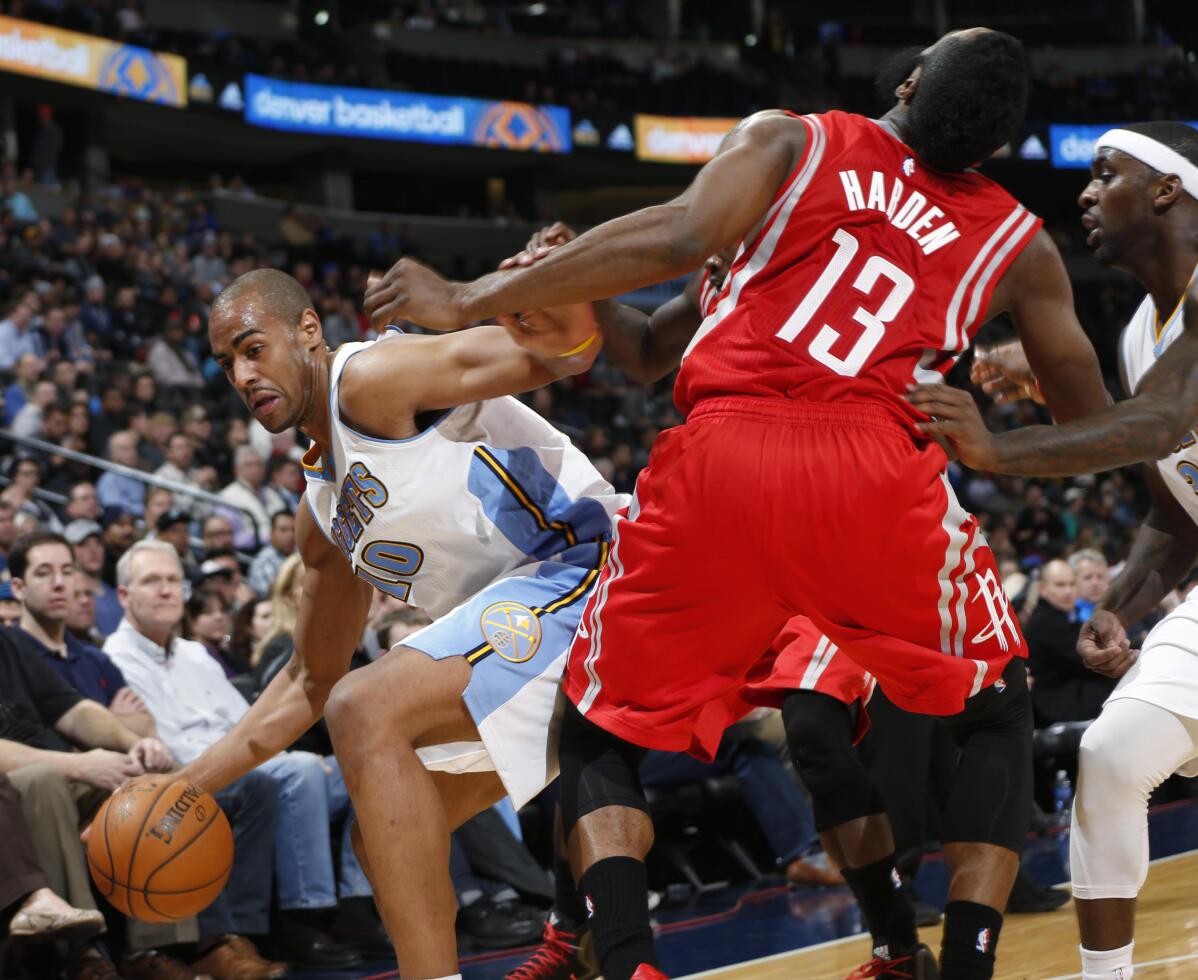 8 of 11

|
Denver Nuggets guard Arron Afflalo, left, uses his left arm to check Houston Rockets guard James Harden as Nuggets guard Ty Lawson looks on in the third quarter of an NBA basketball game Wednesday, Dec. 17, 2014, in Denver. Houston won 115-111 in overtime. (AP Photo/David Zalubowski)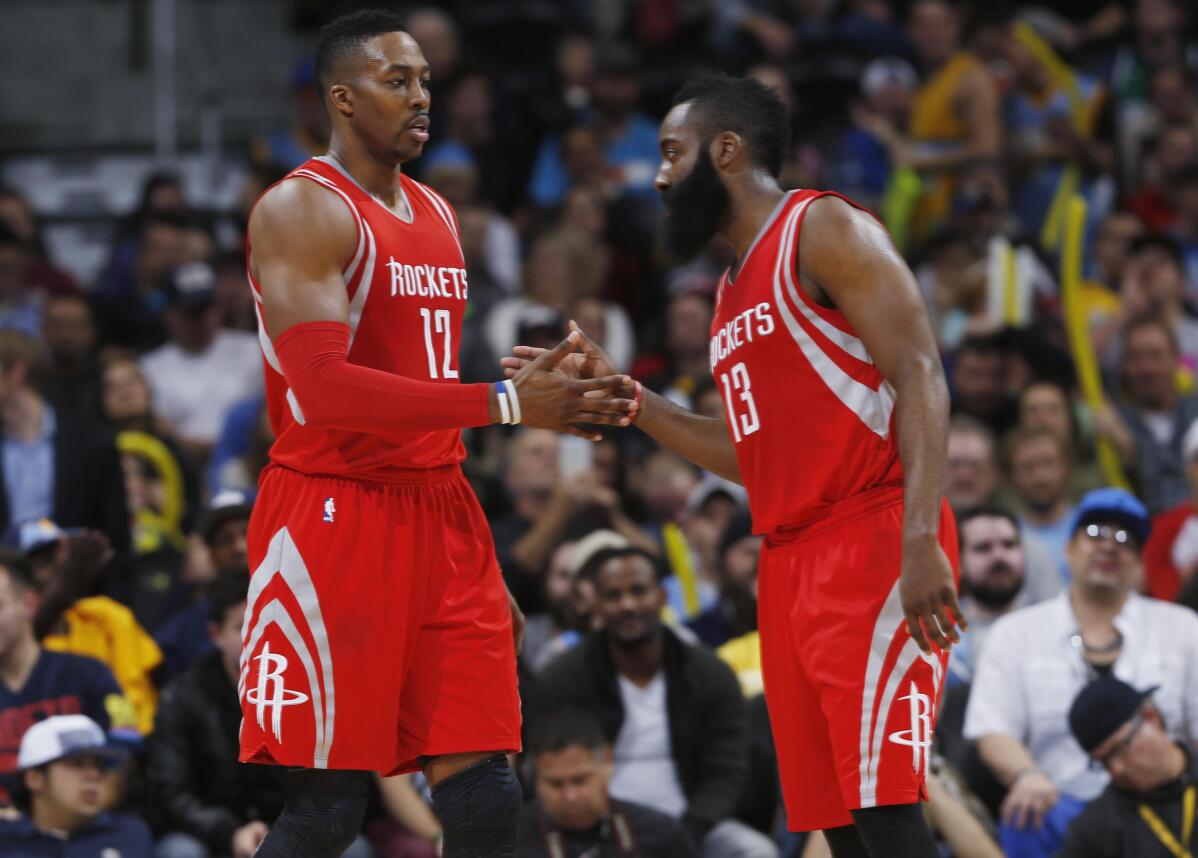 9 of 11

|
Houston Rockets center Dwight Howard, left, is congratulated after drawing a foul by guard James Harden while facing the Denver Nuggets in the fourth quarter of an NBA basketball game Wednesday, Dec. 17, 2014, in Denver. Houston won 115-111 in overtime. (AP Photo/David Zalubowski)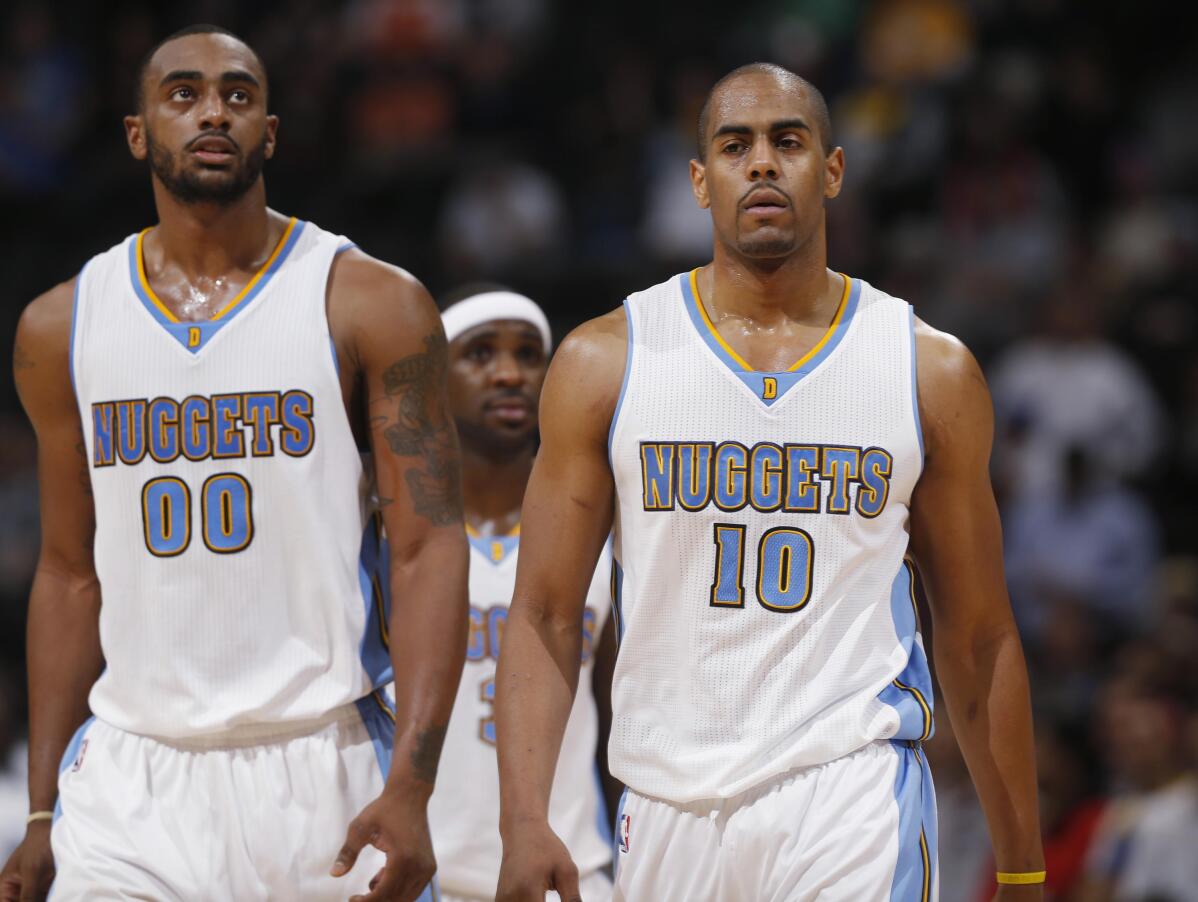 10 of 11

|
From left, Denver Nuggets forward Darrell Arthur and guards Ty Lawson and Arron Afflalo look on as time runs out against the Houston Rockets in the overtime session of an NBA basketball game Wednesday, Dec. 17, 2014, in Denver. Houston won 115-111 in overtime. (AP Photo/David Zalubowski)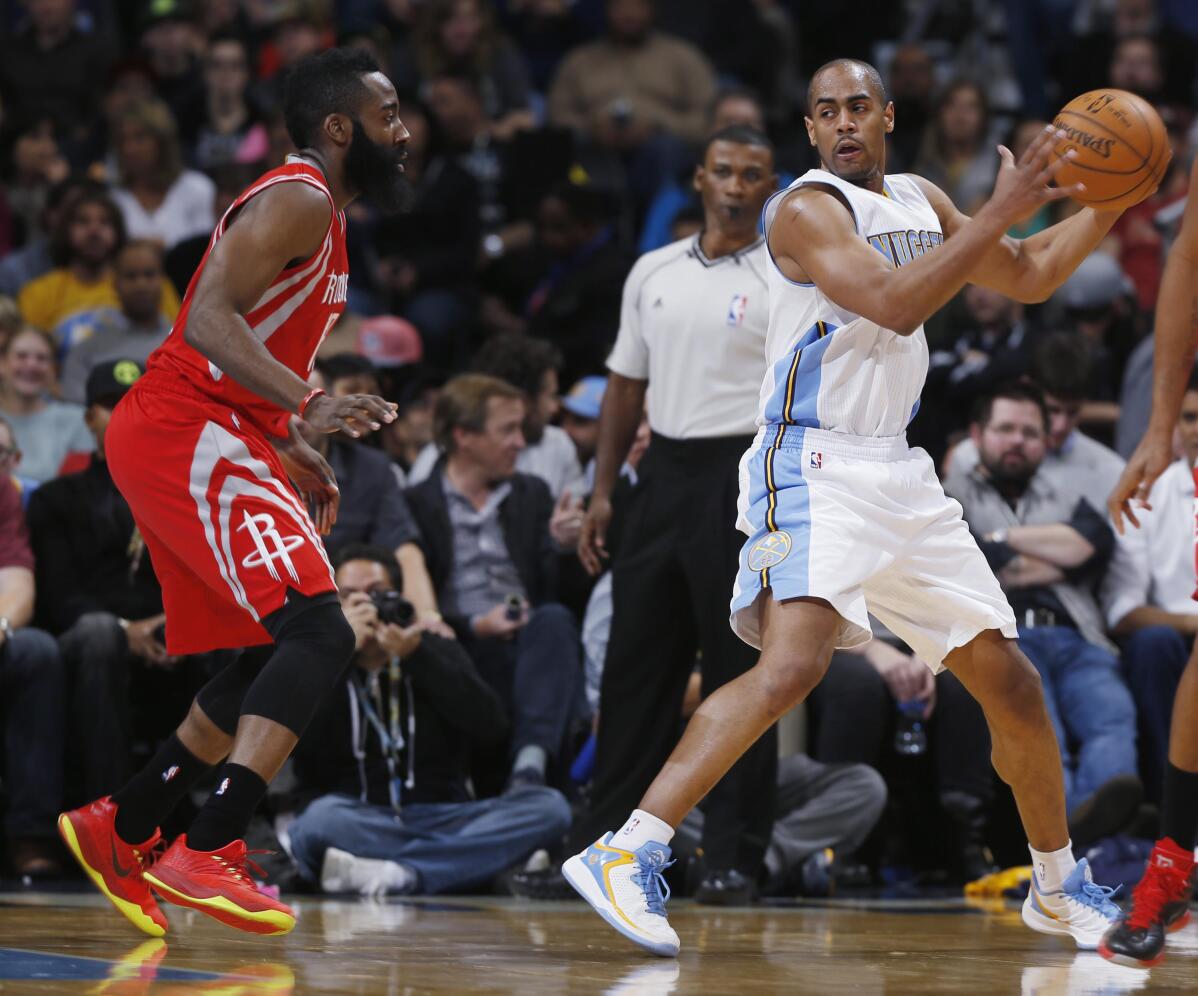 11 of 11

|
Denver Nuggets guard Arron Afflalo, right, reaches out to pull in a pass as Houston Rockets guard James Harden defend during the first quarter of an NBA basketball game Wednesday, Dec. 17, 2014, in Denver. (AP Photo/David Zalubowski)
Harden scores 41, Rockets beat Nuggets in OT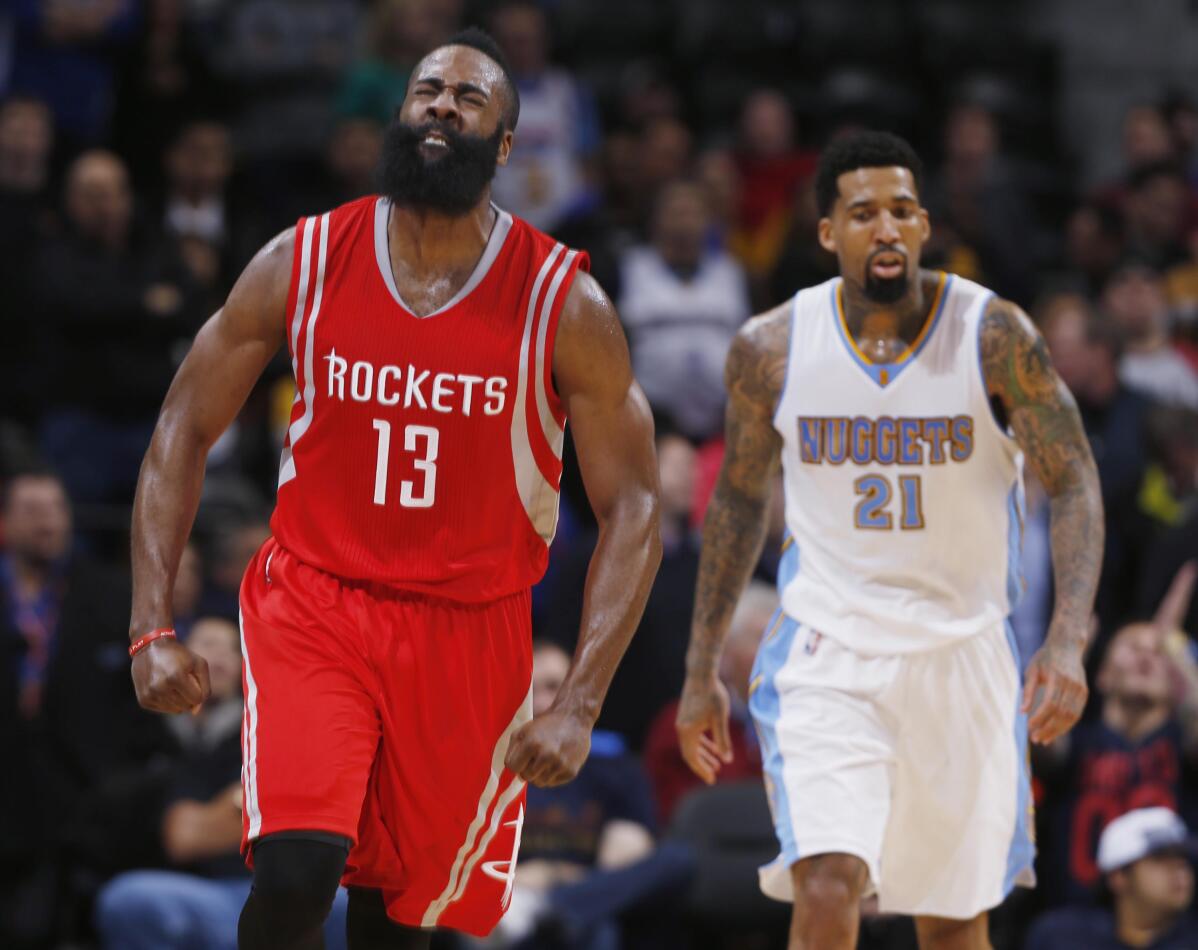 1 of 11

|
Houston Rockets guard James Harden, front, reacts after hitting a basket over Denver Nuggets forward Wilson Chandler late in the overtime session of an NBA basketball game Wednesday, Dec. 17, 2014, in Denver. Houston won 115-111 in overtime. (AP Photo/David Zalubowski)
1 of 11
Houston Rockets guard James Harden, front, reacts after hitting a basket over Denver Nuggets forward Wilson Chandler late in the overtime session of an NBA basketball game Wednesday, Dec. 17, 2014, in Denver. Houston won 115-111 in overtime. (AP Photo/David Zalubowski)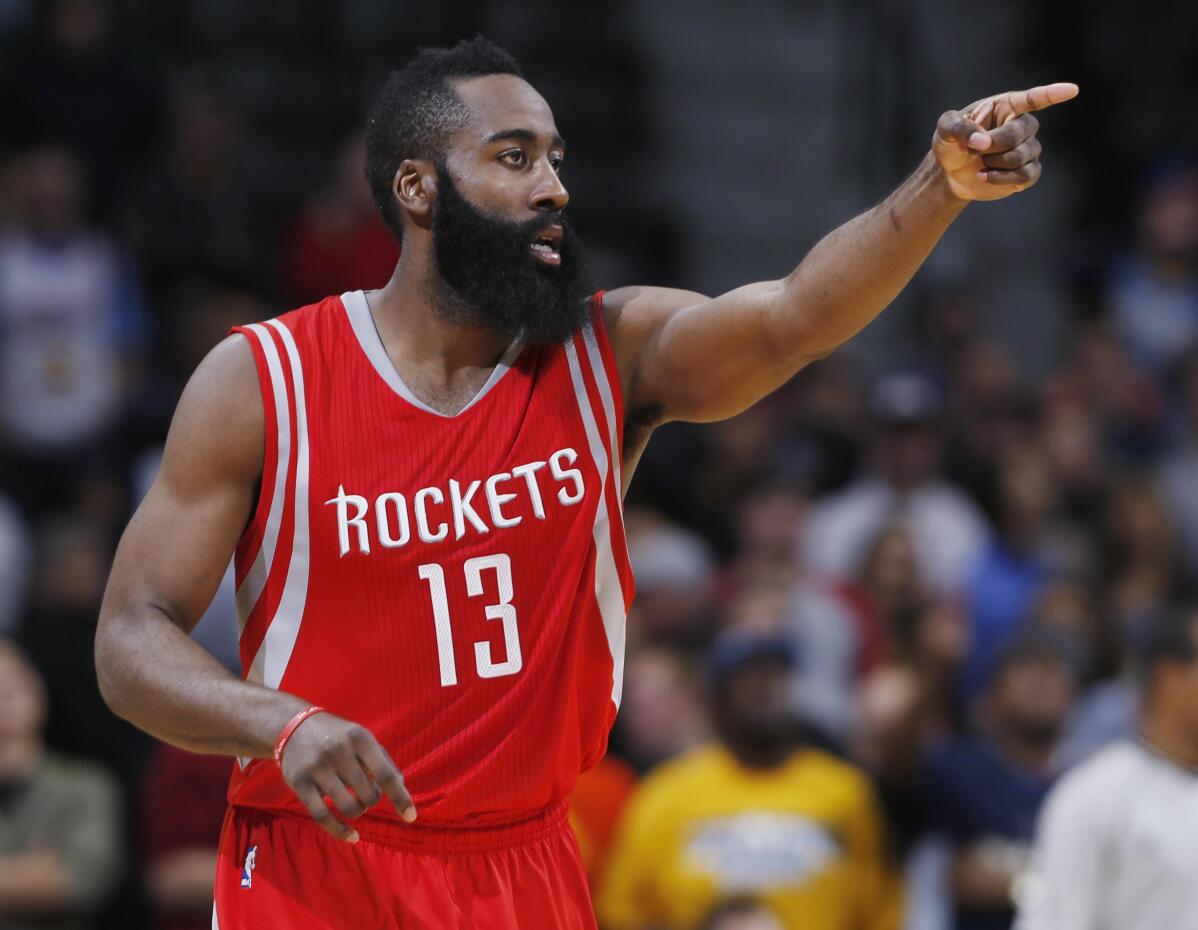 2 of 11

|
Houston Rockets guard James Harden celebrates after scoring a basket against the Denver Nuggets late in the fourth quarter overtime session of an NBA basketball game Wednesday, Dec. 17, 2014, in Denver. Houston won 115-111 in overtime. (AP Photo/David Zalubowski)
2 of 11
Houston Rockets guard James Harden celebrates after scoring a basket against the Denver Nuggets late in the fourth quarter overtime session of an NBA basketball game Wednesday, Dec. 17, 2014, in Denver. Houston won 115-111 in overtime. (AP Photo/David Zalubowski)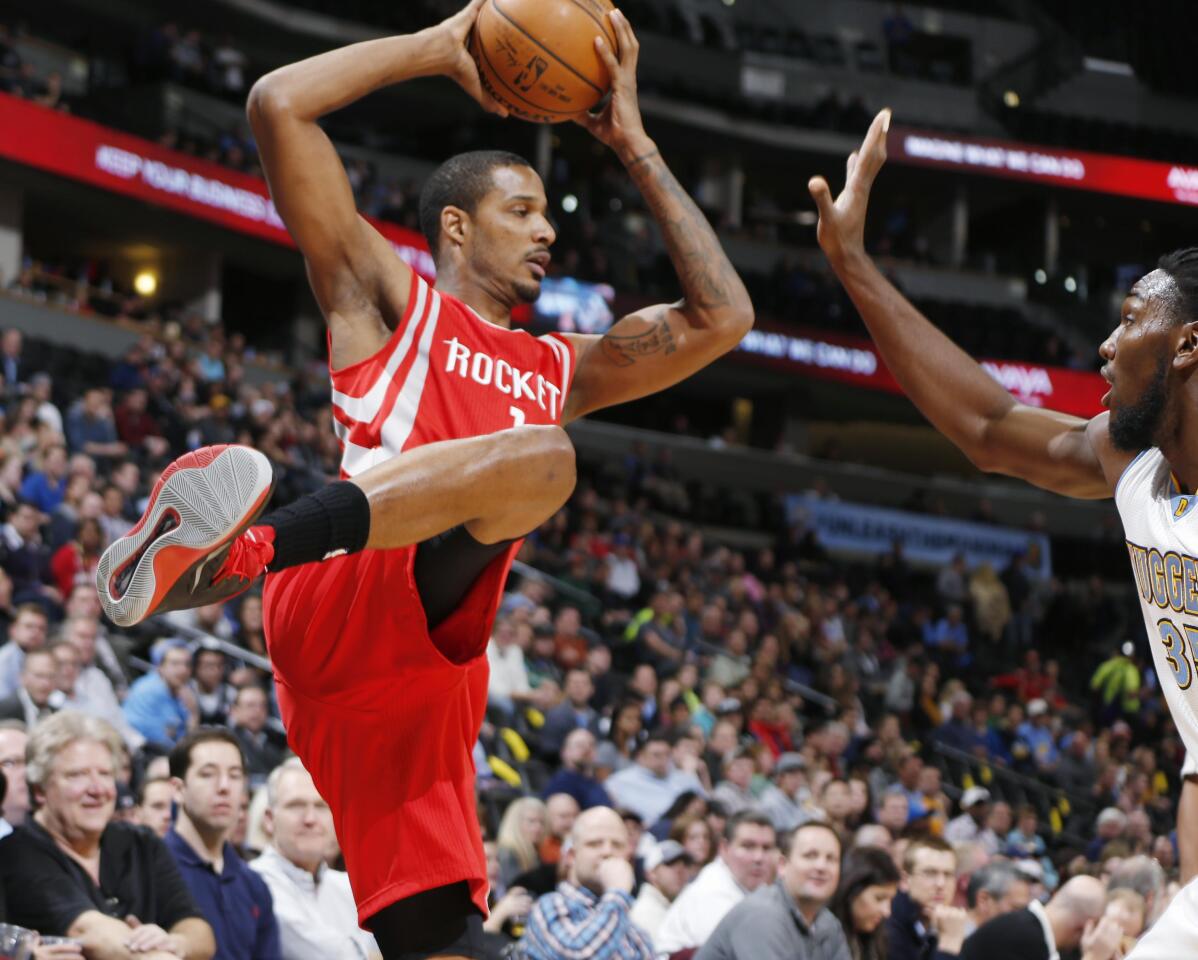 3 of 11

|
Houston Rockets forward Trevor Ariza, left, pulls in a loose ball as Denver Nuggets forward Kenneth Faried watches during the first quarter of an NBA basketball game Wednesday, Dec. 17, 2014, in Denver. (AP Photo/David Zalubowski)
3 of 11
Houston Rockets forward Trevor Ariza, left, pulls in a loose ball as Denver Nuggets forward Kenneth Faried watches during the first quarter of an NBA basketball game Wednesday, Dec. 17, 2014, in Denver. (AP Photo/David Zalubowski)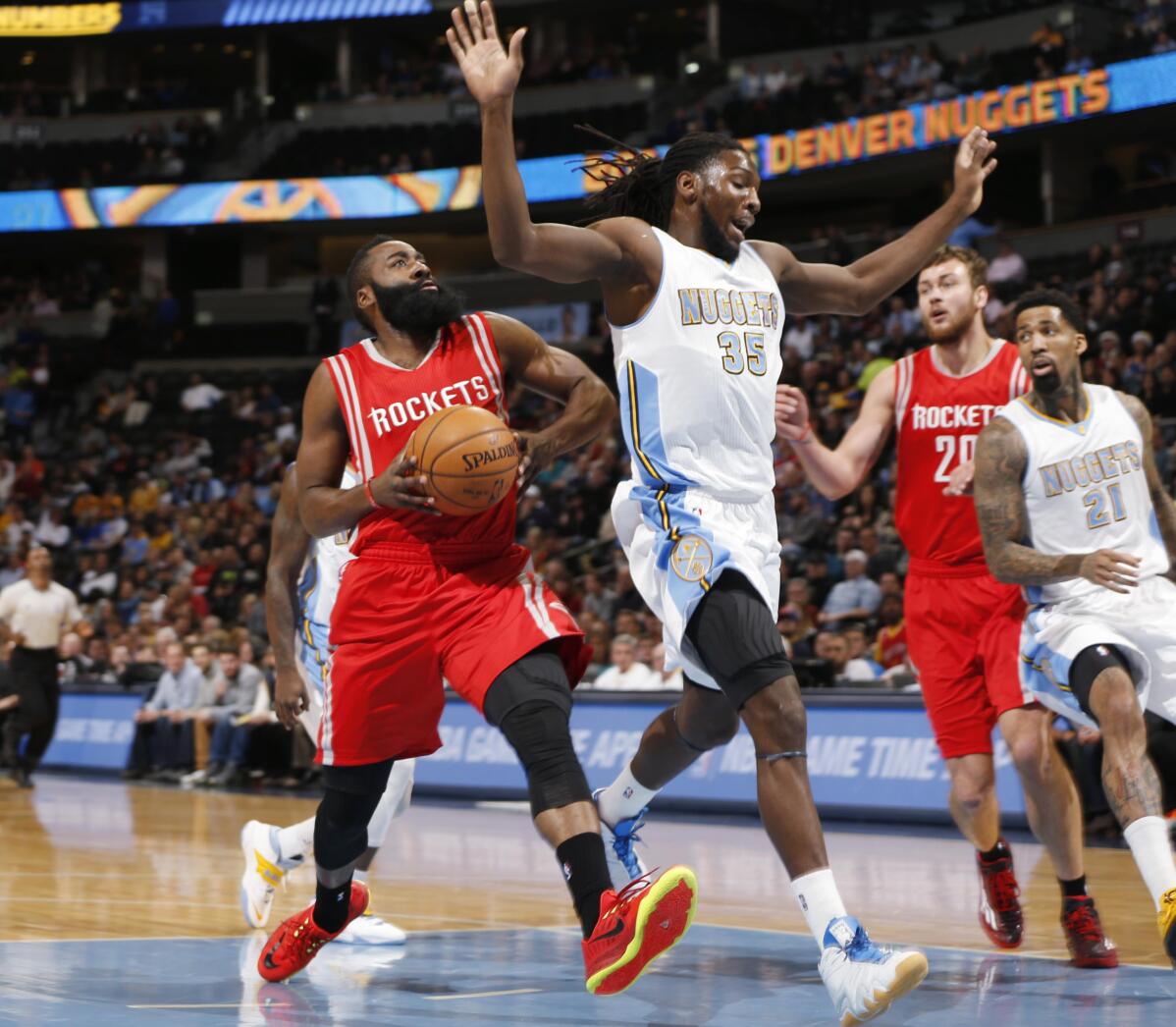 4 of 11

|
From left, Houston Rockets guard James Harden drives for a shot past Denver Nuggets forward Kenneth Faried as Rockets forward Donatas Motiejunas, of Lithuania, and Nuggets forward Wilson Chandler watch during the first quarter of an NBA basketball game on Wednesday, Dec. 17, 2014, in Denver. (AP Photo/David Zalubowski)
4 of 11
From left, Houston Rockets guard James Harden drives for a shot past Denver Nuggets forward Kenneth Faried as Rockets forward Donatas Motiejunas, of Lithuania, and Nuggets forward Wilson Chandler watch during the first quarter of an NBA basketball game on Wednesday, Dec. 17, 2014, in Denver. (AP Photo/David Zalubowski)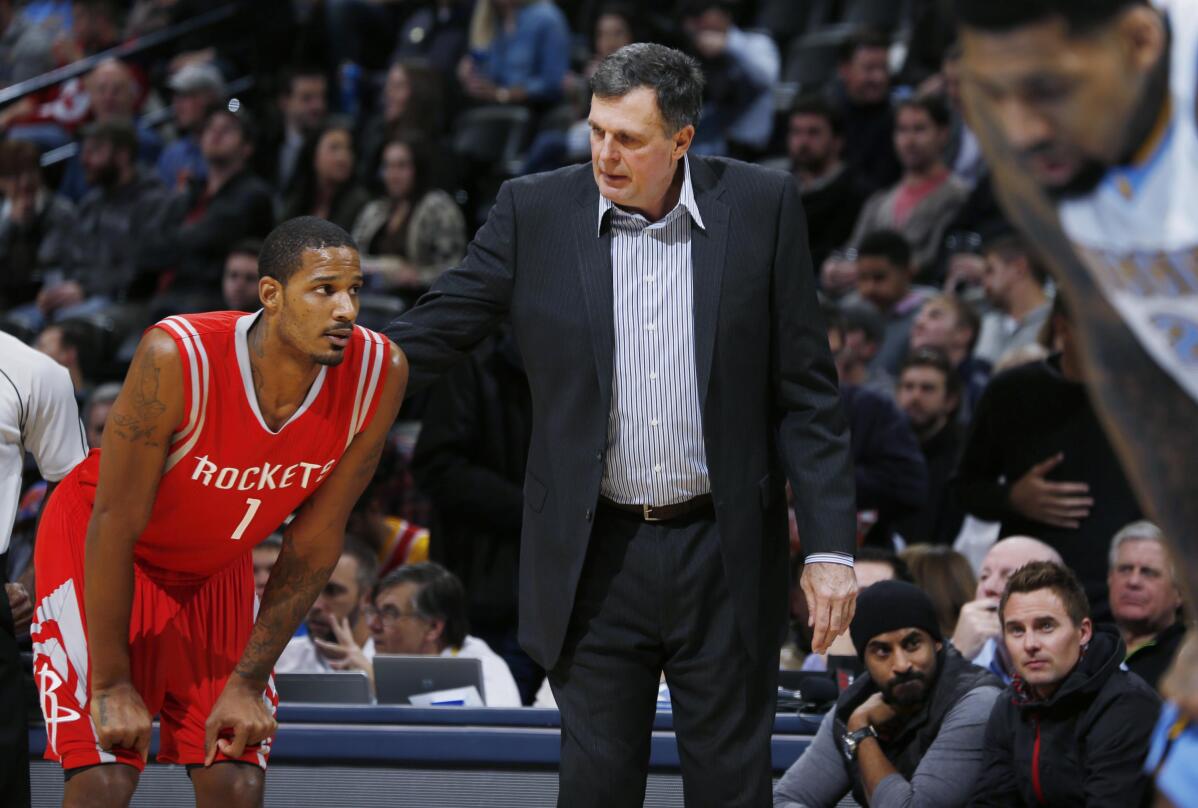 5 of 11

|
Houston Rockets coach Kevin McHale confers with forward Trevor Ariza during break in the first quarter of an NBA basketball game against the Denver Nuggets on Wednesday, Dec. 17, 2014, in Denver. (AP Photo/David Zalubowski)
5 of 11
Houston Rockets coach Kevin McHale confers with forward Trevor Ariza during break in the first quarter of an NBA basketball game against the Denver Nuggets on Wednesday, Dec. 17, 2014, in Denver. (AP Photo/David Zalubowski)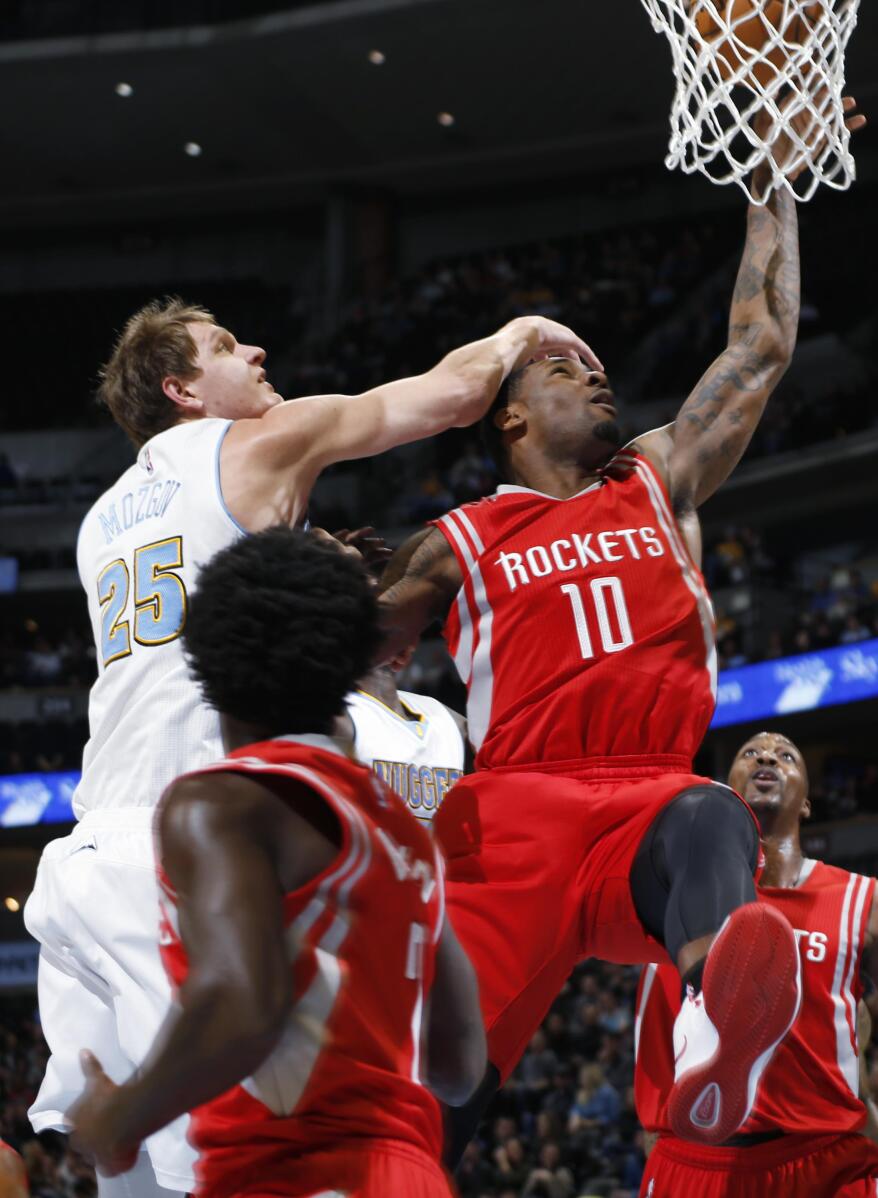 6 of 11

|
Houston Rockets center Tarik Black, right, takes a hand to the head as he drives for a shot past Denver Nuggets center Timofey Mozgov, of Russia, during the first quarter of an NBA basketball game Wednesday, Dec. 17, 2014, in Denver. (AP Photo/David Zalubowski)
6 of 11
Houston Rockets center Tarik Black, right, takes a hand to the head as he drives for a shot past Denver Nuggets center Timofey Mozgov, of Russia, during the first quarter of an NBA basketball game Wednesday, Dec. 17, 2014, in Denver. (AP Photo/David Zalubowski)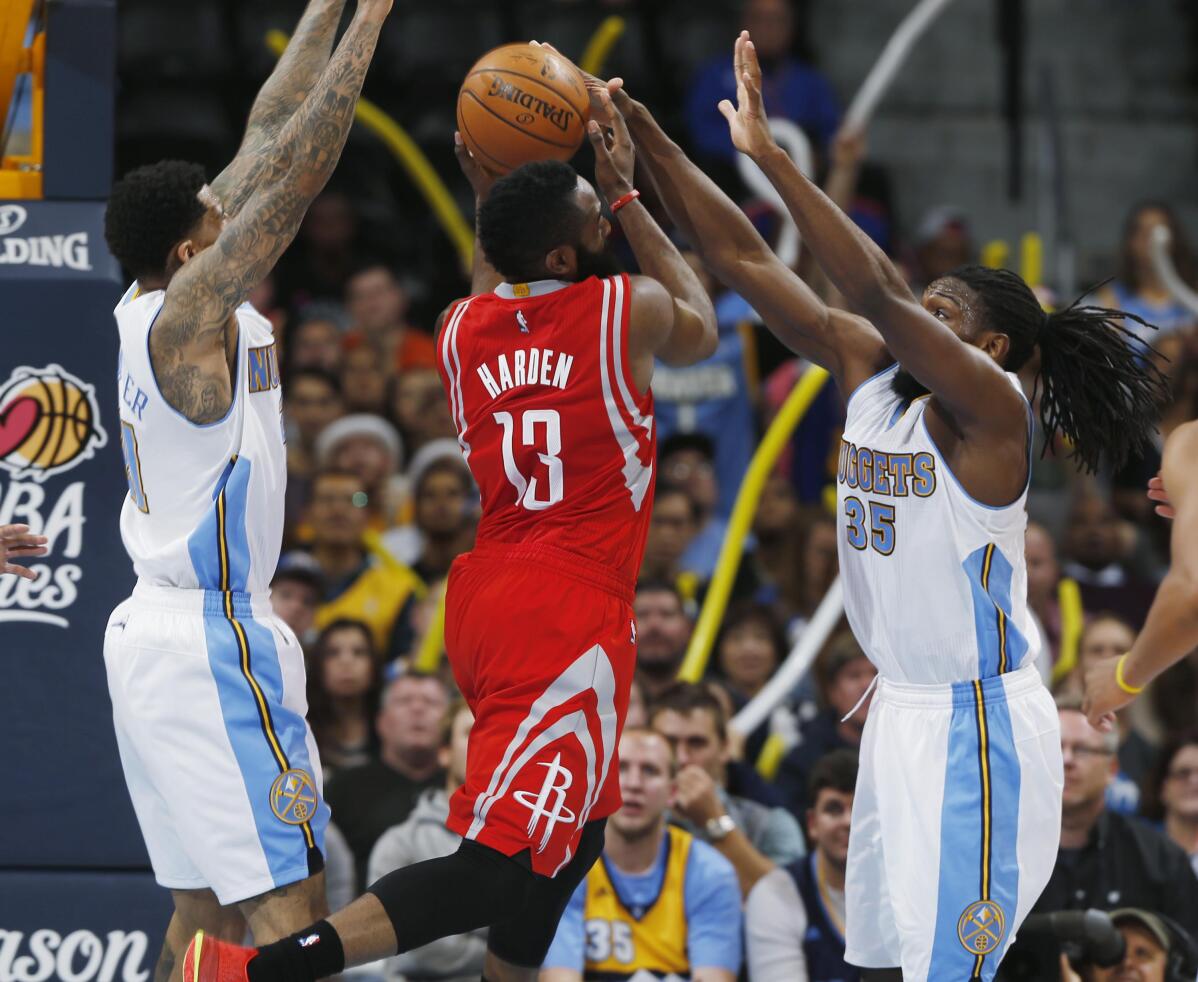 7 of 11

|
Houston Rockets guard James Harden, center, drives the lane for a shot between Denver Nuggets forwards Wilson Chandler, left, and Kenneth Faried in the fourth quarter of an NBA basketball game Wednesday, Dec. 17, 2014, in Denver. Houston won 115-111 in overtime. (AP Photo/David Zalubowski)
7 of 11
Houston Rockets guard James Harden, center, drives the lane for a shot between Denver Nuggets forwards Wilson Chandler, left, and Kenneth Faried in the fourth quarter of an NBA basketball game Wednesday, Dec. 17, 2014, in Denver. Houston won 115-111 in overtime. (AP Photo/David Zalubowski)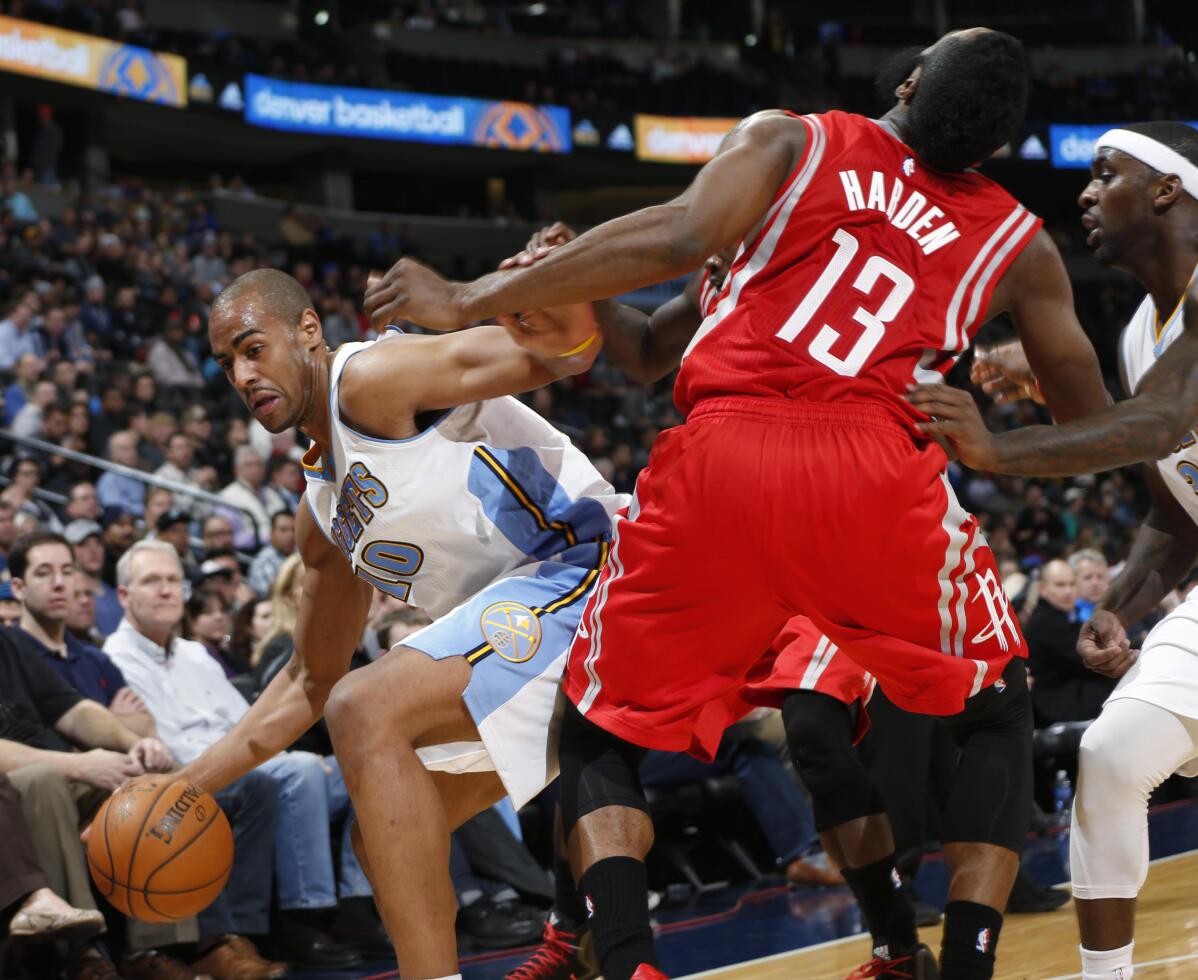 8 of 11

|
Denver Nuggets guard Arron Afflalo, left, uses his left arm to check Houston Rockets guard James Harden as Nuggets guard Ty Lawson looks on in the third quarter of an NBA basketball game Wednesday, Dec. 17, 2014, in Denver. Houston won 115-111 in overtime. (AP Photo/David Zalubowski)
8 of 11
Denver Nuggets guard Arron Afflalo, left, uses his left arm to check Houston Rockets guard James Harden as Nuggets guard Ty Lawson looks on in the third quarter of an NBA basketball game Wednesday, Dec. 17, 2014, in Denver. Houston won 115-111 in overtime. (AP Photo/David Zalubowski)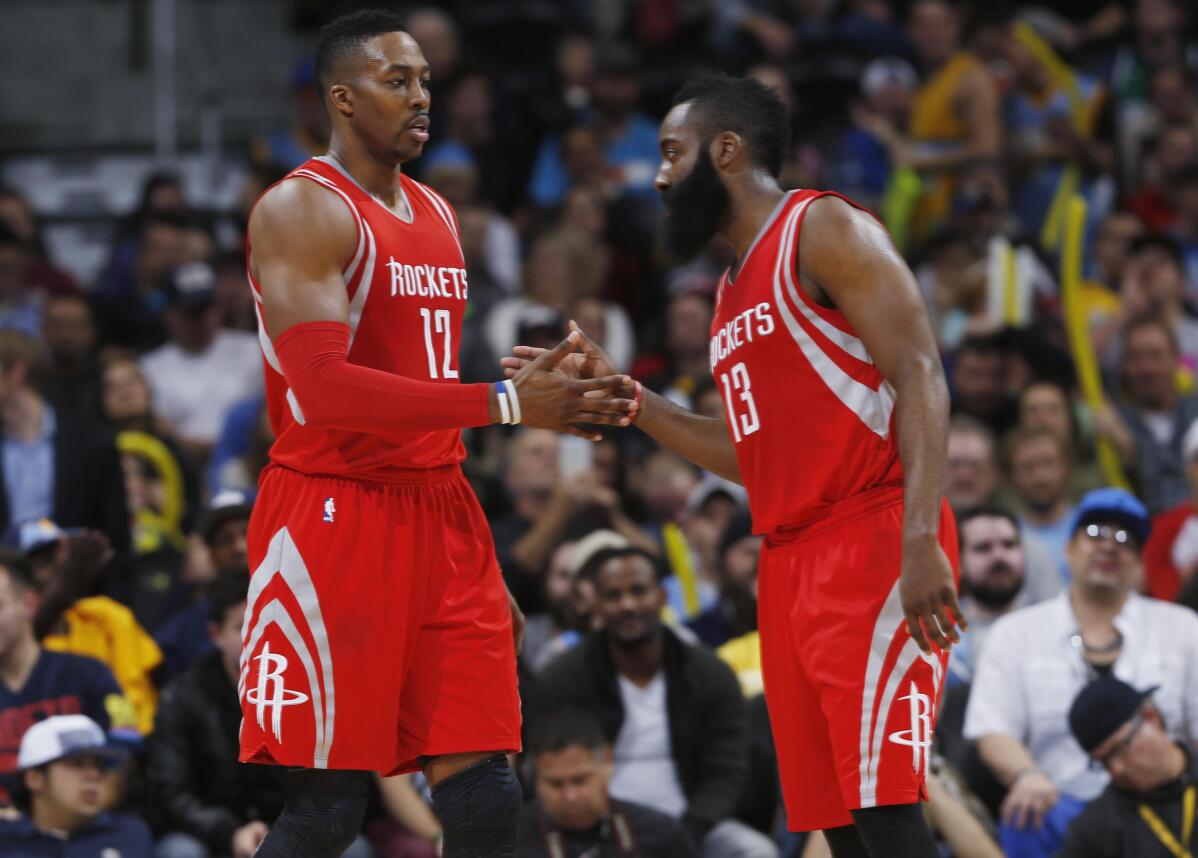 9 of 11

|
Houston Rockets center Dwight Howard, left, is congratulated after drawing a foul by guard James Harden while facing the Denver Nuggets in the fourth quarter of an NBA basketball game Wednesday, Dec. 17, 2014, in Denver. Houston won 115-111 in overtime. (AP Photo/David Zalubowski)
9 of 11
Houston Rockets center Dwight Howard, left, is congratulated after drawing a foul by guard James Harden while facing the Denver Nuggets in the fourth quarter of an NBA basketball game Wednesday, Dec. 17, 2014, in Denver. Houston won 115-111 in overtime. (AP Photo/David Zalubowski)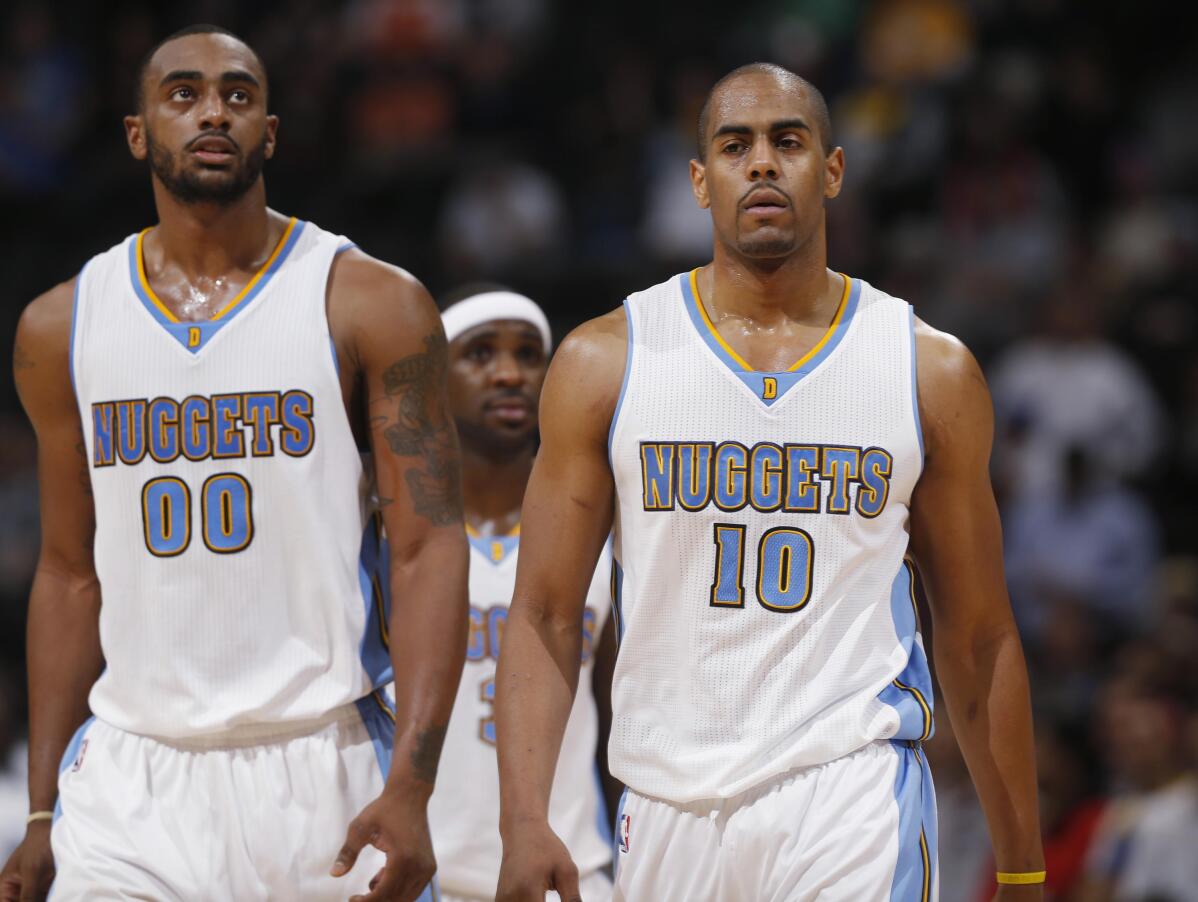 10 of 11

|
From left, Denver Nuggets forward Darrell Arthur and guards Ty Lawson and Arron Afflalo look on as time runs out against the Houston Rockets in the overtime session of an NBA basketball game Wednesday, Dec. 17, 2014, in Denver. Houston won 115-111 in overtime. (AP Photo/David Zalubowski)
10 of 11
From left, Denver Nuggets forward Darrell Arthur and guards Ty Lawson and Arron Afflalo look on as time runs out against the Houston Rockets in the overtime session of an NBA basketball game Wednesday, Dec. 17, 2014, in Denver. Houston won 115-111 in overtime. (AP Photo/David Zalubowski)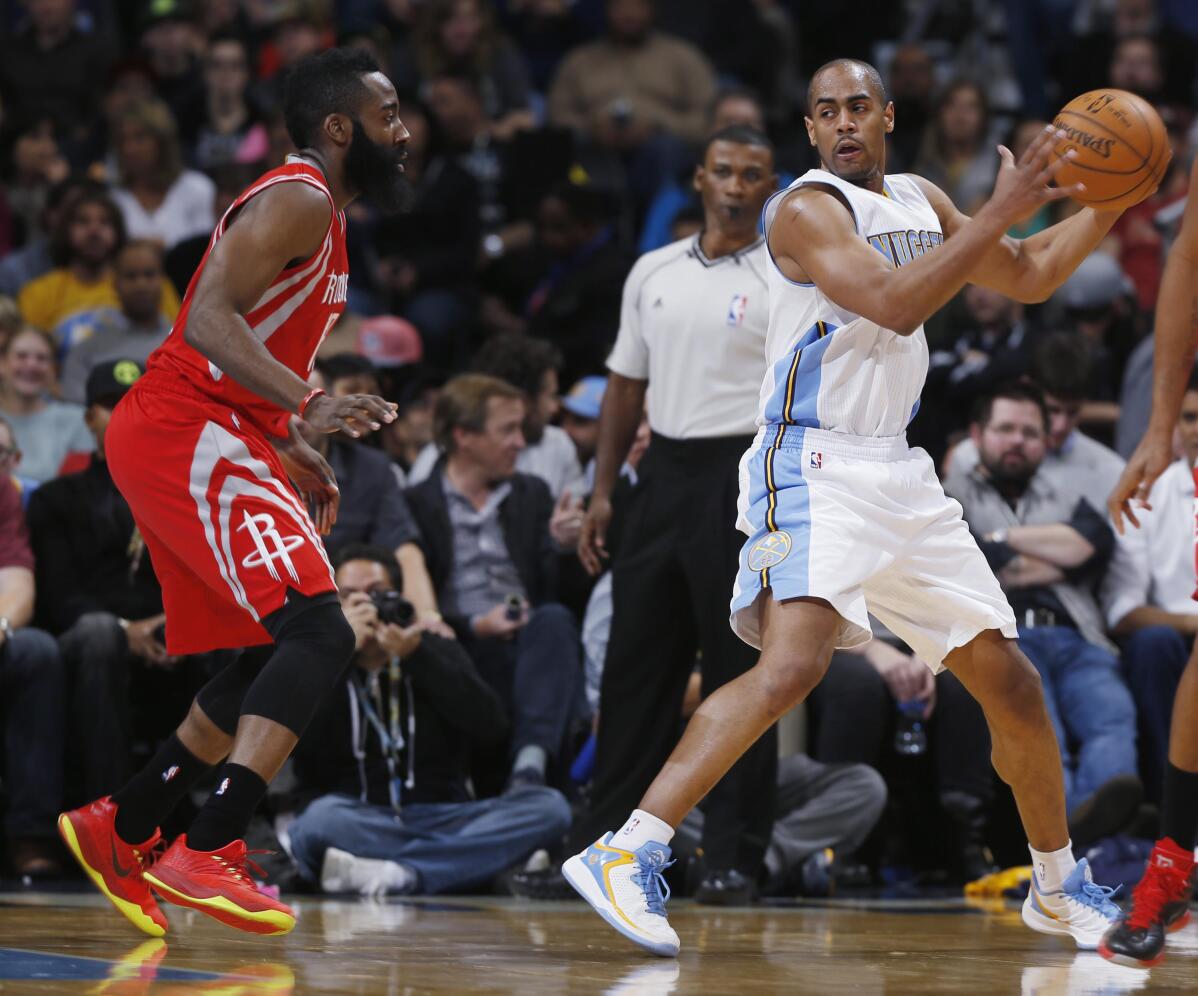 11 of 11

|
Denver Nuggets guard Arron Afflalo, right, reaches out to pull in a pass as Houston Rockets guard James Harden defend during the first quarter of an NBA basketball game Wednesday, Dec. 17, 2014, in Denver. (AP Photo/David Zalubowski)
11 of 11
Denver Nuggets guard Arron Afflalo, right, reaches out to pull in a pass as Houston Rockets guard James Harden defend during the first quarter of an NBA basketball game Wednesday, Dec. 17, 2014, in Denver. (AP Photo/David Zalubowski)
DENVER (AP) — James Harden couldn't quite fight his way through traffic and just barely missed getting his hand in the face of Arron Afflalo as the Nuggets swingman knocked down a buzzer-beating 3-pointer to end regulation.
No big deal, though. Harden more than atoned in overtime.
Harden scored eight of his 41 points in the extra period, and the Houston Rockets beat Denver 115-111 on Wednesday night after Afflalo's late theatrics sent the crowd into a frenzy.
Just Harden being Harden.
"When he's in attack mode, nobody can guard him," Dwight Howard said. "He played amazing. Hit some tough shots."
Harden was far from alone. Patrick Beverley sealed Houston's seventh win in eight games by hitting four straight free throws in the final 17.8 seconds.
"This team doesn't give up. We're resilient," said Harden, who was 18 of 21 at the free throw line and had 10 assists. "We've been that way all year."
Howard had 24 points and 16 rebounds despite a strained right knee that had him questionable for the game.
Wilson Chandler scored 23 points and Ty Lawson dished out 16 assists for the struggling Nuggets, who've dropped seven of their last eight.
"We didn't win the game, but I commend our guys," Nuggets coach Brian Shaw said. "I'm proud of the guys and the way they played, so these kinds of losses, I can stomach a little bit better."
After sending the game to OT, Afflalo had a chance to come up big again with 24 seconds remaining and his team trailing 109-107, but he hit just one of two free throws. He later knocked down a 3-pointer to keep the Nuggets close, only to have Beverley drain two free throws.
"Heck of a game," said Rockets coach Kevin McHale, whose team trailed by as many as 16 points in the first half. "Our guys just kept battling away."
Harden's 3-pointer with 10.4 seconds left in regulation gave the Rockets a 98-96 lead. He then stole a pass from Kenneth Faried and was immediately fouled, sending him to the line with a chance to wrap up the win. But Harden made just one of two free throws, giving the Nuggets time for one last chance.
Lawson dribbled up the floor and scooped it over to Afflalo, who made a deep 3-pointer at the buzzer with Harden nearly in his face to tie it at 99.
"It's basketball. People are going to hit tough shots," Howard said. "Luckily, we had a chance to redeem ourselves and get a win."
Houston beat Denver last Saturday, with Harden recording a triple-double — 24 points, 10 rebound and 10 assists.
He torched the Nuggets for three quarters Wednesday, but was held quiet in the fourth until his late 3-pointer, his only one of the game.
Jason Terry didn't make the trip to Denver. Instead, he headed for Dallas to be with his wife, who is expecting the couple's fifth child.
Faried (strained ankle) and Danilo Gallinari (bruised knee) were back on the floor after being hobbled by ailments. They also were energized after conversations with Shaw. Both players voiced their frustration over their recent roles and Shaw listened.
They responded, too, as Faried had 11 points and 11 boards, while Gallinari scored 16 points.
"It was definitely a good game for me, but we didn't win," Gallinari said. "I'm not happy, but onto the next one."
TIP-INS
Rockets: Francisco Garcia (calf, strained Achilles) and Terrence Jones (left leg nerve inflammation) didn't play. ... McHale has become a mentor for Shaw, with the two talking every so often about their two favorite subjects — hoops and fishing. "I wish him all the luck in the world, except when we're playing him," McHale said.
Nuggets: Of his meetings with Faried and Gallinari over their roles, Shaw said, "We tried to find a common ground and go from there." ... The Nuggets have played more overtime games against Houston (14) than any other team.
BULLIED AROUND
Howard ate up Timofey Mozgov, Faried and J.J. Hickson on the inside, but struggled when rookie Jusuf Nurkic covered him. Nurkic outweighs Howard by 15 pounds and bumped him around. Nurkic picked up his fifth foul early in the fourth quarter and had to sit on the bench.
UP NEXT
Rockets: Host New Orleans on Thursday.
Nuggets: Host the Los Angeles Clippers on Friday.