AP Explains: Why North Carolina is vulnerable to hurricanes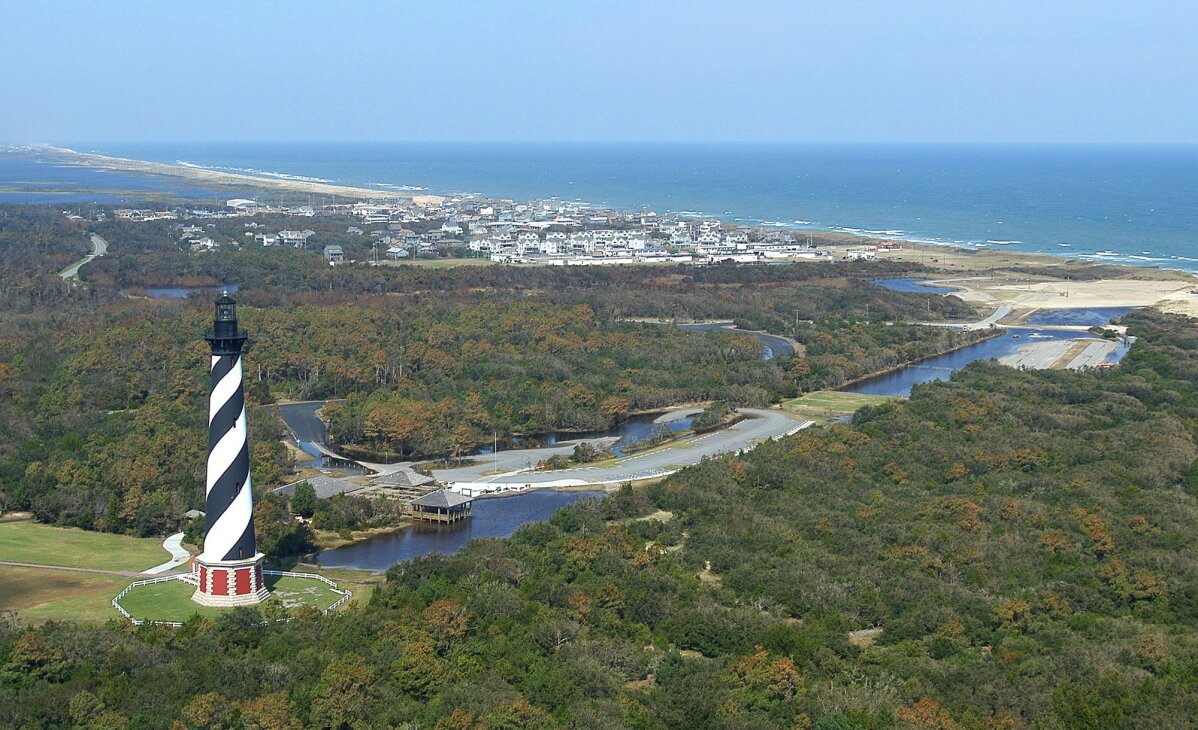 1 of 5

|
FILE - This 2003, file photo, shows the Cape Hatteras Lighthouse overlooking the Atlantic Ocean and the village of Buxton, N.C. Hurricane Florence has become a reminder of how vulnerable North Carolina's coast is. Experts said Tuesday, Sept. 11, 2018, that the storm could be the state's most destructive on record. (AP Photo/Joshua Corsa, File)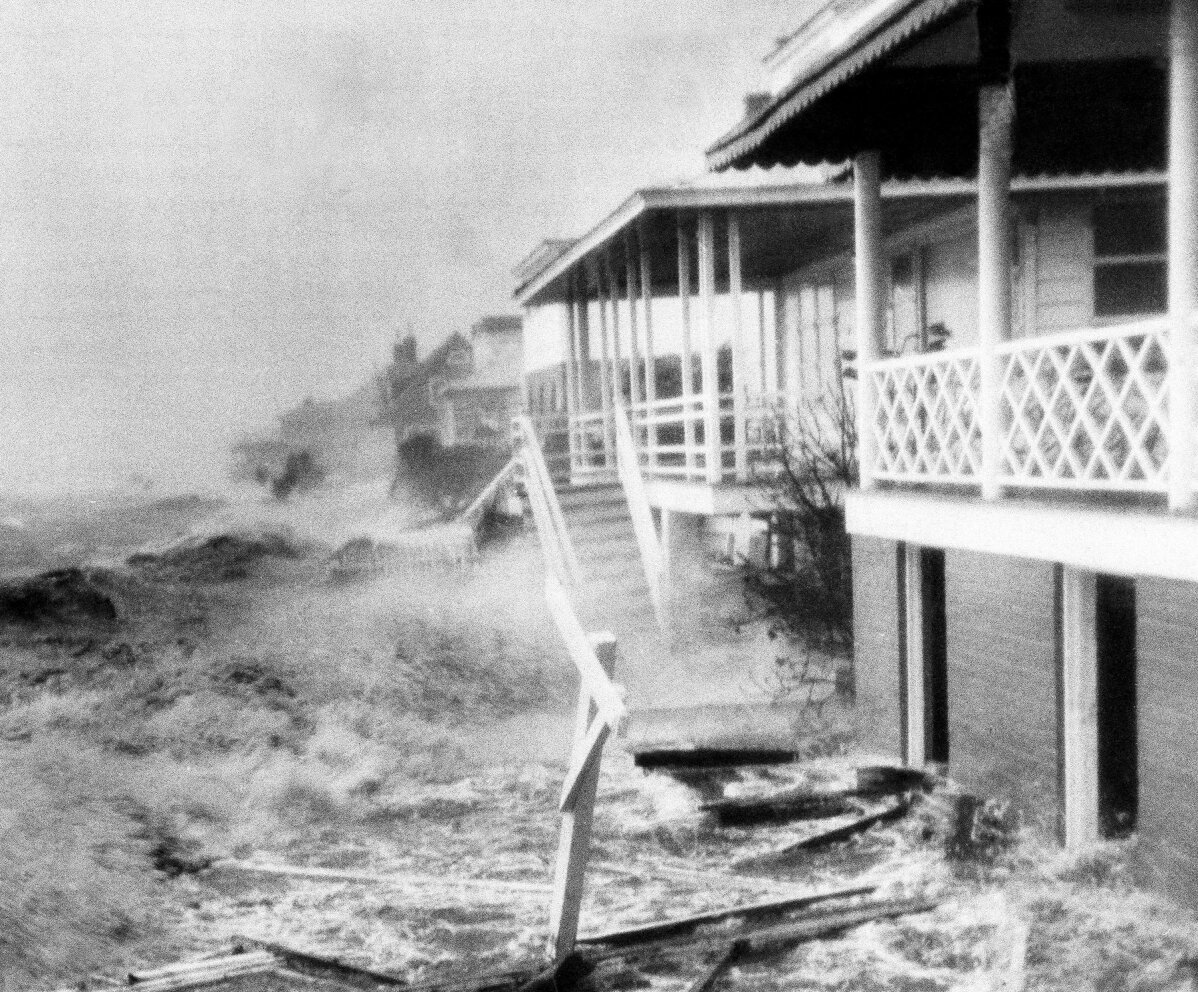 2 of 5

|
FILE-In this Oct. 15, 1954 file photo, Hurricane Hazel destruction is seen in Morehead City, N.C. The last time the midsection of the East Coast stared down a hurricane like Florence, Dwight Eisenhower was in the White House and Marilyn Monroe and Joe DiMaggio were newlyweds. Florence could inflict the hardest hurricane punch the Carolinas have seen in more than 60 years, with rain and wind of more than 130 mph (209 kph). (AP Photo/Clifton Guthrie, File)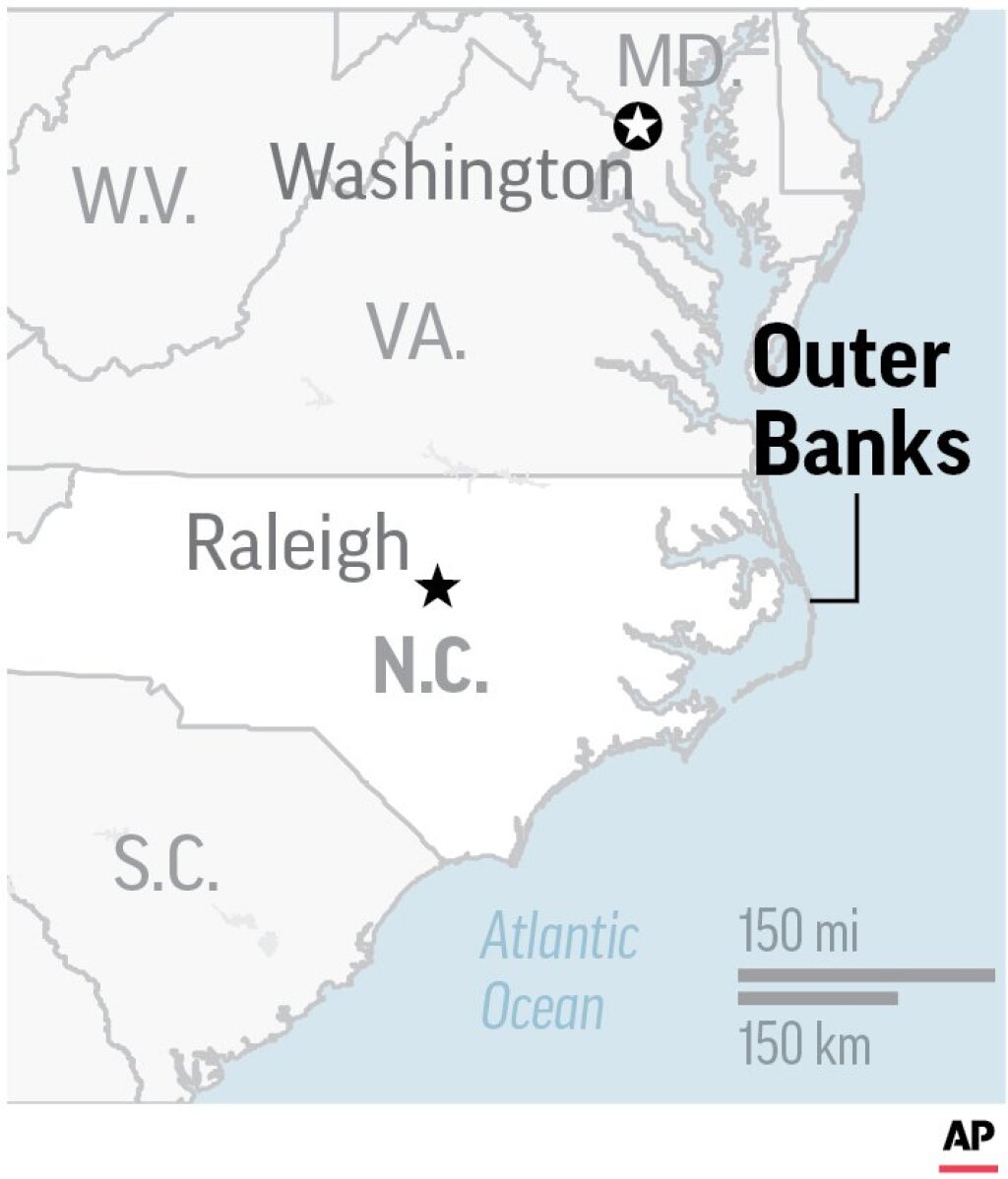 3 of 5

|
Map locates the Outer Banks, N.C.; 1c x 2 inches; 46.5 mm x 50 mm;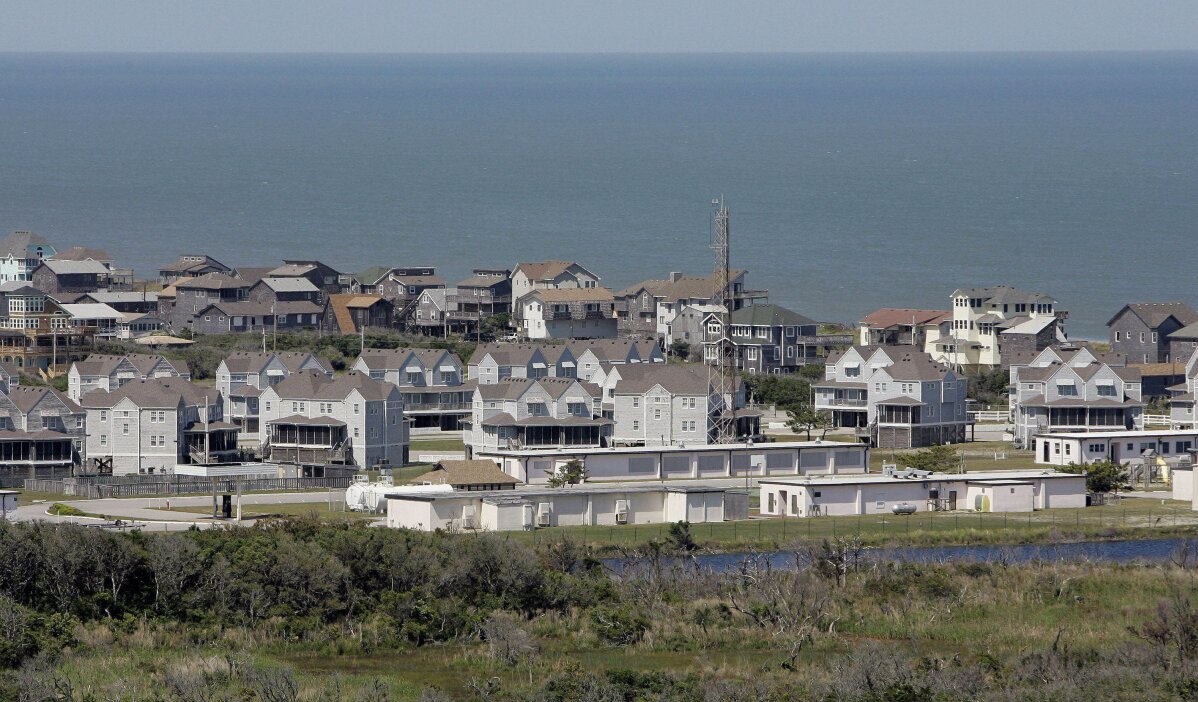 4 of 5

|
FILE - In this May 15, 2007, file photo, summer vacation and rental properties sit vulnerable beside the ocean, in Buxton N.C. Hurricane Florence has become a reminder of how vulnerable North Carolina's coast is. Experts said Tuesday, Sept. 11, 2018, that the storm could be the state's most destructive on record. (AP Photo/Gerry Broome, File)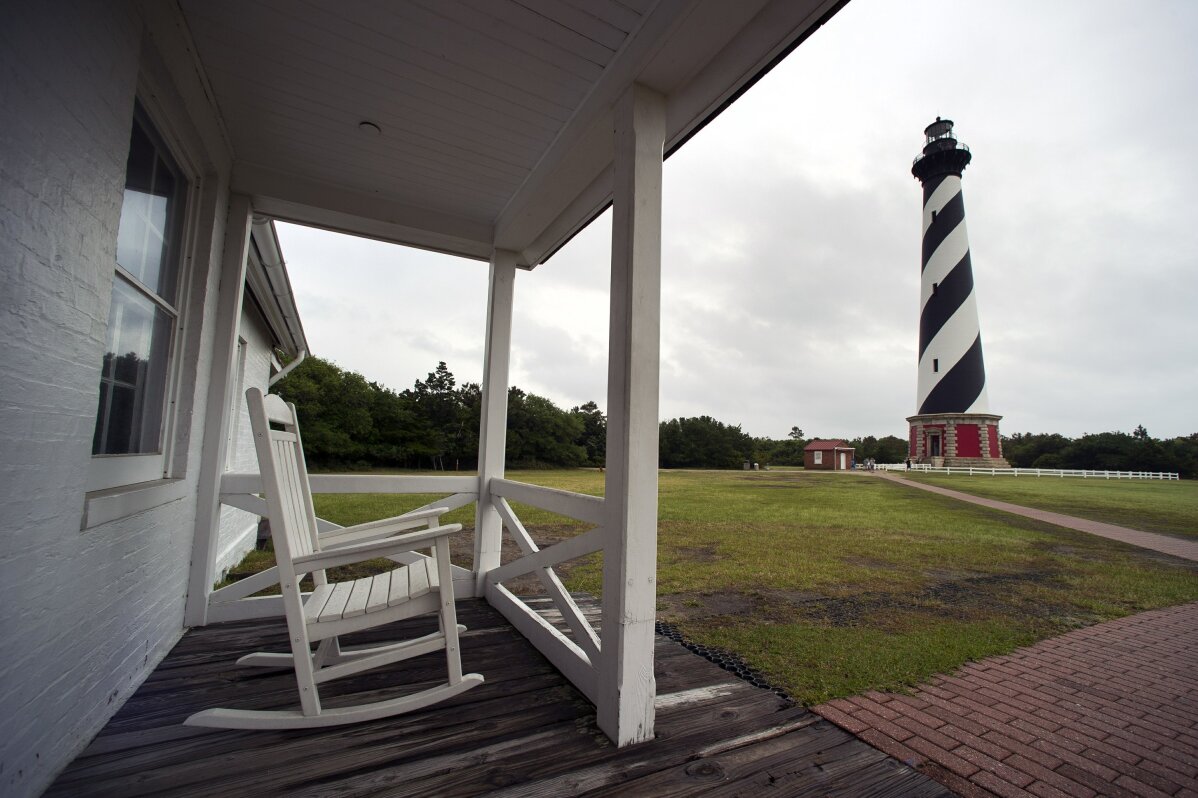 5 of 5

|
FILE - In this May 10, 2015, file photo, the Cape Hatteras Lighthouse is seen from the porch of the light keepers house in Buxton, N.C. Hurricane Florence has become a reminder of how vulnerable North Carolina's coast is. Experts said Tuesday, Sept. 11, 2018, that the storm could be the state's most destructive on record. (AP Photo/Cliff Owen, File)
AP Explains: Why North Carolina is vulnerable to hurricanes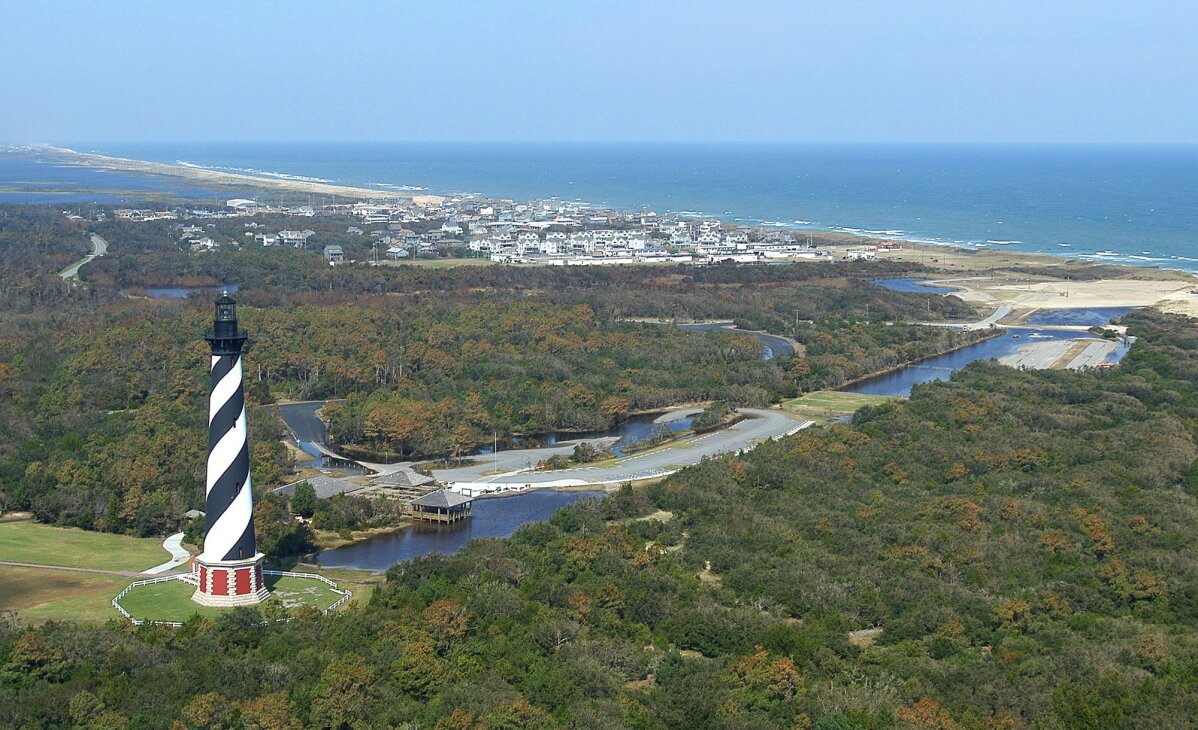 1 of 5

|
FILE - This 2003, file photo, shows the Cape Hatteras Lighthouse overlooking the Atlantic Ocean and the village of Buxton, N.C. Hurricane Florence has become a reminder of how vulnerable North Carolina's coast is. Experts said Tuesday, Sept. 11, 2018, that the storm could be the state's most destructive on record. (AP Photo/Joshua Corsa, File)
1 of 5
FILE - This 2003, file photo, shows the Cape Hatteras Lighthouse overlooking the Atlantic Ocean and the village of Buxton, N.C. Hurricane Florence has become a reminder of how vulnerable North Carolina's coast is. Experts said Tuesday, Sept. 11, 2018, that the storm could be the state's most destructive on record. (AP Photo/Joshua Corsa, File)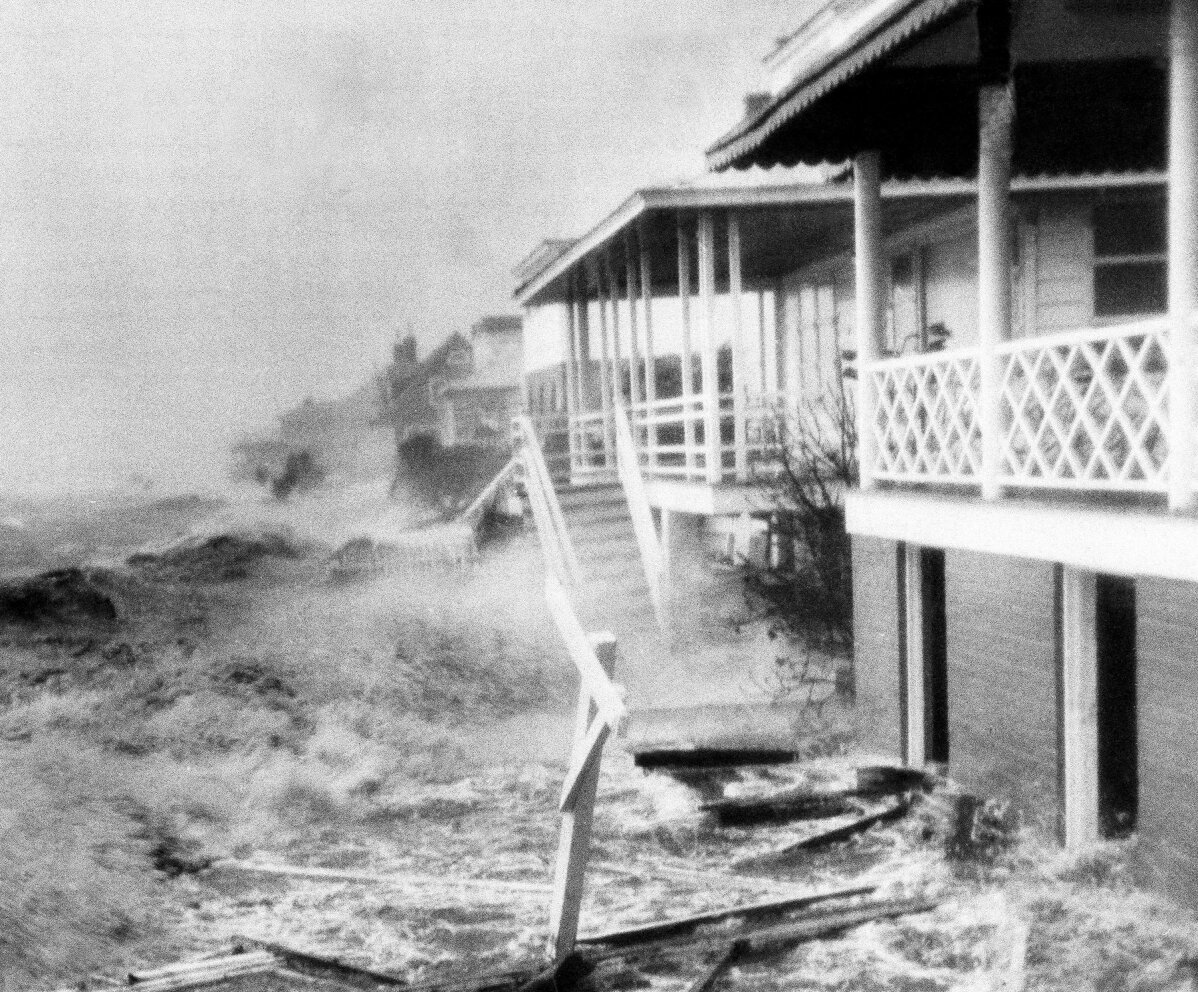 2 of 5

|
FILE-In this Oct. 15, 1954 file photo, Hurricane Hazel destruction is seen in Morehead City, N.C. The last time the midsection of the East Coast stared down a hurricane like Florence, Dwight Eisenhower was in the White House and Marilyn Monroe and Joe DiMaggio were newlyweds. Florence could inflict the hardest hurricane punch the Carolinas have seen in more than 60 years, with rain and wind of more than 130 mph (209 kph). (AP Photo/Clifton Guthrie, File)
2 of 5
FILE-In this Oct. 15, 1954 file photo, Hurricane Hazel destruction is seen in Morehead City, N.C. The last time the midsection of the East Coast stared down a hurricane like Florence, Dwight Eisenhower was in the White House and Marilyn Monroe and Joe DiMaggio were newlyweds. Florence could inflict the hardest hurricane punch the Carolinas have seen in more than 60 years, with rain and wind of more than 130 mph (209 kph). (AP Photo/Clifton Guthrie, File)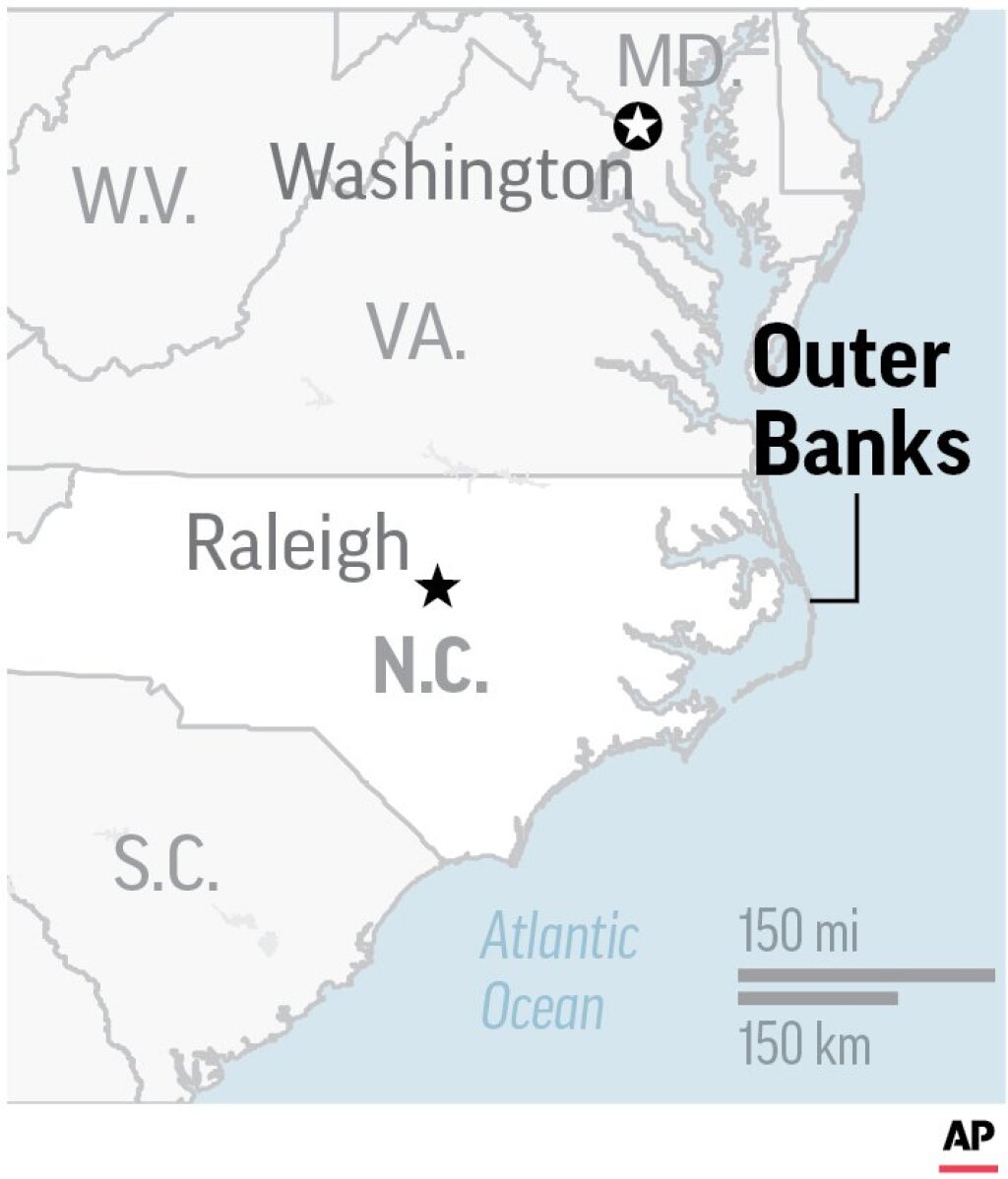 3 of 5

|
Map locates the Outer Banks, N.C.; 1c x 2 inches; 46.5 mm x 50 mm;
3 of 5
Map locates the Outer Banks, N.C.; 1c x 2 inches; 46.5 mm x 50 mm;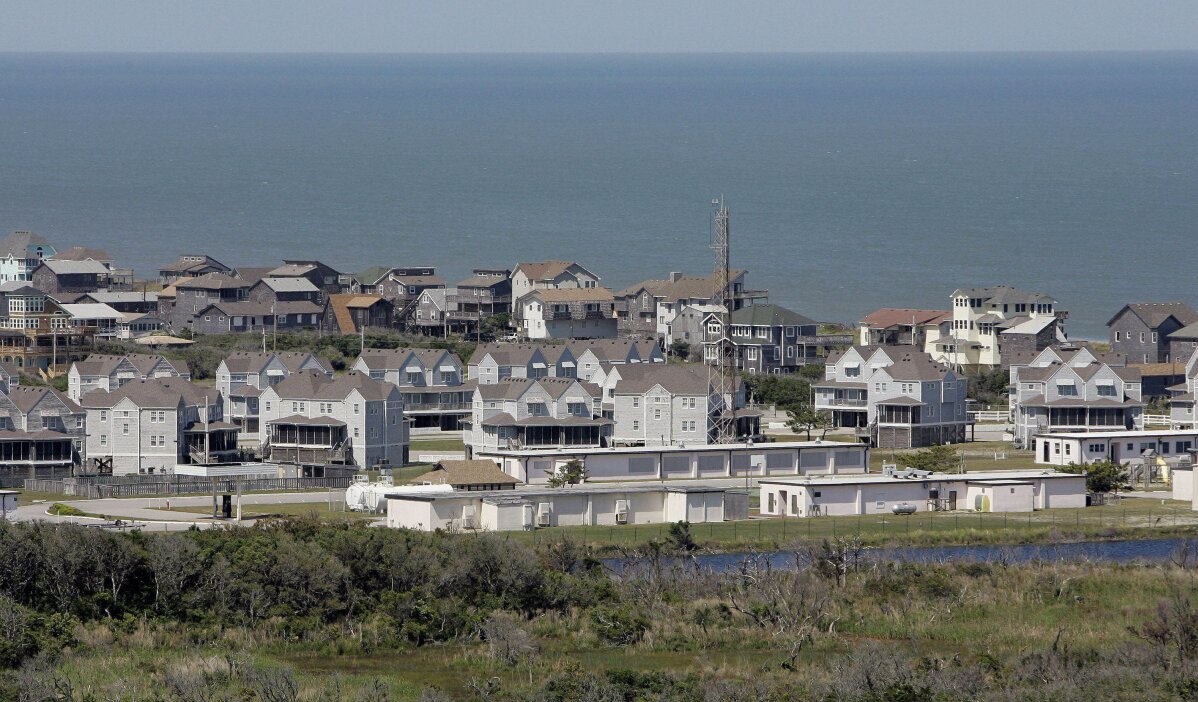 4 of 5

|
FILE - In this May 15, 2007, file photo, summer vacation and rental properties sit vulnerable beside the ocean, in Buxton N.C. Hurricane Florence has become a reminder of how vulnerable North Carolina's coast is. Experts said Tuesday, Sept. 11, 2018, that the storm could be the state's most destructive on record. (AP Photo/Gerry Broome, File)
4 of 5
FILE - In this May 15, 2007, file photo, summer vacation and rental properties sit vulnerable beside the ocean, in Buxton N.C. Hurricane Florence has become a reminder of how vulnerable North Carolina's coast is. Experts said Tuesday, Sept. 11, 2018, that the storm could be the state's most destructive on record. (AP Photo/Gerry Broome, File)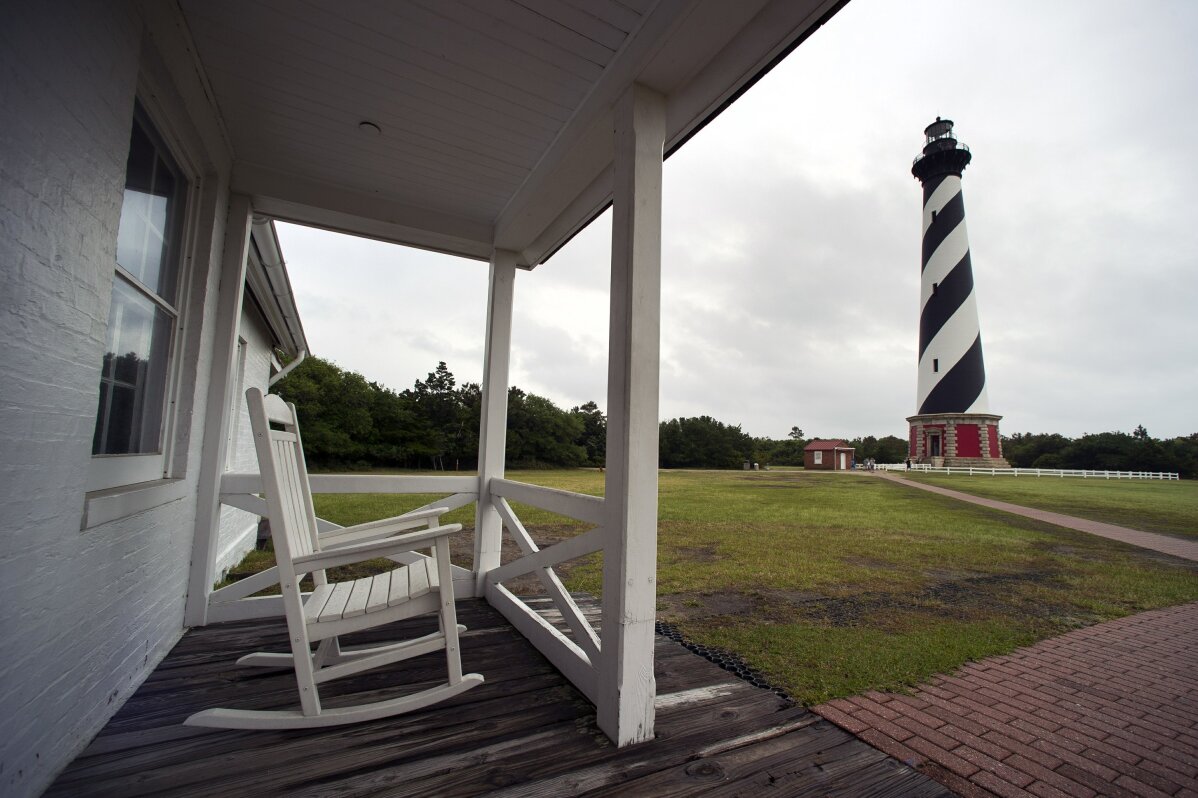 5 of 5

|
FILE - In this May 10, 2015, file photo, the Cape Hatteras Lighthouse is seen from the porch of the light keepers house in Buxton, N.C. Hurricane Florence has become a reminder of how vulnerable North Carolina's coast is. Experts said Tuesday, Sept. 11, 2018, that the storm could be the state's most destructive on record. (AP Photo/Cliff Owen, File)
5 of 5
FILE - In this May 10, 2015, file photo, the Cape Hatteras Lighthouse is seen from the porch of the light keepers house in Buxton, N.C. Hurricane Florence has become a reminder of how vulnerable North Carolina's coast is. Experts said Tuesday, Sept. 11, 2018, that the storm could be the state's most destructive on record. (AP Photo/Cliff Owen, File)
As Hurricane Florence churns toward the East Coast with catastrophic power, the storm has become a reminder of how vulnerable North Carolina's coast is.
Vast amounts of new development now stand on the shifting sands of barrier islands there, amid the rising waters of climate change.
Except for a few short stretches, the state is flanked almost entirely by those islands, which are susceptible to flooding and storm surges. Climate change and development are only making matters worse. North Carolina's governor has ordered a mandatory evacuation for the barrier islands.
Here's a look at why North Carolina could be particularly hit hard and how climate change and development have made living on the coast even more risky.
WHY IS NORTH CAROLINA SO VULNERABLE?
North Carolina's coast is almost entirely made up of narrow, low-lying barrier islands. And a modern wave of tourist-driven development, including acres of pricey vacation homes, has been built in places where it probably should not have been.
The Outer Banks stretch along the northern half of the state's coast and jut out into the Atlantic. But barrier islands also flank much of the lower part of the state. These islands are particularly vulnerable to storm surges and to being washed over from both sides.
Development only makes the problem worse because communities replenish shorelines that are eroding or have been depleted by storms. As sea levels rise, barrier islands typically move toward the mainland over long periods of time. Holding them in place by artificial means only makes them more vulnerable.
"You look out there and you think the shoreline is a fixed line in the sand, and it's not," said Laura J. Moore, an associate professor of geology at the University of North Carolina-Chapel Hill.
"The sea level is rising and the shoreline needs to move with it," she said. "By preventing islands from moving, we're ultimately leading to the diminishment and loss of the islands."
WHAT COULD HAPPEN?
Florence could be the most destructive storm to hit North Carolina's coast since record keeping began, said Robert S. Young, director of the Program for the Study of Developed Shorelines, which is a joint venture between Duke University and Western Carolina University.
The storm surge could surpass the one wrought by Hurricane Hazel in 1954, which was 18 feet above median sea level when it hit Sunset Beach near the South Carolina border.
On the Outer Banks, new inlets could form while others are widened and deepened. The storm likely will blow water into the Pamlico and Albemarle sounds. As Florence churns back out, the wind could blow that water back over the Outer Banks.
"We will once again kiss Highway 12 goodbye," Orrin H. Pilkey, a professor emeritus of geology at Duke University, said of the Outer Banks' main highway.
Much of the mainland in eastern North Carolina is also likely to flood from heavy rains because the terrain is so flat and the water table is so high.
But the damage likely won't be as catastrophic as Hurricane Sandy was when it hit New Jersey or other storms that have struck far more developed areas in places like Florida.
"It's not a worst-case scenario for property damage," said Young. "Many of these communities have tried to limit development. But there's still a lot of property value there. The damage still might be catastrophic on a North Carolina scale."
WHAT ROLE DOES CLIMATE CHANGE PLAY?
Climate change is making a bad situation worse.
Warmer waters increase the size and intensity of hurricanes. The storm season is longer. As sea levels rise, shorelines become more vulnerable. Water tables are higher, making coastal areas more susceptible to flooding.
"A storm like this would have been massively destructive 100 years ago, even before we had that century of rising sea levels," Young said. "And it will be significantly greater 100 years from now depending on what sea-level rise does."
Pilkey, of Duke University, said he hopes Florence offers people more motivation to retreat from North Carolina's barrier islands.
"Sooner or later we need to get out of there," he said. "We'll retreat now in a planned fashion. Or we'll retreat later in response to a catastrophe like the one that's about to happen."
For the latest on Hurricane Florence, visit www.apnews.com/tag/Hurricanes .