Too perfect? Scores of 10 are everywhere in NCAA gymnastics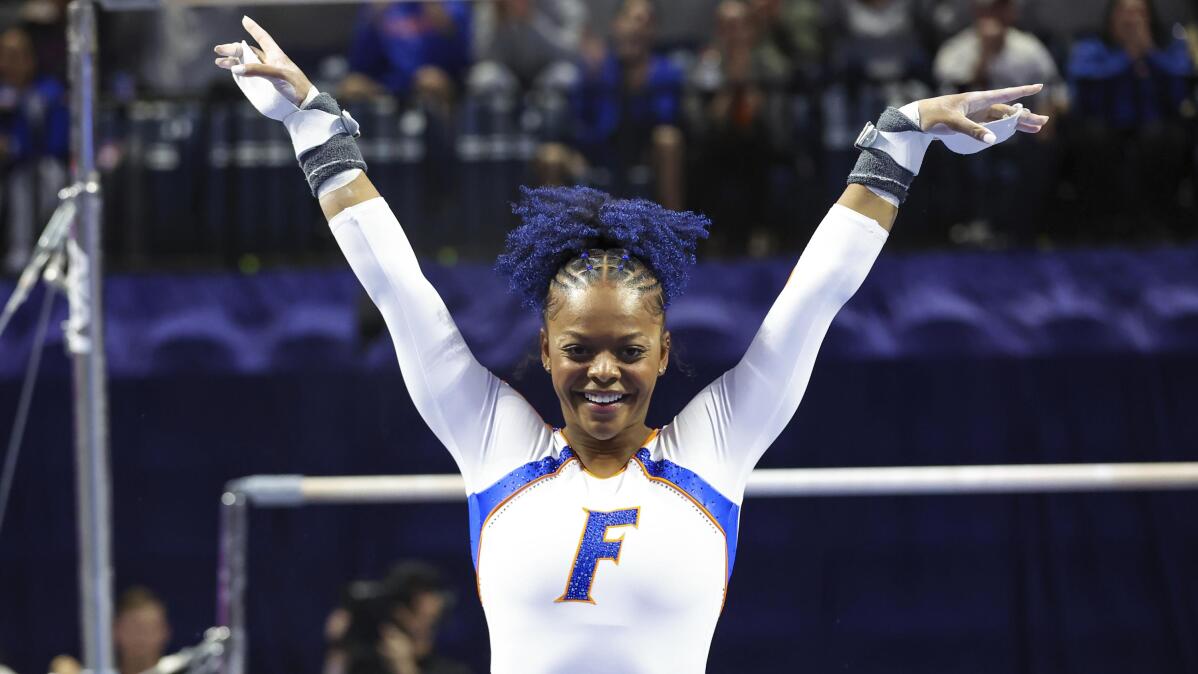 1 of 3

|
FILE - Florida's Trinity Thomas competes on the uneven bars during an NCAA gymnastics meet against Georgia on Friday, Jan. 27, 2023, in Gainesville, Fla. Thomas, the defending NCAA all-around champion, has 27 perfect 10s in her career, one short of the NCAA record. (AP Photo/Gary McCullough, File)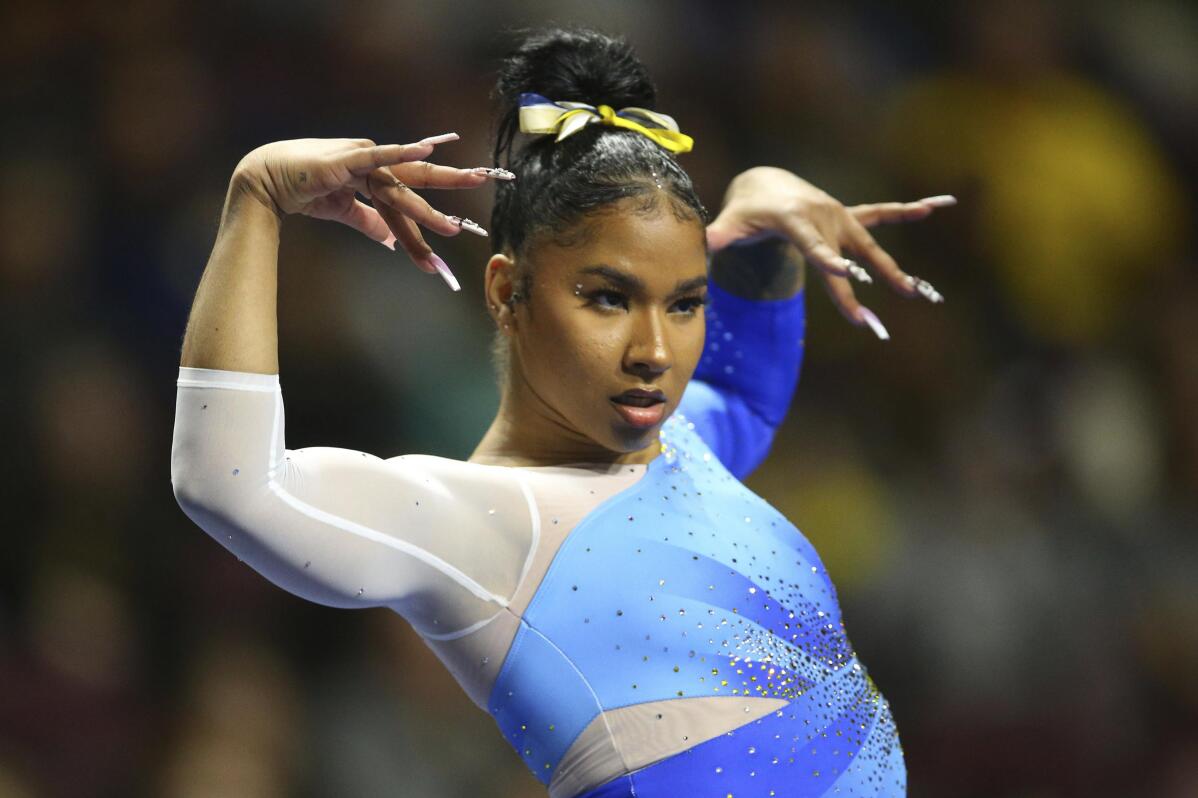 2 of 3

|
FILE - UCLA's Jordan Chiles competes on the floor exercise during an NCAA gymnastics meet on Saturday, Jan. 7, 2023, in Las Vegas. Chiles has four perfect 10s this season, part of a massive surge of 10s being awarded at the NCAA level that has some in the sport wondering if they are being given out too often. (AP Photo/Stew Milne, File)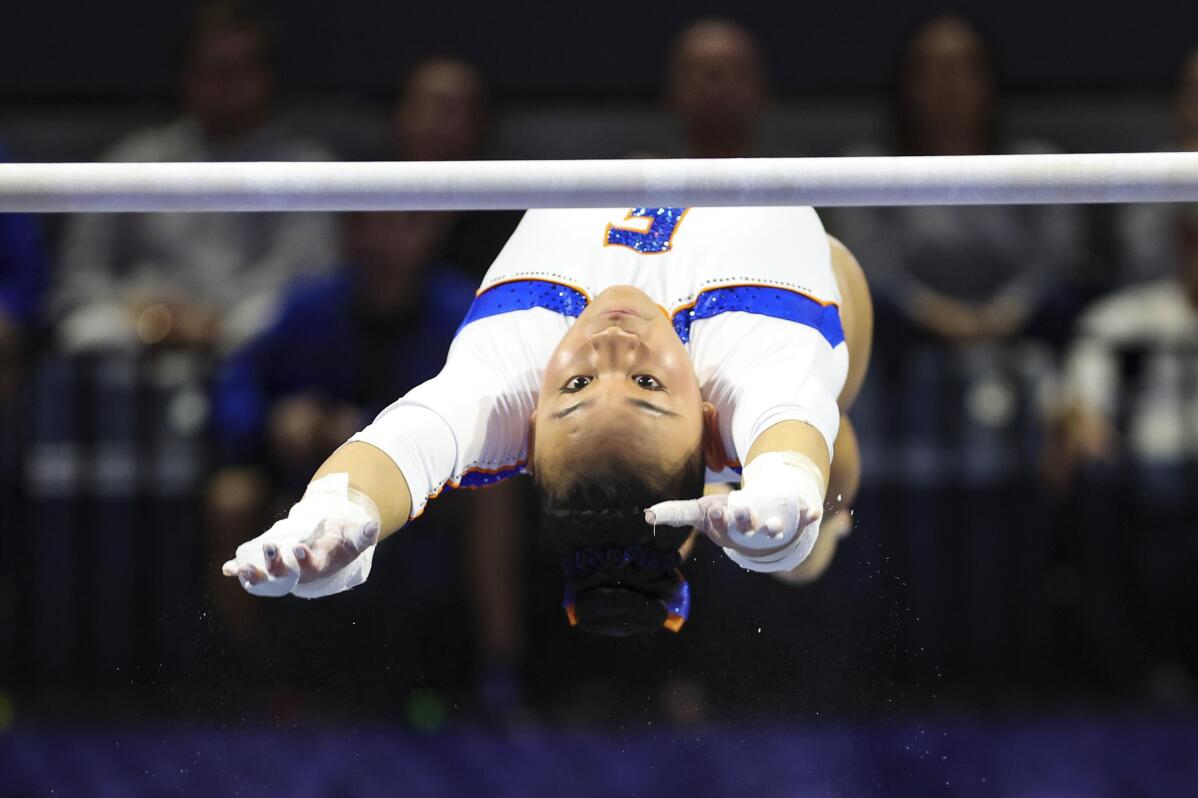 3 of 3

|
FILE - Florida's Leanne Wong competes on the uneven bars during an NCAA gymnastics meet against Georgia on Friday, Jan. 27, 2023, in Gainesville, Fla. Wong has six perfect 10s in her career and four this season, part of a massive surge of 10s being awarded at the NCAA level that has some in the sport wondering if they are being given out too often. (AP Photo/Gary McCullough, File)
Too perfect? Scores of 10 are everywhere in NCAA gymnastics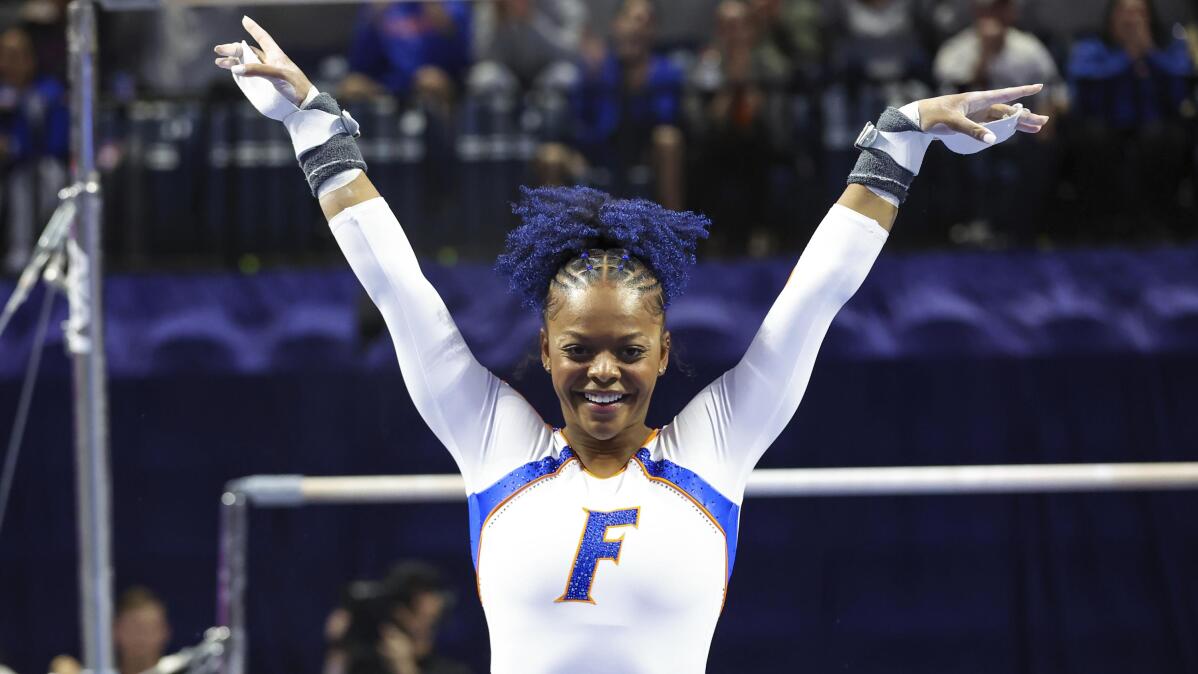 1 of 3

|
FILE - Florida's Trinity Thomas competes on the uneven bars during an NCAA gymnastics meet against Georgia on Friday, Jan. 27, 2023, in Gainesville, Fla. Thomas, the defending NCAA all-around champion, has 27 perfect 10s in her career, one short of the NCAA record. (AP Photo/Gary McCullough, File)
1 of 3
FILE - Florida's Trinity Thomas competes on the uneven bars during an NCAA gymnastics meet against Georgia on Friday, Jan. 27, 2023, in Gainesville, Fla. Thomas, the defending NCAA all-around champion, has 27 perfect 10s in her career, one short of the NCAA record. (AP Photo/Gary McCullough, File)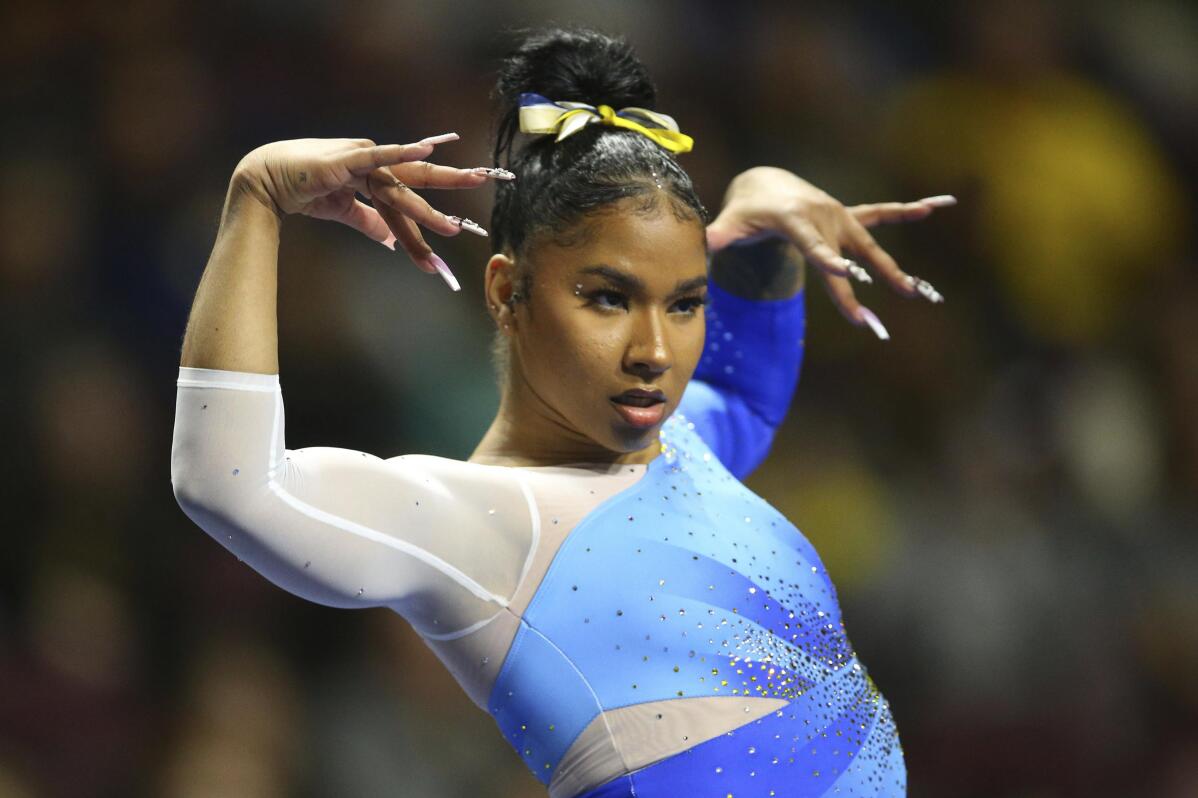 2 of 3

|
FILE - UCLA's Jordan Chiles competes on the floor exercise during an NCAA gymnastics meet on Saturday, Jan. 7, 2023, in Las Vegas. Chiles has four perfect 10s this season, part of a massive surge of 10s being awarded at the NCAA level that has some in the sport wondering if they are being given out too often. (AP Photo/Stew Milne, File)
2 of 3
FILE - UCLA's Jordan Chiles competes on the floor exercise during an NCAA gymnastics meet on Saturday, Jan. 7, 2023, in Las Vegas. Chiles has four perfect 10s this season, part of a massive surge of 10s being awarded at the NCAA level that has some in the sport wondering if they are being given out too often. (AP Photo/Stew Milne, File)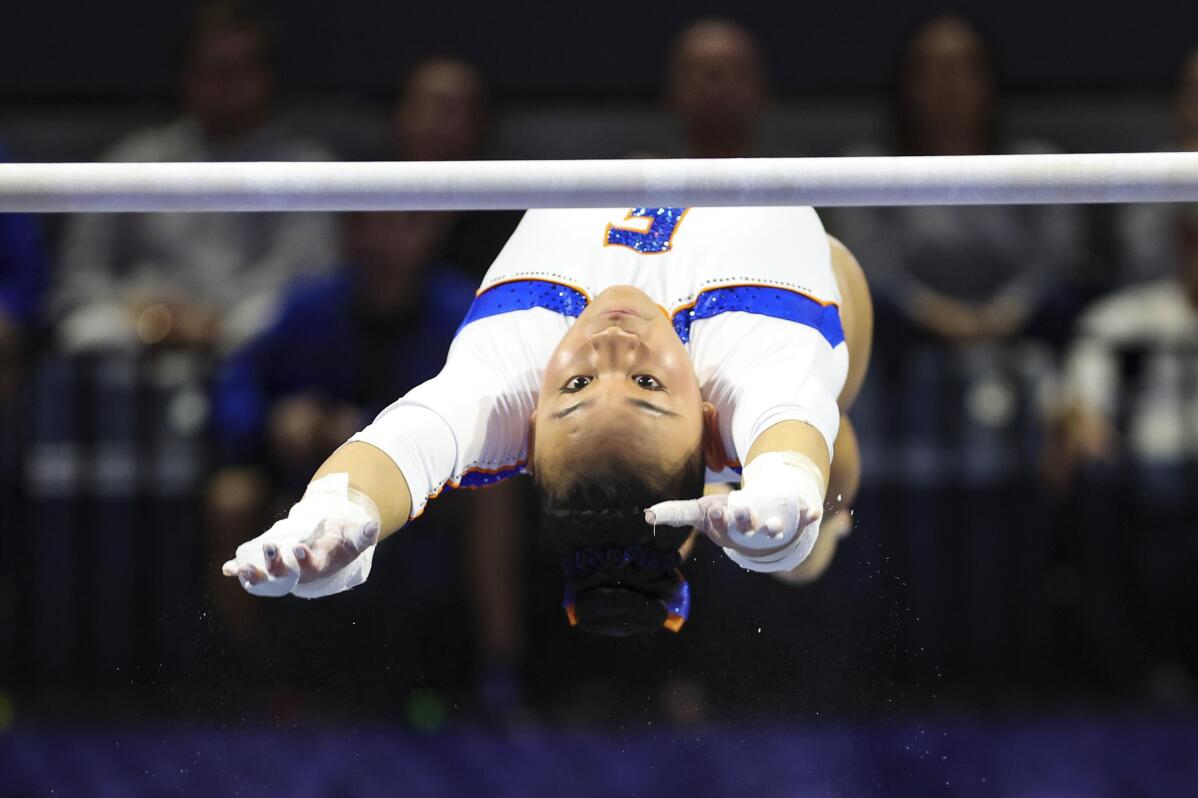 3 of 3

|
FILE - Florida's Leanne Wong competes on the uneven bars during an NCAA gymnastics meet against Georgia on Friday, Jan. 27, 2023, in Gainesville, Fla. Wong has six perfect 10s in her career and four this season, part of a massive surge of 10s being awarded at the NCAA level that has some in the sport wondering if they are being given out too often. (AP Photo/Gary McCullough, File)
3 of 3
FILE - Florida's Leanne Wong competes on the uneven bars during an NCAA gymnastics meet against Georgia on Friday, Jan. 27, 2023, in Gainesville, Fla. Wong has six perfect 10s in her career and four this season, part of a massive surge of 10s being awarded at the NCAA level that has some in the sport wondering if they are being given out too often. (AP Photo/Gary McCullough, File)
Trinity Thomas spent her entire childhood and most of her teens chasing perfection. No wonder the moment the University of Florida gymnast finally caught it is etched so vividly in her memory.
The second Thomas stuck her uneven bars dismount during the Gators' meet against LSU back in 2020, the sophomore was mobbed by her teammates. It wasn't until the videoboard flashed 10.00 — a perfect score — that she fully grasped what had just happened.
After years and years of training, thousands of practices and countless meets, judges had watched Thomas float from bar to bar and couldn't nitpick a single thing.
"It was so loud you could feel it like in your body," Thomas said. "Like, it shook the O-Dome. It was an absolutely incredible feeling."
The feeling hasn't gotten old for Thomas as the 10s have piled up. The 2022 NCAA all-around champion now has 27, a staggering total that's one short of the career record shared by Kentucky's Jenny Hansen and UCLA's Jamie Dantzscher.
A right leg injury could hinder Thomas' bid for history when the NCAA championships begin in Fort Worth, Texas, on Thursday. Thomas is more focused on helping the Gators bring home their fourth national title.
Besides, at the rate 10s are being thrown around at the collegiate level, Thomas is well aware the record may not last that long: Nearly 50 years after Nadia Comaneci's name became ubiquitous with perfection at the 1976 Olympics and two decades after the sport's governing body at the elite level abandoned the 10-point system, the 10 is having a moment.
Judges have awarded 79 perfect 10s heading into the national championships, up from 71 a year ago and more than triple the average handed out per season from 2010-19.
While those across the NCAA spectrum all believe the overall level of competition has spiked along with the rise in 10s, there's also a concern the 10 could lose a bit of its magic if given too often.
"I'm all for the 10," California co-head coach Justin Howell said. "I think that it's good for our sport. I hope we don't get to a place where it is diluted."
The current NCAA code is aligned closely with one used by the USA Gymnastics development program in part because it is trying to create a level playing field in search of parity.
Routines in college meets also are generally shorter and considerably "easier" than in elite gymnastics in an effort to protect the health of the athletes, most of whom compete a dozen times or more in a span of three months. Shorter routines also mean less time to make mistakes and fewer chances for points deductions.
Throw in the uptick in incoming talent — the 2021 name, image and likeness rules allowed stars like 2020 Olympic champion Suni Lee to compete collegiately — and the overall skill level in the NCAA has never been higher.
While nationals will be littered with blue-bloods like defending champion Oklahoma, UCLA and Florida, there is a real sense that programs with a lower profile are closing in fast.
"I think that's why you've seen so much growth in the popularity of the sport is that it is so competitive," first-year UCLA coach Janelle McDonald said. "I think a lot of clubs are doing a good job preparing the athletes for college gymnastics. It makes it fun to watch and fun to be on the floor competing."
However, there are concerns, particularly on an event like the balance beam, that execution has been emphasized so much that difficulty has been taken out of the equation, leading to an avalanche of possibly inflated scores.
Kathy Johnson Clarke, a two-time Olympic medalist turned TV analyst, thinks beam is an event going "backwards" because the competition is so tight, coaches are unwilling to let their athletes take chances.
"It's like, 'Don't do more than you need to, get up there and do a perfect routine because they're throwing out 10s,'" Johnson Clarke said.
Johnson Clarke doesn't have an issue with the strategy or the athletes but with the system itself.
"The code needs to be streamlined, condensed and transparent so everybody is on the same page," said Johnson Clarke, who is working on a proposal that give the entire process an overhaul. "They need to choose. What's most important? Technical mastery? Amplitude? Pick five things."
The Associated Press talked to several coaches who occasionally work as judges at other levels of the sport. They believe judges are doing their best to award the proper scores within the framework they're working within.
Some within the NCAA community have suggested changing the nature of the competition in an effort to create some separation.
Currently, six gymnasts compete in each event at college meets, with the lowest score being dropped and the five highest added together to create the team score. One model would drop the number of participants to five, with every routine counting.
It would certainly create more pressure, but could also limit opportunities.
"They will get less chances, do we want that?" Johnson Clark said. "We've got to think all of the things that it would trigger, all the things it would change and that makes gymnastics a little bit less exciting."
Howell said he believes there are small, incremental steps the NCAA could take, like restoring the middle line on the vault mat so that judges have a better idea of where an athlete is landing their dismount.
"That should be logical, I think," he said. "The lines are there now to kind of show everybody, 'That was really crooked, you should take a deduction.'"
For gymnasts who have grown up with the idea that perfection is impossible and that every routine could be improved no matter how well done, accepting a 10 takes some getting used to.
Cal sophomore Mya Lauzon received the first 10 of her life at a meet in March. She knew her performance on beam was good, though that didn't stop her from mulling every minor flaw as she awaited the score. She said she was "kind of surprised" when the 10 popped up.
"I mean, it was still a special feeling," she said. "I just thought I could have done that a little bit better, especially because previously in the season I have done that dismount with a more stuck, stuck landing. Like in the judge's eyes that could have been a perfect 10 but me, I know I could have done something better than that."
Florida sophomore Leanne Wong, a three-time world championship medalist and a 2020 Olympic alternate, has four 10s since joining the Gators. And no, they don't all feel the same.
"Not all of my 10s are equal but I feel like a routine that should be awarded for a 10 should be given a 10," Wong said. "But sometimes judges don't catch everything. So I feel like everything happened so fast (that) sometimes they make mistakes, too. But I mean, it's all part of the sport."
The human element is part of any judged competition, one of the reasons Howell and co-head coach Liz Crandall Howell urge their athletes to ignore the scores in general.
"You can pay attention to the feeling you get when you get that 10 and it feels great," Howell said. "But next weekend you could do it even better or not so good and get the same score or a (lower) score or a better score."
UCLA sophomore Jordan Chiles, a 2020 Olympic silver medalist and three-time world championship medalist, thinks the uptick in 10s is "crazy." Chiles wonders if the human element expands beyond what the judges see with their eyes, hinting that a program's reputation may play a factor.
"It could be what color (leotard) you are wearing, at the same time it could be what school you represent," said Chiles, who has received seven 10s so far in her college career. "So it's really, really hard to talk about."
Pressed to expand on what she meant, Chiles laughed.
"I don't really want to say like, truly what I'm thinking right now because people are going to come after me for it," she said.
Like nearly everything else in the sport, Chiles is trying to find the right balance. Having your name aligned with perfection is an incredible feeling, no matter the circumstances.
It's also part of what makes competing at the NCAA level unique. Whether there are too many 10s being given out is beyond the athletes' control. Her advice: don't think too deeply about it and just enjoy it.
"If you get a 10, you get a 10," Chiles said. "Good for you. Have fun with it. Celebrate."
___
More AP sports: https://apnews.com/hub/apf-sports and https://twitter.com/AP_Sports