LSU enters NCAA Tournament energized by Mulkey mania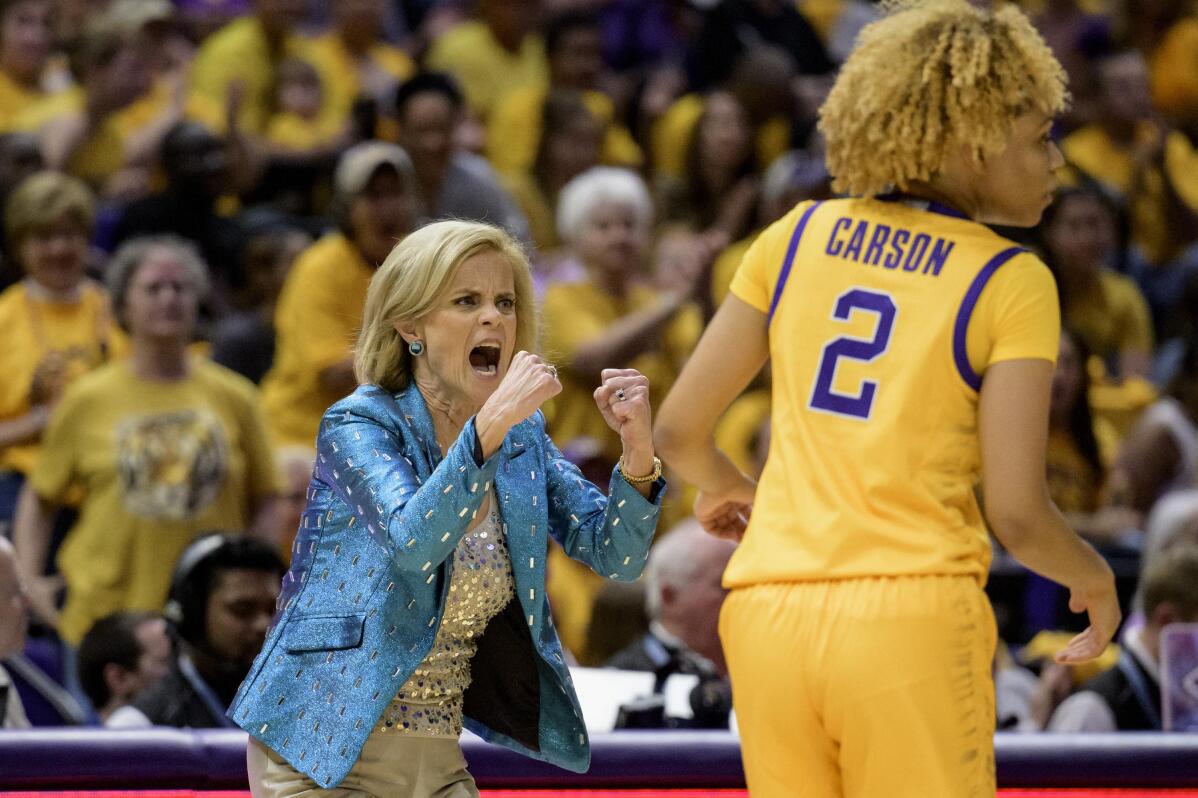 1 of 6

|
LSU head coach Kim Mulkey, left, reacts next to LSU guard Jasmine Carson (2) in the first half of an NCAA college basketball game against Mississippi State, Sunday, Feb. 26, 2023, in Baton Rouge, La. (AP Photo/Matthew Hinton)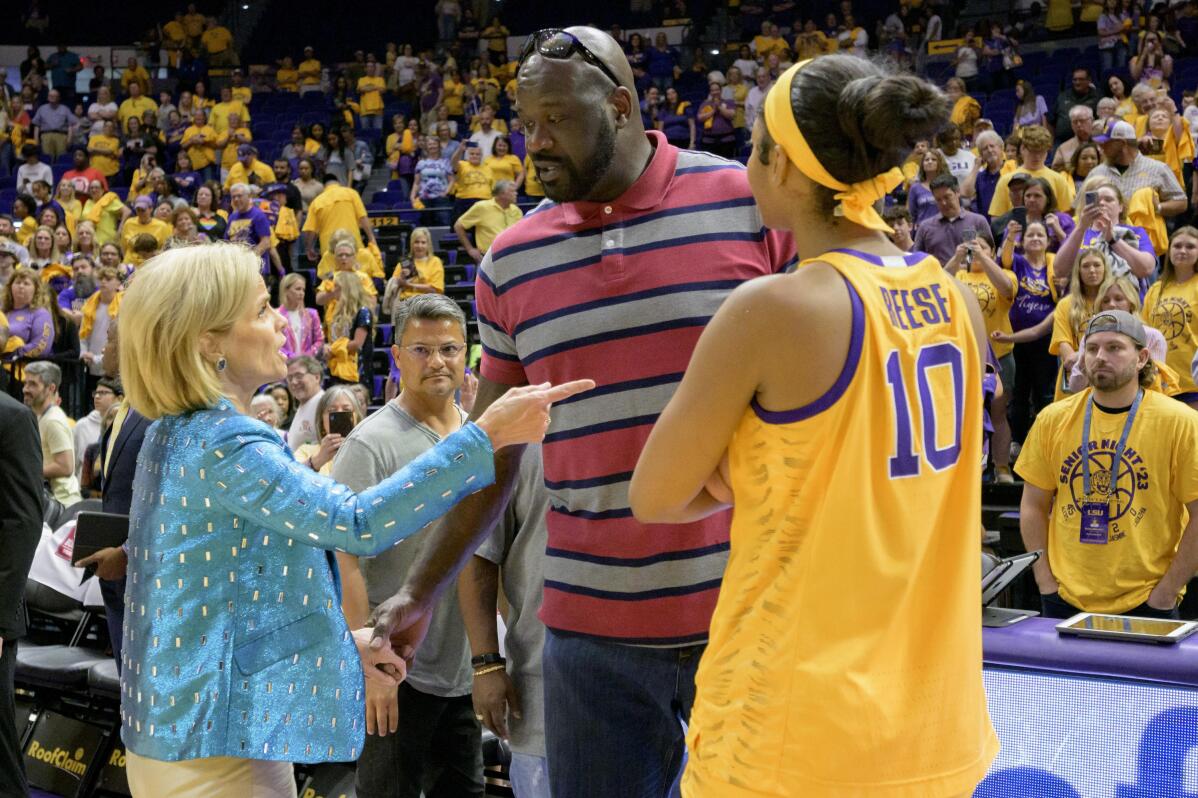 2 of 6

|
LSU head coach Kim Mulkey, left, and LSU forward Angel Reese, right, talk with former LSU and NBA center Shaquille "Shaq" O'Neal at the end of an NCAA college basketball game between LSU and Mississippi State, Sunday, Feb. 26, 2023, in Baton Rouge, La. (AP Photo/Matthew Hinton)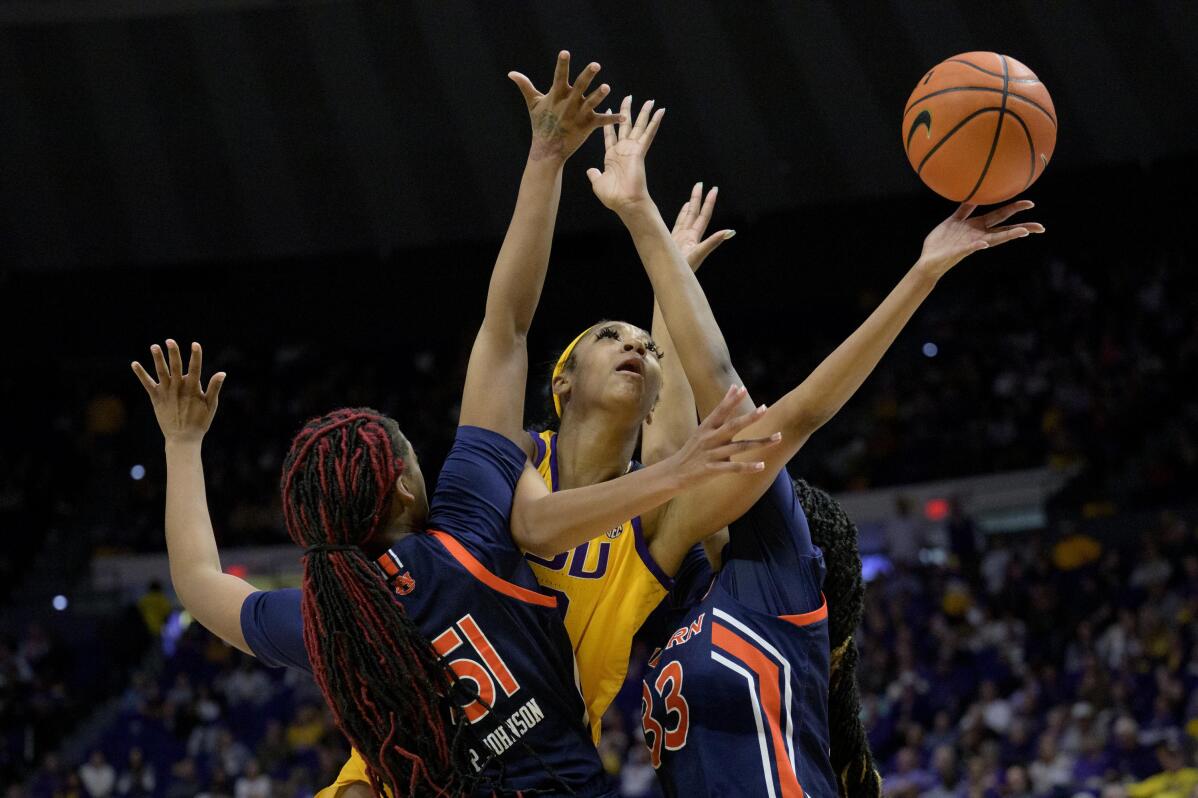 3 of 6

|
FILE - LSU guard Angel Reese, shoots between a double team of Auburn center Precious Johnson (51) and forward Kharyssa Richardson (33) in the second half of an NCAA college basketball game Sunday, Jan. 15, 2023, in Baton Rouge, La. Reese was honored as an All-American by The Associated Press on Wednesday, March 15, 2023. (AP Photo/Matthew Hinton, File)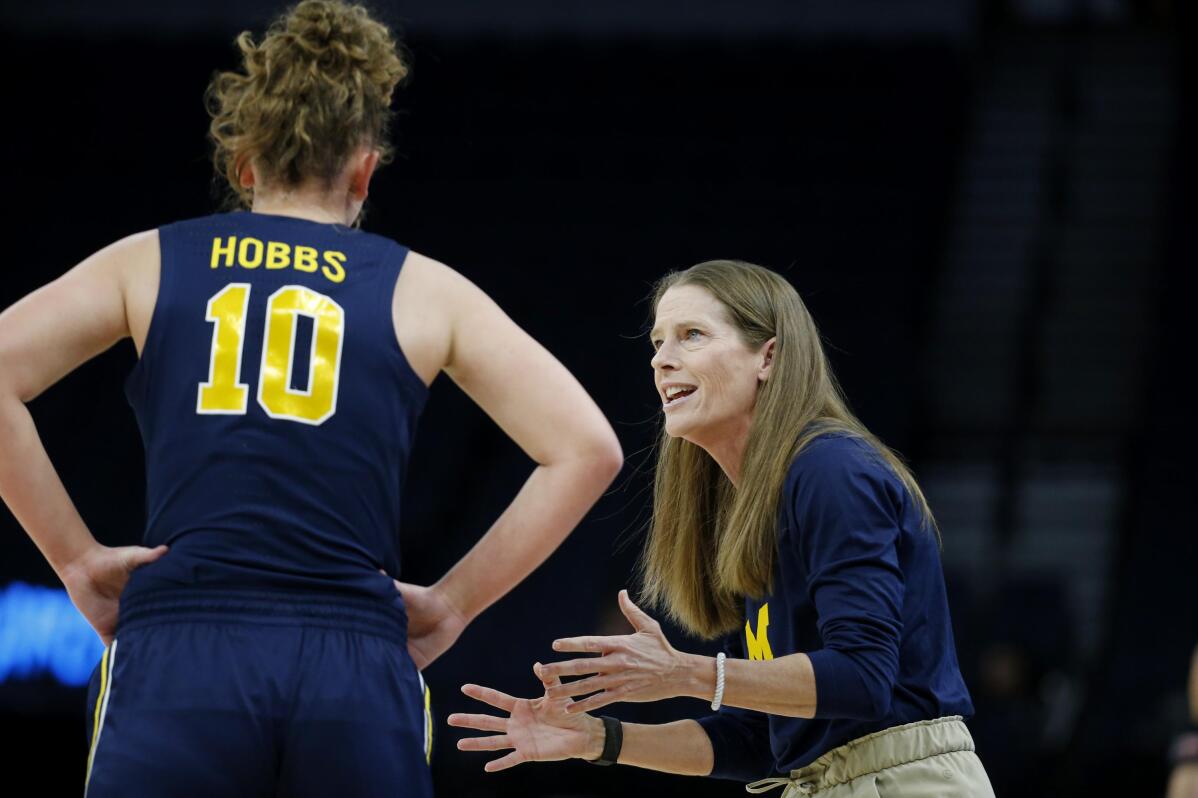 4 of 6

|
Michigan head coach Kim Barnes Arico, right, speaks with guard Jordan Hobbs (10) in the first half of an NCAA college basketball game against Ohio State at the Big Ten women's tournament Friday, March 3, 2023, in Minneapolis. (AP Photo/Bruce Kluckhohn)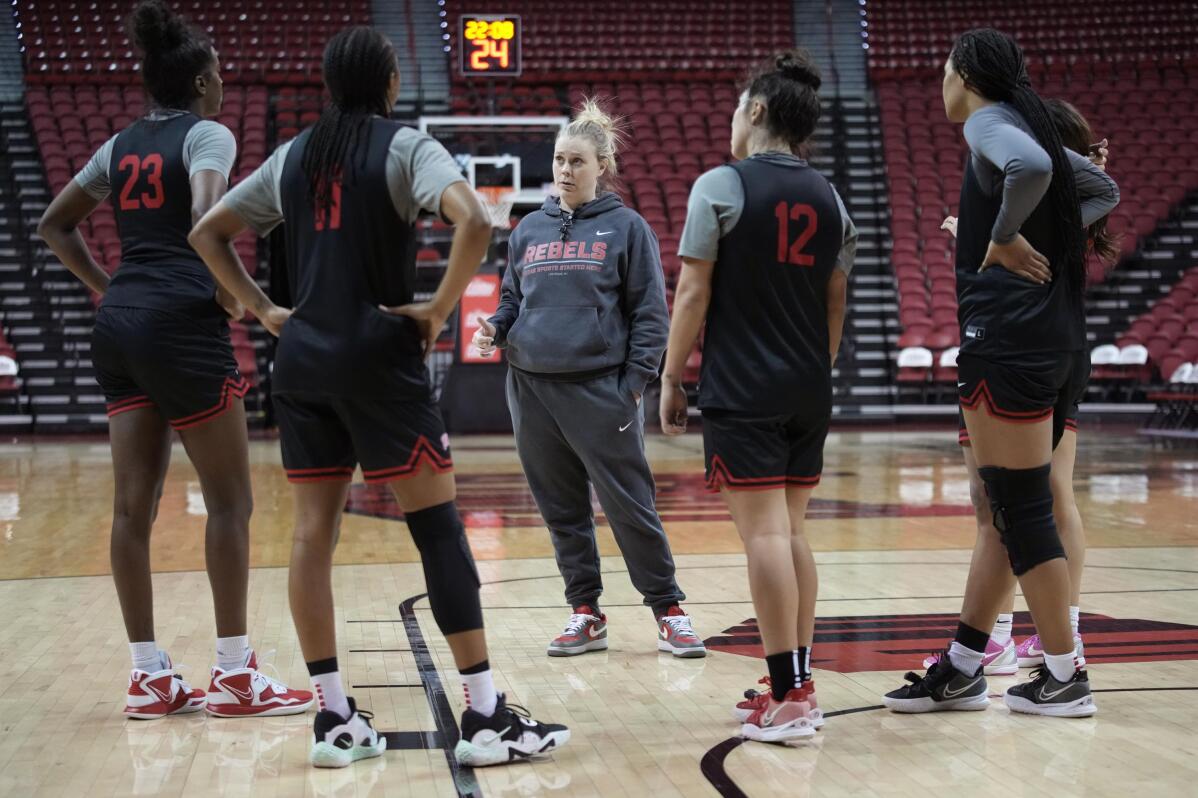 5 of 6

|
UNLV women's NCAA college basketball head coach Lindy La Rocque, center, speaks with players during practice Wednesday, Feb. 15, 2023, in Las Vegas. La Rocque is in her third season at UNLV, and she keeps taking the program up a step each year.(AP Photo/John Locher)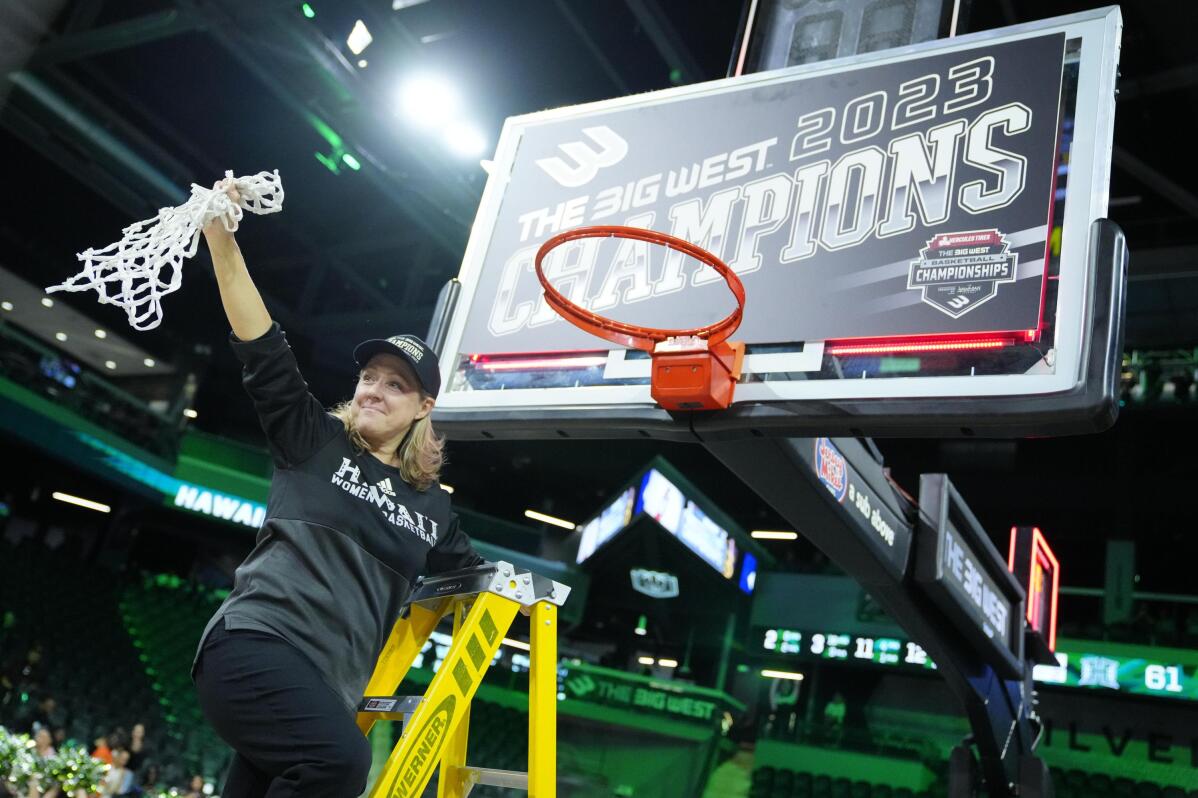 6 of 6

|
Hawaii coach Laura Beeman holds up the net after the team's win over UC Santa Barbara in an NCAA college basketball game for the women's Big West Tournament championship Saturday, March 11, 2023, in Henderson, Nev. (AP Photo/Eric Jamison)
LSU enters NCAA Tournament energized by Mulkey mania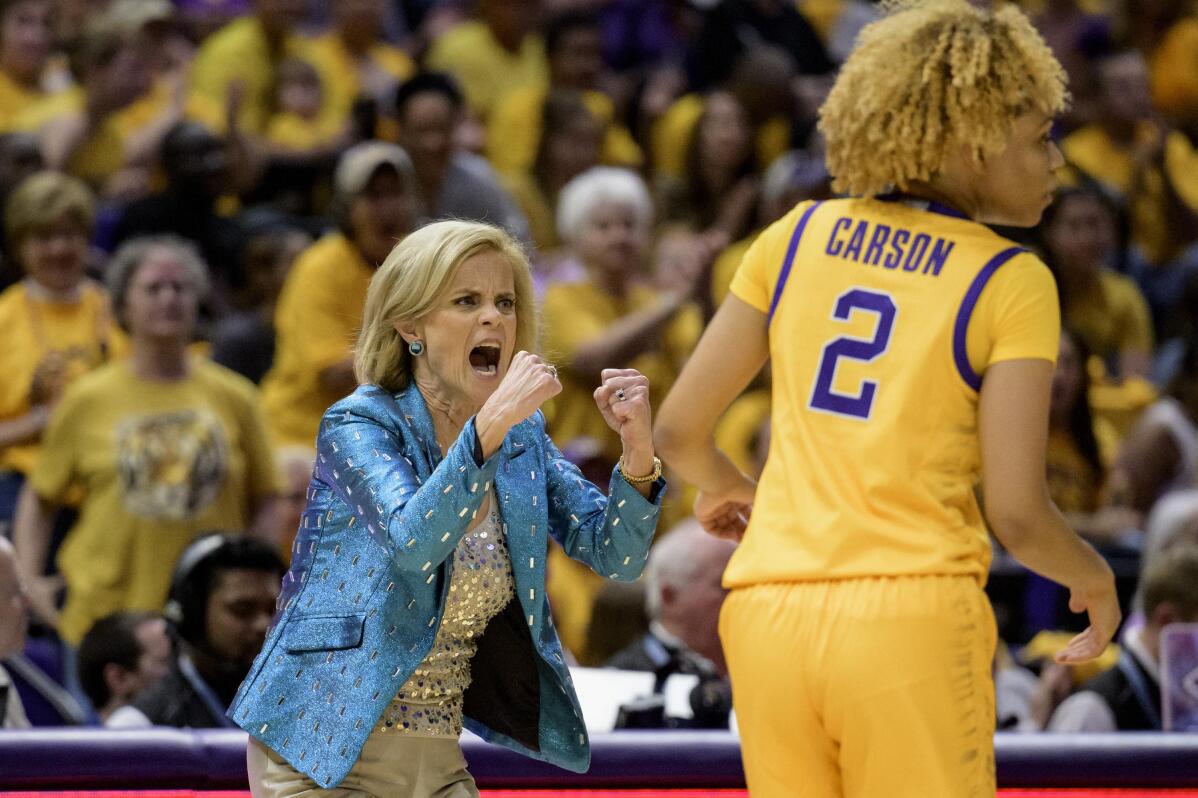 1 of 6

|
LSU head coach Kim Mulkey, left, reacts next to LSU guard Jasmine Carson (2) in the first half of an NCAA college basketball game against Mississippi State, Sunday, Feb. 26, 2023, in Baton Rouge, La. (AP Photo/Matthew Hinton)
1 of 6
LSU head coach Kim Mulkey, left, reacts next to LSU guard Jasmine Carson (2) in the first half of an NCAA college basketball game against Mississippi State, Sunday, Feb. 26, 2023, in Baton Rouge, La. (AP Photo/Matthew Hinton)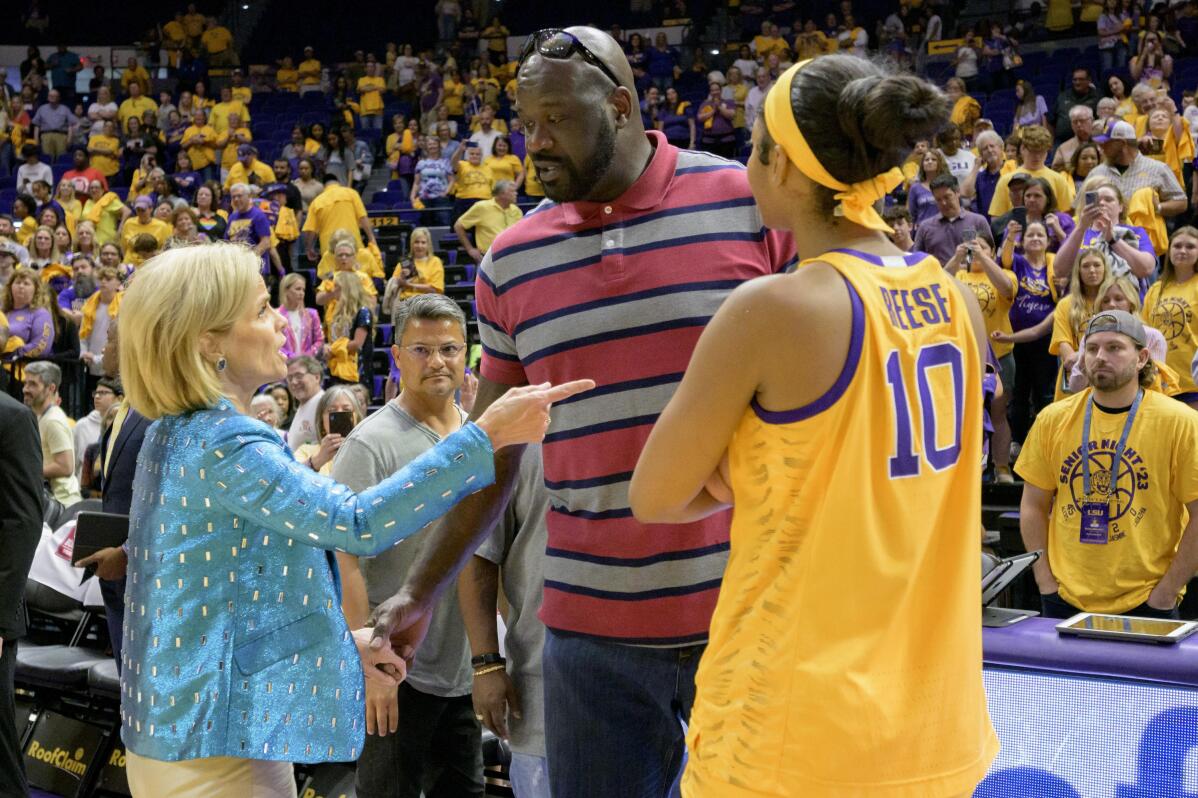 2 of 6

|
LSU head coach Kim Mulkey, left, and LSU forward Angel Reese, right, talk with former LSU and NBA center Shaquille "Shaq" O'Neal at the end of an NCAA college basketball game between LSU and Mississippi State, Sunday, Feb. 26, 2023, in Baton Rouge, La. (AP Photo/Matthew Hinton)
2 of 6
LSU head coach Kim Mulkey, left, and LSU forward Angel Reese, right, talk with former LSU and NBA center Shaquille "Shaq" O'Neal at the end of an NCAA college basketball game between LSU and Mississippi State, Sunday, Feb. 26, 2023, in Baton Rouge, La. (AP Photo/Matthew Hinton)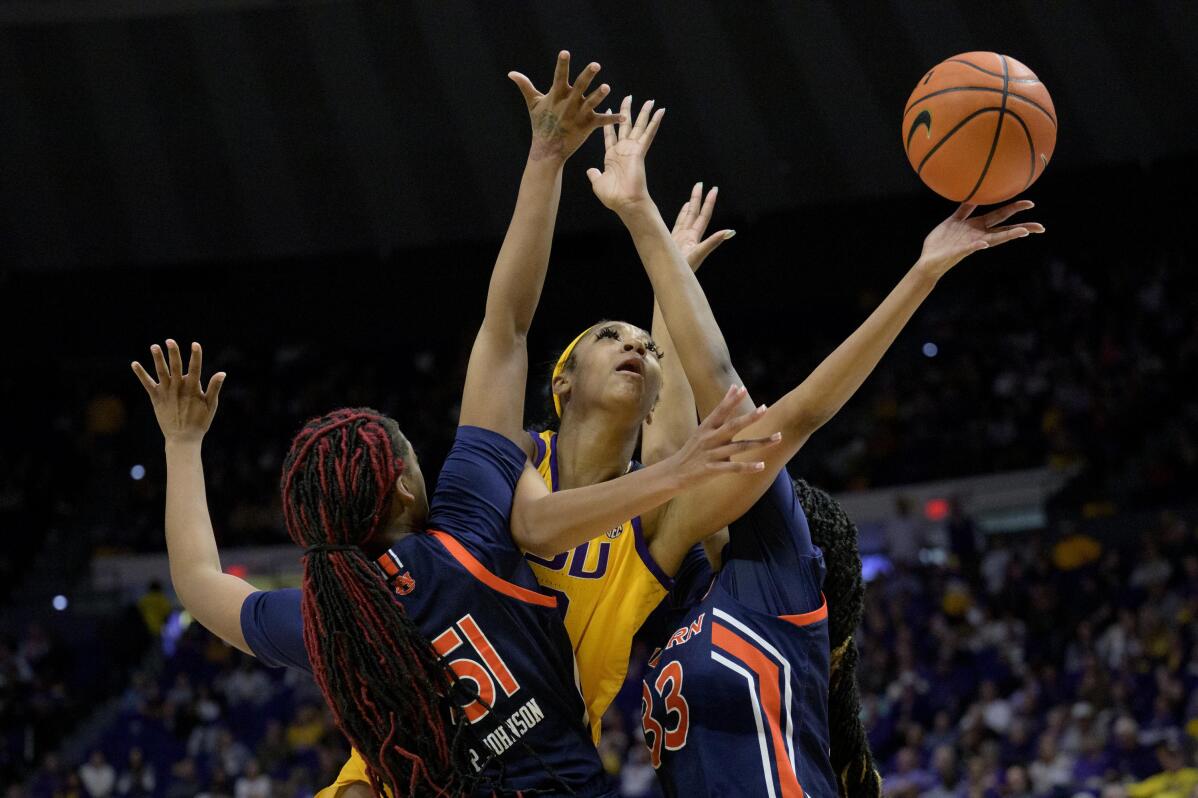 3 of 6

|
FILE - LSU guard Angel Reese, shoots between a double team of Auburn center Precious Johnson (51) and forward Kharyssa Richardson (33) in the second half of an NCAA college basketball game Sunday, Jan. 15, 2023, in Baton Rouge, La. Reese was honored as an All-American by The Associated Press on Wednesday, March 15, 2023. (AP Photo/Matthew Hinton, File)
3 of 6
FILE - LSU guard Angel Reese, shoots between a double team of Auburn center Precious Johnson (51) and forward Kharyssa Richardson (33) in the second half of an NCAA college basketball game Sunday, Jan. 15, 2023, in Baton Rouge, La. Reese was honored as an All-American by The Associated Press on Wednesday, March 15, 2023. (AP Photo/Matthew Hinton, File)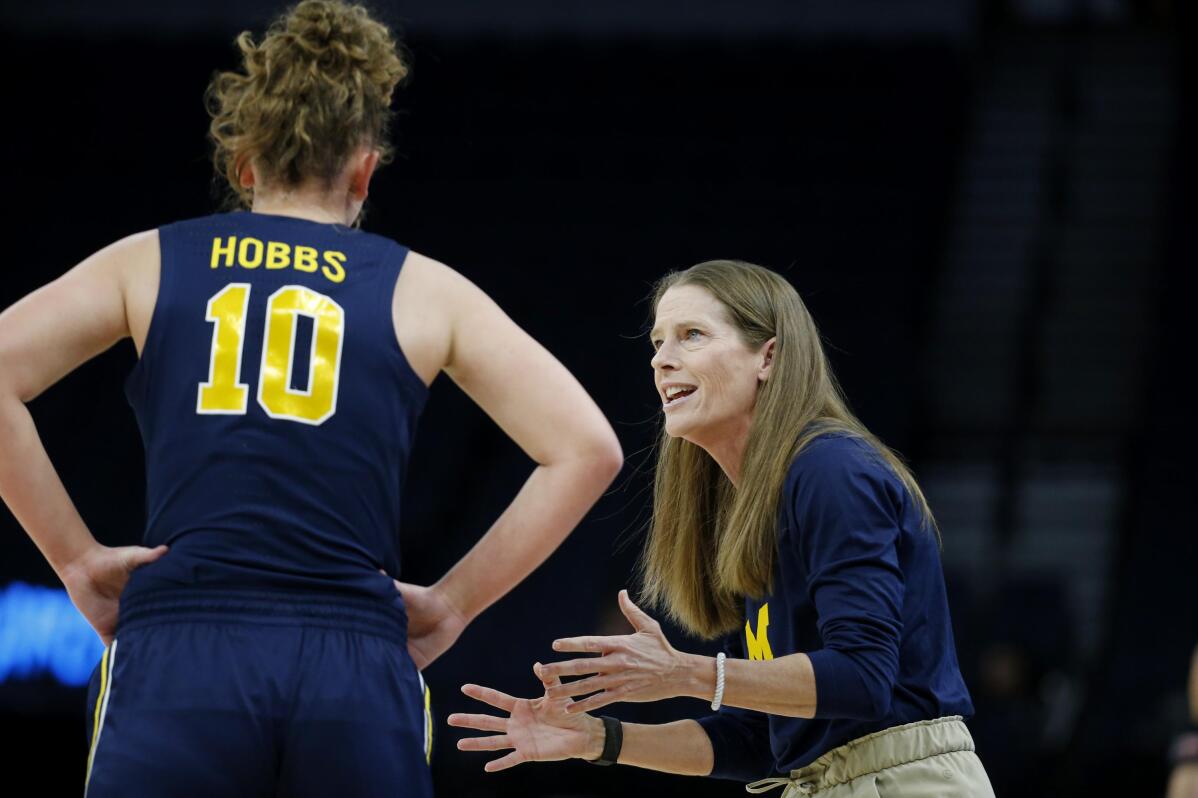 4 of 6

|
Michigan head coach Kim Barnes Arico, right, speaks with guard Jordan Hobbs (10) in the first half of an NCAA college basketball game against Ohio State at the Big Ten women's tournament Friday, March 3, 2023, in Minneapolis. (AP Photo/Bruce Kluckhohn)
4 of 6
Michigan head coach Kim Barnes Arico, right, speaks with guard Jordan Hobbs (10) in the first half of an NCAA college basketball game against Ohio State at the Big Ten women's tournament Friday, March 3, 2023, in Minneapolis. (AP Photo/Bruce Kluckhohn)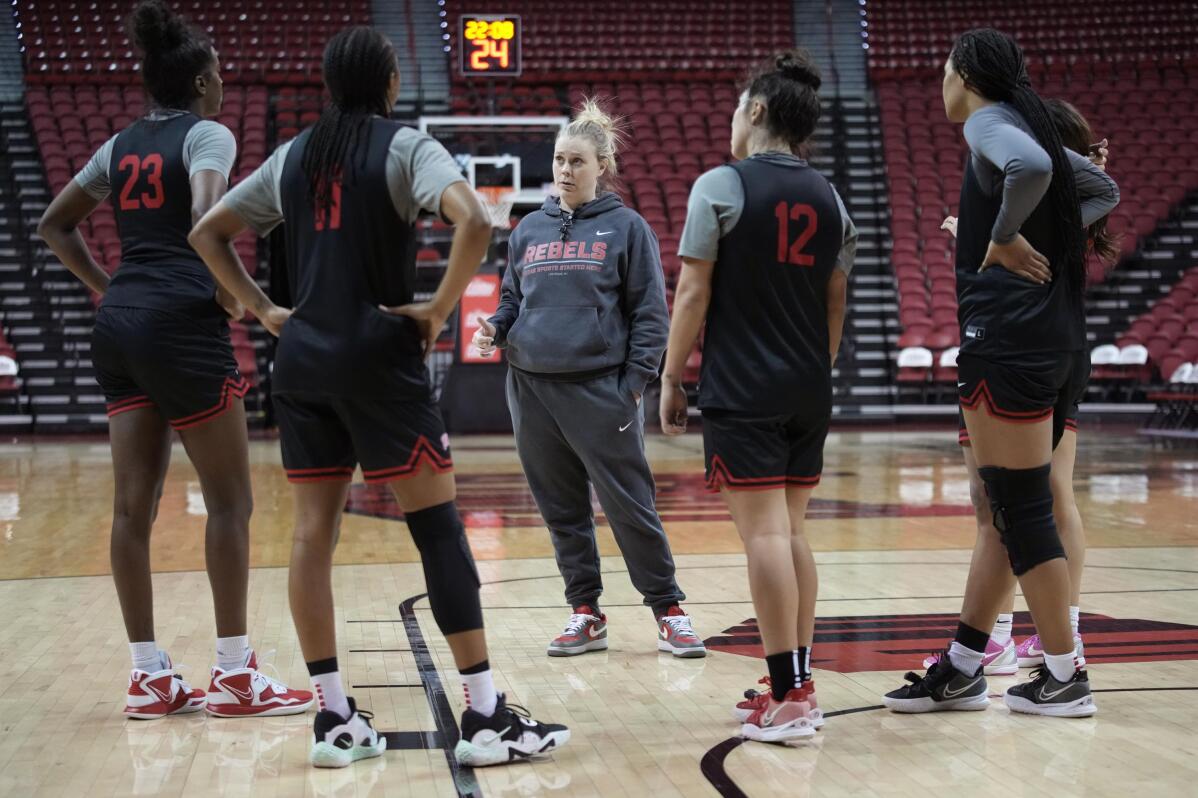 5 of 6

|
UNLV women's NCAA college basketball head coach Lindy La Rocque, center, speaks with players during practice Wednesday, Feb. 15, 2023, in Las Vegas. La Rocque is in her third season at UNLV, and she keeps taking the program up a step each year.(AP Photo/John Locher)
5 of 6
UNLV women's NCAA college basketball head coach Lindy La Rocque, center, speaks with players during practice Wednesday, Feb. 15, 2023, in Las Vegas. La Rocque is in her third season at UNLV, and she keeps taking the program up a step each year.(AP Photo/John Locher)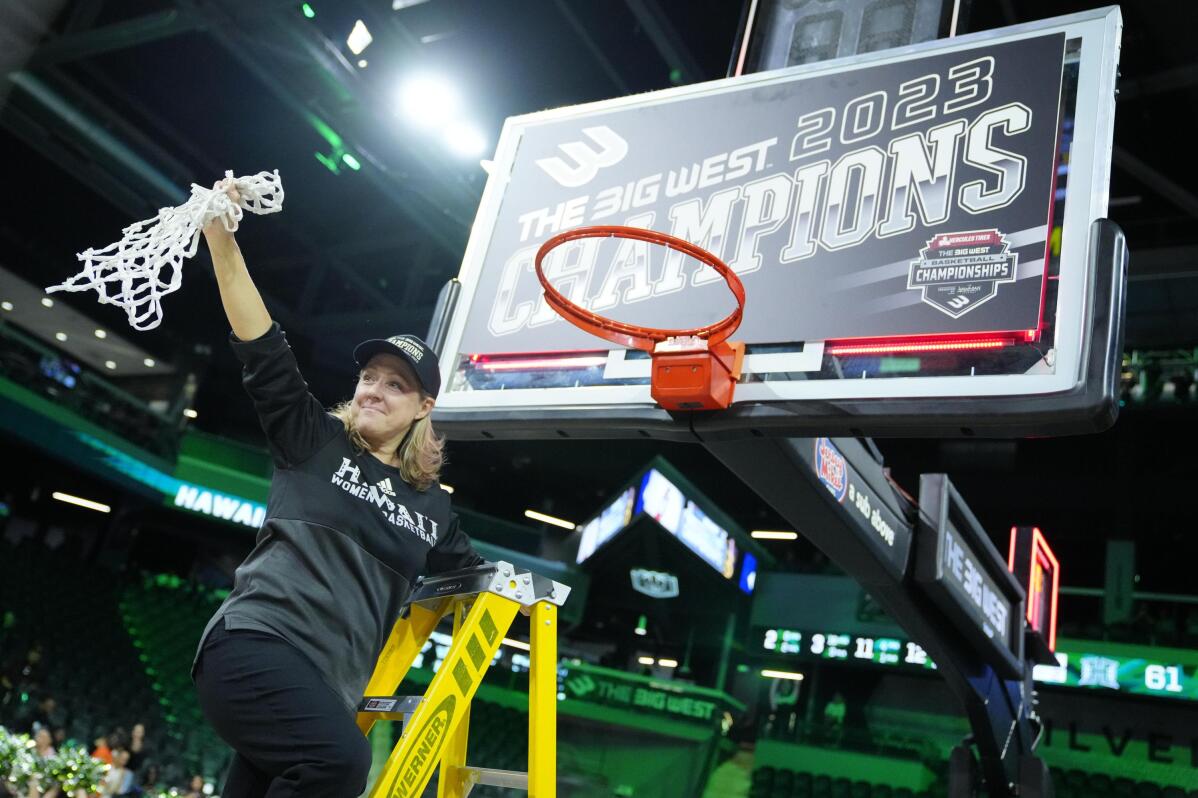 6 of 6

|
Hawaii coach Laura Beeman holds up the net after the team's win over UC Santa Barbara in an NCAA college basketball game for the women's Big West Tournament championship Saturday, March 11, 2023, in Henderson, Nev. (AP Photo/Eric Jamison)
6 of 6
Hawaii coach Laura Beeman holds up the net after the team's win over UC Santa Barbara in an NCAA college basketball game for the women's Big West Tournament championship Saturday, March 11, 2023, in Henderson, Nev. (AP Photo/Eric Jamison)
BATON ROUGE, La. (AP) — LSU All-America forward Angel Reese wrote the phrase, "four rebounds," in her locker.
The story behind that exemplifies Kim Mulkey's influence on the Tigers, who enter Friday's opening round of the 2023 NCAA tournament having won 54 of 62 games since LSU hired the three-time national champion coach away from Baylor.
The 6-foot-3 Reese, who has averaged 23.4 points and 15.5 rebounds this season, pulled down a season-low four boards during LSU's 88-64 loss at unbeaten South Carolina on Feb. 12.
During a subsequent practice, Mulkey mentioned that less-than-flattering statistic more than once.
"She has humbled me a lot; A lot of players probably can't be coached by coach Mulkey," Reese asserted. "I just appreciate how much she pushes me.
"Of anybody, she gets on me the most," Reese continued. "This is something I needed."
LSU (28-2), seeded third in the tournament's Greenville 2 region, hosts Big West tournament champion No. 14 seed Hawaii (18-14) on Friday. Also meeting in Baton Rouge are No. 6 seed Michigan (22-9) and 11th-seeded UNLV (31-2).
LSU missed two straight NCAA tournaments before Mulkey, 60, started a new chapter in her career in Baton Rouge — a little more than an hour's drive from Tickfaw, Louisiana, where she grew up.
Not only has LSU returned to the tournament in both seasons since, but also was designated a first- and second-round host.
The fan base has been re-energized. The Tigers' last home game — a victory over Mississippi — set a new paid attendance record of 15,721 for any event at the Pete Maravich Assembly Center.
"Her will to win is what makes her stand out," said Tigers guard Alexis Morris, who began her college career under Mulkey at Baylor, then transferred to Rutgers and Texas A&M before returning to Mulkey at LSU last season.
"That's why she can perform and produce and piece us together as a team in this era," Morris said. "Her way to evolve and adjust to the new generation has been incredible."
Before coaching, Mulkey played guard, winning an NCAA title at Louisiana Tech in 1982 and Olympic gold with the U.S. National Team in '84. She returned to Louisiana Tech as an assistant in 1985, but after being passed over for that program's head coaching job in 2000, she left for Baylor and built a powerhouse.
"That's one intense coach and players want to play for her because she's going to get in their stuff," Hawaii coach Laura Beeman said. "She's one of the trail blazers in our game. What she did at Baylor was phenomenal. She's come here and turned this thing around quick."
LSU won one tournament game a season ago before falling to Ohio State. This season has raised hopes for a deeper tournament run, but Mulkey is trying to keep her players focused on their defensive assignments against perimeter-shooting Hawaii.
"We better be ready," Mulkey said. "Hawaii is talented. Hawaii presents problems for us on the defensive end of the floor because they shoot so many 3's. We have bigs out there that are going to have to guard 3-point shooters."
MISSING PIECE?
Michigan had to labor through much of its Big Ten schedule without a key player.
Sophomore guard Laila Phelia, who averaged 16.9 points per game this season, recently returned from a leg injury that caused her to miss Michigan's last seven regular-season games. She returned for the conference tournament earlier this month, scoring 13 points in a victory over Penn State and 17 points in a loss to Ohio State.
"I personally feel like I'll be ready for (Friday), mentally and physically," Phelia said. "Can't wait."
Being pain-free is one thing. Being in postseason form is another.
"She kind of got her feet wet in the Big Ten Tournament and gained some of her confidence back," Michigan coach Kim Barnes Arico said.
Phelia is one of three Michigan players who averaged better than 16 points per game this season.
Teammates said her presence matters, regardless of how she plays.
"Whether that's her offensive abilities and her explosiveness and really just her versatility, I think that's a huge thing for us," Michigan guard Leigha Brown said. "When she's on the court, I think teams are forced to guard us a lot differently and respect us in different ways."
STACKING WINS
UNLV's 31 victories are the second most of any tournament team, behind only Florida-Gulf Coast's 32.
Michigan is seeded higher because of the strength of its conference, but Arico sounded impressed by her first-round opponent's win total.
"Any team that can win over 30 basketball games in a season is special," Arico asserted. "If you can go undefeated in your conference and then go to the conference tournament and win the conference tournament, holy cow."
UNLV is on a 22-game winning streak and hasn't lost since Dec. 18. A subplot to their success has been that coach Lindy LaRocque is a Las Vegas native.
"This is just an extremely special opportunity," LaRocque said, smiling. "I still kind of talk with my family, I'm like, 'Can you believe I'm head coach of the Lady Rebels? Can you believe that?"
___
AP March Madness coverage: https://apnews.com/hub/march-madness and https://apnews.com/hub/ap-top-25-womens-college-basketball-polland https://twitter.com/AP_Top25