Dual visions for Nevada as Legislature enters final stretch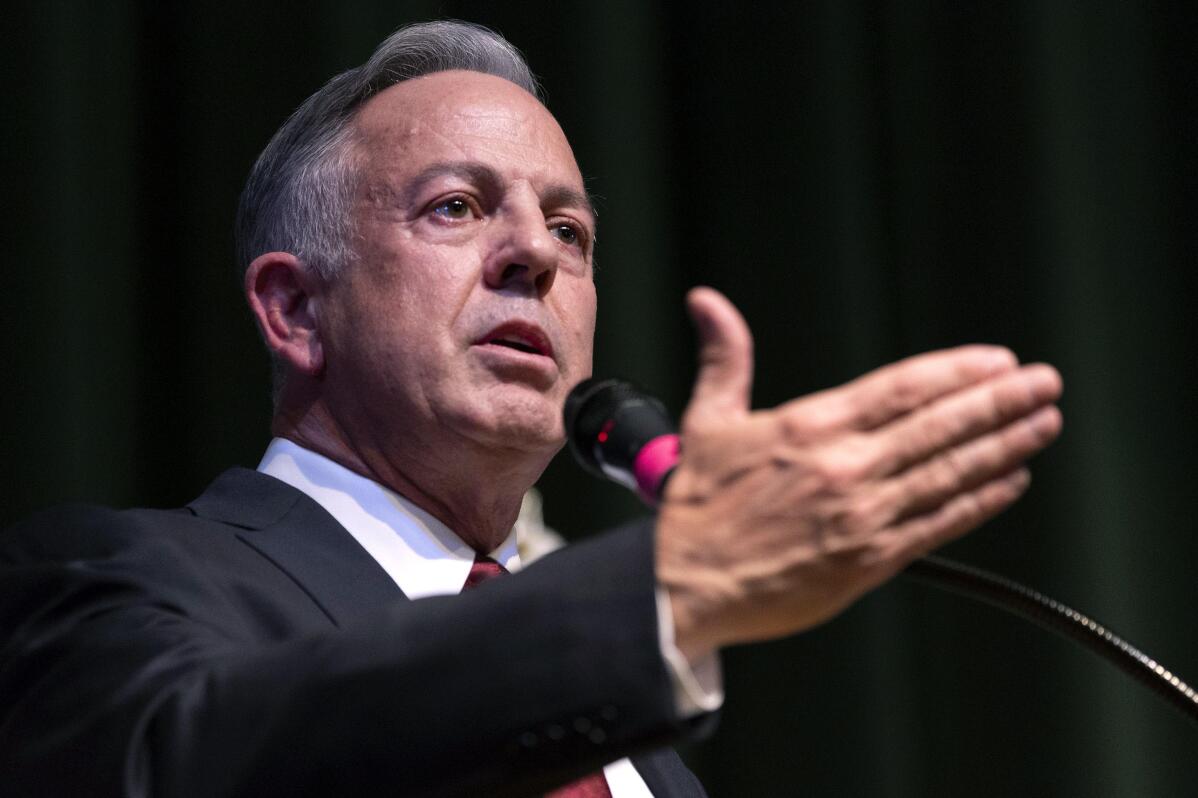 1 of 2

|
FILE - Then-Nevada Gov.-elect Joe Lombardo speaks during a news conference on Nov. 14, 2022, in Las Vegas. Lombardo sharpened his criticism of majority Democrats' alternatives to his budget priorities Wednesday, May 3, 2023, dismissing their proposals to fund more social safety nets as "feel-good" politics. Lombardo fired back minutes after Democratic leaders who control the state Senate and Assembly outlined their top priorities at a news conference outside the statehouse. (AP Photo/Ellen Schmidt, File)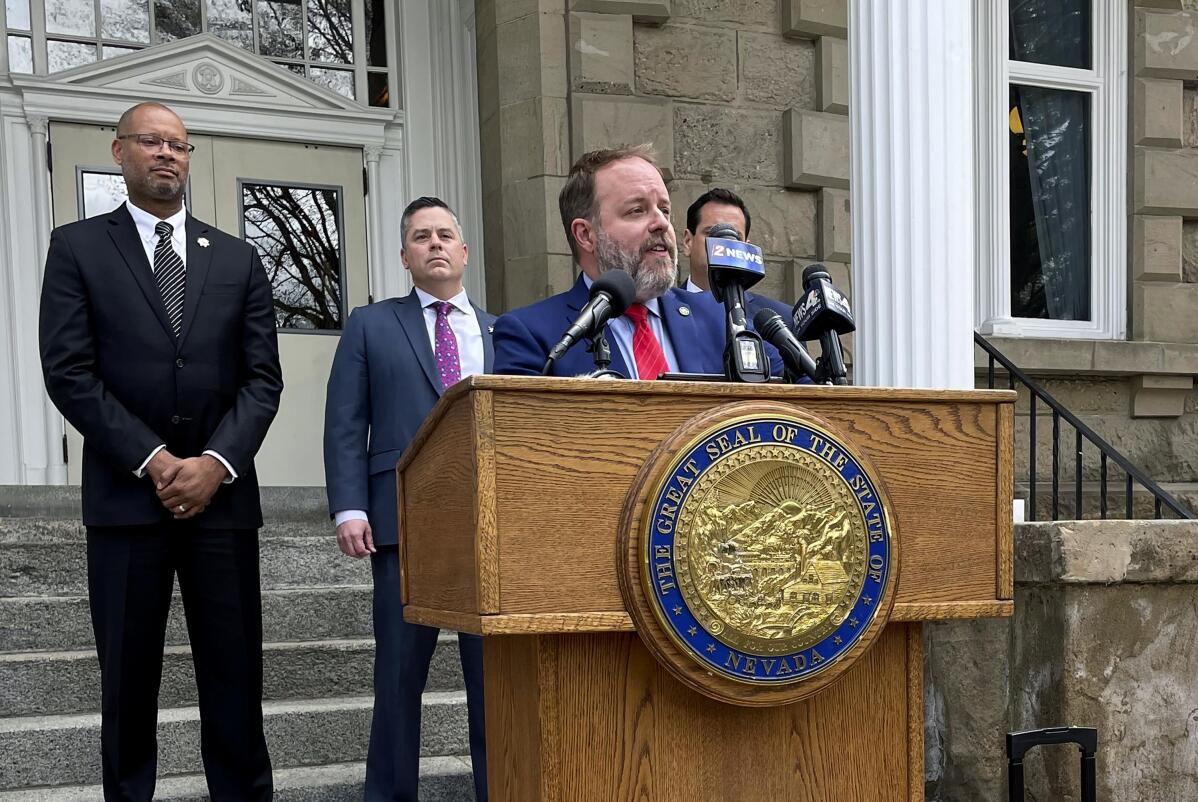 2 of 2

|
Democratic treasurer Zach Conine addresses reporters at a press conference to outline the priorities of Democrats who control Nevada's state Legislature on Wednesday, May 3, 2023, in Carson City, Nev. With about a month left in Nevada's biennial legislative session, the state's Democratic leadership and Republican governor have dual visions for how the state should pass laws and use its historic budget. (AP Photo/Gabe Stern)
Dual visions for Nevada as Legislature enters final stretch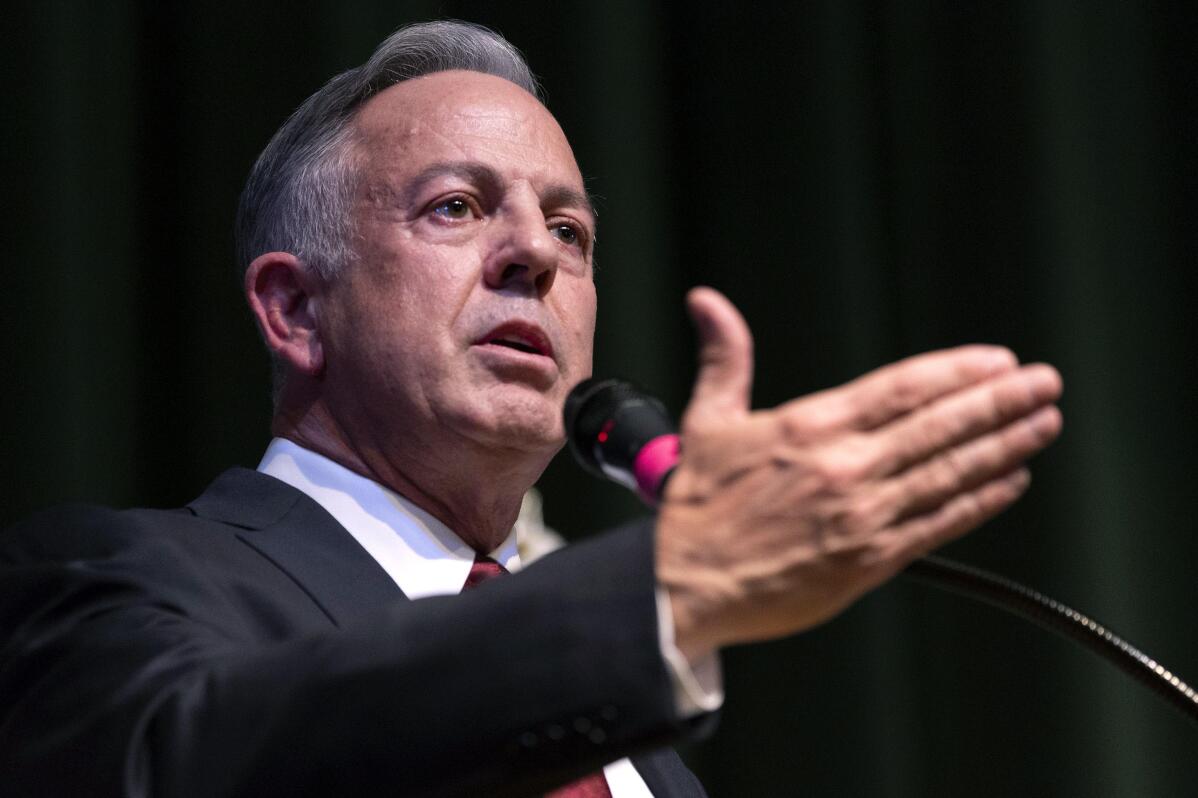 1 of 2

|
FILE - Then-Nevada Gov.-elect Joe Lombardo speaks during a news conference on Nov. 14, 2022, in Las Vegas. Lombardo sharpened his criticism of majority Democrats' alternatives to his budget priorities Wednesday, May 3, 2023, dismissing their proposals to fund more social safety nets as "feel-good" politics. Lombardo fired back minutes after Democratic leaders who control the state Senate and Assembly outlined their top priorities at a news conference outside the statehouse. (AP Photo/Ellen Schmidt, File)
1 of 2
FILE - Then-Nevada Gov.-elect Joe Lombardo speaks during a news conference on Nov. 14, 2022, in Las Vegas. Lombardo sharpened his criticism of majority Democrats' alternatives to his budget priorities Wednesday, May 3, 2023, dismissing their proposals to fund more social safety nets as "feel-good" politics. Lombardo fired back minutes after Democratic leaders who control the state Senate and Assembly outlined their top priorities at a news conference outside the statehouse. (AP Photo/Ellen Schmidt, File)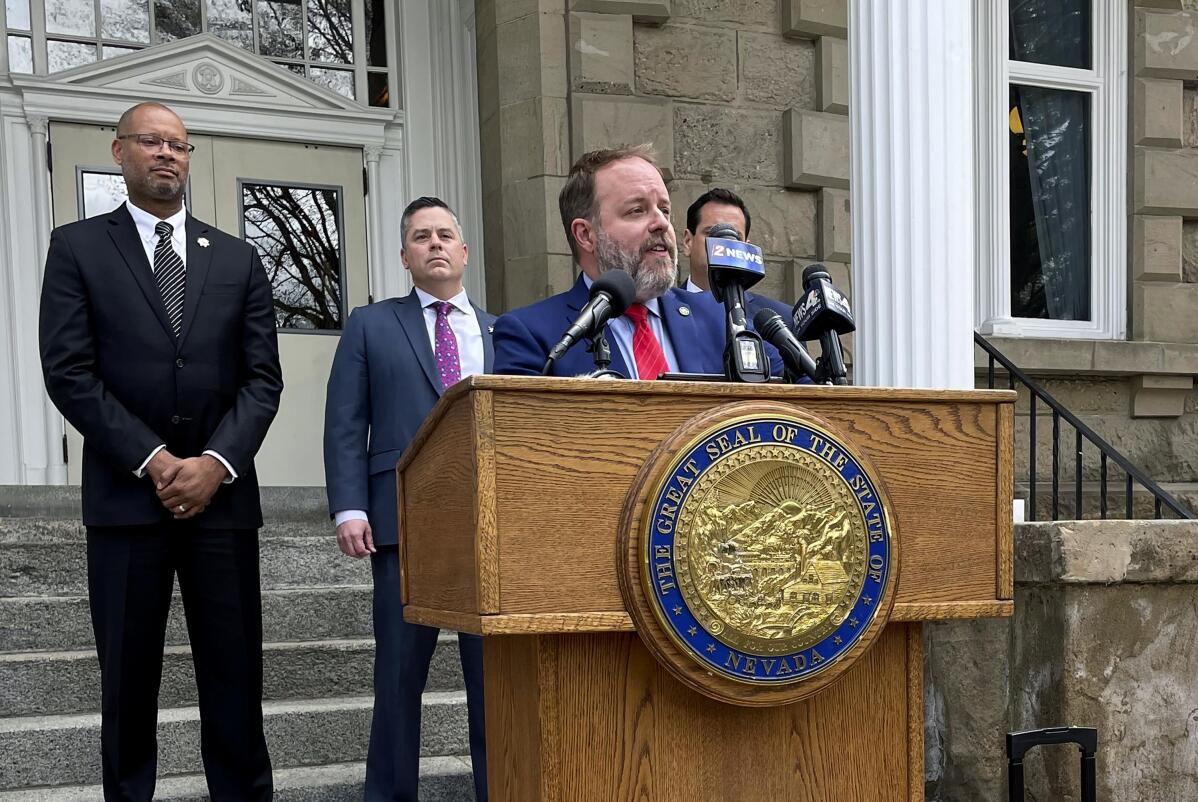 2 of 2

|
Democratic treasurer Zach Conine addresses reporters at a press conference to outline the priorities of Democrats who control Nevada's state Legislature on Wednesday, May 3, 2023, in Carson City, Nev. With about a month left in Nevada's biennial legislative session, the state's Democratic leadership and Republican governor have dual visions for how the state should pass laws and use its historic budget. (AP Photo/Gabe Stern)
2 of 2
Democratic treasurer Zach Conine addresses reporters at a press conference to outline the priorities of Democrats who control Nevada's state Legislature on Wednesday, May 3, 2023, in Carson City, Nev. With about a month left in Nevada's biennial legislative session, the state's Democratic leadership and Republican governor have dual visions for how the state should pass laws and use its historic budget. (AP Photo/Gabe Stern)
CARSON CITY, Nev. (AP) — Nevada Republican Gov. Joe Lombardo sharpened his criticism of majority Democrats' alternatives to his budget priorities Wednesday, dismissing their proposals to fund more social safety nets as "feel-good" politics.
Lombardo fired back minutes after Democratic leaders who control the state Senate and Assembly outlined their top priorities at a news conference outside the statehouse. They emphasized their priorities of protecting election workers, passing fentanyl legislation and expanding social safety nets for low-income and underserved families.
They also made clear the GOP governor's election reform proposals are all but dead, including a voter ID bill, and repeated their opposition to his proposed expansion of school-choice measures.
Thus begins the final stretch of Nevada's biennial legislative session, where bills running through the Democratic-controlled legislature will arrive at the Republican governor's desk, and the fate of the governor's proposed bills lie within the Democratic-controlled legislature. The clock is ticking to settle on a record-setting $11.6 billion two-year budget that now includes an extra $251 million based on new projections earlier this week.
The surplus is a product of projected increases in state tax revenue, fueled by strong sales and gaming tax revenue that benefited from high inflation and strong consumer spending. Democrats said at least some of that should be used to bolster under-financed social programs geared toward working class residents hit hardest financially from the pandemic.
"It's embarrassing that some of those screaming about fiscal responsibility are saying we should run out on the check," said Democratic treasurer Zach Conine, referencing Nevada's overcrowded public classrooms and affordable housing and healthcare shortages.
Lombardo, the former county sheriff from Las Vegas who was the only Republican to unseat a Democratic governor in November, said he remains in communication with Democratic leaders with just over a month still left in the legislative session for hearings on his elections and crime bills. Both parties have described those conversations as productive.
He cautioned against using too much of the budget on social safety spending, categorizing the state's surplus as one-time funding that is not sustainable, especially with the threat of a recession.
"Why not take away that amount and manage government slowly, versus by knee-jerk reaction?" Lombardo said.
Three of Lombardo's five proposed bills have received a hearing from Democrats, including one on education funding, which includes his school choice proposals. Two of his bills have not yet received a hearing, which include his election measures including voter identification and legislation increasing criminal penalties.
Both Democratic leadership and the governor's office described productive discussions between the two parties but remained stalwart in their dueling priorities.
On Wednesday, Conine pushed specifically for his baby bonds legislation, which establish trust funds for children born into Medicaid, and parental leave for state workers. He said many families are still reeling financially from the pandemic, and warned of skyrocketing interest rates and unfunded federal social programs if the U.S. defaults on its debt limit, which could come as soon as next month.
Democratic Assembly speaker Steve Yeager repeated his opposition to Lombardo's proposed expansion of the Opportunity Scholarships, a form of school choice that allows businesses to receive tax credits on donations that go toward private school tuition. The program is currently geared toward low-income students, though Lombardo's proposal would expand it to some middle-class families.
Lombardo has long argued that it's better for funding to follow students in order to give them wider options. Opponents warn that using public funds for private schools will gut Nevada's already resource-strapped public schools, which would rank below the national average in per-pupil funding, even with Lombardo's proposed $2 billion education investment.
Despite the Democrats apparent opposition to his school choice and election measures, Lombardo said he's still in regular contact with Democratic leadership and would not close the door on those initiatives.
"He may have said that today. But what do we have, 30-something days left in the legislative session," said Lombardo, of Yeager saying he does not plan to schedule a hearing on his election initiatives. "So I anticipate we'll have some further conversations."
___
Stern is a corps member for the Associated Press/Report for America Statehouse News Initiative. Report for America is a nonprofit program that places journalists in local newsrooms to report on undercovered issues. Follow Stern on Twitter: @gabestern326.