Agent: Moreau agrees to 3-year, $12 million deal with Saints after cancer diagnosis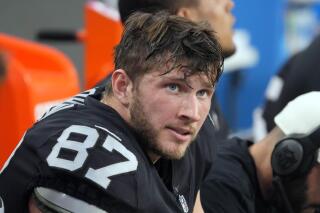 NEW ORLEANS (AP) — Tight end Foster Moreau has agreed to a three-year, $12 million contract with the Saints less than two months after being diagnosed with Hodgkin lymphoma during a physical with New Orleans, Moreau's agent said Wednesday.
Moreau, 26, announced in late March that he was stepping away from football to focus on his health. Now it appears he could be ready to return to football sooner than later, although no timeline for his return has been announced.
"The Saints have been nothing short of amazing in their support of Foster," Moreau's agent Joe Linta, told The Associated Press. "They have given him a fair contract but made a commitment to Foster regardless of his health."
The move allows Moreau to continue his pro career in the city where he grew up and played for Jesuit High School before a standout college career at LSU.
"Foster is thrilled to be back in his hometown," Linta said, and is "very excited to join the Saints."
The deal also reunites Moreau with new Saints quarterback Derek Carr, who was his teammate with the Raiders the past four seasons. Carr, who spent his first nine NFL seasons with the Raiders, signed a four-year, free-agent contract with the Saints that is worth up to $150 million.
Hodgkin lymphoma is a form of cancer that affects the immune system. Moreau has said he was diagnosed with an early stage of the disease and that his treatment was expected to include chemotherapy.
Moreau started 14 games last season for the Raiders and 25 games over the past two years. He has 91 receptions for 1,107 yards and 12 TDs in his career.
The Raiders selected Moreau in the fourth round of the 2019 draft and he became a free agent after last season, when he set career highs with 33 catches for 420 yards and added two touchdown catches.
___
AP NFL: https://apnews.com/hub/nfl and https://twitter.com/AP_NFL