Giants offensive line faces criticism after Daniel Jones sacked 7 times against Dallas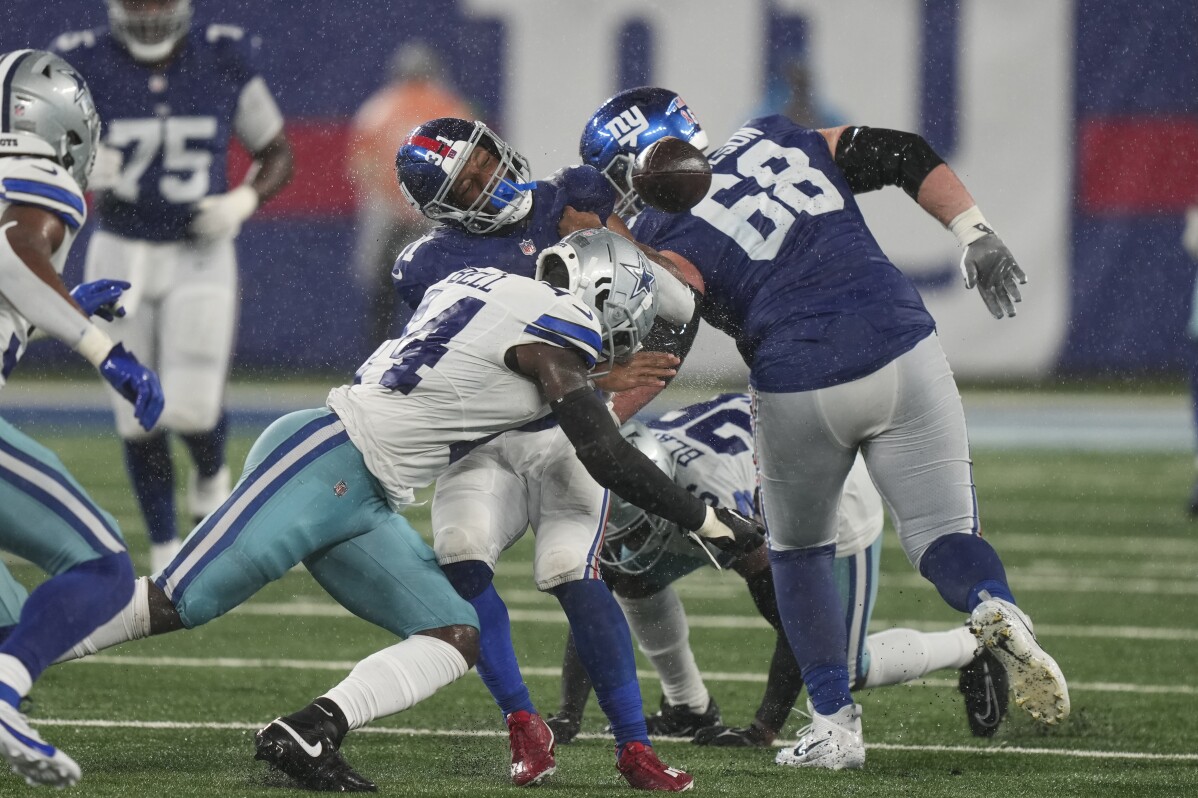 1 of 5

|
New York Giants' Matt Breida (31), center, fumbles the ball as he is hit during the second half of an NFL football game against the Dallas Cowboys, Sunday, Sept. 10, 2023, in East Rutherford, N.J. (AP Photo/Bryan Woolston)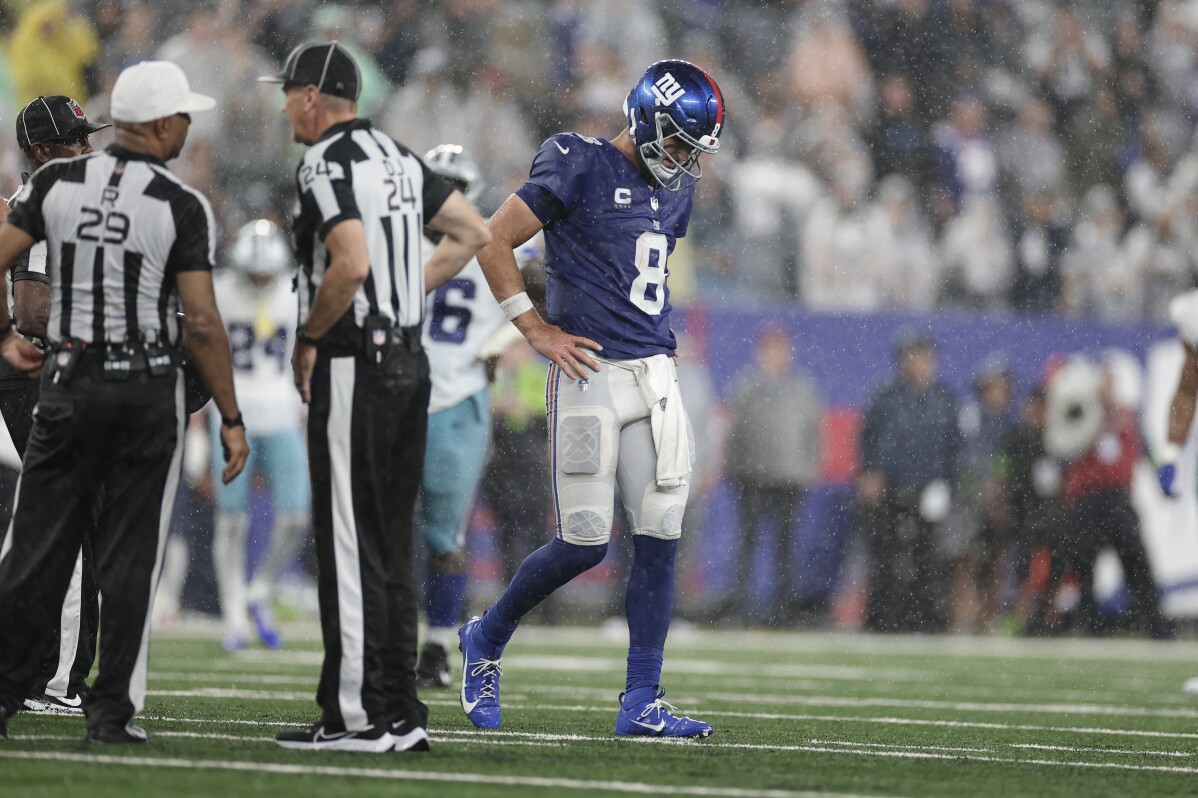 2 of 5

|
New York Giants quarterback Daniel Jones, right, looks down during the second half of an NFL football game against the Dallas Cowboys, Sunday, Sept. 10, 2023, in East Rutherford, N.J. (AP Photo/Adam Hunger)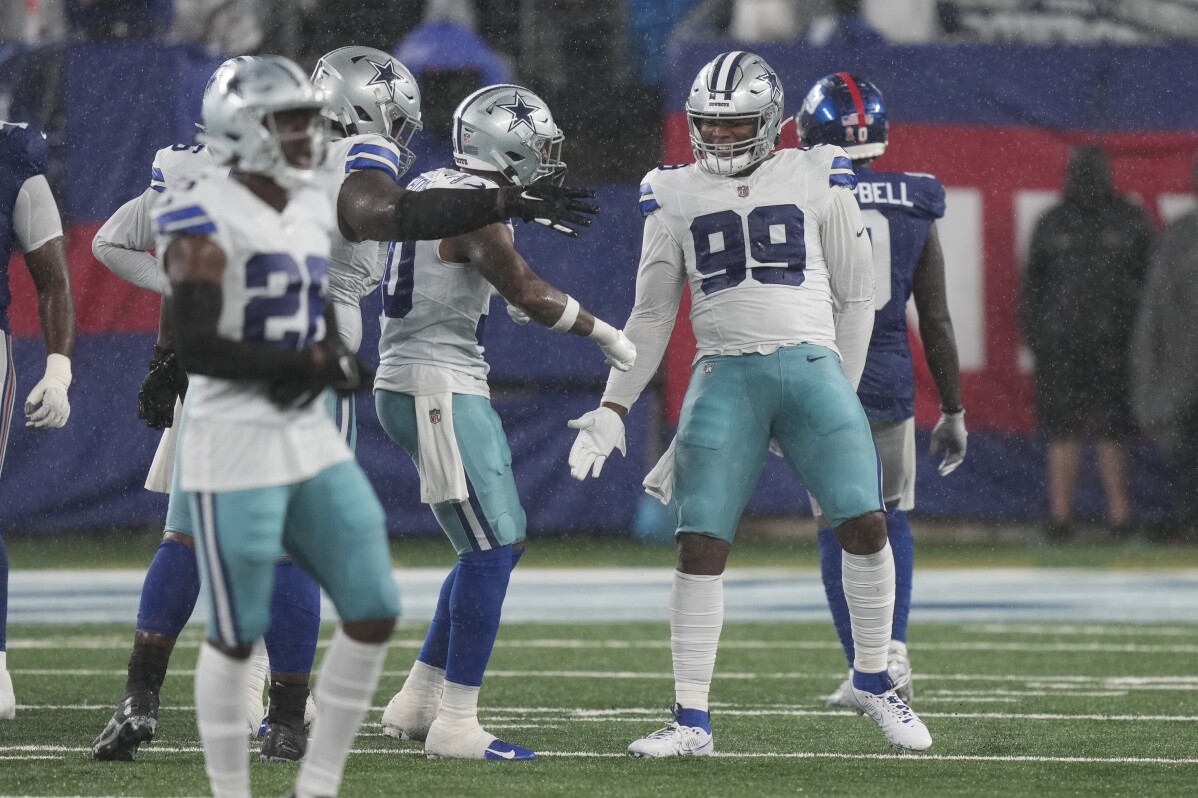 3 of 5

|
Dallas Cowboys' Chauncey Golston, right, celebrates during the second half of an NFL football game against the New York Giants, Sunday, Sept. 10, 2023, in East Rutherford, N.J. (AP Photo/Bryan Woolston)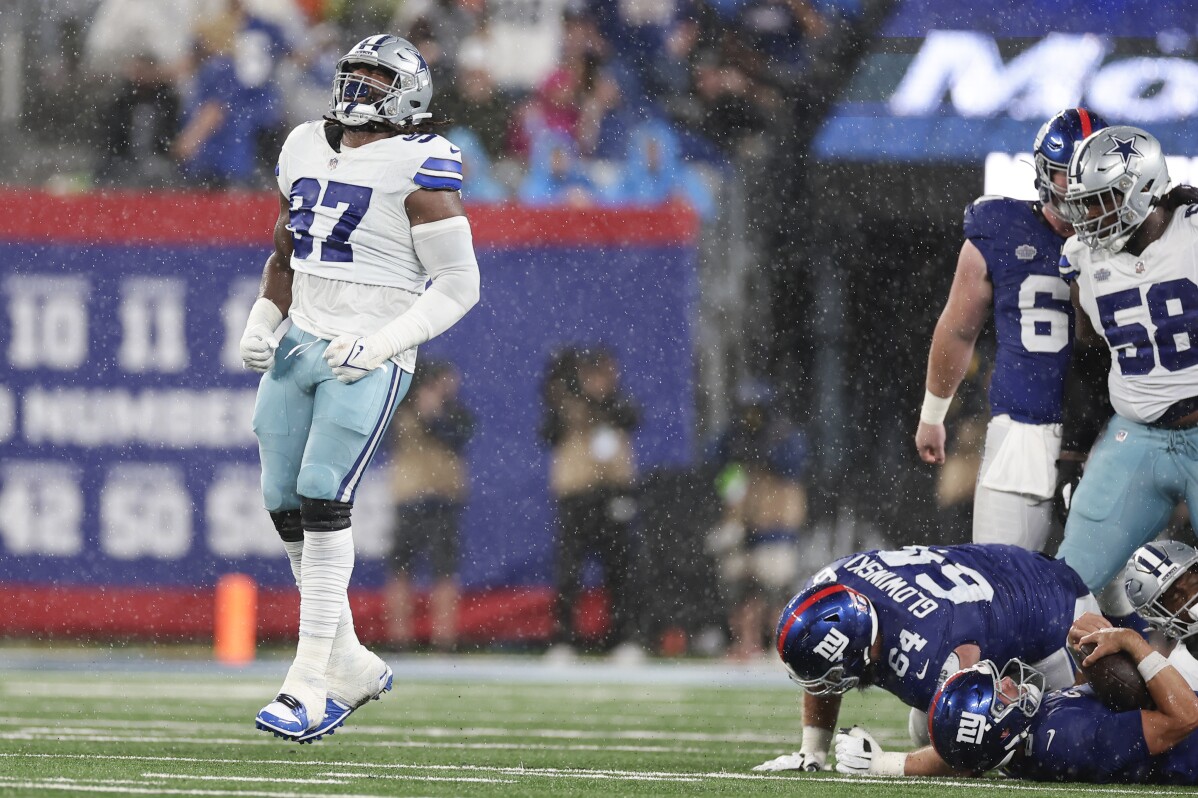 4 of 5

|
Dallas Cowboys' Osa Odighizuwa, left, celebrates a sack during the second half of an NFL football game against the New York Giants, Sunday, Sept. 10, 2023, in East Rutherford, N.J. (AP Photo/Adam Hunger)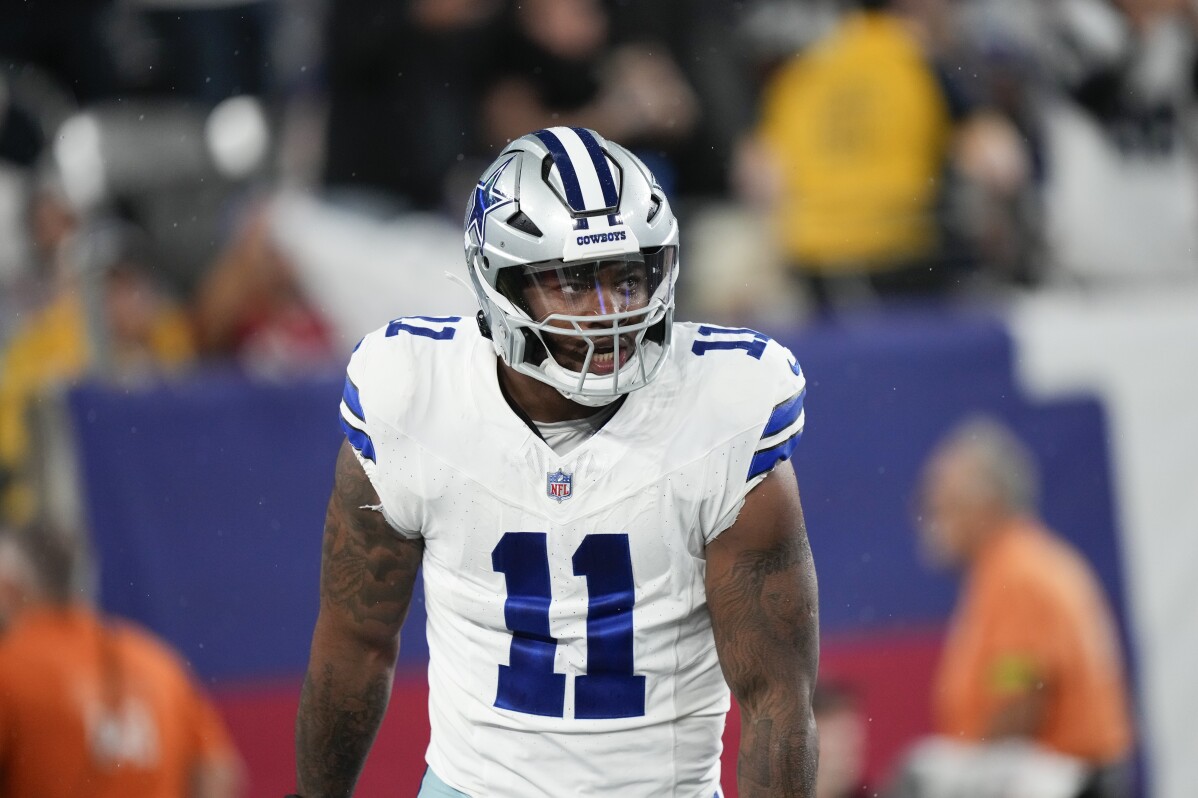 5 of 5

|
Dallas Cowboys' Micah Parsons reacts after sacking New York Giants quarterback Daniel Jones during the first half of an NFL football game, Sunday, Sept. 10, 2023, in East Rutherford, N.J. (AP Photo/Bryan Woolston)
Giants offensive line faces criticism after Daniel Jones sacked 7 times against Dallas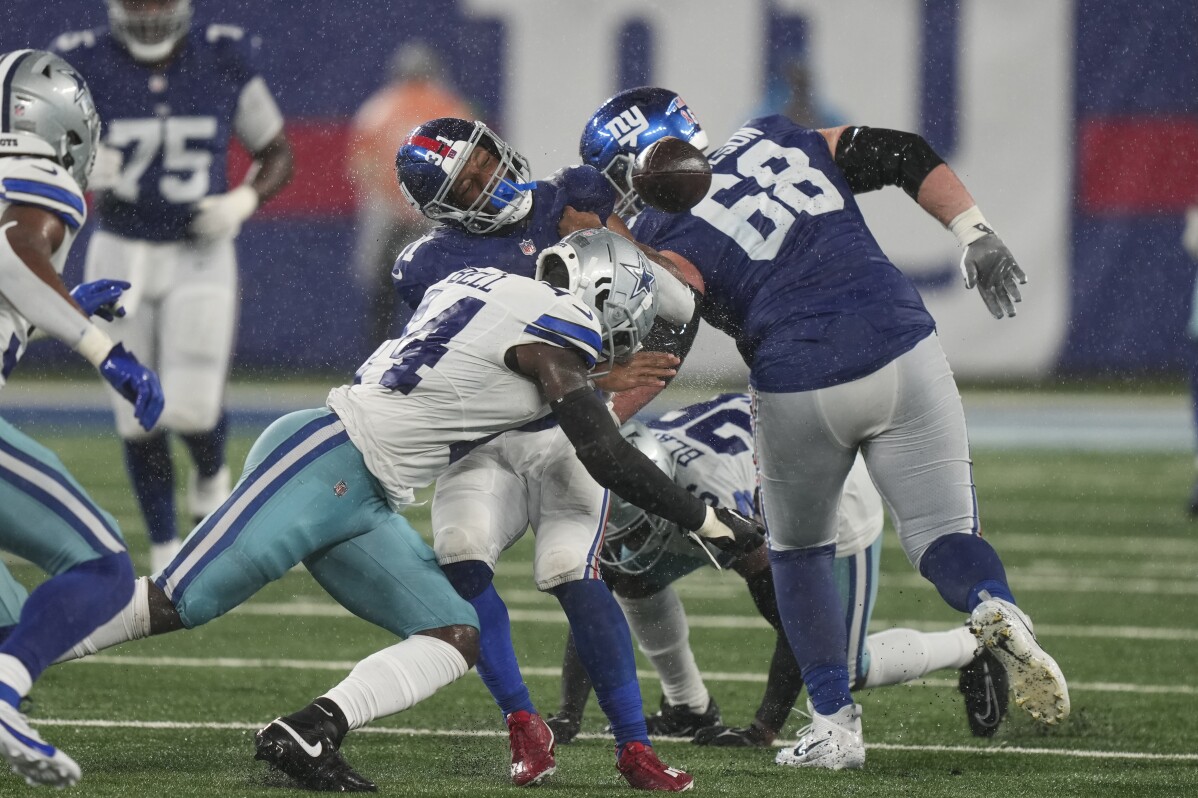 1 of 5

|
New York Giants' Matt Breida (31), center, fumbles the ball as he is hit during the second half of an NFL football game against the Dallas Cowboys, Sunday, Sept. 10, 2023, in East Rutherford, N.J. (AP Photo/Bryan Woolston)
1 of 5
New York Giants' Matt Breida (31), center, fumbles the ball as he is hit during the second half of an NFL football game against the Dallas Cowboys, Sunday, Sept. 10, 2023, in East Rutherford, N.J. (AP Photo/Bryan Woolston)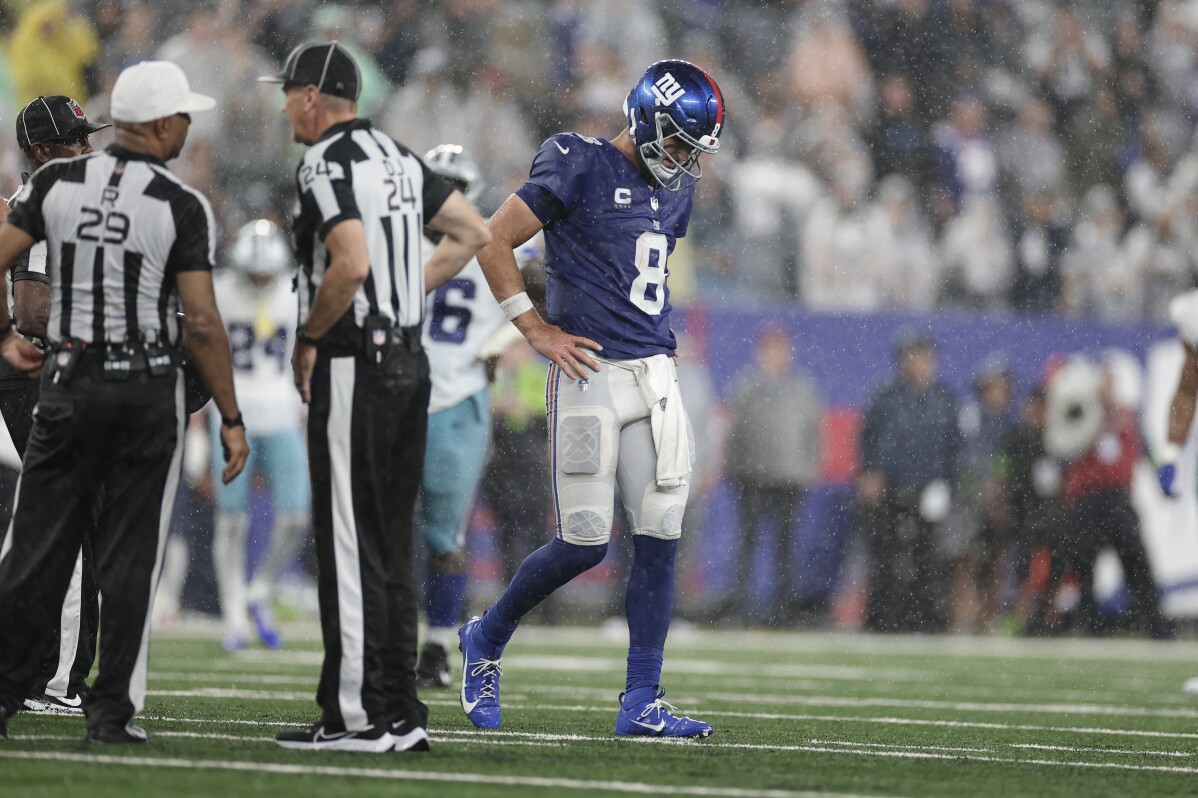 2 of 5

|
New York Giants quarterback Daniel Jones, right, looks down during the second half of an NFL football game against the Dallas Cowboys, Sunday, Sept. 10, 2023, in East Rutherford, N.J. (AP Photo/Adam Hunger)
2 of 5
New York Giants quarterback Daniel Jones, right, looks down during the second half of an NFL football game against the Dallas Cowboys, Sunday, Sept. 10, 2023, in East Rutherford, N.J. (AP Photo/Adam Hunger)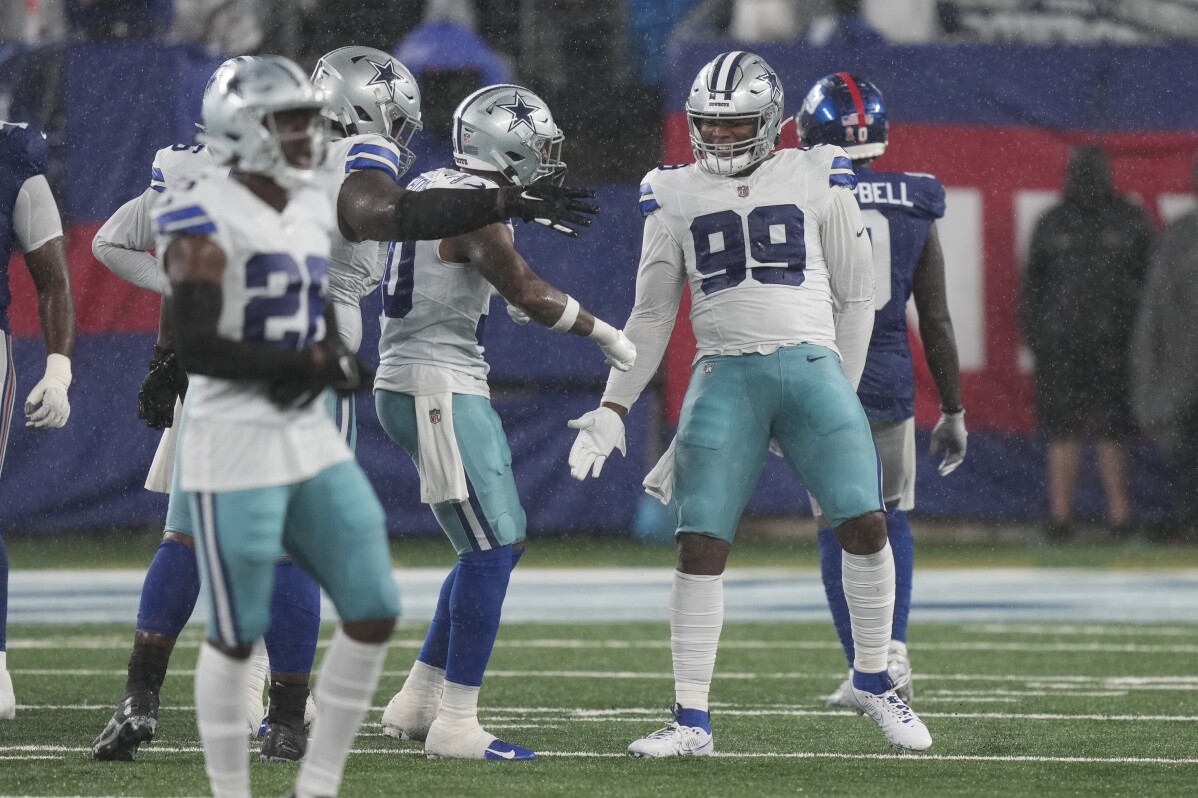 3 of 5

|
Dallas Cowboys' Chauncey Golston, right, celebrates during the second half of an NFL football game against the New York Giants, Sunday, Sept. 10, 2023, in East Rutherford, N.J. (AP Photo/Bryan Woolston)
3 of 5
Dallas Cowboys' Chauncey Golston, right, celebrates during the second half of an NFL football game against the New York Giants, Sunday, Sept. 10, 2023, in East Rutherford, N.J. (AP Photo/Bryan Woolston)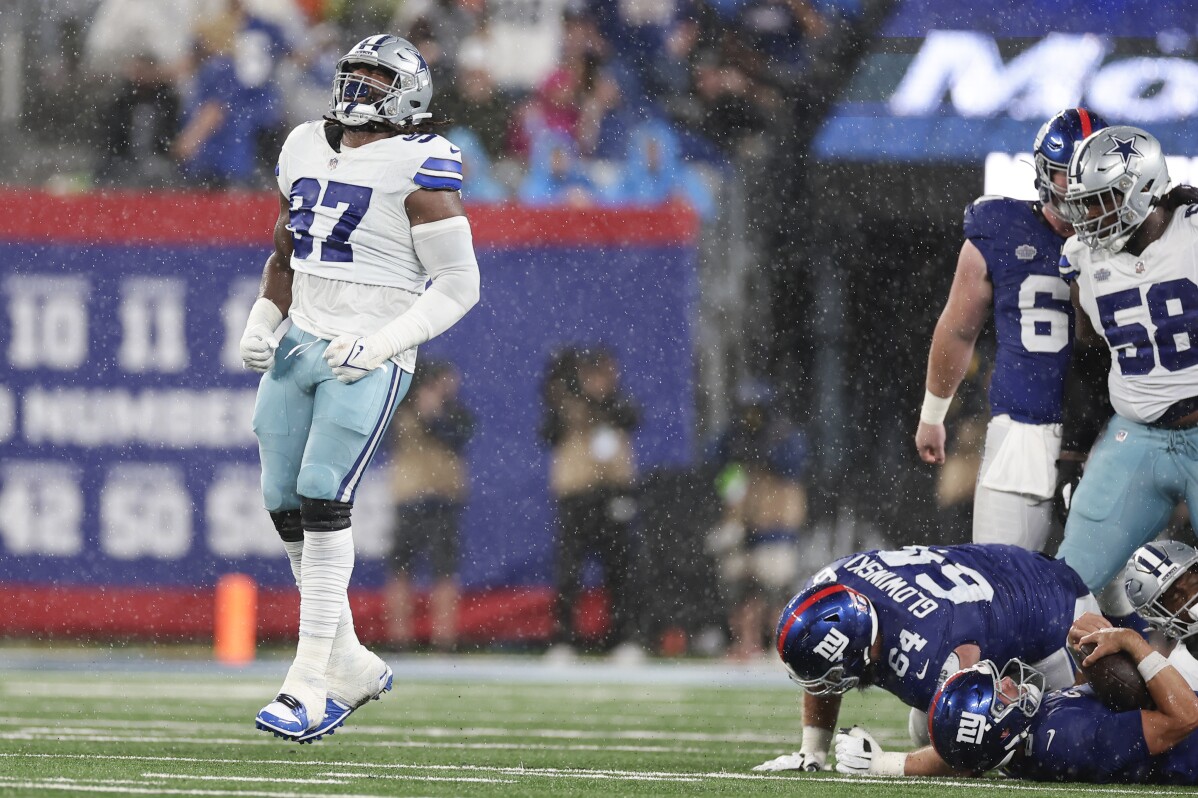 4 of 5

|
Dallas Cowboys' Osa Odighizuwa, left, celebrates a sack during the second half of an NFL football game against the New York Giants, Sunday, Sept. 10, 2023, in East Rutherford, N.J. (AP Photo/Adam Hunger)
4 of 5
Dallas Cowboys' Osa Odighizuwa, left, celebrates a sack during the second half of an NFL football game against the New York Giants, Sunday, Sept. 10, 2023, in East Rutherford, N.J. (AP Photo/Adam Hunger)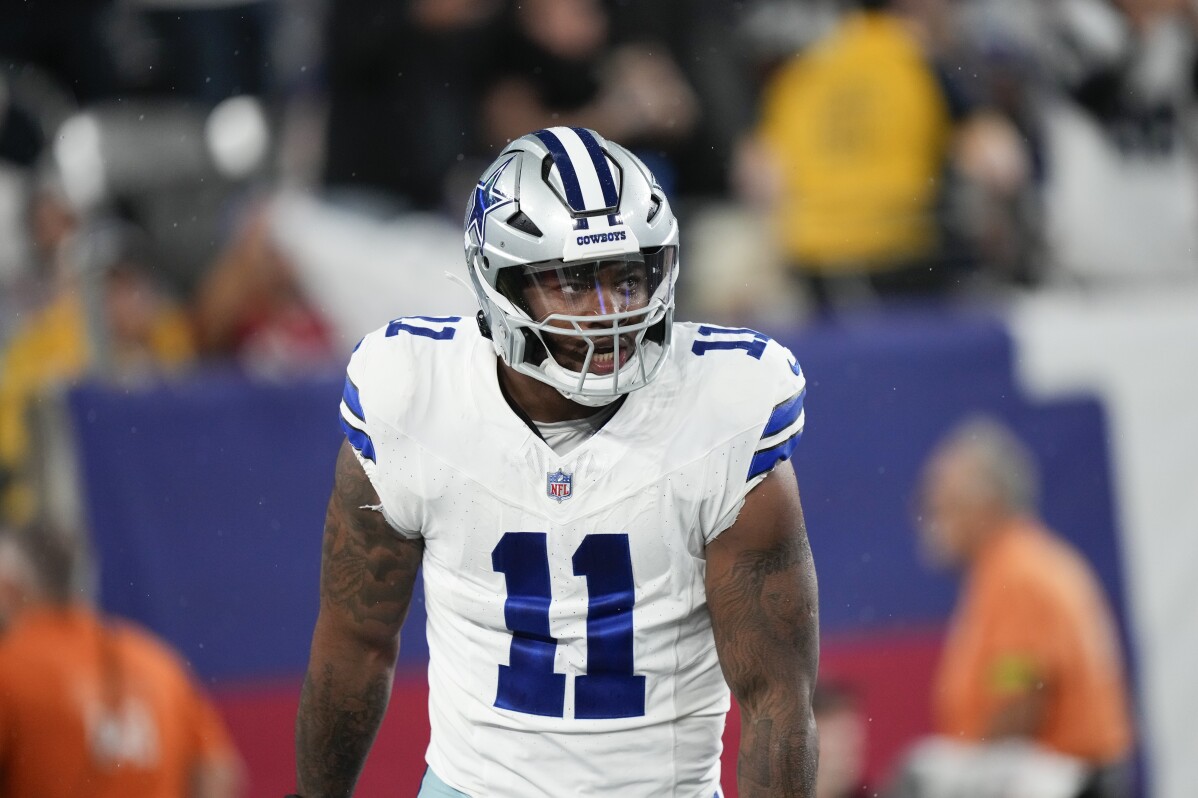 5 of 5

|
Dallas Cowboys' Micah Parsons reacts after sacking New York Giants quarterback Daniel Jones during the first half of an NFL football game, Sunday, Sept. 10, 2023, in East Rutherford, N.J. (AP Photo/Bryan Woolston)
5 of 5
Dallas Cowboys' Micah Parsons reacts after sacking New York Giants quarterback Daniel Jones during the first half of an NFL football game, Sunday, Sept. 10, 2023, in East Rutherford, N.J. (AP Photo/Bryan Woolston)
EAST RUTHERFORD, N.J. (AP) — New York Giants right guard Mark Glowinski has been around long enough to know there is going to be fallout after a team is embarrassed in its season opener and its quarterback is sacked seven times.
That's what happened to Daniel Jones on Sunday night in a 40-0 loss to the Dallas Cowboys, and the fans are looking for someone to blame.
While the whole line played poorly, most of the attention is seemingly focused on the 31-year-old Glowinski, a nine-year veteran who was signed to a three-year, $18.3 million contract to leave Indianapolis in 2022. He allowed two sacks and the right side, which includes tackle Evan Neal, allowed a total of five sacks.
"It was very disappointing. All I can do is move on from that and be better," Glowinski said Wednesday.
Glowinski stood in front of his locker after practice for more than 10 minutes fielding questions from two waves of reporters.
Glowinski said most of the mistakes were physical and mental miscues that can be fixed quickly. His first sack allowed was a perfect example. Cowboys edge rusher Micah Parsons went at Neal, who pushed him to the inside. Glowinski either failed to see him or didn't pick him up and Jones ended up on the ground.
The mistakes could be found across the line. Left tackle Andrew Thomas, whose status for Sunday at Arizona is uncertain because of a hamstring injury, had a false start penalty at the Dallas 8 on the opening series. Rookie center John Michael Schmitz had a bad third down snap on the next play that cost New York 14 yards.
On fourth down, Graham Gano's 45-yard field-goal attempt was blocked and returned for a touchdown.
"Obviously it's not what we wanted," left guard Ben Bredeson said. "We've got things on tape that you feel we need to correct or we can correct. And that's just our focus going into Week 2 right now."
Giants coach Brian Daboll was not afraid to make changes in his starting lineup after winning the season opener last year at Tennessee. It would not be surprising to see changes on the line.
Thomas did not practice Wednesday and second-year guard Josh Ezeudu got reps in his position. A third-round pick out of North Carolina, he got some starts at guard for New York as a rookie but has not played tackle since college. Matt Peart is another candidate to start at left tackle if Thomas can't go.
If Glowinski is taken out of the lineup, either Marcus McKethan, a fifth-round pick in 2022 also out of North Carolina, or veteran Shane Lemieux could get time at right guard.
Glowinski said he is just focused on getting ready to play on Sunday.
"You go with the mentality that it's 1-0, it's the next week, whatever you did — even if it was we had a great play or a bad play, we're always moving on, making sure that we're keeping a clean slate and making sure we're executing our assignments."
Jones said he didn't see any lingering effect from the loss in the team's approach at practice Wednesday. He also expects the Cardinals to attack the offense the same way Dallas did.
"I'm sure they'll come out ready to go and come out aggressive," said Jones, who threw two interceptions against Dallas. "They're a fast defense, they play really hard and fly to the ball. So, I would certainly expect them to do that, and we intend on coming out the same way."
Thomas was not sure about playing Sunday.
"Right now, I am just taking it day by day," he said. "That's the process that I have. It's been feeling better since it first started when I first hurt it. Just giving it time and see how it does."
NOTES: Practice squad cornerback Amani Oruwariye had a neck injury during practice Wednesday. He had movement in his extremities and was taken to Hackensack Medical Center for further evaluation. The results of the evaluation and testing were negative, and Oruwariye was cleared to return to the team's facility. ... Tight end Darren Waller was given a veteran rest day. Daboll said it had been planned and had nothing to do with the hamstring problem he had Friday.
___