Daboll staying consistent as Giants prepare for playoffs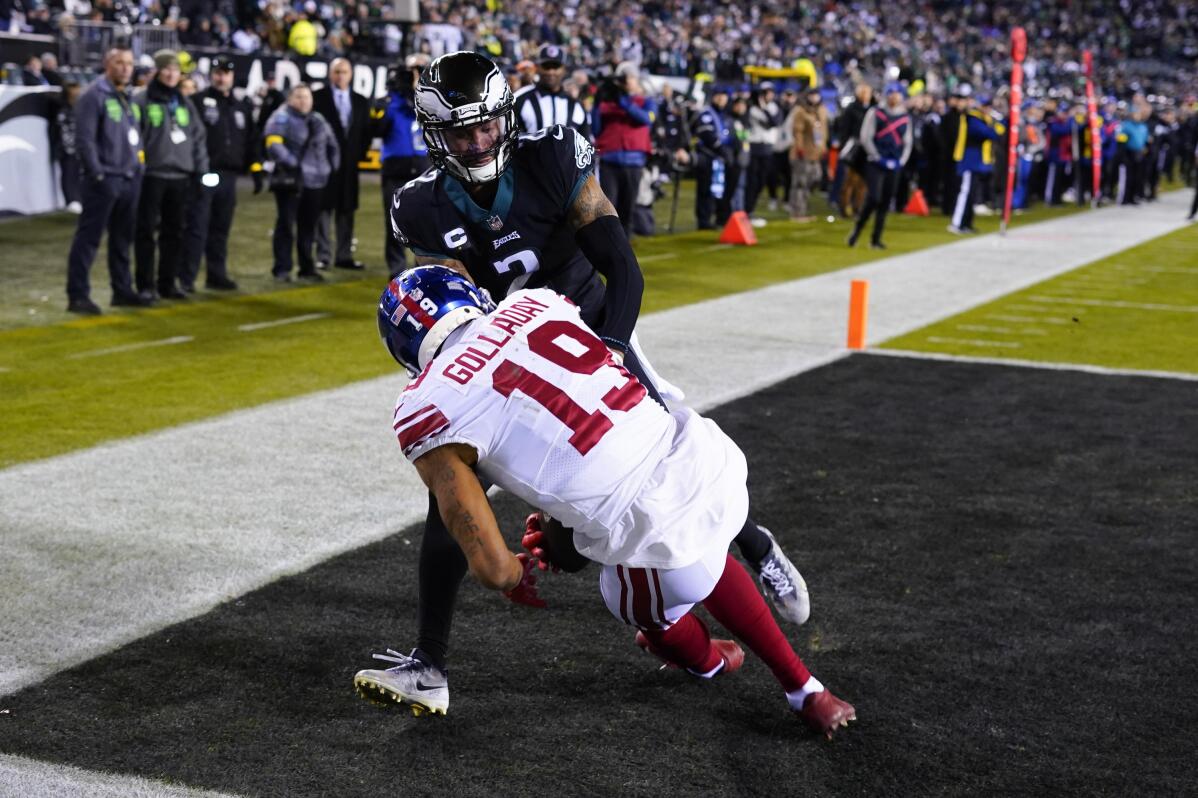 1 of 5

|
New York Giants wide receiver Kenny Golladay (19) makes a touchdown catch against Philadelphia Eagles cornerback Darius Slay (2) during the second half of an NFL football game, Sunday, Jan. 8, 2023, in Philadelphia. The Eagles won 22-16. (AP Photo/Chris Szagola)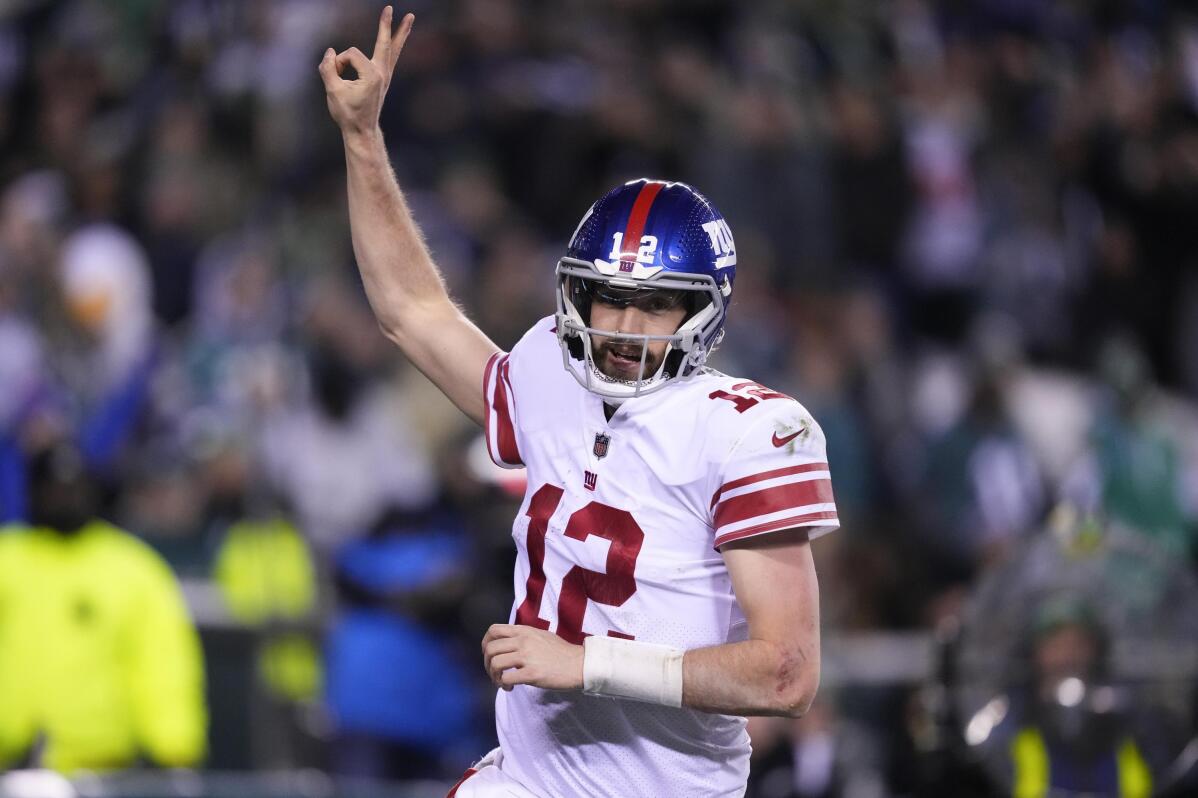 2 of 5

|
New York Giants quarterback Davis Webb gestures after scoring a touchdown run against the Philadelphia Eagles during the second half of an NFL football game, Sunday, Jan. 8, 2023, in Philadelphia. (AP Photo/Matt Rourke)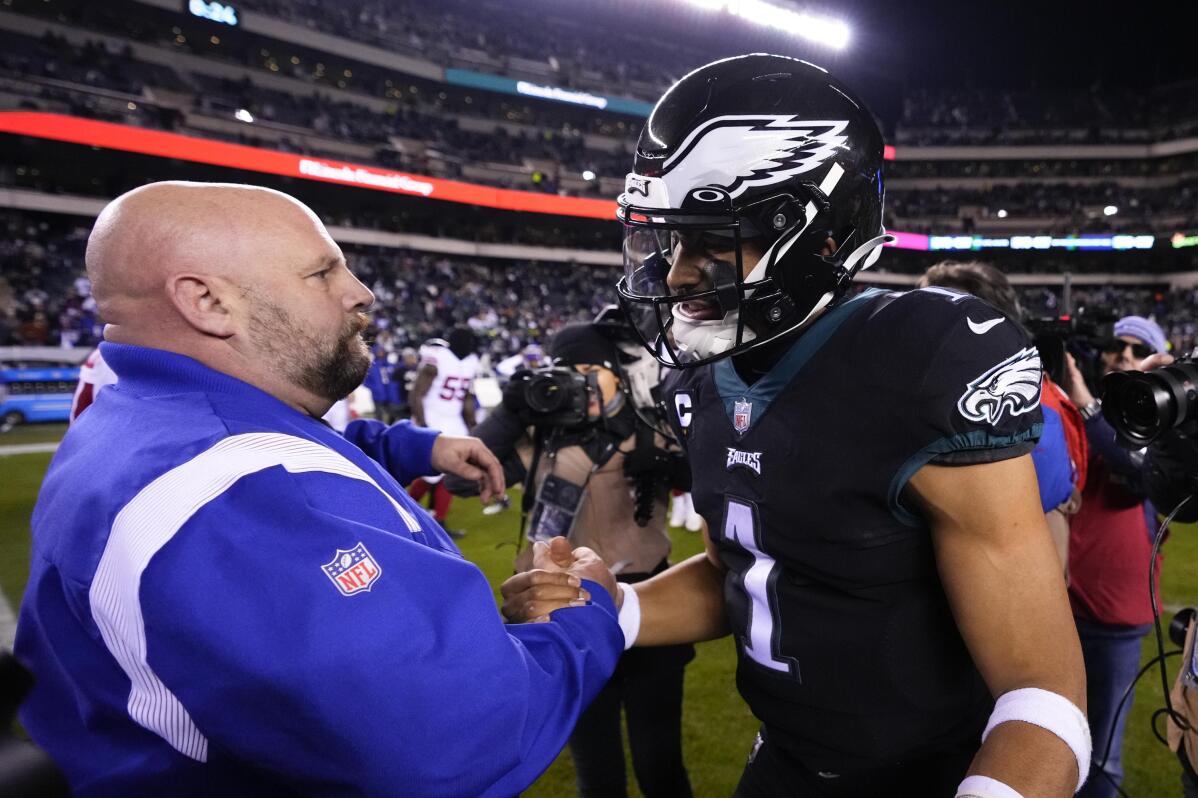 3 of 5

|
New York Giants head coach Brian Daboll, left, talks with Philadelphia Eagles quarterback Jalen Hurts following an NFL football game, Sunday, Jan. 8, 2023, in Philadelphia. The Eagles won 22-16. (AP Photo/Matt Slocum)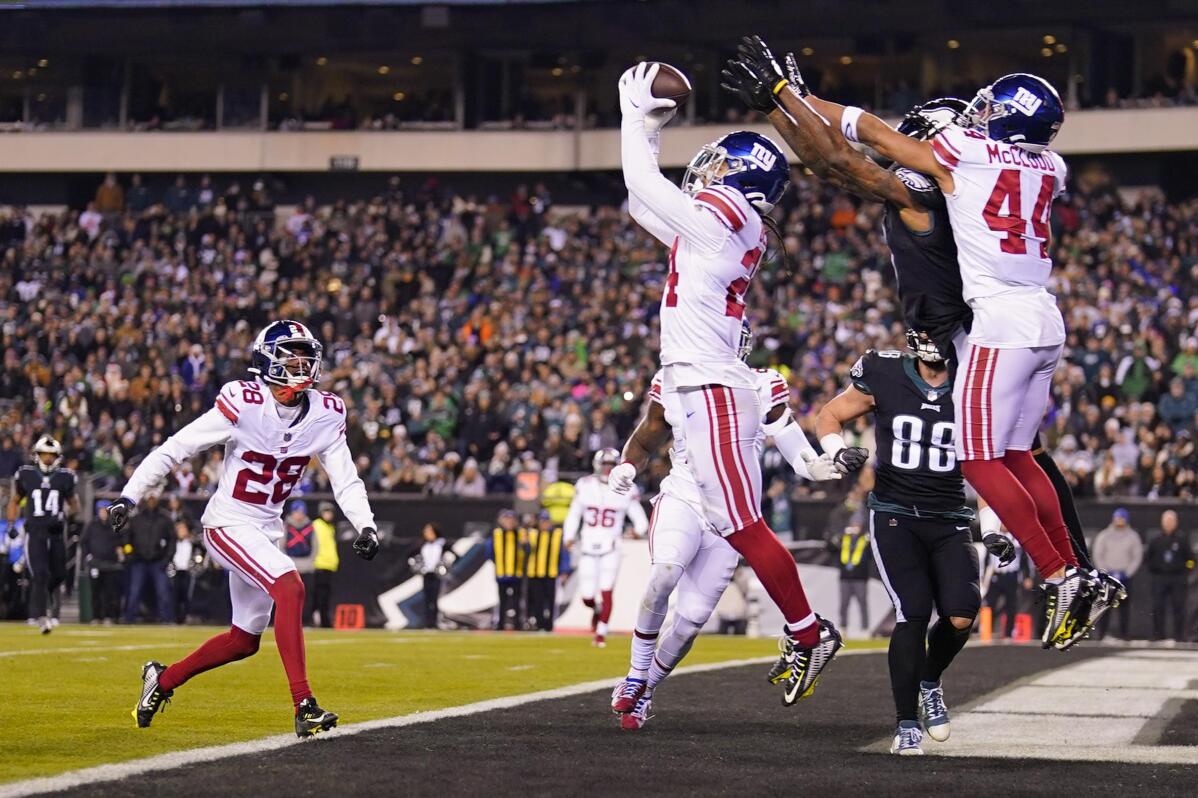 4 of 5

|
New York Giants safety Dane Belton, center, intercepts a pass from Philadelphia Eagles quarterback Jalen Hurts, not visible, intended for wide receiver DeVonta Smith, center right, during the second half of an NFL football game, Sunday, Jan. 8, 2023, in Philadelphia. (AP Photo/Matt Slocum)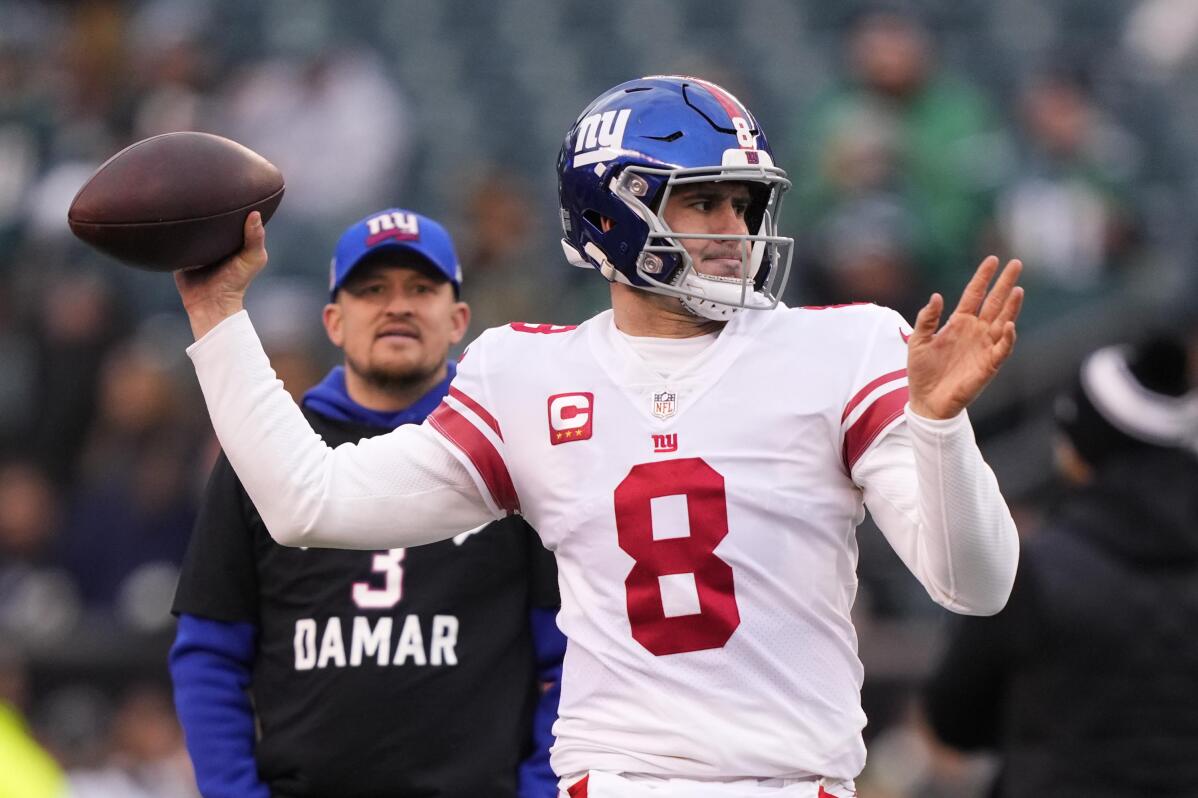 5 of 5

|
New York Giants quarterback Daniel Jones works out prior to an NFL football game against the Philadelphia Eagles, Sunday, Jan. 8, 2023, in Philadelphia. (AP Photo/Matt Rourke)
Daboll staying consistent as Giants prepare for playoffs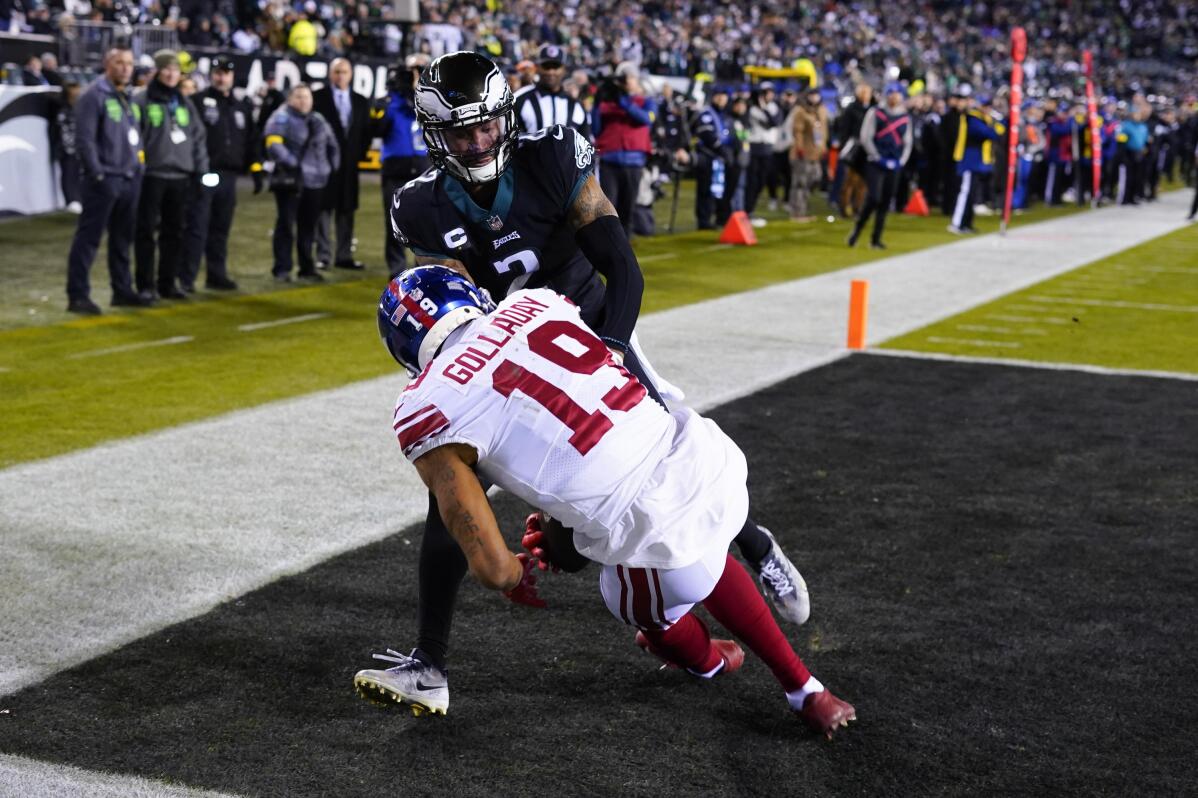 1 of 5

|
New York Giants wide receiver Kenny Golladay (19) makes a touchdown catch against Philadelphia Eagles cornerback Darius Slay (2) during the second half of an NFL football game, Sunday, Jan. 8, 2023, in Philadelphia. The Eagles won 22-16. (AP Photo/Chris Szagola)
1 of 5
New York Giants wide receiver Kenny Golladay (19) makes a touchdown catch against Philadelphia Eagles cornerback Darius Slay (2) during the second half of an NFL football game, Sunday, Jan. 8, 2023, in Philadelphia. The Eagles won 22-16. (AP Photo/Chris Szagola)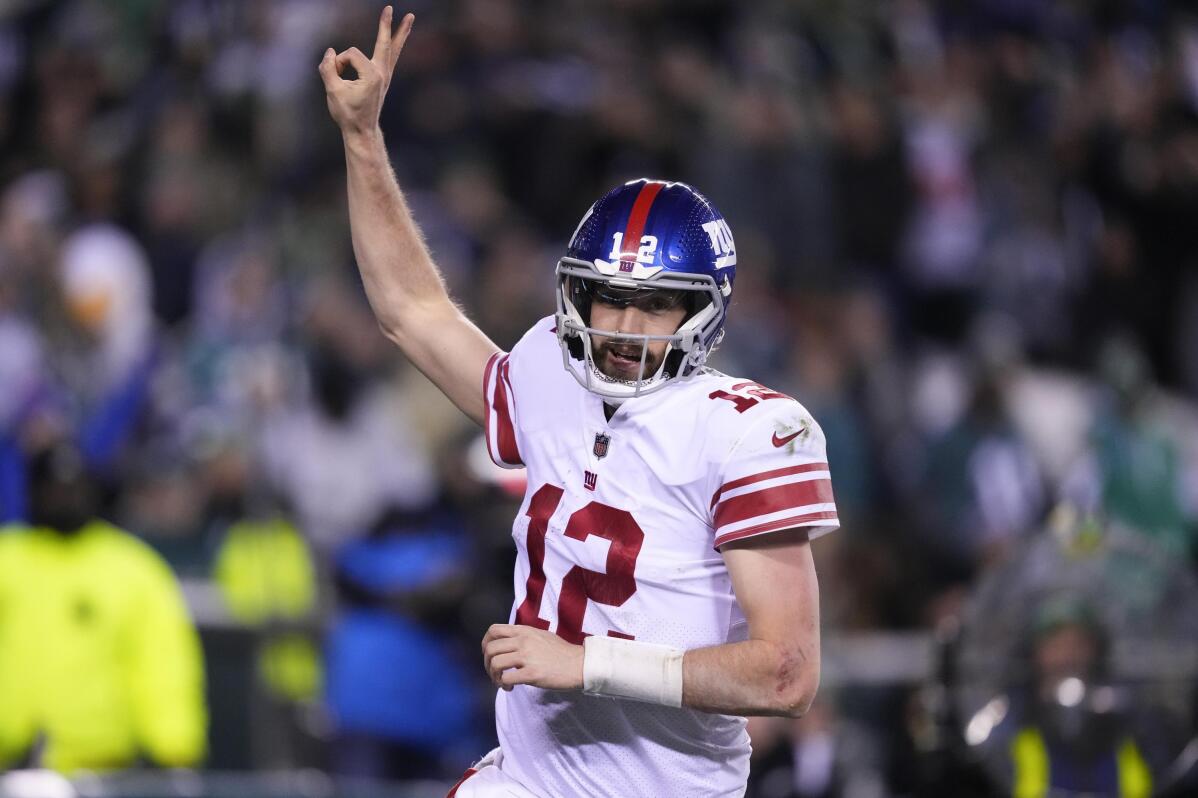 2 of 5

|
New York Giants quarterback Davis Webb gestures after scoring a touchdown run against the Philadelphia Eagles during the second half of an NFL football game, Sunday, Jan. 8, 2023, in Philadelphia. (AP Photo/Matt Rourke)
2 of 5
New York Giants quarterback Davis Webb gestures after scoring a touchdown run against the Philadelphia Eagles during the second half of an NFL football game, Sunday, Jan. 8, 2023, in Philadelphia. (AP Photo/Matt Rourke)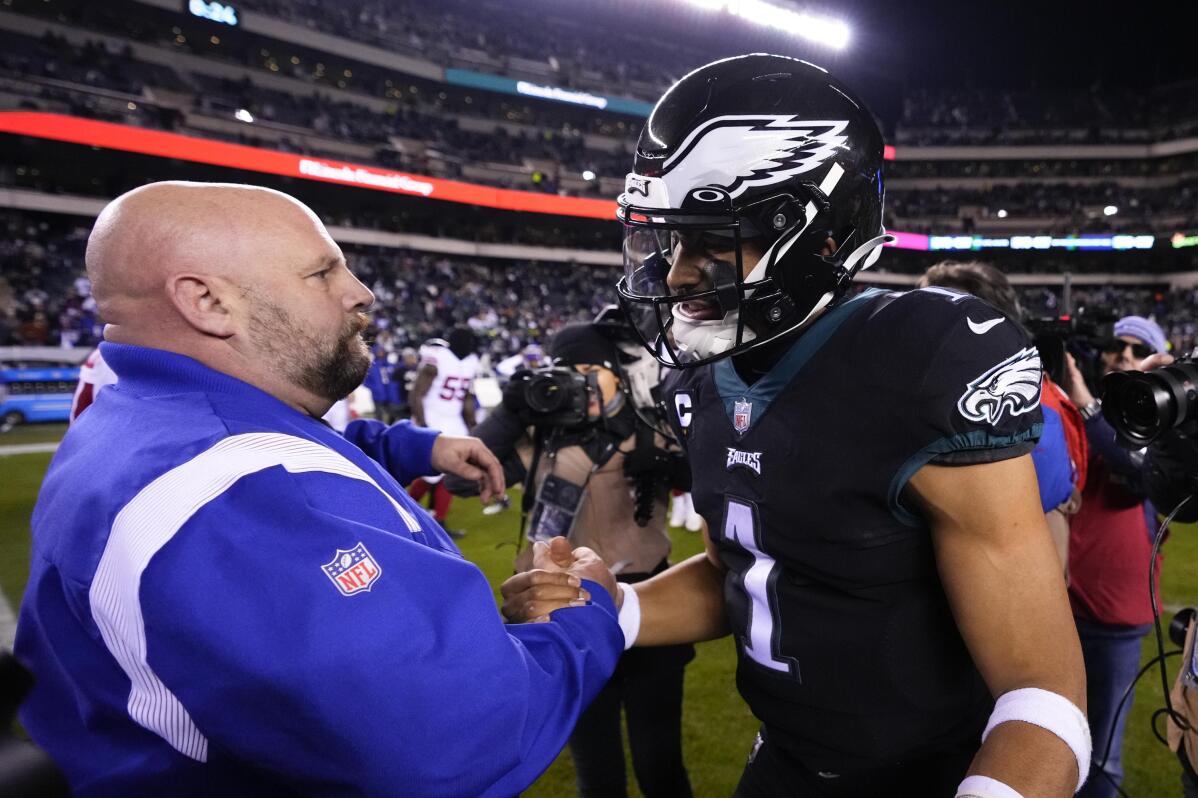 3 of 5

|
New York Giants head coach Brian Daboll, left, talks with Philadelphia Eagles quarterback Jalen Hurts following an NFL football game, Sunday, Jan. 8, 2023, in Philadelphia. The Eagles won 22-16. (AP Photo/Matt Slocum)
3 of 5
New York Giants head coach Brian Daboll, left, talks with Philadelphia Eagles quarterback Jalen Hurts following an NFL football game, Sunday, Jan. 8, 2023, in Philadelphia. The Eagles won 22-16. (AP Photo/Matt Slocum)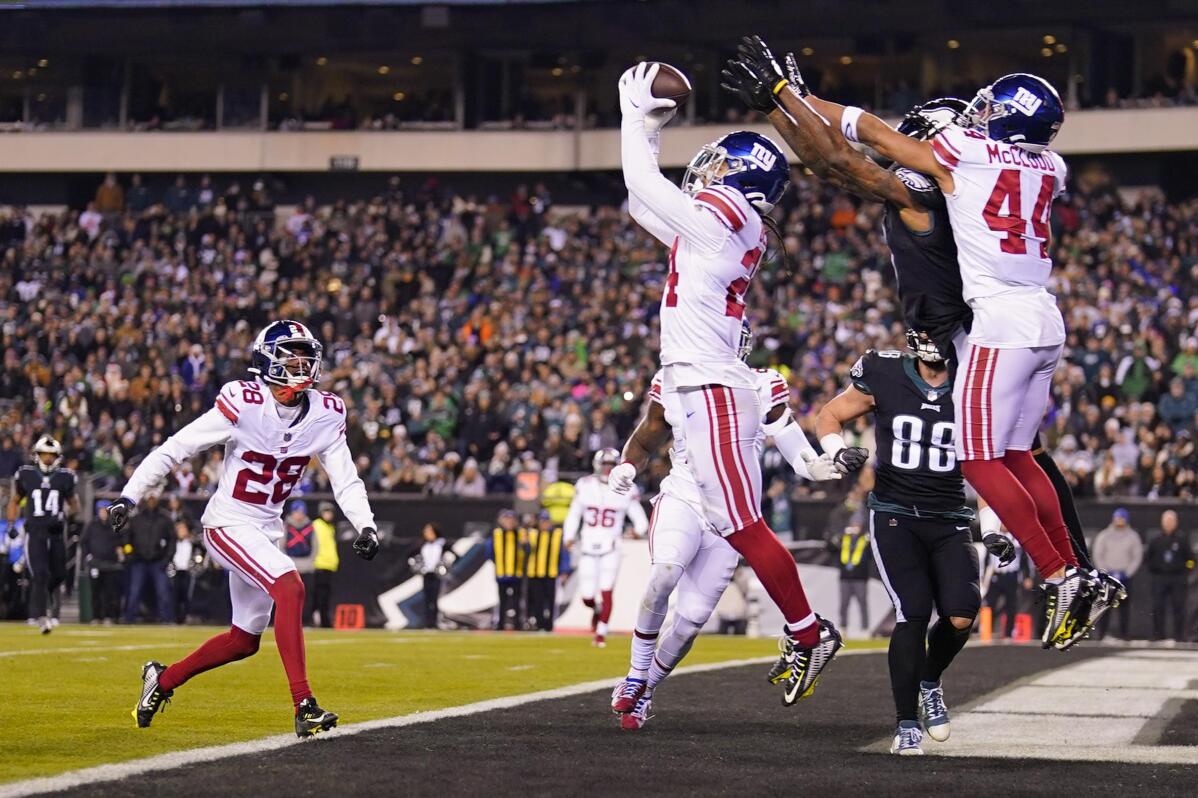 4 of 5

|
New York Giants safety Dane Belton, center, intercepts a pass from Philadelphia Eagles quarterback Jalen Hurts, not visible, intended for wide receiver DeVonta Smith, center right, during the second half of an NFL football game, Sunday, Jan. 8, 2023, in Philadelphia. (AP Photo/Matt Slocum)
4 of 5
New York Giants safety Dane Belton, center, intercepts a pass from Philadelphia Eagles quarterback Jalen Hurts, not visible, intended for wide receiver DeVonta Smith, center right, during the second half of an NFL football game, Sunday, Jan. 8, 2023, in Philadelphia. (AP Photo/Matt Slocum)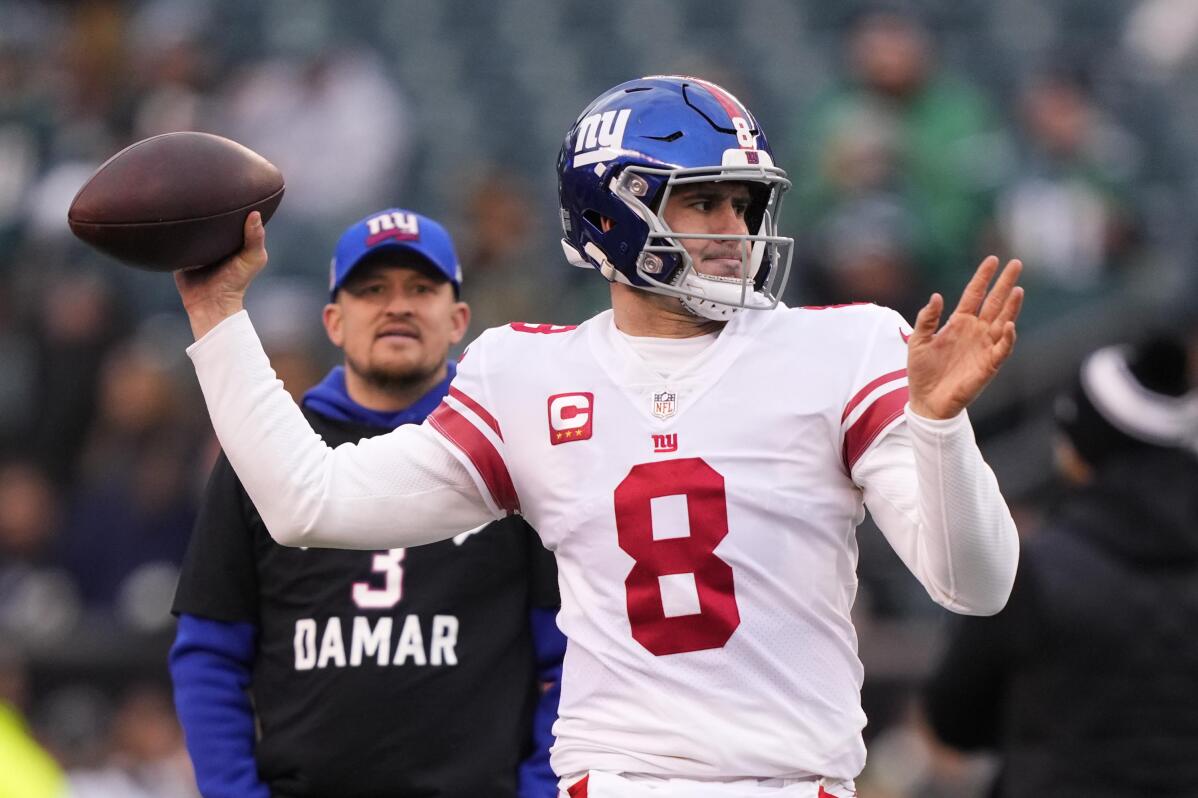 5 of 5

|
New York Giants quarterback Daniel Jones works out prior to an NFL football game against the Philadelphia Eagles, Sunday, Jan. 8, 2023, in Philadelphia. (AP Photo/Matt Rourke)
5 of 5
New York Giants quarterback Daniel Jones works out prior to an NFL football game against the Philadelphia Eagles, Sunday, Jan. 8, 2023, in Philadelphia. (AP Photo/Matt Rourke)
EAST RUTHERFORD, N.J. (AP) — Brian Daboll isn't making a big deal about the New York Giants playing in their first postseason game in six years.
There's no need. Everyone in the locker room and the team's headquarters understands the importance of the getting beyond the regular season. It's a step forward, a goal achieved for an organization that's floundered for the past decade.
Now it's time to take the next step. Do something in the playoffs.
Whether the Giants (9-7-1) have the talent to do that at this point in their rebuild from five straight losing seasons remains to be seen.
What's not going to change is Daboll's approach to Saturday's wild-card game in Minnesota against the Vikings (13-4). The teams played on Dec. 24 and the Vikings won 27-24 on a last-second field goal.
"It's what we do this week and ultimately how we go out there and play in the game, because what wins in Week 1 wins in the playoffs," Daboll said Monday. "And what loses in Week 1 loses in the playoffs."
They Giants' schedule for this week is unchanged for a Sunday game. The players came in for treatment and some weightlifting on Monday. They will have Tuesday off, practice the next three day, have a walk-through on Saturday and travel to Minnesota.
Even though they are familiar with how loud U.S. Bank Stadium can be, Daboll intends to pump up the sound at practice this week. He does it for every road game.
"We believe in what we do. We believe in how we do it, and then we have to go out there and execute and call a good game and make good decisions," said the rookie head coach, who has plenty of playoff experience from his stints as an assistant in New England and Buffalo.
Most of the Giants' players don't have that experience. Daboll said that doesn't matter.
"We're in the midst of our most important week of the season, just starting out," he said. "I really don't think about it at all to be honest with you. I just think you make more out of it than it really is. Experience, not experience — the most important thing is playing and coaching well."
Daboll has done that since taking over last January.
WHAT'S WORKING
Despite resting seven starters Sunday at Philadelphia, coordinator Wink Martindale's defense continues to play well. The unit has given up 71 points in the last four games, an average of less than 18 points.
Facing Jalen Hurts and the Eagles in a game Philadelphia had to win to clinch the top seed in the NFC, the defense allowed one touchdown and five field goals. The group is going to be tested again this weekend against NFL receiving leader Justin Jefferson and the explosive Vikings offense.
WHAT'S NOT
The offense isn't producing points. New York was held under 30 points in 16 of its 17 games and scored more than 25 twice.
The offense needs to hit more home runs. For the season, the Giants had 28 passes of 20 yards or more. Only 10 of those went for at least 30 yards, and that has kept the scoring down.
STOCK UP
Jarrad Davis. Signed from the Lions' practice squad on Dec. 28, the inside linebacker had 10 tackles, half a sack and a quarterback hit in his first start. It could have earned him postseason playing time. Honorable mention: Kenny Golladay had a spectacular one-handed catch to score his first TD in two seasons with New York after signing a $72 million contact.
STOCK DOWN
Special teams. Two trick plays were busts. A fake field goal and pass attempt by punter Jamie Gillan on the final play of the first quarter fooled no one and resulted in an 11-yard sack. Graham Gano's onside kick to open the second half was recovered by Philadelphia.
INJURIES
There didn't appear to be any significant injuries Sunday. The question mark will be whether No. 1 cornerback Adoree Jackson is ready to play. He has missed the last seven games with a knee injury. Defensive lineman Leonard Williams (neck) and outside linebacker Azeez Ojulari (ankle) were inactive Sunday and hope to be ready.
KEY NUMBER
98 — The Giants played 98 regular-season games since last appearing in a playoff game, a 38-13 loss to the Packers in Green Bay on Jan. 8, 2017. They had a combined 31-66-1 record in those six seasons. This year's 9-7-1 mark stopped a string of five straight losing seasons.
NEXT STEPS
The Giants will play the Vikings for the second time in three weeks. If they win, they will play the another road game against either Philadelphia, Tampa Bay or Dallas in the divisional round.
___
AP NFL: https://apnews.com/hub/nfl and https://twitter.com/AP_NFL