NYC artist recognized for his unique beeswax art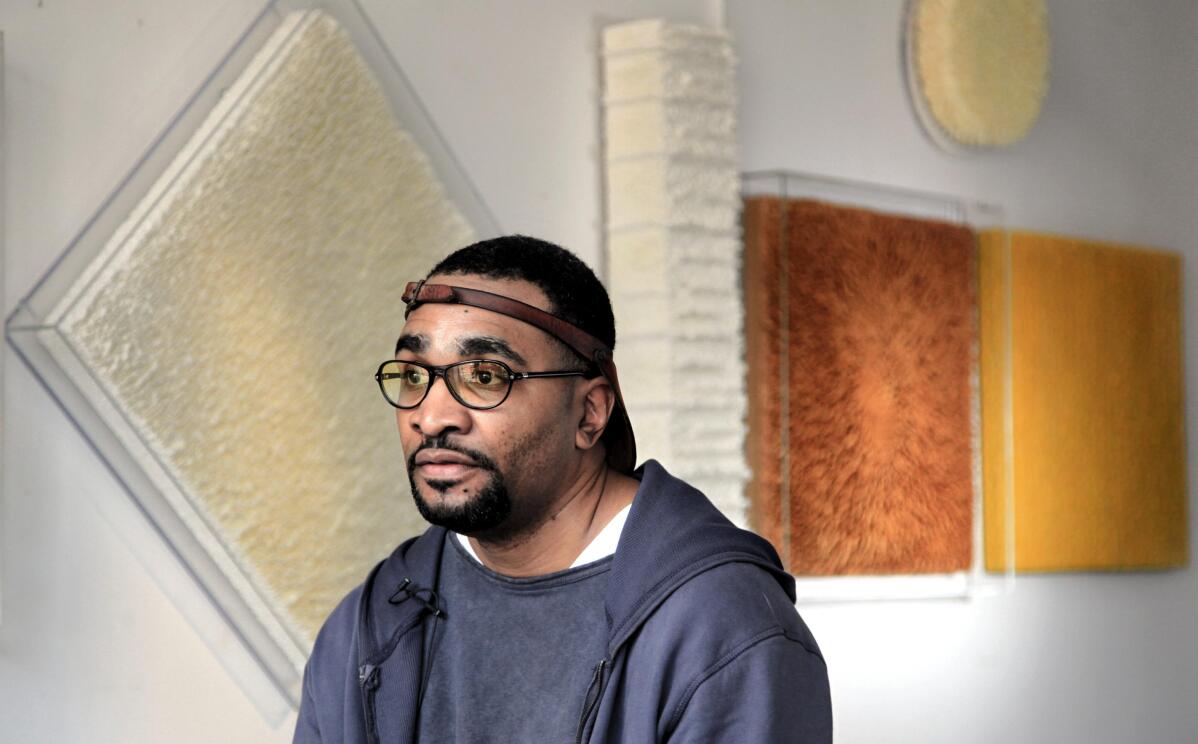 1 of 5

|
Lerone Wilson, a Harlem artist who creates unique sculptural paintings with molten beeswax, listens during an interview, Wednesday, Feb. 1, 2012 in New York. (AP Photo/Bebeto Matthews)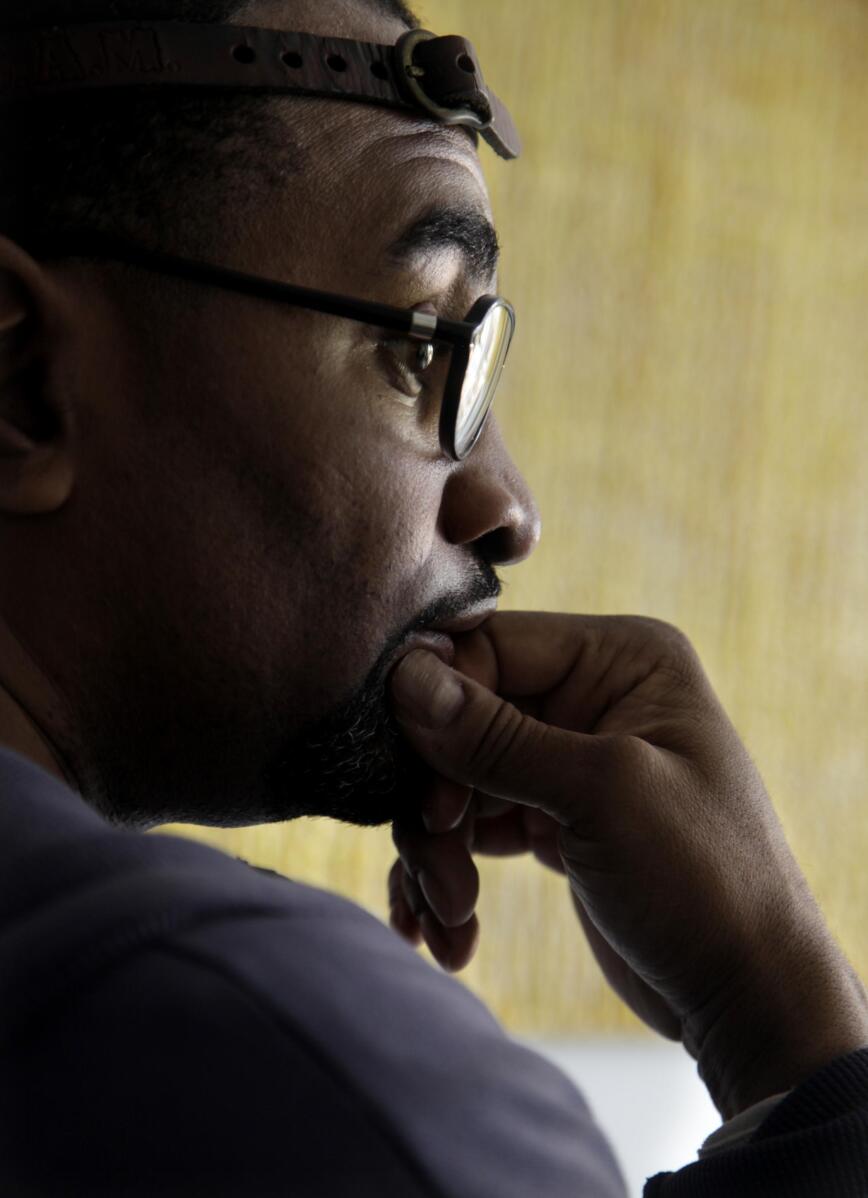 2 of 5

|
Lerone Wilson, a Harlem artist who creates unique sculptural paintings with molten beeswax, listens during an interview, Wednesday, Feb. 1, 2012 in New York. (AP Photo/Bebeto Matthews)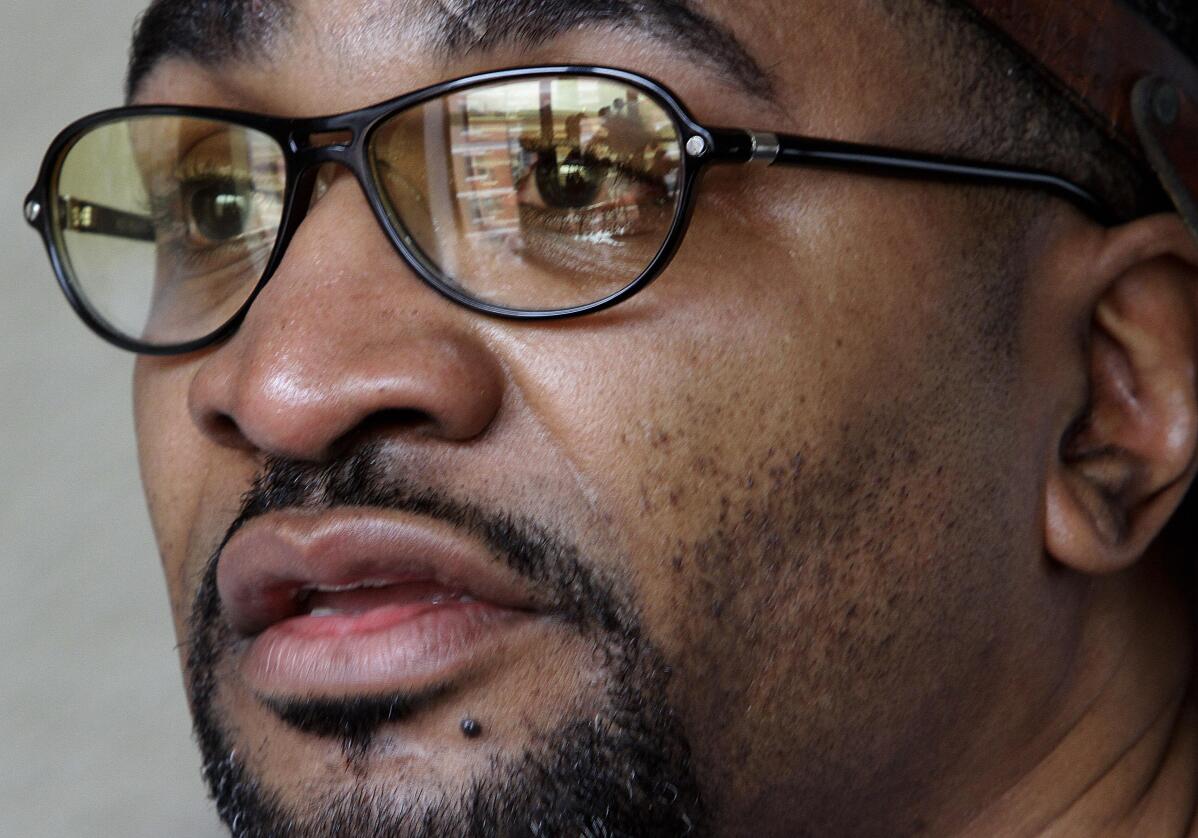 3 of 5

|
Lerone Wilson, a Harlem artist who creates unique sculptural paintings with molten beeswax, reacts during an interview, Wednesday, Feb. 1, 2012 in New York. (AP Photo/Bebeto Matthews)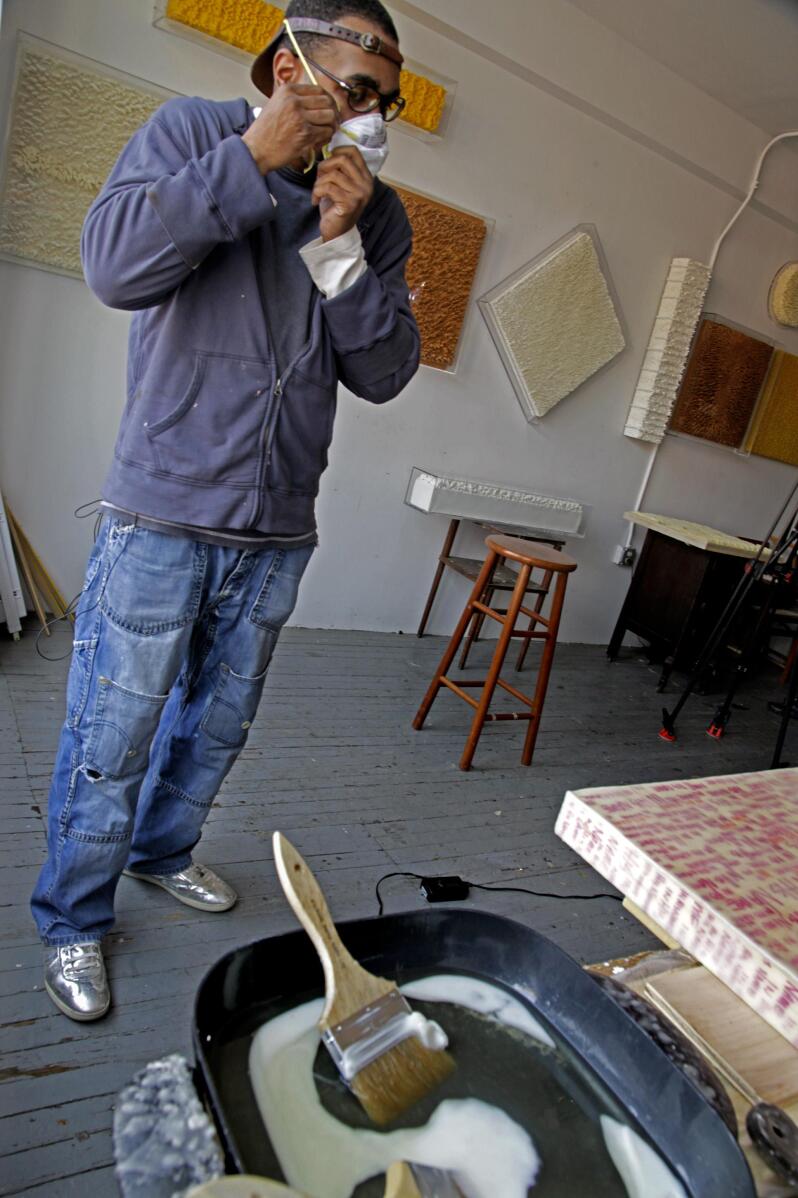 4 of 5

|
Lerone Wilson, a Harlem artist who creates unique sculptural paintings with beeswax, prepares to handle molten beeswax in his studio, Wednesday, Feb. 1, 2012 in New York. (AP Photo/Bebeto Matthews)
5 of 5

|
Lerone Wilson, a Harlem artist who creates unique sculptural paintings with molten beeswax, speaks during an interview, Wednesday, Feb. 1, 2012 in New York. (AP Photo/Bebeto Matthews)
NYC artist recognized for his unique beeswax art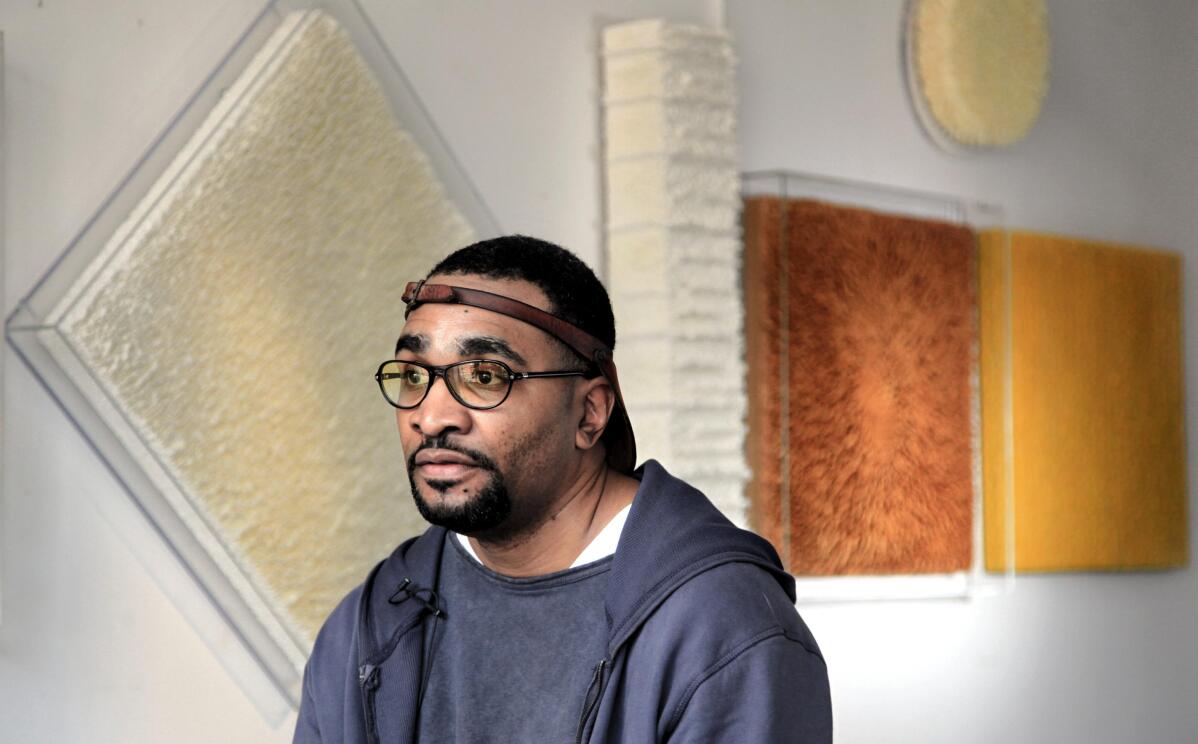 1 of 5

|
Lerone Wilson, a Harlem artist who creates unique sculptural paintings with molten beeswax, listens during an interview, Wednesday, Feb. 1, 2012 in New York. (AP Photo/Bebeto Matthews)
1 of 5
Lerone Wilson, a Harlem artist who creates unique sculptural paintings with molten beeswax, listens during an interview, Wednesday, Feb. 1, 2012 in New York. (AP Photo/Bebeto Matthews)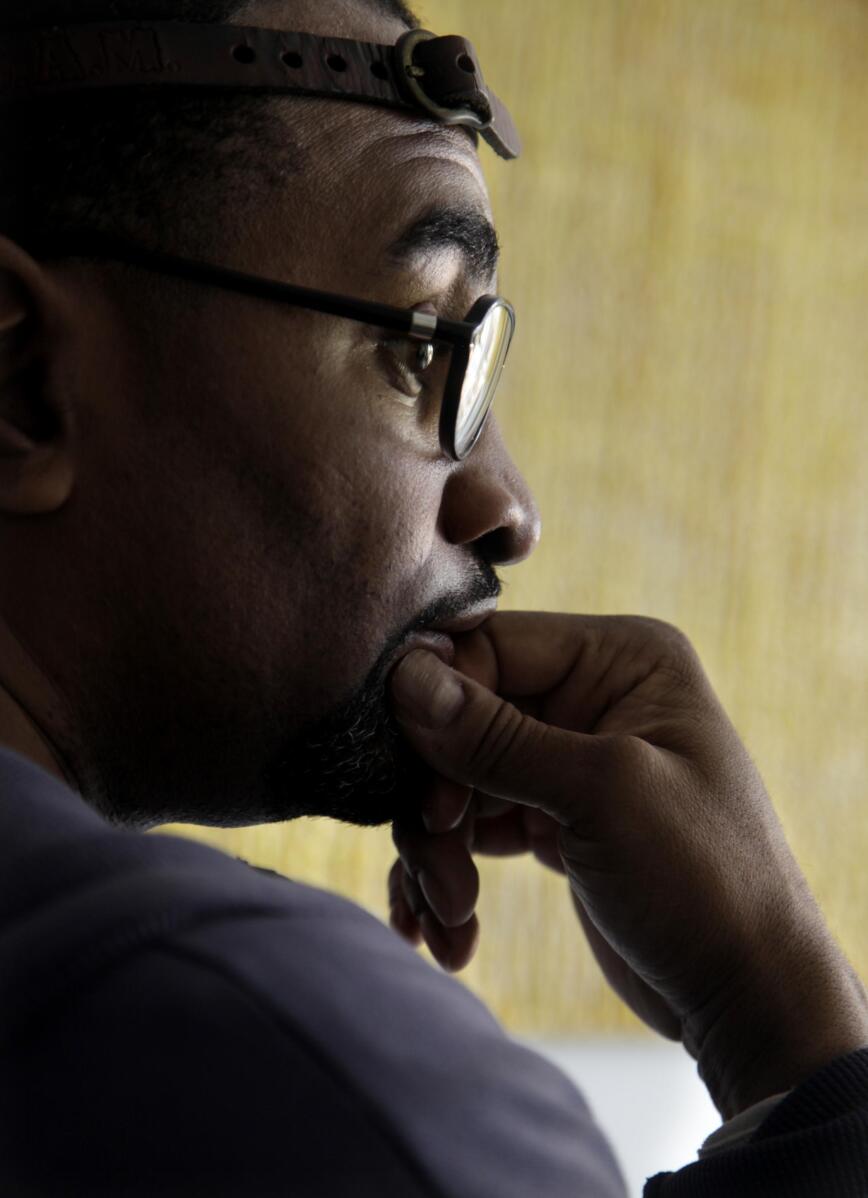 2 of 5

|
Lerone Wilson, a Harlem artist who creates unique sculptural paintings with molten beeswax, listens during an interview, Wednesday, Feb. 1, 2012 in New York. (AP Photo/Bebeto Matthews)
2 of 5
Lerone Wilson, a Harlem artist who creates unique sculptural paintings with molten beeswax, listens during an interview, Wednesday, Feb. 1, 2012 in New York. (AP Photo/Bebeto Matthews)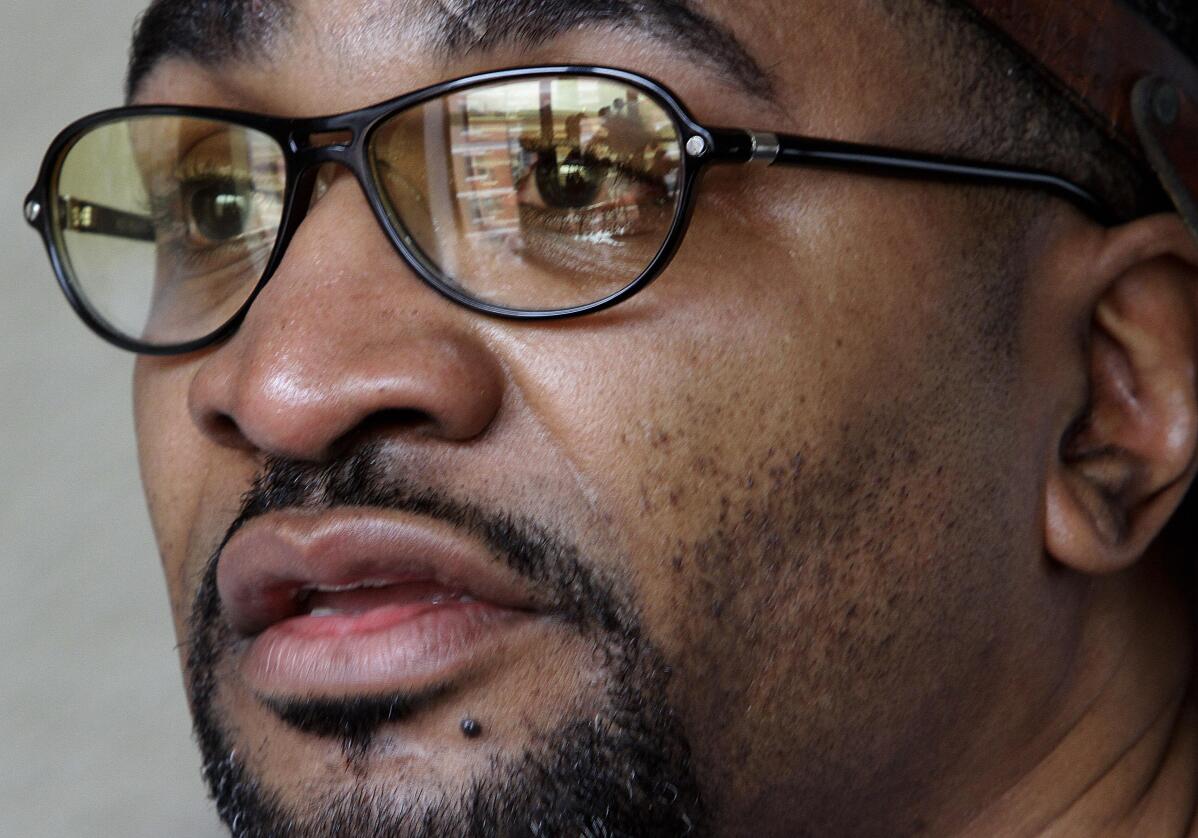 3 of 5

|
Lerone Wilson, a Harlem artist who creates unique sculptural paintings with molten beeswax, reacts during an interview, Wednesday, Feb. 1, 2012 in New York. (AP Photo/Bebeto Matthews)
3 of 5
Lerone Wilson, a Harlem artist who creates unique sculptural paintings with molten beeswax, reacts during an interview, Wednesday, Feb. 1, 2012 in New York. (AP Photo/Bebeto Matthews)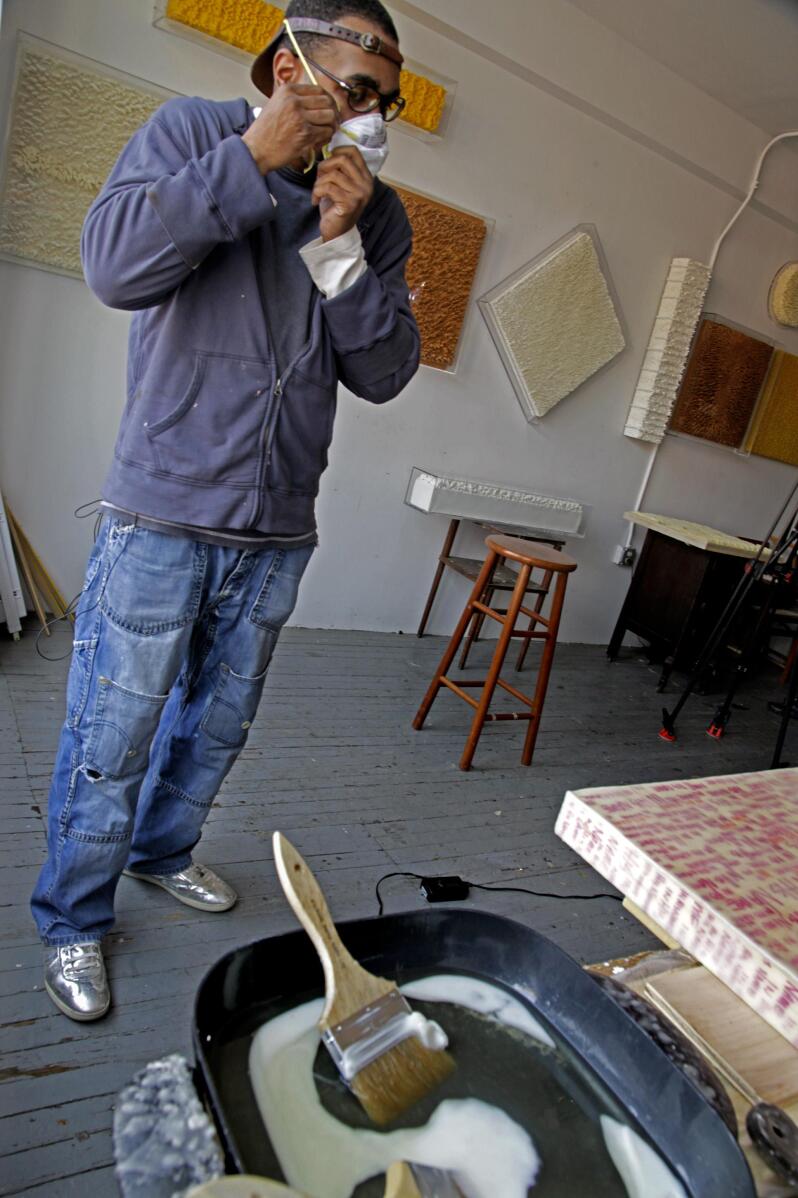 4 of 5

|
Lerone Wilson, a Harlem artist who creates unique sculptural paintings with beeswax, prepares to handle molten beeswax in his studio, Wednesday, Feb. 1, 2012 in New York. (AP Photo/Bebeto Matthews)
4 of 5
Lerone Wilson, a Harlem artist who creates unique sculptural paintings with beeswax, prepares to handle molten beeswax in his studio, Wednesday, Feb. 1, 2012 in New York. (AP Photo/Bebeto Matthews)
5 of 5

|
Lerone Wilson, a Harlem artist who creates unique sculptural paintings with molten beeswax, speaks during an interview, Wednesday, Feb. 1, 2012 in New York. (AP Photo/Bebeto Matthews)
5 of 5
Lerone Wilson, a Harlem artist who creates unique sculptural paintings with molten beeswax, speaks during an interview, Wednesday, Feb. 1, 2012 in New York. (AP Photo/Bebeto Matthews)
NEW YORK (AP) — A black skillet, a heat gun, pigments and beeswax take up a corner of LeRone Wilson's art studio in Harlem.
They are simple tools and materials that his skillful hands use to create unique abstract artworks in beeswax — richly textured, three-dimensional coral-like sculptural paintings in warm tones of yellow, gold and white and in metallic silver and bronze of varying shapes and sizes.
Wilson's use of molten beeswax — called encaustic — is based on an ancient technique used in hieroglyphics. It requires a great deal of patience and control, with one piece taking up to six months to complete.
While he modestly claims he's still learning, the 43-year-old artist is a master in its use — a medium he has applied in art for 16 years.
In December, Wilson garnered national attention during Art Basel Miami Beach, one of the largest contemporary art fairs in the country. He bested 4,000 other contestants to win the national Bombay Sapphire Artisan Series. The recognition is a result of his perseverance even in the face of hardship.
Sponsored by media mogul Russell Simmons' arts foundation and Barcardi, Bombay's parent company, the prize aims to give exposure to midcareer and emerging artists.
Wilson's winning piece, "A Path Through the Sky," is among 16 of his works that will be exhibited at Simmons' Rush Arts Gallery in Chelsea from Thursday until March 16. Works from the only other Bombay prize winner, Miguel Ovalle, another New Yorker who creates installations out of foam core, will be featured alongside Wilson's.
Wilson's works will be offered for sale, from $2,800 to $15,000.
Of the thousands of pieces shown during Art Basel week, Wilson was the only artist to use encaustic, said Andre Guichard, Bombay's national curator.
"I thought that was very interesting considering it's one of the oldest archival mediums in existence," he said.
There are other artists who use beeswax, including pop art artist Jasper Johns, but usually with other solvents like oils, pastels and newsprint.
"I don't use any other salvage in the wax," said Wilson, adding that he began using it after a friend gave him some beeswax that he didn't want.
"It's a fun process because it's very sculptural," he said.
Wilson's technique sounds simple enough: Melt wax with resin and pigment in a hot skillet to fuse it into one solvent, then apply it using a palette knife to build up patterns and texture onto a wood panel.
"It takes a lot of technical skill for it to look this way," Wilson said of the work hanging on the walls of the small light-filled studio he shares with another artist in a Harlem building overlooking a street of multi-story apartment buildings and older brownstones.
"You have to be patient," Wilson said.
And you have to be quick.
"It dries very quickly. It turns hard as soon as you apply it," explained Wilson, who studied sculpture and architecture at the University of Illinois at Chicago.
For some of the works, he carves the wax "almost like it's clay. That gives me different depths to the piece or different images that I want to portray," he said.
His goal is to create something beautiful without disrupting the purity of the material.
A deeply religious man, Wilson said "A Path Through the Sky," came as a sign from God during a particularly rough patch in his life. Speaking about it at his studio last week, Wilson choked up talking about it.
"God was telling me to let go and let him handle it. He said, 'look up,' and I looked up at the sky and I saw the image of what I created for the competition," he said.
The 26-inch by 26-inch cratered white surface depicts clouds moving in a very textural, minimal direction with a 2- to 3-inch band of wax through the center designating a path.
"It came to me that we all have our different paths in life ... We don't know what today will bring, you just have to hold steadfast and get through it," he said.
Guichard said Wilson's story will resonate with viewers.
"There's always a time and space where you feel it's God's push that keeps you going, helps you get through trials and tribulations," he said. "'A Path Through the Sky'" appropriately depicts that message that we can all relate to as viewers."
It wasn't the first time the artist faced a challenge.
Several years ago, unable to sell his work or pay the rent for a storage facility where he kept his artist's tools and work, Wilson lived in a homeless shelter for 5 to 6 months. And perhaps worse, the contents of his storage unit were auctioned off by the facility owner.
Winning the competition was "part of God's blueprint," Wilson said, and the reason he signs all his work "In His Name." It also is the title of his newest work, a 2-foot-by-2-foot square creation that has no texture but has text fused into the wax — the words "In His Name" written in marker across the entire surface.
"It's in him I get my concepts and titles ... through scripture. And this work belongs to him because he gave it to me. No one has ... ever done anything else to put it in my soul and in my heart other than him," he said.
Wilson's work is represented in the permanent collection of the African American Museum in Dallas. Some of it is displayed on the walls of New York restaurants and he said a Chicago collector owns 30 of the sculptures. He has also been commissioned by New York interior designer Jennifer Post to create several pieces, some of which have been featured in Architectural Digest magazine.
Going forward, Wilson said he wants to continue to use the ancient organic material to create modern works of a larger scale.
Rush Art Gallery curator Charlotte Mouquin called Wilson's use of the material "something new and refreshing."
"LeRone's technique is rare," she said. "It's got a fragility ... and at the same time it has the simplicity of poetic concept."
___
Online:
http://www.leronewilson.com
http://www.rushartsgallery.org