Bills take Florida guard O'Cyrus Torrence 59th in NFL draft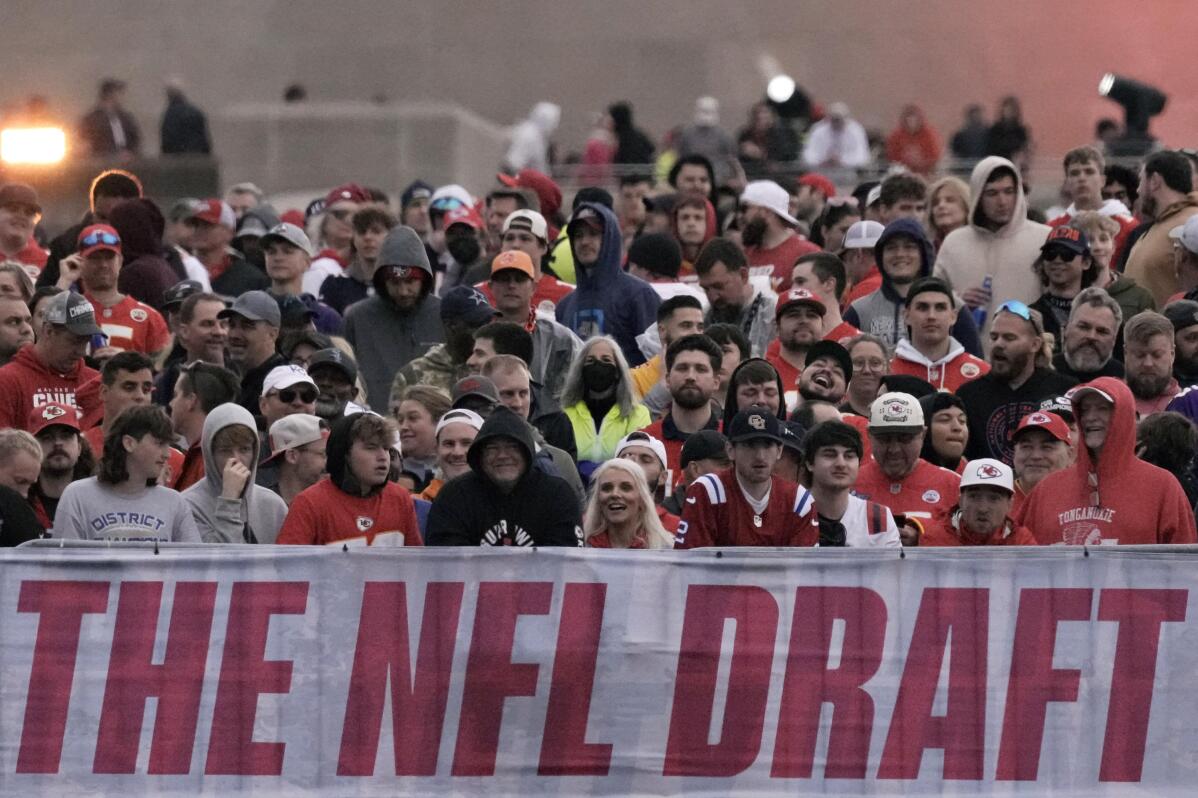 1 of 5

|
Fans wait for the start of the second round of the NFL football draft, Friday, April 28, 2023, in Kansas City, Mo. (AP Photo/Charlie Riedel)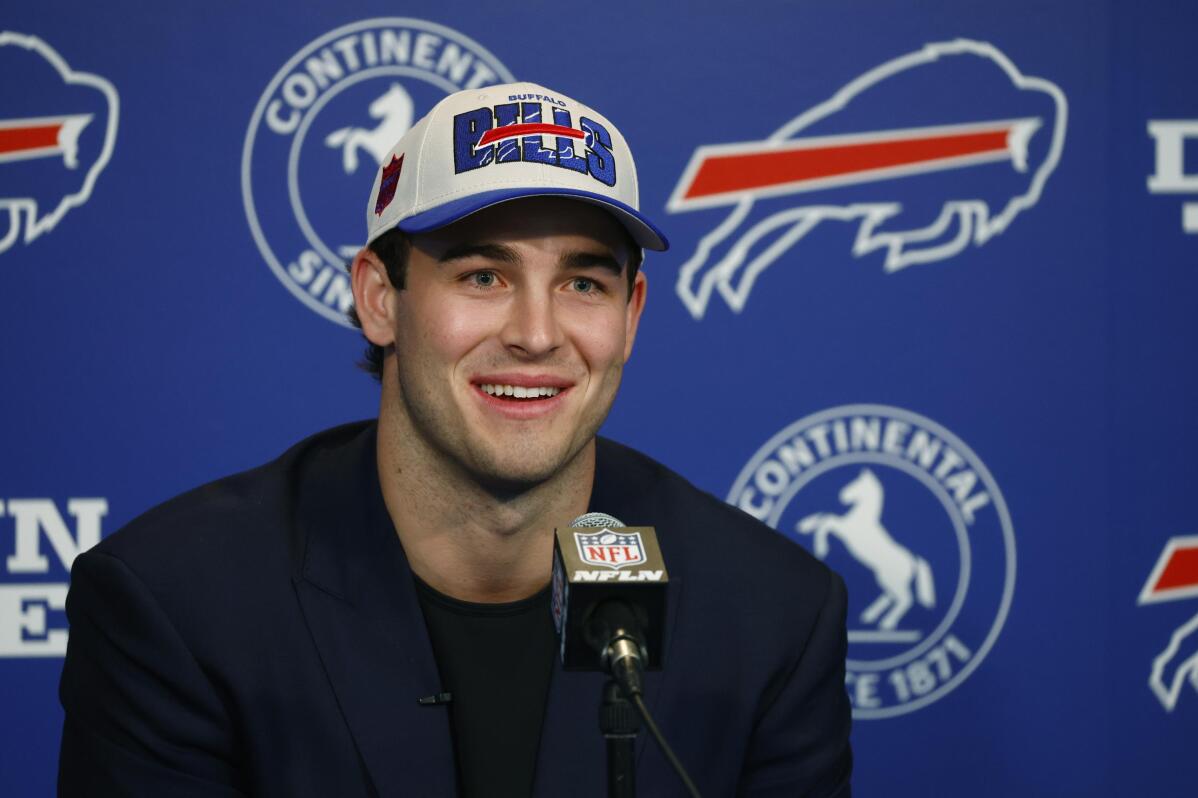 2 of 5

|
Buffalo Bills first-round draft pick Dalton Kincaid speaks to reporters during the NFL football team's news conference in Orchard Park, N.Y., Friday April 28, 2023. (AP Photo/Jeffrey T. Barnes)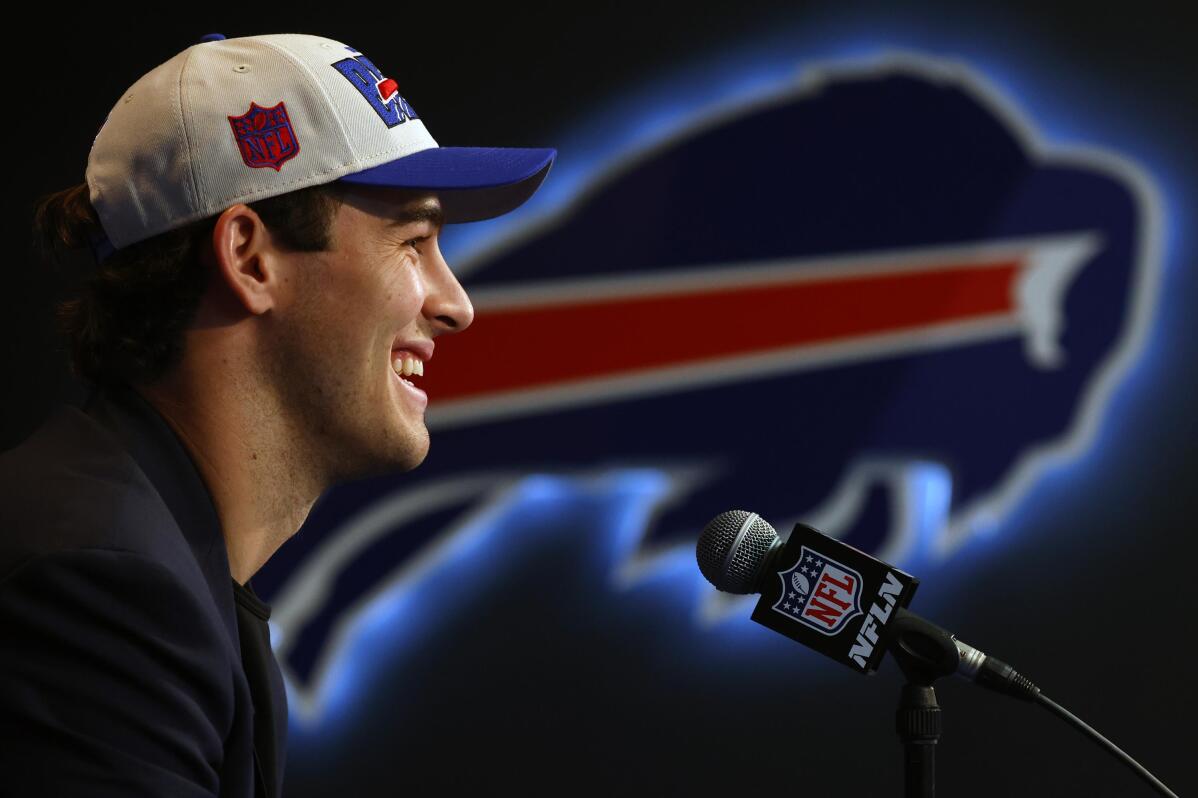 3 of 5

|
Buffalo Bills first-round draft pick Dalton Kincaid addresses the media during an NFL football news conference in Orchard Park, N.Y., Friday, April 28, 2023. (AP/ Photo Jeffrey T. Barnes)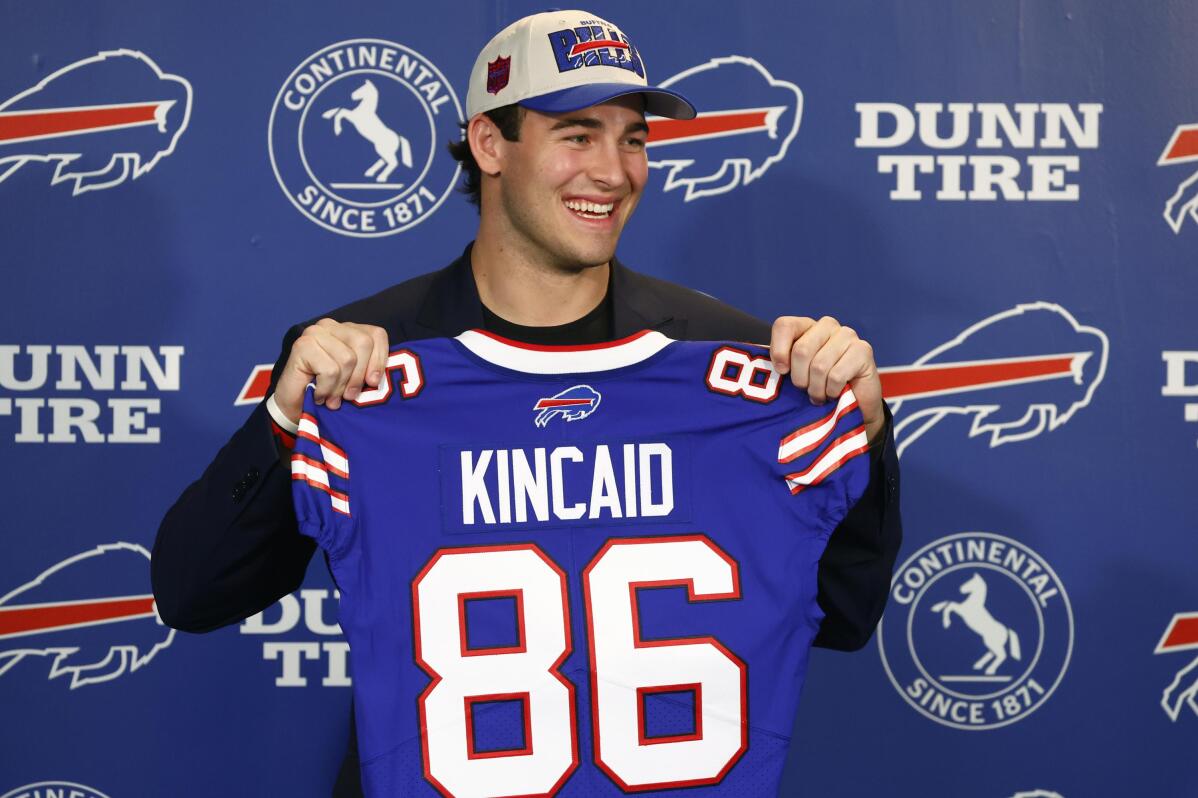 4 of 5

|
Buffalo Bills first-round draft pick Dalton Kincaid holds up a jersey during an NFL football news conference in Orchard Park, N.Y., Friday, April 28, 2023. (AP/ Photo Jeffrey T. Barnes)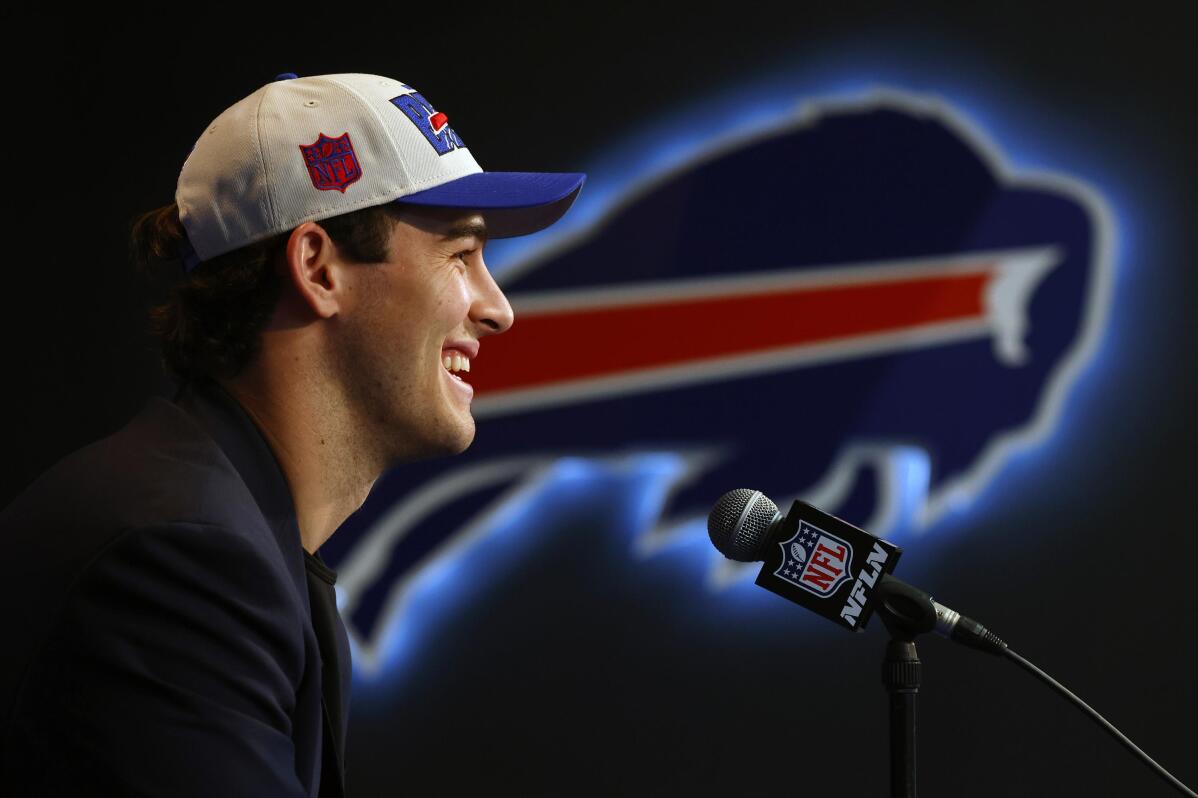 5 of 5

|
Buffalo Bills first-round draft pick Dalton Kincaid speaks to reporters during the NFL football team's news conference in Orchard Park, N.Y., Friday April 28, 2023. (AP Photo/Jeffrey T. Barnes)
Bills take Florida guard O'Cyrus Torrence 59th in NFL draft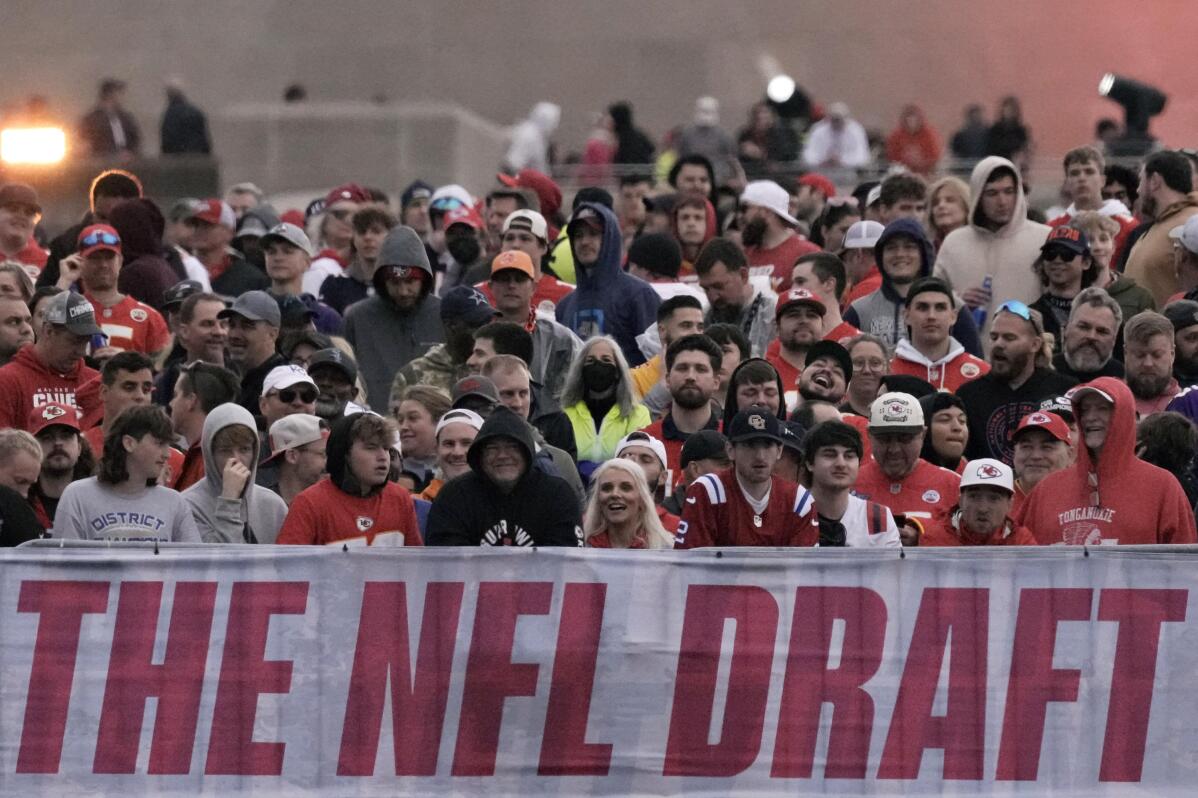 1 of 5

|
Fans wait for the start of the second round of the NFL football draft, Friday, April 28, 2023, in Kansas City, Mo. (AP Photo/Charlie Riedel)
1 of 5
Fans wait for the start of the second round of the NFL football draft, Friday, April 28, 2023, in Kansas City, Mo. (AP Photo/Charlie Riedel)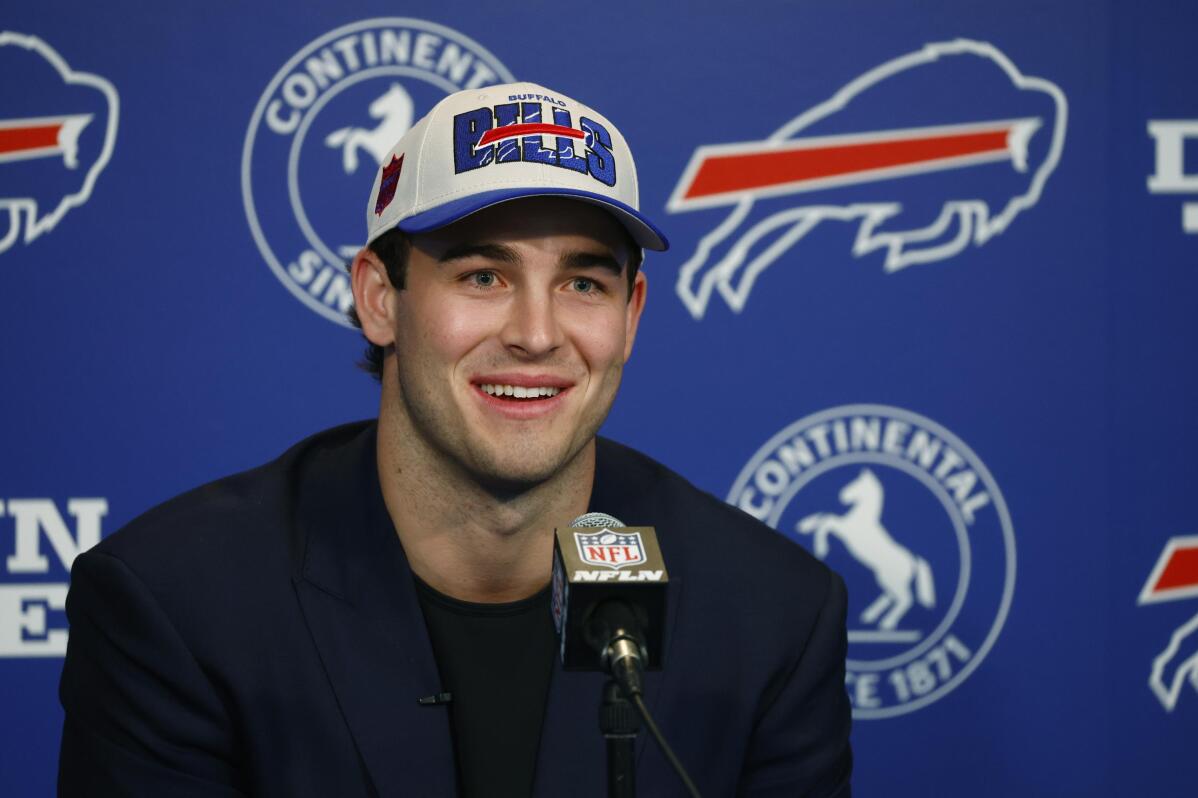 2 of 5

|
Buffalo Bills first-round draft pick Dalton Kincaid speaks to reporters during the NFL football team's news conference in Orchard Park, N.Y., Friday April 28, 2023. (AP Photo/Jeffrey T. Barnes)
2 of 5
Buffalo Bills first-round draft pick Dalton Kincaid speaks to reporters during the NFL football team's news conference in Orchard Park, N.Y., Friday April 28, 2023. (AP Photo/Jeffrey T. Barnes)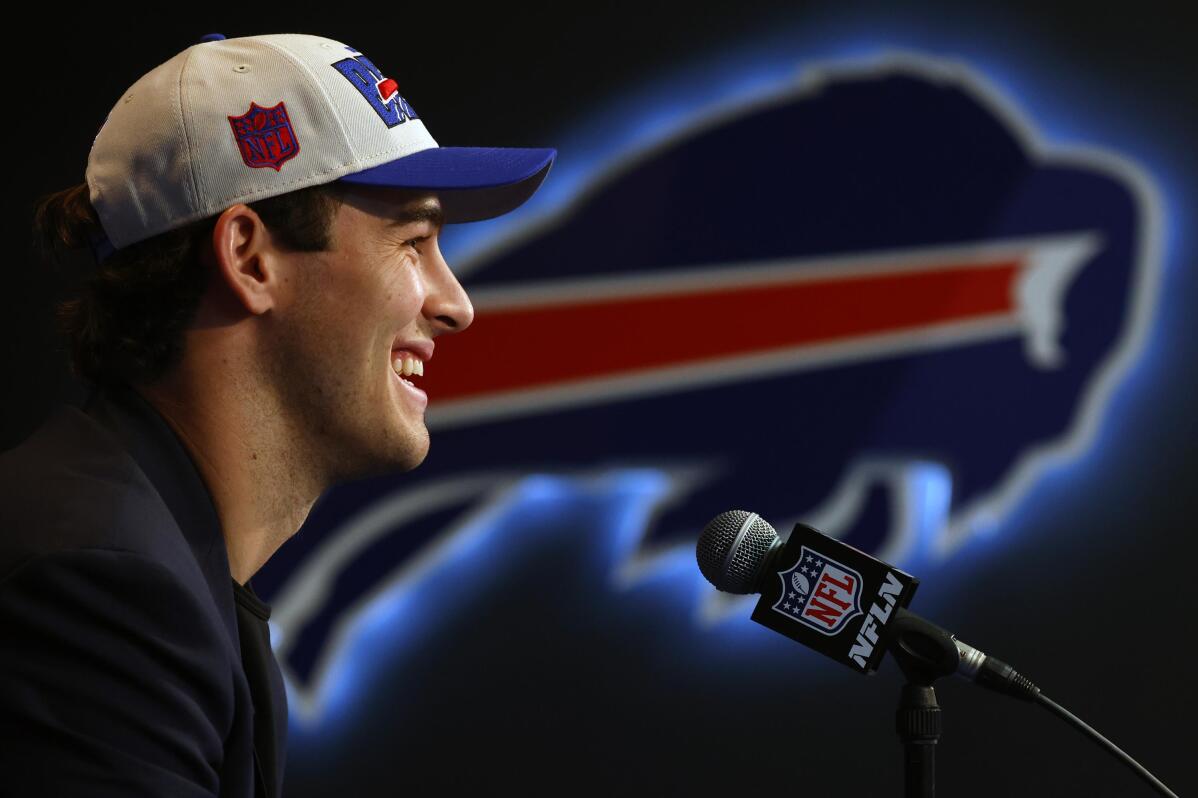 3 of 5

|
Buffalo Bills first-round draft pick Dalton Kincaid addresses the media during an NFL football news conference in Orchard Park, N.Y., Friday, April 28, 2023. (AP/ Photo Jeffrey T. Barnes)
3 of 5
Buffalo Bills first-round draft pick Dalton Kincaid addresses the media during an NFL football news conference in Orchard Park, N.Y., Friday, April 28, 2023. (AP/ Photo Jeffrey T. Barnes)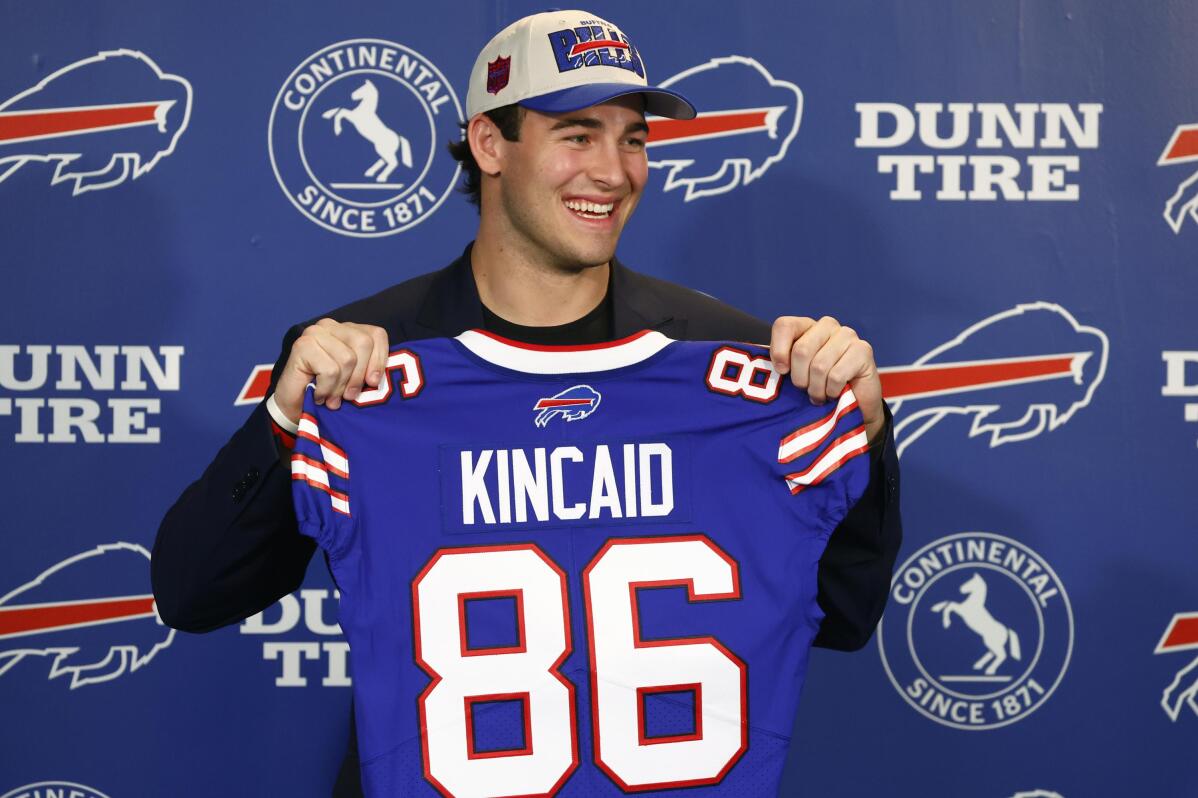 4 of 5

|
Buffalo Bills first-round draft pick Dalton Kincaid holds up a jersey during an NFL football news conference in Orchard Park, N.Y., Friday, April 28, 2023. (AP/ Photo Jeffrey T. Barnes)
4 of 5
Buffalo Bills first-round draft pick Dalton Kincaid holds up a jersey during an NFL football news conference in Orchard Park, N.Y., Friday, April 28, 2023. (AP/ Photo Jeffrey T. Barnes)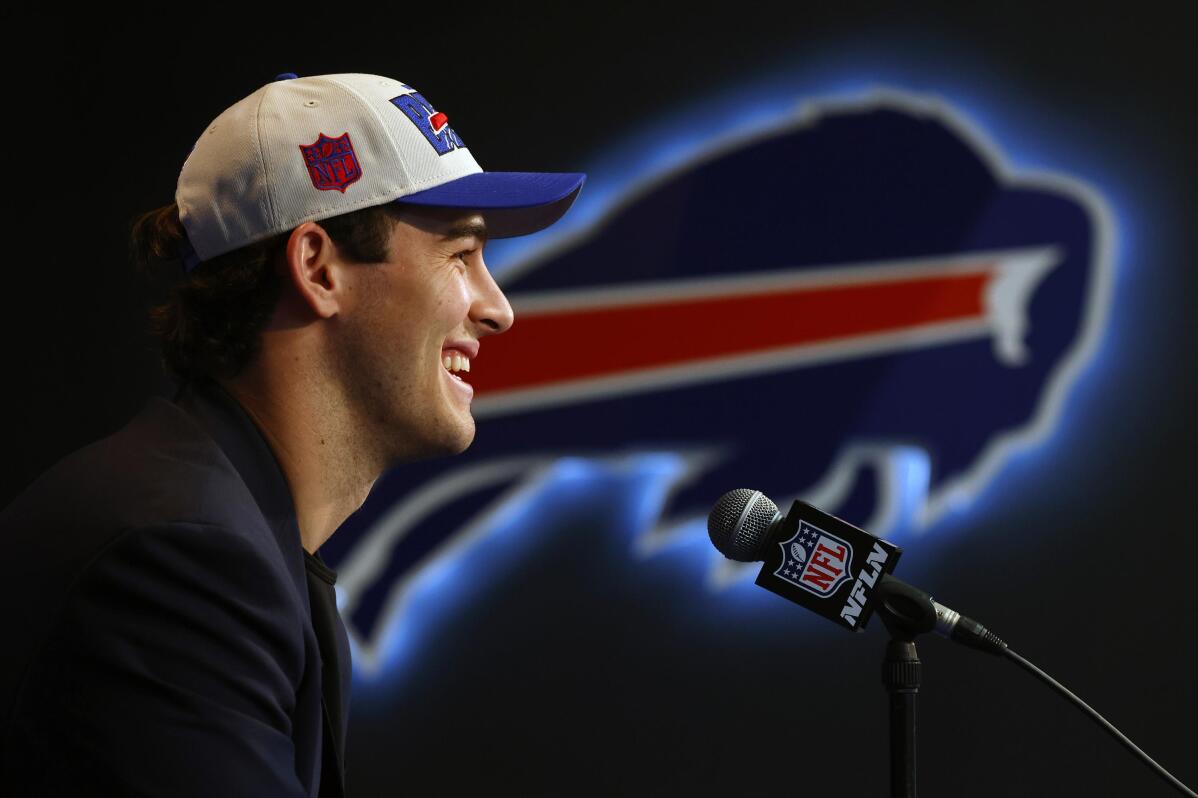 5 of 5

|
Buffalo Bills first-round draft pick Dalton Kincaid speaks to reporters during the NFL football team's news conference in Orchard Park, N.Y., Friday April 28, 2023. (AP Photo/Jeffrey T. Barnes)
5 of 5
Buffalo Bills first-round draft pick Dalton Kincaid speaks to reporters during the NFL football team's news conference in Orchard Park, N.Y., Friday April 28, 2023. (AP Photo/Jeffrey T. Barnes)
ORCHARD PARK, N.Y. (AP) — Upon learning he was being drafted by the Buffalo Bills, Florida guard O'Cyrus Torrence immediately grew excited in knowing he was being brought in to protect Josh Allen.
"The first thing that came to my mind was blocking for Josh Allen," Torrence said Friday night shortly after being selected in the second round of the NFL draft. "And what offensive linemen don't want to do that?"
A day after opening the draft by providing Allen another pass-catching threat in Utah tight end Dalton Kincaid, the Bills followed by getting the mobile quarterback some hefty protection with their 59th selection.
The Bills then closed Friday by selecting Tulane linebacker Dorian Williams with the 91st pick. A three-year starter, Williams earned All-AAC honors during his senior season in finishing with 131 tackles, including 8 1/2 for a loss, a team-high five sacks, two interceptions and two forced fumbles.
The 21-year-old finished his career with 17 tackles to be named the Cotton Bowl MVP in a 46-45 win over Southern California. At 6-foot-1 and 228 pounds, Williams joins a defense that plays a two-linebacker scheme, and lost starter Tremaine Edmunds in free agency last month.
Torrence is listed at 6-foot-5 and 330 pounds and noted for never giving up a sack during his four-year college career. He spent his first three seasons at Louisiana-Lafayette before transferring to Florida for his senior year, when Torrence earned first-team All-America and All-SEC honors in 11 starts at right guard.
From Greensburg, Louisiana, Torrence made the conscious decision to switch schools to prove to himself and others he's capable in facing a higher caliber of competition.
"Just being able to go in the SEC and dominate and be able to be as good of a player as I was kind of proved and showed that my ceiling is higher than I originally thought," the 23-year-old said. "And I've got a lot more to work on of course."
The Bills showed plenty of interest in Torrence — who also has experience playing center and tackle — by meeting with him at the Senior Bowl, combine at Indianapolis and also bringing him to Buffalo for a pre-draft visit.
"Sometimes you go from a lower level to the SEC, which is probably the highest level in college football, and it wasn't too big for him," general manager Brandon Beane said. "That's what you want, a guy that's not afraid of competition."
As for Torrence not allowing a sack, Beane credited the player's mental focus.
"We'll watch really good players that you see get drafted at the top but sometimes they get bored or they lose focus, like nobody can beat you," Beane said. "So that speaks to his desire to be great every single play no matter whether you're playing Alabama or you're playing the Sisters of the Poor."
Torrence has the potential to fill an immediate need after the Bills did not re-sign Rodger Saffold this offseason. Saffold started 16 games at left guard under a one-year contract last year. Starting right guard Ryan Bates returns, and Buffalo signed guard Connor McGovern in free agency last month.
As for Williams, Beane liked the linebacker's athleticism and range, while acknowledging he's not going to be rushed into a starting job.
With Matt Milano returning, the Bills have several options to fill Edmunds' spot, starting with Tyrel Dodson, who started three games when Edmunds was sidelined. Buffalo also has veteran depth after re-signing A.J. Klein.
After trading their fourth-round pick to move up two spots to select Kincaid with the 25th pick, the Bills are down to having two choices on Saturday, a fifth-round selection (137th overall) and a sixth-rounder (205th).
Beane doesn't recall ever having only two selections over the final four rounds, going back to his tenure as an assistant GM with the Carolina Panthers. While open to the possibility of trading back to acquire a pick or two, Beane said he slept better knowing he gave up a selection to secure Kincaid.
Kincaid, who led FBS tight ends with eight touchdowns last year, can play in various formations, including lining up as a wideout. He fills a pass-catching need on a team that struggled at the slot receiver spot, while also having the potential to draw attention away from Stefon Diggs.
"I still don't know if it has set in for me yet. I was just more excited to get out here," Kincaid said after he and his parents traveled from Henderson, Nevada, to tour the Bills' facility and meet with team officials earlier Friday.
Kincaid did not play competitive football until his freshman high school season. He quit playing most sports — including football — for two years before returning to playing football in his senior season.
Lightly recruited out of high school, Kincaid spent his first two seasons as a walk on at the University of San Diego, where he led FCS tight ends in averaging 19 yards per catch in 2019, before spending his final three college seasons at Utah.
He credited a coach at San Diego for pulling him aside in Kincaid's freshman season to inform him of his NFL potential.
"I might not have believed it right then and there, but that always stuck in the back of my head," said Kincaid, who scored 11 touchdowns on 24 catches in his first season. "And it definitely motivates me.
___
AP NFL: https://apnews.com/hub/nfl and https://twitter.com/AP_NFL