Panthers set to go with a QB with 1st overall pick in draft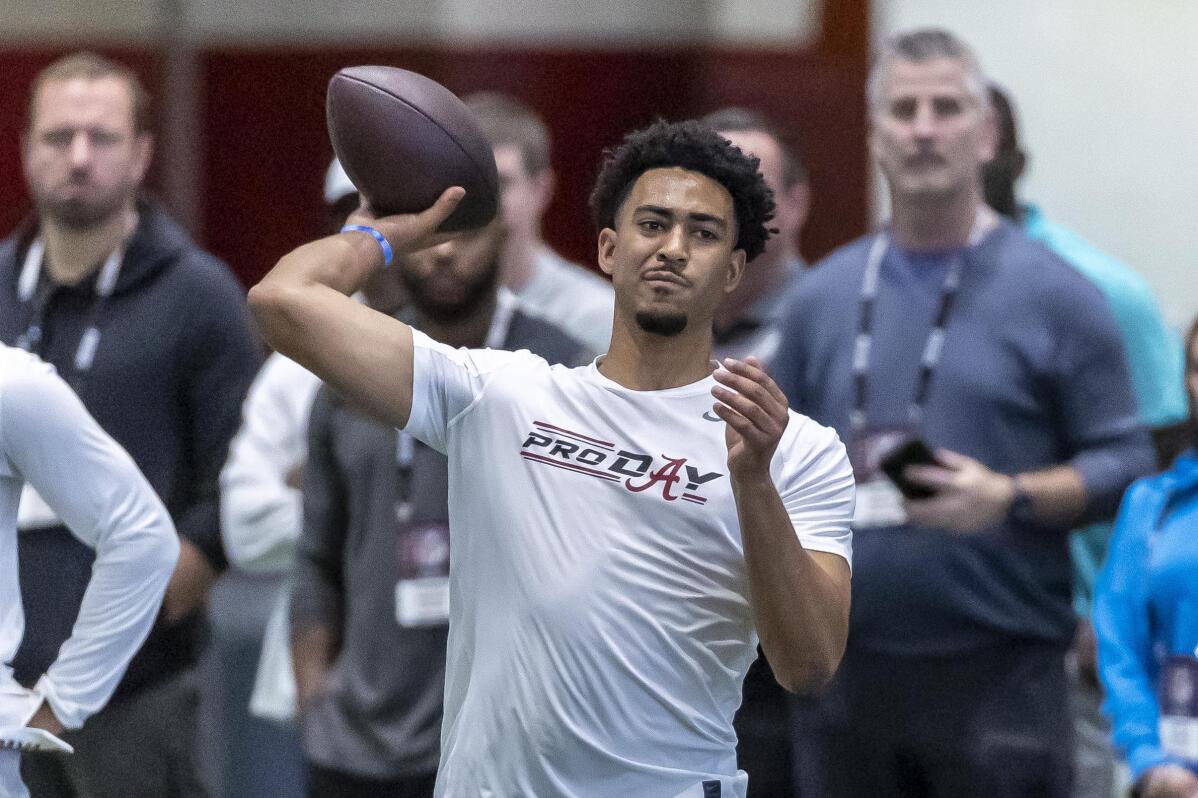 1 of 5

|
Former Alabama football quarterback Bryce Young works in position drills at Alabama's NFL pro day, Thursday, March 23, 2023, in Tuscaloosa, Ala. (AP Photo/Vasha Hunt)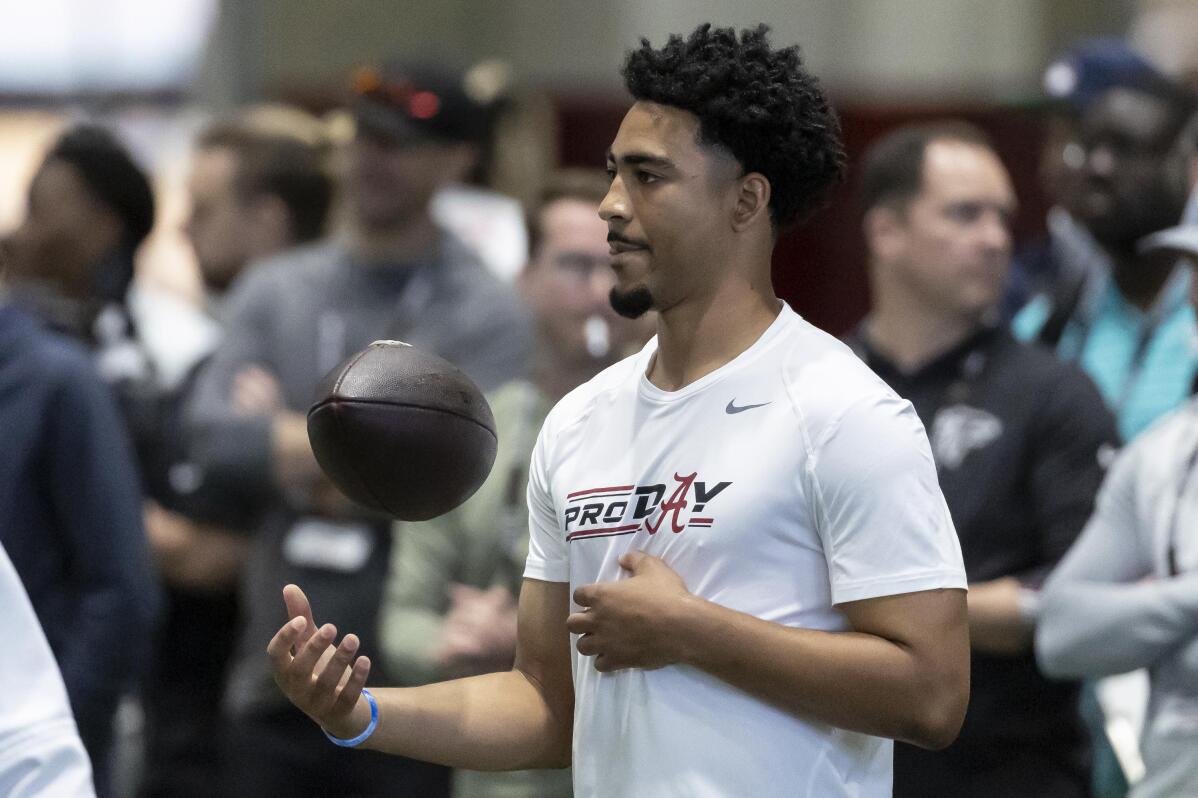 2 of 5

|
Former Alabama football quarterback Bryce Young works in position drills at Alabama's NFL pro day, Thursday, March 23, 2023, in Tuscaloosa, Ala. (AP Photo/Vasha Hunt)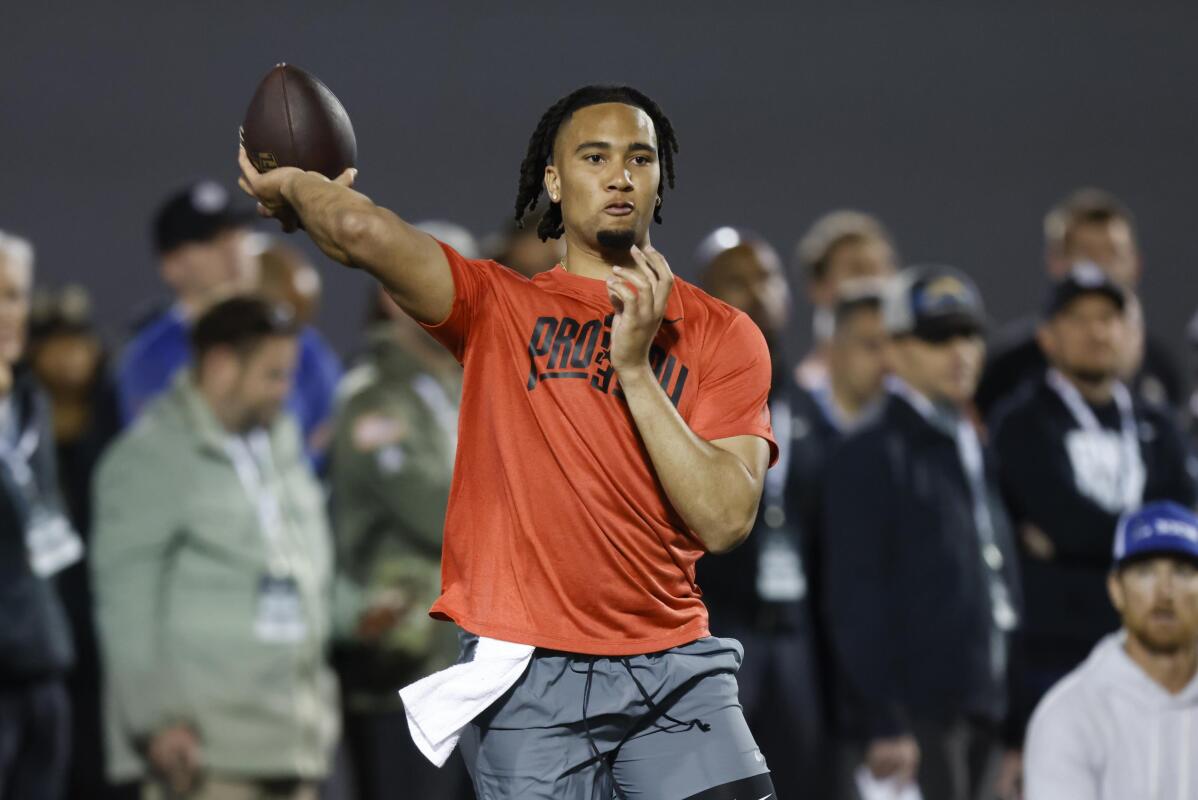 3 of 5

|
Ohio State football quarterback C.J. Stroud runs a drill at the school's NFL Pro Day in Columbus, Ohio, Wednesday, March 22, 2023. (AP Photo/Paul Vernon)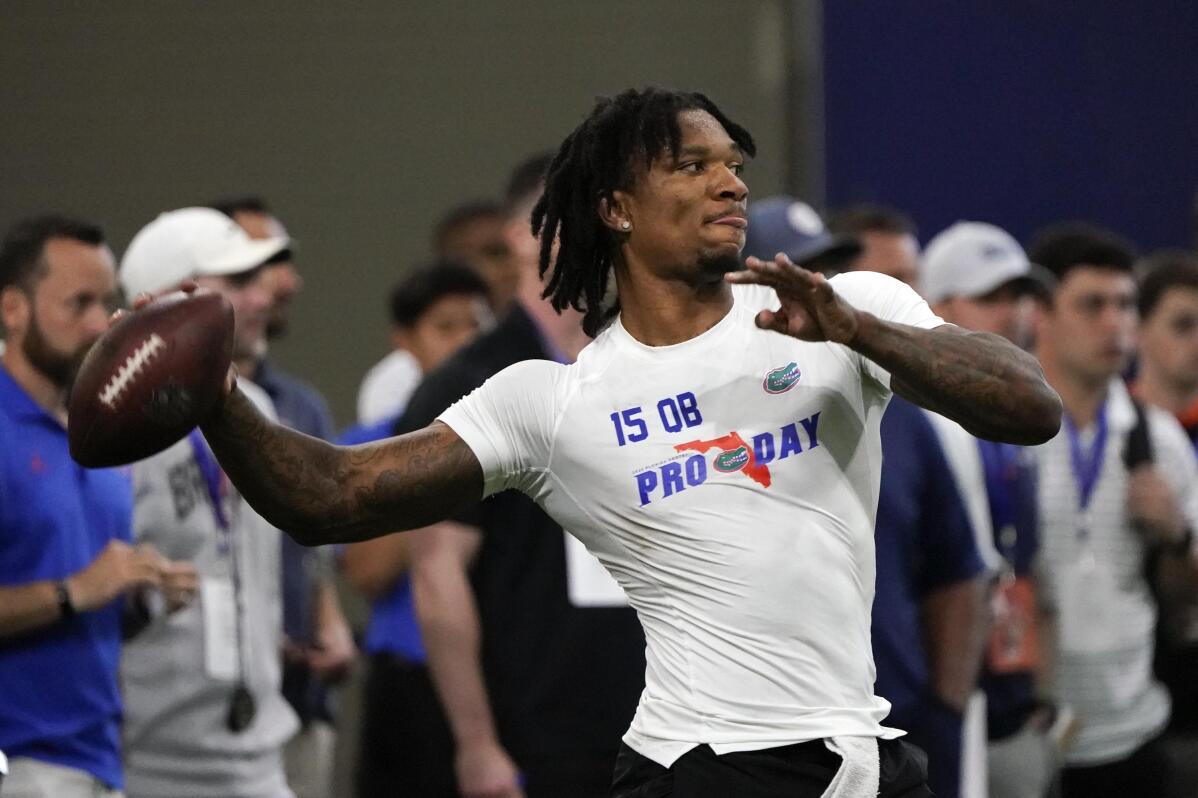 4 of 5

|
Florida quarterback Anthony Richardson throws a pass during an NFL football Pro Day, Thursday, March 30, 2023, in Gainesville, Fla. (AP Photo/John Raoux)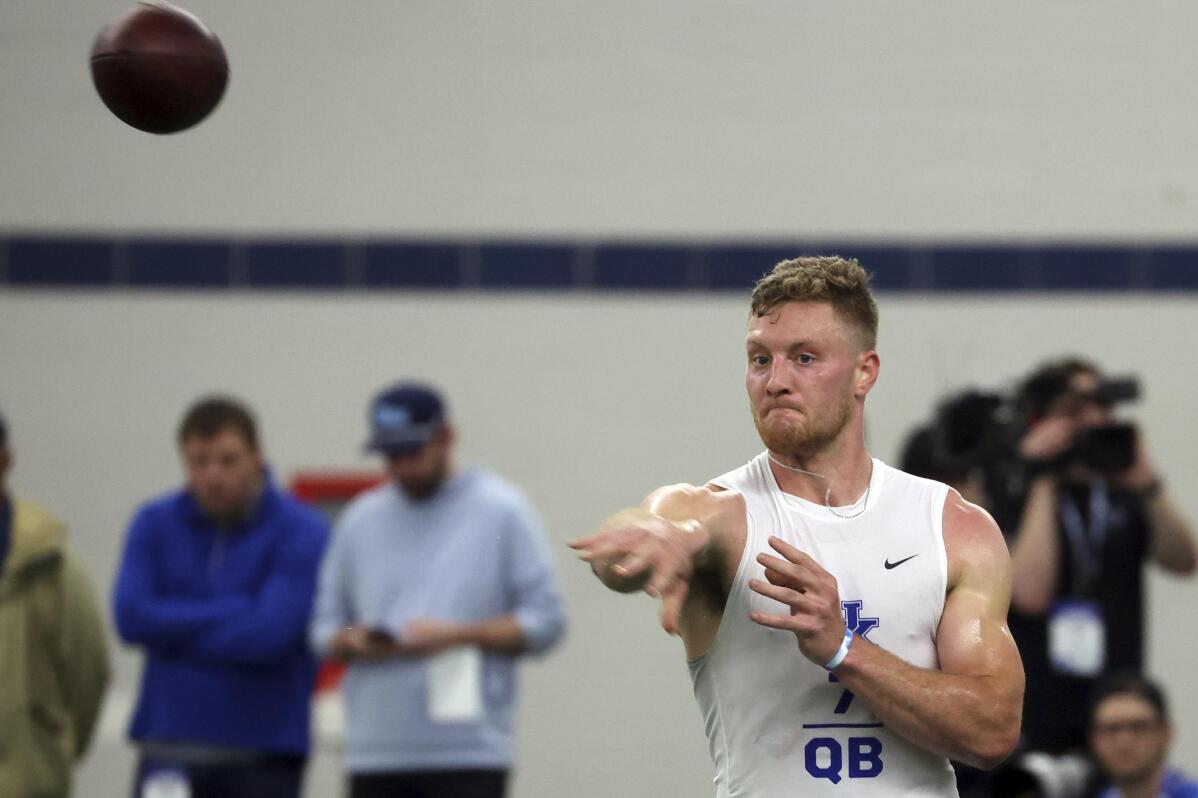 5 of 5

|
Kentucky's Will Levis throws a pass during the NCAA college football team's NFL Pro Day in Lexington, Ky., Friday, March 24, 2023. (AP Photo/James Crisp)
Panthers set to go with a QB with 1st overall pick in draft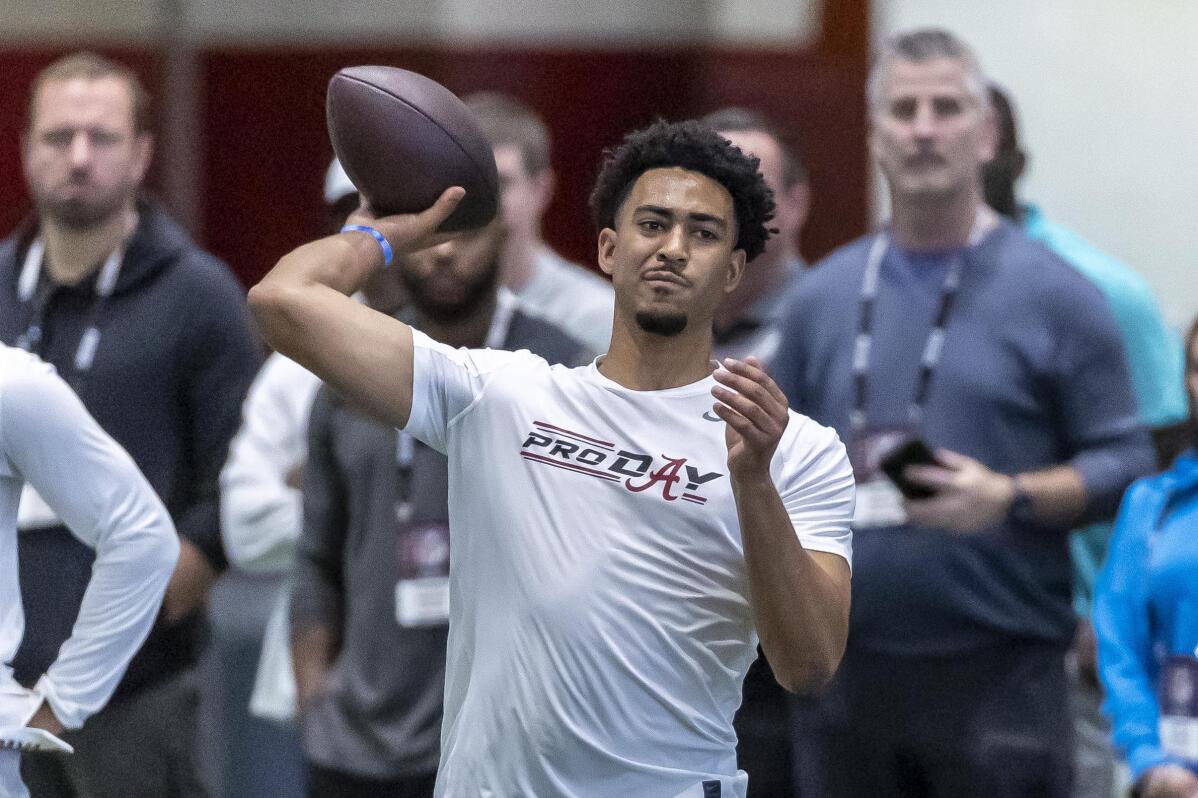 1 of 5

|
Former Alabama football quarterback Bryce Young works in position drills at Alabama's NFL pro day, Thursday, March 23, 2023, in Tuscaloosa, Ala. (AP Photo/Vasha Hunt)
1 of 5
Former Alabama football quarterback Bryce Young works in position drills at Alabama's NFL pro day, Thursday, March 23, 2023, in Tuscaloosa, Ala. (AP Photo/Vasha Hunt)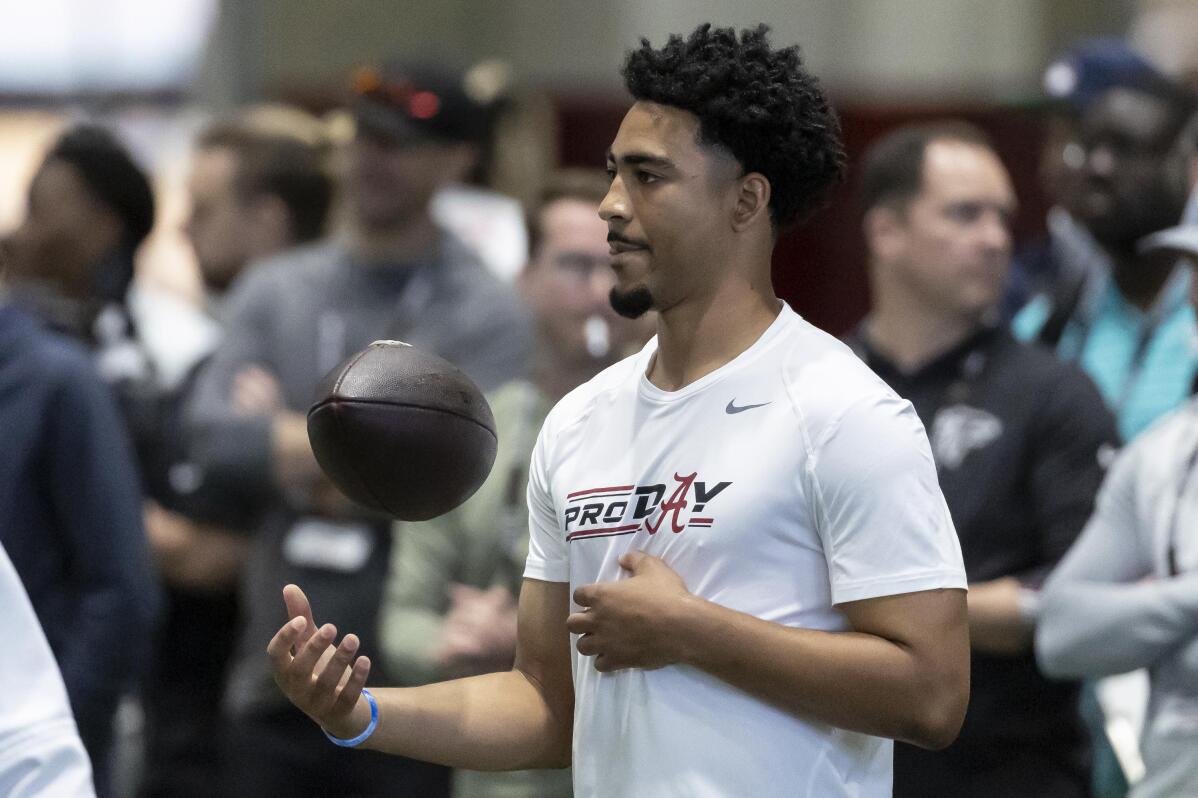 2 of 5

|
Former Alabama football quarterback Bryce Young works in position drills at Alabama's NFL pro day, Thursday, March 23, 2023, in Tuscaloosa, Ala. (AP Photo/Vasha Hunt)
2 of 5
Former Alabama football quarterback Bryce Young works in position drills at Alabama's NFL pro day, Thursday, March 23, 2023, in Tuscaloosa, Ala. (AP Photo/Vasha Hunt)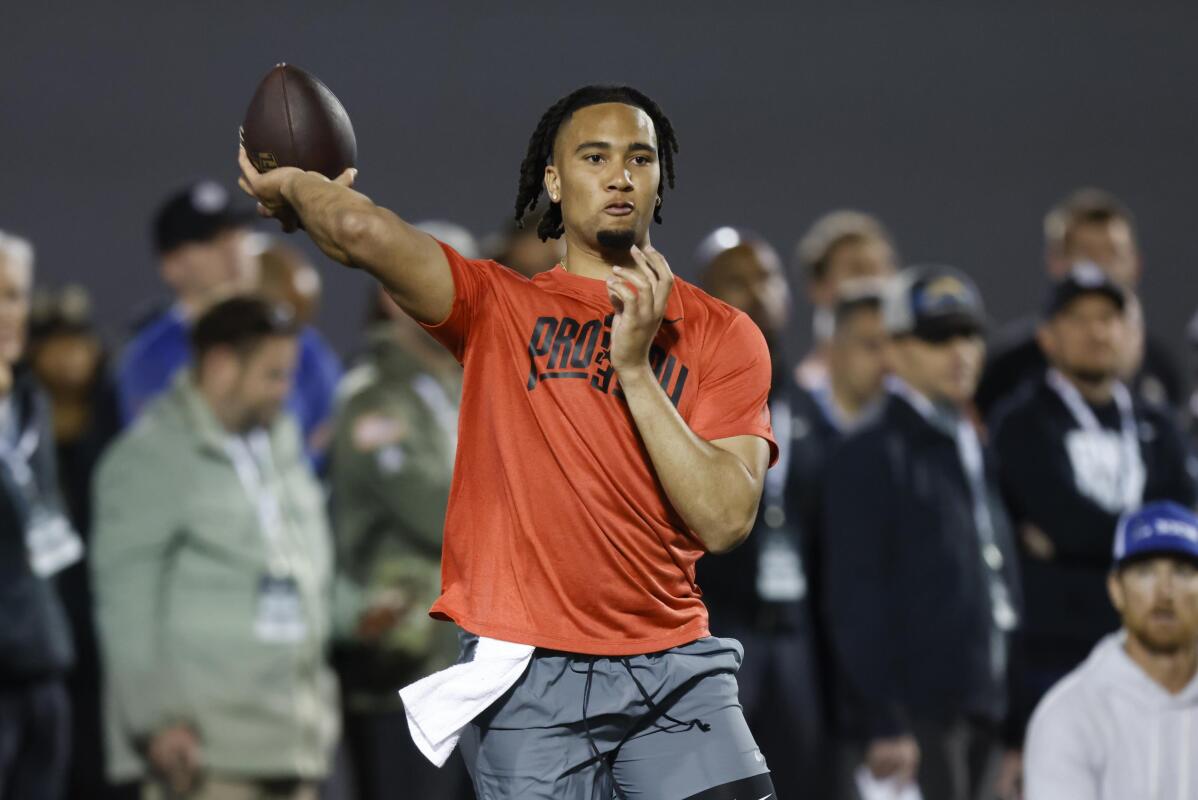 3 of 5

|
Ohio State football quarterback C.J. Stroud runs a drill at the school's NFL Pro Day in Columbus, Ohio, Wednesday, March 22, 2023. (AP Photo/Paul Vernon)
3 of 5
Ohio State football quarterback C.J. Stroud runs a drill at the school's NFL Pro Day in Columbus, Ohio, Wednesday, March 22, 2023. (AP Photo/Paul Vernon)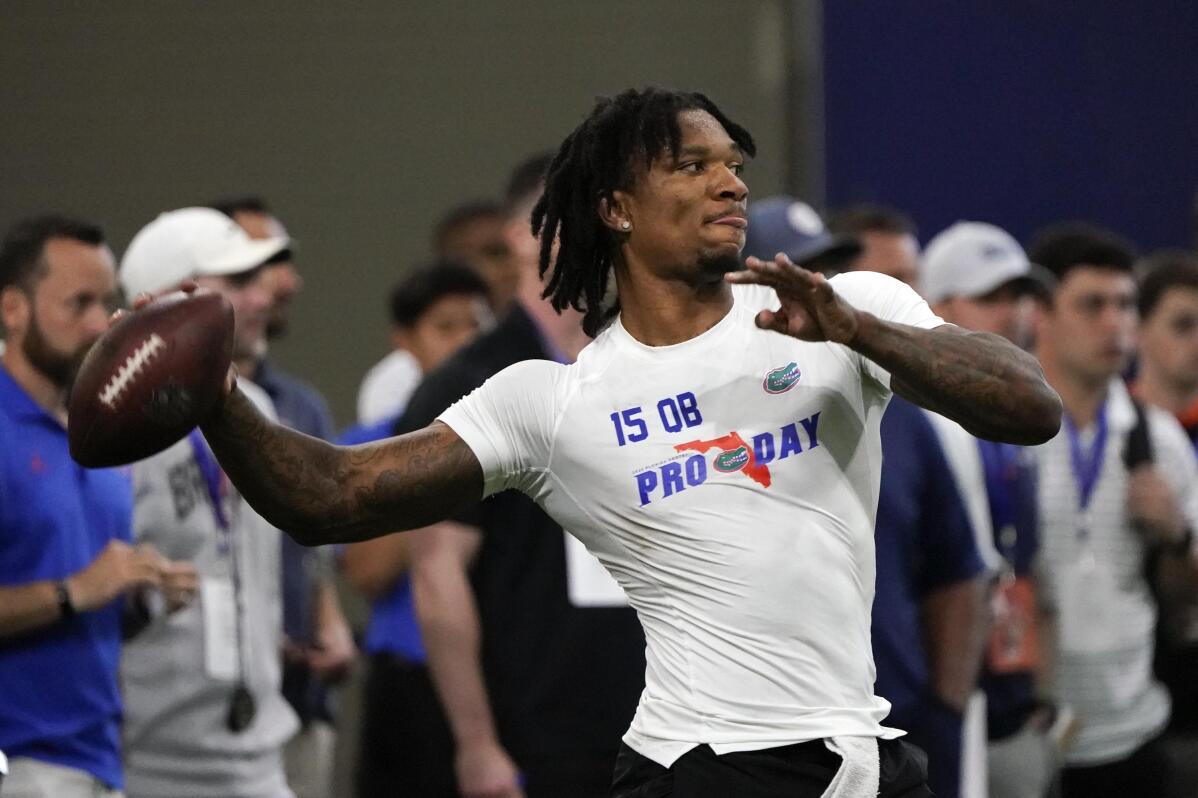 4 of 5

|
Florida quarterback Anthony Richardson throws a pass during an NFL football Pro Day, Thursday, March 30, 2023, in Gainesville, Fla. (AP Photo/John Raoux)
4 of 5
Florida quarterback Anthony Richardson throws a pass during an NFL football Pro Day, Thursday, March 30, 2023, in Gainesville, Fla. (AP Photo/John Raoux)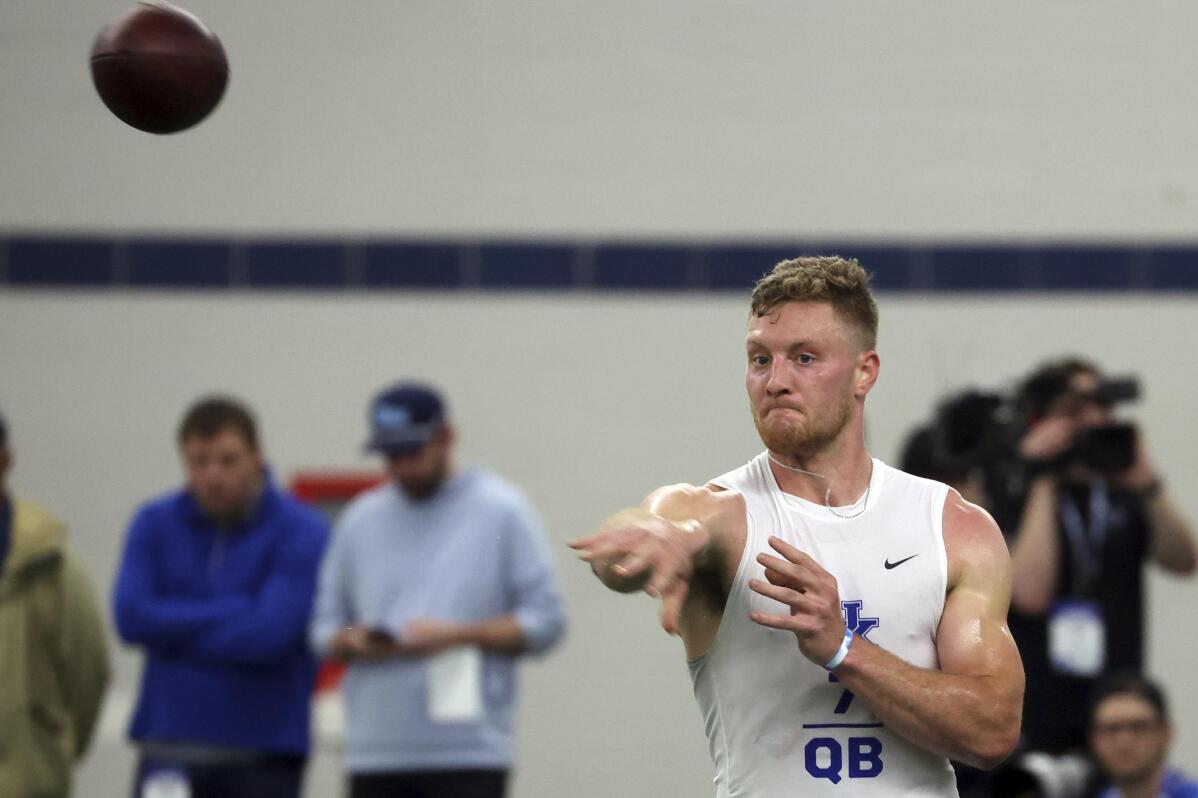 5 of 5

|
Kentucky's Will Levis throws a pass during the NCAA college football team's NFL Pro Day in Lexington, Ky., Friday, March 24, 2023. (AP Photo/James Crisp)
5 of 5
Kentucky's Will Levis throws a pass during the NCAA college football team's NFL Pro Day in Lexington, Ky., Friday, March 24, 2023. (AP Photo/James Crisp)
CHARLOTTE, N.C. (AP) — Decision time is fast approaching for the Carolina Panthers.
The Panthers have the No. 1 pick in the NFL draft and the team is still weighing its options at quarterback even as Alabama's Bryce Young has emerged as the overwhelming favorite to be the pick, according to Fan Duel Sportsbook.
Panthers general manager Scott Fitterer downplayed any concerns about Young's size — the 2021 Heisman Trophy winner was measured at 5-foot-10 and 204 pounds at the NFL scouting combine in February — being a consideration in the team's decision. Ohio State's C.J. Stroud is considered Young's biggest competition, although Florida's Anthony Richardson and Kentucky's Will Levis are also in the mix.
As of this week, Fitterer said the team has not pinpointed who'll be the top pick.
"We are consciously trying to keep all four in (the mix), so that we can ask every question and look at it from every angle to make sure we are making the right decision," Fitterer said. "This is a big decision for the organization. We don't want to lock onto something early on just to decide that's our guy. We want to keep this process open all the way through."
Fitterer said scouts are working overtime analyzing which quarterback best fits into coach Frank Reich's system.
The Panthers have been desperate to solidify their quarterback position for the past five years. But Fitterer insists the team will not rush the rookie QB into the starting lineup until he's ready.
The team has veteran Andy Dalton to help bridge the gap.
"It's not like we are expecting this quarterback to come in and instantly just make everything happen, and everything changes immediately, " Fitterer said. "You've seen it with Jalen Hurts and Josh Allen, it takes time. You have to surround them with the right people and you have to surround them with the right coaching. I think we have done that.
"But we aren't going to force this quarterback on the field. We aren't going to ask him to do anything he can't do. We will ask him to just play the game and make the right reads and the right decisions."
PICK 'EM
The Panthers dealt four draft picks — two of those first-rounders — and top wide receiver D.J. Moore to Chicago to move up eight spots and claim the No. 1 pick with the sole intention of selecting a franchise quarterback. The Panthers have six picks in the first five rounds with two of those acquired in a trade that sent running back Christian McCaffrey to the San Francisco 49ers last season.
NEEDS
The Panthers signed Adam Thielen and D.J. Chark to help offset the loss of Moore. But that won't preclude them from adding a speed receiver at that position, possibly as high as the second round (39th overall). Fitterer indicated on Tuesday that adding a pass rusher for their new 3-4 defensive scheme is a priority. Linebacker and offensive line depth are other areas of need.
DON'T NEED
Carolina's specialists appear to be set with Eddy Pineiro at kicker, Johnny Hekker at punter and J.J. Jansen at long snapper making up a strong unit. The Panthers added running back Miles Sanders and tight end Hayden Hurst in free agency, so those are no longer positions of considerable need. Carolina is pretty set at safety after signing free agents Vonn Bell and Eric Rowe.
NO. 1 AGAIN
This marks the first time the Panthers have controlled the No. 1 pick since 2011 when they selected Heisman Trophy-winning quarterback Cam Newton from Auburn. Newton went on to have some good seasons with the Panthers, leading the team to the Super Bowl in 2015 while earning league MVP honors before injuries hindered his career.
___
AP NFL: https://apnews.com/hub/nfl and https://twitter.com/AP_NFL