NFL draft gives improving Lions a chance to add to momentum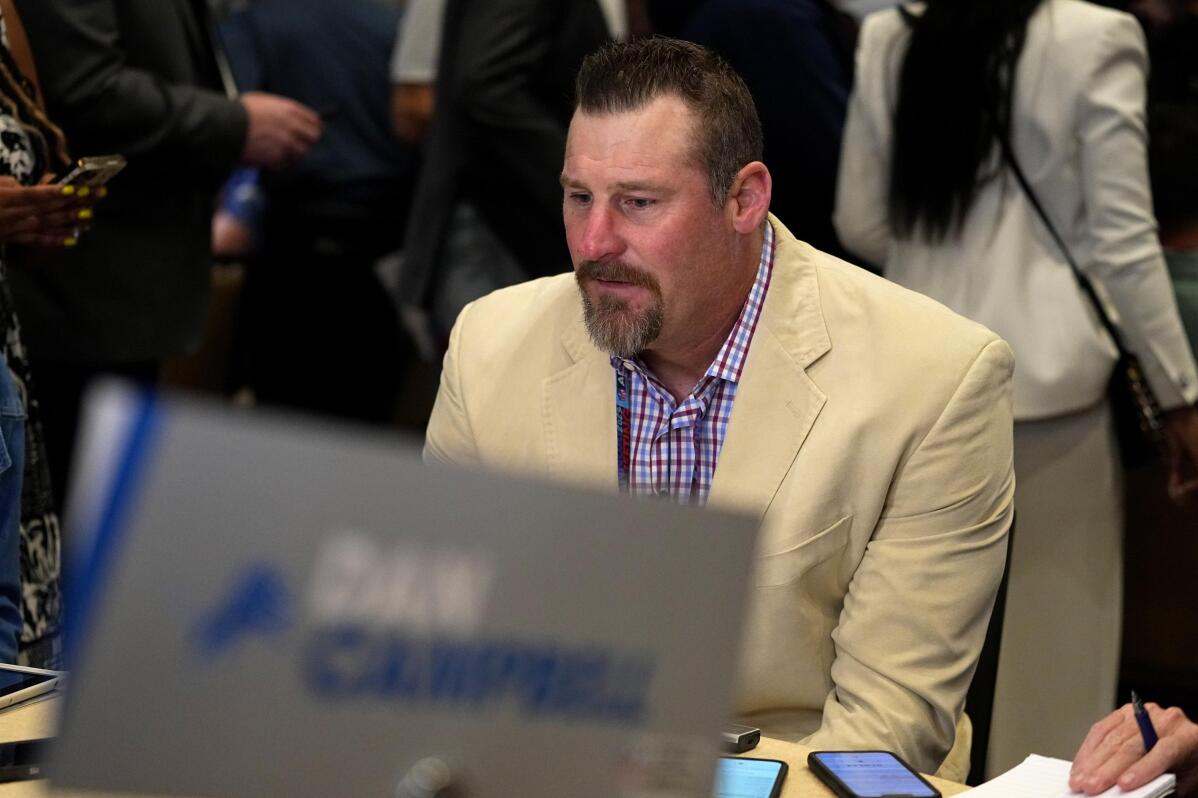 1 of 2

|
Detroit Lions head coach Dan Campbell speaks during the NFC head coaches availability at the NFL football meetings, Tuesday, March 28, 2023, in Phoenix. (AP Photo/Matt York)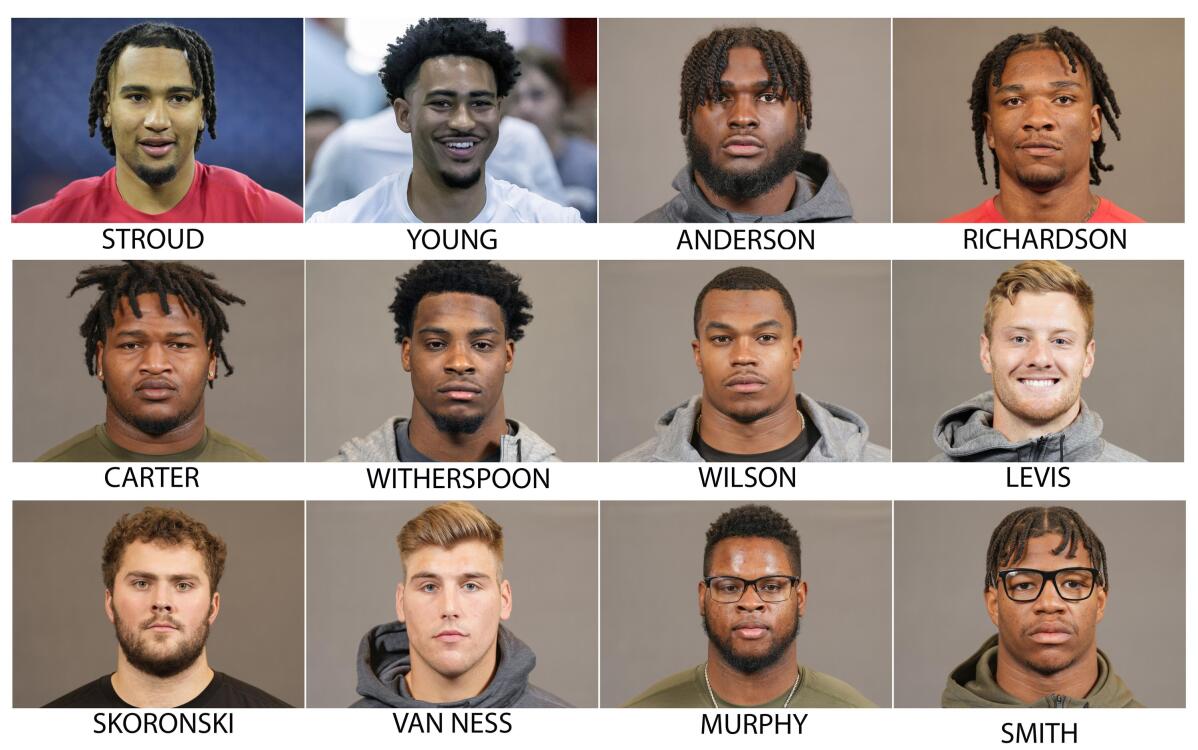 2 of 2

|
FILE - These are 2023 photos showing possible picks in the NFL football draft. From top left are: C.J. Stroud, Bryce Young, Will Anderson, Anthony Richardson, Jalen Carter, Devon Witherspoon, Tyree Wilson, Will Levis, Peter Skoronski, Lukas Van Ness, Myles Murphy and Nolan Smith. (AP Photo/File)
NFL draft gives improving Lions a chance to add to momentum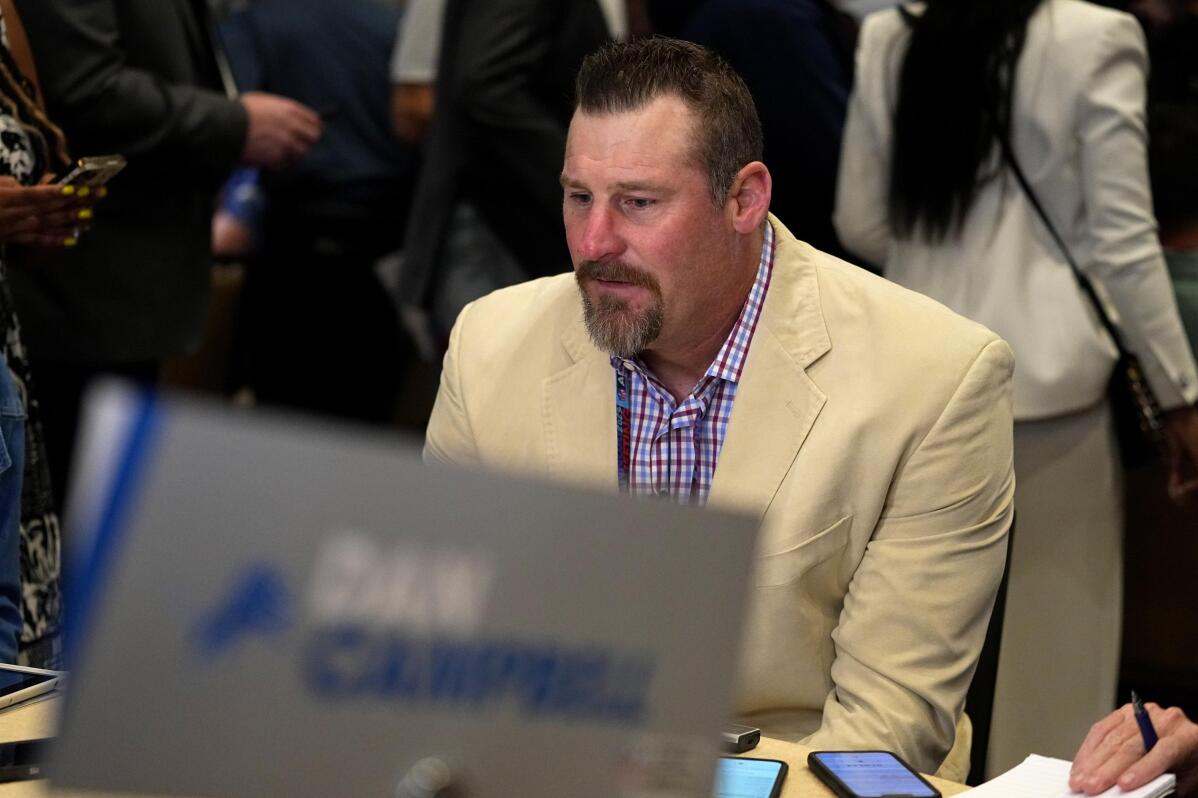 1 of 2

|
Detroit Lions head coach Dan Campbell speaks during the NFC head coaches availability at the NFL football meetings, Tuesday, March 28, 2023, in Phoenix. (AP Photo/Matt York)
1 of 2
Detroit Lions head coach Dan Campbell speaks during the NFC head coaches availability at the NFL football meetings, Tuesday, March 28, 2023, in Phoenix. (AP Photo/Matt York)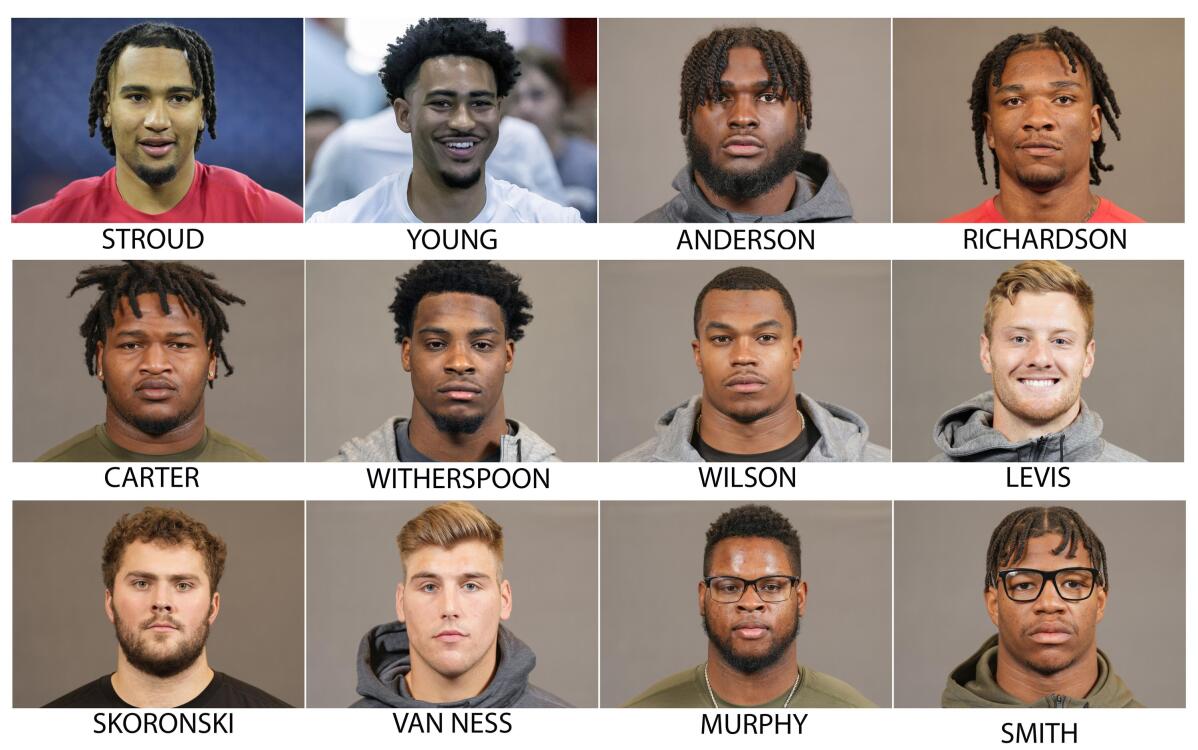 2 of 2

|
FILE - These are 2023 photos showing possible picks in the NFL football draft. From top left are: C.J. Stroud, Bryce Young, Will Anderson, Anthony Richardson, Jalen Carter, Devon Witherspoon, Tyree Wilson, Will Levis, Peter Skoronski, Lukas Van Ness, Myles Murphy and Nolan Smith. (AP Photo/File)
2 of 2
FILE - These are 2023 photos showing possible picks in the NFL football draft. From top left are: C.J. Stroud, Bryce Young, Will Anderson, Anthony Richardson, Jalen Carter, Devon Witherspoon, Tyree Wilson, Will Levis, Peter Skoronski, Lukas Van Ness, Myles Murphy and Nolan Smith. (AP Photo/File)
DETROIT (AP) — The Detroit Lions are going into the NFL draft set up to build upon the relative success they had last season, finishing with a surge that gave them a winning record for the first time since 2017.
"There is an overwhelming feeling of optimism and excitement for what we think we can do," said quarterback Jared Goff, who led the team to eight wins in its last 10 games.
Detroit is heading into the draft with the No. 6 and No. 18 picks overall, a pair of second-round slots and five more selections to give general manager Brad Holmes plenty of options in his third draft with the franchise.
"You definitely want to take advantage of having this kind of capital," Holmes said Thursday, a week before the draft. "Those opportunities don't come every year, so you want to take advantage as much as you can."
The Lions have struggled for decades, failing to win a division title since 1993 and earning only one playoff victory since winning the NFL championship in 1957. They have been a league laughingstock in large part because they have not drafted well.
Holmes, a former Los Angeles Rams executive, has helped the franchise turn around by picking the right players for the most part in his first two years.
He took offensive tackle Penei Sewell with his first pick, No. 7 overall two years ago. Taking Amon-Ra St. Brown in the fourth round, No. 112 overall, was another successful selection in the same draft.
Holmes hit on picks from the top to the bottom of last year's draft, taking defensive end Aidan Hutchinson No. 2 overall and finding contributors in the sixth round with linebackers Malcolm Rodriguez and James Houston.
"Some people just have an eye for talent," said St. Brown, who has 196 receptions for 2,000-plus yards and 11 touchdowns in two seasons. "They know what talent looks like. They know what potential looks like.
"Brad has that eye. Obviously, he selected me."
PICK 'EM
Detroit acquired picks in each of the first two rounds, getting the Los Angeles Rams' first-round pick this year as part of the Matthew Stafford trade and Minnesota's second-round pick for T.J. Hockenson.
The Lions enter the draft with a total of nine picks, including a fifth-round pick from Atlanta as part of the trade for cornerback Jeff Okudah.
MAKING MOVES
With four of the top 55 picks, Holmes has assets to possibly make a bold move such as trading up to take take Alabama star Will Anderson and line him up opposite of Hutchinson.
"You want to be able to apply pressure on both edges," coach Dan Campbell said.
NEEDS
The Lions have a glaring weakness at defensive tackle, which potentially makes Georgia star Jalen Carter a good fit if the organization is satisfied with its research on his character.
Carter met with the Lions this week, a sign that the team is potentially interested in drafting him.
"I'll say even after he left his visit, I felt better about him," Holmes said.
DON'T NEED
The high-scoring offense does not have glaring voids. The team might want to take a tight end that is more dynamic than the unheralded group of players that combined to set a franchise record for touchdowns from the position group.
TO QB, OR NOT TO QB
The Lions are all-in on Goff, but taking a quarterback to develop behind the veteran starter might be a sound move.
Nate Sudfeld, who has played in just six games since his rookie year in 2016, is the only other quarterback currently on the roster after re-signing last month.
___
AP NFL: https://apnews.com/hub/nfl and https://twitter.com/AP_NFL