Packers take pass-rusher Van Ness at No. 13 in NFL draft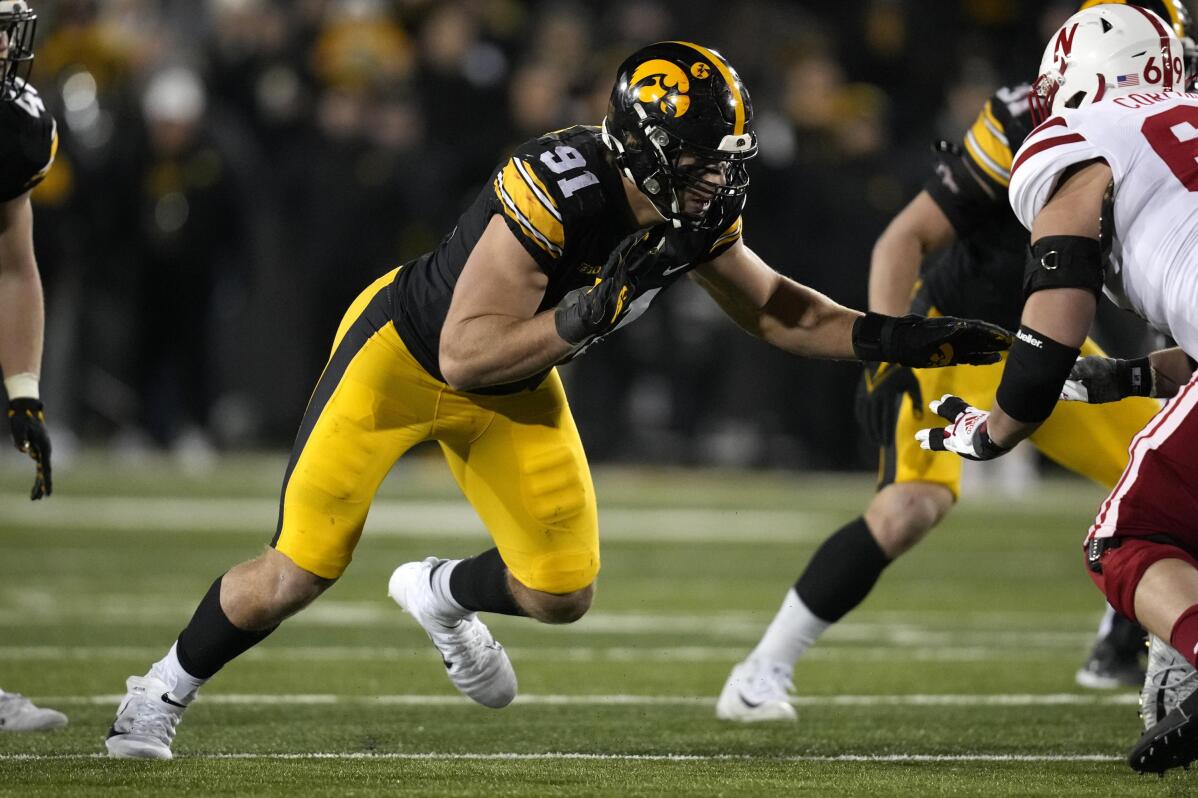 1 of 2

|
FILE - Iowa defensive lineman Lukas Van Ness rushes during the second half of the team's NCAA college football game against Nebraska on Nov. 25, 2022, in Iowa City, Iowa. The Green Bay Packers addressed one of their major positional needs by selecting Van Ness with the 13th overall pick in the NFL draft Thursday night, April 27, 2023. AP Photo/Charlie Neibergall, File)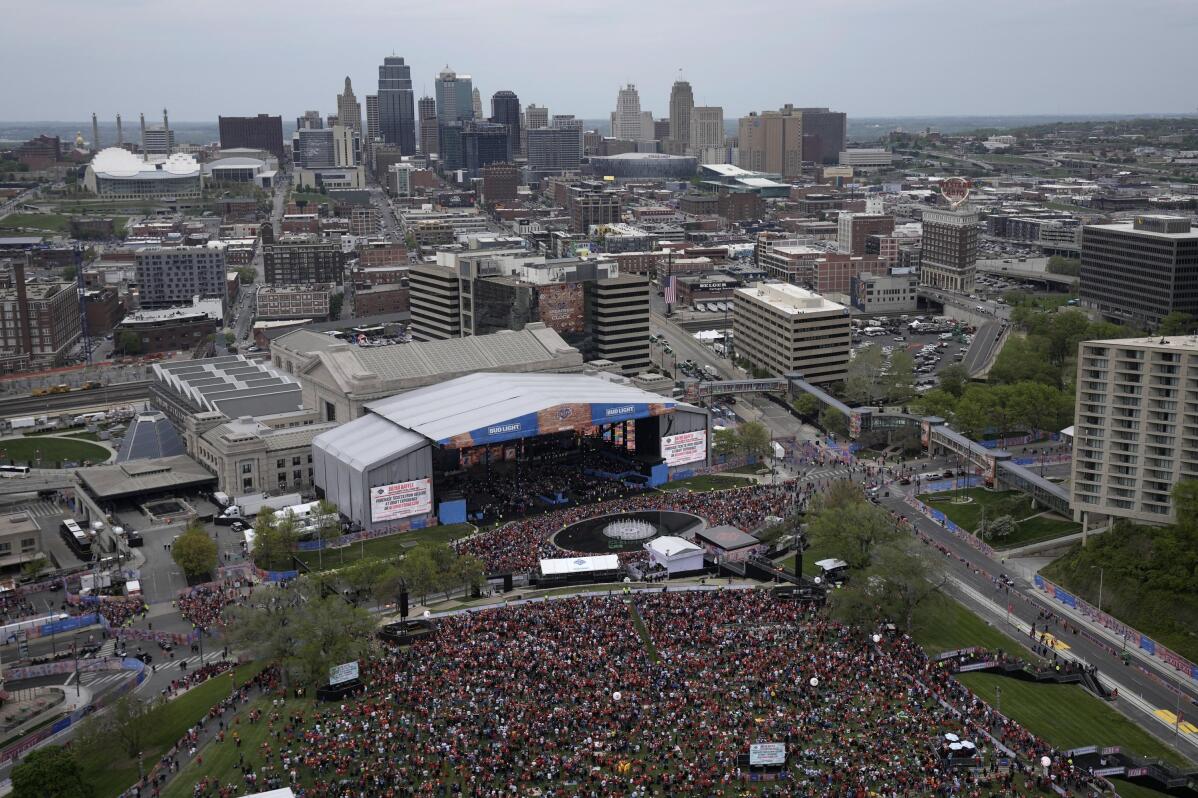 2 of 2

|
Fans gather before the first round of the NFL football draft, Thursday, April 27, 2023, in Kansas City, Mo. (AP Photo/Charlie Riedel)
Packers take pass-rusher Van Ness at No. 13 in NFL draft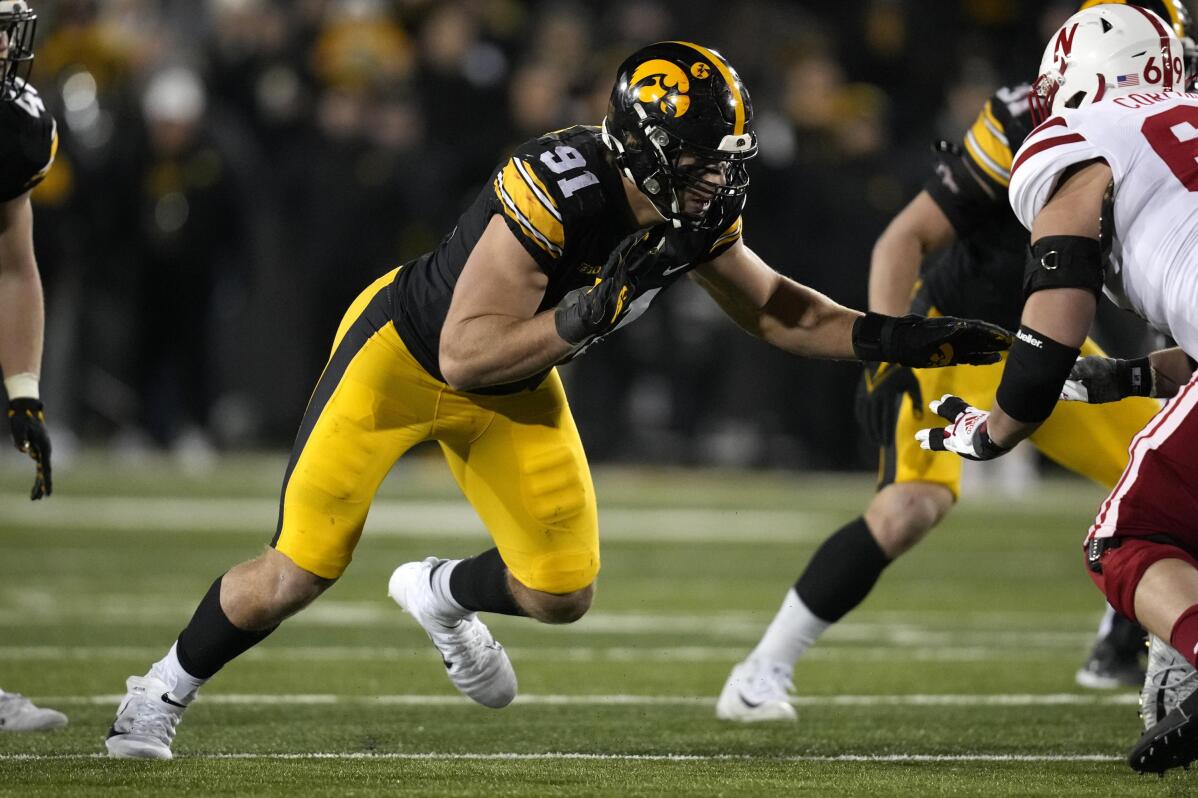 1 of 2

|
FILE - Iowa defensive lineman Lukas Van Ness rushes during the second half of the team's NCAA college football game against Nebraska on Nov. 25, 2022, in Iowa City, Iowa. The Green Bay Packers addressed one of their major positional needs by selecting Van Ness with the 13th overall pick in the NFL draft Thursday night, April 27, 2023. AP Photo/Charlie Neibergall, File)
1 of 2
FILE - Iowa defensive lineman Lukas Van Ness rushes during the second half of the team's NCAA college football game against Nebraska on Nov. 25, 2022, in Iowa City, Iowa. The Green Bay Packers addressed one of their major positional needs by selecting Van Ness with the 13th overall pick in the NFL draft Thursday night, April 27, 2023. AP Photo/Charlie Neibergall, File)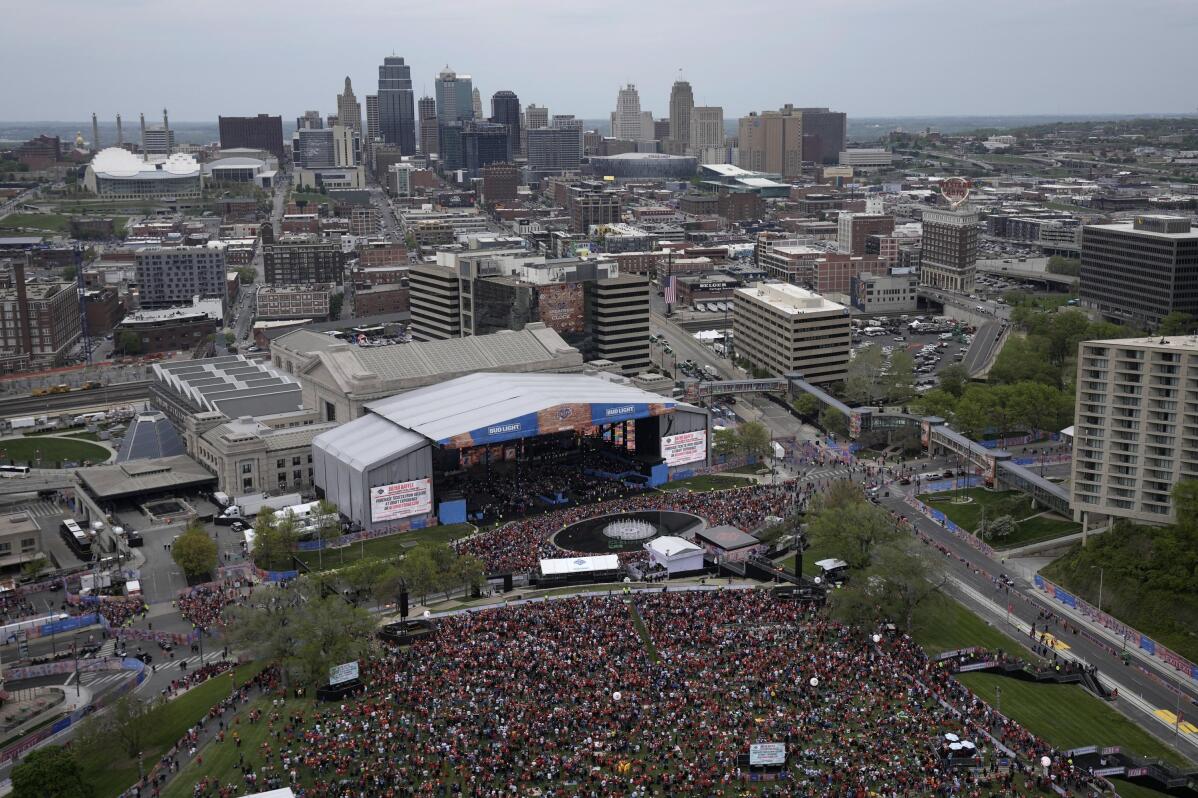 2 of 2

|
Fans gather before the first round of the NFL football draft, Thursday, April 27, 2023, in Kansas City, Mo. (AP Photo/Charlie Riedel)
2 of 2
Fans gather before the first round of the NFL football draft, Thursday, April 27, 2023, in Kansas City, Mo. (AP Photo/Charlie Riedel)
GREEN BAY, Wis. (AP) — The Green Bay Packers' lack of pass-rushing depth was apparent when they struggled to get to opposing quarterbacks after Rashan Gary tore his anterior cruciate ligament last November.
They are confident Iowa edge rusher Lukas Van Ness can help change that.
Rather than getting a pass catcher for new starting quarterback Jordan Love in the opening round, the Packers selected Van Ness with the 13th overall pick in the NFL draft Thursday night. Van Ness was in Wisconsin when he got the news while watching the draft from Fontana, where his parents have a home.
"I couldn't ask for a better result," said Van Ness, who prepared for the draft by working out in California with a group that included Packers defensive tackle Kenny Clark. "I'm so happy to be Packer. I can't wait to get out there and wear that green."
Green Bay began the week with the No. 15 overall pick in the draft, but they moved up two spots as part of the blockbuster trade that sent four-time MVP quarterback Aaron Rodgers to the New York Jets.
That trade also brought the Packers a second-round selection (No. 42 overall) and sixth-round pick in this year's draft, plus a conditional 2024 second-round pick that could become a first-rounder if Rodgers plays 65% of the Jets' snaps this season. The Packers are sending a fifth-round pick in this year's draft to the Jets.
Green Bay's pass-rushing ability took a hit late last season without Gary, whose status for the start of the upcoming season remains uncertain. Gary had six sacks in nine games, Preston Smith had a team-high 8 ½ sacks and nobody else had more than four last season.
Packers general manager Brian Gutekunst said Van Ness' ability to address a specific, immediate need didn't necessarily play that big a role in their decision to draft him.
"It's helpful, but it really didn't drive the decision at all," Gutekunst said. "As you guys know, especially in the draft, we really think more long-term than immediately. This will have some immediate help for sure, but it's really more of a long-term thought process."
Van Ness showed his explosiveness by getting a combined 13 1/2 sacks and 20 tackles for loss in two seasons at Iowa. Van Ness did all that without starting a single game for the Hawkeyes.
"I've gotten this question thousands of times over the last few months," Van Ness said. "I was very happy with the way my time at Iowa went. It's just the Iowa way. I had two great fifth-year seniors in front of me who did the time and gave the years to the program."
Van Ness' versatility intrigued the Packers since he played both tackle and end for Iowa. Gutekunst said the Packers could use him as an edge rusher while also occasionally having him work inside.
Gutekunst also was impressed by Van Ness' long-term potential. The former high school hockey player has come a long way in a short time.
Van Ness said he was 220 pounds when he arrived at Iowa in 2020 and redshirted during the pandemic-shortened season. He now is listed at 272 and has a physique that earned him the nickname "Hercules."
"I love to work out, so honestly it's a cool nickname," Van Ness said.
Van Ness called hockey his first love and says he has pictures of himself playing at the age of three. He believes his years playing hockey gave him skills that translate to the football field, such as how it helped him develop his motor.
"I truly believe I wouldn't be the (football) player I am without the game of hockey," Van Nes said. "But since I started playing this game of football, I fell in love and I knew that this was what I wanted to do."
After going 8-9 and missing the playoffs last season to end a string of three straight playoff appearances, the Packers are entering a new post-Rodgers era with Love as their starting quarterback.
Love could use some more weapons.
Christian Watson and Romeo Doubs are the only Packers wideouts under contract who had at least 100 yards receiving in 2022. Josiah Deguara and Tyler Davis, the top tight ends under contract, had a combined 17 catches for 140 yards.
But it shouldn't come as a surprise the Packers addressed defense instead in the first round.
Green Bay hasn't selected a wide receiver in the first round since taking Florida State's Javon Walker 20th overall in 2002 and hasn't used a first-round pick on a tight end since selecting Miami's Bubba Franks at No. 14 in 2000.
The last offensive player Green Bay drafted in the first round was Love himself, who went 26th overall in 2020 when the Packers traded up four spots to get him. He was the first offensive player the Packers had taken in the opening round since selecting Mississippi State tackle Derek Sherrod at No. 32 overall in 2011.
The Packers have three of the top 45 overall selections in the draft, giving them plenty of opportunities to boost a roster that has more holes than usual since salary-cap issues prevented them from being very active on the free-agent market. ___
AP NFL: https://apnews.com/hub/nfl and https://twitter.com/AP_NFL