Steelers bring CB Joey Porter Jr. home in NFL draft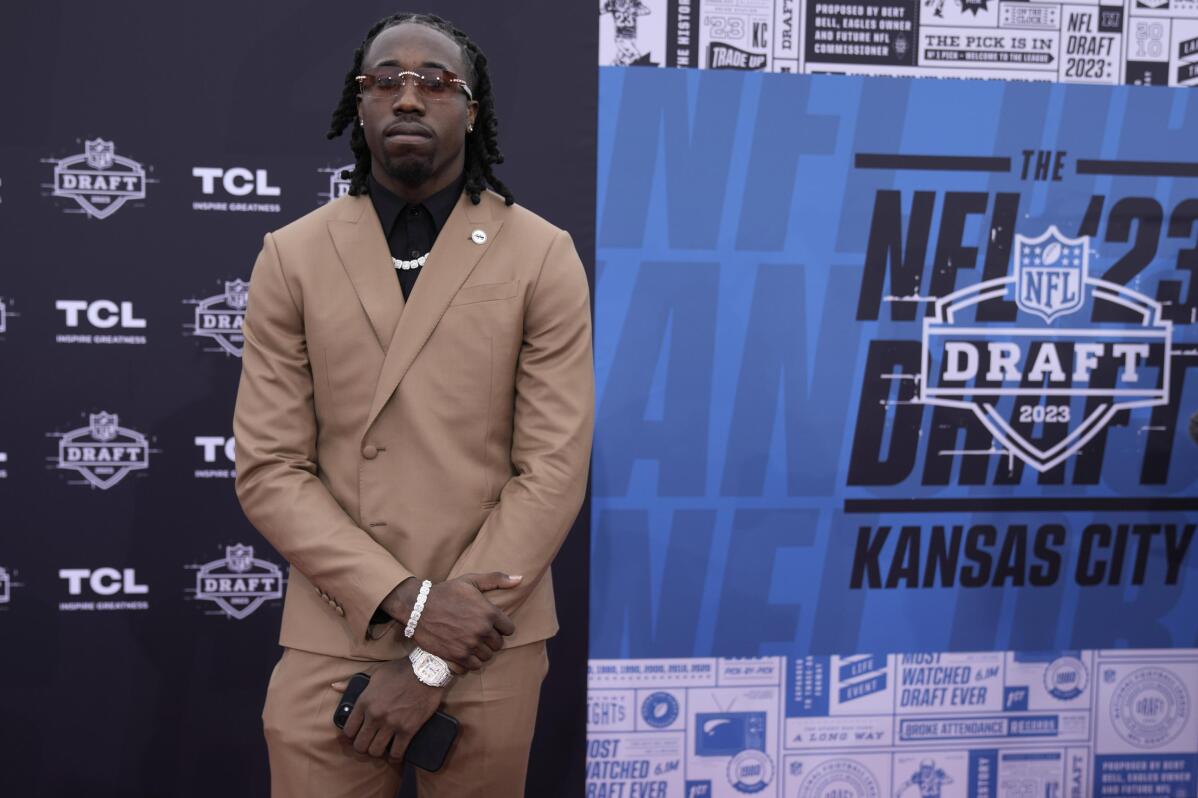 1 of 2

|
Penn State cornerback Joey Porter Jr. arrives on the red carpet before the first round of the NFL football draft, Thursday, April 27, 2023, in Kansas City, Mo. (AP Photo/Charlie Riedel)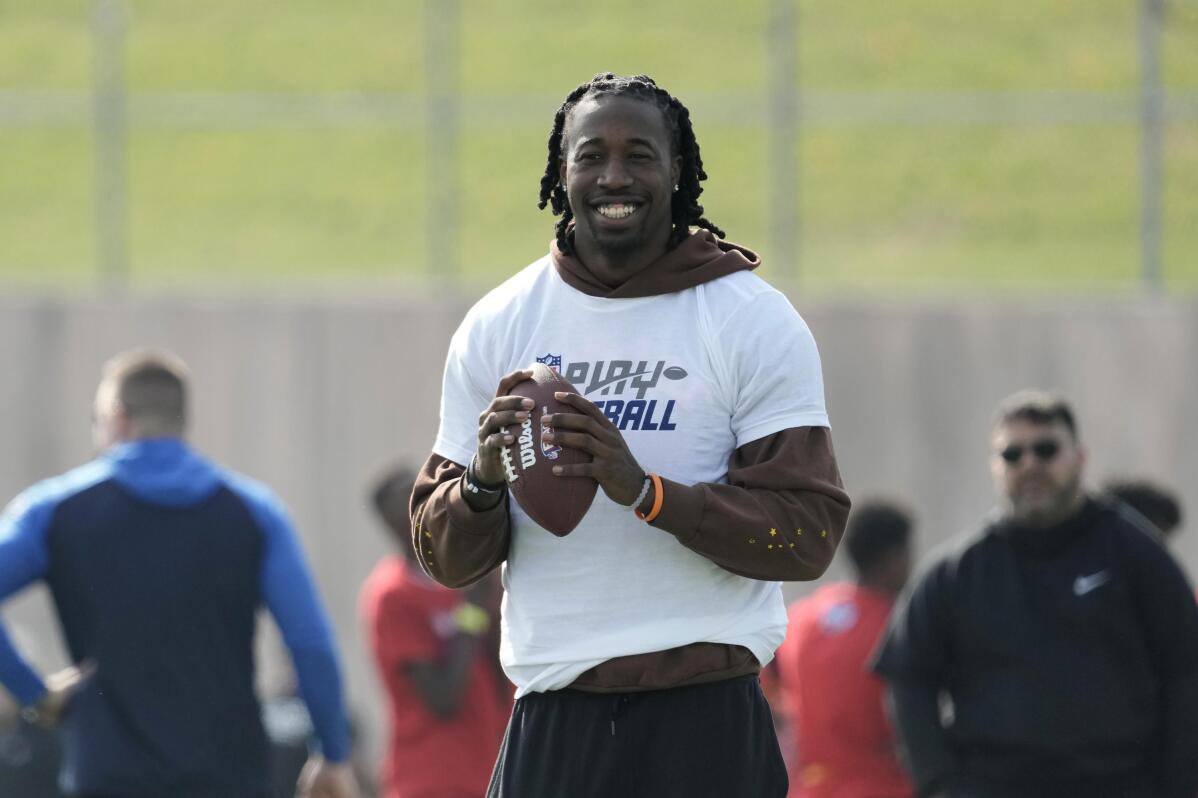 2 of 2

|
NFL draft prospect Joey Porter Jr. takes part in a Play Football clinic ahead of the NFL draft Wednesday, April 26, 2023, at Center High School in Kansas City, Mo. The draft will run from April 27-29. (AP Photo/Charlie Riedel)
Steelers bring CB Joey Porter Jr. home in NFL draft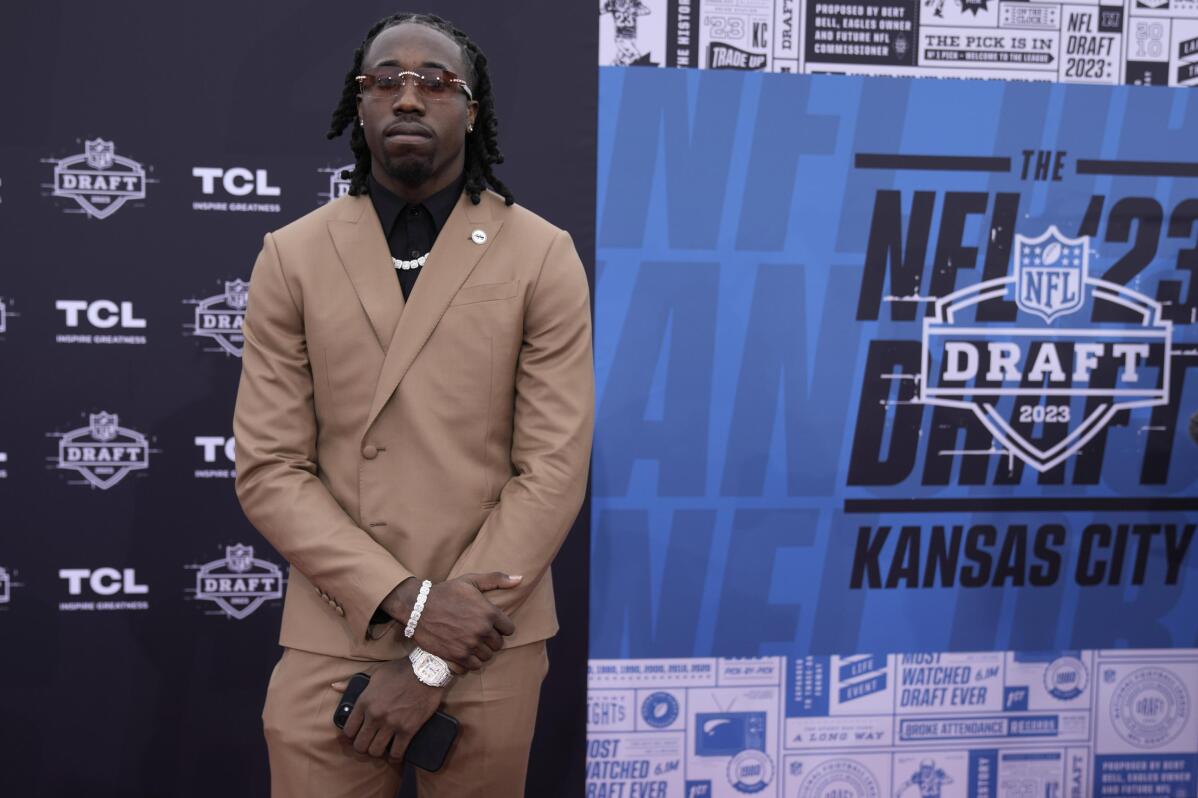 1 of 2

|
Penn State cornerback Joey Porter Jr. arrives on the red carpet before the first round of the NFL football draft, Thursday, April 27, 2023, in Kansas City, Mo. (AP Photo/Charlie Riedel)
1 of 2
Penn State cornerback Joey Porter Jr. arrives on the red carpet before the first round of the NFL football draft, Thursday, April 27, 2023, in Kansas City, Mo. (AP Photo/Charlie Riedel)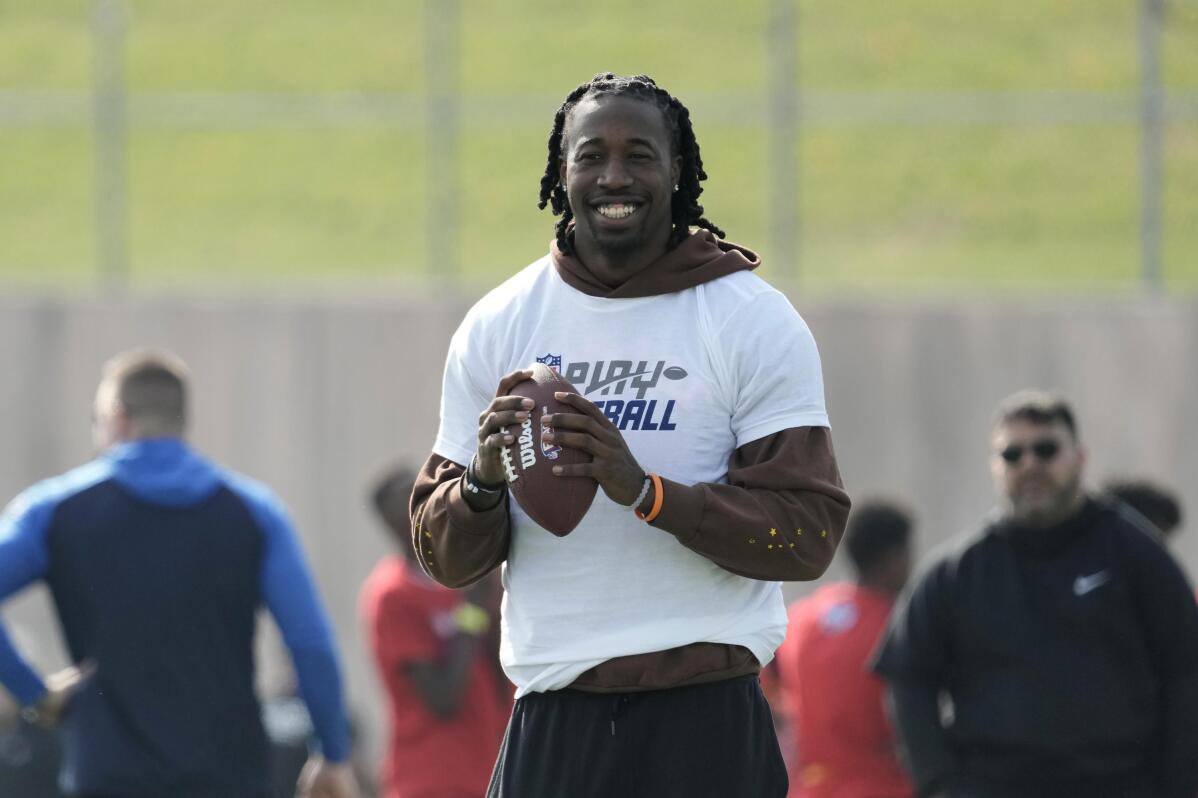 2 of 2

|
NFL draft prospect Joey Porter Jr. takes part in a Play Football clinic ahead of the NFL draft Wednesday, April 26, 2023, at Center High School in Kansas City, Mo. The draft will run from April 27-29. (AP Photo/Charlie Riedel)
2 of 2
NFL draft prospect Joey Porter Jr. takes part in a Play Football clinic ahead of the NFL draft Wednesday, April 26, 2023, at Center High School in Kansas City, Mo. The draft will run from April 27-29. (AP Photo/Charlie Riedel)
PITTSBURGH (AP) — Joey Porter Jr. left Kansas City more than a little angry after failing to hear his name called in the first round of the NFL draft.
So rather than trot out the same stylish beige suit for a second straight night, Porter opted to hop a plane and go home.
In more ways than one.
The cornerback who was a fixture around the Pittsburgh Steelers as a kid during his father Joey Porter Sr.'s stints as a player and then a coach returned to the organization on his own terms when Pittsburgh chose Porter Jr. with the first pick of the second round on Friday.
Suddenly, the sting Porter felt after being passed over 31 times on Thursday — including once by the Steelers — vanished. Well, sort of. There is a sense of relief in playing in the city where he grew up. There's also a sense of frustration.
The lonely feeling of spending four hours in a green room while nearly everyone else heads to the stage to bear hug NFL commissioner Roger Goodell is going to stick with Porter for a while. And Porter believes he will be better off for it.
"This is the perfect way to end my day right here," said Porter, who wasn't too far from the Steelers facility when his phone rang with Pittsburgh's 412 area code came up. "I just forgot all about (Thursday) night. And I'm ready. And I got a chip on my shoulder. I'm trying to prove myself."
In that way he is very much his father's son. Joey Porter Sr. spent eight of his 13 seasons in the NFL in Pittsburgh, making four Pro Bowls, winning a Super Bowl and developing a reputation as one of the more legendary trash talkers in league history.
While the younger Porter admits he has an "off" switch off the field — something his dad is still trying to master — he also has an edge that he'll need to thrive with the Steelers.
Pittsburgh led the NFL in interceptions in 2022 with 20 but also gave up 29 touchdown passes. Only four teams allowed more, one of the reasons the Steelers turned to the 6-foot-2, 195-pound Porter.
"He's got a lot of great attributes: size, length, competitive, tough," Pittsburgh defensive coordinator Teryl Austin said.
Austin pointed out there will be no "red shirt" for Porter, who joins a secondary in need an influx of youth and talent. While the Steelers signed veteran Patrick Peterson during the offseason, they also lost Cam Sutton to Detroit in free agency.
Porter's height gives the Steelers a defender with size and the skills necessary to play in a scheme that thrives on blitzing, frequently forcing the cornerbacks to fend for themselves.
While Porter had just one interception in 35 games at Penn State, he was around the ball frequently. He tied a Big Ten record when he had six pass breakups in a victory over Purdue last fall.
Porter won't lack for mentors. The Steelers have one of the best safeties in the game in perennial Pro Bowler Minkah Fitzpatrick. Peterson is a three-time All Pro who at age 32 will find himself with a protégé to work with when organized team activities begin next month.
"(Porter) going to be in an environment that gives him an opportunity to succeed," Austin said.
And do it in the same city where he grew up. Porter played in the northern Pittsburgh suburbs in high school before heading a couple of hours northeast to Penn State. The Steelers, perhaps more than any team in the NFL, tries to create a family-type atmosphere.
It's an atmosphere Porter is already well-versed in. It's telling that as he made his way through the team's facility on Friday night — with his father and mother close by — that Steelers staff members poured into the hallway to extend a hand or exchange a hug, remembering the kid who spent four summers as a ball boy at training camp and flashed a toothy smile when his dad held him in his arms after the Steelers won the Super Bowl after the 2005 season. Porter is also close to Dino Tomlin, son of Pittsburgh head coach Mike Tomlin.
Yet when the elder Tomlin greeted the younger Porter shortly after Porter became the latest member of the Steelers, Tomlin offered a reminder that the feel-good portion of Porter's story is over. And Porter was listening.
"At the end of the day, it's business," Porter said ."So every time I walk in here, we've got a true to life business. And I'm I'm all about that. And I'm ready."
Pittsburgh solidified its interior defensive line later in the second round when it selected 6-4, 310-pound defensive lineman Keeanu Benton from Wisconsin.
The massive Benton figures to get a shot at playing on the interior line and unlike Porter, won't face the pressure of living up to the family name of having to start right away not with longtime captain Cam Heyward and Larry Ogunjobi above Benton on the depth chart.
The Steelers traded their third-round pick (No. 80) to Carolina for a third-round pick (No. 93) and a fourth-round pick (No. 132). Pittsburgh used the third-round pick to take Georgia tight end Darnell Washington.
The 6-7, 264-pound Washington joins former Bulldog teammate Broderick Jones, who Pittsburgh selected with the 14th overall pick on Thursday.
___
AP NFL: https://apnews.com/hub/nfl and https://twitter.com/AP_NFL