Purdy's success could open door for other QBs in NFL draft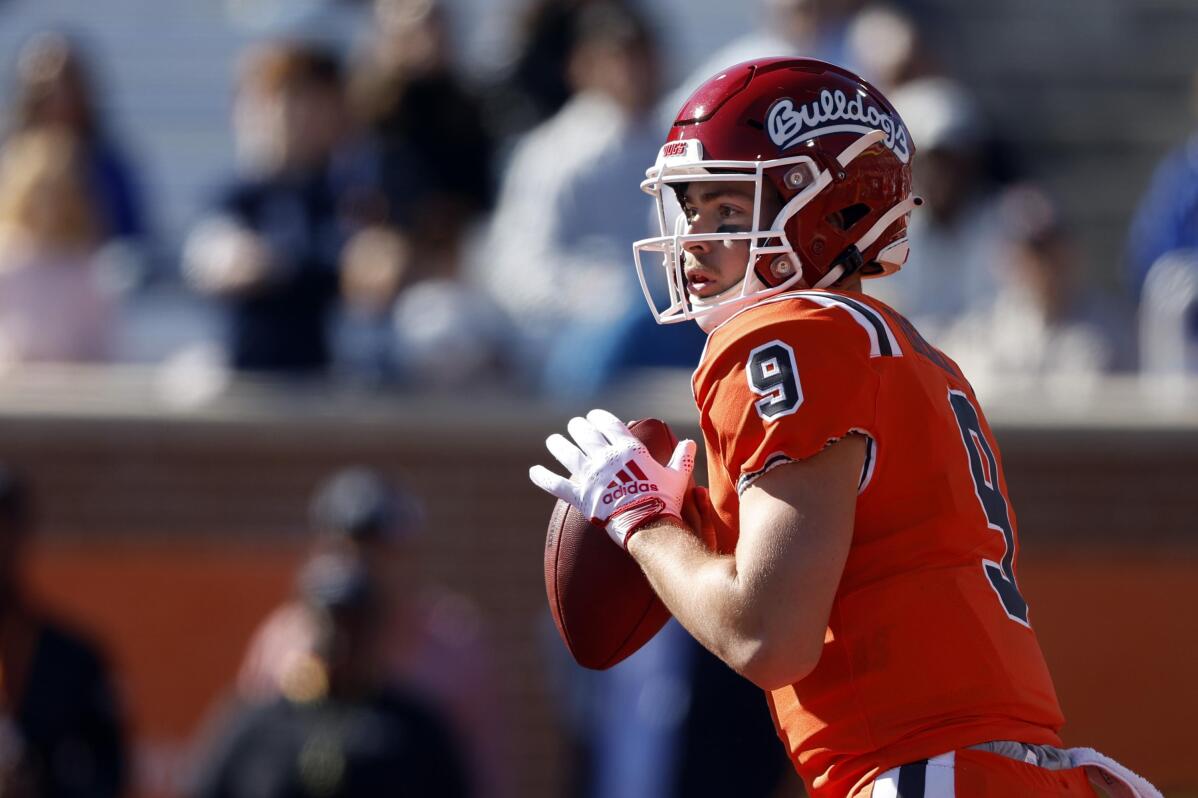 1 of 11

|
FILE - National quarterback Jake Haener of Fresno State (9) throws a pass during the first half of the Senior Bowl NCAA college football game Saturday, Feb. 4, 2023, in Mobile, Ala. In the first nine drafts after former sixth-round pick Tom Brady won his first Super Bowl following the 2002 season, there were an average of seven QBs taken in the final three rounds of the draft. (AP Photo/Butch Dill, File)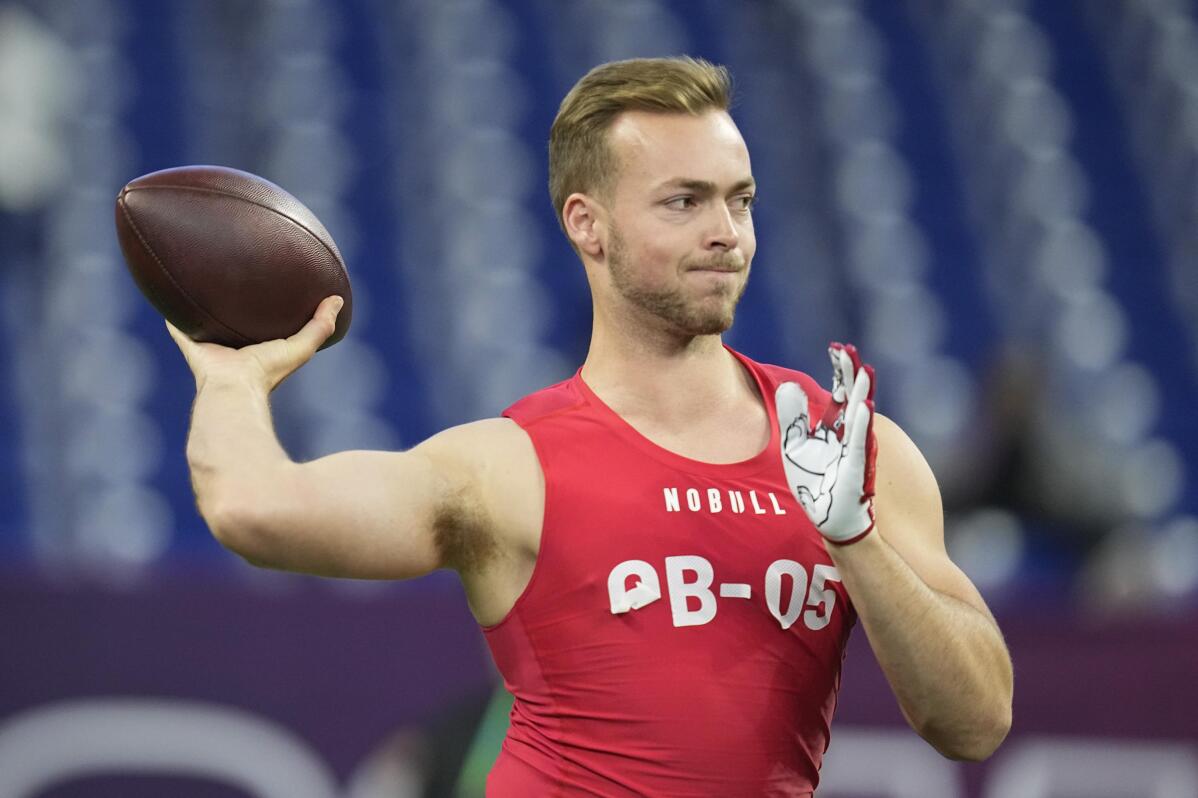 2 of 11

|
FILE - Fresno State quarterback Jake Haener runs a drill at the NFL football scouting combine in Indianapolis, Saturday, March 4, 2023. Haener bristles when asked about the obvious comparison to fellow experienced but undersized quarterback Brock Purdy. (AP Photo/Darron Cummings, File)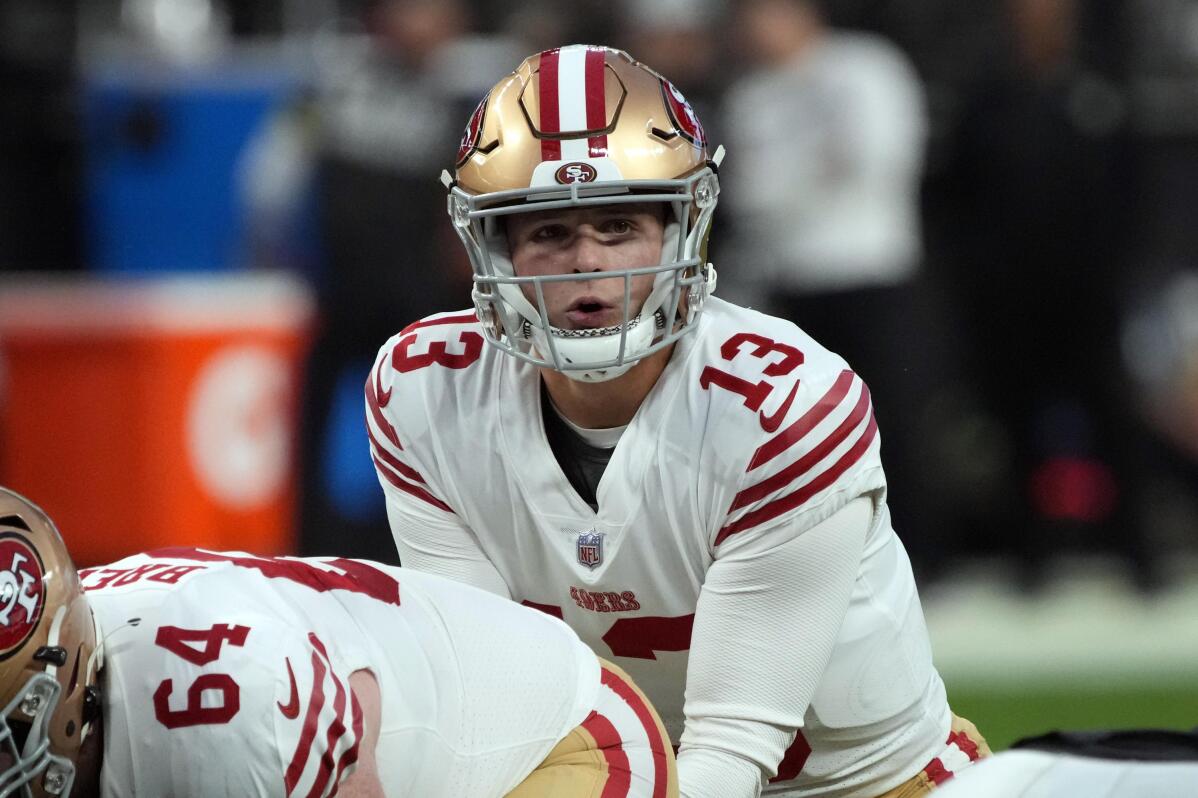 3 of 11

|
FILE - San Francisco 49ers quarterback Brock Purdy (13) lines up against the Las Vegas Raiders during the first half of an NFL football game, Sunday, Jan. 1, 2023, in Las Vegas. The overlooked quarterback who got dubbed with the "Mr. Irrelevant" moniker after being drafted with the final pick last year developed into a gem who won his first seven starts and helped the San Francisco 49ers make it to the NFC championship game. (AP Photo/Rick Scuteri, File)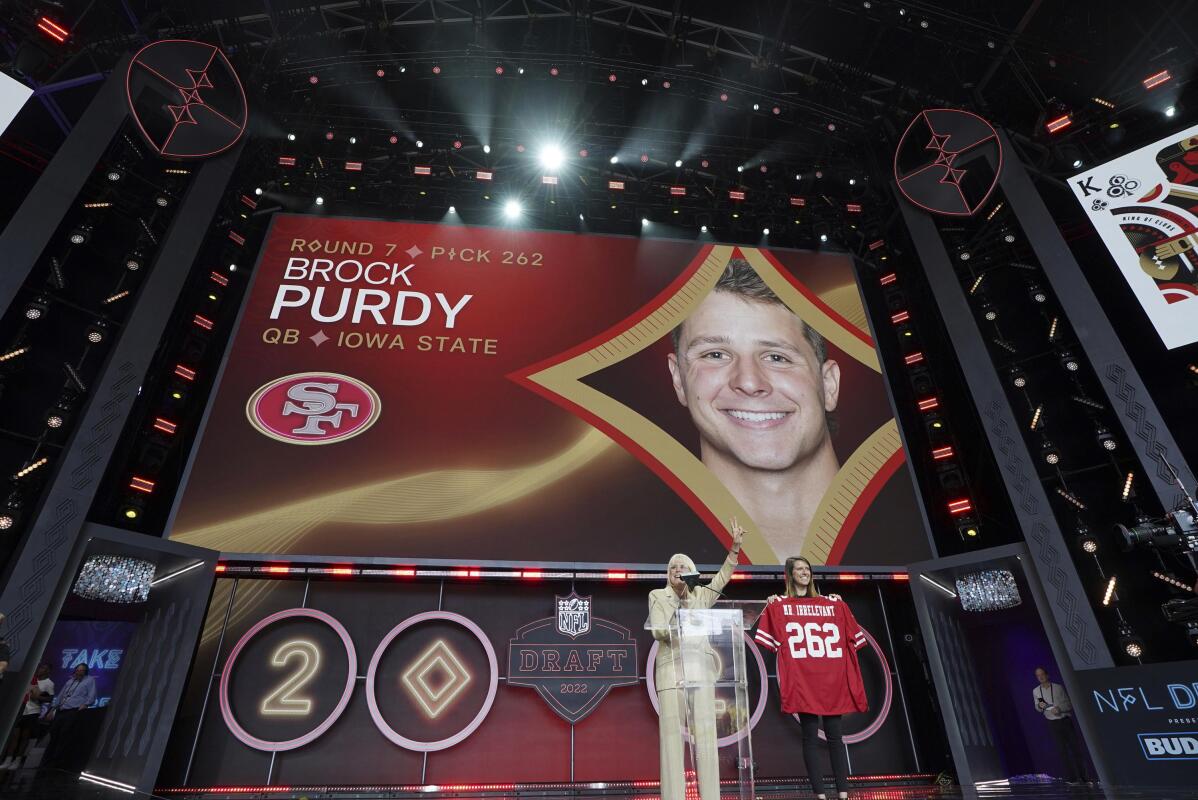 4 of 11

|
FILE - Iowa State quarterback Brock Purdy gets picked as Mr. Irrelevant by the San Francisco 49ers as the 262nd and last pick of the 2022 NFL Draft on Saturday, April 30, 2022, in Las Vegas. The overlooked quarterback who got dubbed with the "Mr. Irrelevant" moniker after being drafted with the final pick last year developed into a gem who won his first seven starts and helped the San Francisco 49ers make it to the NFC championship game. (AP Photo/Doug Benc, File)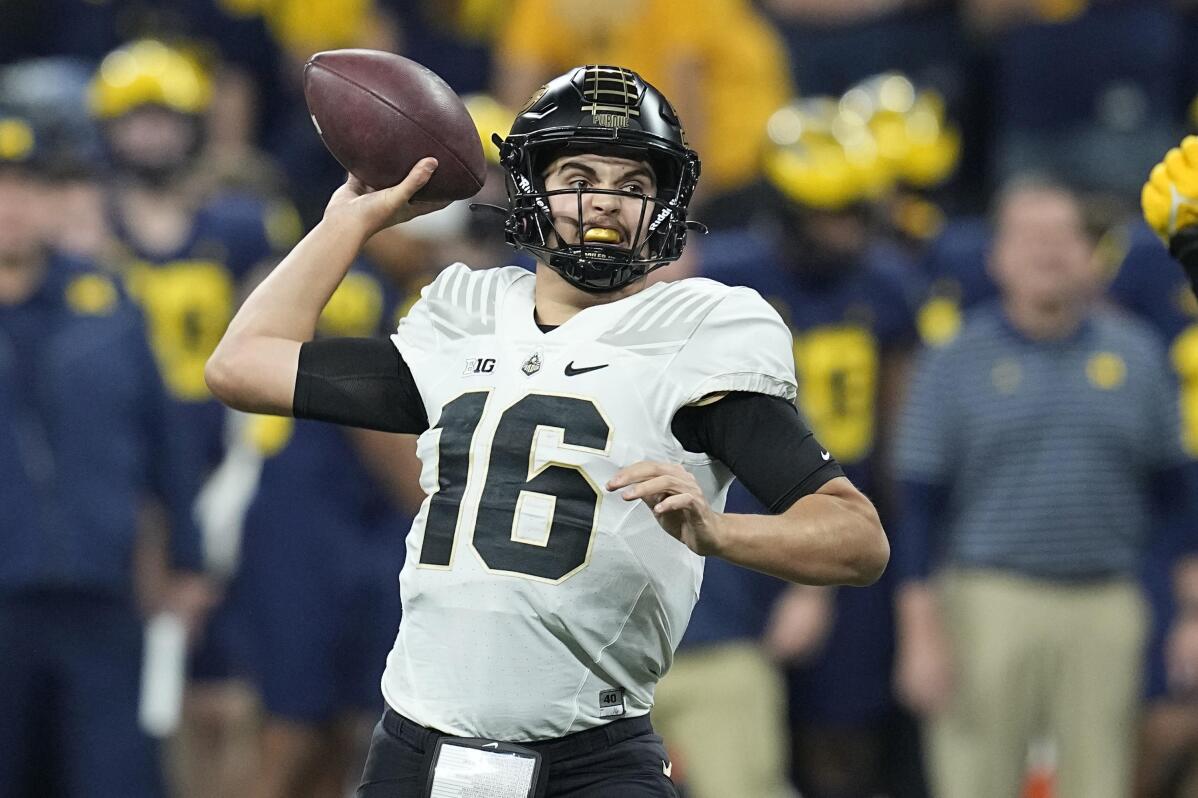 5 of 11

|
FILE - Purdue quarterback Aidan O'Connell throws during the first half of the Big Ten championship NCAA college football game against Michigan, Saturday, Dec. 3, 2022, in Indianapolis. Teams had shied away in recent years on taking a late-round flyer on quarterbacks as fewer teams kept three quarterbacks on the roster after the NFL eliminated the game-day roster exemption for an emergency third quarterback. (AP Photo/Darron Cummings, File)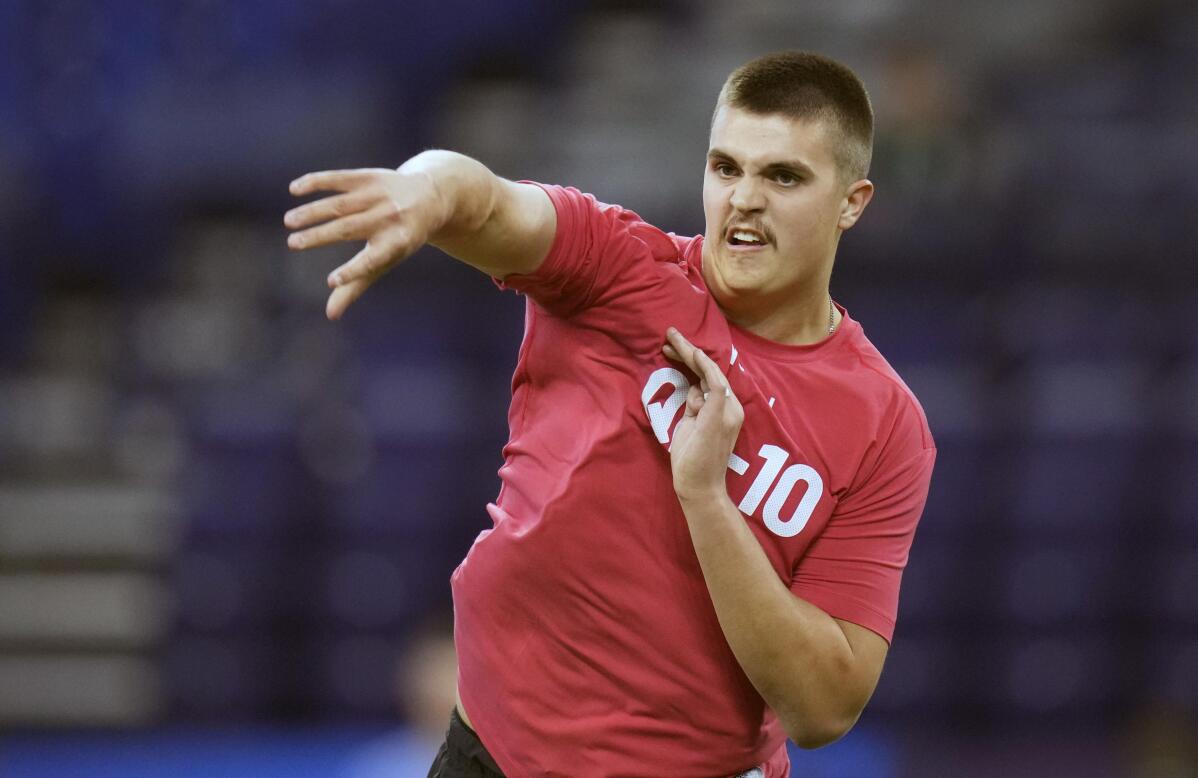 6 of 11

|
FILE - Purdue quarterback Aidan O'Connell runs a drill at the NFL football scouting combine in Indianapolis, Saturday, March 4, 2023. In the first nine drafts after former sixth-round pick Tom Brady won his first Super Bowl following the 2002 season, there were an average of seven QBs taken in the final three rounds of the draft. (AP Photo/Michael Conroy, File)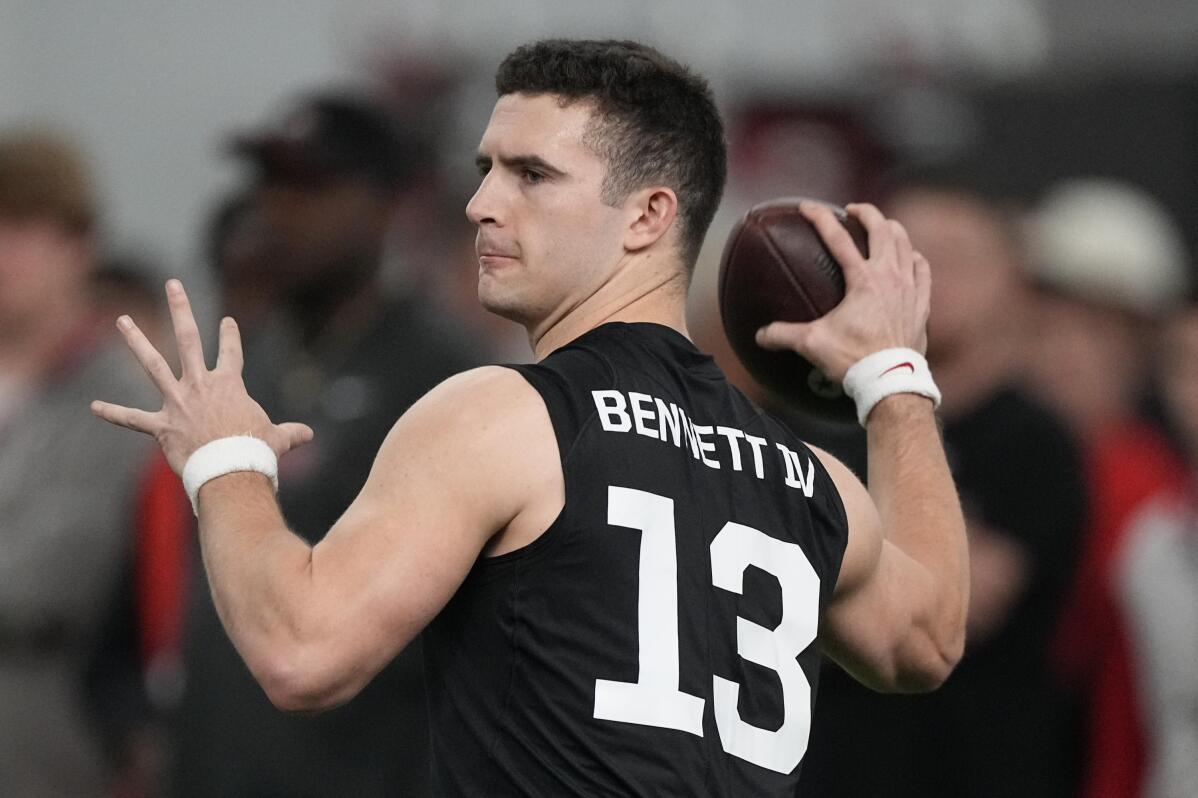 7 of 11

|
FILE - Former Georgia quarterback Stetson Bennett throws during drills at Georgia football Pro Day, Wednesday, March 15, 2023, in Athens, Ga. In the first nine drafts after former sixth-round pick Tom Brady won his first Super Bowl following the 2002 season, there were an average of seven QBs taken in the final three rounds of the draft. (AP Photo/John Bazemore, File)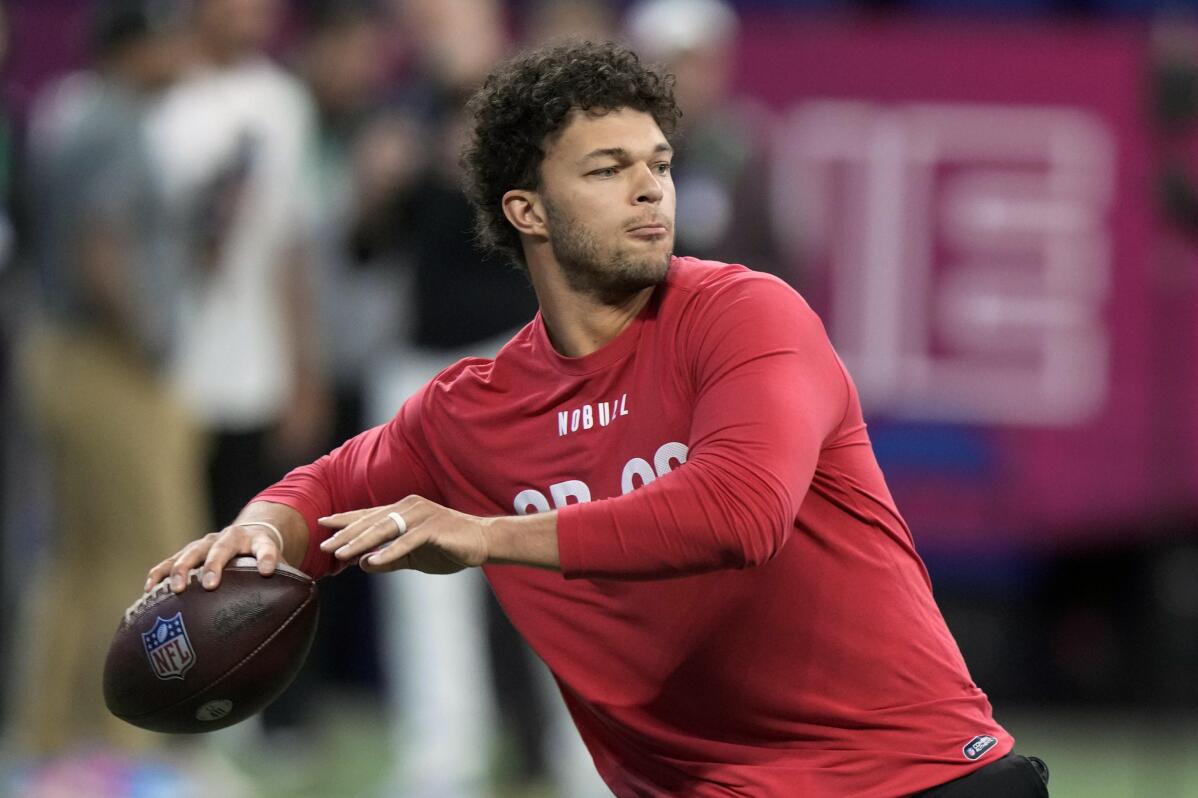 8 of 11

|
FILE - BYU quarterback Jaren Hall runs a drill at the NFL football scouting combine in Indianapolis, Saturday, March 4, 2023. In the first nine drafts after former sixth-round pick Tom Brady won his first Super Bowl following the 2002 season, there were an average of seven QBs taken in the final three rounds of the draft. (AP Photo/Michael Conroy, File)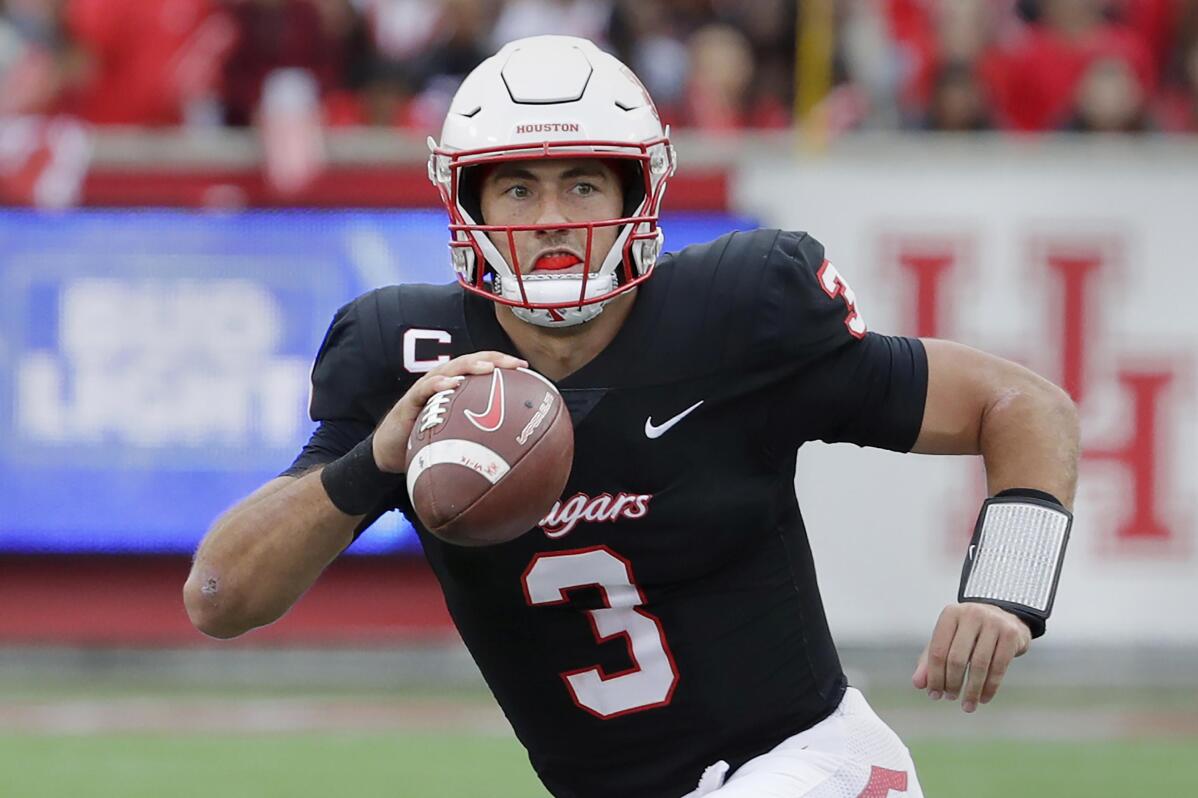 9 of 11

|
FILE - Houston quarterback Clayton Tune (3) plays during the first half of an NCAA college football game against South Florida, Saturday, Oct. 29, 2022, in Houston. In the first nine drafts after former sixth-round pick Tom Brady won his first Super Bowl following the 2002 season, there were an average of seven QBs taken in the final three rounds of the draft. (AP Photo/Michael Wyke, File)
10 of 11

|
FILE - Houston quarterback Clayton Tune runs a drill at the NFL football scouting combine in Indianapolis, Saturday, March 4, 2023. Teams had shied away in recent years on taking a late-round flyer on quarterbacks as fewer teams kept three quarterbacks on the roster after the NFL eliminated the game-day roster exemption for an emergency third quarterback.(AP Photo/Michael Conroy, File)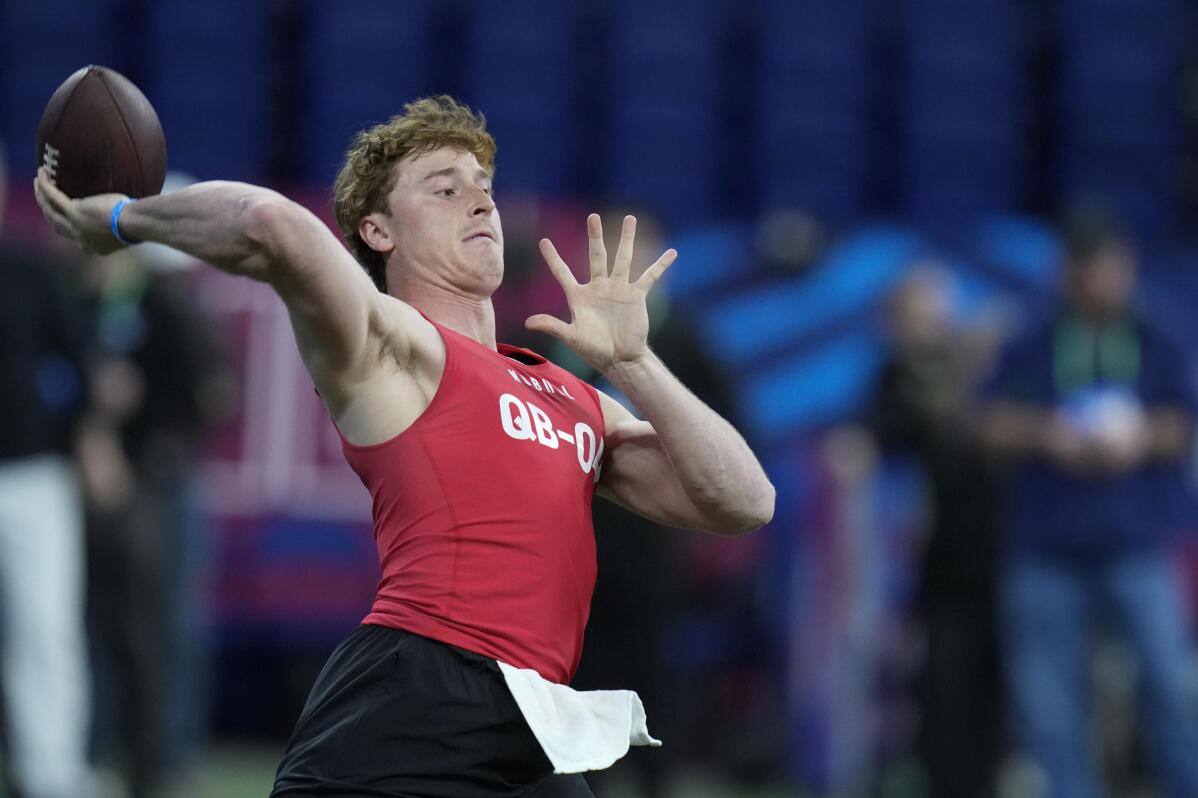 11 of 11

|
FILE - TCU quarterback Max Duggan runs a drill at the NFL football scouting combine in Indianapolis, Saturday, March 4, 2023. In the first nine drafts after former sixth-round pick Tom Brady won his first Super Bowl following the 2002 season, there were an average of seven QBs taken in the final three rounds of the draft. (AP Photo/Michael Conroy, File)
Purdy's success could open door for other QBs in NFL draft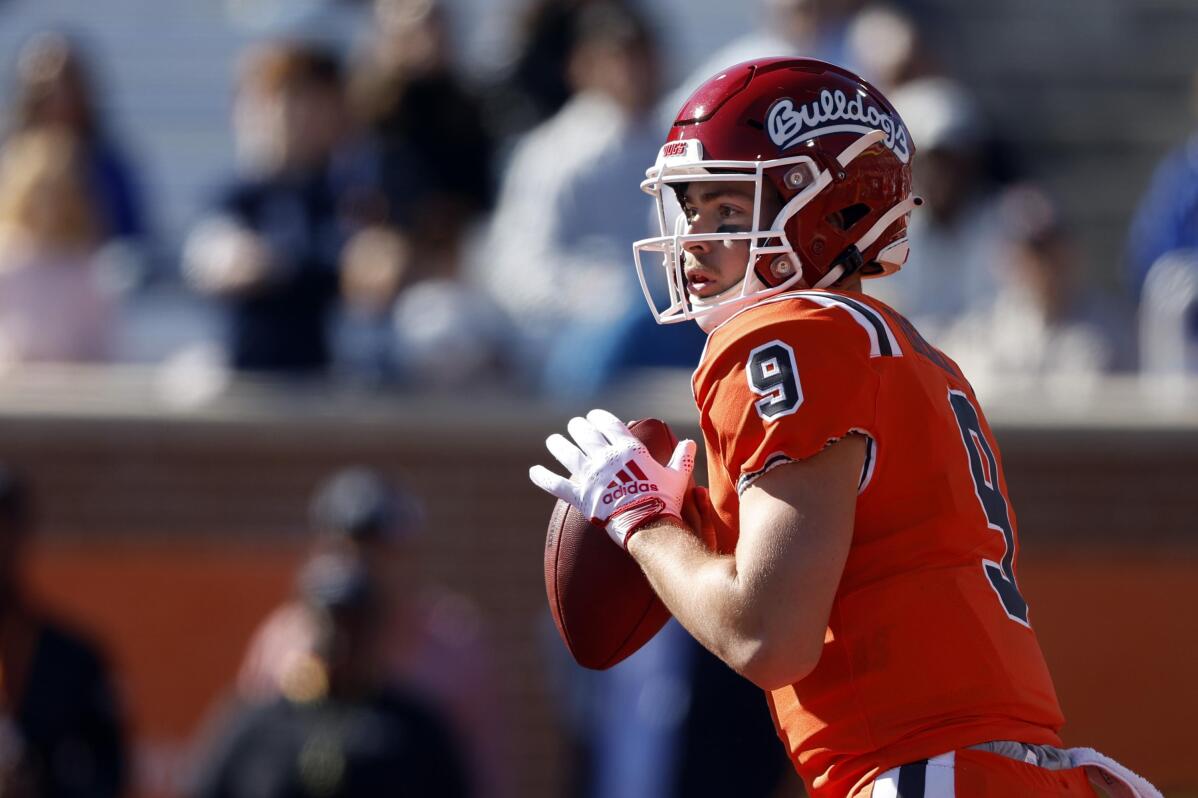 1 of 11

|
FILE - National quarterback Jake Haener of Fresno State (9) throws a pass during the first half of the Senior Bowl NCAA college football game Saturday, Feb. 4, 2023, in Mobile, Ala. In the first nine drafts after former sixth-round pick Tom Brady won his first Super Bowl following the 2002 season, there were an average of seven QBs taken in the final three rounds of the draft. (AP Photo/Butch Dill, File)
1 of 11
FILE - National quarterback Jake Haener of Fresno State (9) throws a pass during the first half of the Senior Bowl NCAA college football game Saturday, Feb. 4, 2023, in Mobile, Ala. In the first nine drafts after former sixth-round pick Tom Brady won his first Super Bowl following the 2002 season, there were an average of seven QBs taken in the final three rounds of the draft. (AP Photo/Butch Dill, File)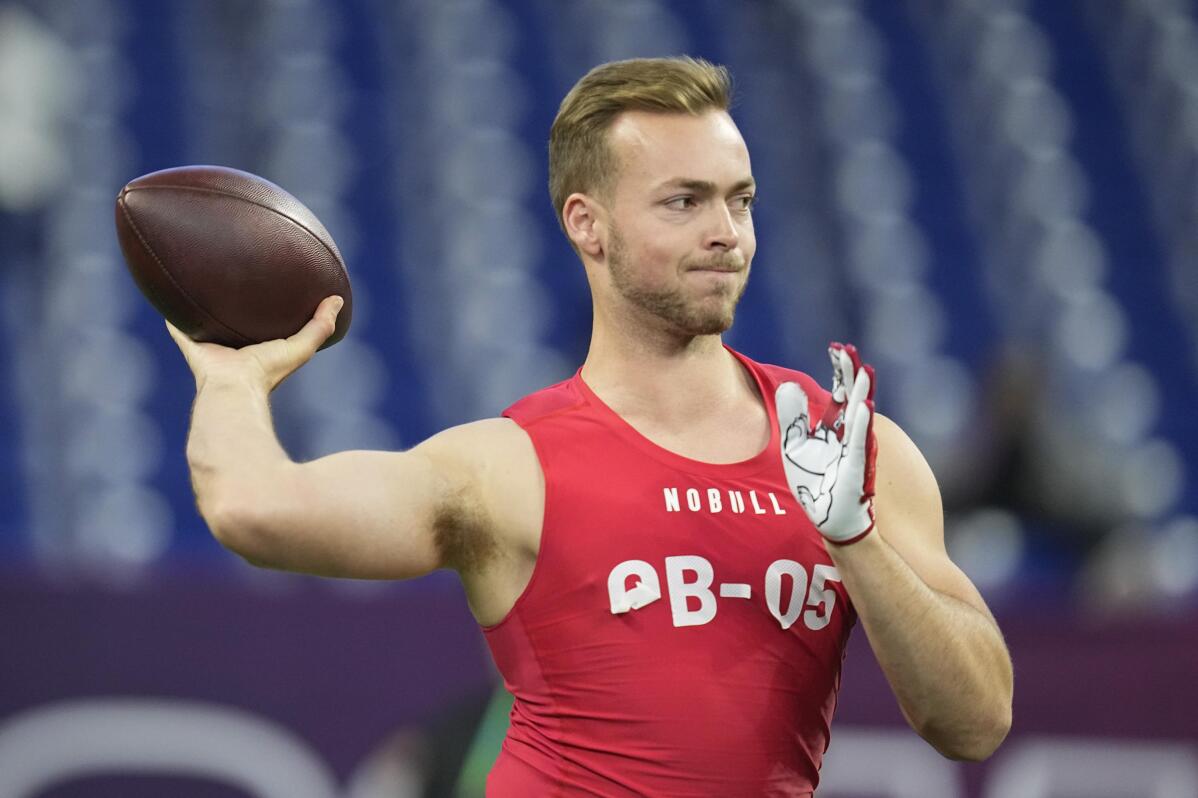 2 of 11

|
FILE - Fresno State quarterback Jake Haener runs a drill at the NFL football scouting combine in Indianapolis, Saturday, March 4, 2023. Haener bristles when asked about the obvious comparison to fellow experienced but undersized quarterback Brock Purdy. (AP Photo/Darron Cummings, File)
2 of 11
FILE - Fresno State quarterback Jake Haener runs a drill at the NFL football scouting combine in Indianapolis, Saturday, March 4, 2023. Haener bristles when asked about the obvious comparison to fellow experienced but undersized quarterback Brock Purdy. (AP Photo/Darron Cummings, File)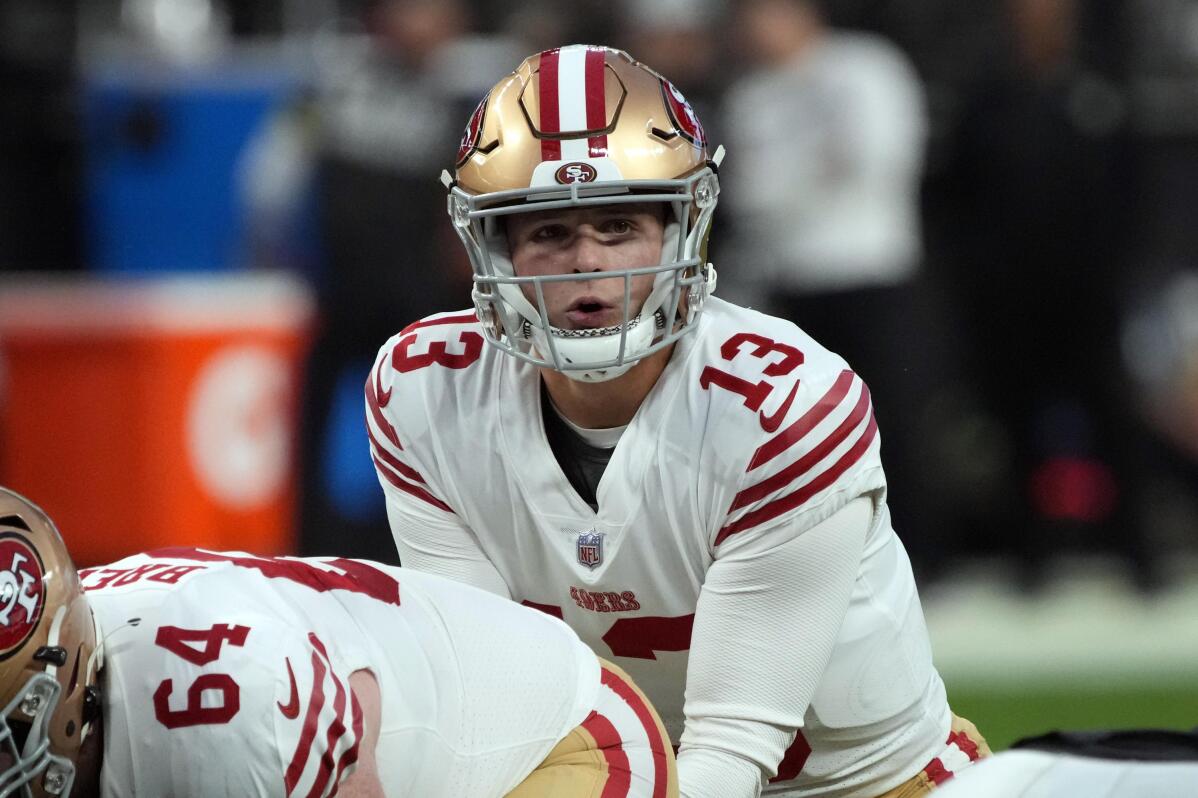 3 of 11

|
FILE - San Francisco 49ers quarterback Brock Purdy (13) lines up against the Las Vegas Raiders during the first half of an NFL football game, Sunday, Jan. 1, 2023, in Las Vegas. The overlooked quarterback who got dubbed with the "Mr. Irrelevant" moniker after being drafted with the final pick last year developed into a gem who won his first seven starts and helped the San Francisco 49ers make it to the NFC championship game. (AP Photo/Rick Scuteri, File)
3 of 11
FILE - San Francisco 49ers quarterback Brock Purdy (13) lines up against the Las Vegas Raiders during the first half of an NFL football game, Sunday, Jan. 1, 2023, in Las Vegas. The overlooked quarterback who got dubbed with the "Mr. Irrelevant" moniker after being drafted with the final pick last year developed into a gem who won his first seven starts and helped the San Francisco 49ers make it to the NFC championship game. (AP Photo/Rick Scuteri, File)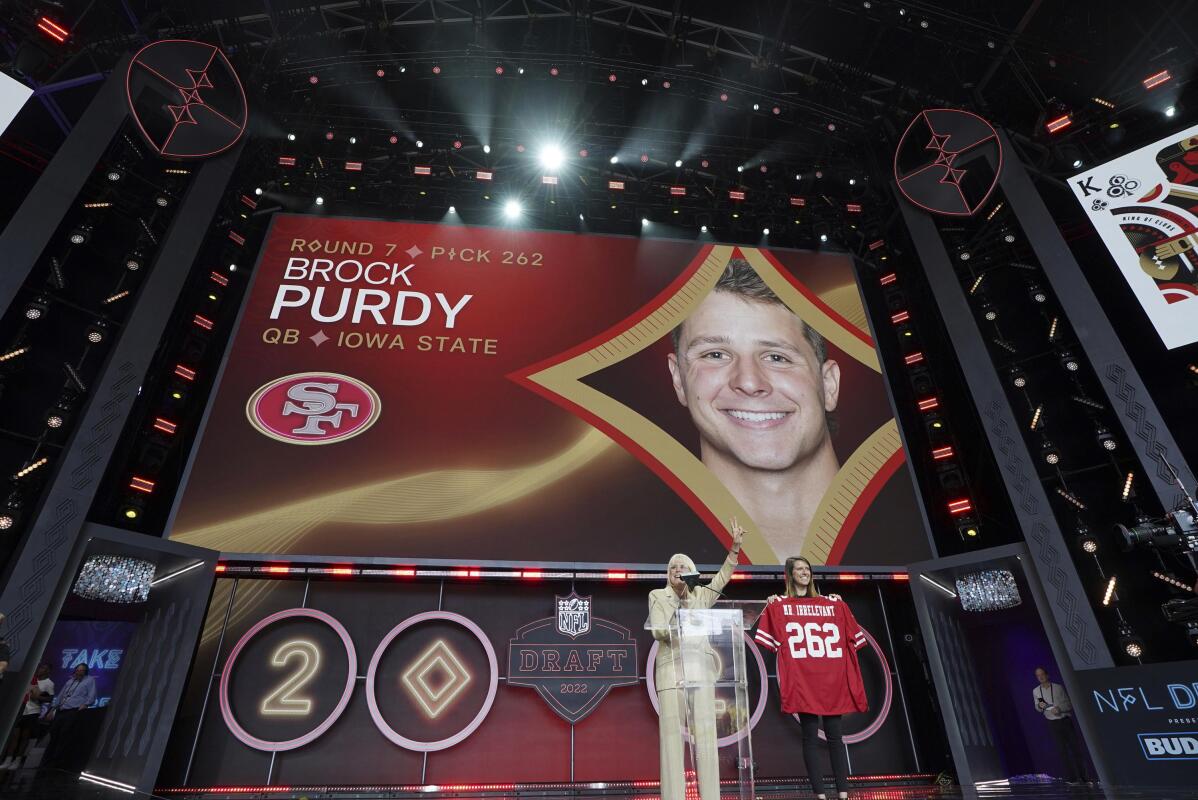 4 of 11

|
FILE - Iowa State quarterback Brock Purdy gets picked as Mr. Irrelevant by the San Francisco 49ers as the 262nd and last pick of the 2022 NFL Draft on Saturday, April 30, 2022, in Las Vegas. The overlooked quarterback who got dubbed with the "Mr. Irrelevant" moniker after being drafted with the final pick last year developed into a gem who won his first seven starts and helped the San Francisco 49ers make it to the NFC championship game. (AP Photo/Doug Benc, File)
4 of 11
FILE - Iowa State quarterback Brock Purdy gets picked as Mr. Irrelevant by the San Francisco 49ers as the 262nd and last pick of the 2022 NFL Draft on Saturday, April 30, 2022, in Las Vegas. The overlooked quarterback who got dubbed with the "Mr. Irrelevant" moniker after being drafted with the final pick last year developed into a gem who won his first seven starts and helped the San Francisco 49ers make it to the NFC championship game. (AP Photo/Doug Benc, File)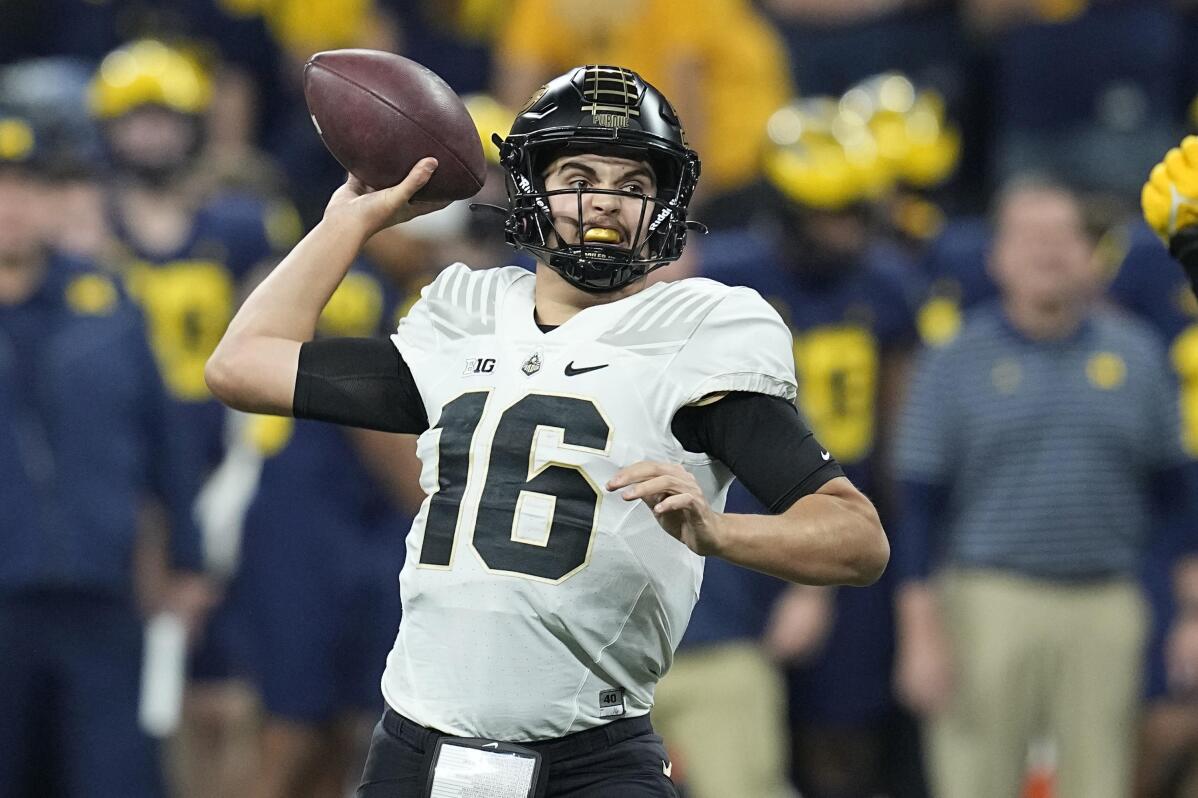 5 of 11

|
FILE - Purdue quarterback Aidan O'Connell throws during the first half of the Big Ten championship NCAA college football game against Michigan, Saturday, Dec. 3, 2022, in Indianapolis. Teams had shied away in recent years on taking a late-round flyer on quarterbacks as fewer teams kept three quarterbacks on the roster after the NFL eliminated the game-day roster exemption for an emergency third quarterback. (AP Photo/Darron Cummings, File)
5 of 11
FILE - Purdue quarterback Aidan O'Connell throws during the first half of the Big Ten championship NCAA college football game against Michigan, Saturday, Dec. 3, 2022, in Indianapolis. Teams had shied away in recent years on taking a late-round flyer on quarterbacks as fewer teams kept three quarterbacks on the roster after the NFL eliminated the game-day roster exemption for an emergency third quarterback. (AP Photo/Darron Cummings, File)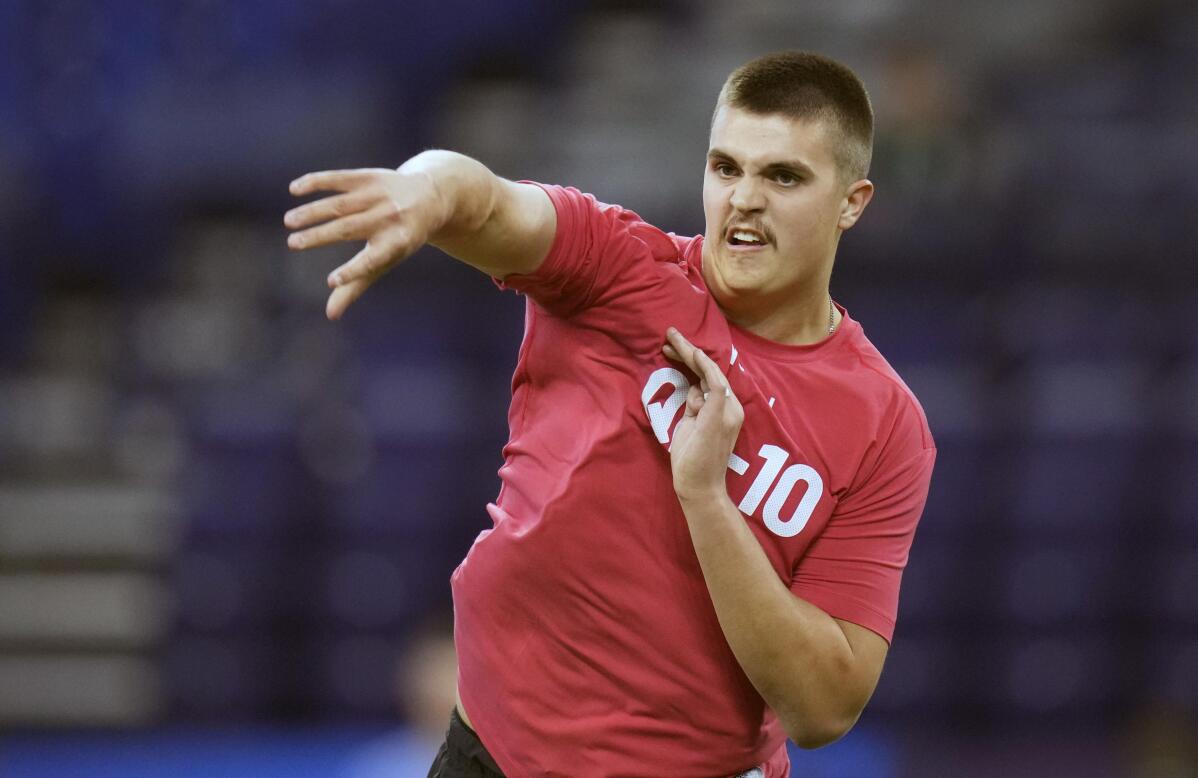 6 of 11

|
FILE - Purdue quarterback Aidan O'Connell runs a drill at the NFL football scouting combine in Indianapolis, Saturday, March 4, 2023. In the first nine drafts after former sixth-round pick Tom Brady won his first Super Bowl following the 2002 season, there were an average of seven QBs taken in the final three rounds of the draft. (AP Photo/Michael Conroy, File)
6 of 11
FILE - Purdue quarterback Aidan O'Connell runs a drill at the NFL football scouting combine in Indianapolis, Saturday, March 4, 2023. In the first nine drafts after former sixth-round pick Tom Brady won his first Super Bowl following the 2002 season, there were an average of seven QBs taken in the final three rounds of the draft. (AP Photo/Michael Conroy, File)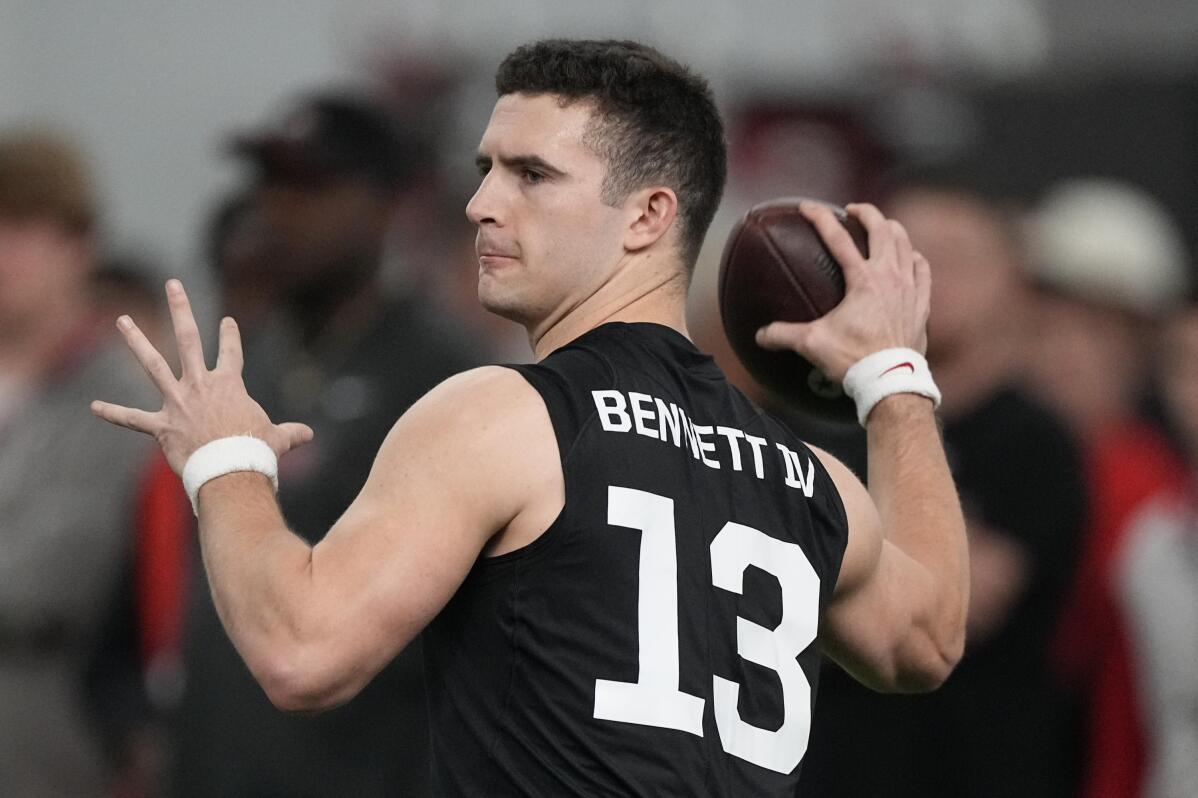 7 of 11

|
FILE - Former Georgia quarterback Stetson Bennett throws during drills at Georgia football Pro Day, Wednesday, March 15, 2023, in Athens, Ga. In the first nine drafts after former sixth-round pick Tom Brady won his first Super Bowl following the 2002 season, there were an average of seven QBs taken in the final three rounds of the draft. (AP Photo/John Bazemore, File)
7 of 11
FILE - Former Georgia quarterback Stetson Bennett throws during drills at Georgia football Pro Day, Wednesday, March 15, 2023, in Athens, Ga. In the first nine drafts after former sixth-round pick Tom Brady won his first Super Bowl following the 2002 season, there were an average of seven QBs taken in the final three rounds of the draft. (AP Photo/John Bazemore, File)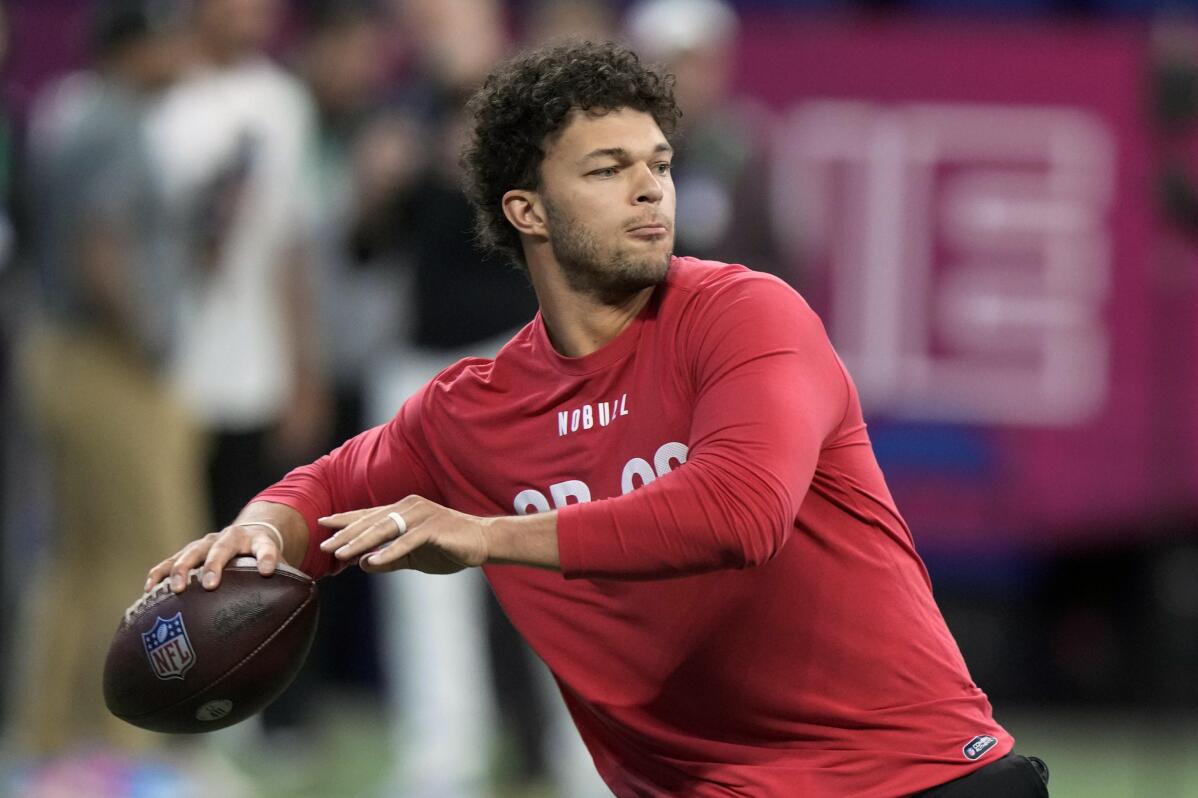 8 of 11

|
FILE - BYU quarterback Jaren Hall runs a drill at the NFL football scouting combine in Indianapolis, Saturday, March 4, 2023. In the first nine drafts after former sixth-round pick Tom Brady won his first Super Bowl following the 2002 season, there were an average of seven QBs taken in the final three rounds of the draft. (AP Photo/Michael Conroy, File)
8 of 11
FILE - BYU quarterback Jaren Hall runs a drill at the NFL football scouting combine in Indianapolis, Saturday, March 4, 2023. In the first nine drafts after former sixth-round pick Tom Brady won his first Super Bowl following the 2002 season, there were an average of seven QBs taken in the final three rounds of the draft. (AP Photo/Michael Conroy, File)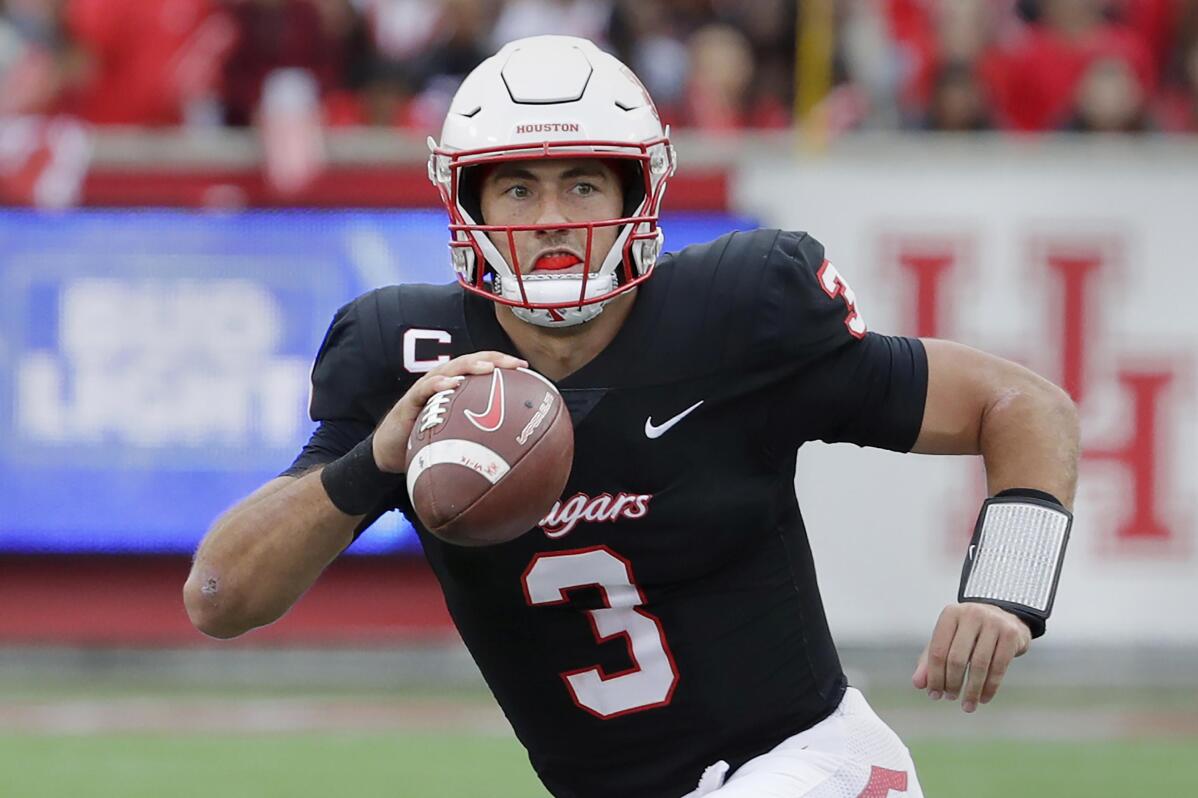 9 of 11

|
FILE - Houston quarterback Clayton Tune (3) plays during the first half of an NCAA college football game against South Florida, Saturday, Oct. 29, 2022, in Houston. In the first nine drafts after former sixth-round pick Tom Brady won his first Super Bowl following the 2002 season, there were an average of seven QBs taken in the final three rounds of the draft. (AP Photo/Michael Wyke, File)
9 of 11
FILE - Houston quarterback Clayton Tune (3) plays during the first half of an NCAA college football game against South Florida, Saturday, Oct. 29, 2022, in Houston. In the first nine drafts after former sixth-round pick Tom Brady won his first Super Bowl following the 2002 season, there were an average of seven QBs taken in the final three rounds of the draft. (AP Photo/Michael Wyke, File)
10 of 11

|
FILE - Houston quarterback Clayton Tune runs a drill at the NFL football scouting combine in Indianapolis, Saturday, March 4, 2023. Teams had shied away in recent years on taking a late-round flyer on quarterbacks as fewer teams kept three quarterbacks on the roster after the NFL eliminated the game-day roster exemption for an emergency third quarterback.(AP Photo/Michael Conroy, File)
10 of 11
FILE - Houston quarterback Clayton Tune runs a drill at the NFL football scouting combine in Indianapolis, Saturday, March 4, 2023. Teams had shied away in recent years on taking a late-round flyer on quarterbacks as fewer teams kept three quarterbacks on the roster after the NFL eliminated the game-day roster exemption for an emergency third quarterback.(AP Photo/Michael Conroy, File)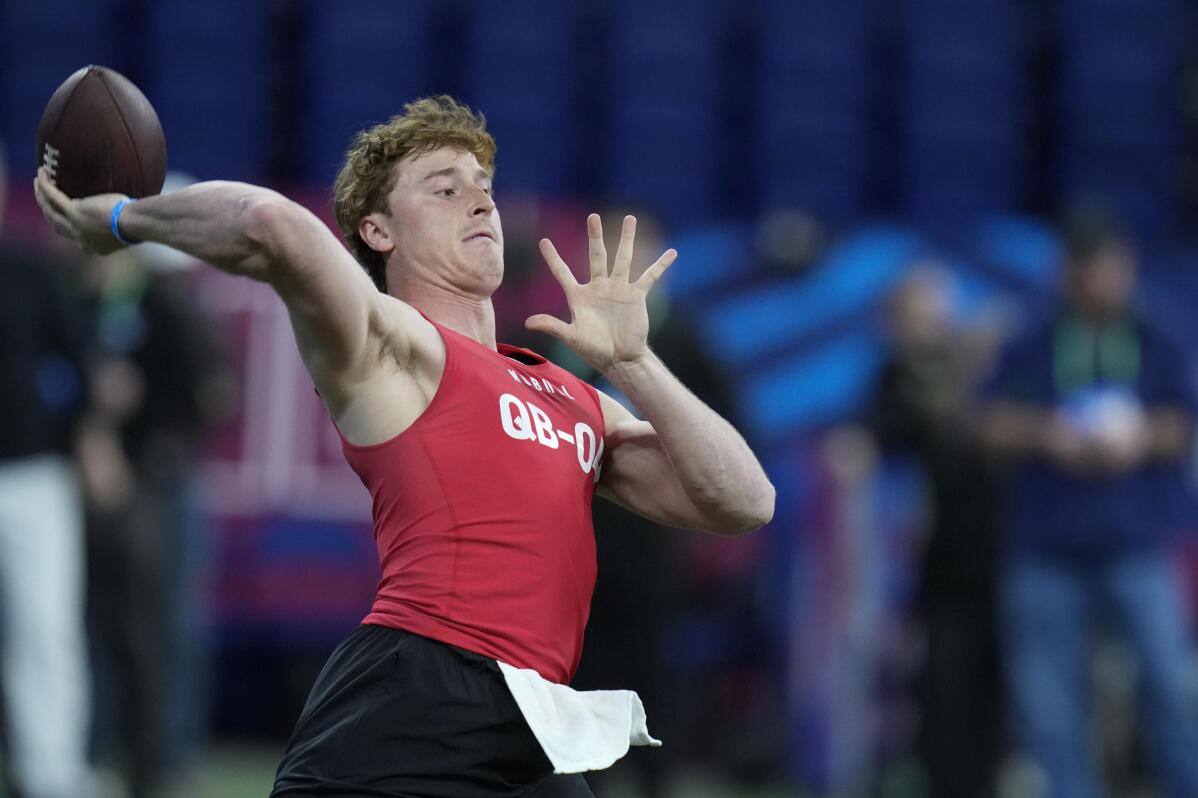 11 of 11

|
FILE - TCU quarterback Max Duggan runs a drill at the NFL football scouting combine in Indianapolis, Saturday, March 4, 2023. In the first nine drafts after former sixth-round pick Tom Brady won his first Super Bowl following the 2002 season, there were an average of seven QBs taken in the final three rounds of the draft. (AP Photo/Michael Conroy, File)
11 of 11
FILE - TCU quarterback Max Duggan runs a drill at the NFL football scouting combine in Indianapolis, Saturday, March 4, 2023. In the first nine drafts after former sixth-round pick Tom Brady won his first Super Bowl following the 2002 season, there were an average of seven QBs taken in the final three rounds of the draft. (AP Photo/Michael Conroy, File)
SANTA CLARA, Calif. (AP) — Jake Haener bristles when asked about the obvious comparison to fellow experienced but undersized quarterback Brock Purdy.
"I just feel like Brock is different. I'm different. There's different things that we do in our games," said Haener, the former Fresno State star. "Brock did a lot of really good things. Super happy for him and his family. But at the same time, I'm on my own mission, on my own train and trying to do something for a franchise that believes in me."
Purdy's presence hovers over this year's draft class after the overlooked quarterback who got tabbed with the "Mr. Irrelevant" moniker after being drafted with the final pick last year developed into a gem who won his first seven starts and helped the San Francisco 49ers make it to the NFC championship game.
Purdy's surprising performance as a rookie could open the door for more teams to be willing to take a late-round chance in next week's draft on other successful college quarterbacks who might lack the elite size or arm strength.
"I can totally appreciate that," said Haener, who is projected as an early Day 3 draft pick. "People can go measure the things that the big, tall, strong guys who throw the ball great, throw it out of the stadium. But at the end of the day, you got to go win football games and you got to put the ball where it's supposed to be and you got to make the right decisions and you got to protect the football. Brock does all those things really well and at a really high level."
Purdy nearly didn't get the chance to prove that after being repeatedly passed over in the draft last year before the 49ers took him with the final pick.
The Niners had been impressed with Purdy but were hesitant to draft him because they had 2021 first-rounder Trey Lance slated to be the starter and had given Nate Sudfeld $2 million in guaranteed money to be the backup.
"We weren't going to spend a fifth-round pick on him because it was going to be tough for him to beat out Sudfeld," coach Kyle Shanahan said. "We probably weren't going to keep three guys. We spent our seventh-round pick on him because he was by far the best guy available. Then he played at a high level and we didn't want to lose him so we kept him on our team and we kept three quarterbacks."
Purdy beat out Sudfeld and made the roster behind Lance and Jimmy Garoppolo, who made a surprise return after no team wanted to trade for the former starter.
Then after Lance and Garoppolo went down with injuries, Purdy stepped in and led the Niners to wins in the final five regular season games to win the NFC West. He followed that up with two playoff wins before going down with a serious elbow injury in the first quarter of the NFC title game loss to Philadelphia.
Now the Niners are planning to have Purdy as the starter in 2023 — assuming he recovers from elbow surgery — with a salary of less than $900,000.
"Those late-round guys are like lottery tickets to me and Brock Purdy was a great example of that," said ESPN draft analyst Jordan Reid. "We've seen guys in years past that have gone on to be those Day 3 players they have turned into starters and even if they don't turn into a starter for you, they end up turning into assets, too. You never know what they could turn into."
Teams had shied away in recent years from taking a late-round flyer on quarterbacks as fewer teams kept three quarterbacks on the roster after the NFL eliminated the game-day roster exemption for an emergency third quarterback.
In the first nine drafts after former sixth-round pick Tom Brady won his first Super Bowl following the 2002 season, there were an average of seven QBs taken in the final three rounds of the draft.
That has dropped off significantly in the last 12 drafts, with an average of just more than four QBs getting taken each year in the fifth, sixth or seventh rounds.
Reid sees that changing this year with his seven-round mock draft projecting seven quarterbacks getting drafted in the final three rounds.
"I think we're going to see a record number be selected just so you can have that QB 3 as insurance or you could end up having a Brock Purdy type of situation where you end up hitting on a late-round player," he said.
Haener is one of those possibilities, after throwing for 9,120 yards and making 29 starts in college, to go after the top QBs like Bryce Young, C.J. Stroud, Anthony Richardson, Will Levis and Hendon Hooker are taken early.
Two-time national champion Stetson Bennett of Georgia, Purdue's Aidan O'Connell, BYU's Jaren Hall, Houston's Clayton Tune, UCLA's Dorian Thompson-Robinson and TCU's Max Duggan also could be in that Day 3 mix.
"It doesn't really matter where you get picked," Duggan said. "Whatever team you end up with, make the most of it. It's ultimately up to: Was it the right fit, are you with the right people, right franchise, all of that."
___
AP NFL: https://apnews.com/hub/NFL and https://twitter.com/AP_NFL