Former Texas star Robinson set to test RB value in NFL draft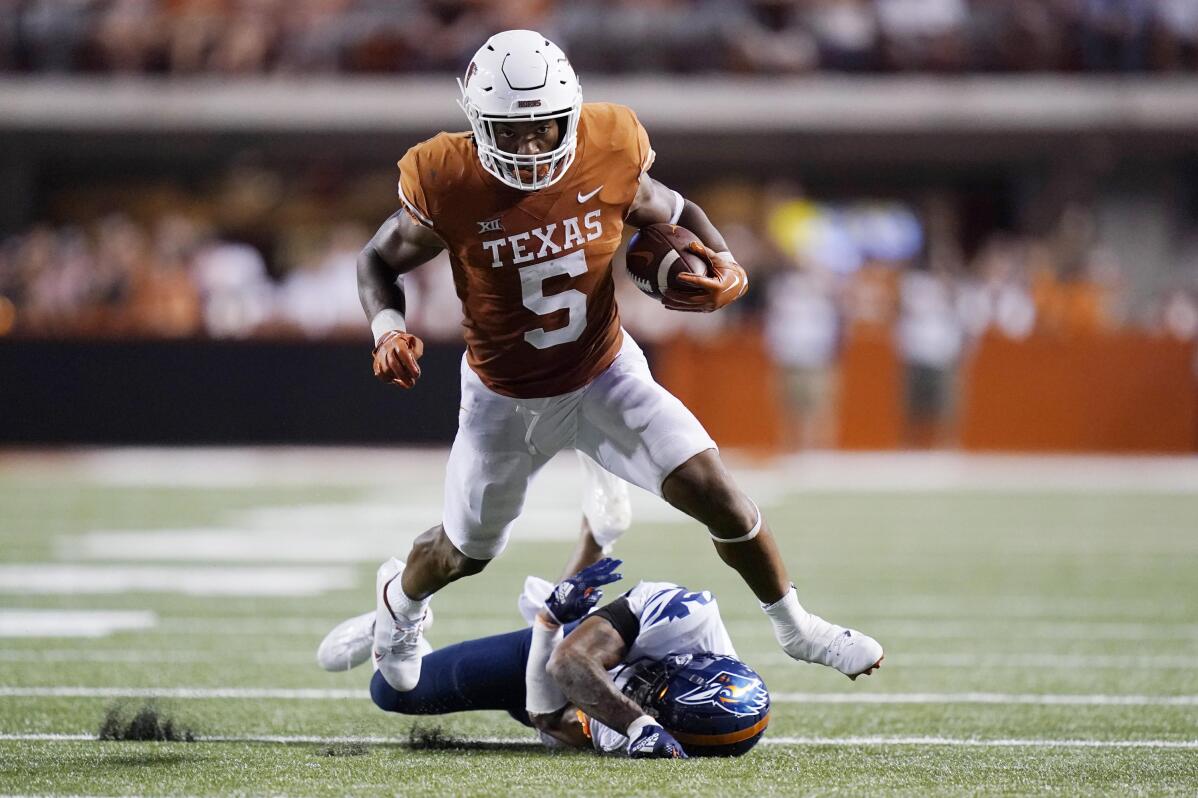 1 of 6

|
FILE - Texas running back Bijan Robinson (5) runs for a first down against UTSA during the first half of an NCAA college football game, Saturday, Sept. 17, 2022, in Austin, Texas. Bijan Robinson ranks among the best overall prospects in the NFL draft. (AP Photo/Eric Gay, File)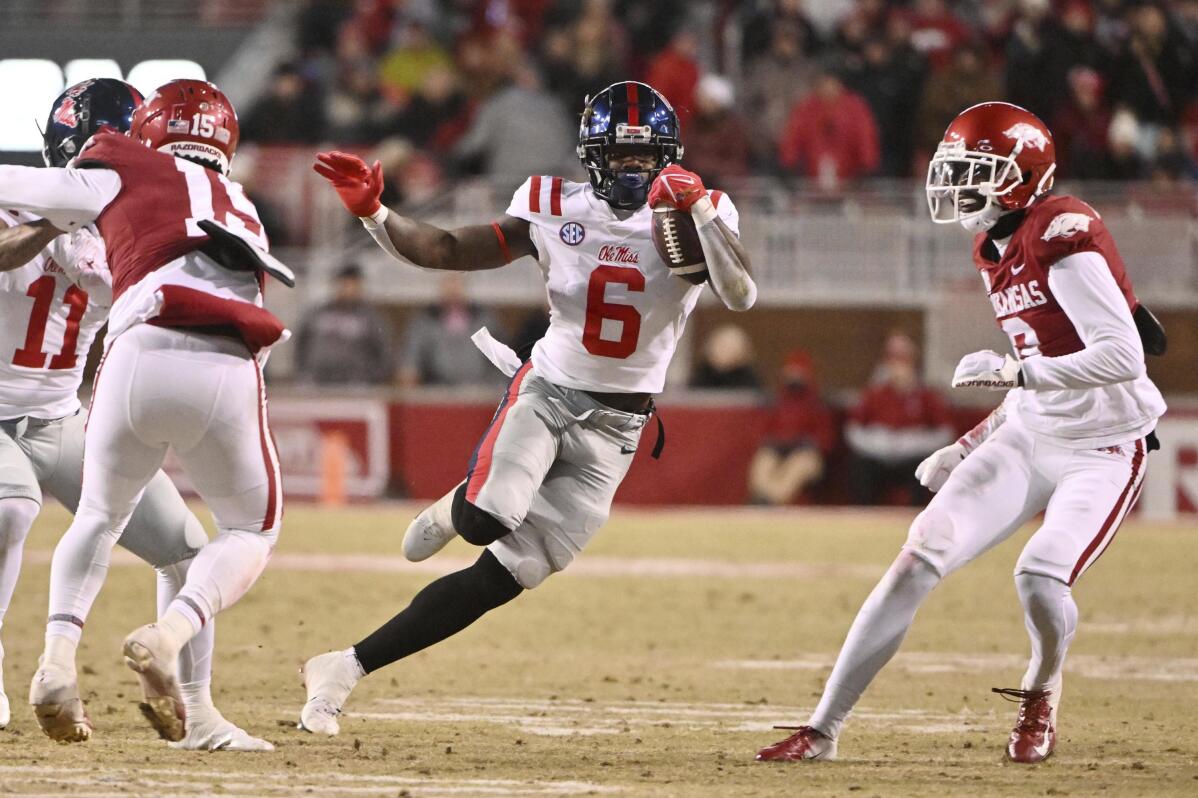 2 of 6

|
FILE - Mississippi running back Zach Evans (6) runs the ball against Arkansas during an NCAA college football game Saturday, Nov. 19, 2022, in Fayetteville, Ark. (AP Photo/Michael Woods, File)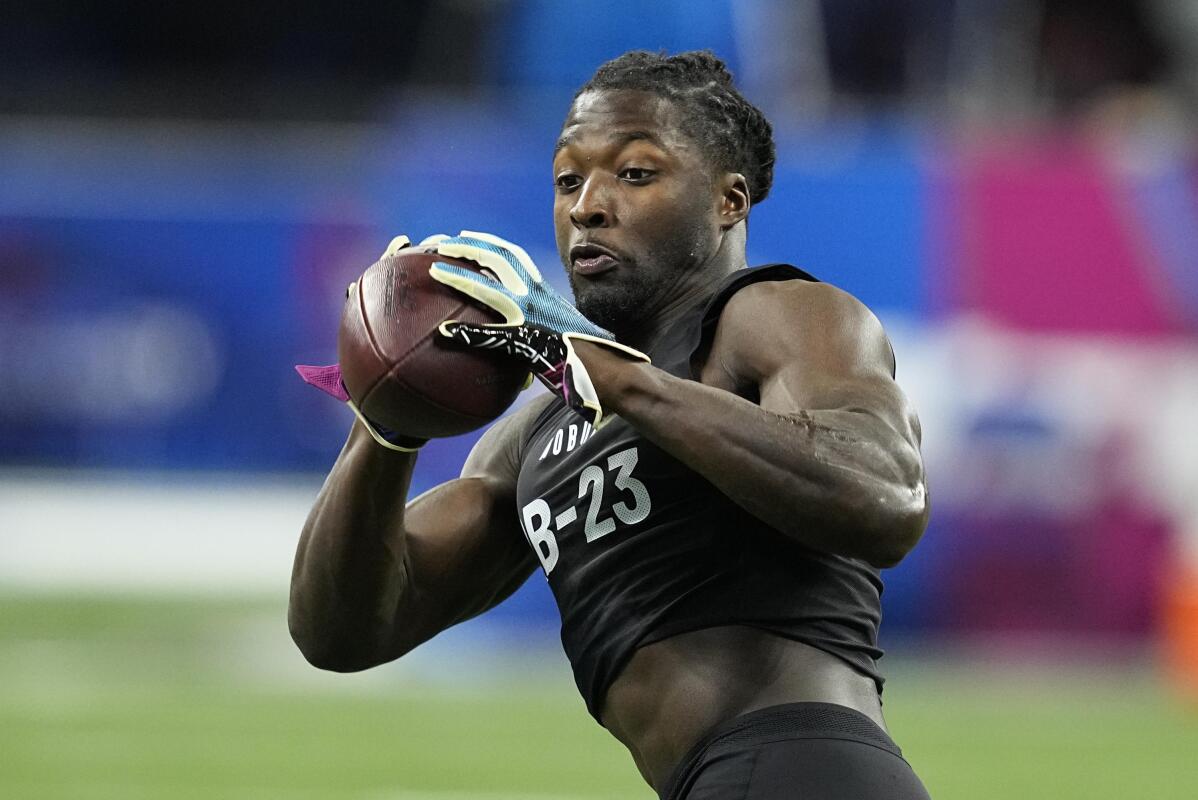 3 of 6

|
FILE - Tulane running back Tyjae Spears runs a drill at the NFL football scouting combine in Indianapolis, Sunday, March 5, 2023. The NFL Draft begins Thursday, April 27 in Kansas City, Mo. (AP Photo/Darron Cummings, File)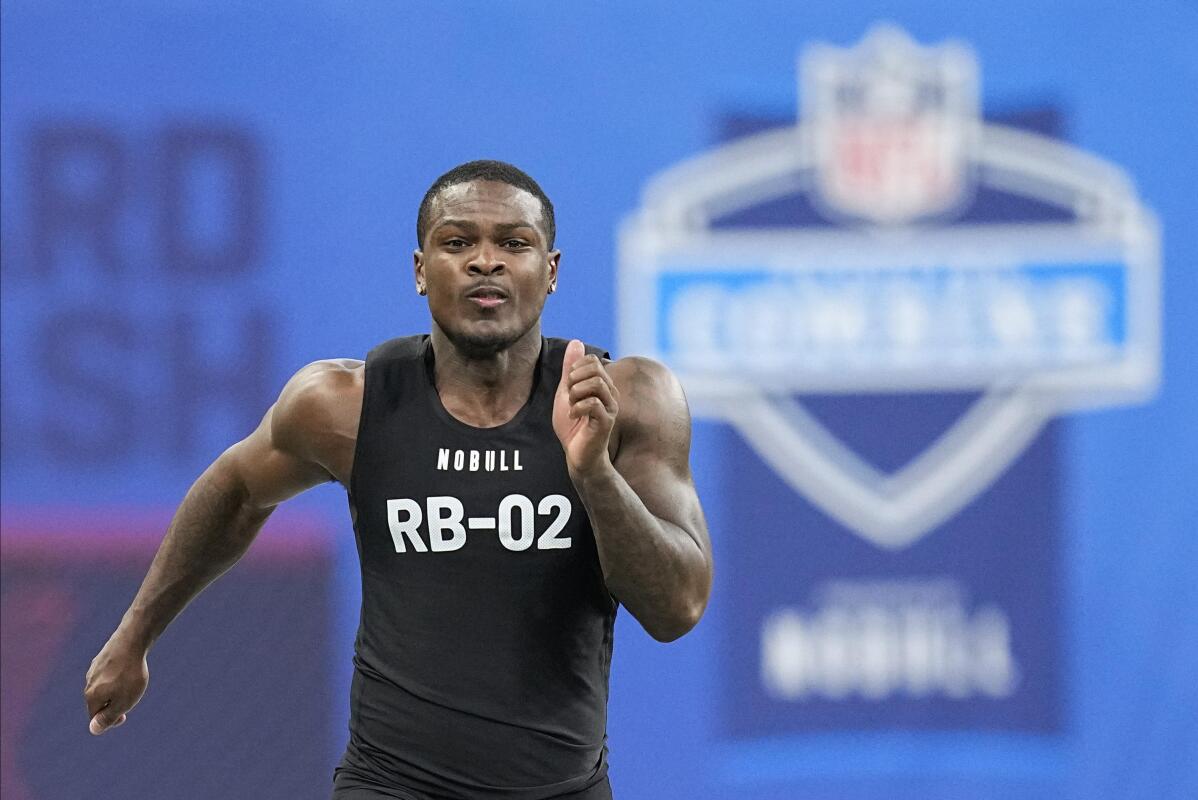 4 of 6

|
FILE - Texas A&M running back Devon Achane runs the 40-yard dash at the NFL football scouting combine in Indianapolis, Sunday, March 5, 2023. The NFL Draft begins Thursday, April 27 in Kansas City, Mo. (AP Photo/Darron Cummings, File)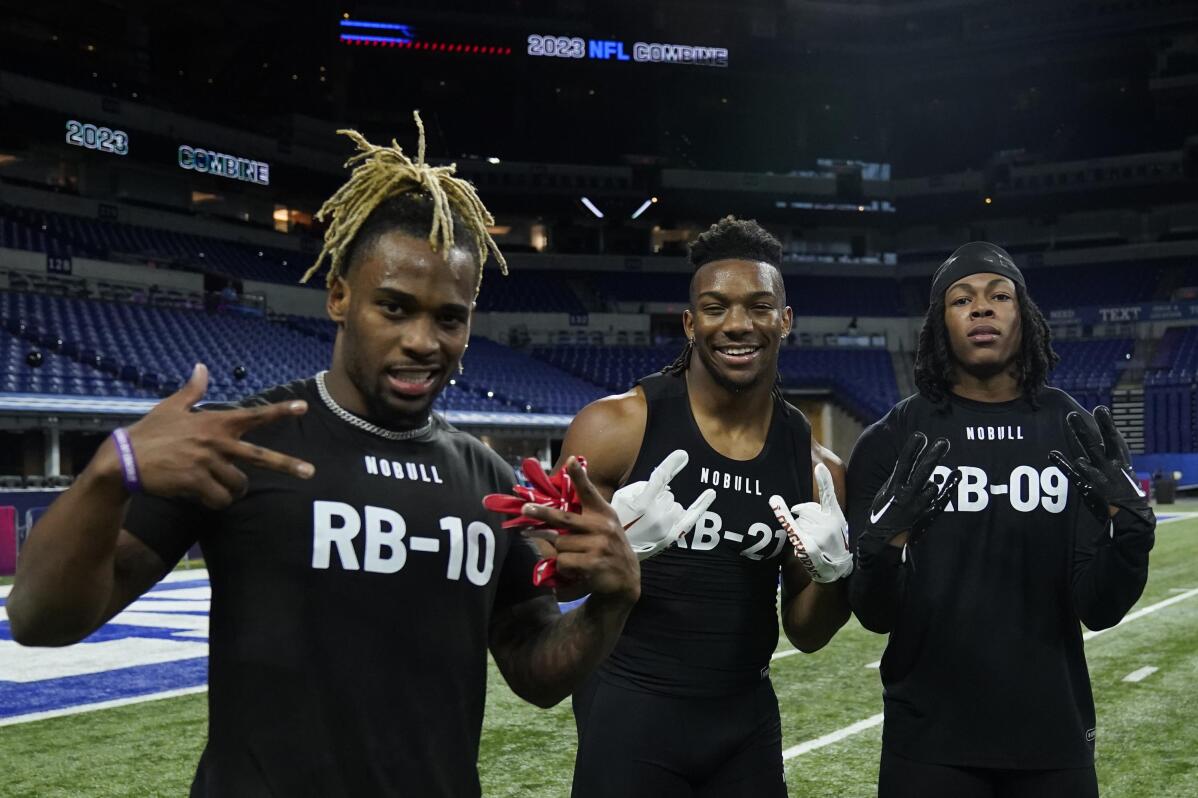 5 of 6

|
FILE - Oklahoma running back Eric Gray, left, Texas running back Bijan Robinson, center, and Alabama running back Jahmyr Gibbs pose for a photo after completing their drills at the NFL football scouting combine in Indianapolis, Sunday, March 5, 2023. (AP Photo/Erin Hooley, File)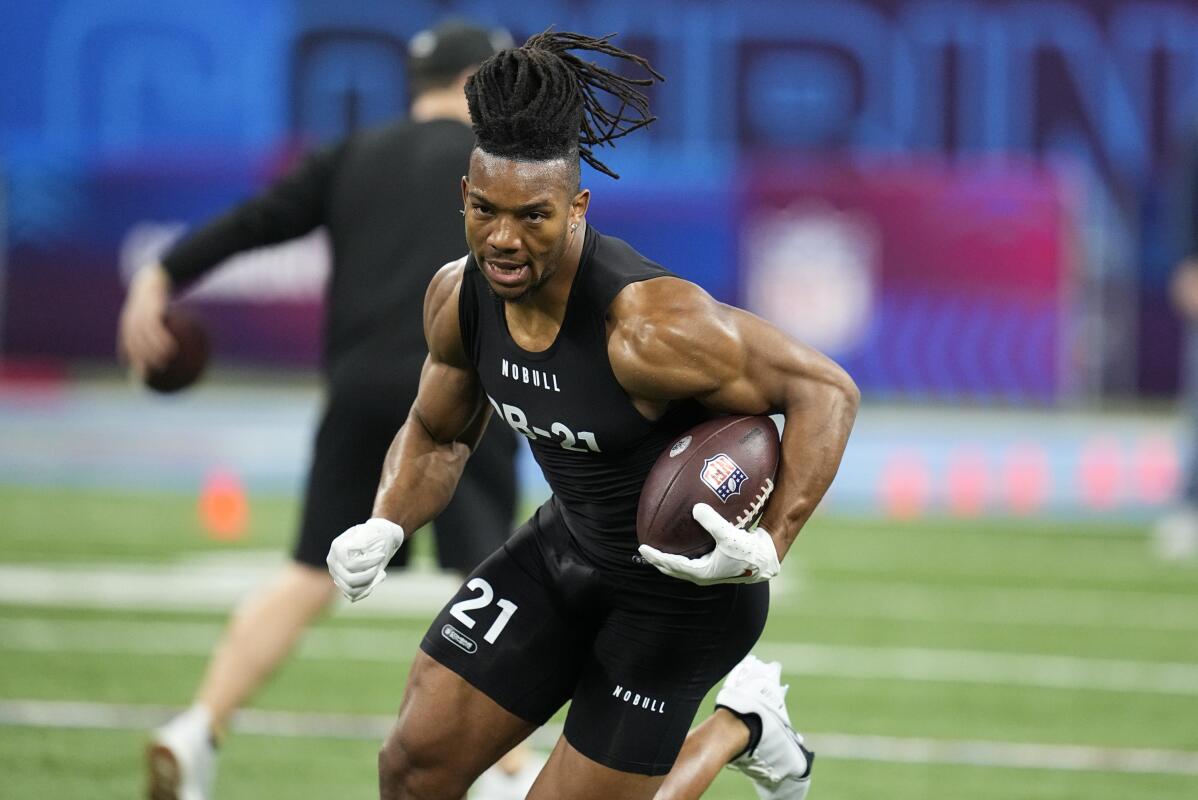 6 of 6

|
FILE - Texas running back Bijan Robinson runs a drill at the NFL football scouting combine in Indianapolis, Sunday, March 5, 2023. Bijan Robinson ranks among the best overall prospects in the NFL draft. (AP Photo/Darron Cummings, File)
Former Texas star Robinson set to test RB value in NFL draft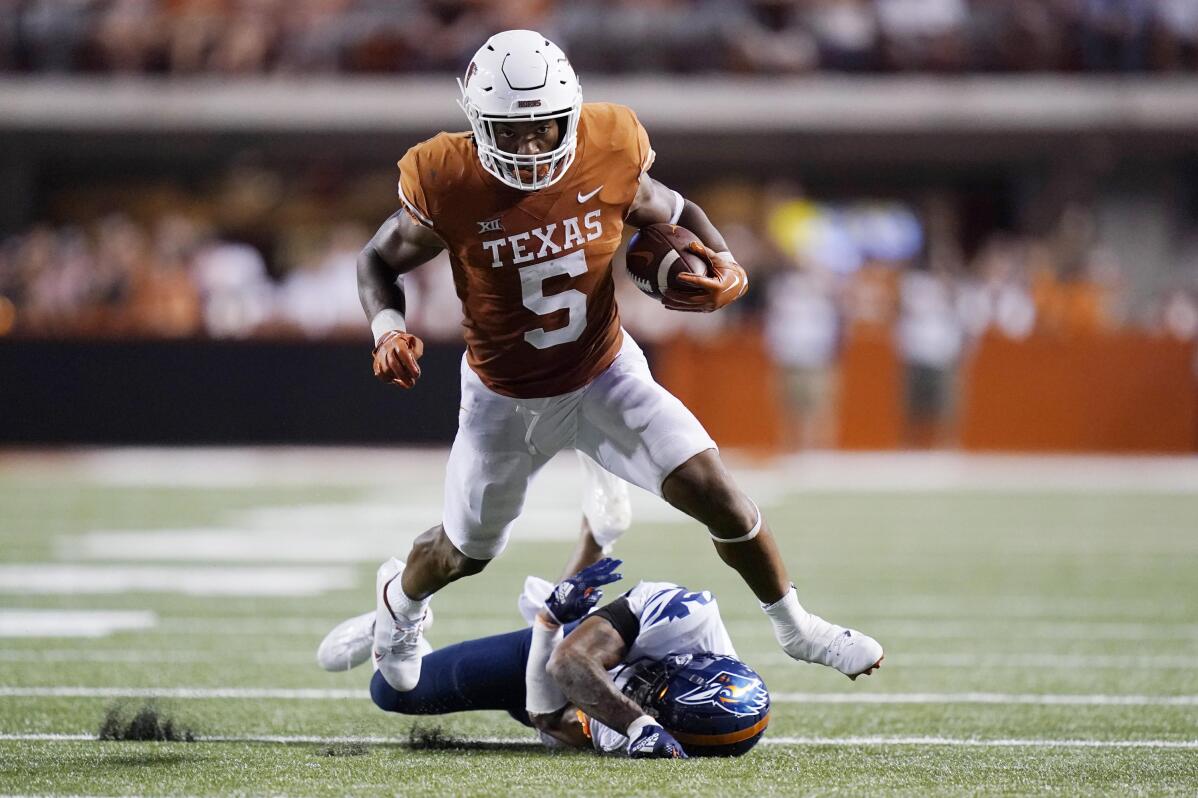 1 of 6

|
FILE - Texas running back Bijan Robinson (5) runs for a first down against UTSA during the first half of an NCAA college football game, Saturday, Sept. 17, 2022, in Austin, Texas. Bijan Robinson ranks among the best overall prospects in the NFL draft. (AP Photo/Eric Gay, File)
1 of 6
FILE - Texas running back Bijan Robinson (5) runs for a first down against UTSA during the first half of an NCAA college football game, Saturday, Sept. 17, 2022, in Austin, Texas. Bijan Robinson ranks among the best overall prospects in the NFL draft. (AP Photo/Eric Gay, File)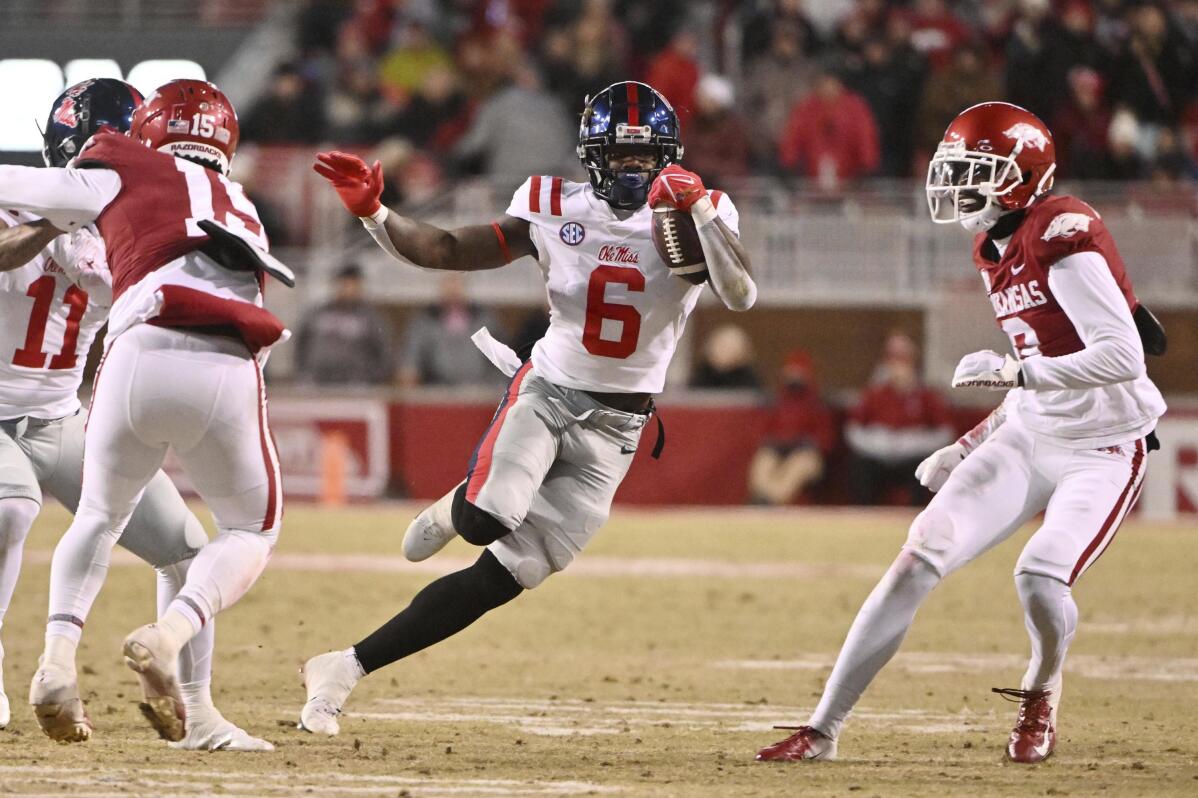 2 of 6

|
FILE - Mississippi running back Zach Evans (6) runs the ball against Arkansas during an NCAA college football game Saturday, Nov. 19, 2022, in Fayetteville, Ark. (AP Photo/Michael Woods, File)
2 of 6
FILE - Mississippi running back Zach Evans (6) runs the ball against Arkansas during an NCAA college football game Saturday, Nov. 19, 2022, in Fayetteville, Ark. (AP Photo/Michael Woods, File)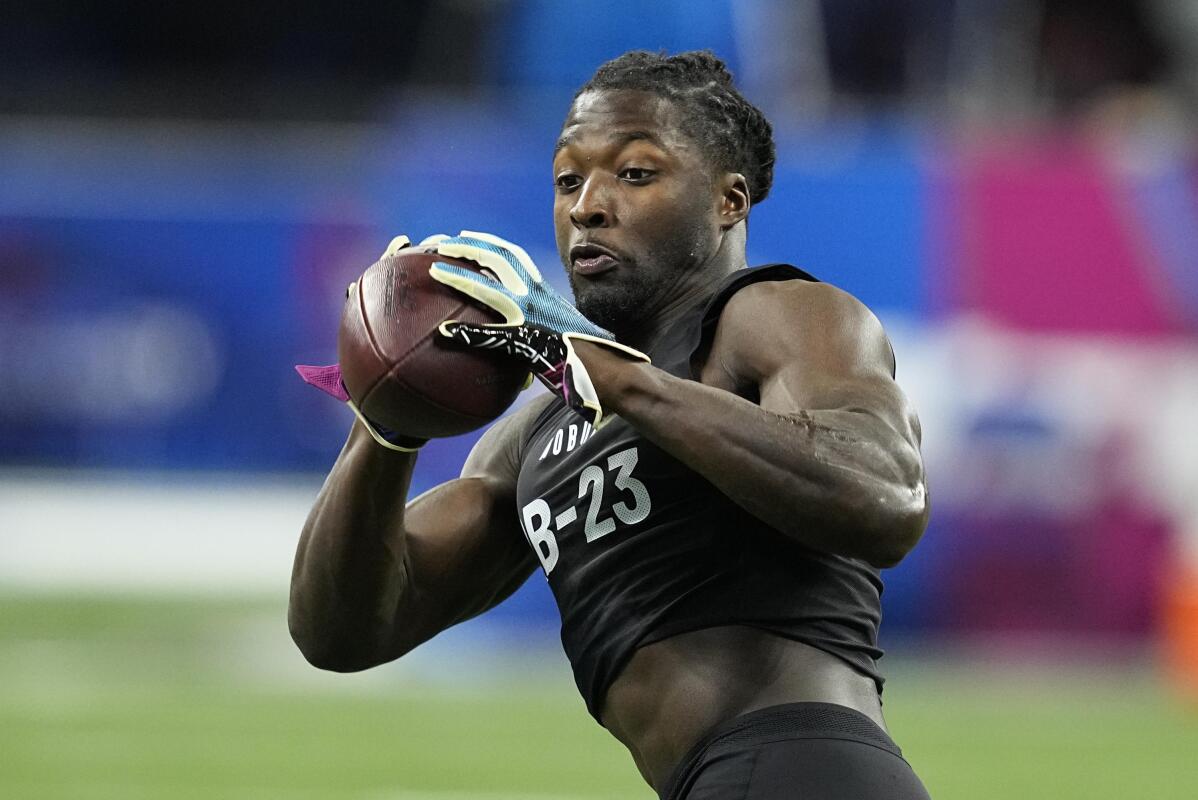 3 of 6

|
FILE - Tulane running back Tyjae Spears runs a drill at the NFL football scouting combine in Indianapolis, Sunday, March 5, 2023. The NFL Draft begins Thursday, April 27 in Kansas City, Mo. (AP Photo/Darron Cummings, File)
3 of 6
FILE - Tulane running back Tyjae Spears runs a drill at the NFL football scouting combine in Indianapolis, Sunday, March 5, 2023. The NFL Draft begins Thursday, April 27 in Kansas City, Mo. (AP Photo/Darron Cummings, File)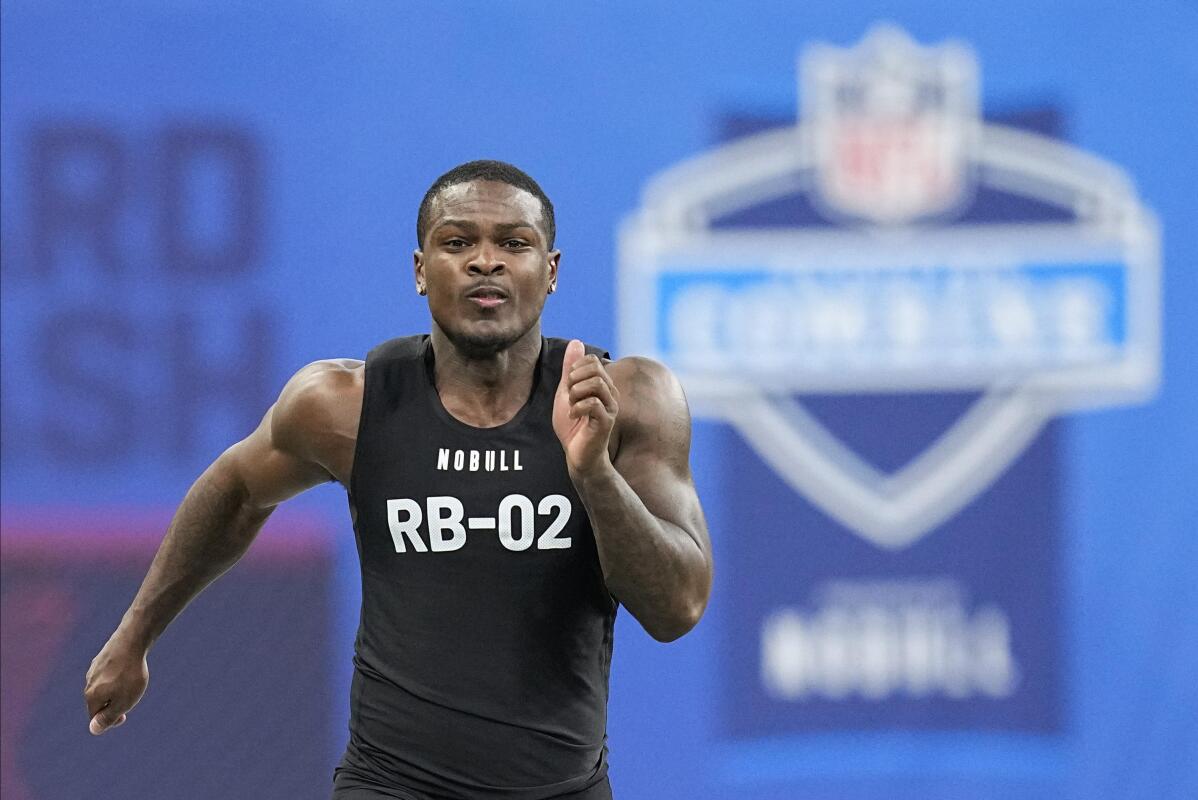 4 of 6

|
FILE - Texas A&M running back Devon Achane runs the 40-yard dash at the NFL football scouting combine in Indianapolis, Sunday, March 5, 2023. The NFL Draft begins Thursday, April 27 in Kansas City, Mo. (AP Photo/Darron Cummings, File)
4 of 6
FILE - Texas A&M running back Devon Achane runs the 40-yard dash at the NFL football scouting combine in Indianapolis, Sunday, March 5, 2023. The NFL Draft begins Thursday, April 27 in Kansas City, Mo. (AP Photo/Darron Cummings, File)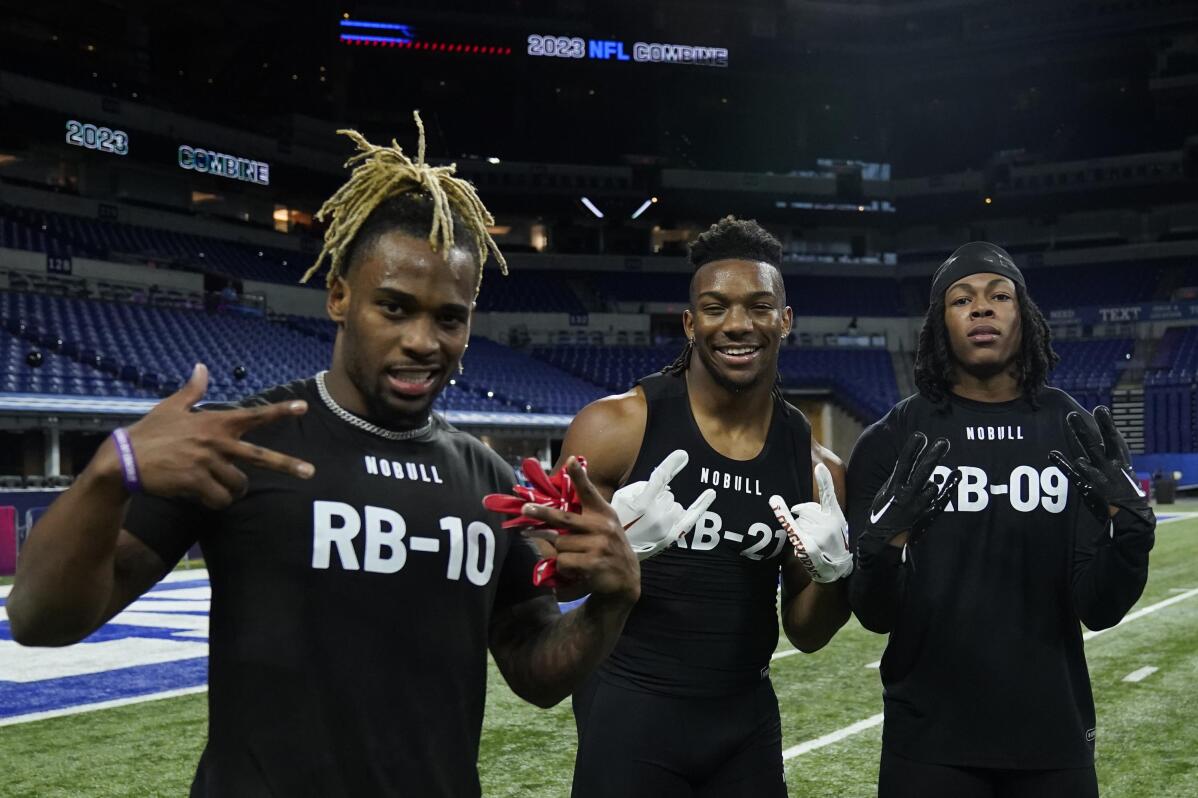 5 of 6

|
FILE - Oklahoma running back Eric Gray, left, Texas running back Bijan Robinson, center, and Alabama running back Jahmyr Gibbs pose for a photo after completing their drills at the NFL football scouting combine in Indianapolis, Sunday, March 5, 2023. (AP Photo/Erin Hooley, File)
5 of 6
FILE - Oklahoma running back Eric Gray, left, Texas running back Bijan Robinson, center, and Alabama running back Jahmyr Gibbs pose for a photo after completing their drills at the NFL football scouting combine in Indianapolis, Sunday, March 5, 2023. (AP Photo/Erin Hooley, File)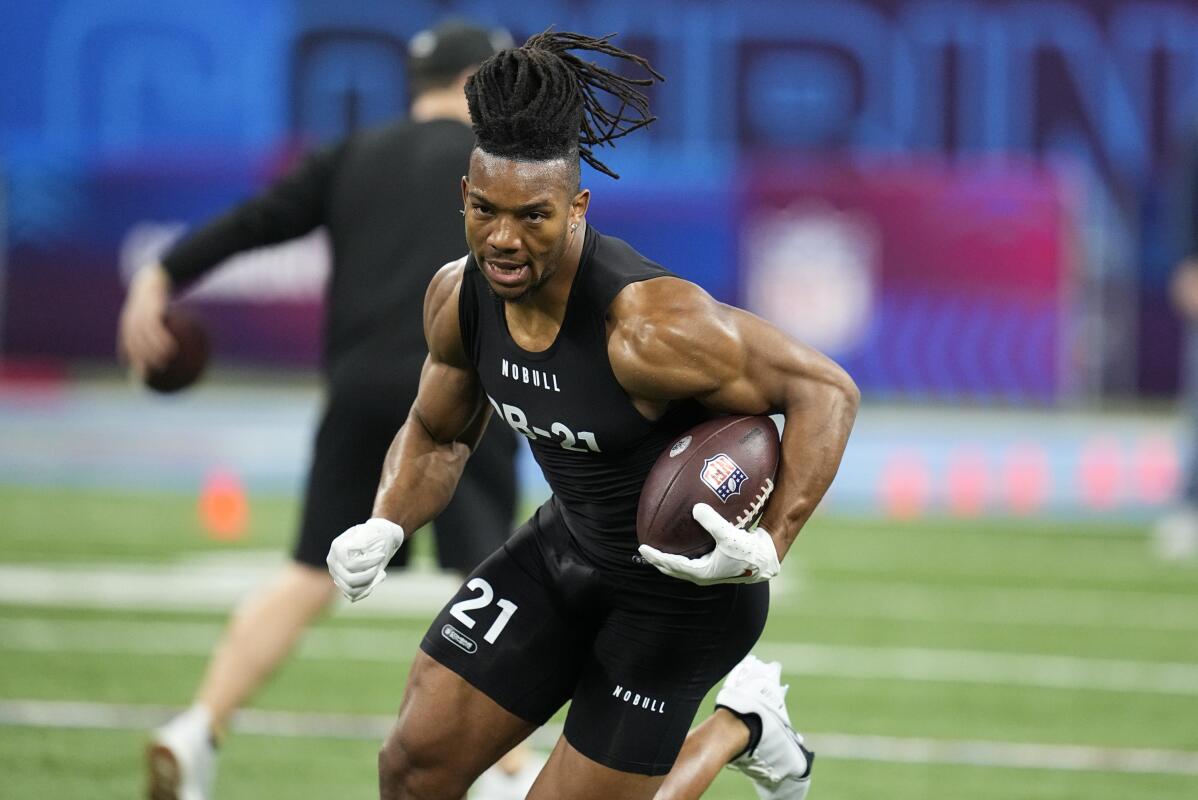 6 of 6

|
FILE - Texas running back Bijan Robinson runs a drill at the NFL football scouting combine in Indianapolis, Sunday, March 5, 2023. Bijan Robinson ranks among the best overall prospects in the NFL draft. (AP Photo/Darron Cummings, File)
6 of 6
FILE - Texas running back Bijan Robinson runs a drill at the NFL football scouting combine in Indianapolis, Sunday, March 5, 2023. Bijan Robinson ranks among the best overall prospects in the NFL draft. (AP Photo/Darron Cummings, File)
Bijan Robinson draws comparisons to Saquon Barkley as the former Texas running back enters the NFL draft.
There's not a pundit on the planet who would say Robinson is going with the second overall pick as Barkley did to the New York Giants five years ago.
Experts are in near-universal agreement that the smooth and powerful Robinson is a top-five prospect regardless of position. Where he might end up getting drafted in the first round April 27 is another matter entirely because of the age-old question of durability for running backs.
"It's hard to find a perfect landing spot him for," ESPN draft analyst Todd McShay said.
When Barkley was drafted, it marked the fourth consecutive year a running back went in the top 10. The former Penn State standout was the last of three straight to go in the top four.
Before Todd Gurley was taken 10th overall in 2015, the value of running backs was a hot topic because there had been consecutive drafts without one going in the first round, an NFL rarity.
The position's value is up for debate again with Robinson rating as one of the best players in the draft but going as low as the 20s in plenty of mock drafts, including one from The Associated Press.
According to NFL.com, the two highest-rated backs behind Robinson — the clear No. 1 — are Alabama's Jahmyr Gibbs and Zach Evans, who finished at Mississippi after transferring from TCU.
"I think they value them, they just don't prioritize them in the first round," ESPN analyst Mel Kiper Jr. said. "I think that's what you have to differentiate there. They certainly have great value as a player and what they mean to your team."
The Dallas Cowboys, who have the 26th pick, have been linked to Robinson for reasons that illustrate why the value of running backs can be such an interesting topic.
While Dallas has a starter with Tony Pollard set to play on the $10.1 million franchise tag, there's still a need after the release of Ezekiel Elliott this offseason in a cost-cutting move.
Seven years ago, the Cowboys took Elliott fourth overall, then watched him win two rushing titles in his first three seasons.
Elliott's production dropped off after he signed a $90 million, six-year extension in 2019, with the wear and tear from his early success often cited as the most plausible explanation.
The Cowboys don't sound as if they would draft a running back that high if they were in the same position with Robinson on the board.
"We thought Zeke obviously did an amazing job for us and came in right away and was dominant and helped us win a lot of football games," executive vice president of personnel Stephen Jones said. "So I don't second guess that one. But ... it's hard for these guys to play 10 years at a real high level."
Gurley was out of the league before he was 27, and Elliott remains unsigned at the same age. Leonard Fournette, taken fourth overall the year after Elliott, was released by Tampa Bay in February. He's 28.
Barkley was the 2018 AP Offensive Rookie of the Year before injuries became an issue, most notably a torn ACL in Week 2 in 2020.
Like Pollard, the 26-year-old Barkley is on the franchise tag after rushing for 1,312 yards last season.
The Giants got that career-best production on the fifth year of Barkley's rookie contract, which is a team option. Now New York has to decide whether a long-term deal is the right play.
"My philosophy on running backs is I don't mind taking a running back in the first round, as long as your team is ready to win right now," NFL Network draft analyst Daniel Jeremiah said. "Because if you take into account the guy has four or five, six years of elite production, I don't mind getting him in the first round because you get the extra year on the contract."
For his part, Robinson doesn't seem too concerned about being rated a top-five prospect with the possibility of waiting a lot longer than the others in that group to hear his name called.
"I don't want to say it's unfair," said Robinson, who was sixth nationally with 1,580 yards rushing last season. "For me, it's important to keep enjoying the moment because we might get to draft day and some surprise could happen."
The 215-pound Robinson broke tackles with power and elusiveness, and McShay said Texas coach Steve Sarkisian told him Robinson's pass-catching skills weren't fully displayed because the Longhorns were trying to limit the hits on their star back.
Pass protection is another key element, and was something that made Elliott valuable even as his per-carry average dropped later in his career. Robinson rates well there and on character issues.
"We'll find out a lot about what the running back position, how it's viewed by NFL teams," McShay said. "It's hard to draft a guy that you have a late first, early second-round grade on, over a guy who's a top-five prospect on just about every team's board that I've talked to."
Dallas owner Jerry Jones loves stars, which is part of why he was drawn to Elliott, who ran for 246 yards and four touchdowns at the home of the Cowboys to lead Ohio State to the 2014 national title.
The Cowboys consider Robinson a homegrown star since he played in Austin, about 200 miles south of Dallas.
"I don't think I've seen any set of circumstances that he's not a first-round pick in almost any draft," Stephen Jones said. "I'm sure when that first day's over, he's going to certainly have a team. And you never know."
If Robinson falls far enough, maybe the Cowboys won't wait to see if he's still around at 26.
___
AP NFL: https://apnews.com/hub/nfl and https://twitter.com/AP_NFL