Steelers trade up, draft Georgia tackle Broderick Jones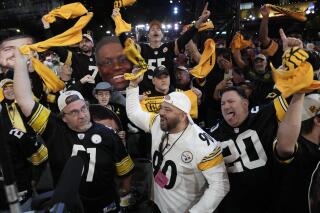 PITTSBURGH (AP) — When Pittsburgh Steelers coach Mike Tomlin took a group of Georgia draft prospects out to dinner a year ago, he asked them who he needed to keep an eye on down the road.
The answer he received was unanimous: massive offensive tackle Broderick Jones.
Tomlin hadn't heard of the 6-foot-5, 310-pound until that point. The seed, however, was planted. Over the course of the last 12 months, it grew alongside what the Steelers saw as Jones' significant potential while he helped the Bulldogs win a second straight national title.
Given an opportunity to grab an offensive lineman capable of protecting second-year quarterback Kenny Pickett's blind side for the next half-decade at least, Tomlin and the Steelers didn't hesitate.
Pittsburgh moved up three spots in the first round of Thursday's NFL draft to select Jones with the 14th overall pick, deciding a player who won't turn 22 until May was worth the modest investment. The Steelers sent the 17th pick and a fourth-rounder (No. 120 overall) to New England to ensure the player they'd been watching for over a year didn't get away.
"When we saw how the draft was going and he was still sitting there, we started making some phone calls to see if we could trade up to get him," first-year general manager Omar Khan said. "I think he's going to be a great Steeler for a long time. Love his athleticism. Love his upside."
Jones will likely have a chance to start immediately at left tackle, where Dan Moore Jr. had started each of the last two seasons. Moore took a step backward last season after a promising rookie year in 2021, when he earned the starting job as a fourth-round pick.
Khan, running Pittsburgh's draft for the first time after being promoted to replace the retiring Kevin Colbert last May, stopped short of penciling in Jones as the starter. For now, anyway.
"Our job is to bring in competition, by the time we get to the opening game, the five best offensive linemen will play," Khan said.
Jones is the first offensive lineman the Steelers have taken in the first round since David DeCastro, the 24th pick in 2012. DeCastro spent nine seasons in Pittsburgh, reaching the Pro Bowl six times and twice being named an All-Pro.
If Jones can come anywhere near that level of excellence, Pittsburgh will have another anchor of a young offense that includes Pickett, third-year running back Najee Harris and second-year wide receiver George Pickens, a teammate of Jones' at Georgia.
The Steelers watched Jones closely throughout the draft process. They spent time with him at the combine in Indianapolis, took him out to dinner before Georgia's pro day and brought him to Pittsburgh for a pre-draft visit.
Still, Jones said he had "no indication" the Steelers were going to move aggressively to land him. It wasn't until the phone rang with Pittsburgh's 412 area code that the light went on.
"I rock with coach Mike Tomlin," Jones said. "I feel like he understands me."
Pittsburgh's brain trust was a little vague when it came to whether Jones might play on the left side or the right side.
"They (just) told me I'm a football player," Jones said.
A large and still developing one at that. Jones didn't crack the starting lineup at Georgia until late in the 2021 season. He helped the Bulldogs power their way to a national championship, then started all 15 games in 2022 as Georgia won back-to-back titles.
"He's got a competitor's mentality," Tomlin said. "He's wired right for this line of work. He's got a desire to be great. He's highly competitive. There's a reason he put himself in that environment (at Georgia) ... He's in the winning business. He values that."
So do the Steelers, who shook off a 2-6 start last fall to finish 9-8, the franchise's 19th straight non-losing season. After some initial issues with turnovers, Pickett improved as the year went on. He went 7-5 as a starter while playing behind a line that also seemed to get better during the season.
That didn't stop Pittsburgh from searching for upgrades in free agency. The Steelers signed veteran guards Isaac Seumalo and Nate Herbig to join a group that includes guard James Daniel and right tackle Chukwuma Okorafor.
Tomlin shrugged off the idea the team was sending a message with its moves, saying only "we're just trying to improve our football team."
Maybe, but most of Pittsburgh's best teams under Tomlin came with an offensive line full of Pro Bowlers. While there's much work to be done for Jones to get there, the player who described himself as "physical, fast and dominant" is eager to get the process started.
"I can't wait to learn the ropes," Jones said. "I can't wait to keep growing."
___
AP NFL: https://apnews.com/hub/nfl and https://twitter.com/AP_NFL