Titans trade up, end QB Will Levis' wait in NFL draft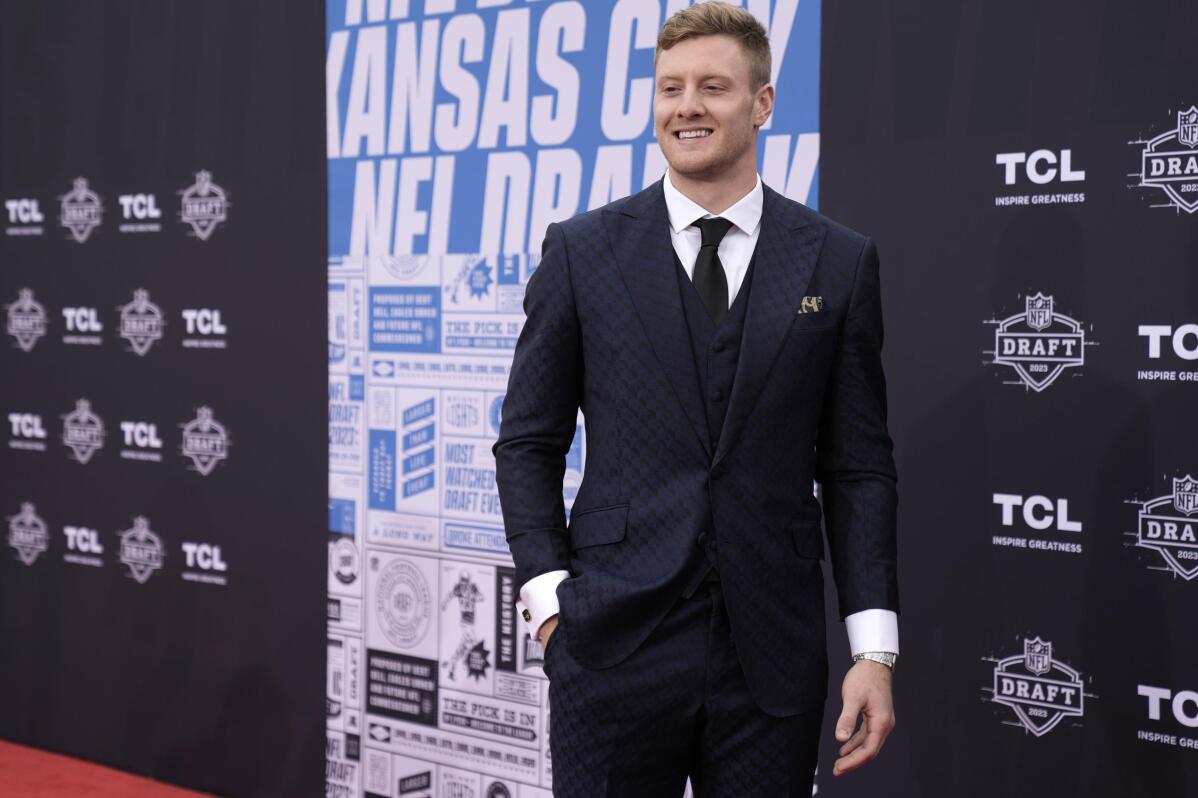 1 of 6

|
Kentucky quarterback Will Levis arrives on the red carpet before the first round of the NFL football draft, Thursday, April 27, 2023, in Kansas City, Mo. (AP Photo/Charlie Riedel)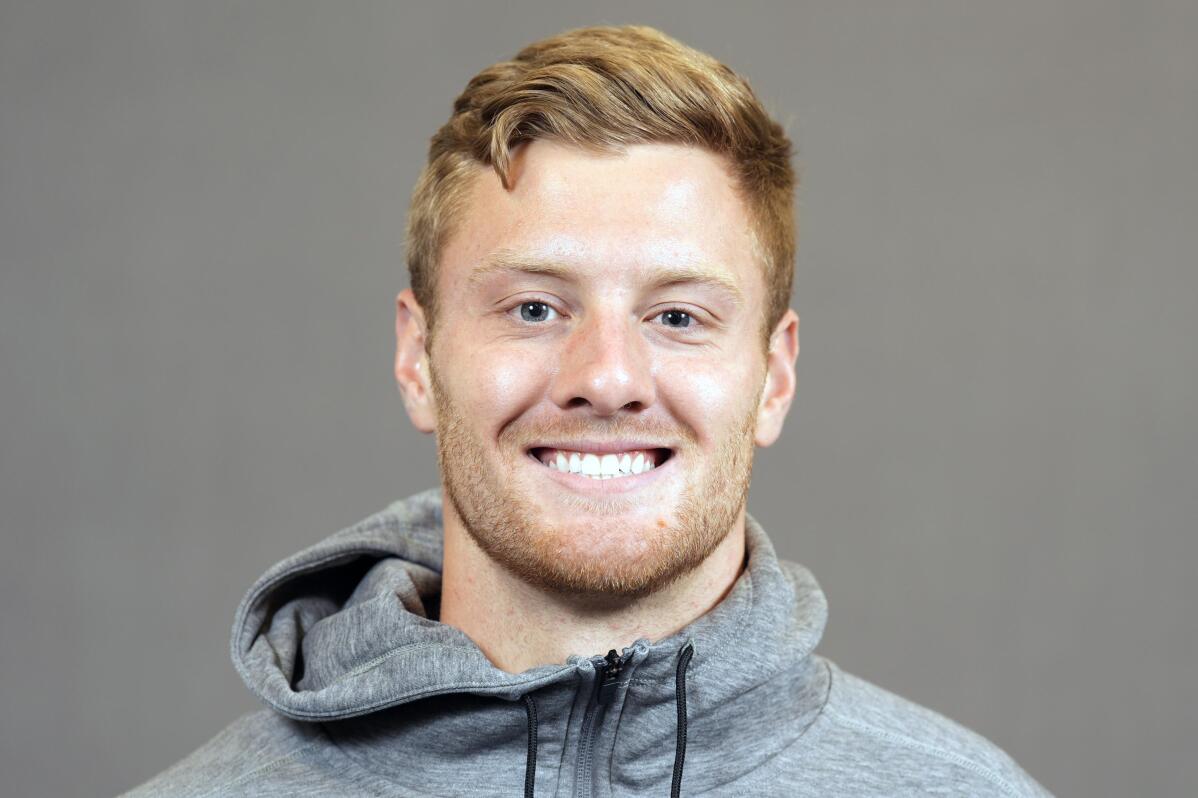 2 of 6

|
FILE - Kentucky quarterback Will Levis poses for a portrait at the NFL football Combine Wednesday, March 1, 2023, in Indianapolis. Bryce Young, C.J. Stroud, Anthony Richardson and Will Levis are projected to go anywhere from the top 5 to top 15 picks in this draft. A year after Kenny Pickett was the only quarterback selected in the first round, this draft class is loaded with potential franchise QBs. (AJ Mast/AP Images for the NFL, File)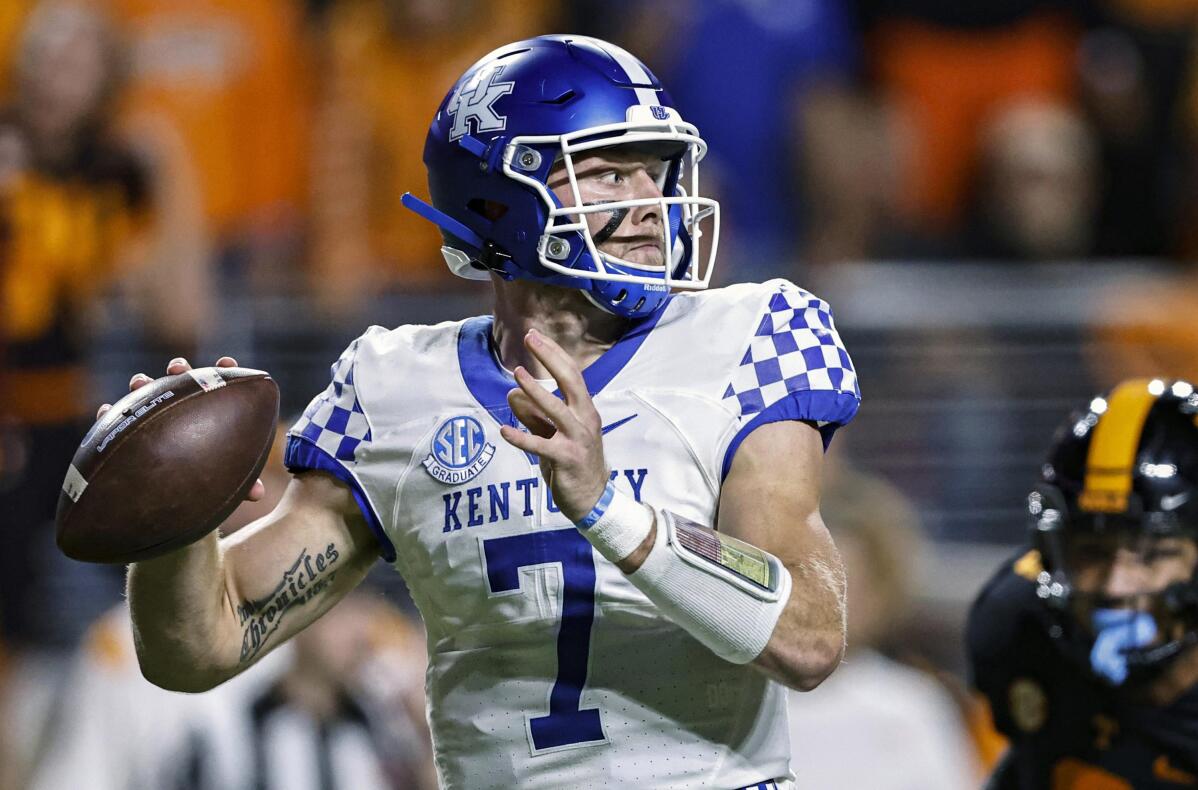 3 of 6

|
FILE - Kentucky quarterback Will Levis (7) throws to a receiver during the first half of an NCAA college football game against Tennessee Saturday, Oct. 29, 2022, in Knoxville, Tenn. Bryce Young, C.J. Stroud, Anthony Richardson and Will Levis are projected to go anywhere from the top 5 to top 15 picks in this draft. (AP Photo/Wade Payne, File)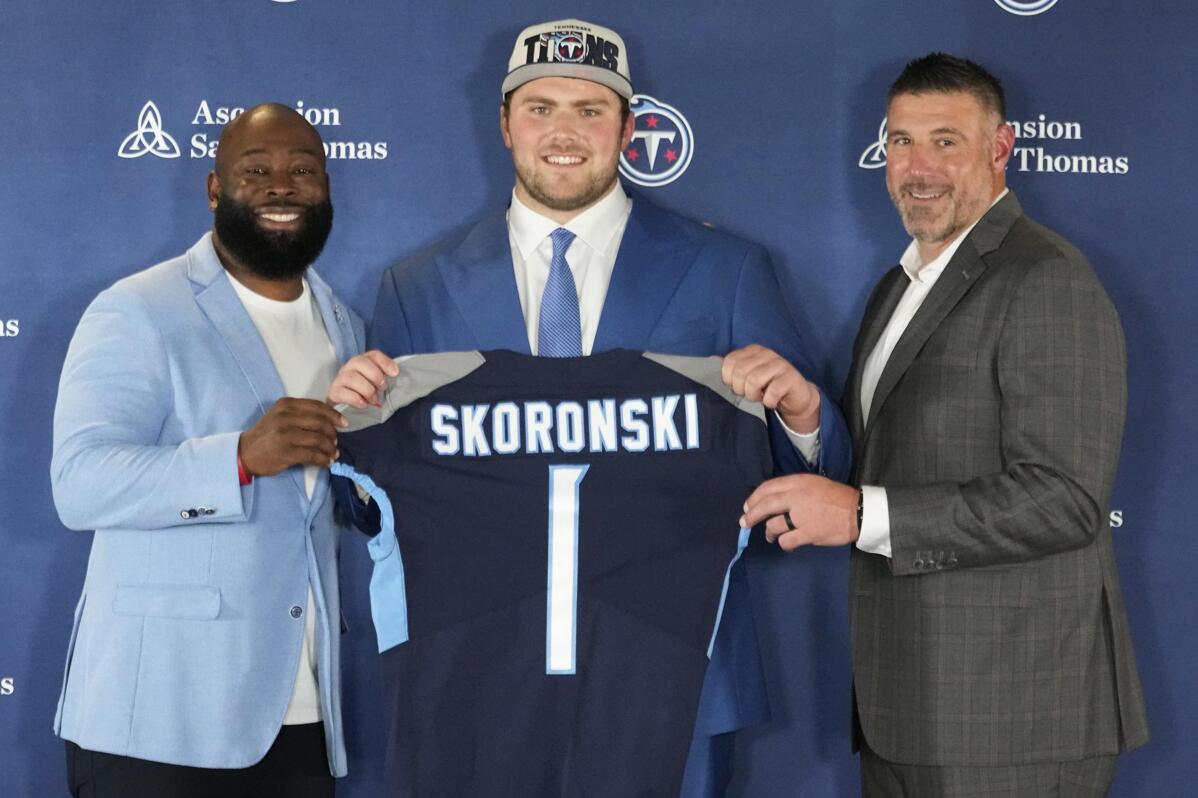 4 of 6

|
From left to right, Tennessee Titans general manager Ran Carthon, first-round NFL football draft pick Peter Skoronski and head coach Mike Vrabel pose for photos during a news conference Friday, April 28, 2023, in Nashville, Tenn. (AP Photo/George Walker IV)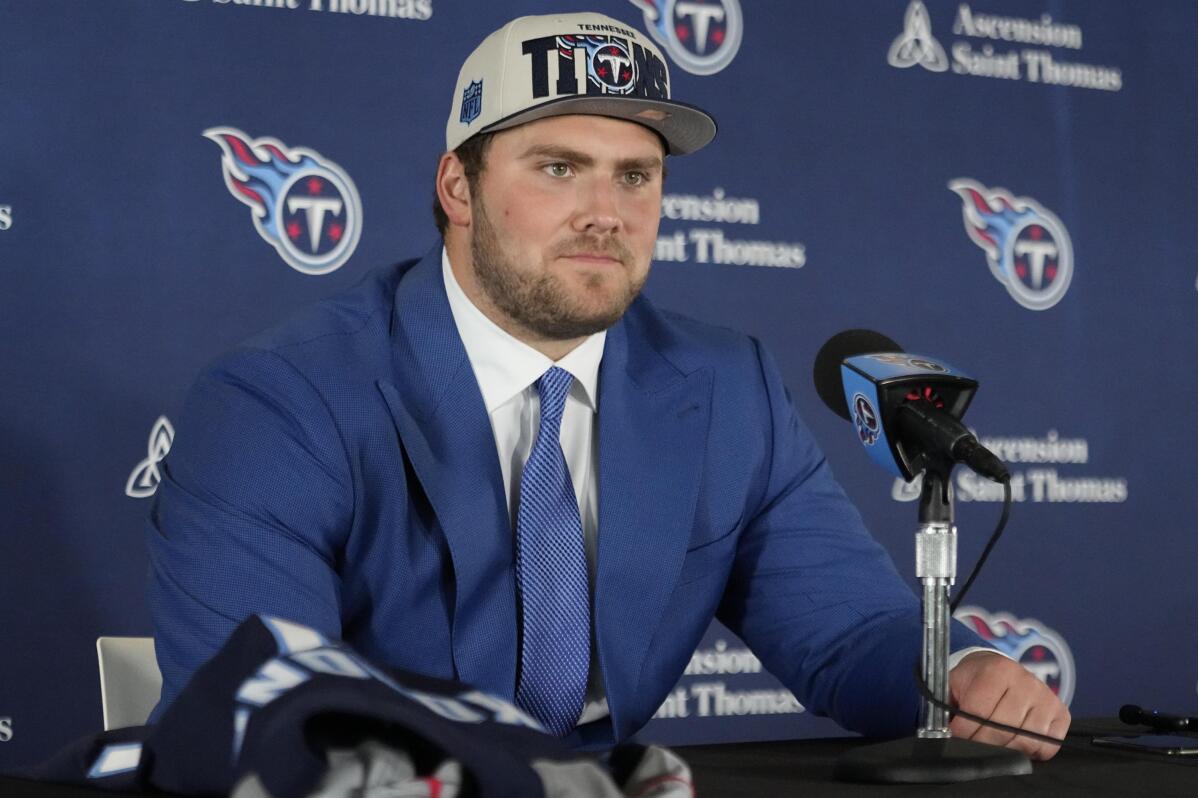 5 of 6

|
Tennessee Titans NFL football first-round draft pick Peter Skoronski responds to questions during a news conference Friday, April 28, 2023, in Nashville, Tenn. (AP Photo/George Walker IV)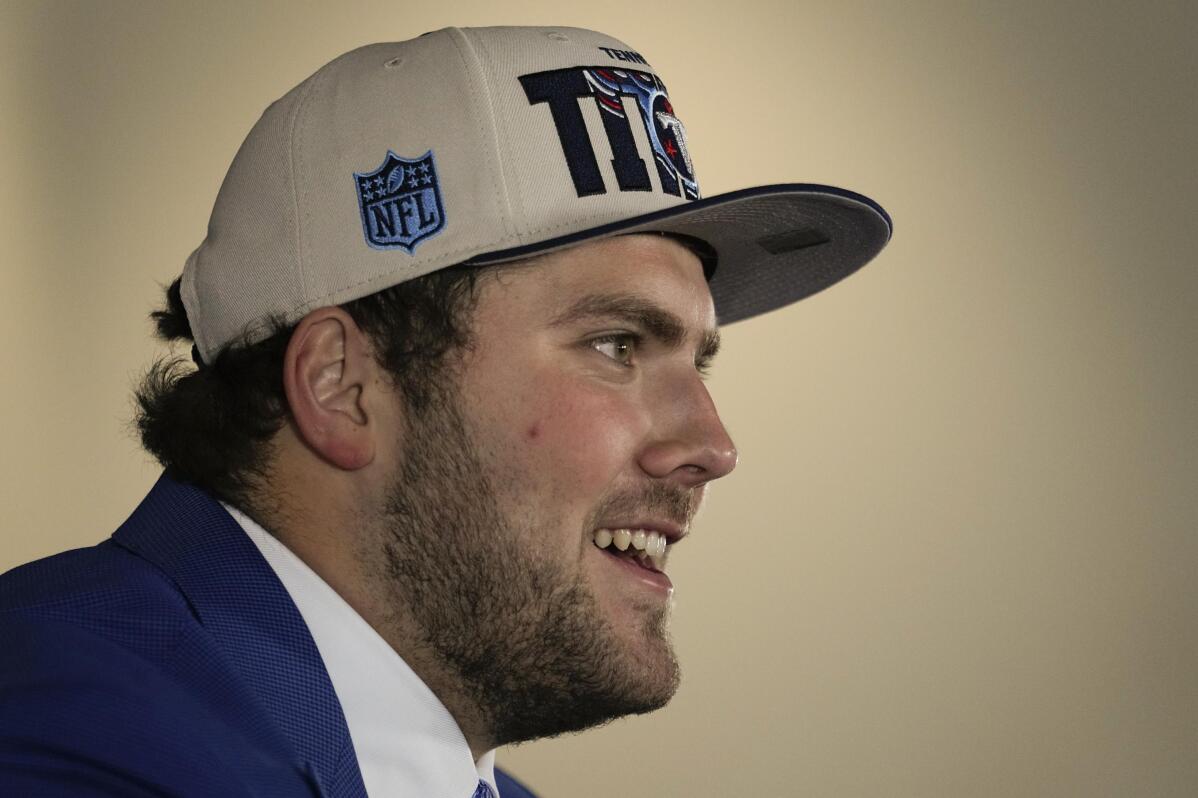 6 of 6

|
Tennessee Titans NFL football first-round draft pick Peter Skoronski responds to questions during a news conference Friday, April 28, 2023, in Nashville, Tenn. (AP Photo/George Walker IV)
Titans trade up, end QB Will Levis' wait in NFL draft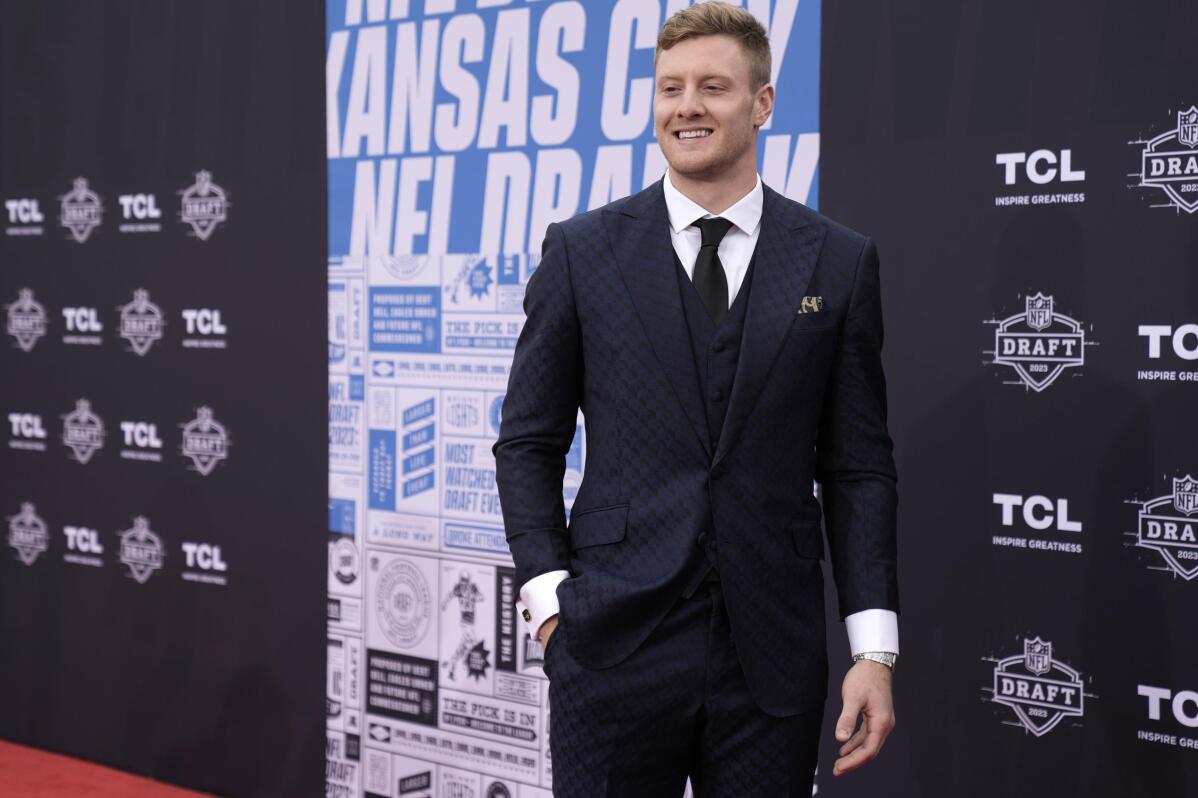 1 of 6

|
Kentucky quarterback Will Levis arrives on the red carpet before the first round of the NFL football draft, Thursday, April 27, 2023, in Kansas City, Mo. (AP Photo/Charlie Riedel)
1 of 6
Kentucky quarterback Will Levis arrives on the red carpet before the first round of the NFL football draft, Thursday, April 27, 2023, in Kansas City, Mo. (AP Photo/Charlie Riedel)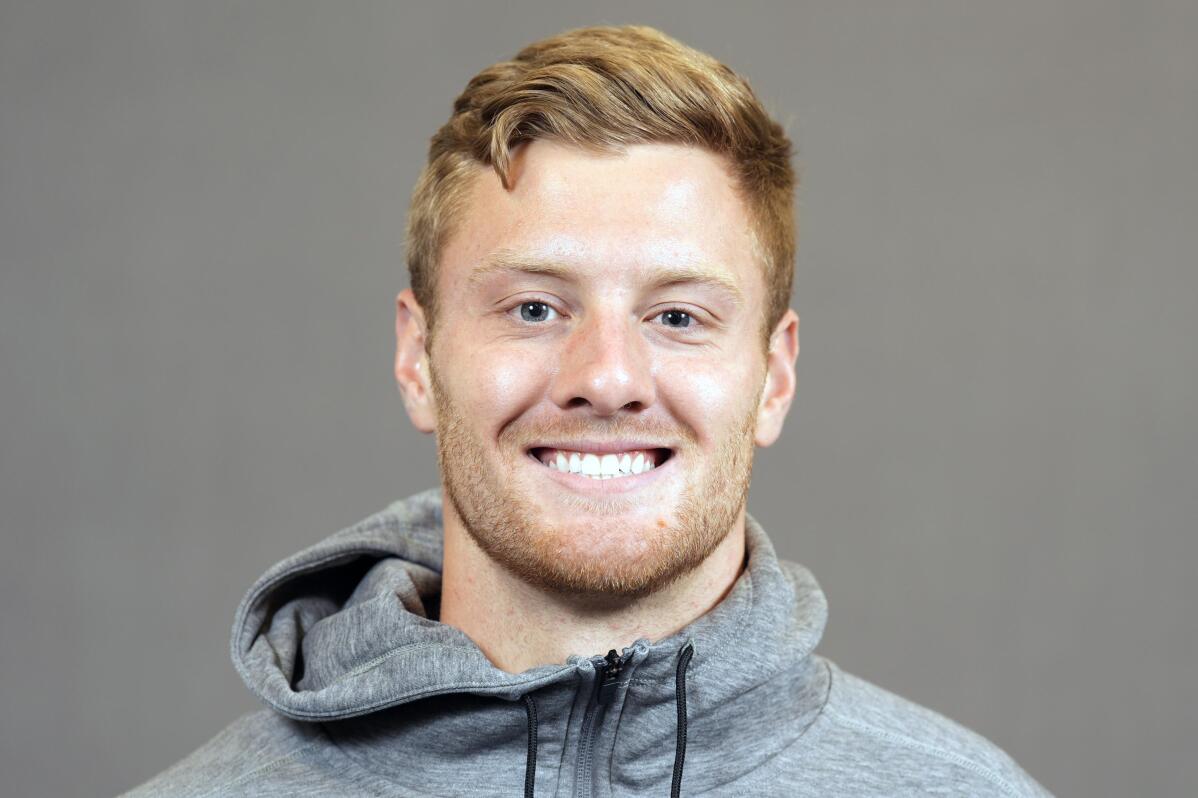 2 of 6

|
FILE - Kentucky quarterback Will Levis poses for a portrait at the NFL football Combine Wednesday, March 1, 2023, in Indianapolis. Bryce Young, C.J. Stroud, Anthony Richardson and Will Levis are projected to go anywhere from the top 5 to top 15 picks in this draft. A year after Kenny Pickett was the only quarterback selected in the first round, this draft class is loaded with potential franchise QBs. (AJ Mast/AP Images for the NFL, File)
2 of 6
FILE - Kentucky quarterback Will Levis poses for a portrait at the NFL football Combine Wednesday, March 1, 2023, in Indianapolis. Bryce Young, C.J. Stroud, Anthony Richardson and Will Levis are projected to go anywhere from the top 5 to top 15 picks in this draft. A year after Kenny Pickett was the only quarterback selected in the first round, this draft class is loaded with potential franchise QBs. (AJ Mast/AP Images for the NFL, File)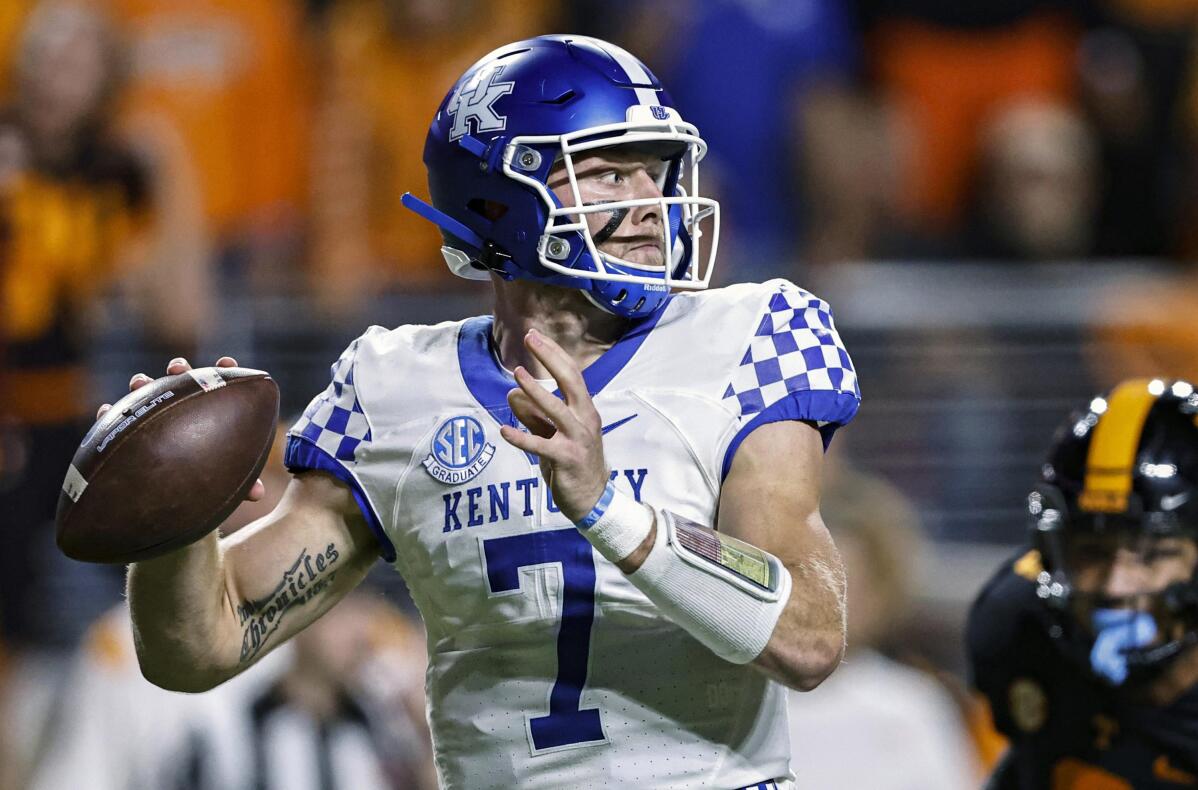 3 of 6

|
FILE - Kentucky quarterback Will Levis (7) throws to a receiver during the first half of an NCAA college football game against Tennessee Saturday, Oct. 29, 2022, in Knoxville, Tenn. Bryce Young, C.J. Stroud, Anthony Richardson and Will Levis are projected to go anywhere from the top 5 to top 15 picks in this draft. (AP Photo/Wade Payne, File)
3 of 6
FILE - Kentucky quarterback Will Levis (7) throws to a receiver during the first half of an NCAA college football game against Tennessee Saturday, Oct. 29, 2022, in Knoxville, Tenn. Bryce Young, C.J. Stroud, Anthony Richardson and Will Levis are projected to go anywhere from the top 5 to top 15 picks in this draft. (AP Photo/Wade Payne, File)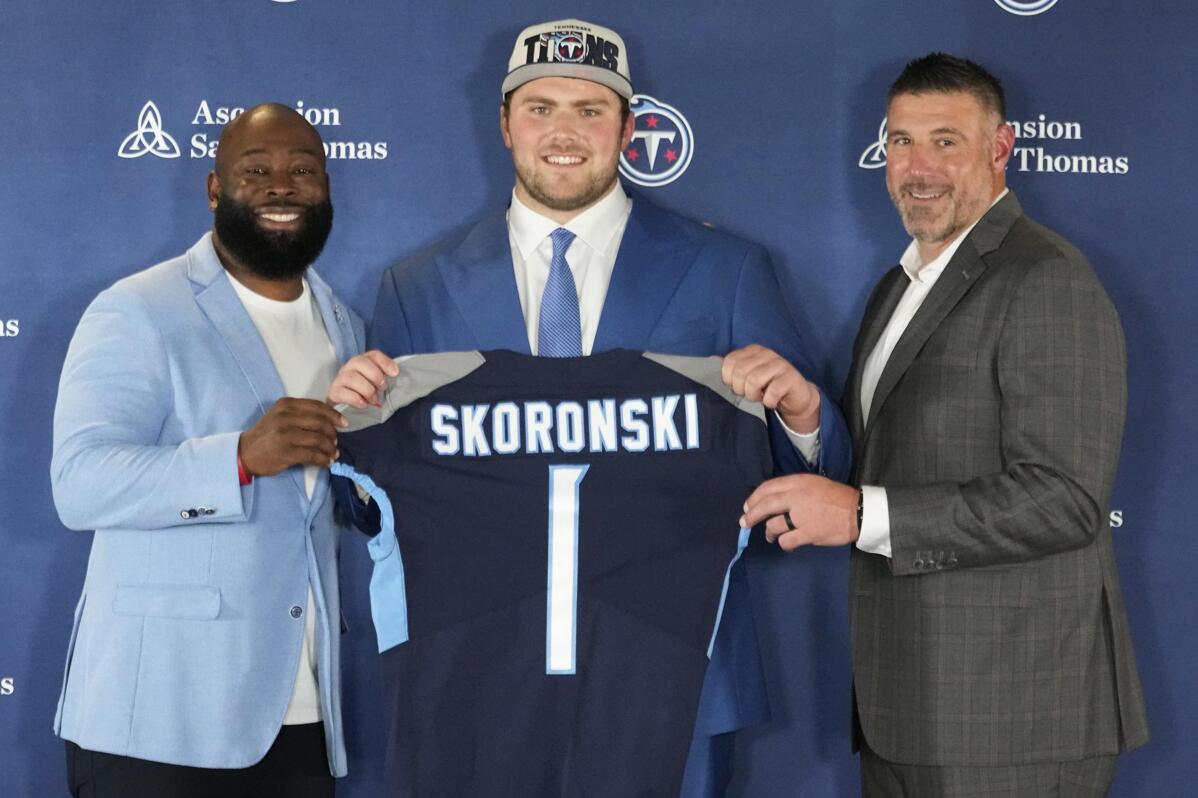 4 of 6

|
From left to right, Tennessee Titans general manager Ran Carthon, first-round NFL football draft pick Peter Skoronski and head coach Mike Vrabel pose for photos during a news conference Friday, April 28, 2023, in Nashville, Tenn. (AP Photo/George Walker IV)
4 of 6
From left to right, Tennessee Titans general manager Ran Carthon, first-round NFL football draft pick Peter Skoronski and head coach Mike Vrabel pose for photos during a news conference Friday, April 28, 2023, in Nashville, Tenn. (AP Photo/George Walker IV)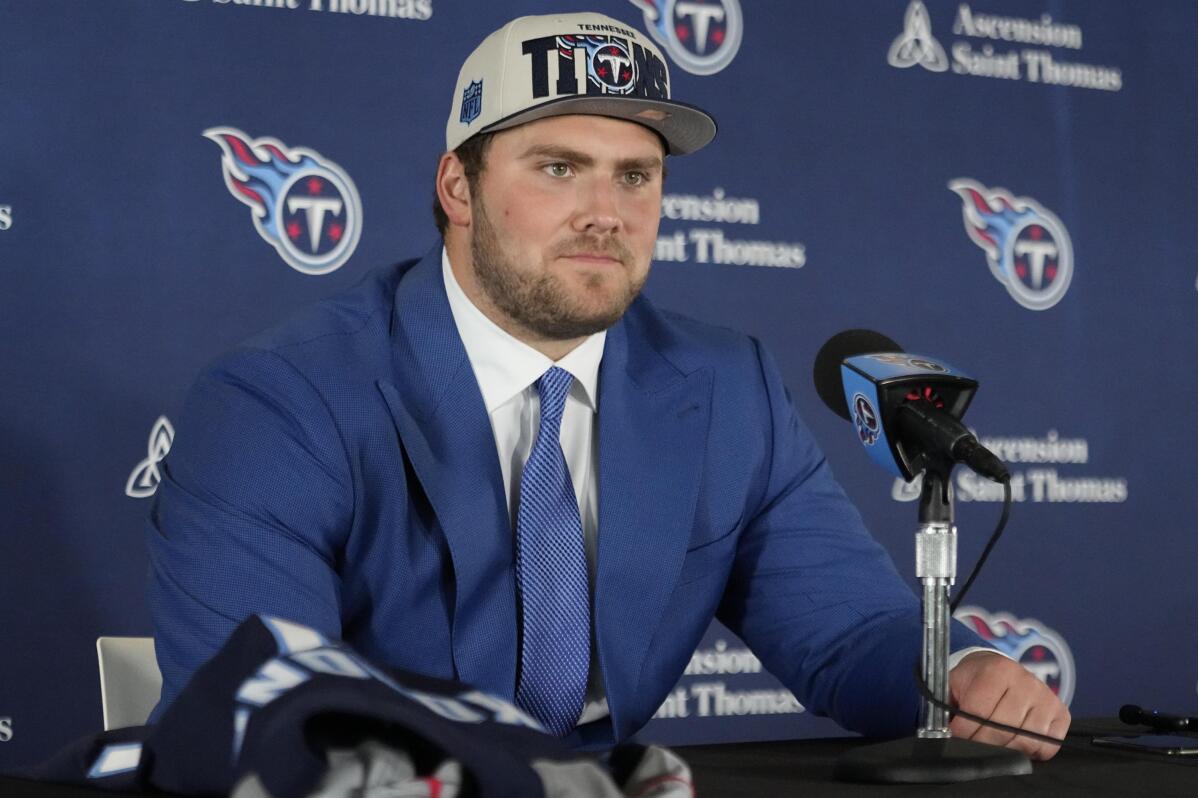 5 of 6

|
Tennessee Titans NFL football first-round draft pick Peter Skoronski responds to questions during a news conference Friday, April 28, 2023, in Nashville, Tenn. (AP Photo/George Walker IV)
5 of 6
Tennessee Titans NFL football first-round draft pick Peter Skoronski responds to questions during a news conference Friday, April 28, 2023, in Nashville, Tenn. (AP Photo/George Walker IV)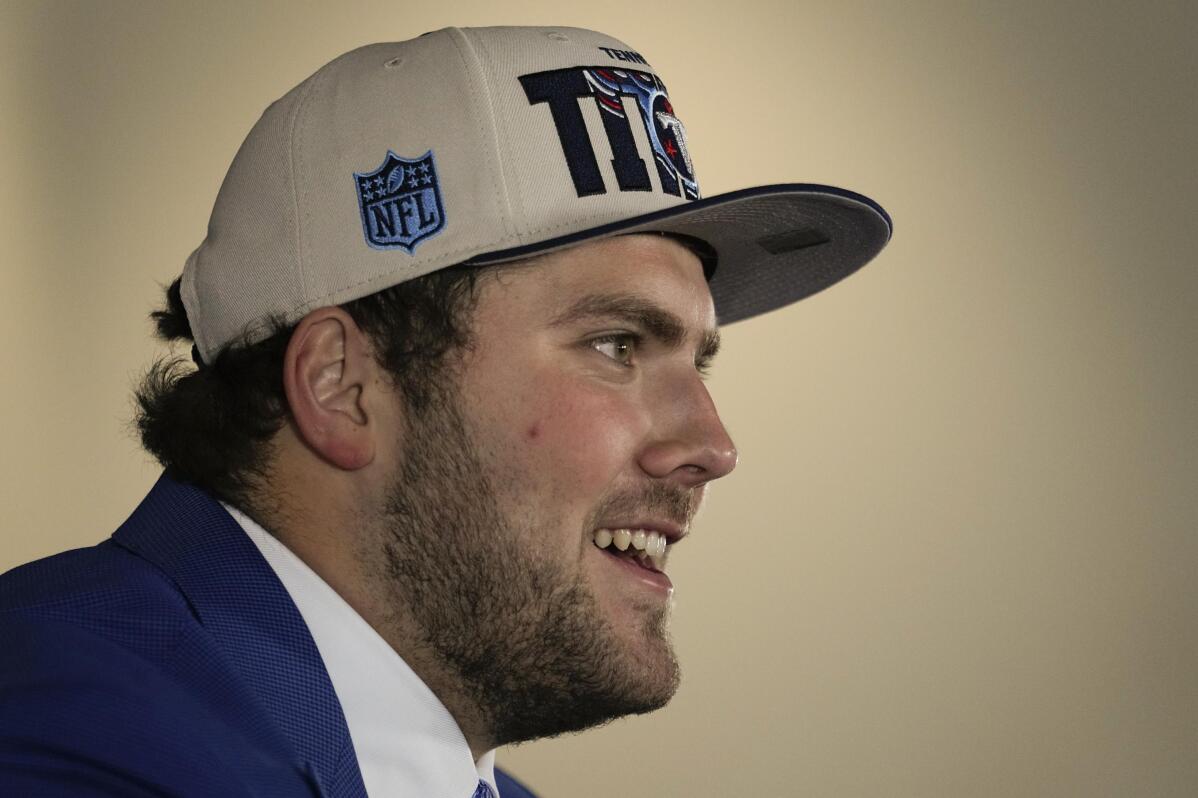 6 of 6

|
Tennessee Titans NFL football first-round draft pick Peter Skoronski responds to questions during a news conference Friday, April 28, 2023, in Nashville, Tenn. (AP Photo/George Walker IV)
6 of 6
Tennessee Titans NFL football first-round draft pick Peter Skoronski responds to questions during a news conference Friday, April 28, 2023, in Nashville, Tenn. (AP Photo/George Walker IV)
NASHVILLE, Tenn. (AP) — The Tennessee Titans mercifully ended Will Levis' wait to hear his name called Friday night, trading up eight spots with Arizona to select the Kentucky quarterback with the No. 33 pick overall Friday night in the NFL draft.
They won't hand him the starting job.
Levis will start as their third quarterback behind veteran Ryan Tannehill and backup Malik Willis.
"What I've told them is whatever happens after that will be up to the players," coach Mike Vrabel said. "That's what it's always been here. That's what we always want it to be."
Levis left Kansas City after sitting around and never hearing his name called Thursday night. Talking to reporters via a Zoom call, Levis said where he was drafted won't affect his work ethic. Levis had visited Tennessee and said he felt he connected with everyone he met.
"I ended up where I was meant to be, and I'm just looking forward to competing and getting started," Levis said.
Levis flew home Friday and said he was eating after just walking through the door at home just as his name was called. Levis said he left Kansas City to make sure he got home in time for a big family gathering planned for Saturday believing he would be drafted in the first round Thursday night.
"I was ecstatic to get the call," Levis said.
TV cameras kept going back to Levis and his family over and over through the first round as they waited at the NFL's big draft party in Kansas City.
Three quarterbacks were taken in the first four picks, then nothing until the Titans traded up for the second pick of the second round Friday night.
"I was very proud of my family and how we composed ourselves last night and you know the cameras beaming down on us the whole time," Levis said. "I feel like we did a great job of just taking it in stride and trusting that regardless of what happens, that it's going to happen for a reason."
The Titans have Tannehill, who turns 35 in July and has one year left on his contract with a salary cap hit of $36.6 million.
First-year general manager Ran Carthon started Friday night with the Titans holding the 41st pick overall in the second round and No. 72 in the third. In the GM's first deal, the Titans flipped selections with Arizona in the third round to 81 and also will send the Cardinals their third-round pick in 2024.
Carthon said they might have taken Levis at No. 11 overall except N orthwestern offensive tackle Peter Skoronski remained available and was a player they "highly coveted."
"Happy that we were able to move up to get a player like Will ...," Carthon said. "It's playing a board game. We're rolling the dice and playing the board."
Tennessee, needing help at wide receiver and tight end, has only three selections left Saturday and none in the fourth round. The Titans' next pick will be at No. 147 overall in the fifth round with a spot in each of the final two rounds. Carthon used the 81st pick on Tulane running back Tyjae Spears who has had not one, but two ACL injuries.
Spears was the American Athletic Conference Offensive Player of the Year in 2022. He ran for 1,581 yards and 19 touchdowns. He also averaged 11.6 yards per catch and had two TDs receiving. He was the MVP of the Cotton Bowl with four TDs in a comeback win over Southern California.
Levis is the highest the Titans have drafted a quarterback since taking Marcus Mariota at No. 2 overall in 2015. He wound up benched for Tannehill in October 2019.
Levis certainly fits the NFL prototype for a quarterback at 6-foot-4 and 229 pounds.
He went 17-7 at Kentucky, tied for the second-most wins by a quarterback since 1993 at a university better known for basketball. Levis threw 43 touchdown passes and ran for 11 more. Levis threw for 5,233 yards and had six 300-yard passing games.
Levis said his toe feels good after being a "pain in the foot" the second half of last season. He sat out Kentucky's final game, a 21-0 loss to Iowa in the Music City Bowl.
"My feet is something that I feel like is one of the strengths of my game," Levis said. "To not have that, it sucks. But I mean that's the nature of this game."
Vrabel said it was clear Kentucky was a much different team in 2021 than in 2022.
The Titans traded up to take Willis out of Liberty at No. 86 overall out of Liberty in 2022. He started three of eight games played with 276 yards with three interceptions and no touchdowns. He was benched for Joshua Dobbs, signed Dec. 21 to try and get Tennessee into the playoffs with Tannehill sidelined by an injured right ankle.
It didn't work. The Titans, using the most players in the NFL because of injuries for a second straight season, lost their final seven to miss a third straight AFC South title.
___
AP NFL coverage: https://apnews.com/hub/nfl and https://twitter.com/AP_NFL