Commanders take CB Emmanuel Forbes at No. 16 in NFL draft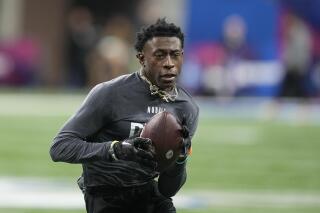 ASHBURN, Va. (AP) — Already boasting a defense that can wreak havoc on opposing quarterbacks, the Washington Commanders wanted to find someone early in the NFL draft who could take the ball away.
They believe they got that in Mississippi State cornerback Emmanuel Forbes.
Washington selected Forbes with the 16th pick Thursday night, filling a hefty need in the secondary with a lightweight defender who has shown a knack for making plays. Forbes had six interceptions in his final college season and 14 total during his time in Starkville.
"He did it at a very high level," coach Ron Rivera said. "He did it in the SEC, which is a notch below the NFL. He played against some big-time receivers, big-time quarterbacks, so this is a guy that fits the bill for us and we think is going to come in and help us and help elevate our defense."
A year after trading down from No. 11 to 16 and taking Penn State receiver Jahan Dotson, general manager Martin Mayhew said no teams called about Washington's pick this time. The way the draft was falling, he and Rivera expressed confidence they'd get one of the players they coveted.
The Commanders chose Forbes over Oregon's Christian Gonzalez, another cornerback who was considered a potential top-10 pick and fell into the second half of the first round. Gonzalez went next at No. 17 to the New England Patriots.
Forbes was more prolific picking off passes than Gonzalez, showing off the hands of a high school receiver.
"I had a knack for the ball, honestly, and it just translated over," Forbes said. "If I feel like I can get my hands up, I'm going to try to go pick it."
Rivera said defensive coordinator Jack Del Rio advocated for a player like Forbes who could make a difference. With six career pick-6s, he's tied for the most of any college player since 1976.
"People throw around the term 'ball hawk' pretty loosely, but this guy really is that," Mayhew said of Forbes, who he called one of his favorite prospects available. "He's the total package. He really is. He does everything that a corner should be able to do."
Adding Forbes to a cornerback group that includes Kendall Fuller, Benjamin St-Juste and fellow Mississippi State product Cameron Dantzler should help the team's coverage and be a boost for a defensive front that's among the best in the NFL.
Forbes, who's 6-foot-1, weighed in at 166 pounds at the scouting combine. But the Grenada, Mississippi, native said his weight did not come up much in interviews with the Commanders and other interested teams.
"They didn't really care too much about my weight because I can play ball," Forbes said. "That's all that matters. It never affected my game."
Rivera agreed with Forbes that more weight is going to come over time. Mayhew pointed out that Forbes was durable, never missing a college game because of injury.
"If you watch his tape, you don't know he's that light," Mayhew said. "He doesn't look like that on tape. He doesn't play like that."
Three-time All-Pro cornerback Jalen Ramsey endorsed the selection of Forbes, tweeting: "LOVE THAT PICK! @emmanuelforbes7 is LIKE THAT!"
For the first time in several years, Washington was not looking for a quarterback after planning for 2022 fifth-round pick Sam Howell to start and signing veteran Jacoby Brissett. Kentucky's Will Levis was still on the board when the Commanders took Forbes.
Washington has seven more picks — one each in the second, third, fourth, fifth and seventh rounds and two in the sixth — and still has needs along the offensive line and at linebacker.
"We will react to what happens in front of us," Rivera said. "We still feel that we can fill a couple of depth needs, as well, and there's still a possibility you can probably find another starter or two."
Edge rusher could also be an option after the team decided not to pick up Chase Young's fifth-year option for the 2024 season. The Commanders made the same choice a year ago with defensive tackle Daron Payne, who then set a career high with 11 1/2 sacks and signed a $90 million, four-year contract to stay, and are hoping for a similar bounce-back performance from Young after missing more than a year with a torn ACL.
"We'd love him to do what we had last year with Daron," Rivera said. "We want to take care of our own, and if comes out and plays well and does things that we're supposed to, that he's capable of, then we'll go from there."
___
AP NFL: https://apnews.com/hub/nfl and https://twitter.com/AP_NFL